We at SOCIAL & PERSONAL WEDDINGS profile some of Ireland's most romantic wedding venues.
InterContinental Dublin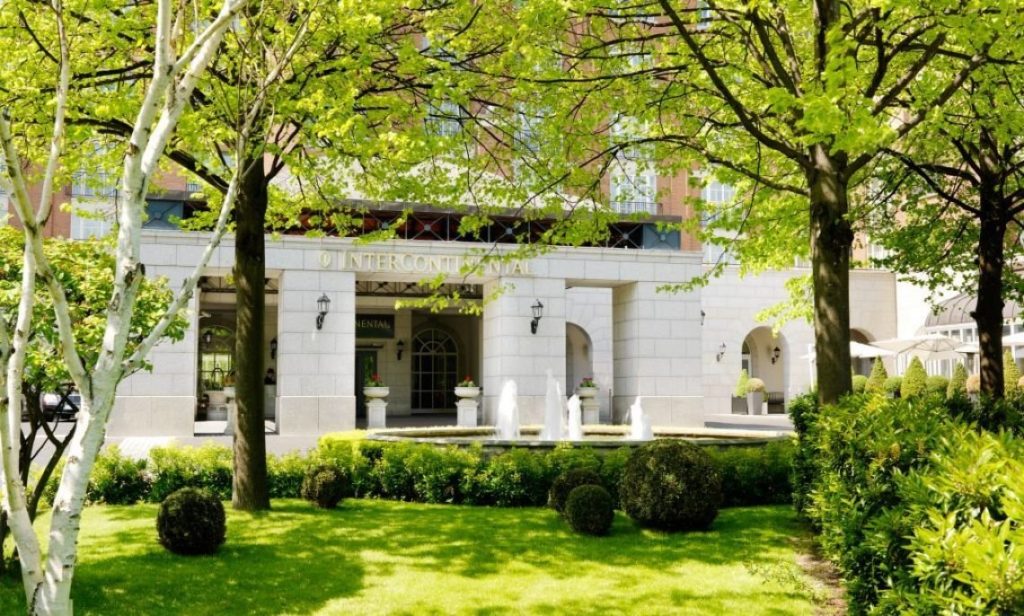 InterContinental Dublin, the city's finest five-star hotel is nestled on two acres of gorgeously landscaped gardens with its own inner courtyard and on one of the most exclusive addresses in the city; it is the perfect choice for a stylish wedding venue in Dublin city.
Celebrate in the most luxurious surroundings with hand-painted silk-lined walls, priceless Waterford Crystal Chandeliers and customised furnishings, the perfect backdrop to your big day. Widely acclaimed as the city's most glamorous wedding venue, InterContinental Dublin can cater for weddings and civil ceremonies from small intimate gatherings of 6 up to 500 guests with their dedicated events spaces, flooded with natural daylight, situated on the ground floor overlooking the beautifully landscaped gardens or inner courtyard.
Luxurious packages start from €100 per person and include the dedicated assistance of an InterContinental Dublin wedding professional who works with you from first inspiration to your last dance. Every InterContinental Dublin wedding is like no other and to ensure you and your guests have the perfect day, they host only one wedding per day.
The K Club
The K Club is the most stunning location in the country to host a wedding. Your special day deserves a special venue and The K Club really has it all. Located in the pretty village of Straffan, Co. Kildare, and on the banks of the River Liffey, the hotel is surrounded by 550 acres of mature woods, parkland and magnificent formal gardens - perfect for your wedding photographs. Dating back to 1832, Ireland's first AA Five Red Star property is the original home of classic Irish hospitality and offers a host of opulent facilities to make wedding dreams come true. The original house, Straffan House, has been sympathetically restored to its former glory and now boasts 140 bedrooms and suites which are individually appointed to the highest standard. The resort can cater for large and lavish weddings or more intimate affairs, from just 14 people in the Pantheon Suite right up to 350 guests in the Legacy Suite. Facilities include a Resort Spa, two championship golf courses, fishing on the River Liffey, lots of dining options and fun outdoor activities for adults and children. The K Club is also delighted to cater for outdoor weddings and civil ceremonies.
Castle Leslie
Nestled on 1,000 acres of the undulating Irish countryside, dotted with ancient woodlands and glittering lakes, Castle Leslie is a stunningly beautiful secluded estate in Monaghan. Still in the hands of its founding family, it is steeped in history and is full of character and charm. It is an incredibly intimate and romantic venue that comes alive when filled with the laughter and joy of family and friends. With its reputation for fabulous food and discreet personal attention, the Estate also boasts a variety of accommodation to suit all preferences. Filled with beautiful furniture, antiques and heirlooms, the castle has 20 original and uniquely decorated bedrooms and bathrooms. Additional guest accommodation is located at The Lodge, Old Stable Mews and Village Cottages.
Castle Leslie Estate offers two unique locations where you can host your celebration so why not choose the one that suits you best. The magnificent Castle is full of old-world grandeur and character and can accommodate wedding parties with up to 70 guests. For larger wedding parties, The Pavilion at Castle Leslie Estate is a delightful space overlooking Glaslough Lake, which can accommodate up to 260 guests.
Marlfield House
Marlfield House Hotel is one of Ireland's most romantic country houses. Situated one hour south of Dublin, on 36 acres of grounds, it is truly an oasis of tranquillity. Wedding parties may have the house exclusively and are pampered by the charming staff from the moment of arrival. Cocktails and delicious canapés are served in the elegantly furnished reception rooms and gardens. Blazing fires, antiques, paintings and scented flowers are the first indications that this is a much-loved house. Dinner is served by candlelight in the frescoed conservatory dining room overlooking the parterre garden. Winner of numerous food and service awards, the menu is prepared using herbs and vegetables from the Marlfield kitchen gardens and locally sourced meat and fish.
Following dinner, guests dance 'til the early hours in decadent surroundings whilst enjoying a feast of cheese and port. Pre or post wedding buffets, BBQ's and suppers can be arranged in either the house or The Duck Restaurant in the courtyard. Couples also have the option of getting married in either the house or gardens. Marlfield can cater for up to 145 guests for an exclusive use wedding or 50 guests in the magnificent Print Suite. Packages including cocktails, canapés, wine and dinner start from €105.
Castlemartyr Resort
It is not only the elegant 18th-century manor house and the 13th-century castle ruins that make Castlemartyr stand out from the crowd but the meticulous attention to detail that the award-winning team of wedding planners provide.
Nestled in 220 acres of mature landscape, the manor house is the heart of this unique resort, having been restored and extended to offer perfectly styled accommodation, award-winning dining, Spa and Health Club, as well as an 18-hole inland links-style golf course.
The Capel Suite is unlike any other ballroom in Ireland. With its floor to ceiling windows, giant chandeliers, mood lighting and magnificent drapes. Castlemartyr Resort is an HSE registered venue for Civil Ceremonies and is the perfect location to celebrate your Civil Partnership. Other smaller rooms are also available so that your celebration is tailor-made just for you. Couples also have the option to host their ceremony outdoors, choosing between the beautiful garden terrace of the stunning backdrop of the castle ruins. From the traditional to the informal, all celebrations are a challenge to ignore the mundane and create the original.
The Lodge at Ashford
Set within the beautiful Ashford Estate with spectacular views of Lough Corrib, it's hard to imagine a more romantic setting for your special day. Situated on the outskirts of the charming village of Cong, in the heart of Mayo, The Lodge at Ashford Castle will provide the fairy-tale day of your dreams. As part of the Red Carnation Hotel Collection, The Lodge embraces the philosophy of 'no request is too large, no detail too small'. Whether you desire an intimate celebration with close friends and family or favour a more elaborate affair, The Lodge offers a choice of exceptional spaces to really set the scene. Enjoy al fresco drinks on the lawn overlooking Lisloughrey Pier and dine in the elegance of the Harbour Room with its sparkling chandeliers and panoramic vista. Expect the finest cuisine using ingredients from artisan suppliers throughout the Connemara, Mayo and Galway regions and at the end of a perfect day, their sixty-four sumptuous rooms and suites will accommodate your guests in style. Providing the perfect backdrop for wedding photographs, the estate offers plenty of activities to keep your guests entertained – the perfect excuse to stay longer!
Waterford Castle
Ireland's only island castle is set on an enchanted 310-acre private island. This magical wedding destination is surrounded by the River Suir and accessed by private car ferry. The 16th-century castle offers the very best of Irish hospitality in the most beautiful surroundings imaginable. Dining at Waterford Castle provides an opportunity to taste the best of traditional and contemporary Irish cuisine. Awarded Fine Dining Hotel of the Year 2018 by Irish Hotel Award and Irish Hotel of the Year 2018 by Irish Hotel Awards. The award-winning culinary team create artisan food and custom menus for your special day.
The wedding coordinators attention to detail, commitment and professionalism will make your wedding dreams a reality.
Imagine having the most special of days on a private island in a castle that's exclusively yours for your wedding day.
Glenview
Your special day deserves the most stunning photographic memories to be cherished forever, the Glenview Hotel & Leisure Club lies nestled at the foot of the Great Sugar Loaf Mountain, overlooking the majestic Glen of the Downs. Set amongst 30 acres of woodland walks and exquisitely landscaped gardens, the Glenview has been welcoming guests for over 100 years and is one of Ireland's best-loved wedding hotels.
A stunning location combined with dedicated and experienced staff, exquisite cuisine with a sophisticated ambience to create a truly magnificent experience. The team here make a promise to each couple to deliver the highest of standards of service and attention to detail.
Voted Best Wedding Venue in Wicklow, the Glenview Hotel is the perfect choice for your dream day. Specialising in breathtakingly beautiful private outdoor ceremonies, drinks receptions, sumptuous banquets in the elegant Glenview Suite with stunning vistas, making it the only venue for your perfect wedding day up to 160 guests. They also cater for small intimate weddings and cultural wedding celebrations. Glenview Hotel is a prime location for second-day events just to make that special moment memorable for longer.
Johnstown Estate
A luxury four-star resort, The Johnstown Estate is filled with history, character and warmth.
Their experiences wedding team has welcomed hundreds of couples through their fine Georgian doors and find it's the little details which make a wedding personal to a couple and their guests.
The elegant Grand Ballroom has a large foyer and a private entrance leading to a uniquely picturesque, walled wedding garden. This beautifully romantic garden is also a favourite spot to exchange vows by a flower wall or host drinks beneath a lantern-lit tree.
Exceptional food delivered with passion is The Johnstown Estate's calling card.
After a whirlwind day of celebrations, couples can relax in the stunning three-room Lady Margaret Suite in the manor. Only 35 minutes from Dublin, amidst 120 acres of private parkland, The Johnstown Estate has five suites, 122 guest bedrooms and 40 two-bedroom lodges.
For those who might like to make it a weekend affair, there is also an 18-room Elemis spa, a leisure centre, and two fantastic restaurants.
Morrison
The Morrison Hotel, is renowned for its hip and chic vibe, offering an exclusive and unique setting for your very special day. Located in the heart of Dublin city, on the banks of the River Liffey, The Morrison has two stunning venues on offer for weddings. Printworks which can seat up to 180 people and more intimate space, Halo which can seat from 30 to 80 people. Offering a choice of superior packages with prices starting from €69 per person, the hotel is pleased to tailor these to suit your needs. Your welcome wedding reception is hosted in the elegant private Art Gallery, which is a stunning area for your guests to enjoy bubbles and canapes. You and your guests will enter through an exclusive and private red-carpeted entrance from Ormond Quay which boasts stunning oak doors. This space spills into your own private Courtyard Garden which in turn leads into the main event room Printworks. This venue allows couples to avail of wonderful photo opportunities both within the designer hotel and in the surrounding area – including the famous Ha'penny Bridge. Walking distance from both City Hall and Smock Alley, The Morrison is also registered to host Civil Ceremonies on site. True urban luxury for your wedding day.
Kilronan Castle
Kilronan Castle is nestled amongst acres of woodland, open lawns and pathways leading you to a truly breath-taking estate. From intimate to extravagant, traditional to bespoke, their expert team offer a comprehensive service ensuring your wedding will be unforgettable and uniquely yours. Offering first-class services, the team at Kilronan Castle offer an unparalleled Irish castle wedding experience with their wedding coordinators ensuring the planning of your day is effortless, relaxed and most importantly, enjoyable. The Dungeon Bar is an ideal private setting for your drinks reception, in the summer your guests will gather on the patio sipping on pink champagne whilst overlooking the scenic Lough Meelagh. Alternatively, for a winter wedding, the roaring open fires make the surroundings comfortable and homely, the candlelit wine cellar just adds to the mystical atmosphere. Let the spectacular candlelit corridor lead you to the Grand Ballroom with exquisite décor that sets a tone of opulence underneath magnificent chandeliers. Catering for smaller intimate numbers of 150 guests to numbers exceeding 350, the Grand Ballroom is the perfect venue for your wedding day celebrations. All-inclusive packages start from €68 per person.
Lough Rynn
Lough Rynn, one of Ireland's most luxurious castle hotels, sits majestically on the shore of Lough Rynn, surrounded by over 300 acres of breathtaking scenery. The estate prides itself as having the west of Ireland's largest and most unique walled gardens, which lead down to the shores of the Lough. This is an ideal backdrop for wedding pictures. One step inside Lough Rynn and you are at home. With a warm and friendly atmosphere, they will see to your every need; everything has been designed with one's desires in mind. The commitment is to provide the highest level of comfort and service where guests can enjoy old-world elegance with modern-day comforts. For wedding celebrations, the Banqueting Suite can accommodate from 90 to 320 guests; the floor-to-ceiling glass wall looks out over the woodlands and is the ideal backdrop to your top table. The Baronial Hall is the main arrival reception room and is worthy of its name. It features a bay window with uninterrupted views of Lough Rynn; relax by a roaring fire in the hearth of the enormous Inglenook fireplace, itself a renowned architectural feature of the castle. The lawns provide a breathtaking setting for a champagne or drinks reception on a summer's day, and the castle's backdrop is equally spectacular for a winter wedding. Wedding packages start from €75pp.
Marco Pierre White
If you're looking for something truly different for your wedding day, look no further than Marco Pierre White Courtyard Restaurant in Donnybrook. It's somewhat of a hidden gem! Clubby, urbane and swank, this is an intimate wedding venue designed to deliver a unique edge. Prepare to be surprised! Complete with a beautiful courtyard garden, fully heated and covered, full of lush planting, hidden fountains and quirky paraphernalia, it's hard to believe this urban oasis is located just 3km from Dublin's city centre. Seductively revamped with auction house finds from around the globe, the soaring Venetian back bar, reclaimed floors studded with cast-iron columns and the stained glass ceiling windows, give some indication of the opulence that awaits and contrive to create a genuine sense of occasion. As Marco likes to say "This is not an ordinary wedding venue. We deliver a standard that's anything but standard so expect your expectations to be exceeded." The Restaurant is available for private hire for weddings parties of 100 to 160 guests. Or for more intimate wedding parties, choose either of the smaller dining rooms - The Garden Room or Library.
Adare Manor
A fairy-tale castle set in 840 acres of gently rolling parkland in the heart of Ireland; Adare Manor is a magical place to begin your new life together: a spellbinding backdrop for a wedding day you will always cherish.
Truly luxurious accommodations, a spectacular menu of food and wine tailored to your taste by their master chefs and sommeliers, and breath-taking beauty everywhere your eye falls: these elements are the foundation of your unforgettable wedding at Adare Manor. With all the wonders of Adare Manor at your disposal, the team here can craft an experience that you and your guests will treasure. Tranquil walks through the formal gardens and winding woodlands of the estate. Indulgent treatments at the only La Mer spa in Ireland and the UK. A schedule of thrilling estate activities designed to give you a true taste of country manor life. Whatever your vision, whether you're thinking of an intimate gathering for your very dearest friends and family or planning a show-stopping event of royal proportions, the devoted wedding team here will see to it that every lovingly-chosen detail is exactly as you dreamed it.