There's no better way to spend a spring day in Ireland than sitting back, catching up with your favourite people and having a cup of tea or a glass of bubbly and sandwiches served to you on a silver platter.
A tradition from the 1800s, started by one of Victorian London's most iconic socialites, afternoon tea has been considered the perfect way to spend a Sunday afternoon for centuries! Anna, the seventh Duchess of Bedford, introduced the concept in 1840. At the time, it was usual for people to take only two main meals a day, breakfast and dinner, at around 8 o'clock in the evening. The solution for the Duchess was a pot of tea and a light snack, taken privately in her boudoir during the afternoon. Later she invited friends to join her in her room to enjoy this afternoon snack. This pause for refreshments became a fashionable social event. During the 1880's upper-class and society women would wear long gowns, gloves, and hats to afternoon tea, which would typically be served in the drawing room.
Although it's not quite the royal event it used to be, it's still considered of the most excellent ways to spend an afternoon. Be it treating your bridesmaids to a break from wedding planning, taking your mother-in-law to be on a girly day away or celebrating the woman who raised you; there's nothing quite like a spot of tea in the afternoon. Whether you want to dress for the nines or chill out in your Sunday best, we've picked 10 of our favourite afternoon tea spots to kick back and spend the day in luxury.
1/ Hayfield Manor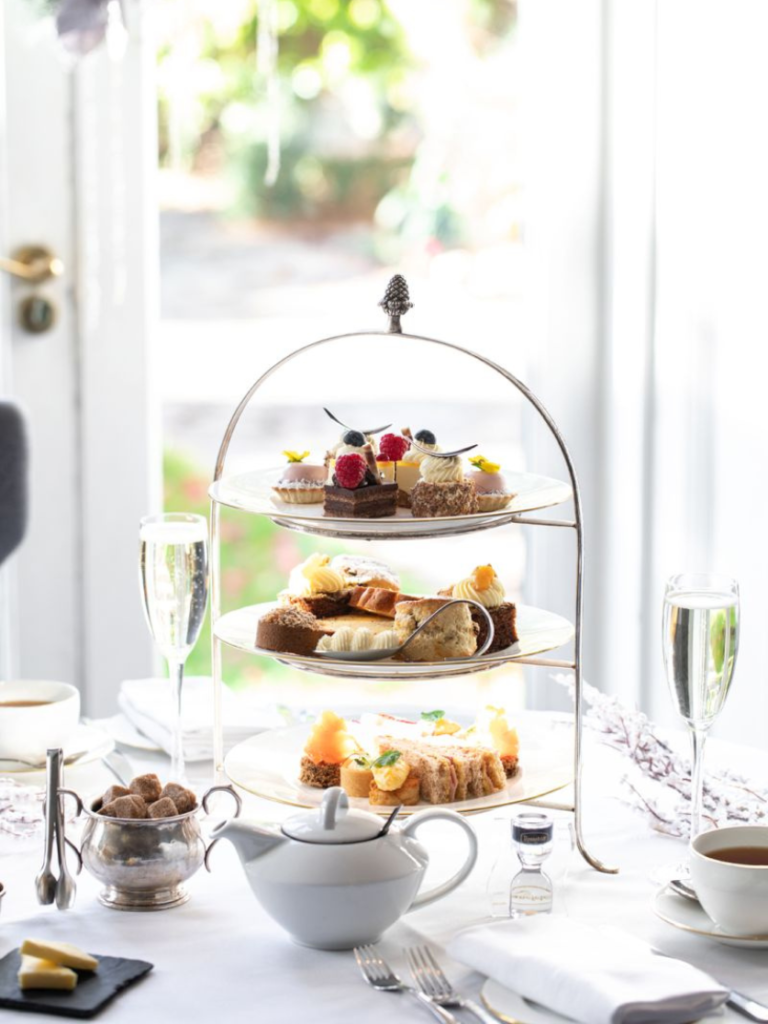 Indulge in an Award Winning Afternoon Tea at Cork's premier 5-star hotel Hayfield Manor. Relax in Orchids Restaurant to the subtle tones of a classical piano and soak up the Manor atmosphere; revel in their impeccable five star service and feel like royalty for the day. Take a stroll through their stunningly manicured walled gardens and enjoy the tranquility of the Irish countryside!
This luxurious experience is €48pp, or €63pp for a Champagne afternoon tea.
2/ The Galgorm
Take in the beautiful surroundings of the cascading River Maine and lush parkland of the Resort as your server brings you a pot of freshly brewed tea, chosen from a carefully selected menu of teas sourced to complement your food perfectly. Enjoy a selection of finely cut sandwiches and miniature savouries, freshly baked scones and delicate miniature desserts. The Galgorm's creative team is continually coming up with enticing afternoon tea menus inspired by beguiling jewels to surprise and delight.
This luxurious experience is €45pp, or €113 for their champagne afternoon tea.
3/ Mount Juliet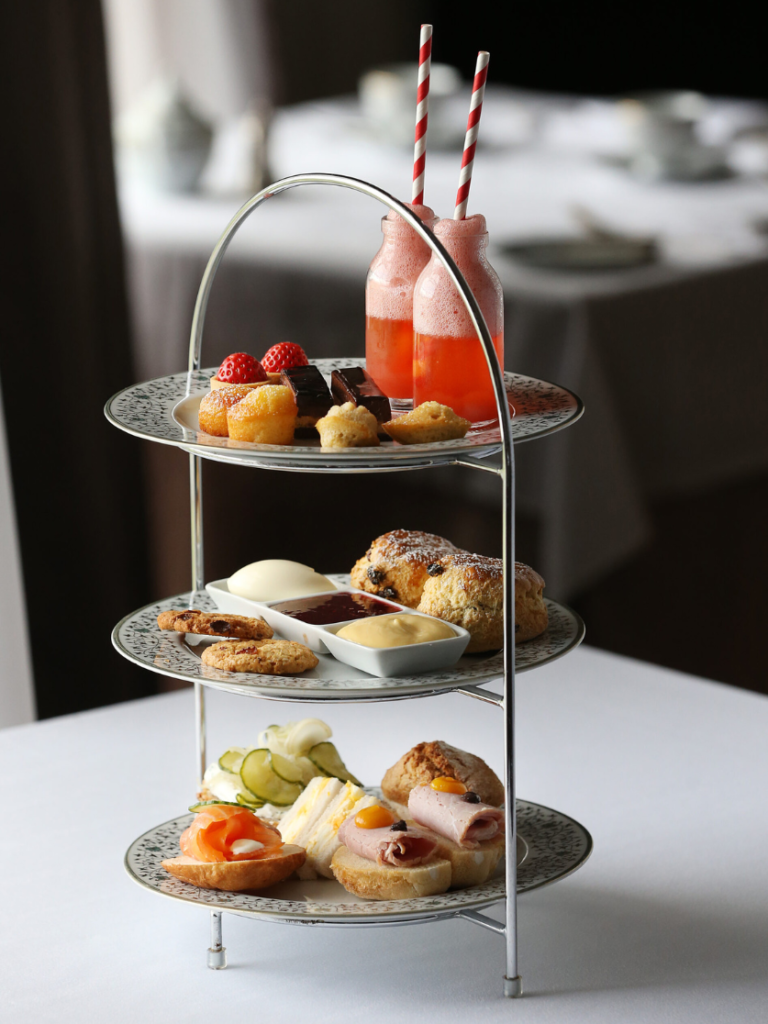 Afternoon tea on the estate: something so sumptuous, it deserves to be savoured in the most fitting of surroundings. The team at
Mount Juliet
aim to offer exactly that in Manor House and – if weather permits – the tranquil surrounds of the Manor House gardens. In each picturesque setting, you will be served up a delicately delicious menu of finger sandwiches, homemade scones, jams, macarons, cakes and signature beverages. The perfect location for a high class day away in the country side!
This luxurious experience is €45pp, or €60pp for a Champagne afternoon tea.
4/ Station House Hotel
Afternoon tea at The Station House is an exquisitely civilised affair. It includes freshly made gourmet sandwiches, pastries, cakes and scones baked on the premises by the hotels dedicated pastry chef and served with Thelma's home-made jams – made using fruits handpicked in the charming gardens – topped with fresh, whipped cream.
5/ Pink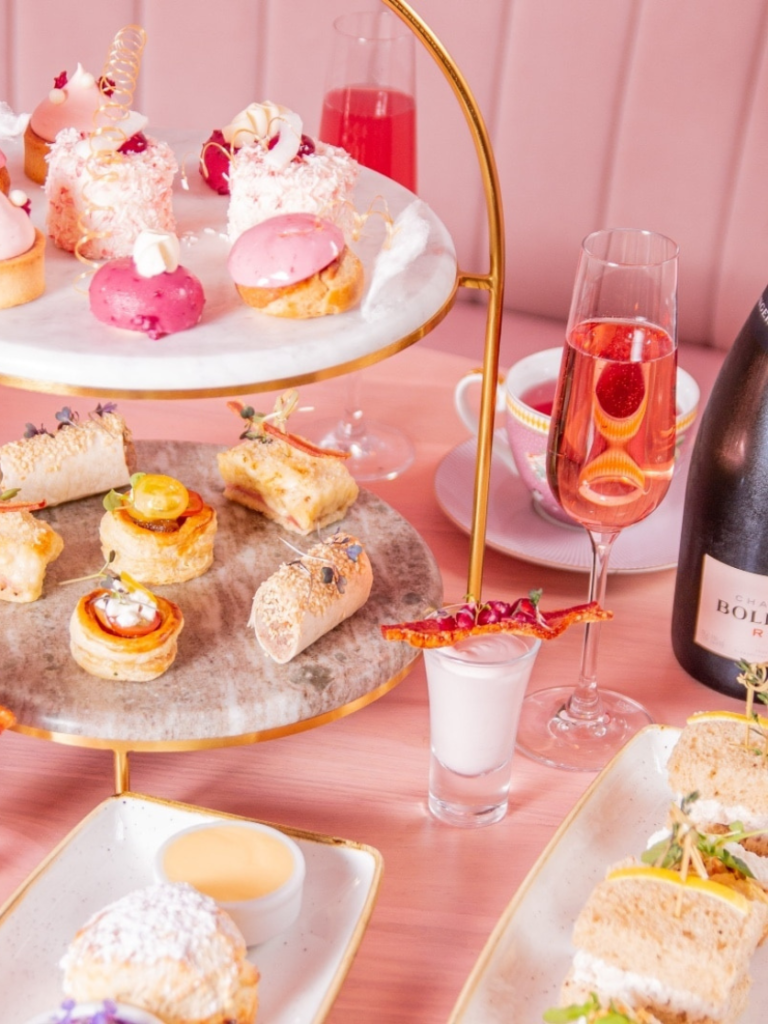 Pink isn't just a colour, it's the ultimate afternoon tea experience in Dublin. What makes their experience so special? Well, it's pink for a start! An Instagram daydream, Pink in Dublin city centre is known for their signature afternoon tea. Embrace the whimsy and the indulge in their delicious selection of sweet treats, sumptuous savouries and aptly coloured champagne!
This luxurious experience is €45pp.
6/ The Westbury
The Westbury is famous for its Afternoon tea served to the city's social aristocracy, visiting tourists and locals alike. The Gallery offers a remarkable view of busy Dublin life as it passes through Grafton Street. You can enjoy people watching in the cosy and comfortable interiors while nibbling on your delicacies. And seeing as it's a celebration, definitely call for the Champagne trolley!
This luxurious experience is €65pp.
7/ Lough Eske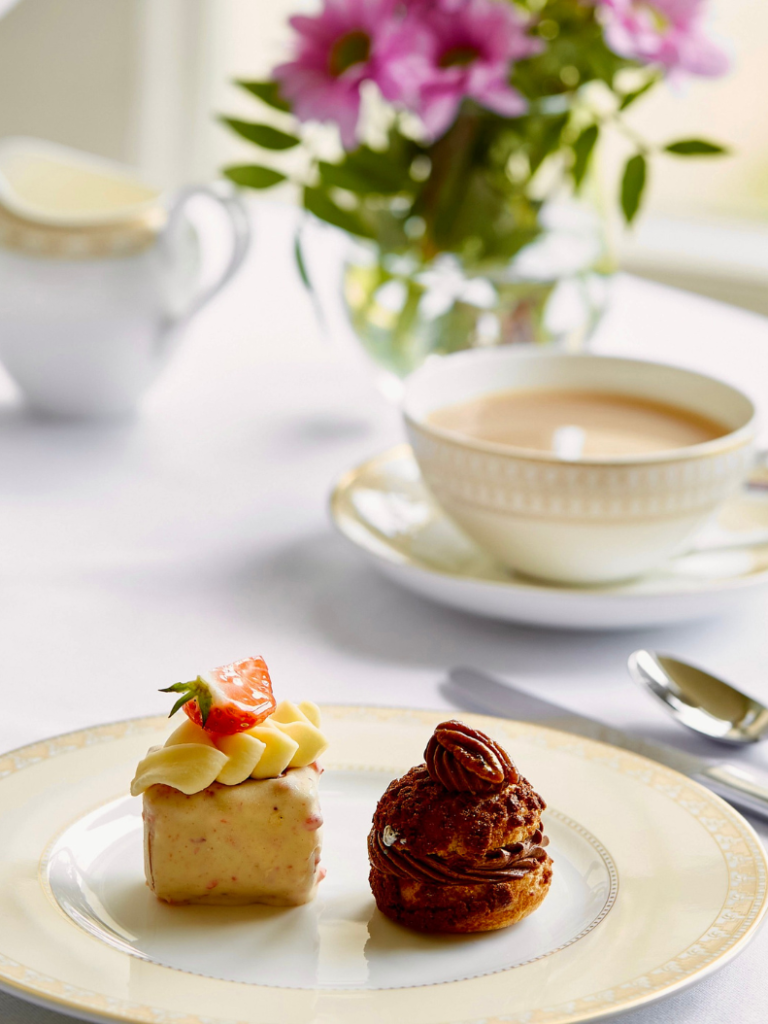 Traditional Afternoon tea might have been invented for a castle hotel in Ireland such as
Lough Eske
. Elegant, remote and relaxed, if you're looking for a few hours basking in decadence then you wont be disappointed! Sip tea in the Lobby Lounge or if you prefer, recline in one of the lovely drawing rooms. You will feel transported back to an era when this elegant ritual was de rigueur.
This luxurious experience is €30pp, or €47pp for their champagne afternoon tea.
8/ No 1 Perry Square
Relax by the fireside, sipping on bubbly enjoying the country ambience in a relaxed environment to celebrate in style. Served in the stunning Drawing Room at the heart of the house. Cahill's Tea's of Wickham Street who operate from the historic old snuff factory in Limerick have created some gorgeous blends for No. 1 Perry Square's afternoon tea; Sourced from organic gardens in India, Ceylon & China. Enjoy the very best of loose leaf teas more exotic varieties.
This luxurious experience is €36pp, or €55pp for their champagne afternoon tea.
9/ Ashford Castle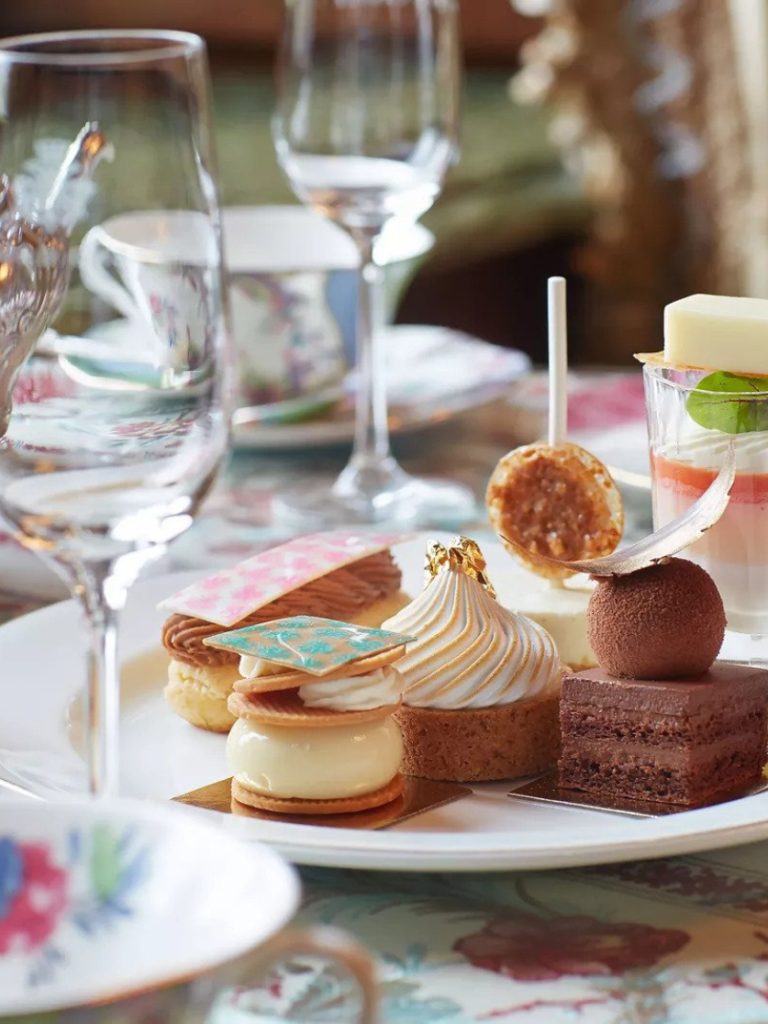 The long-established tradition of afternoon tea has been wonderfully preserved at The Lodge At Ashford Castle since 1868. With spectacular views from the comfort of the castle's elegant interior, take your time to savour every delicious moment. Known for their glamour of the venue and impeccable quality of service, this is a must book to end a girly weekend away or as treat for your mother in law before the wedding day!
This luxurious experience is €60, or you may enjoy their champagne-tasting afternoon tea at €38 per tasting!
10/ Castlemartyr Resort
There are few more perfect settings for the time-honoured tradition of afternoon tea than sitting beneath the magnificent  Lafranchini ceiling of Knights in the Manor House, overlooking the formal gardens of Castlemartyr Resort. Indulge in Cork's Classic afternoon tea with vintage-style service within the convivial ambience and elegance of Knights Bar in the Manor House.
This luxurious experience is €90 for two, or €110 for two for their champagne afternoon tea.
11/ The Merrion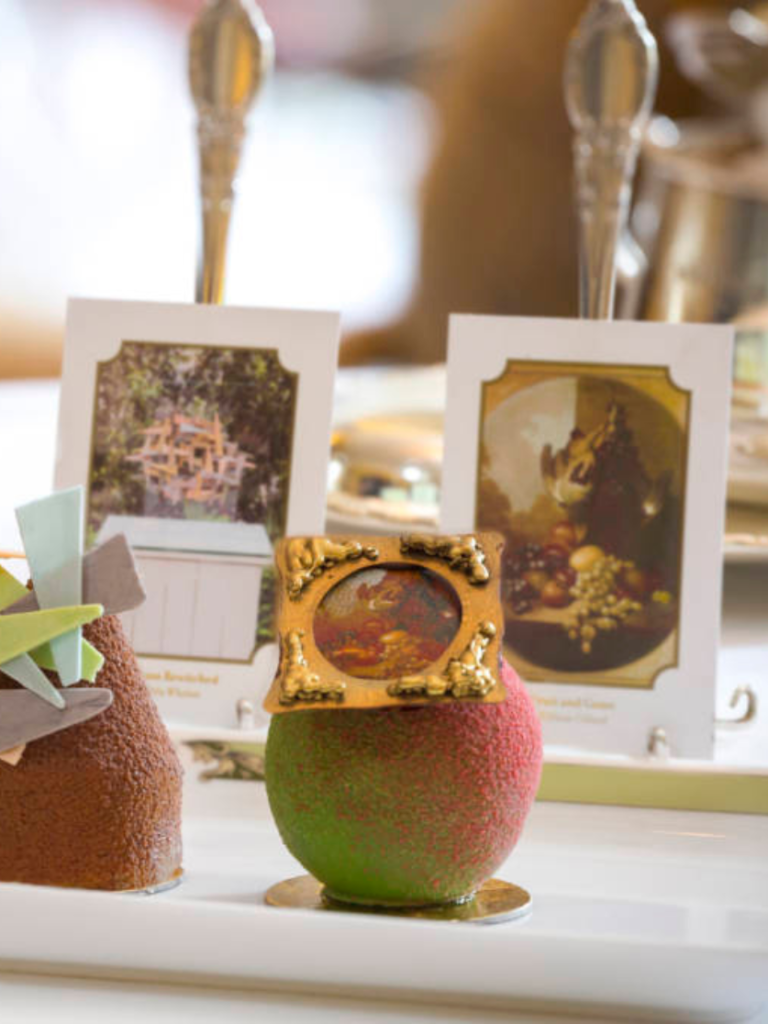 Art Tea' at The Merrion 5 star hotel is the most lavish afternoon tea in Dublin. Treat yourself to a slice of 19th- or 20th-century art served on fine china with miniature sweet creations inspired by the work of J.B Yeats, William Scott, Louis Le Brocquy and others. The gracious surroundings of The Merrion's Drawing Rooms are the perfect place to relax for an afternoon with a selection of delectable treats, accompanied by refreshments selected by the Merrion's in-house tea masters and barista, while browsing through a complimentary copy of The Merrion art collection catalogue.
This luxurious experience is €59pp, or €73.50pp with a glass of champagne.
- Gráinne