Agent Manager at Pinterest Genevieve Wilson exchanged vows with Sales Director Niall Fitzmaurice in the breathtakingly beautiful hills of Tuscany this June.
Photography: Federico Pannachi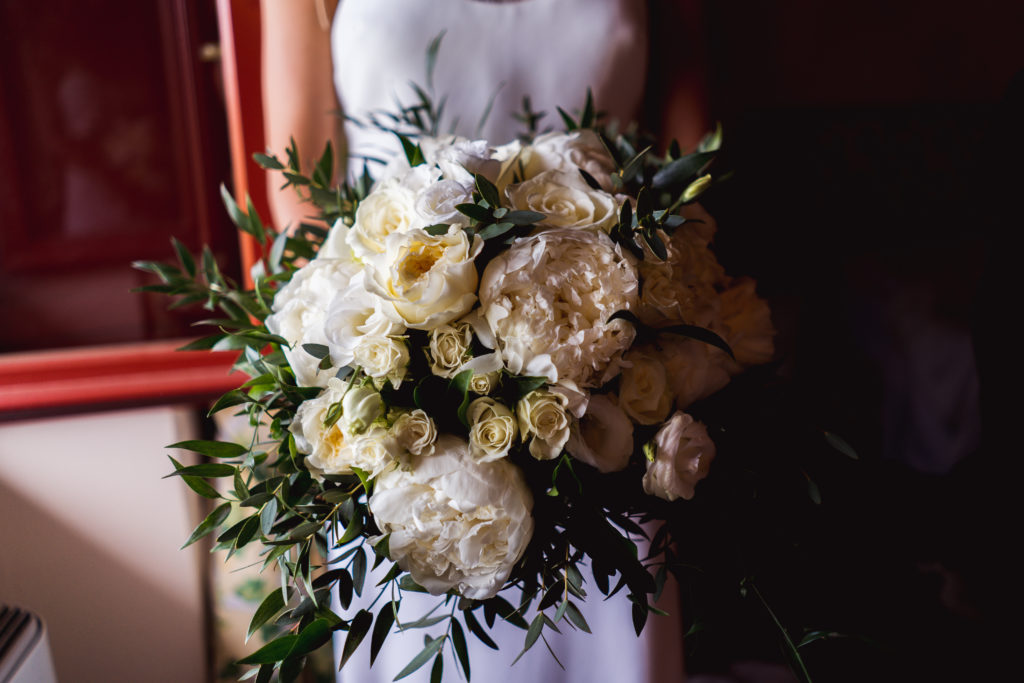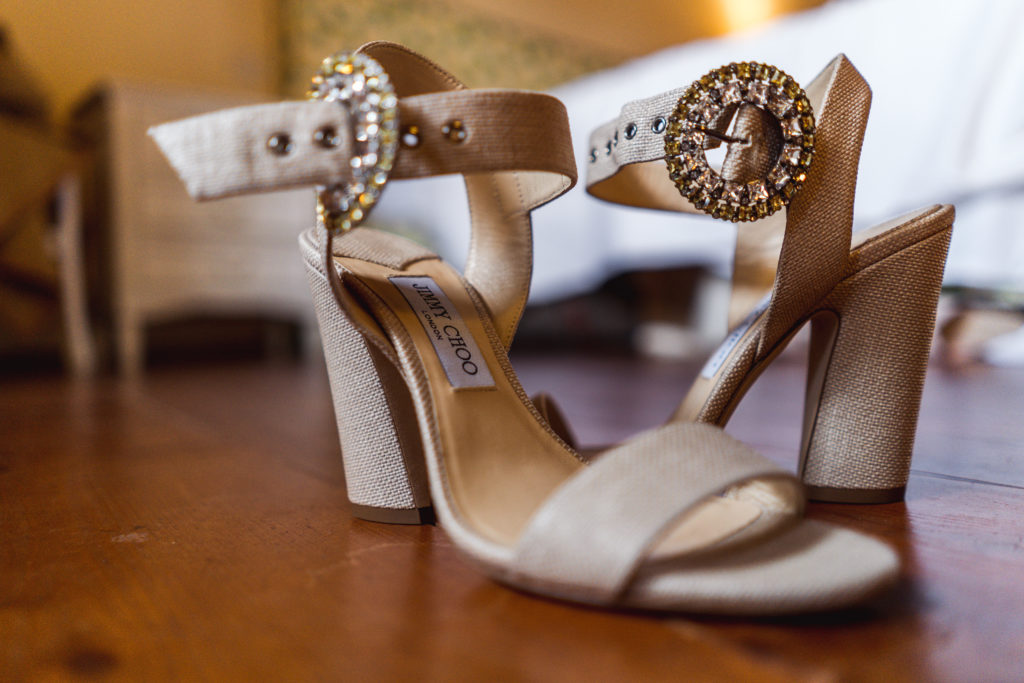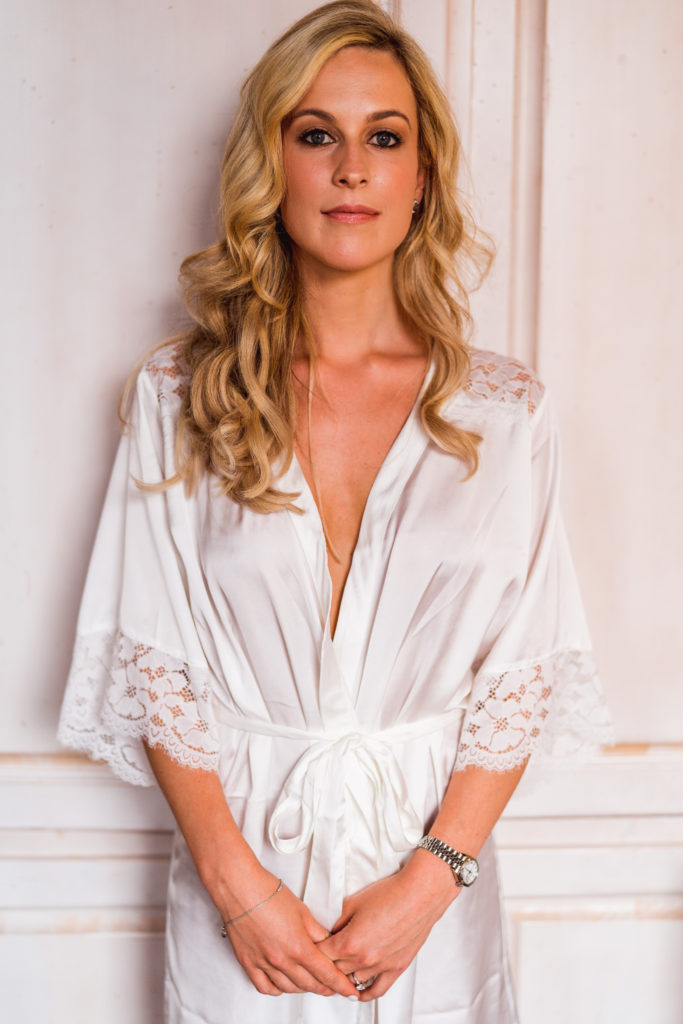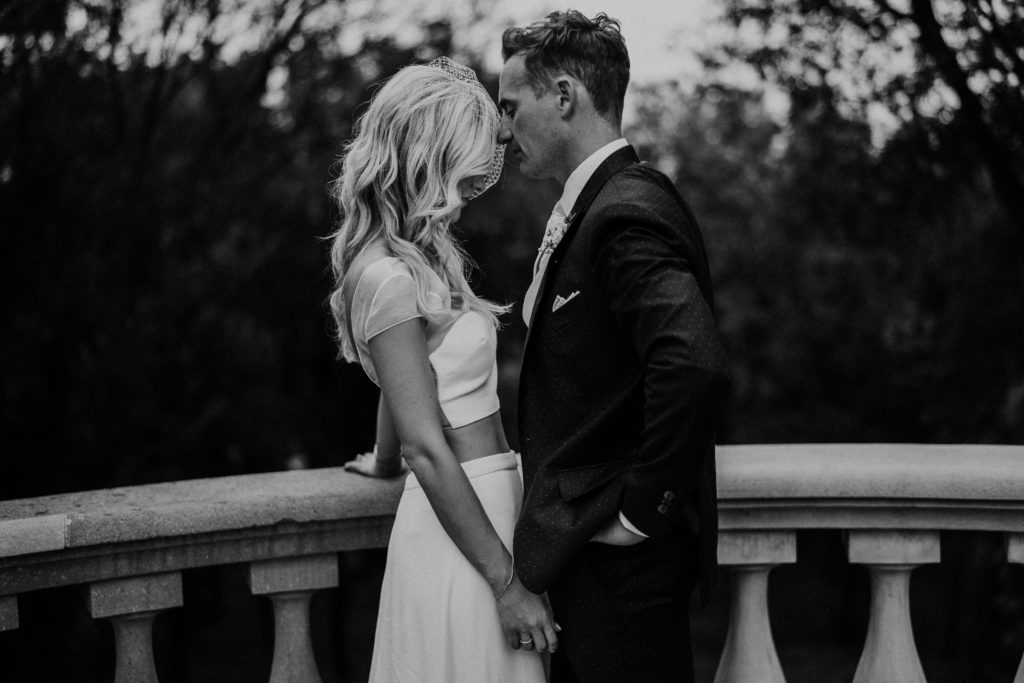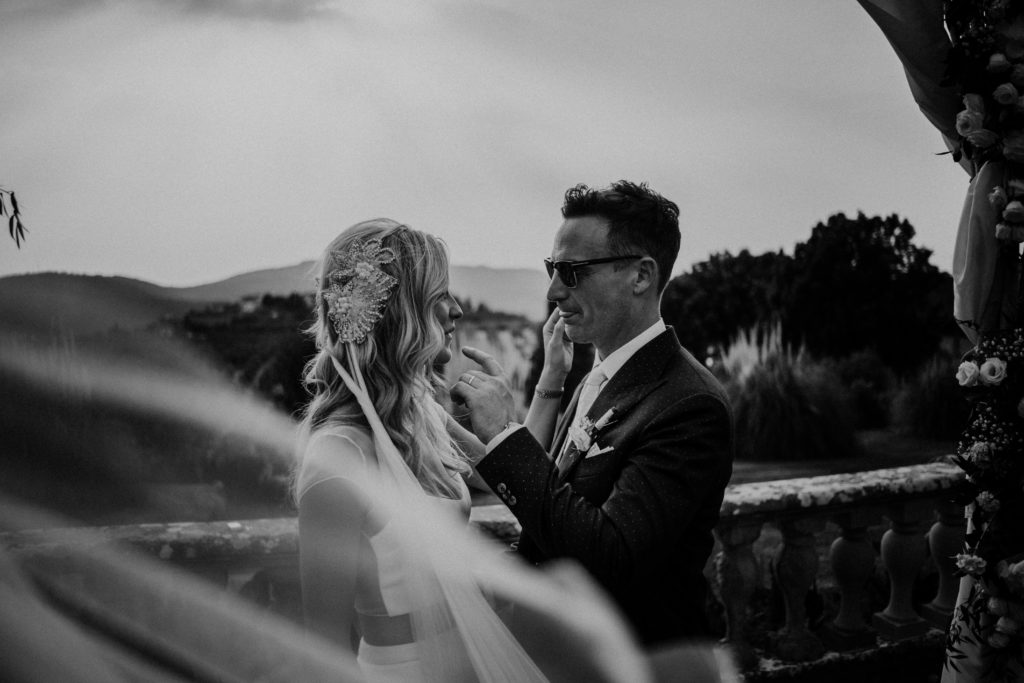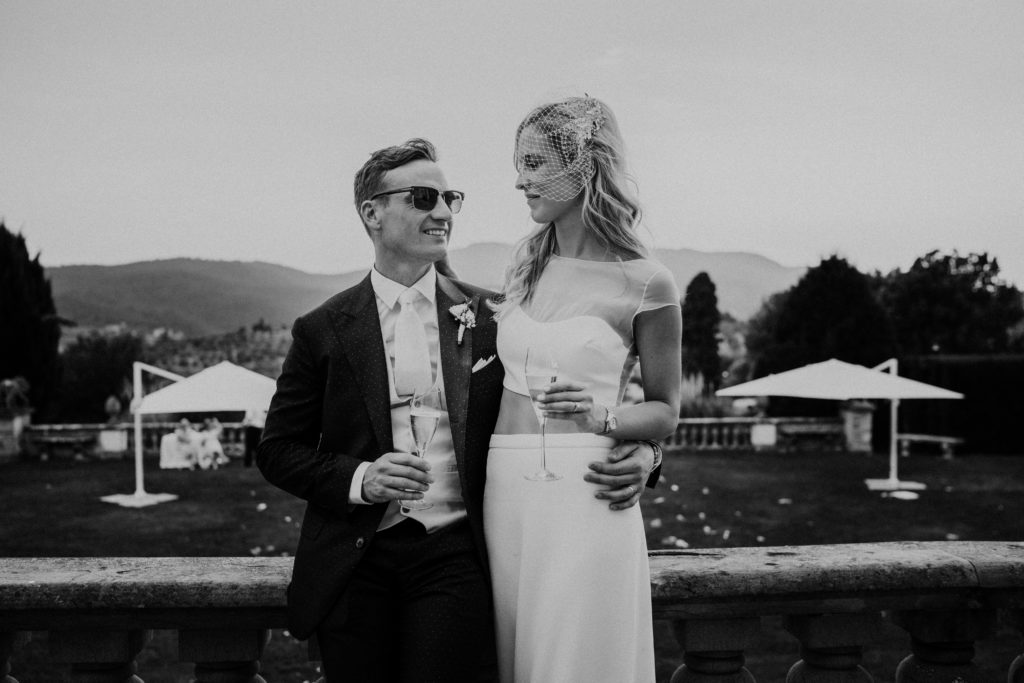 Niall and Genevieve both lived on the same road in Sutton when they were much younger. Niall is a few years older than her and has always been good friends with her two older brothers, he remembers Genevieve when she was very young wandering around in her bare feet! Genevieve and her family moved out of Sutton when she was seven and the couple didn't see each other again until she was 23. They met at her sisters 18th birthday party and it all began then.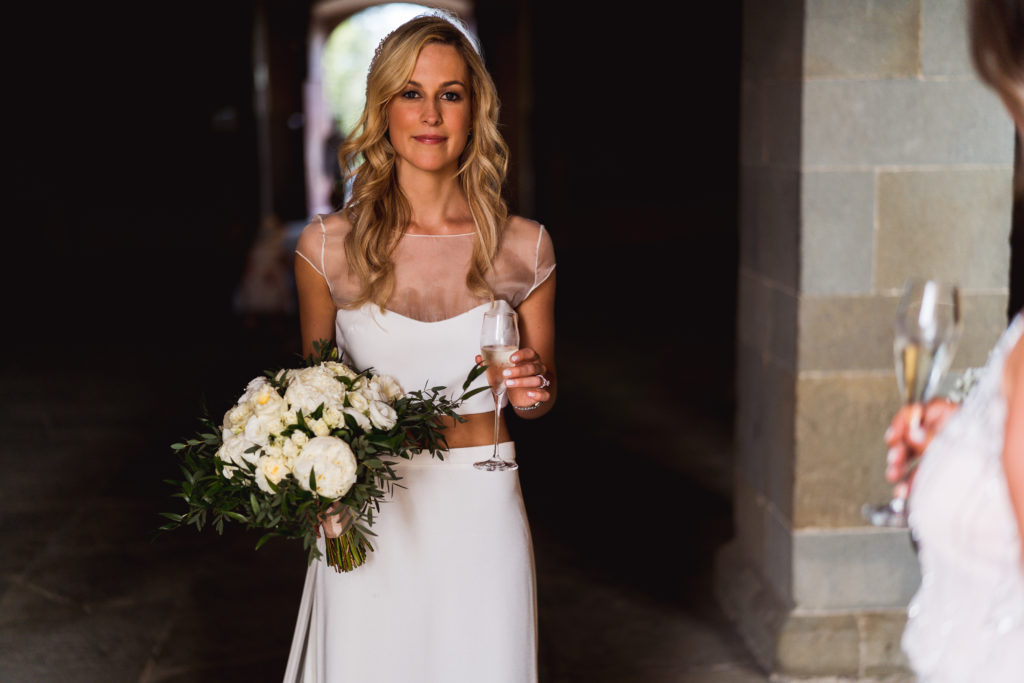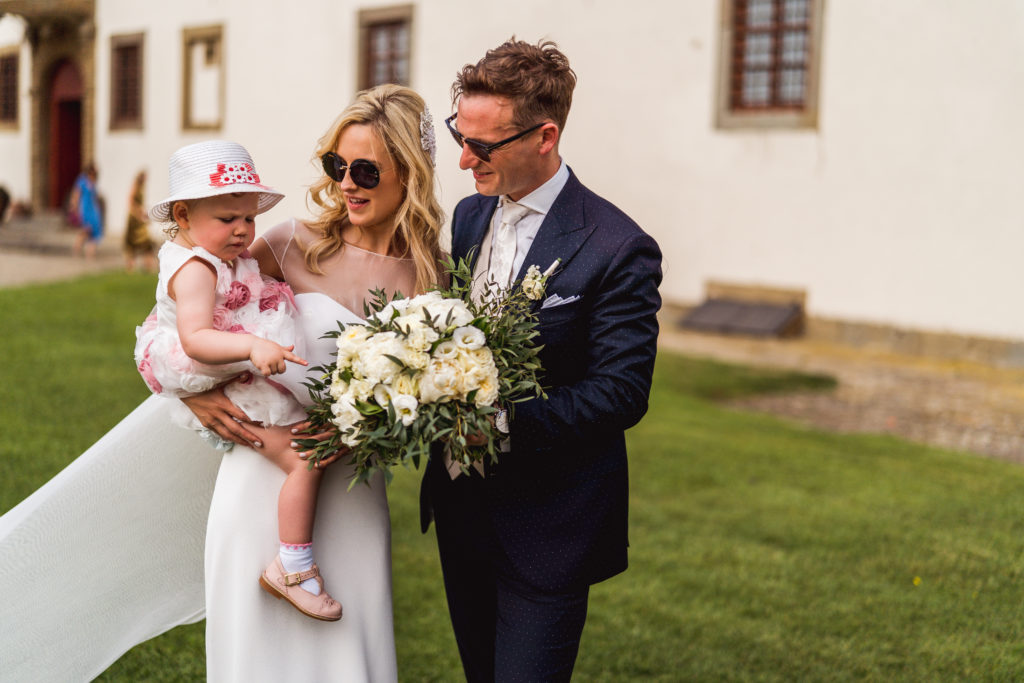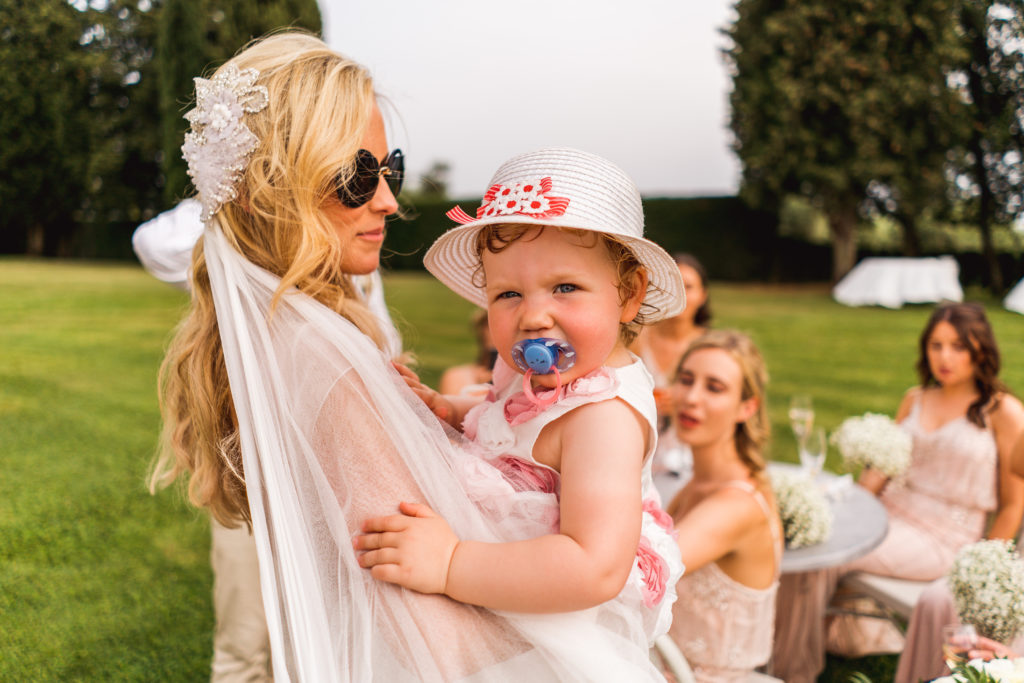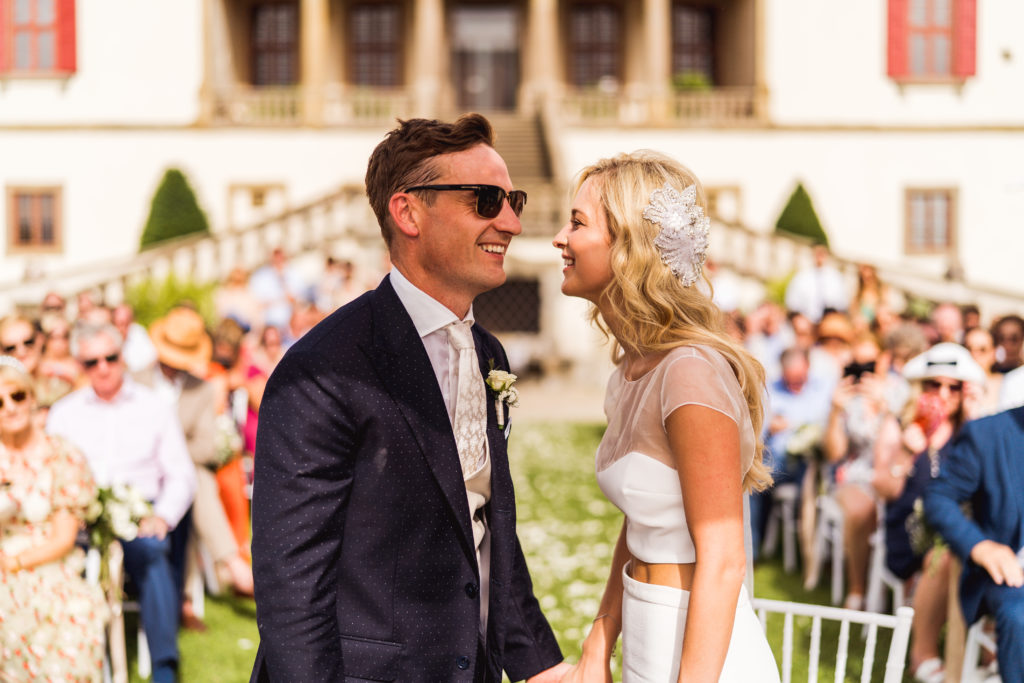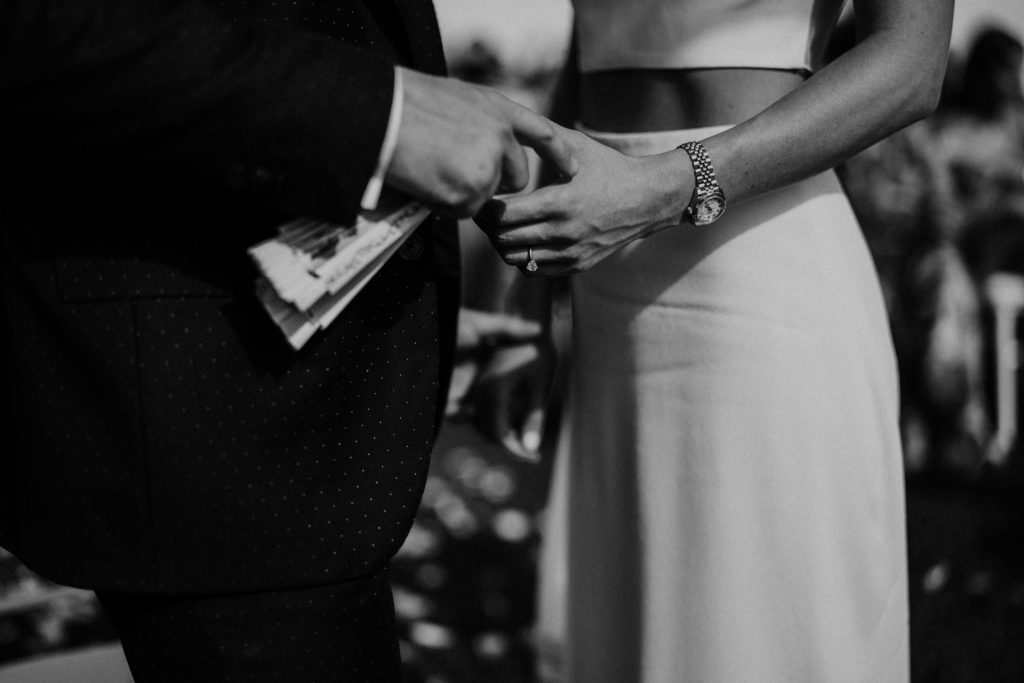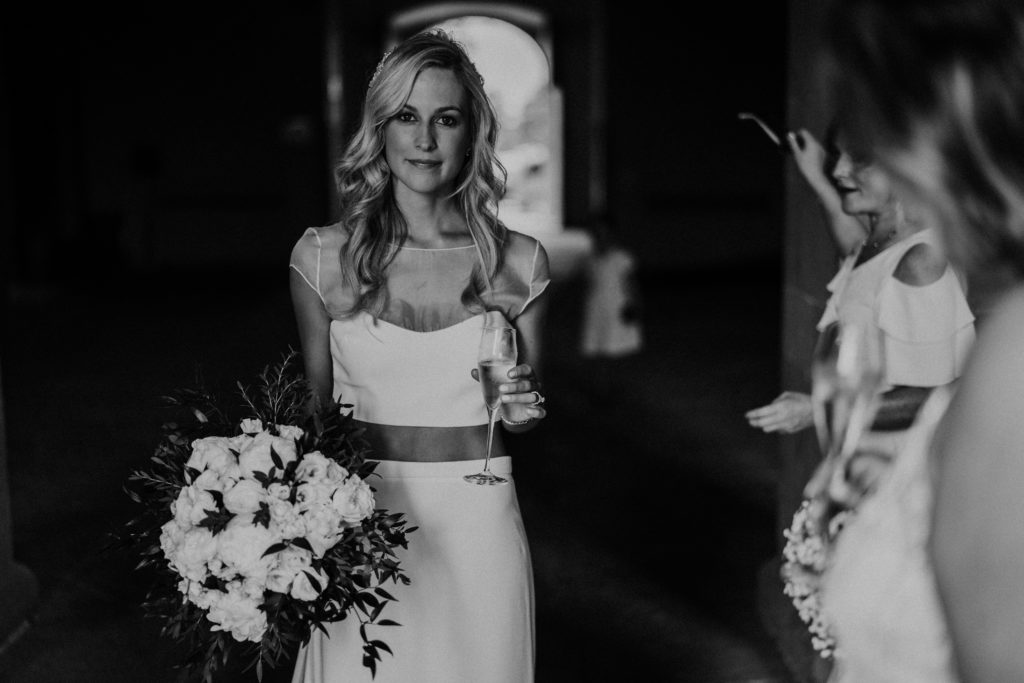 The couple had their daughter Lilly-James in July 2017. Three months later, Niall surprised Genevieve with a parent's getaway to Northern Ireland and they went to The Galgorm Hotel in Antrim. Niall and Genevieve checked into a beautiful suite and went for a walk through the gorgeous estate before going back to the pool for a swim. After relaxing in the spa, they walked back to their room to get ready for dinner and it was covered in rose petals with a bottle of champagne and chocolates waiting for them. She didn't realise what was happening until Niall got down on one knee and Genevieve was in total shock! He didn't want to propose anywhere in public as he knew his future bride would get very overwhelmed.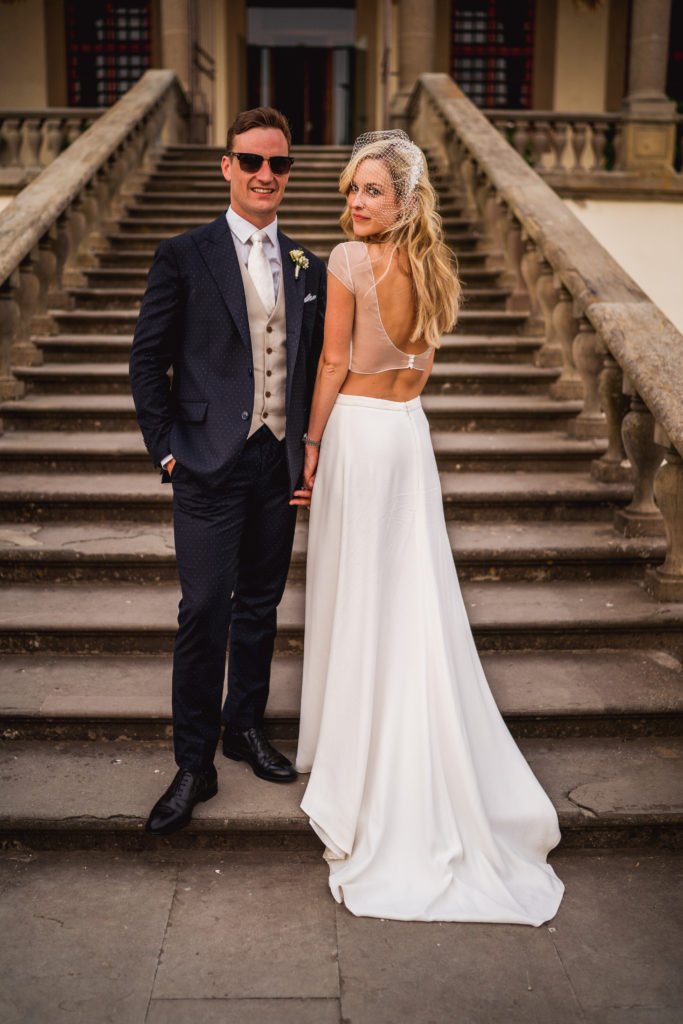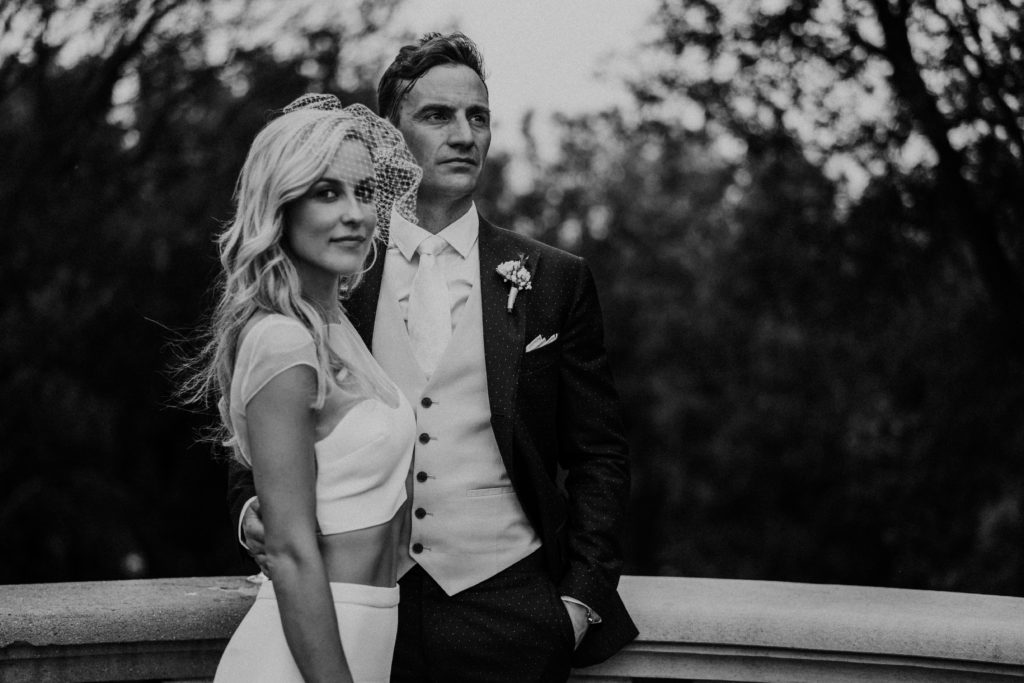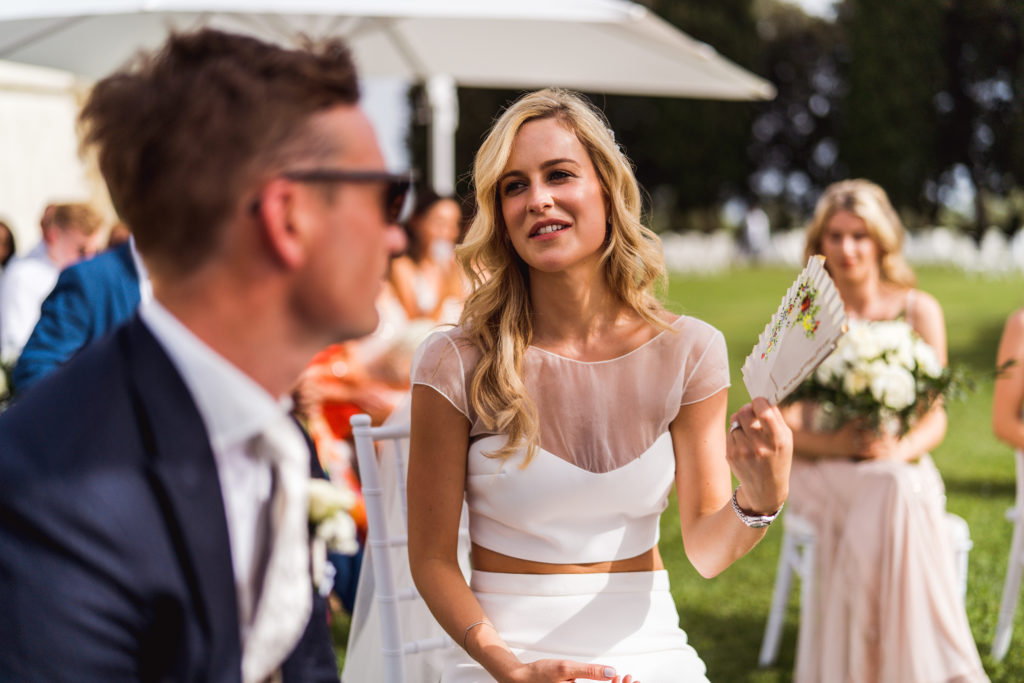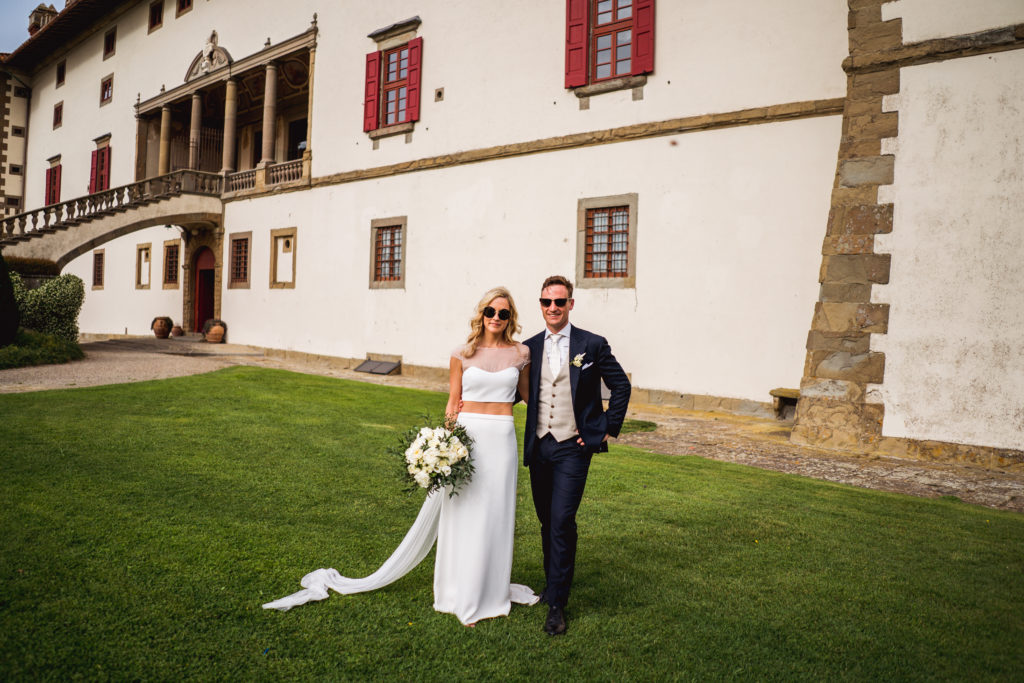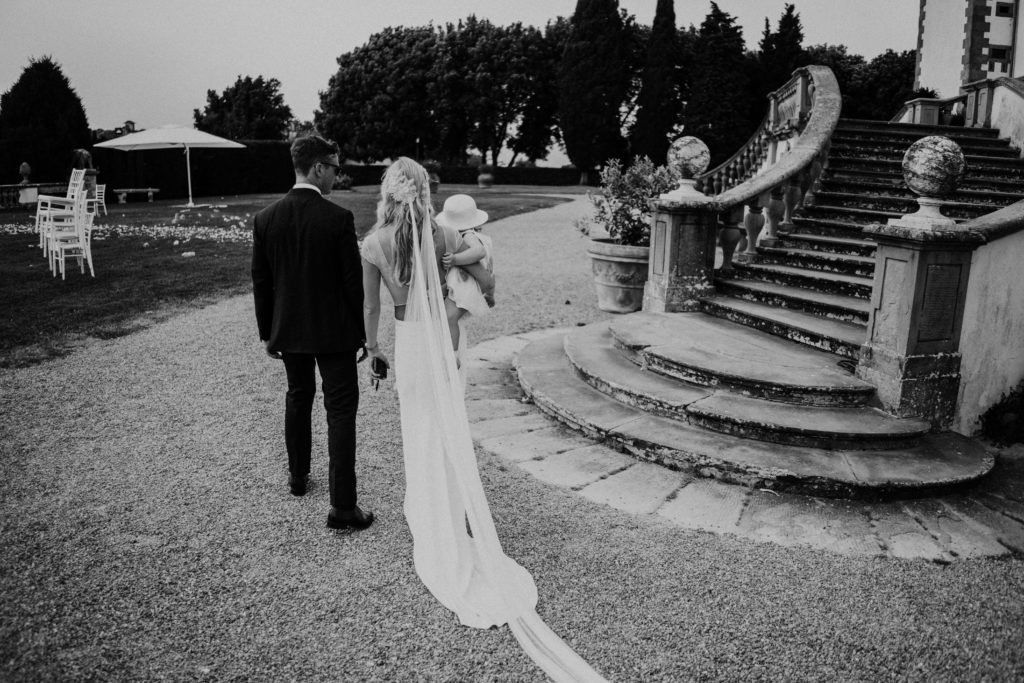 Genevieve always wanted something a little unique and when she started looking at two-pieces, the bride knew that's what she would wear. Genevieve wanted something simple and elegant without being plain. She had originally bought a two-piece by Rembo Styling and the skirt was custom made, but when she came across Rime Arodaky, Genevieve knew she needed to wear one of her pieces so that's where she got my top. Genevieve designed two veils with the very talented Jill Wilde of Wilde by Design, a long silk veil with a stunning head adornment for the ceremony and a birdcage veil to wear from the Aperitif onwards.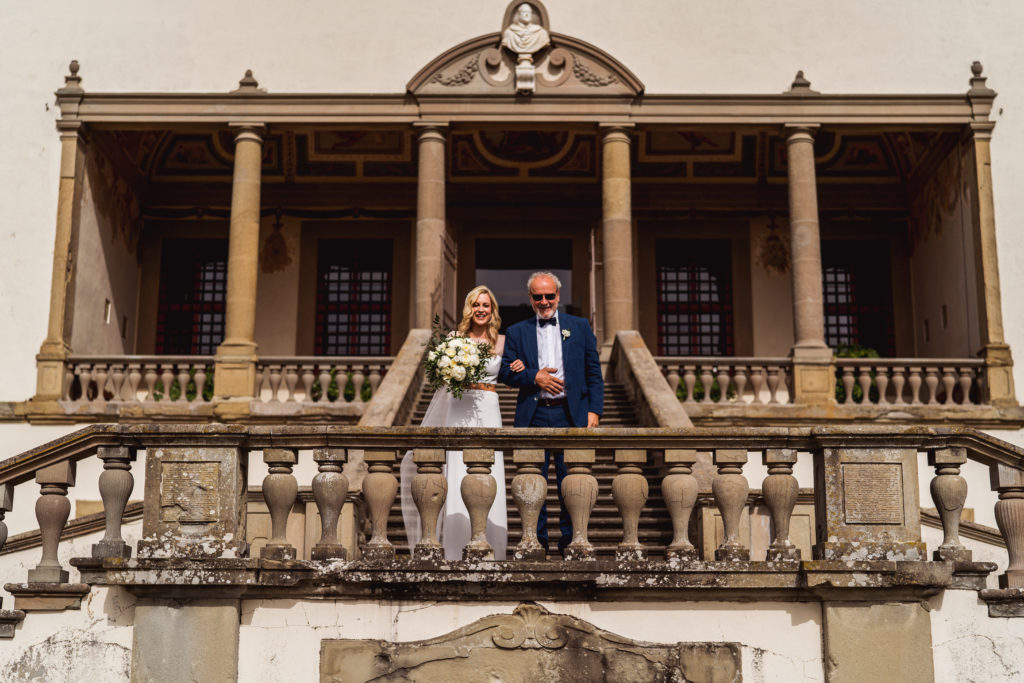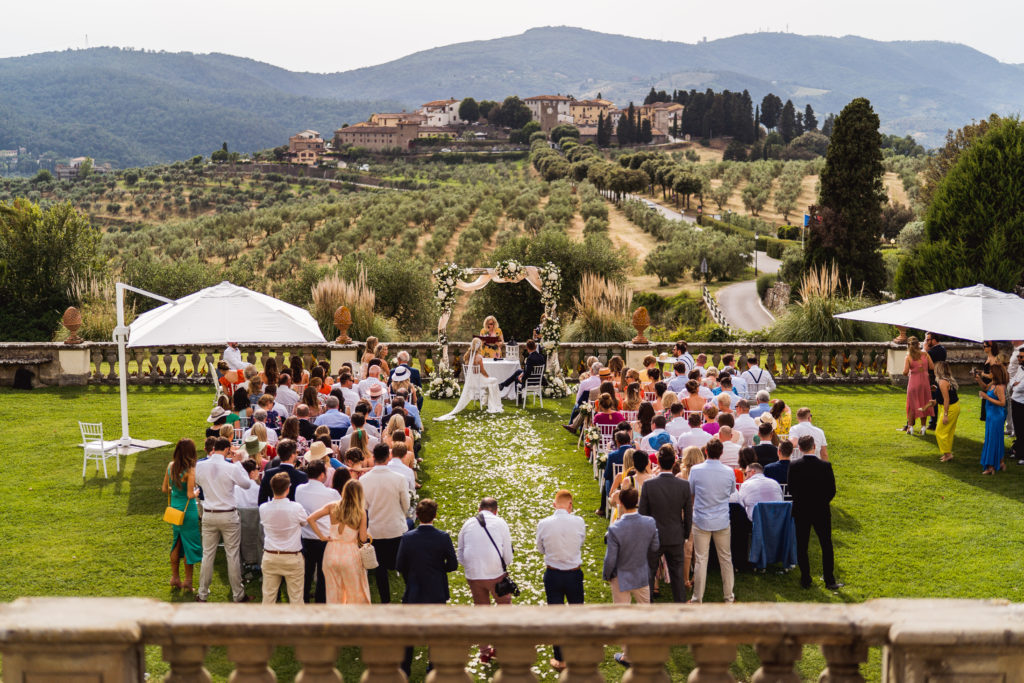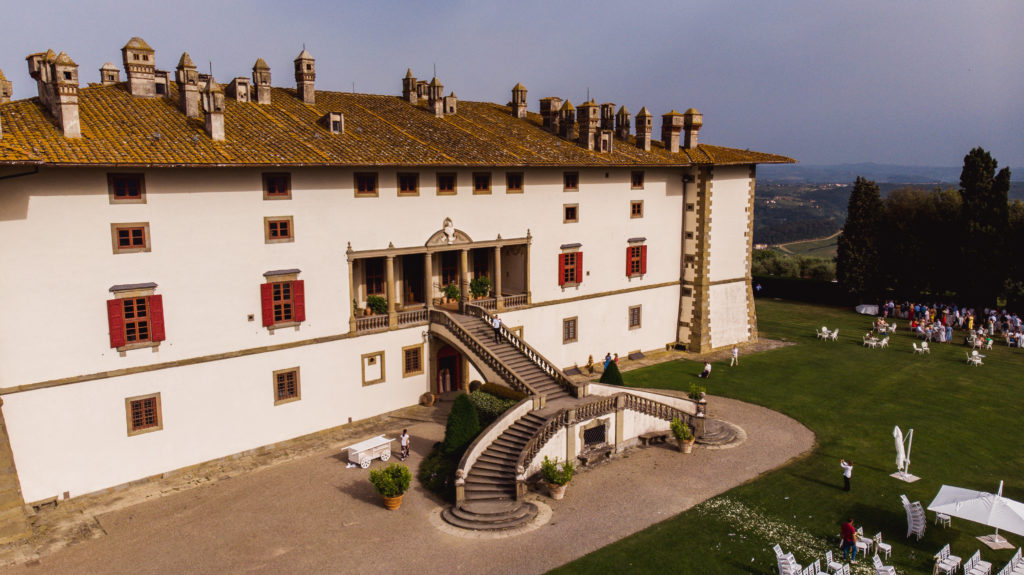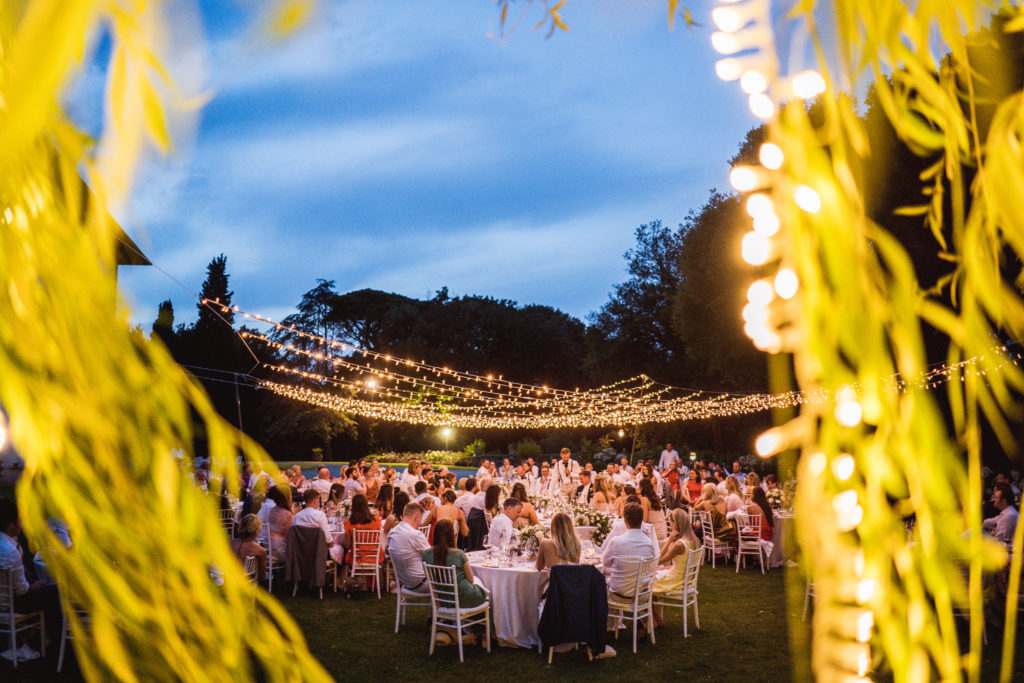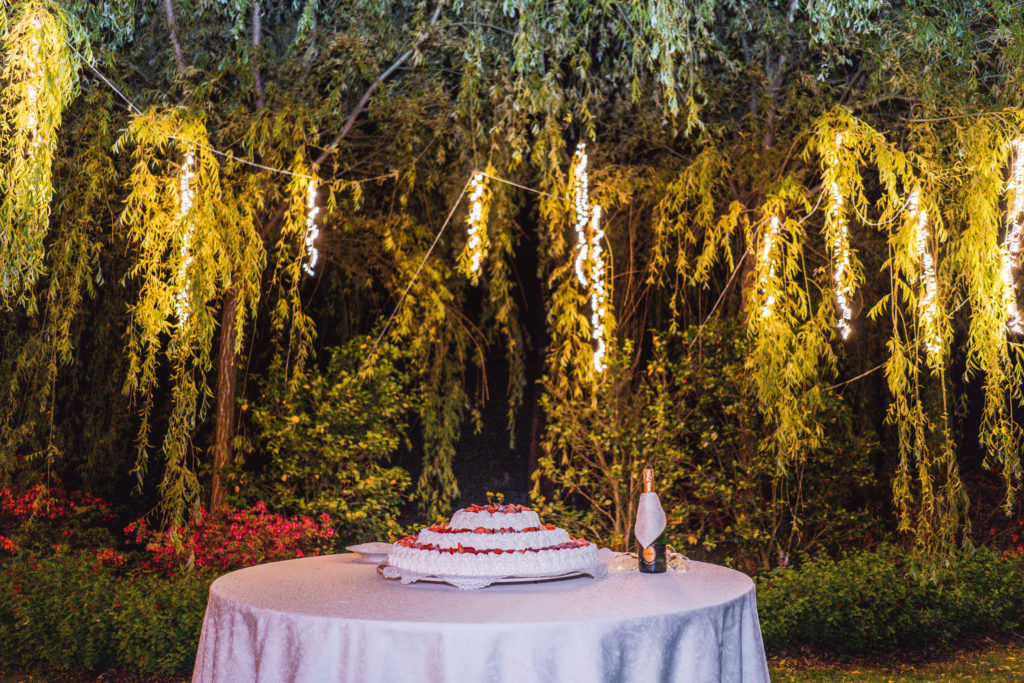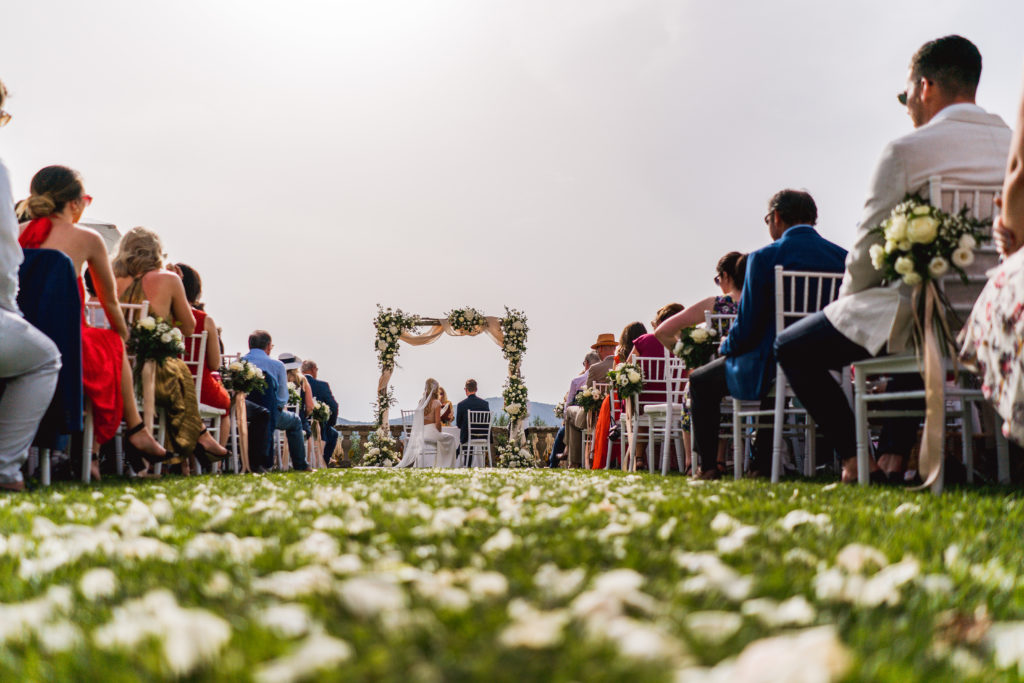 The couple found Villa La Ferdinanda in a tiny village called Artimino in the hills of Tuscany. It belonged to the Medici Family and was built in 1597. Leonardo Da Vinci used to frequent the villa and one of his pieces actually remains there!
"We fell in love with our venue as soon as we saw it, it is one of the most beautiful places I have ever been."
The villa itself is spectacular and the steps to the front allowed Genevieve to have a very grand entrance to their outdoor ceremony. There was a hotel on-site for the couple's families and a little Hamlet of apartments for the rest of their 160 guests. Nobody had to leave the venue once they arrived which was important to Genevieve and Niall.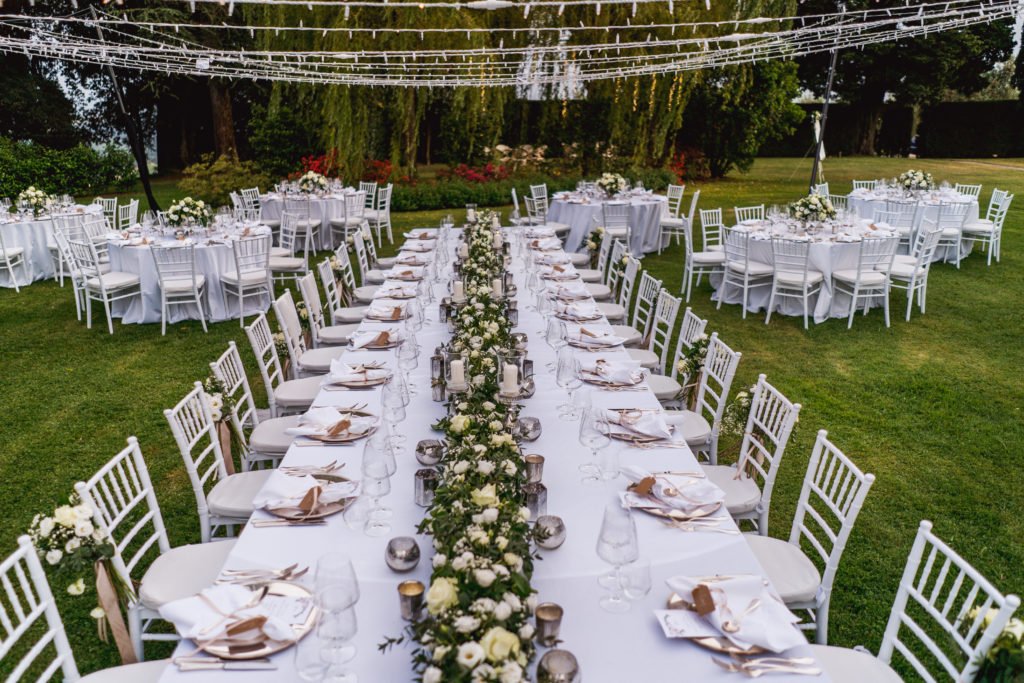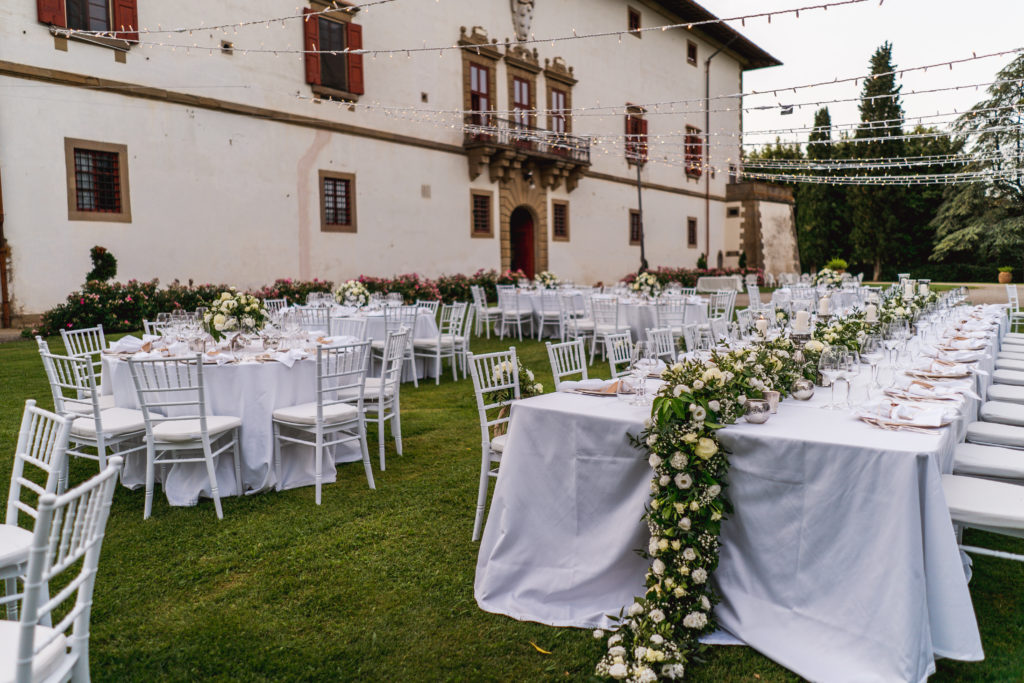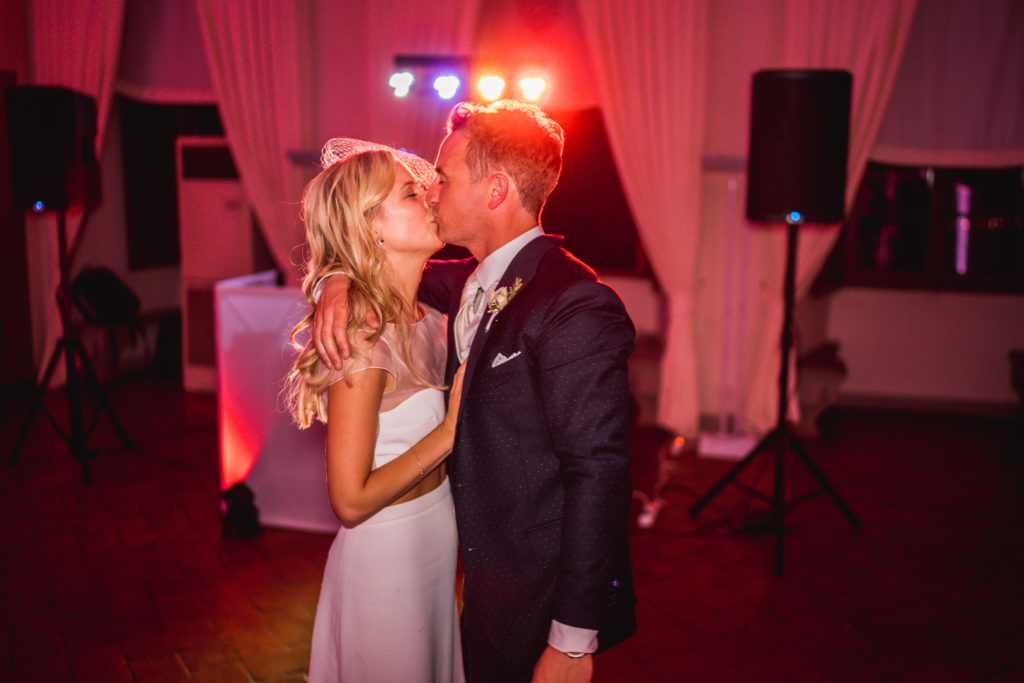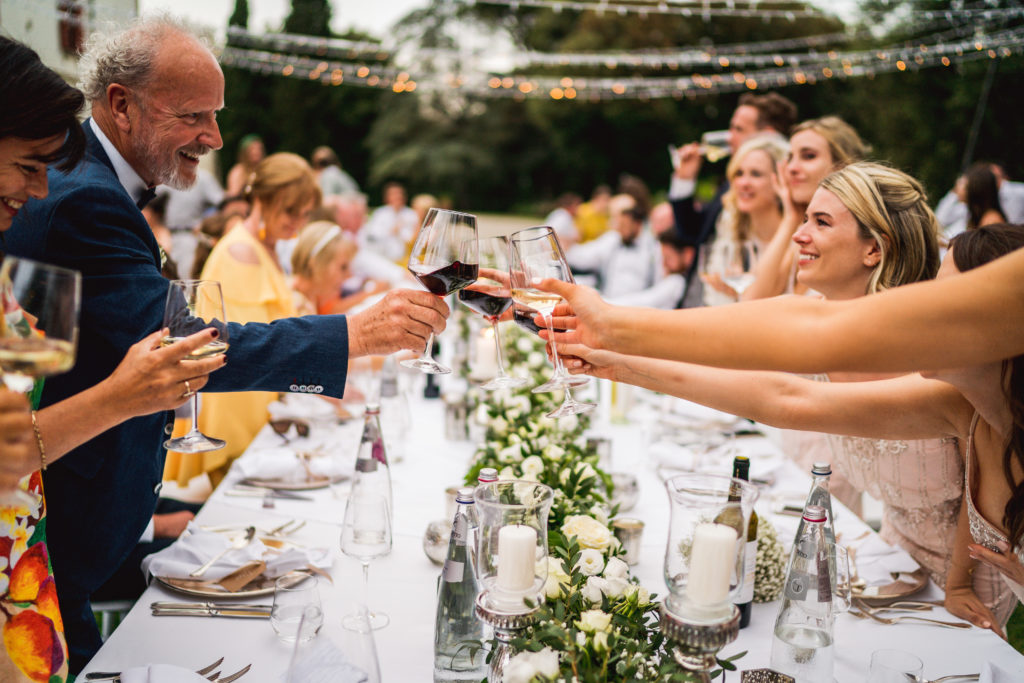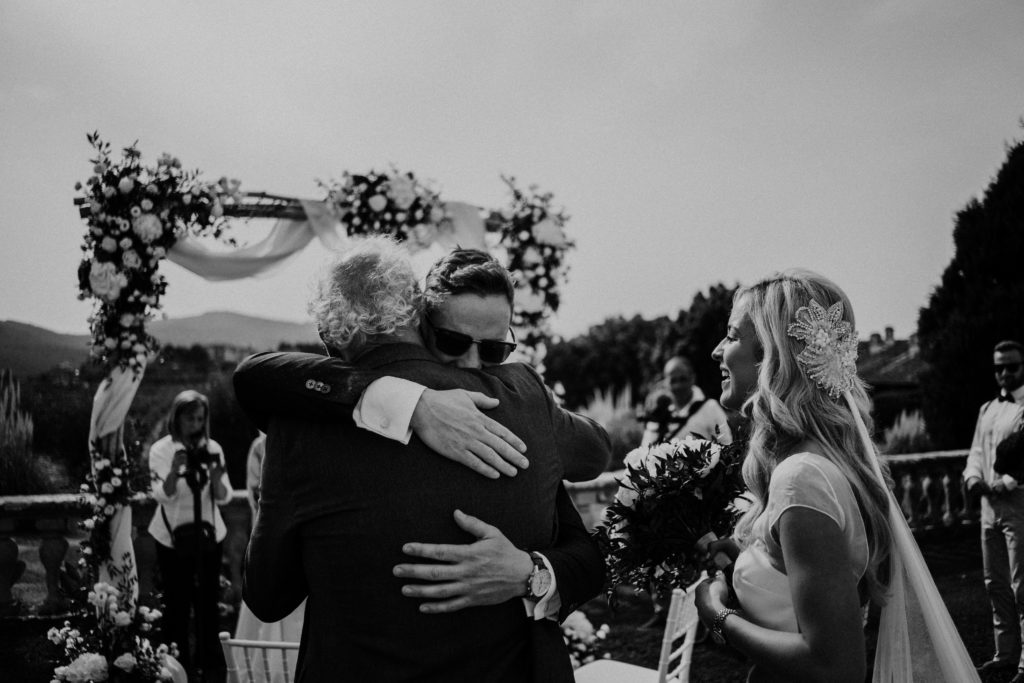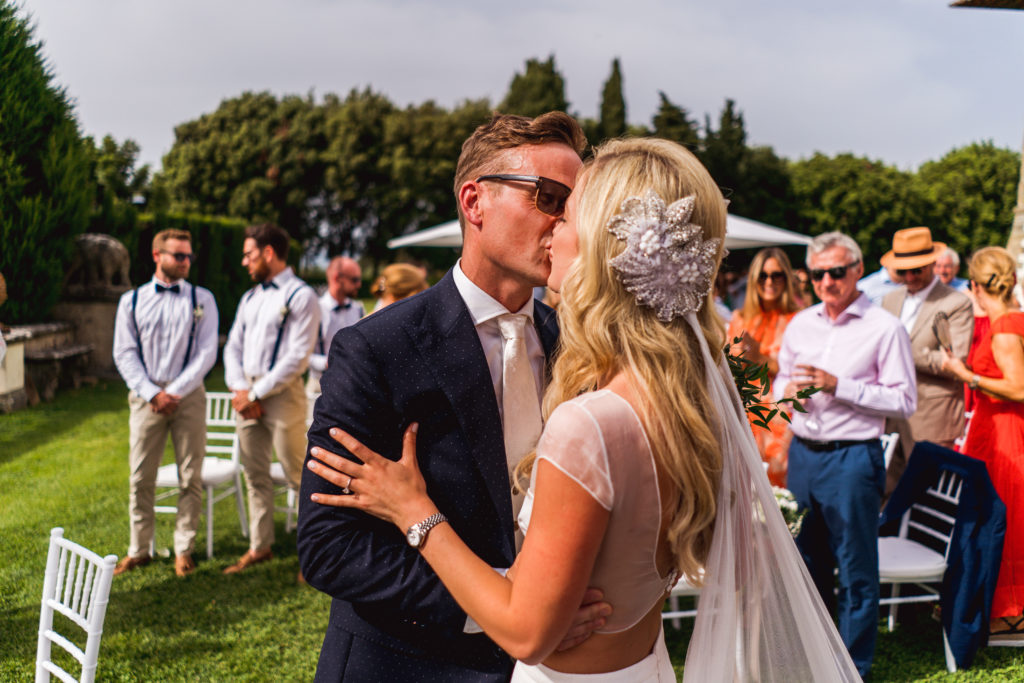 One of Niall's best friends Richie is a musician and he sang and played the guitar throughout the ceremony.
"He has an incredible voice and it was really romantic."
The couple had a DJ for the Aperitif which was on the grounds of the villa and he played again for the dance party. On day two, they had more live music with Richie and then a lot of the other guests got up and sang and played the guitar too. Genevieve and Niall had a serious singsong which everyone got involved in, they never knew they had so many talented friends!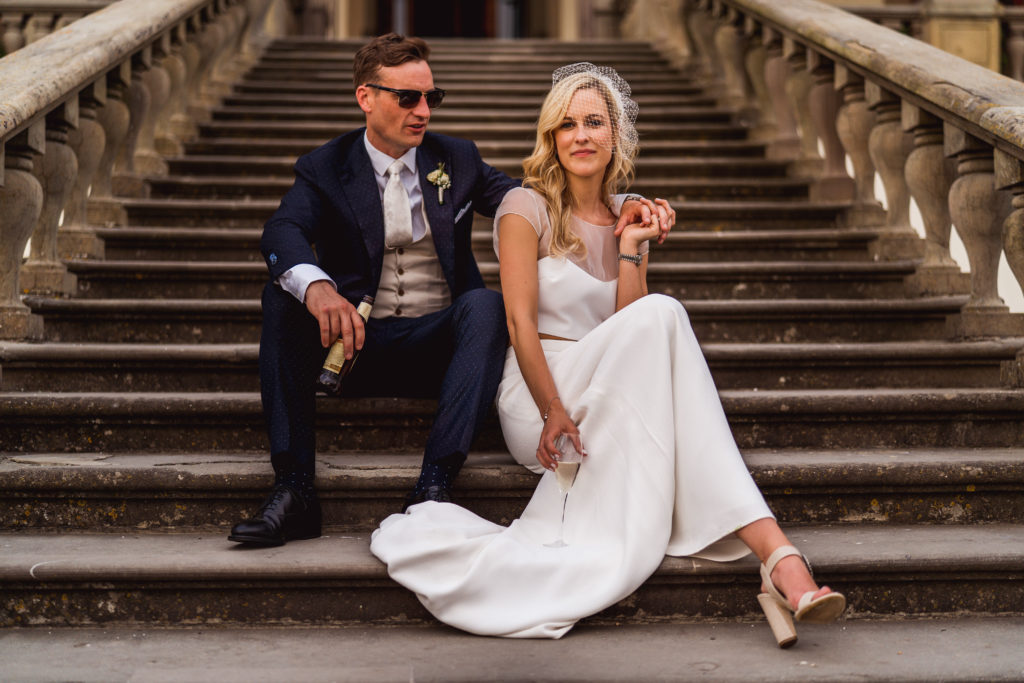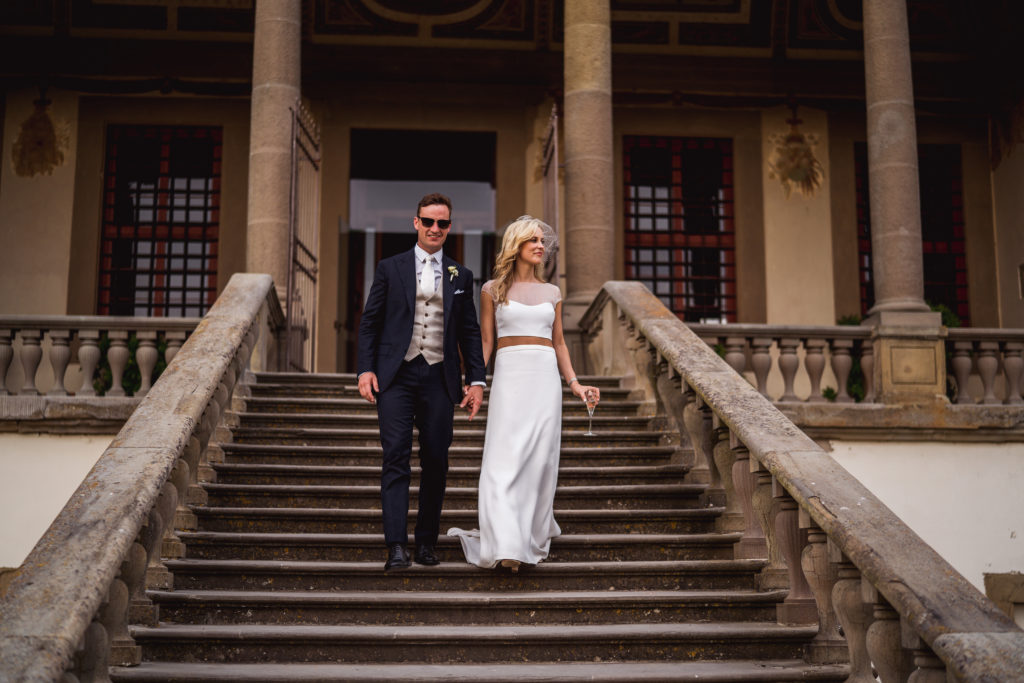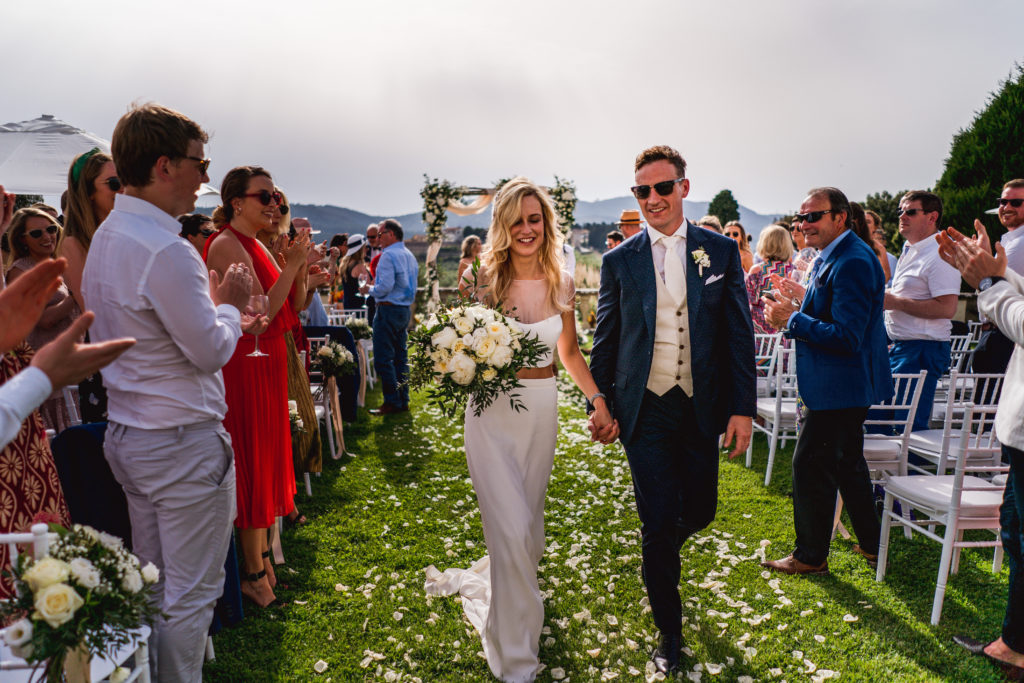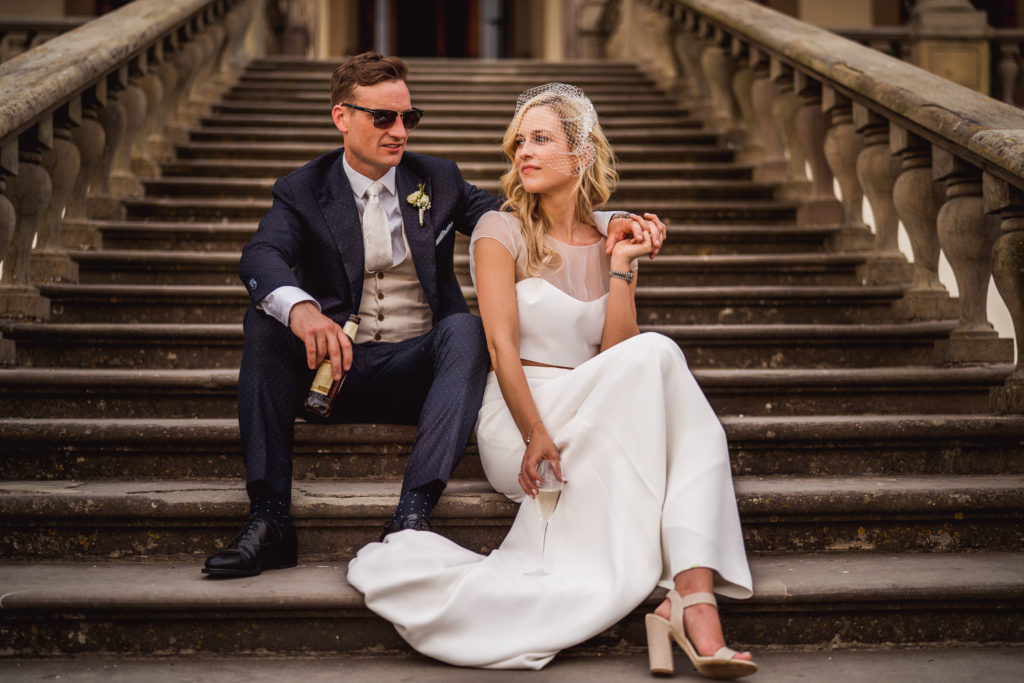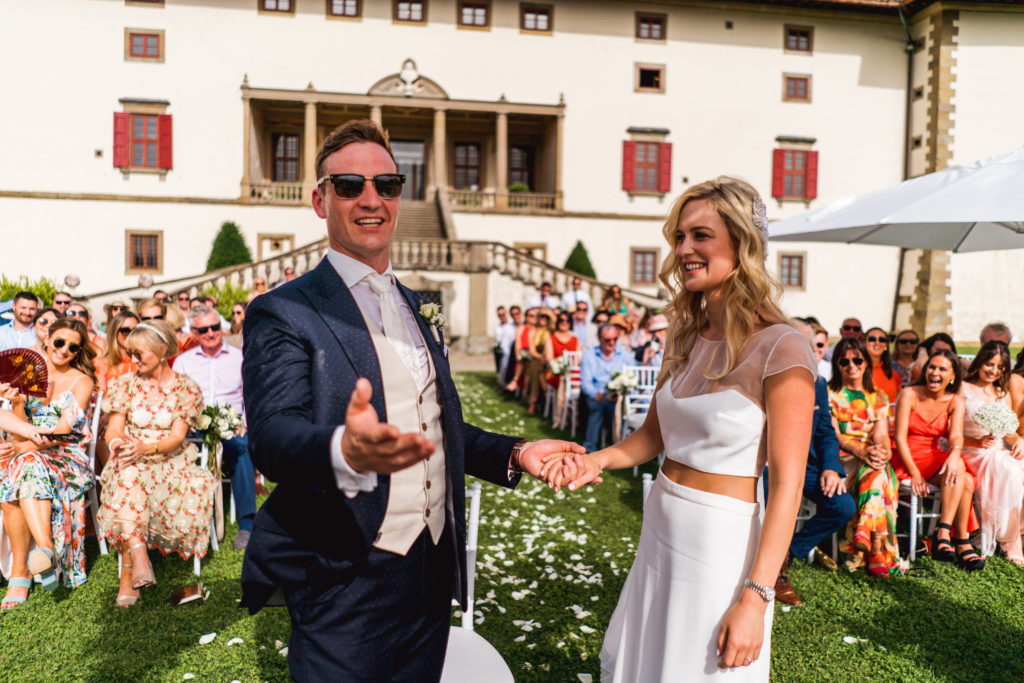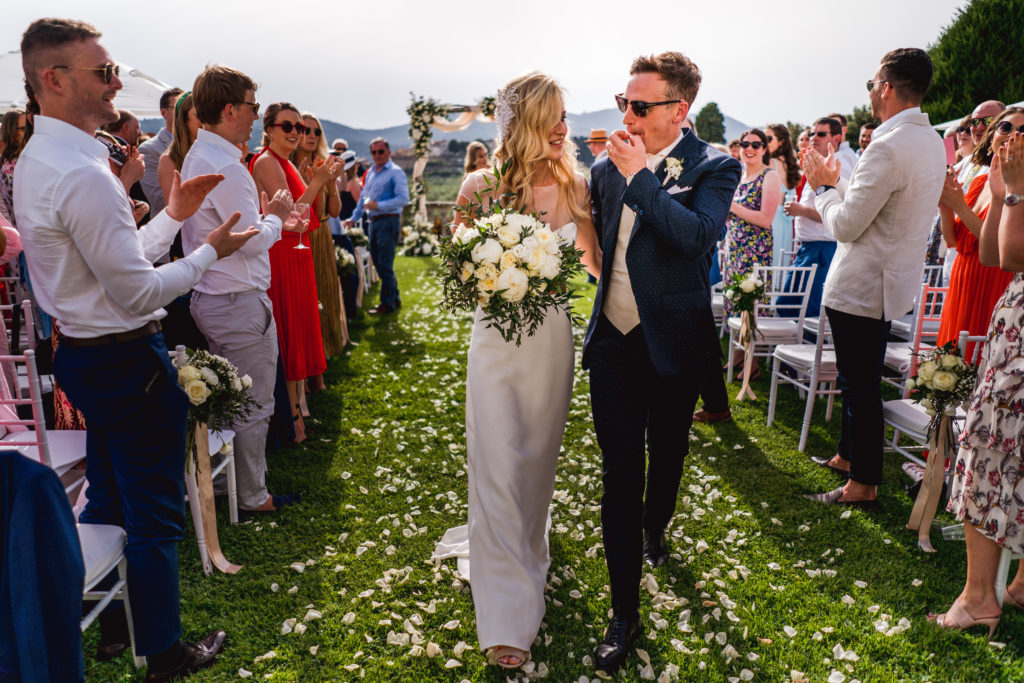 Genevieve invested in a skincare package in Renew Clinic on Hatch Street in Dublin which involved a combination of medical-grade IPL treatments and medical-grade peels. She had those treatments every two weeks for the three months leading up to the wedding and feel like her skin was definitely the best it has ever been. She began working on her hair about a year before the wedding with visits to Dry & Fly who looked after her colour and Gold Fever hair extensions, and asides from that, Genevieve went to Claudine King for her brows and made sure to get regular pedicures. She had planned to wear Chanel No.5 L'Eau but her best friend and bridesmaid Kate surprised Genevieve with Jo Malone Honeysuckle & Davana on the day so that ended up being the wedding scent.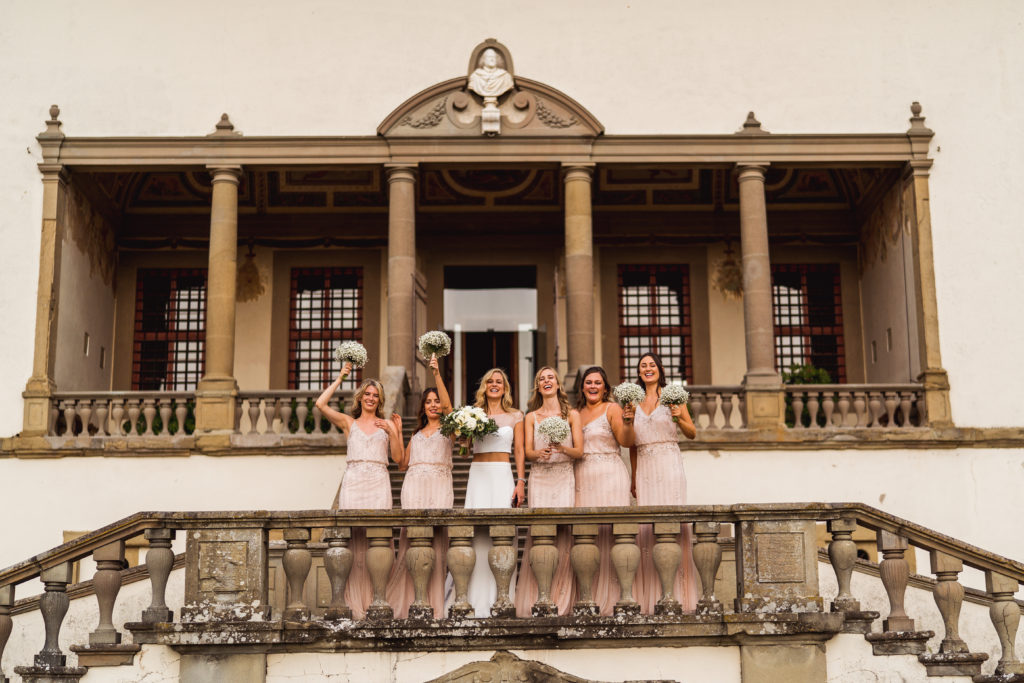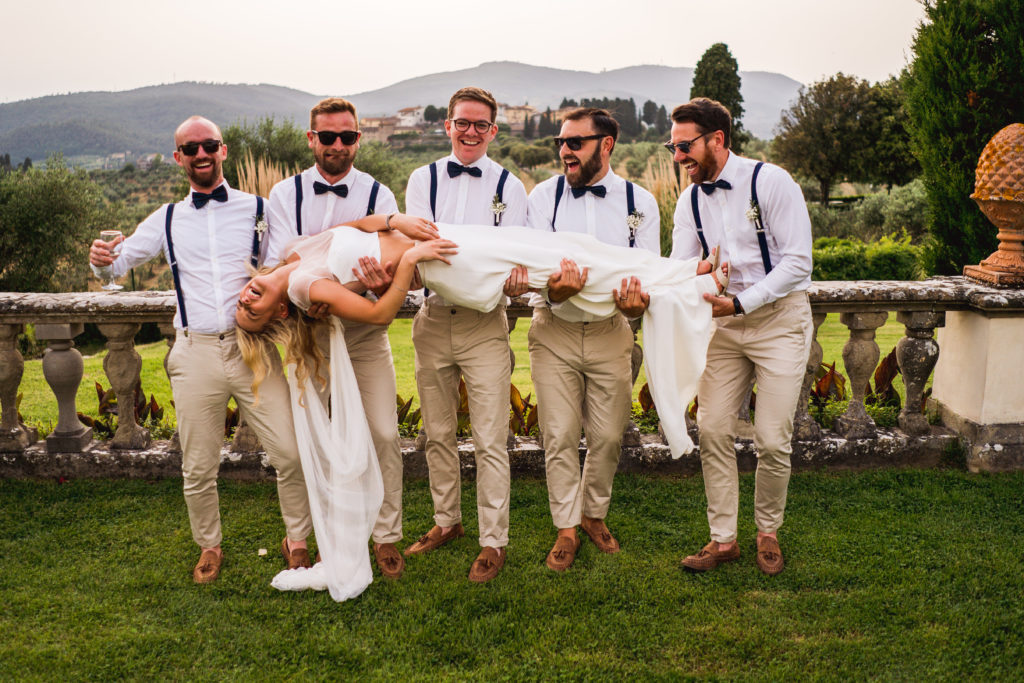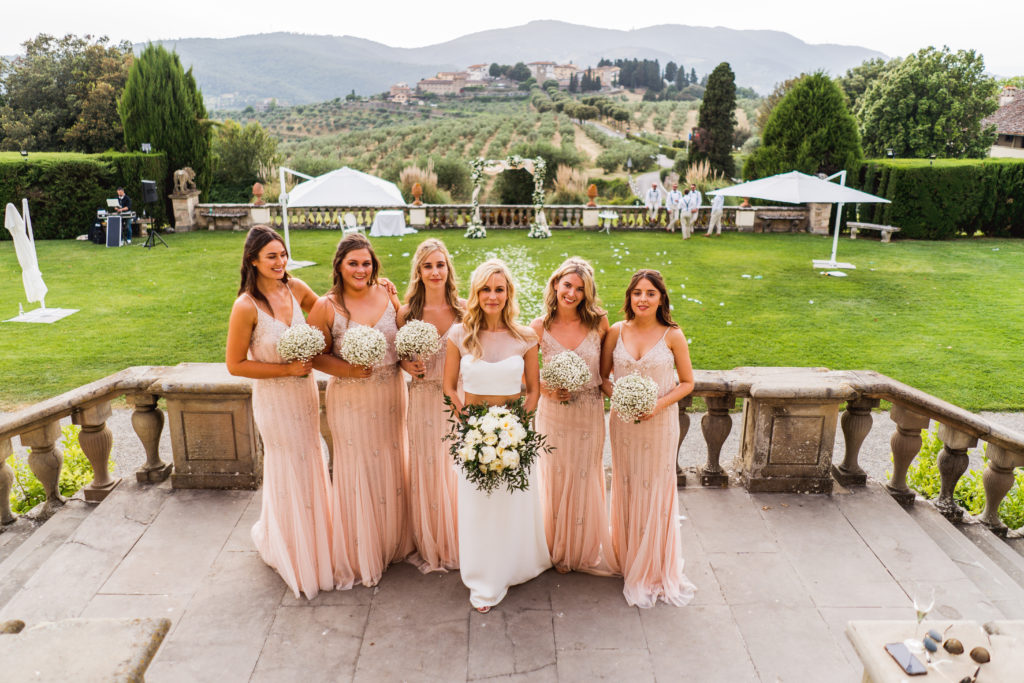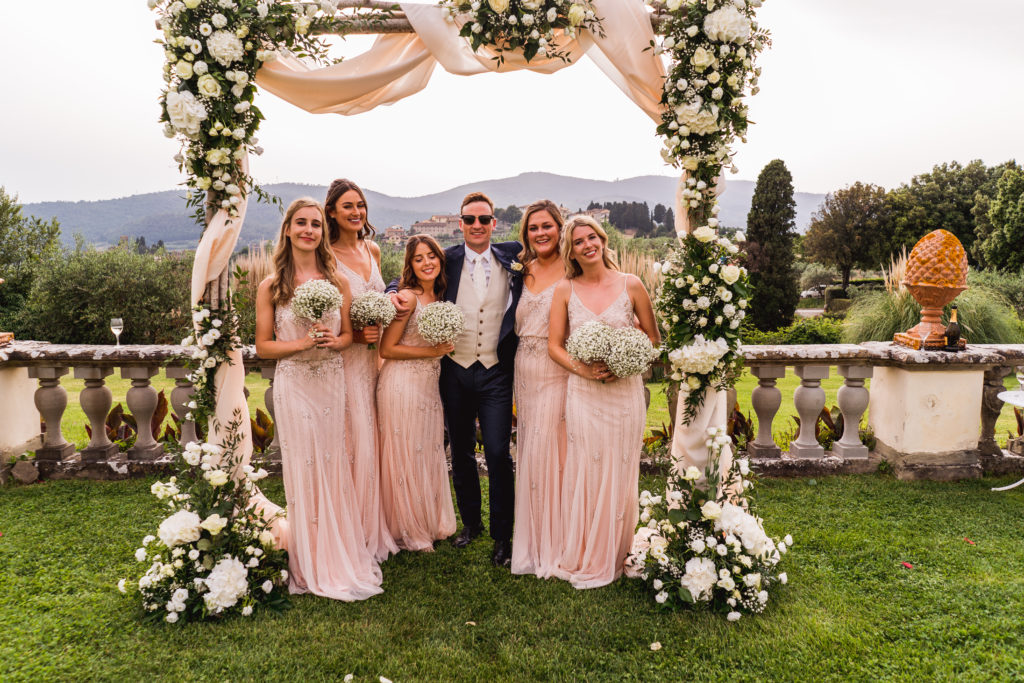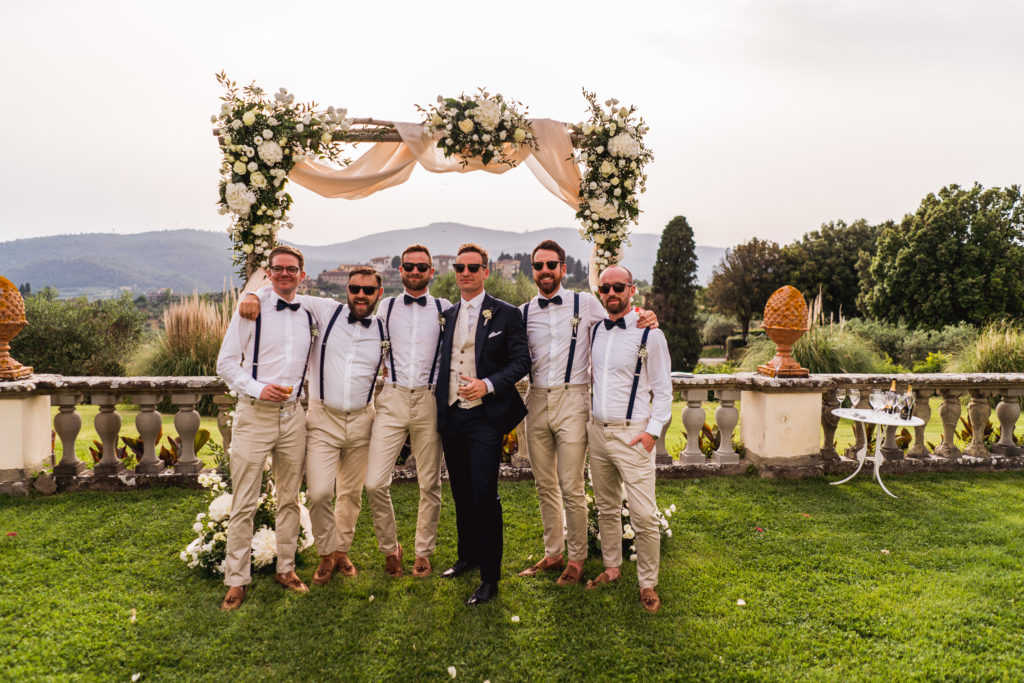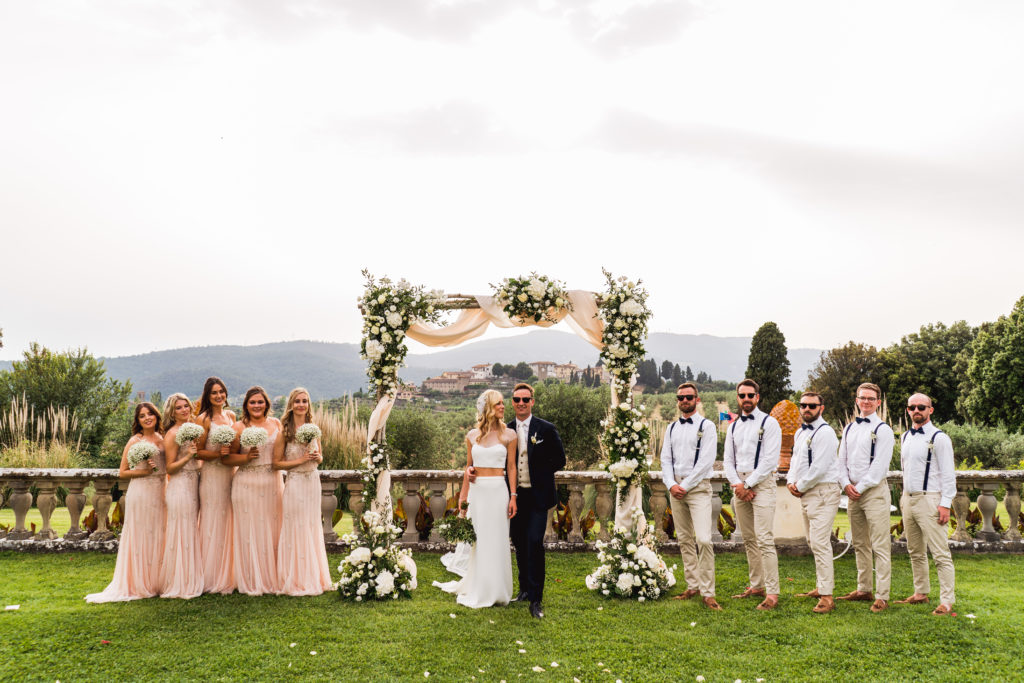 Genevieve had five wonderful bridesmaids. Her sister Jodie was her Maid of Honour, they are joined at the hip and she has supported Genevieve throughout a huge amount over the years. Kate was the Chief Bridesmaid, she has been Genevieve's best friend for 15 years and she could trust her with anything.
"The effort they each put into the planning of everything will overwhelm me for the rest of my life."
Sara, Triona and her other Kate have each been beside her through good times and bad and she has an irreplaceable, lifelong friendship with all of them.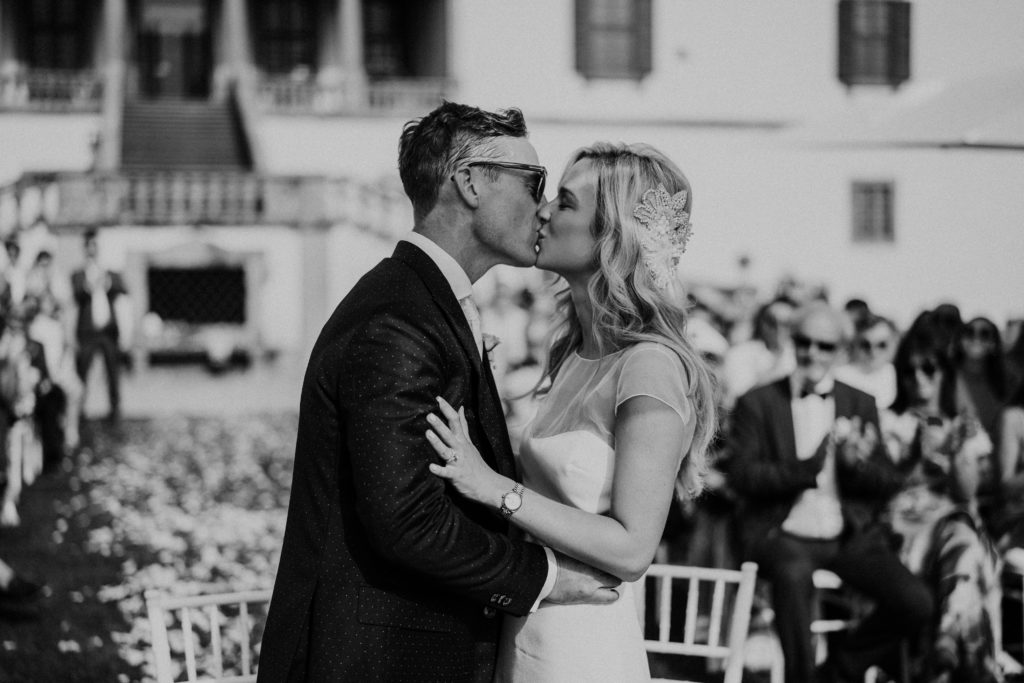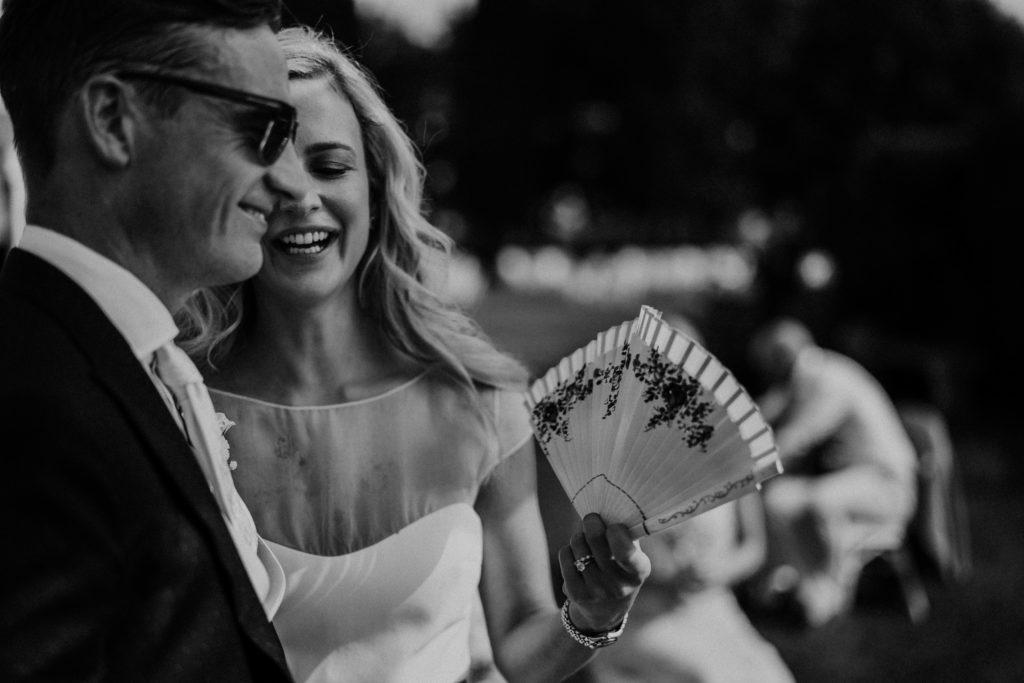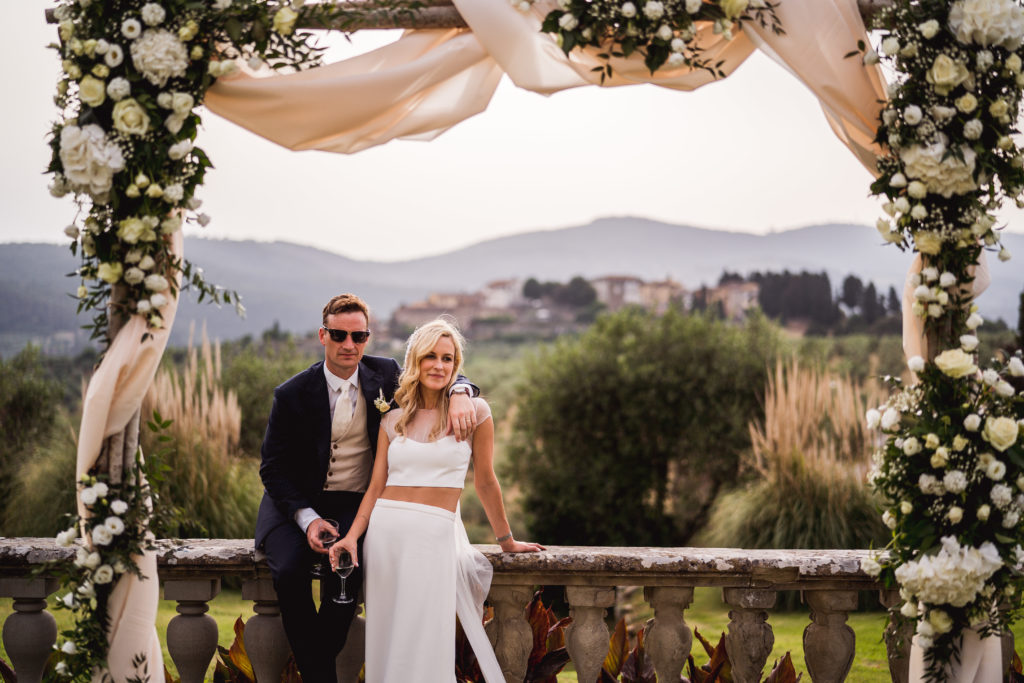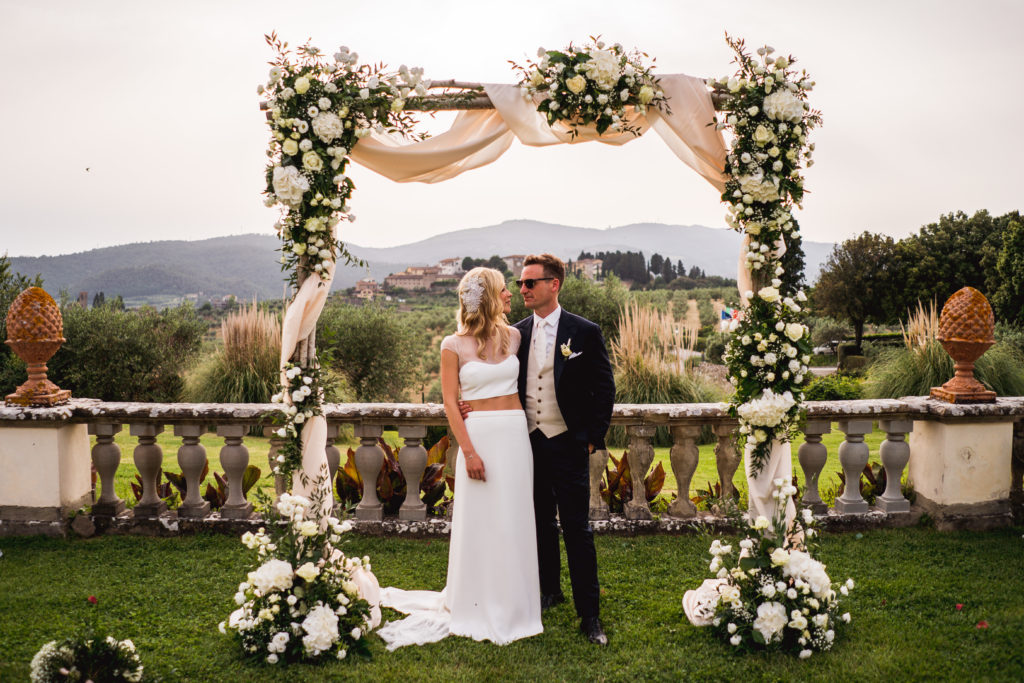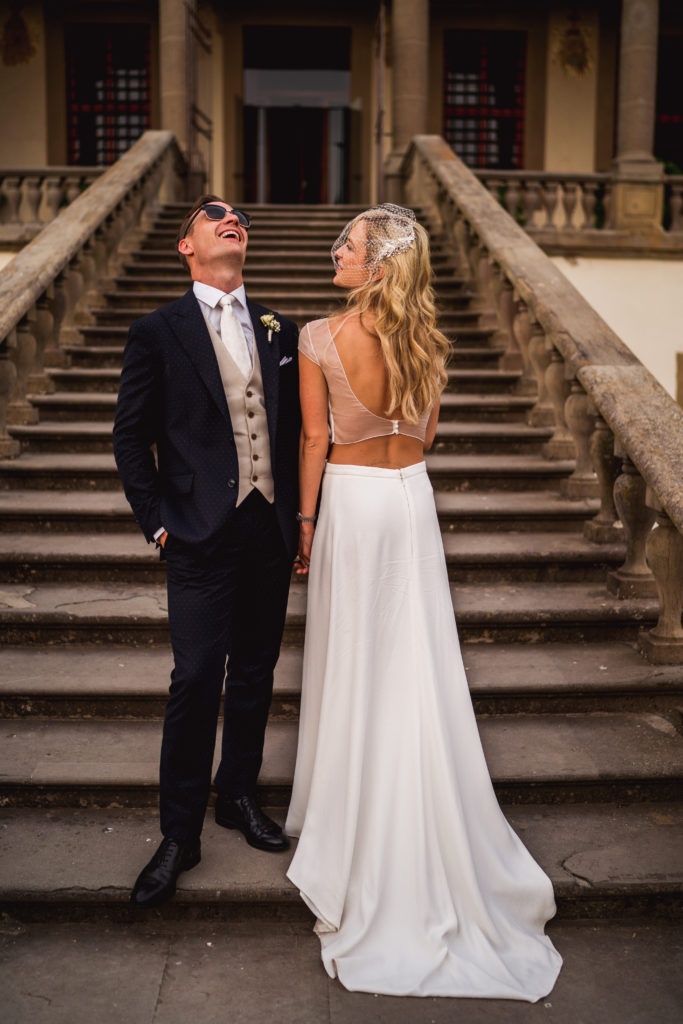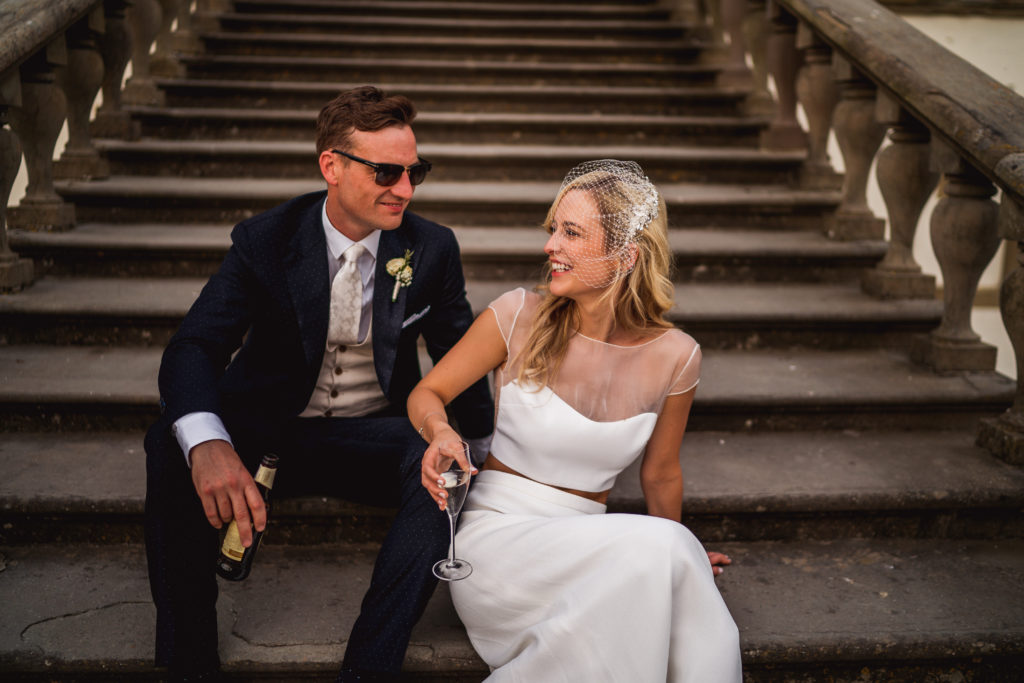 The Best Decision
The best decision the couple made was having their wedding in Italy.  Everyone was in holiday mode and they were able to chill out by the pool in the sunshine all day before the evening festivities. It ended up being a three-day event and the guests said it was like a mini-festival!  Genevieve and Niall also flew out a week early so they could relax and top up their tans! Genevieve didn't want to have to wear fake tan on the day.
The Worst Decision
This was probably organizing everyone's accommodation for them and sorting people into apartments, it ended up being really complicated and involved a lot of Excel sheets!