Marketing and Communications Manager at Titanic Belfast, Claire McCabe, said I do to Lowden Guitars Tonewood Procurement Manager, Daniel Robert Bacon in the romantic Ballymagarvey Village on the 3rd of April 2022.
Photography: Kat Meryn Photography
The Meeting
We are actually one of the rare Tinder success stories! We both swiped right, and the rest is history!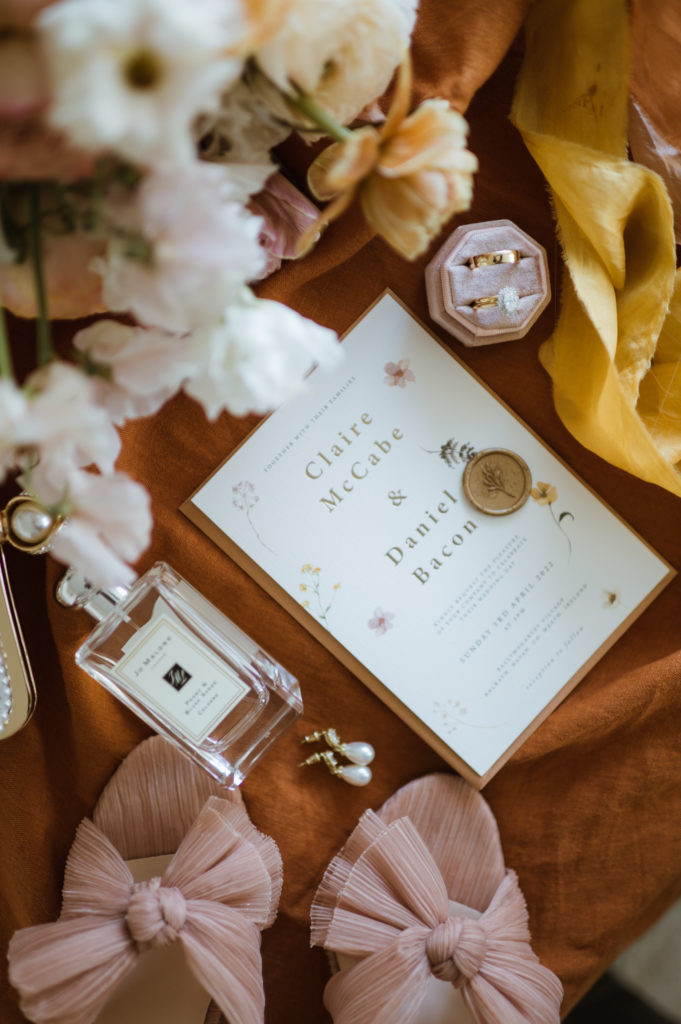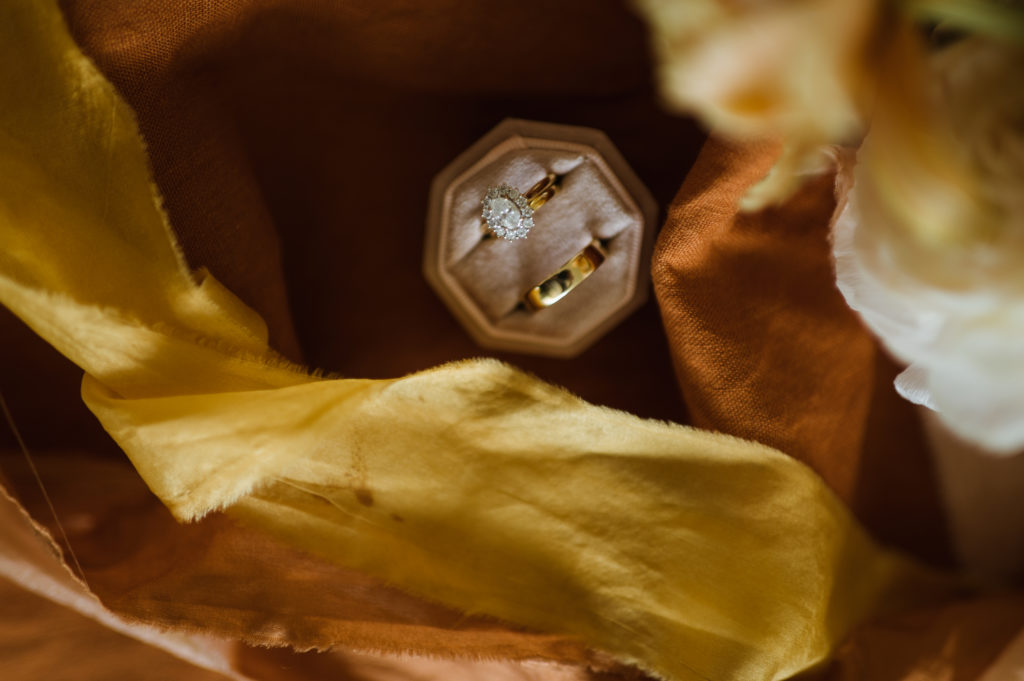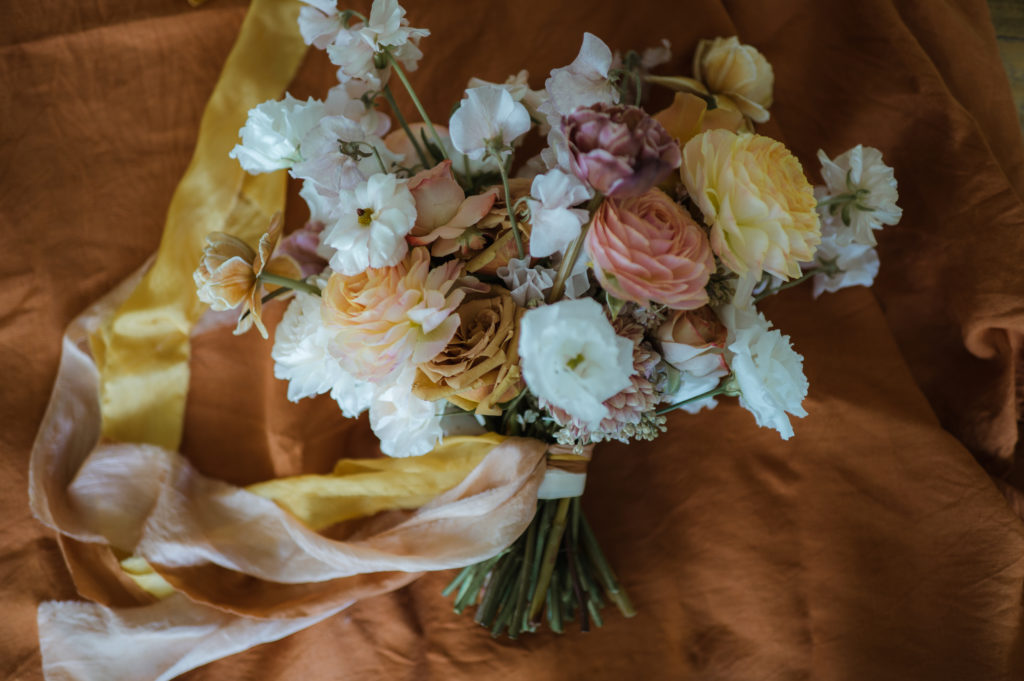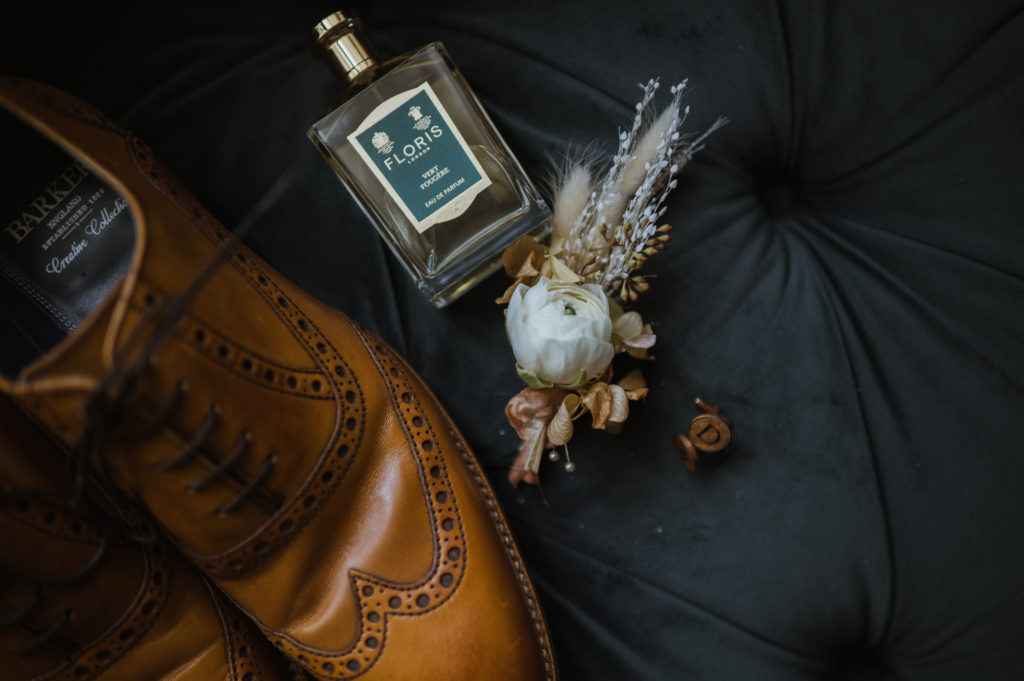 The Proposal
Dan had planned the whole proposal to happen during a stay at Castle Leslie just before my birthday in March 2020; however, COVID had other ideas! Sadly, the country went into lockdown just a few days before we were due to go away, so everything had to be cancelled, and in the process, the proposal details leaked! As I then knew all about it, we decided that, as soon as the restrictions lifted a little, we would go out for me to pick a ring for Dan to surprise me another time with the proposal. He did this beautifully in July 2020 at Mussenden Temple! We went for a lovely walk, and on the way back past the temple with the view out over the strand and sea, he asked a passing family to 'take a picture' (really a video!) and got down on one knee. We then celebrated with a lovely overnight stay in The Merchant in Belfast!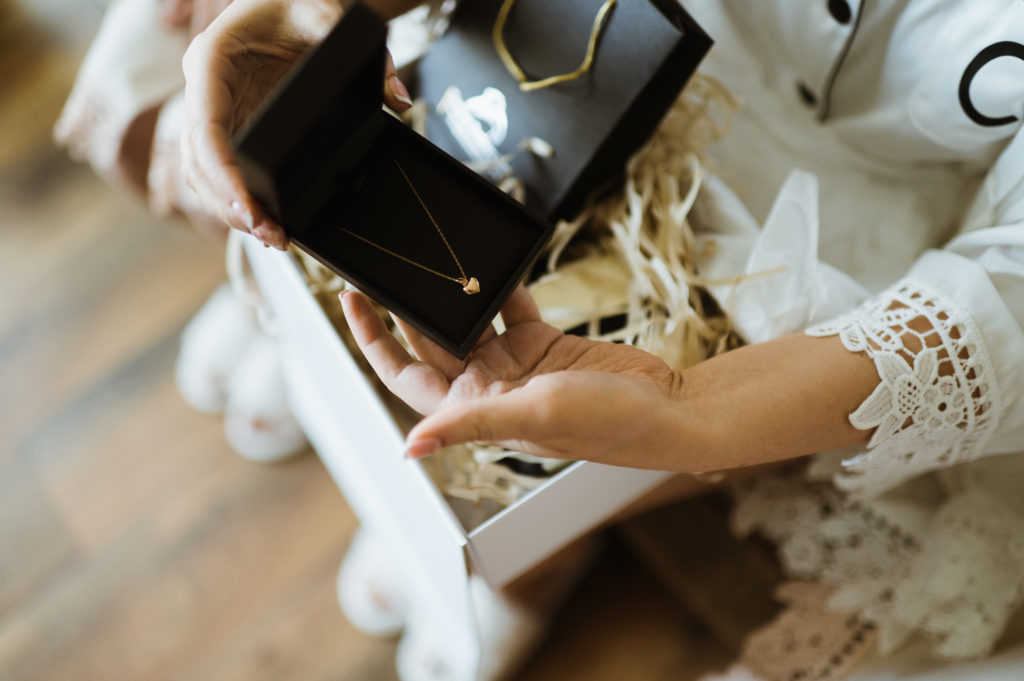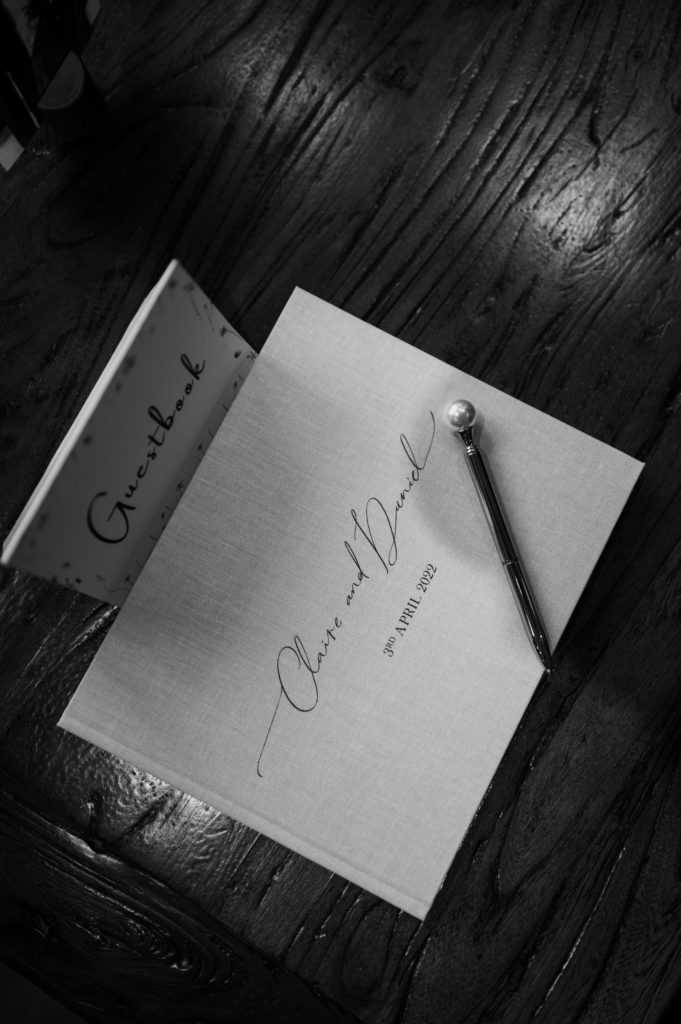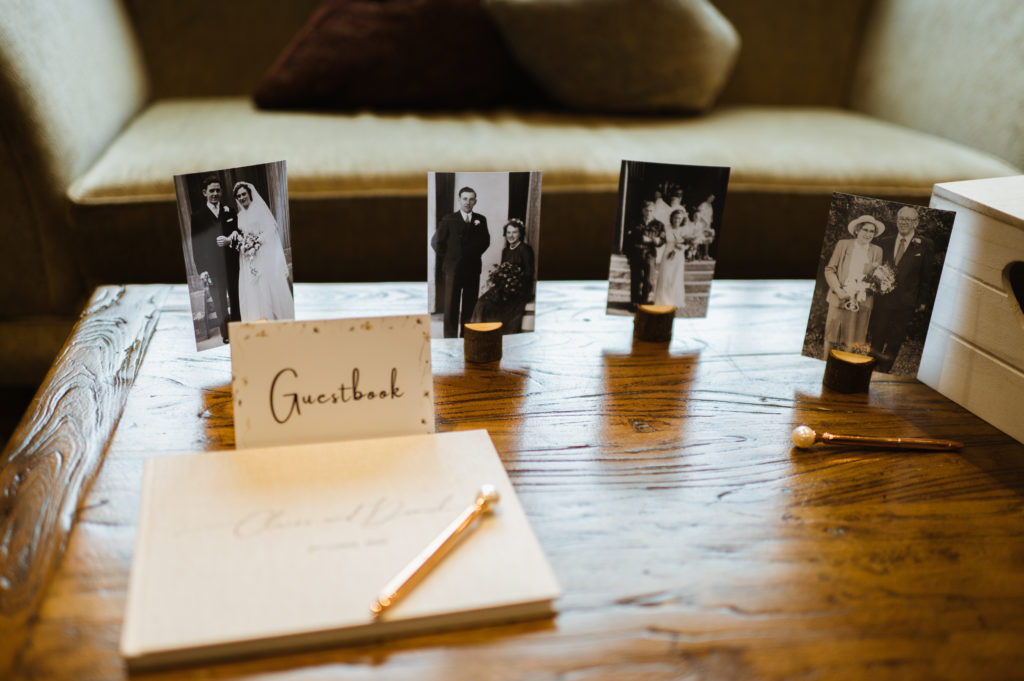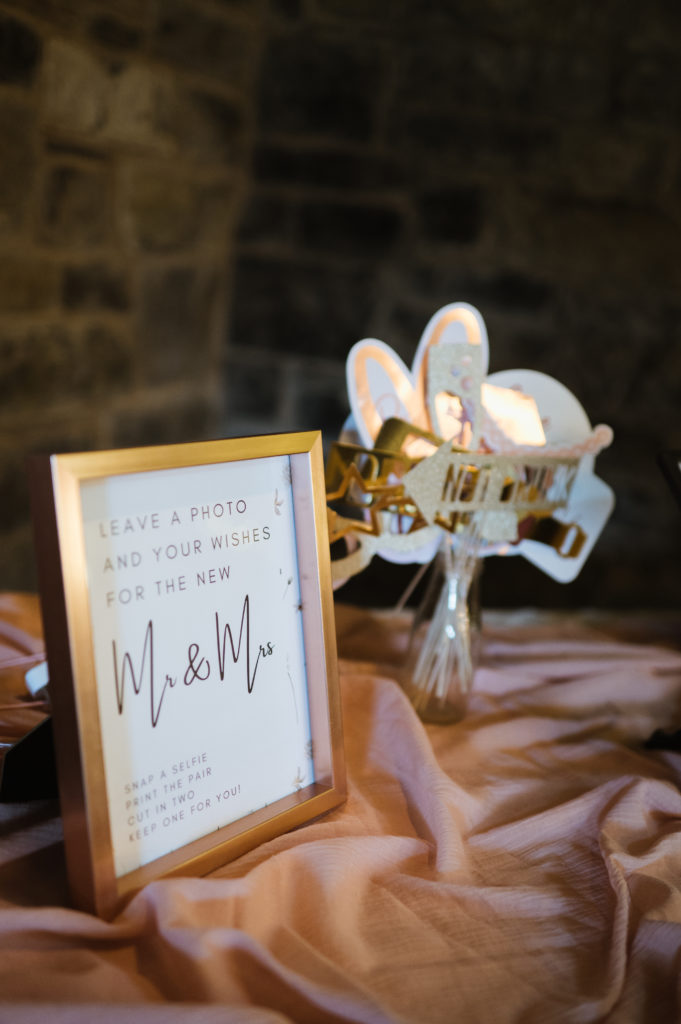 The Beauty Journey
My skin has always been challenging, having suffered from acne since I was a teenager, so my main concern was trying to get that under control for the big day! When I booked my makeup artist – the wonderful Carla Bailie, she gave me a recommended programme with Environ products which I followed as well as doing regular Environ Cool Peels in her salon in the run-up to the wedding which were amazing at clearing my skin – and perfect for a little downtime amongst the crazy run up to the wedding! Aside from this, I did the usual growing my hair out to have more choice of hairstyle – although impulse cut it up again a bit 10 days before the wedding after my hair trial to suit my dress! I also went darker with my hair, more towards my natural hair colour and to make it a bit shinier and more healthy so it was in the best condition it could be. On the wedding day itself, I wore Jo Malone's Peony and Blush Suede as my chosen scent. Dan had bought me this as a Christmas gift, and it is a firm favourite, so it seemed like the natural choice for the day as a light but sensual spring fragrance. Dan wore a Floris fragrance called Vert Fougere, a smoky, woody scent that smells like sitting by the fire in a log wood cabin and perfectly suits his personality!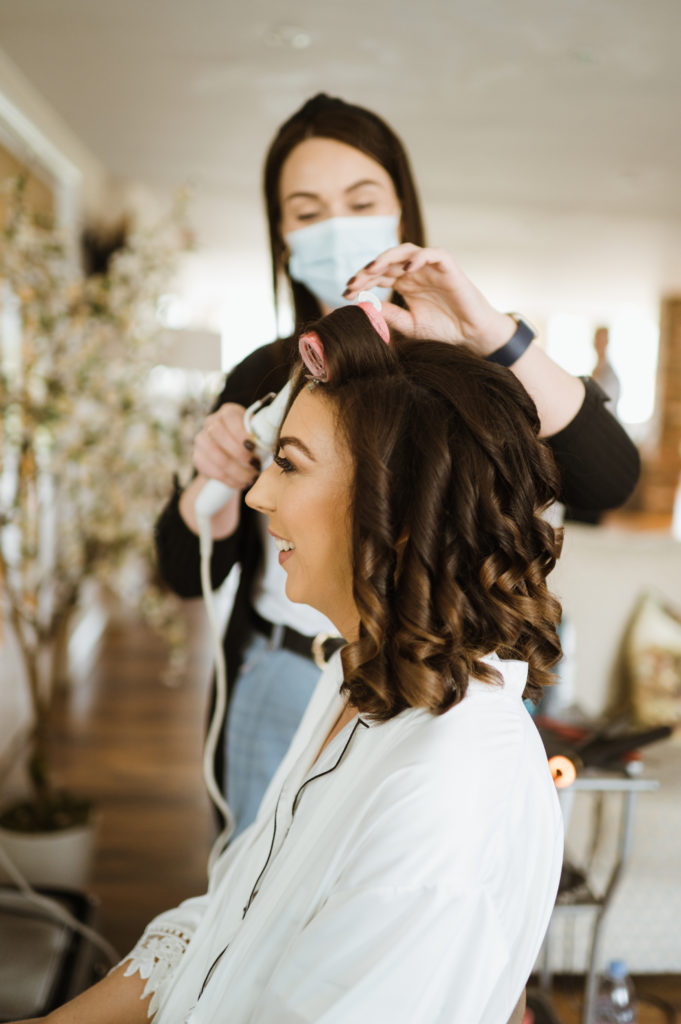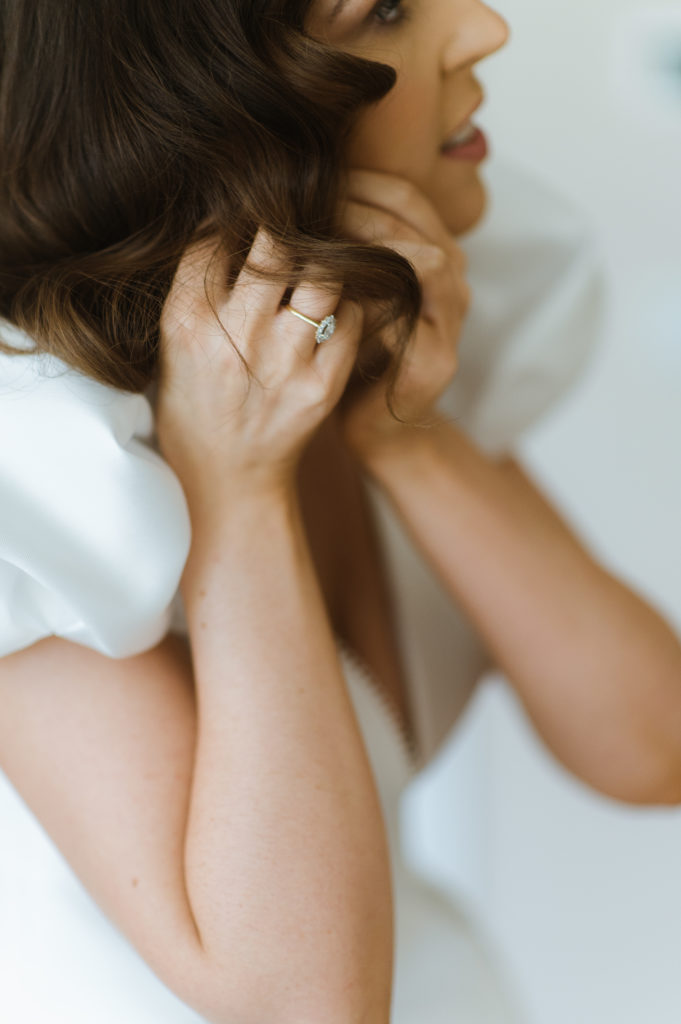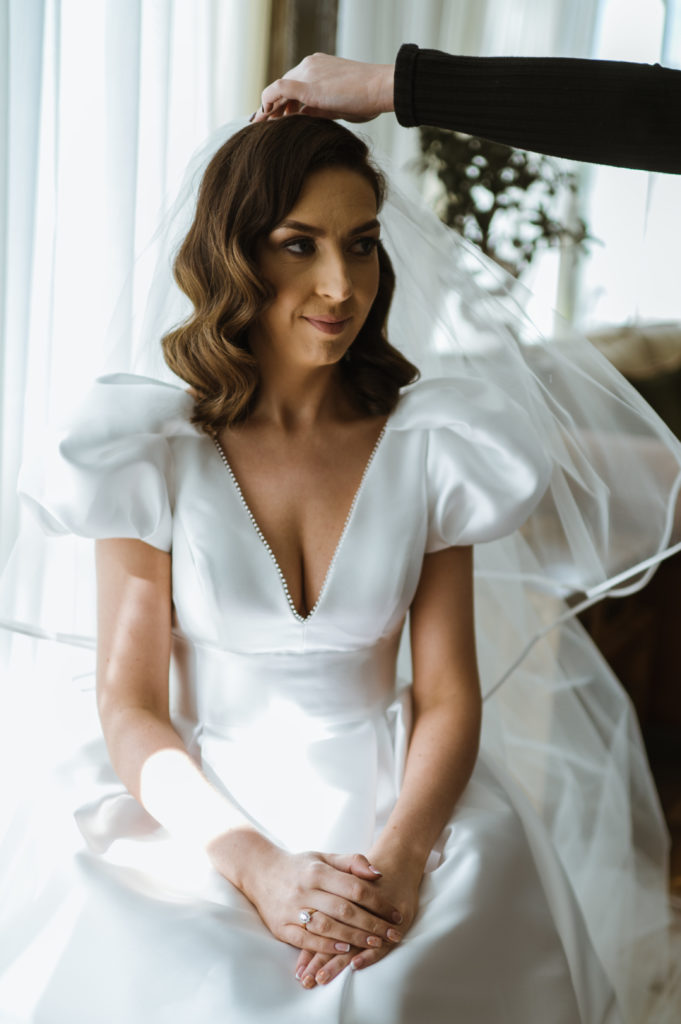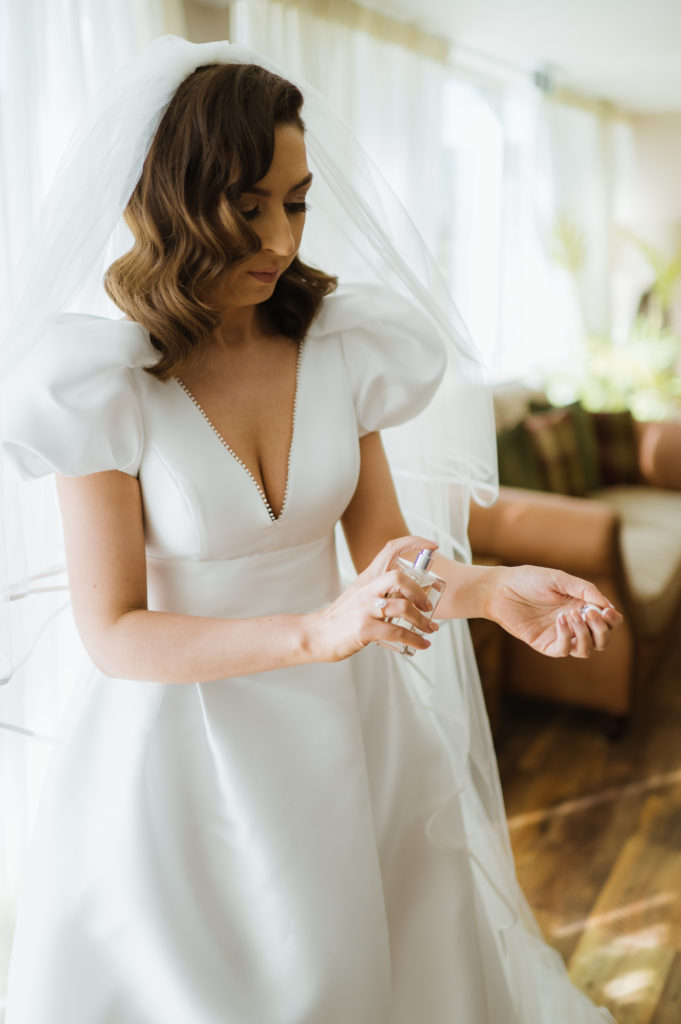 The Dress
Since I was a child, I have always loved weddings and used to doodle dresses all the time, so this was possibly one of the hardest things for me to pick as I loved so many different styles! Quite early on I decided that I did want an A-Line or full skirt dress – because what other time do you get the chance to wear something as spectacular?! I followed lots of shops on Instagram to try and get a feel for who stocked dresses I might like, and then I made appointments for a few different bridal boutiques to try on. I made an impulse appointment for Ivory and Pearl in Comber after seeing a dress on Instagram, and when I went in on a Saturday morning with my mum and sister, it was like a dream. The ladies in store were just amazing – they had an infectious excitement during the appointment (a hard thing to maintain for every person they see through their doors I imagine!), and gave such good advice not only about the dresses, but about the wedding itself which just made the whole experience a complete joy! There were two completely different dresses by the same designer which I loved, so I went away to think about it, and shortly after went back to get the dress I had initially seen on Instagram! The dress was called 'Florence' by an Australian designer Love Honor. I only made one small change during alterations which was to add some buttons the whole way down the back which I think just gave it that added extra perfect touch!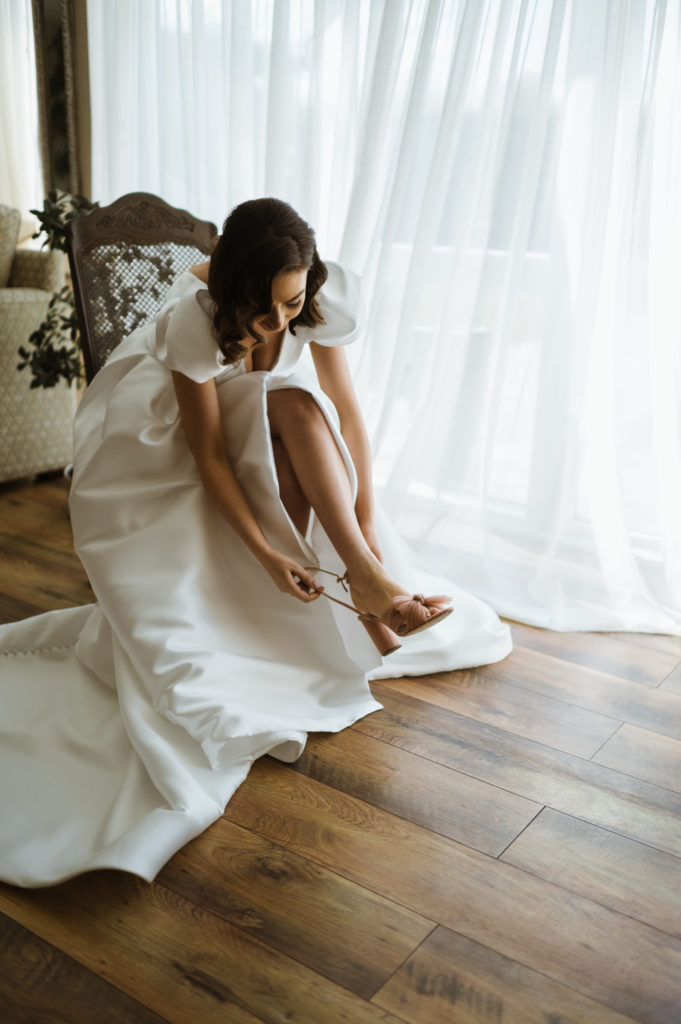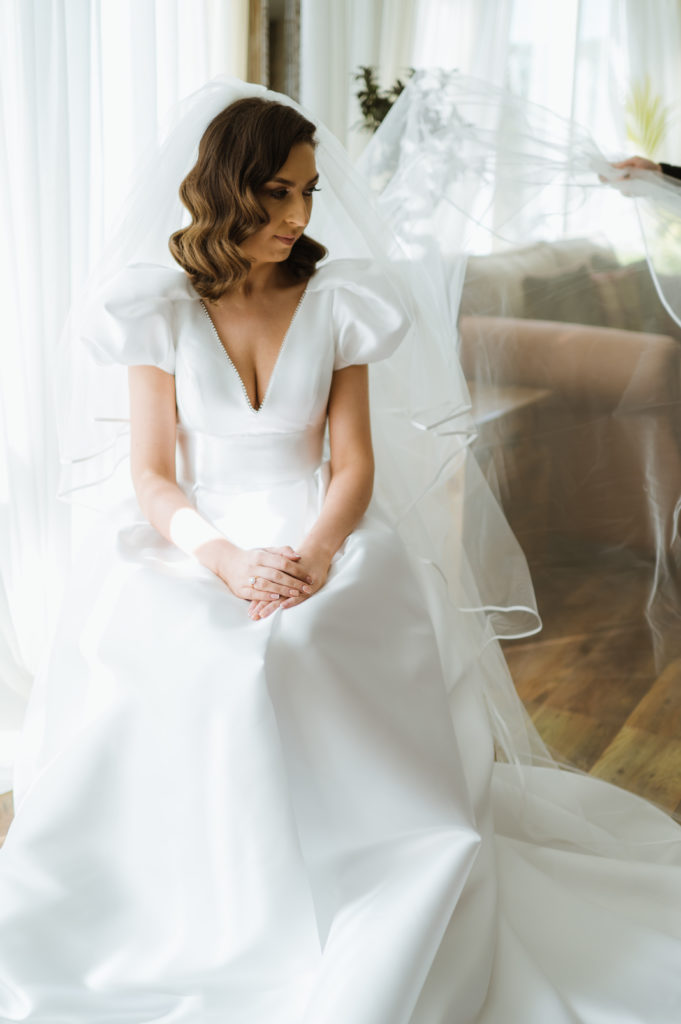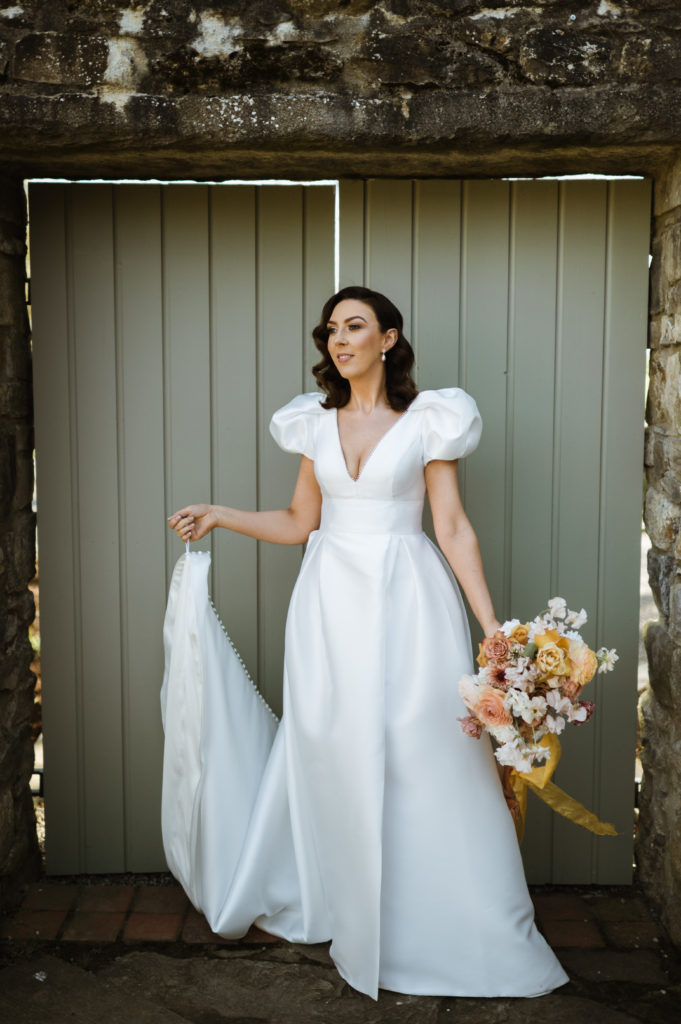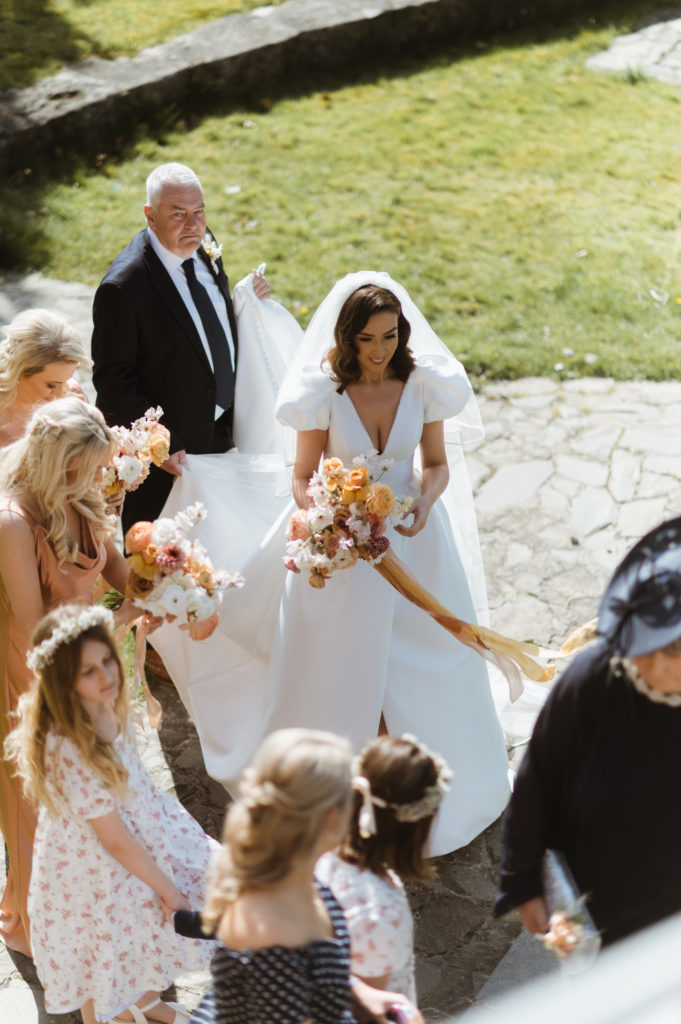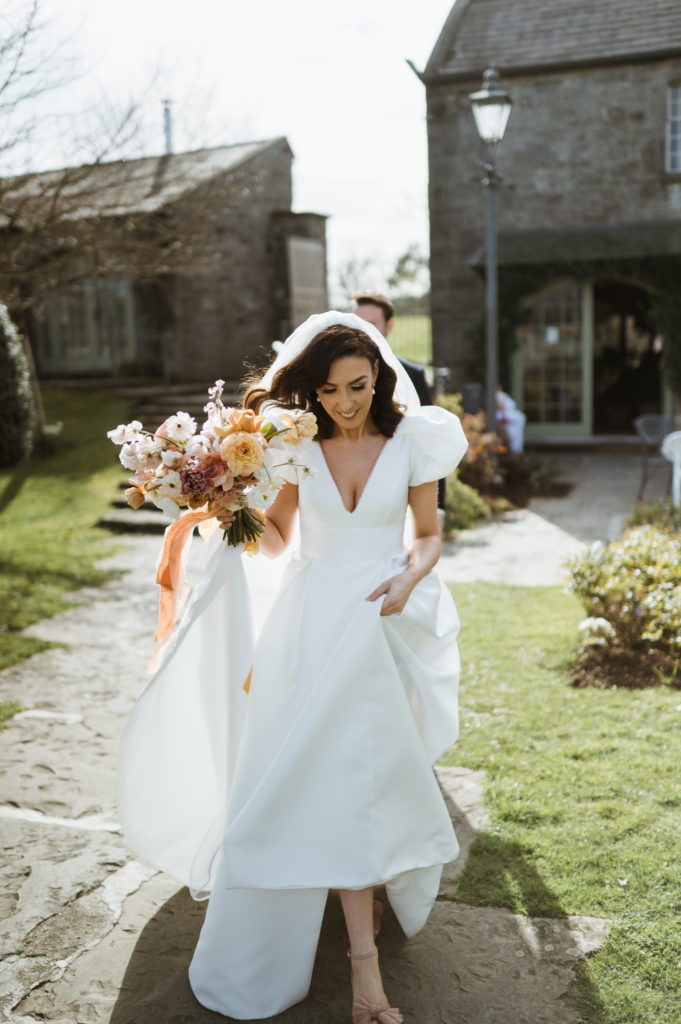 The Grooms Suit
When it came to his suit, Dan really wanted something tailored and with plenty of choices so he could fully customise it to make it bespoke for the big day. It was important that picking his suit felt like an experience rather than a transaction, and after browsing a few different places, he ended up going to McCalls of Lisburn who were fantastic. Although initially Dan wanted a tweed suit, he was advised that it might be too warm for the time of year we were getting married, so instead went for an Italian flannel 3-piece suit in navy with a Shetland tartan waistcoat, picked to tone in with the wedding colour palette. His shoes were Barker's called Grant Cedar Calf from Robinson's Shoes Belfast in Queen's Arcade who provided a really detailed fitting service. As Dan's groomsmen were not in NI to try suits on, they all provided measurements for McCalls who organised colour matched suits for the gents – and thankfully got the sizing spot on, so no emergency panic on the day!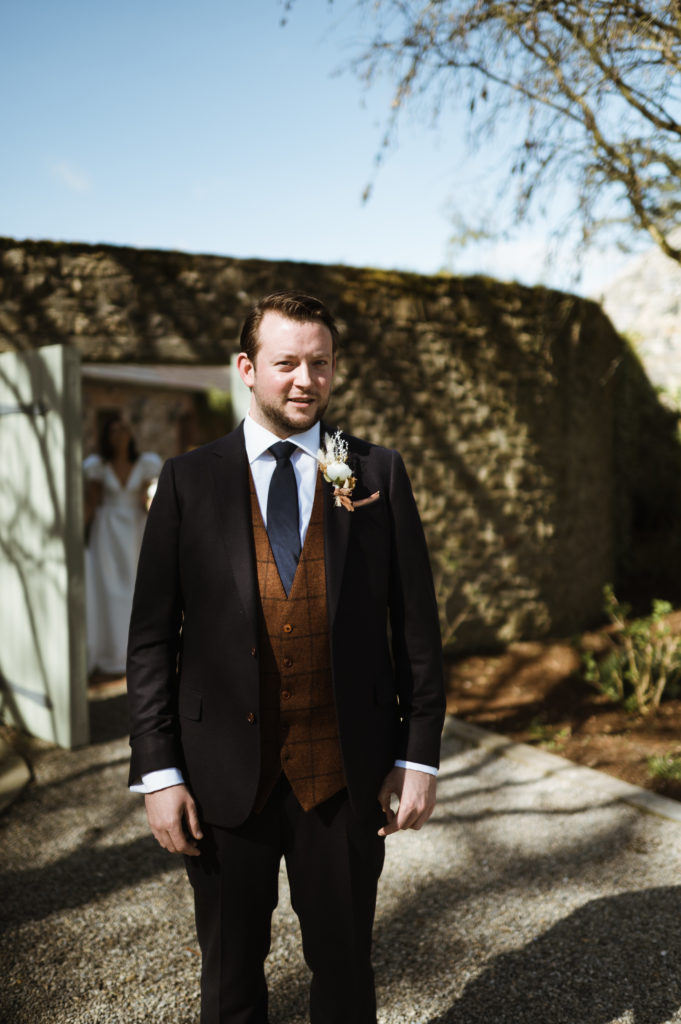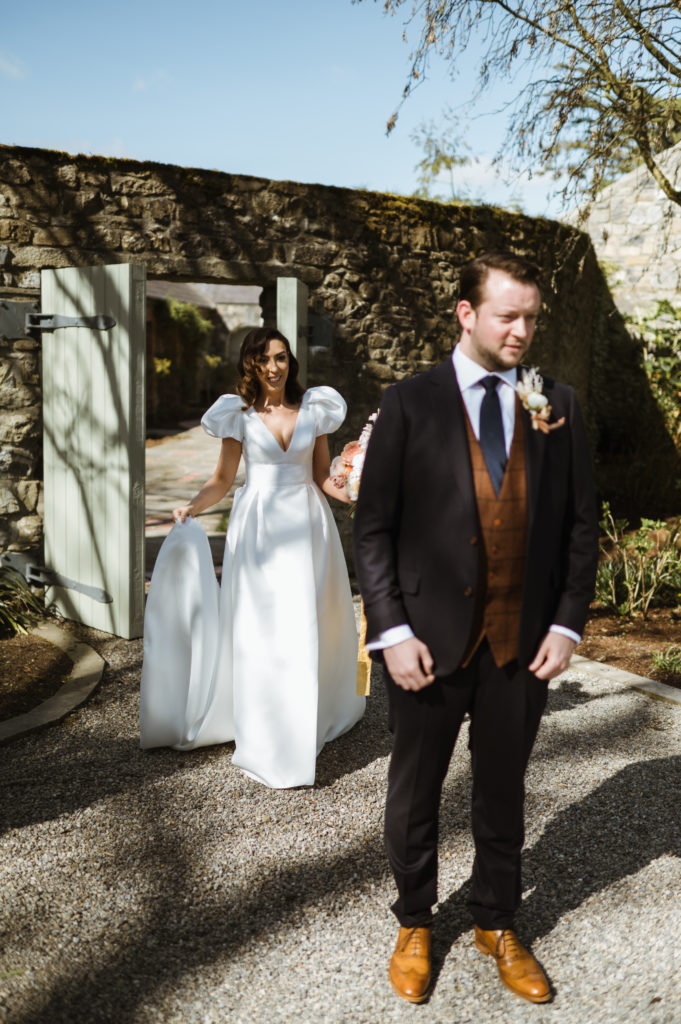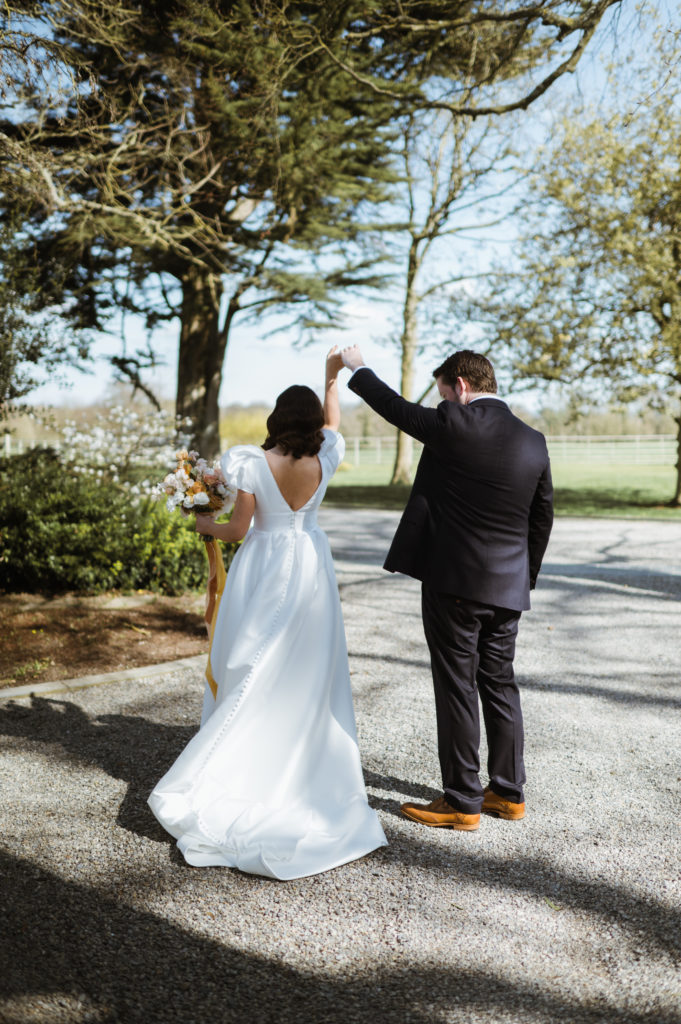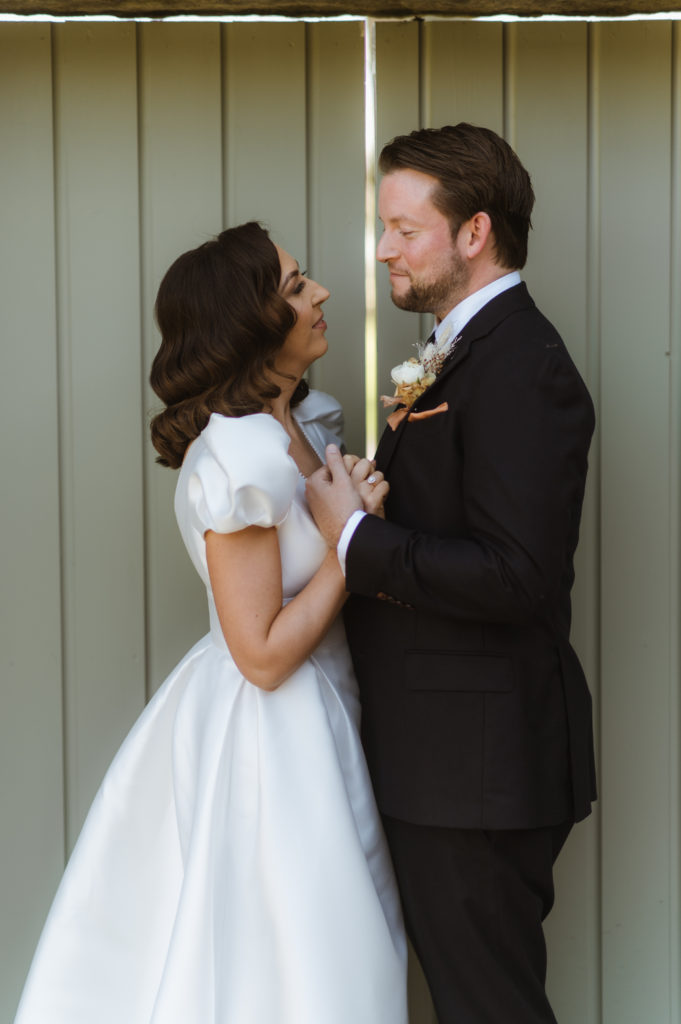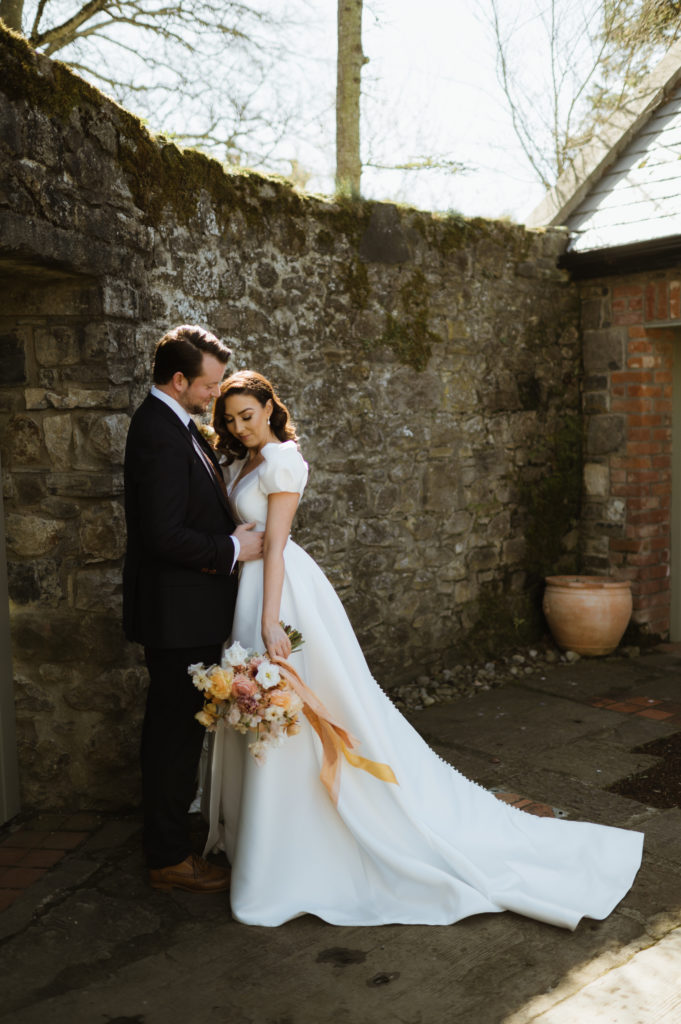 The Bridesmaids
The bridesmaids were my younger sister Melanie and my long-time friend Laura who I met at university. Dan's nieces Florence and Beatrice were our flower girls, and his nephew Henry was page boy. The best man was Dan's childhood friend Adam and his groomsman was Josh, also a long-time friend from university. The bridesmaid dresses were tough to pick, as I really didn't like a lot of the traditional bridesmaids' styles or colours and wanted something a bit unique. I also knew I would like to mix and match our flower girl dresses with the style of the bridesmaids, as Dan's nieces were 10 and 11 they were too grown up for the normal little tutu type dresses. So, I turned to more high street retailers who are now all starting to offer bridesmaid ranges and decided to just get them altered to fit. Quickly, I came across beautiful satin dresses on Pretty Lavish in a stunning colour called 'Matte Cinnamon' which I completely fell in love with. It really set the tones for the colour scheme and everything flowed from there.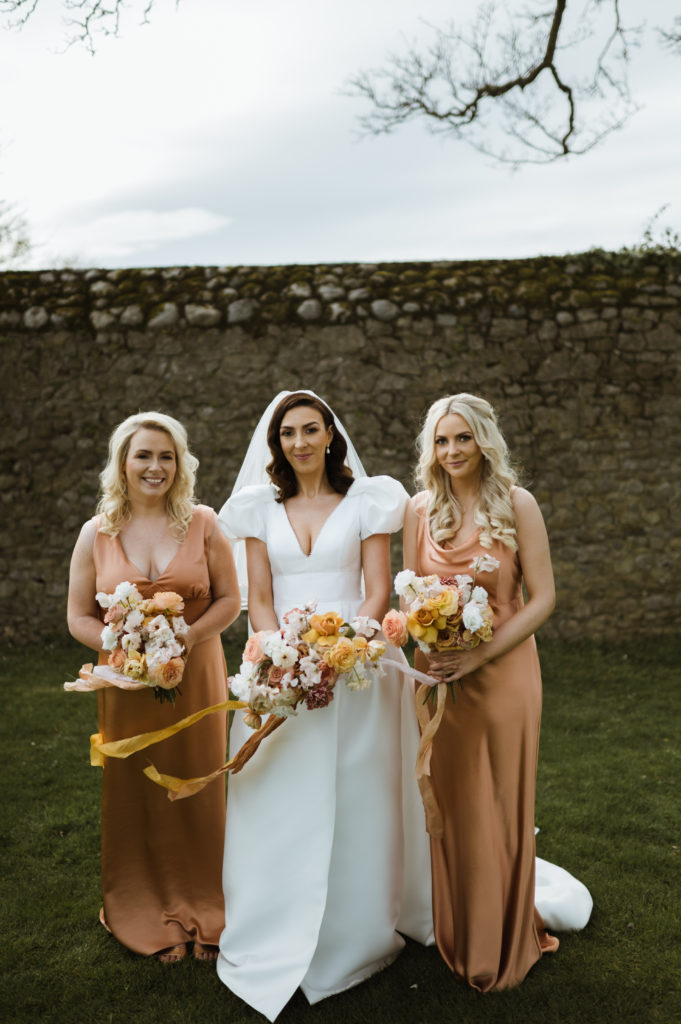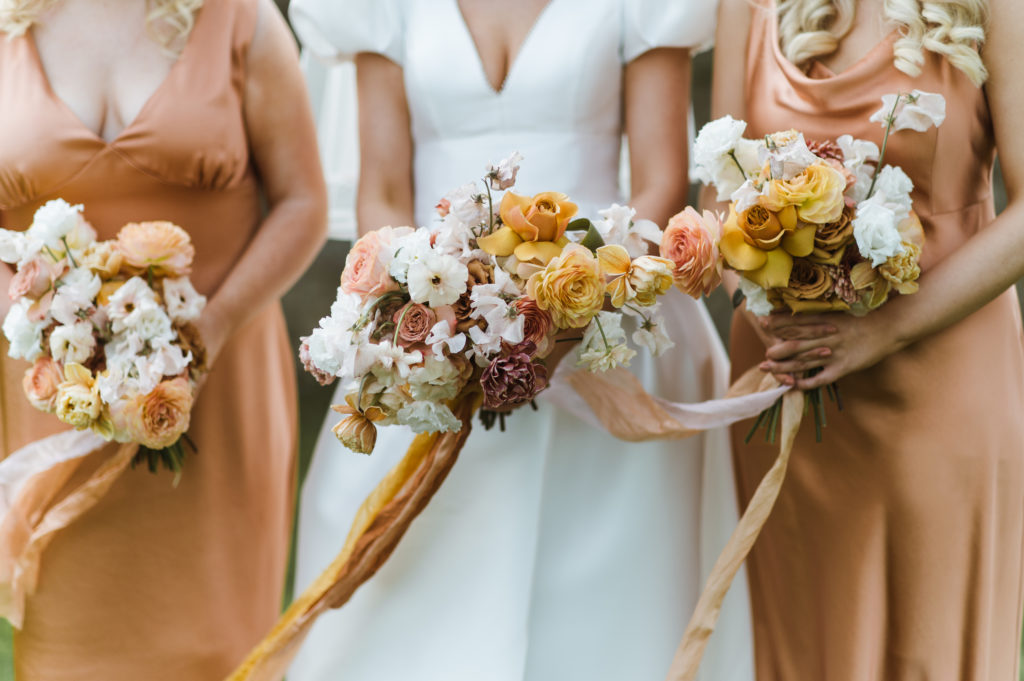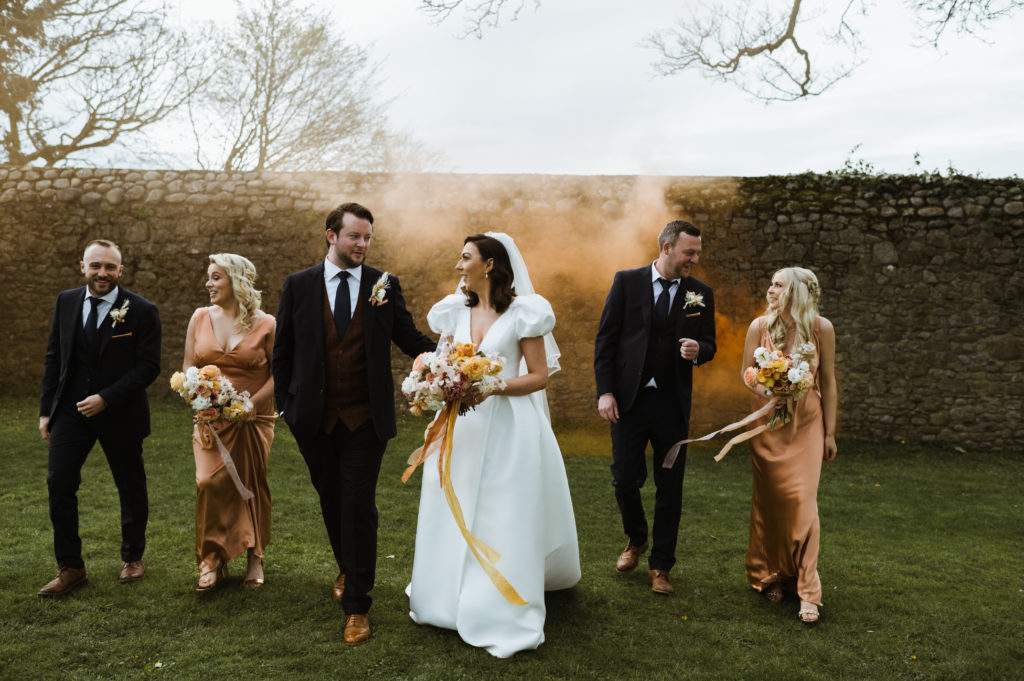 The Venue
Ballymagarvey Village was the very first thing we booked, just about a month after getting engaged. It was the first venue we went to view, as I had always really loved the look of it – once we went to view it we were just blown away by how beautiful it was and how perfect every little detail had been thought out. We viewed one other venue and enquired about a few others afterwards, but I think our hearts were firmly set on Ballymagarvey from the start! One thing that was quite important to us was that everyone could stay in one place together. Dan is originally from Surrey in England – he had lived in Northern Ireland for 10 years at the time of the wedding, but many of his family and friends would be travelling over for the big day, and some guests had never visited before so we really wanted a venue which both of our families could travel to and stay to celebrate together, as well as somewhere which showcased the beauty of the country and good food which was another of our must-haves! Ballymagarvey just ticked all the boxes for us with their lovely on-site accommodation and manor house, the bridal and groom prep rooms and the stunning mill loft ceremony room and banqueting hall. I also loved the heritage aspect of the venue, it felt so homely but yet had a real wow factor!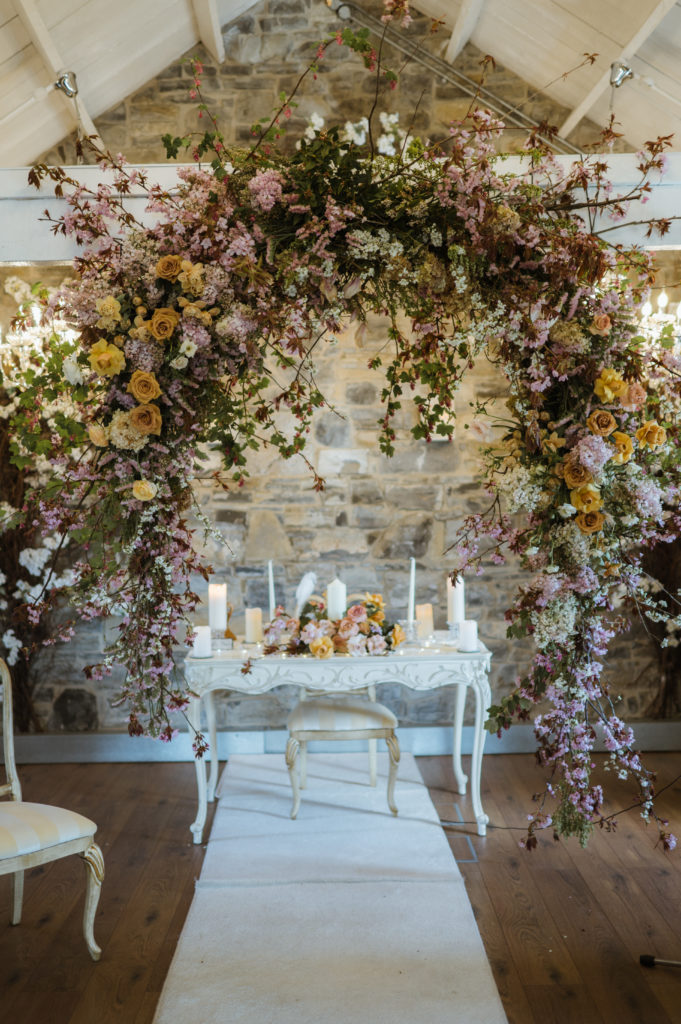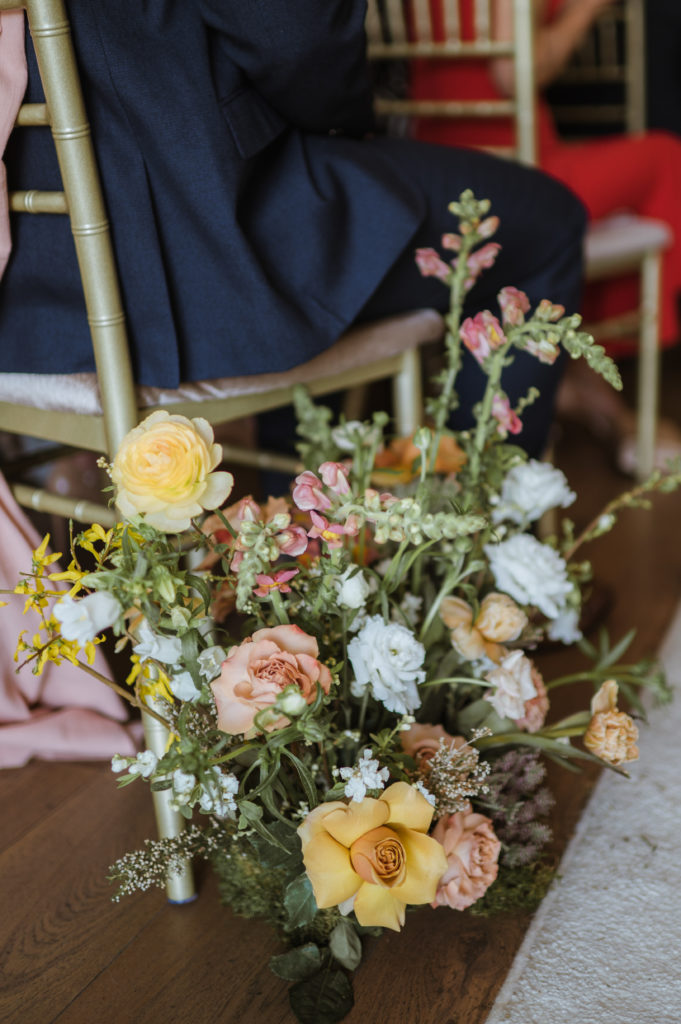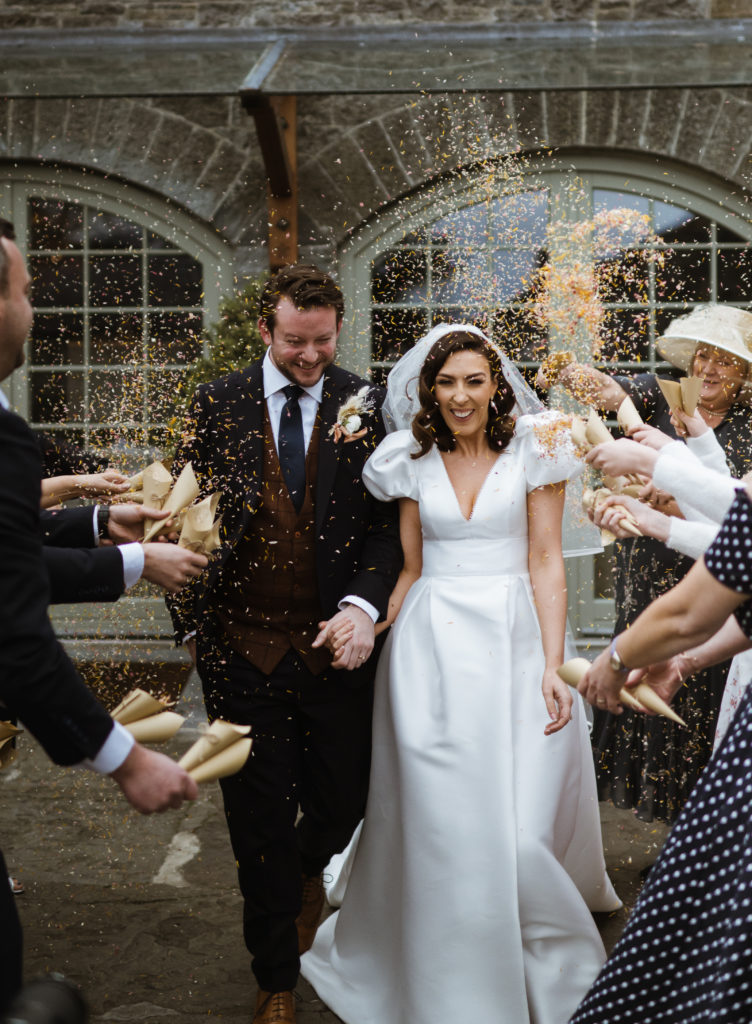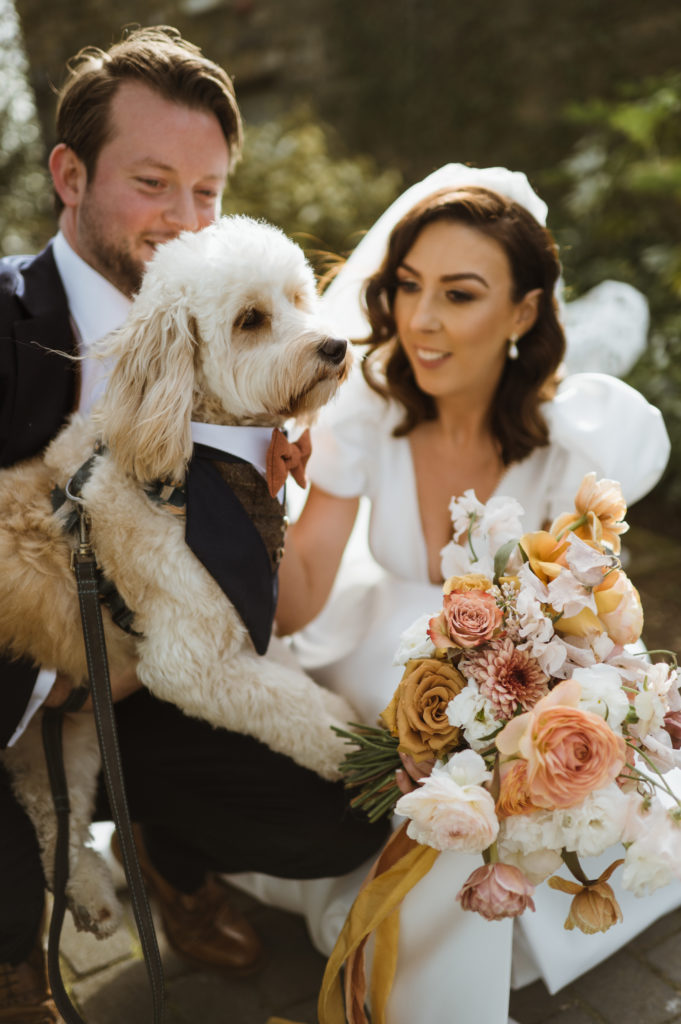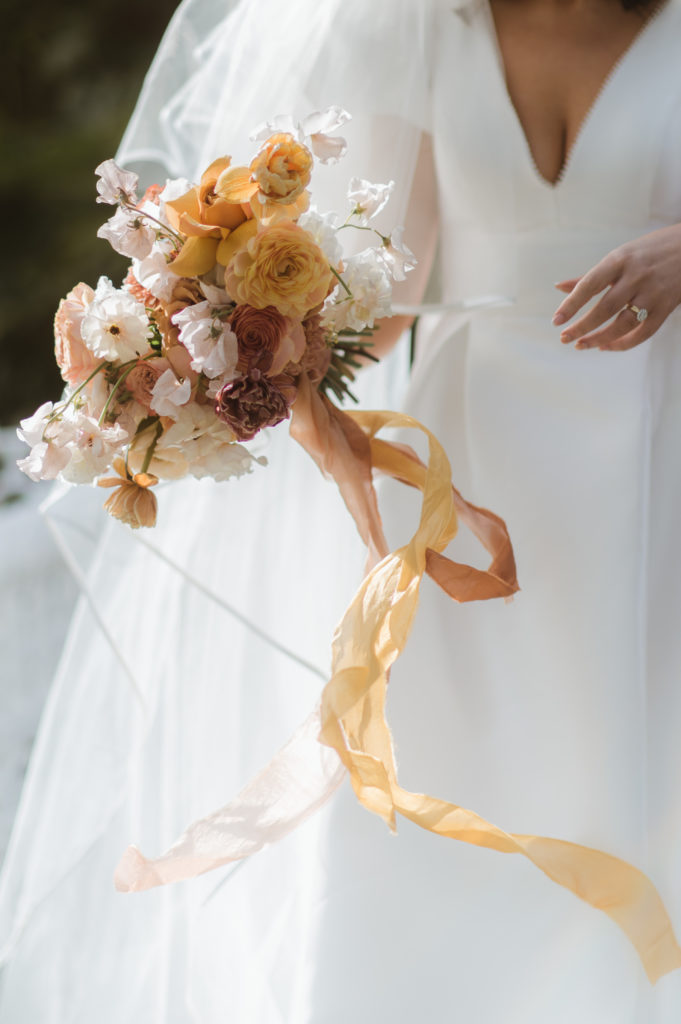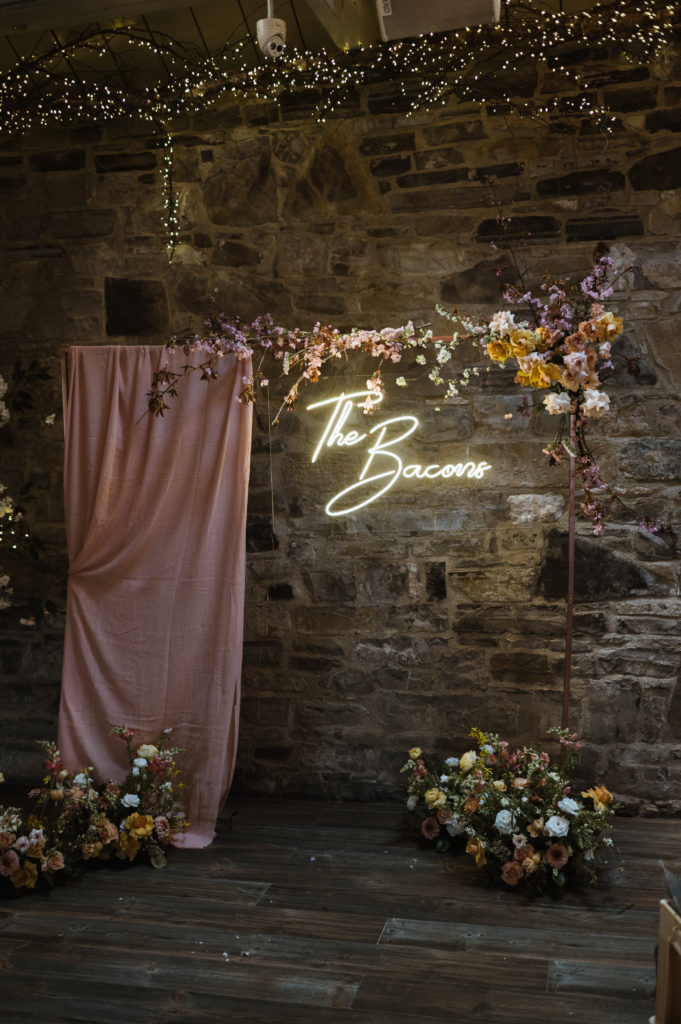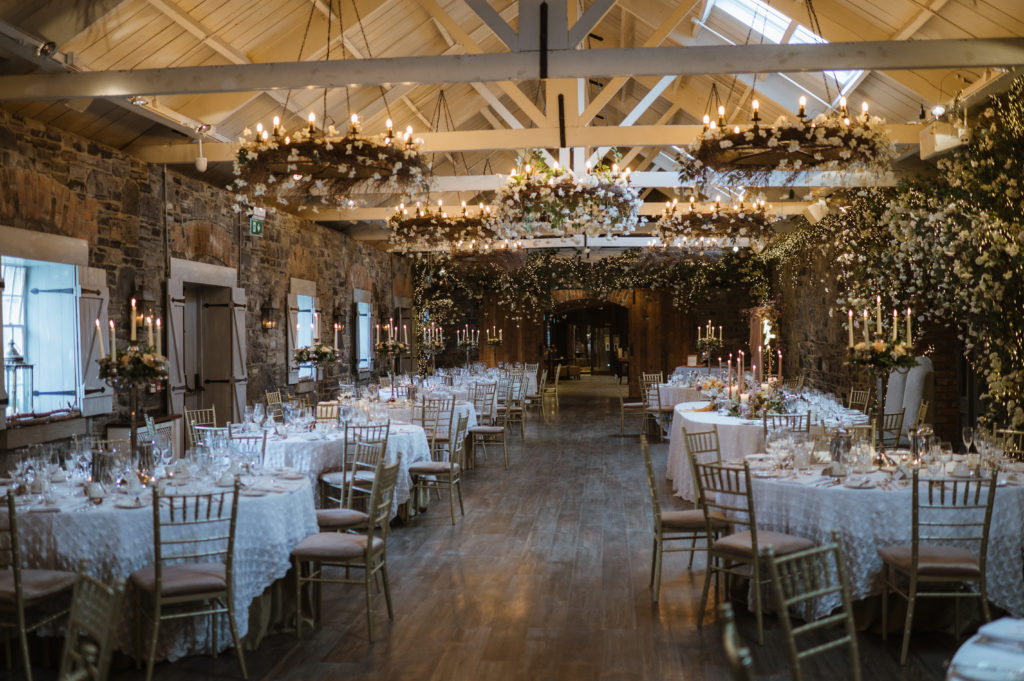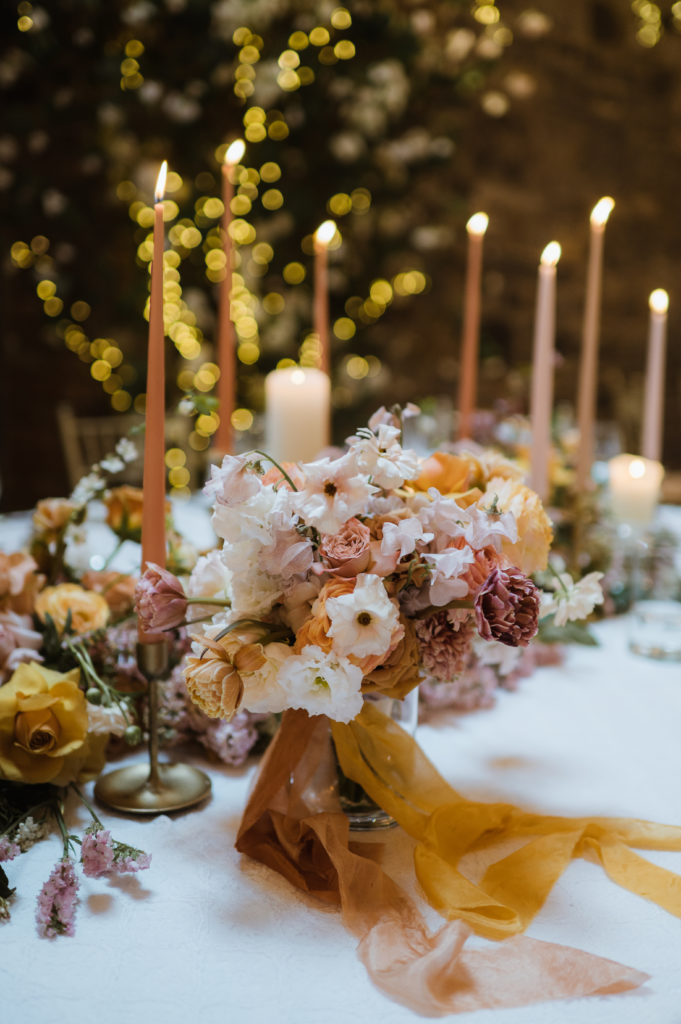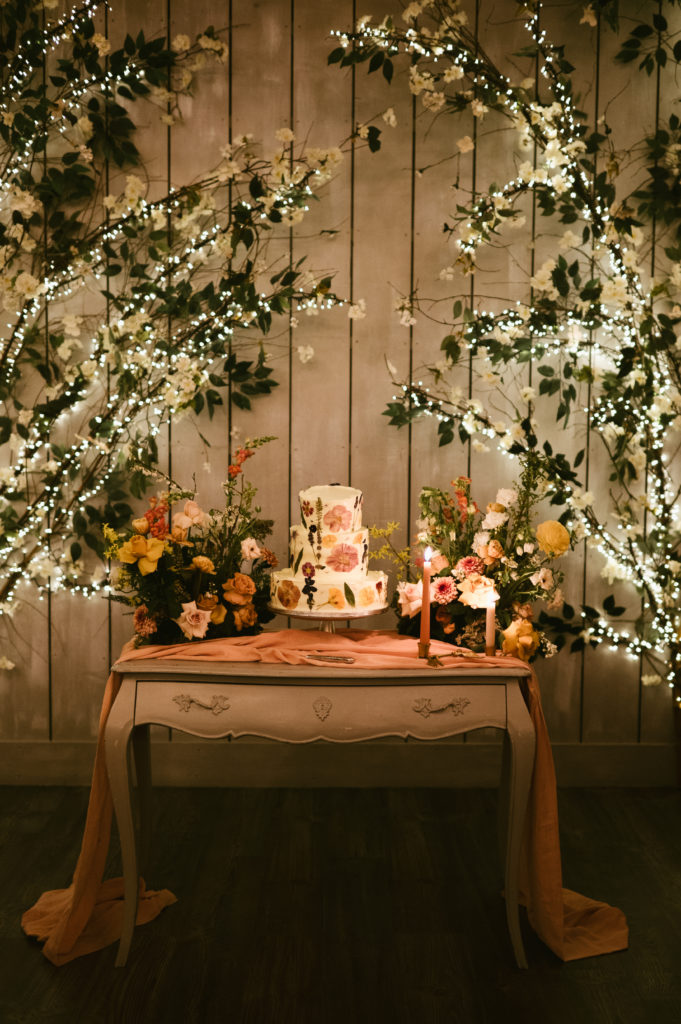 The Entertainment
Both Dan and I knew we didn't want a typical 'cheesy wedding band' so that was the one rule we had in place when we started looking for entertainment! We also wanted our ceremony music to be quite relaxed and decided we'd like someone just playing guitar to keep it simple. A work friend of mine recommended the band who played at her wedding – The Moonshines which was a 4-piece band from a company called Dance Til Tomorrow, Dan and I had been to the wedding and remembered they were great so we enquired with them and Andrew also agreed to do our ceremony music so it worked out well! Dan's niece Beatrice, aged 10, also sang for us during the signing of our register alongside Andrew on guitar which was very special!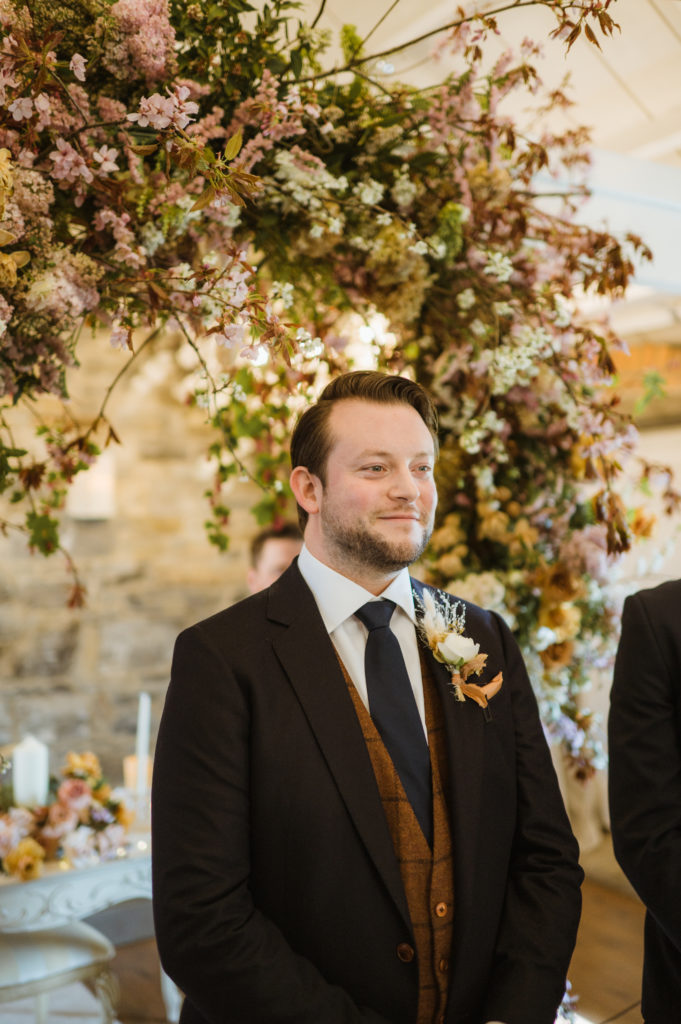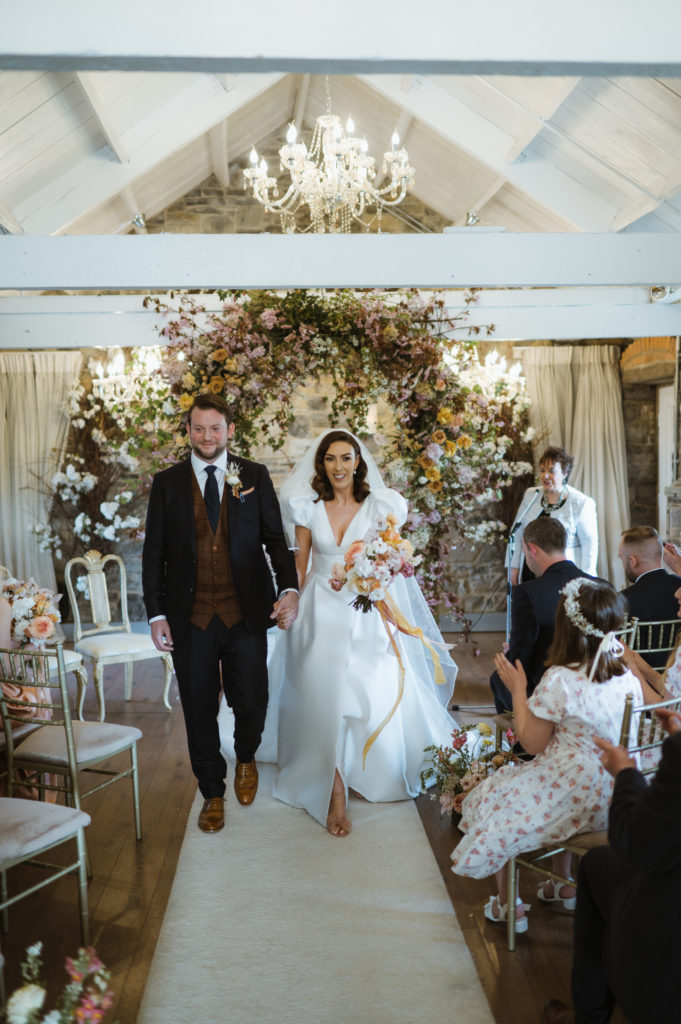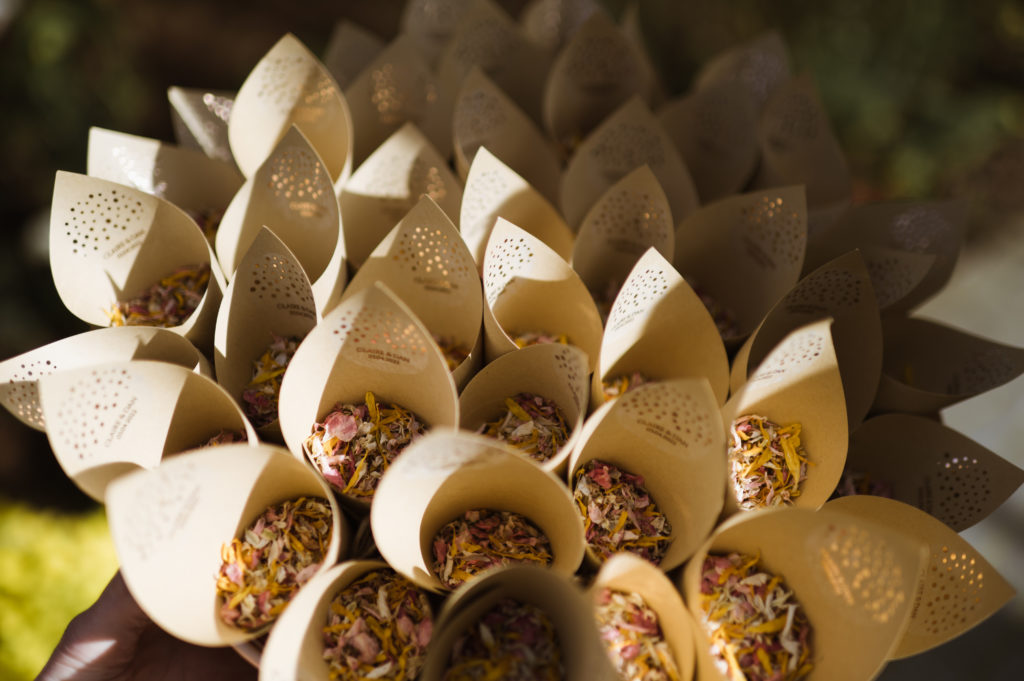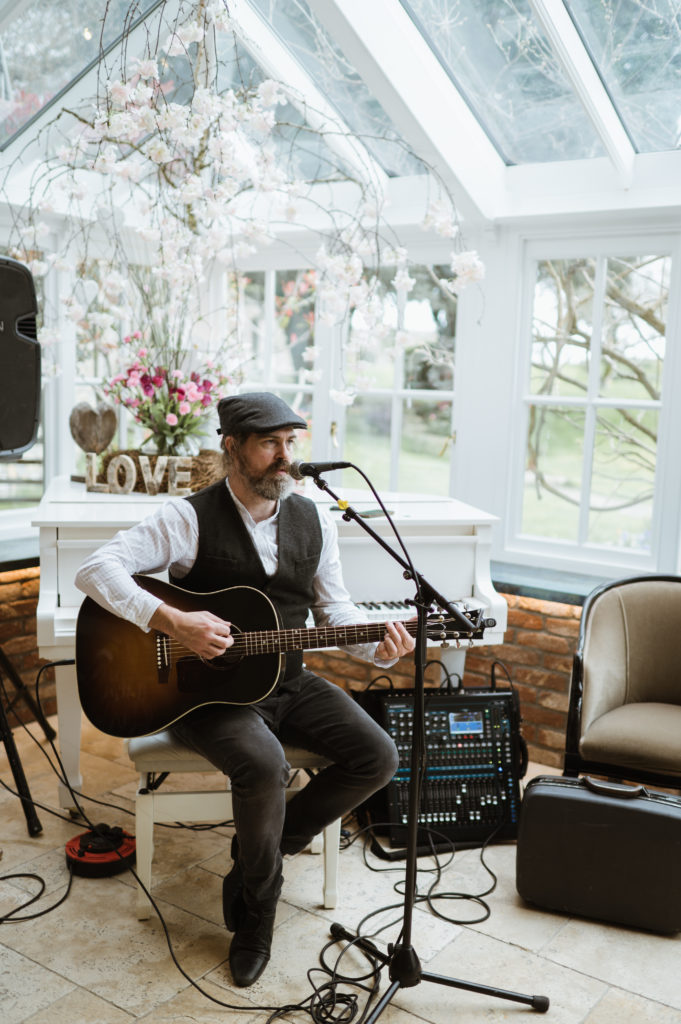 The Best Decision
This is a hard question as I don't think we necessarily have one best and worst decision! I would say the best thing in general was our amazing venue and suppliers – we feel very grateful to have had them all to make our wedding so special. From the team at Ballymagarvey (particularly Niall our wedding co-ordinator) who looked after us and our guests so well, to our insanely talented florist Hollie from The Rosehip and Berry who really brought my floral dreams to life and created such a magical setting for us with her styling, plus our fab photographer Kat Mervyn and all the others who helped along the way! Perhaps the best decision we made was to just trust them and their expertise, allowing them to take our vision and make it a reality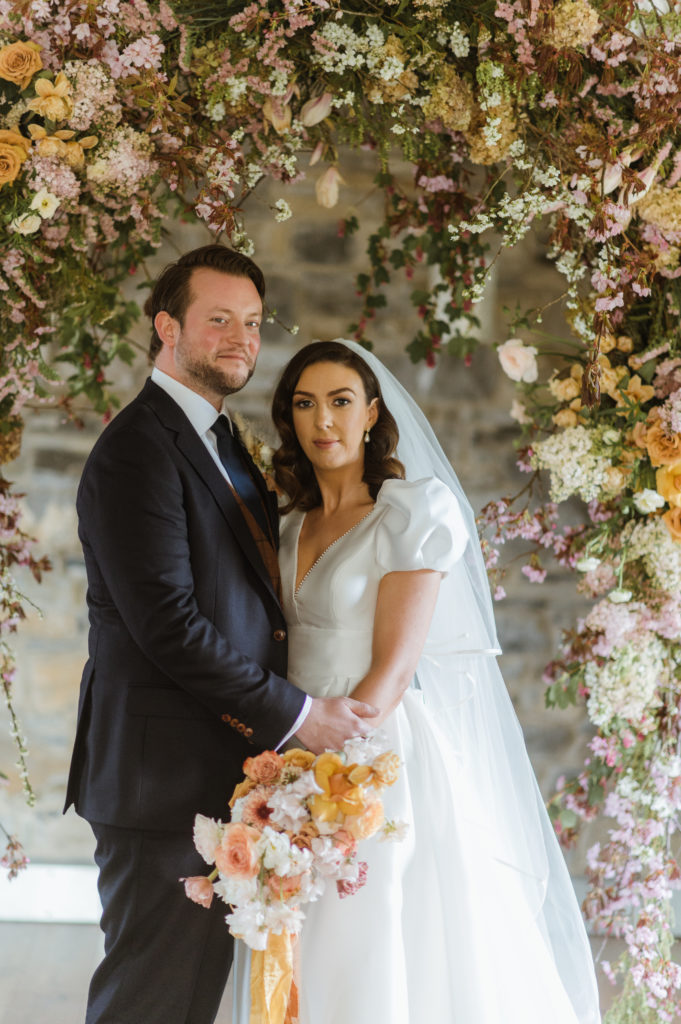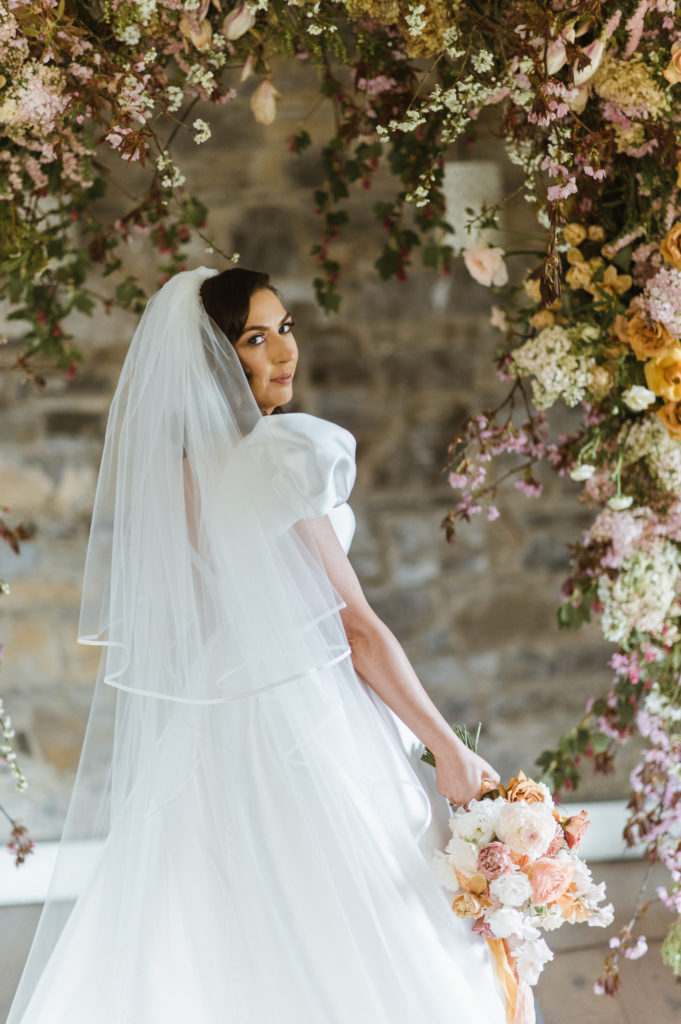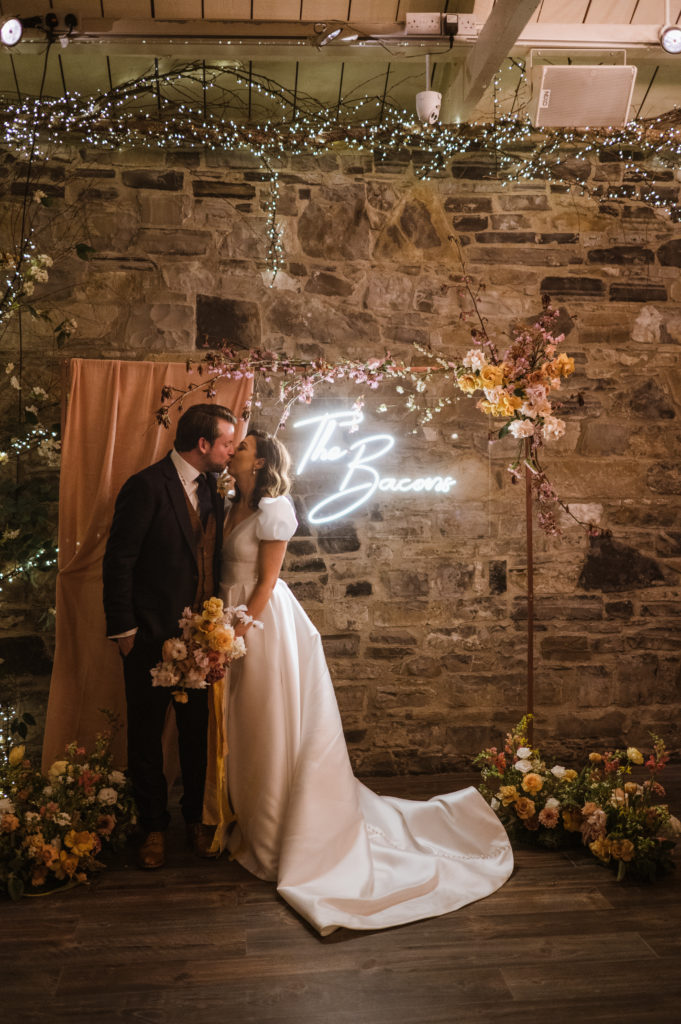 The Worst Decision
It's really hard to pinpoint a worst decision – there's things we might do differently in hindsight but they are mostly all small things like Dan writing his groom's speech the morning of the wedding as the boys got a bit carried away catching up the night before, or me not being as organised as I'd like and running out of dress tape the morning of the wedding!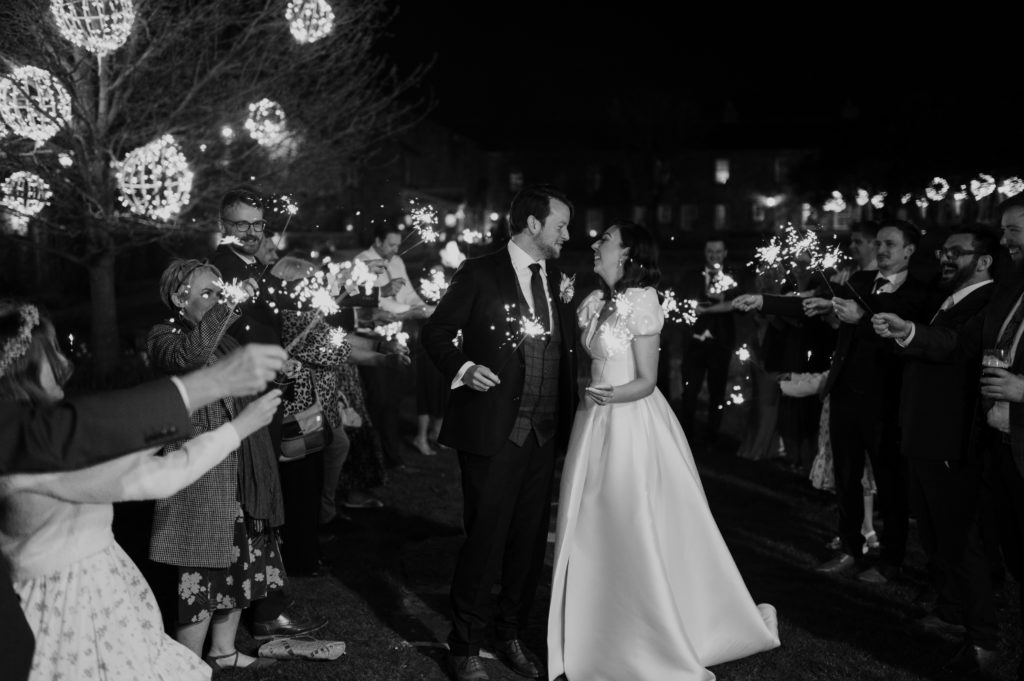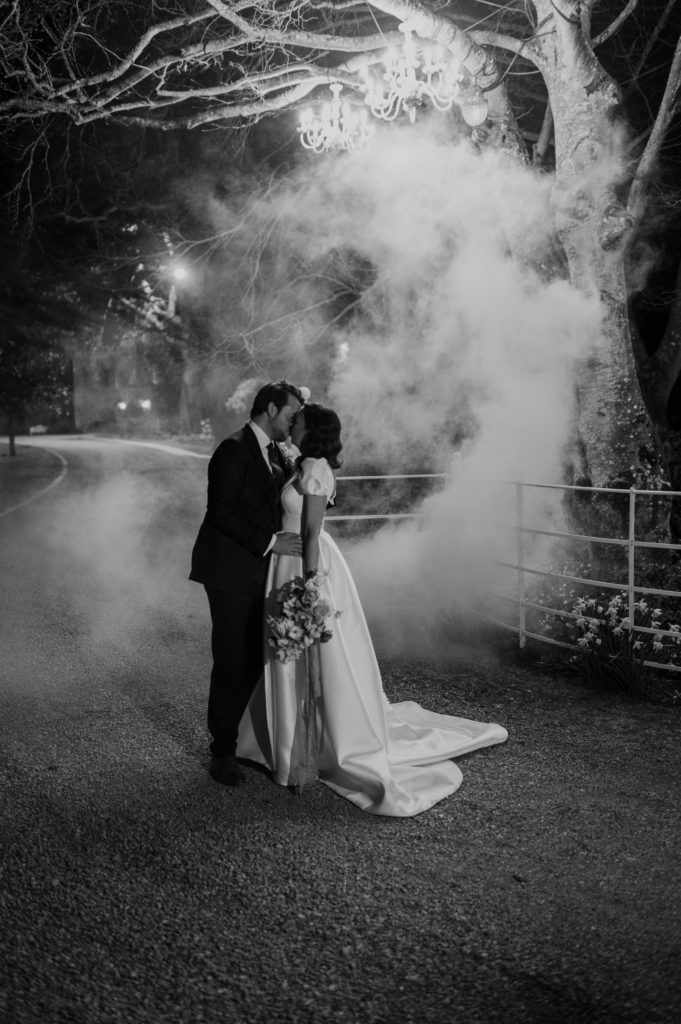 - Gráinne