Caroline Shortall exchanged vows with Trevor McGowan at City Hall in June, followed by a reception at Marco Pierre White Courtyard Bar & Grill. 
Photography: Elaine Barker 
The Meeting
Trevor and I met in June 2015, in Slattery's pub beside Lansdowne Road. Ireland were playing Scotland in a European qualifying match. Trevor struck up a conversation about the Roy Keane football jersey I was wearing. Even though Ireland didn't win the game, we had the best evening and the rest is history! I had never met someone that made me laugh so much, I knew I was on to a keeper.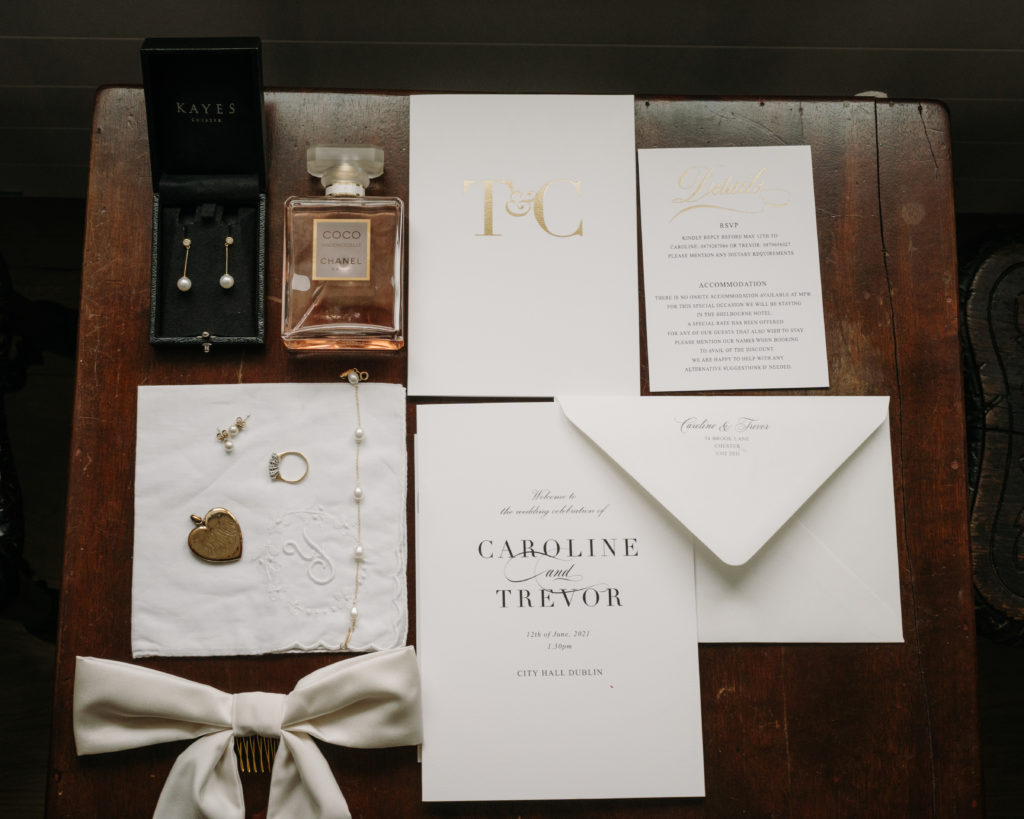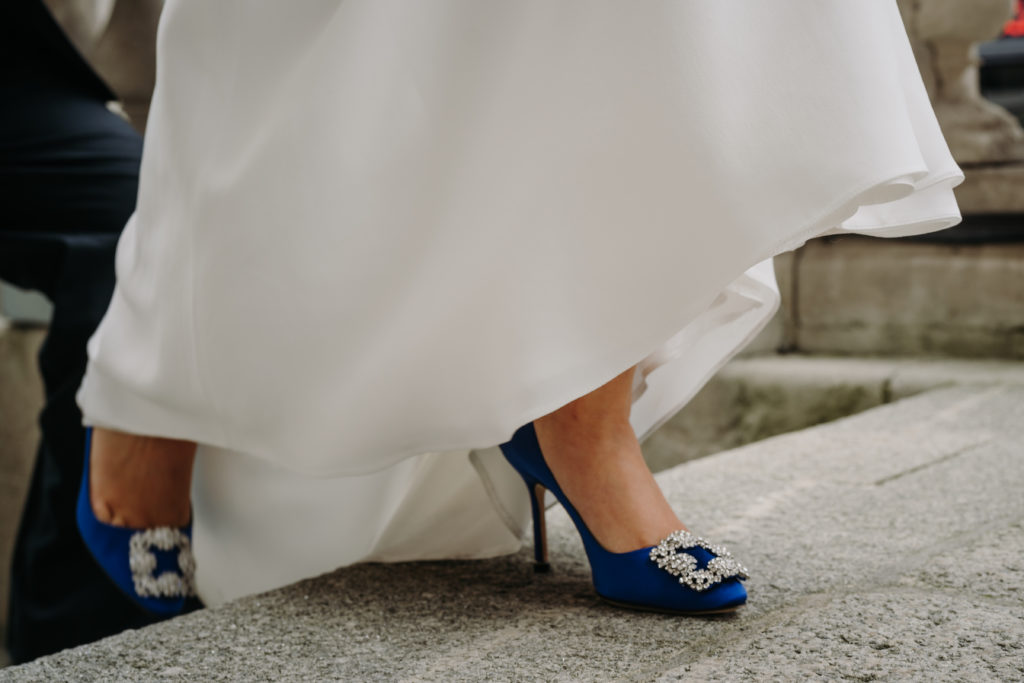 The Proposal
Christmas is my favourite time of year. Dublin City Centre is just magical, I love the lights and the atmosphere with so many people out catching up over drinks. We had planned a night out in town and were staying in The Burlington hotel. We had just ordered drinks at the bar when Trevor said he wasn't feeling very well and excused himself. He phoned me from our room and asked me to bring him up a glass of water. Fuming to be missing out on the evening, I reluctantly brought it up only to find our room covered in romantic candles and a Christmas card. Trevor got down on one knee as I read the last line of the card, asking me to marry him. It was perfect. We spent that evening celebrating throughout Dublin. I'm still not sure how my Dad kept it a secret from me. Trevor had paid him a visit the day before, asking for his blessing - a lovely touch.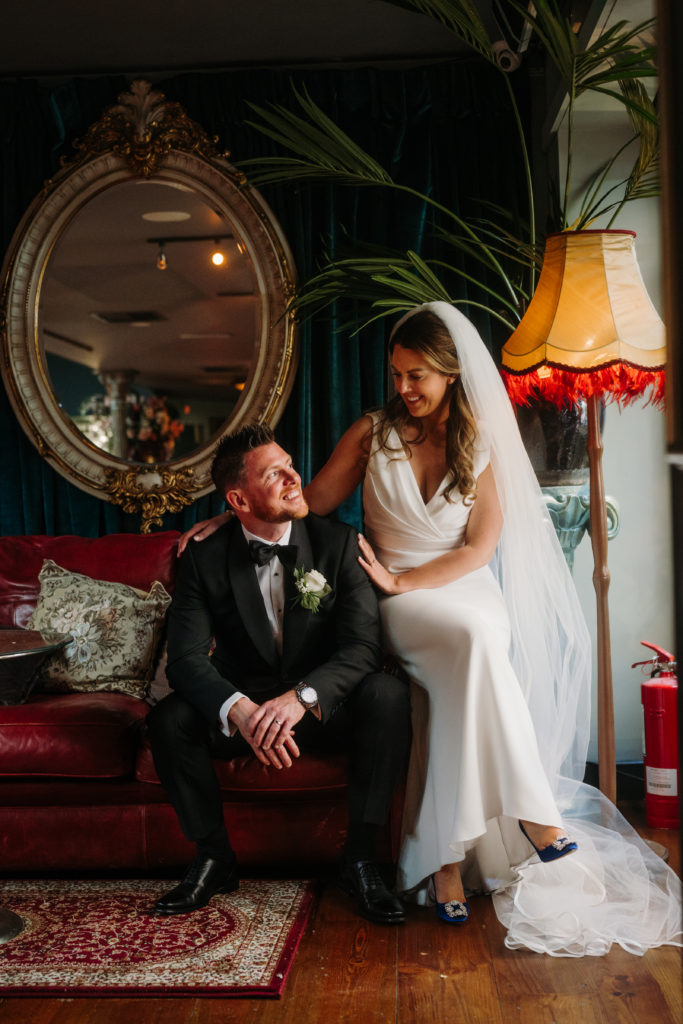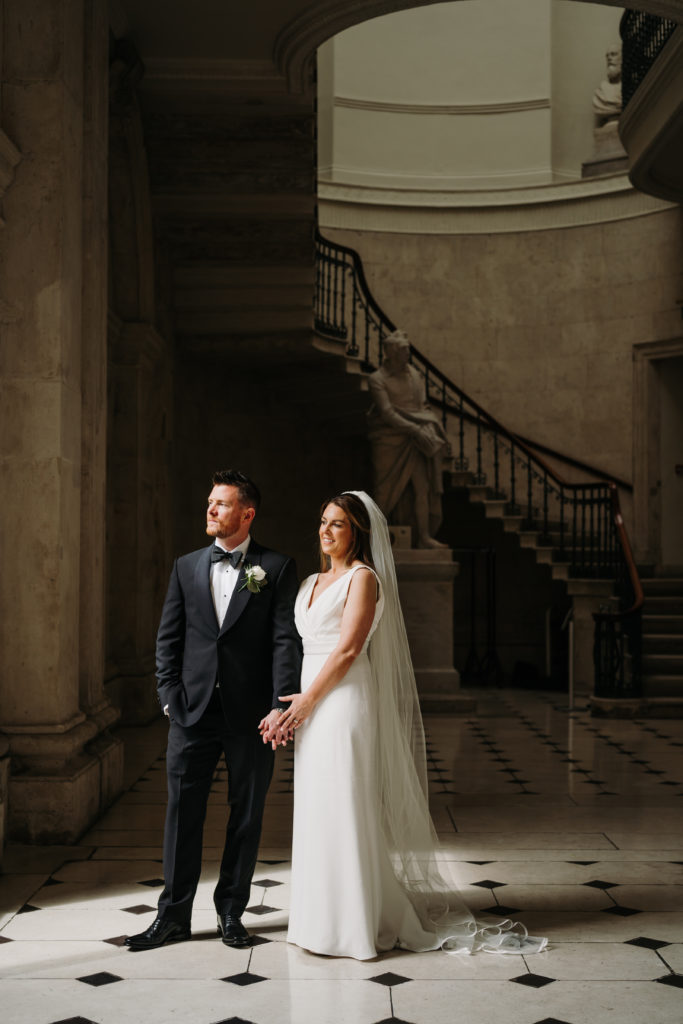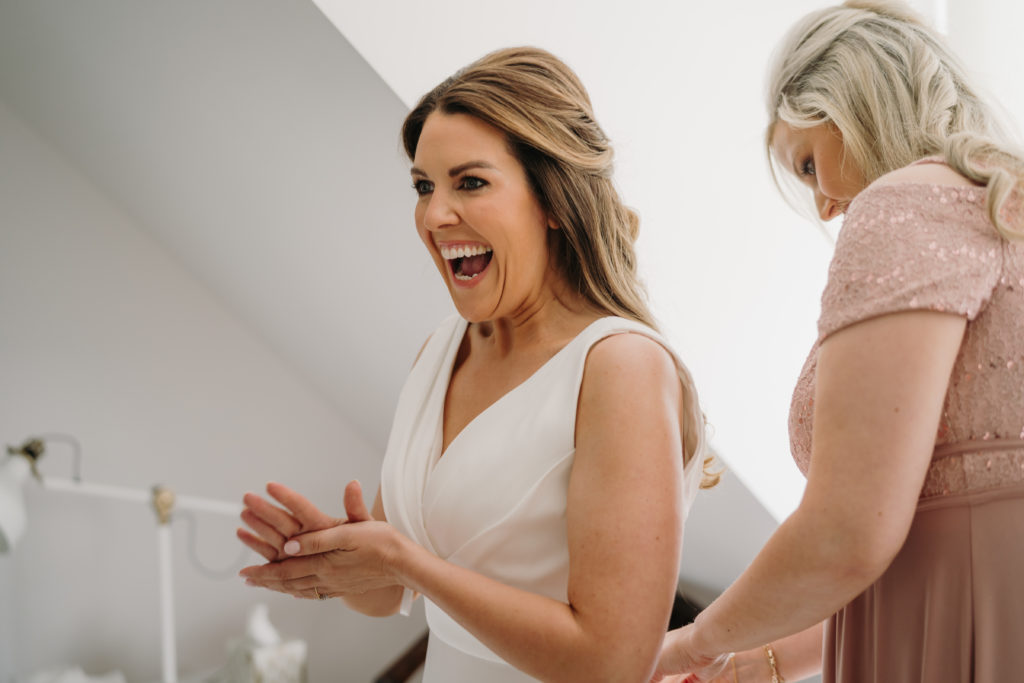 The Venue
From the outset, we always knew we wanted a Dublin wedding. We had spent many evenings in Macro Pierre White Courtyard and always loved the quality of food and friendly staff. When we saw the restaurant transformed into a wedding venue, we knew it was the right choice. The atmosphere and the restaurant's décor made it so unique. It was also a huge bonus that it had a beautiful outdoor area for everyone to enjoy drinks and canapés. For the ceremony we chose City Hall. We loved that it is so central to the city and somewhere we will walk by time and time again, throughout our lives together. It is surprising how many people have never been inside, despite always passing by. Our family and friends were blown away by how beautiful it was, and it gave our day the real wow factor.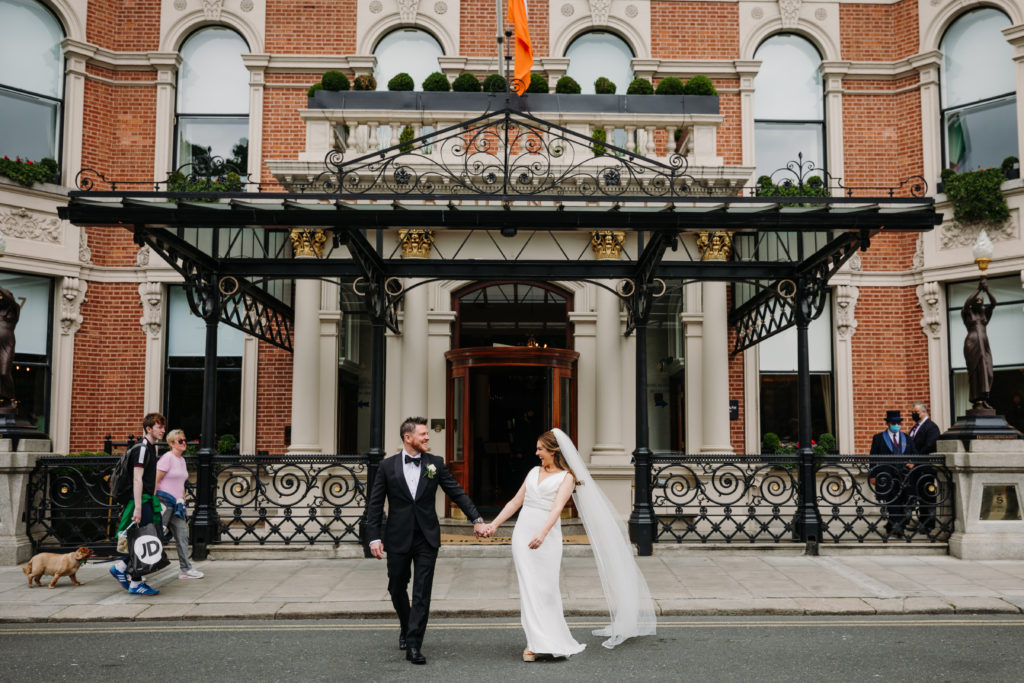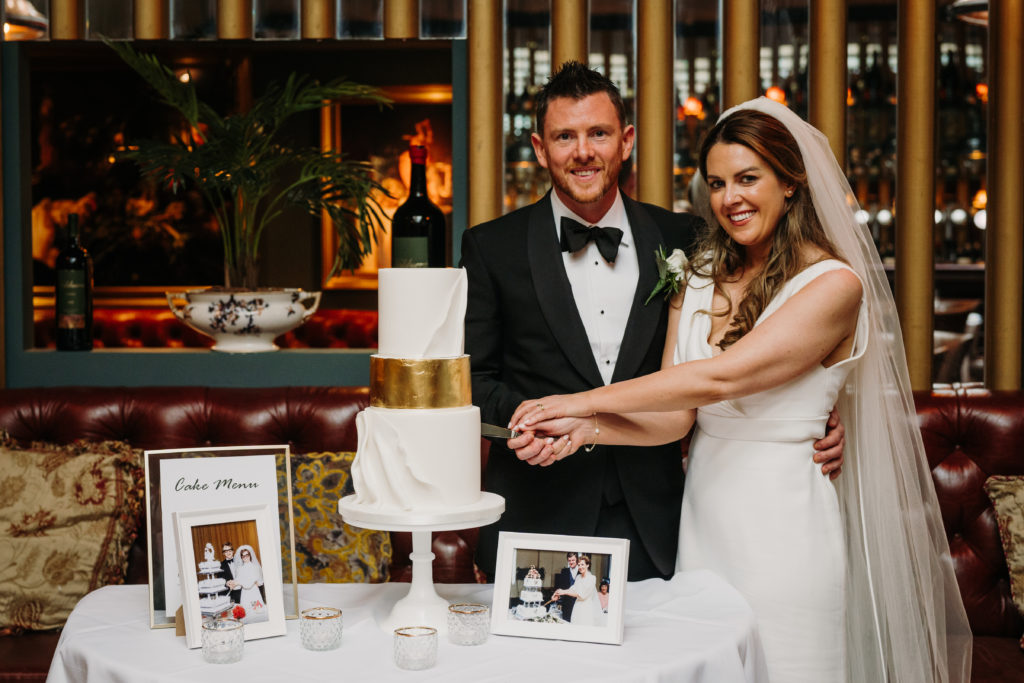 The Beauty Prep
Lockdown meant no facials or professional help which had me in a panic. I remember someone saying that what you do everyday is more important than what you do occasionally so I was regimented with my daily cleansing, serums and SPF. As boring as it sounds, I just tried to eat healthy, drink lots of water and not be too hard on myself. Being a Covid bride was restricting enough, so if I wanted a glass of bubbles or a dessert, I had it. I also took up running three times a week which helped burn off some of those desserts. I was a bit apprehensive about my hair and make-up as there was no time for a trial due to Covid restrictions. There was no need for concern as Lou and Sue were perfectionists on the day and knew exactly what I was after. I could not believe how fresh my make-up looked, even after dinner. Luckily, salons were open just in time for the wedding. I went to Burgundy Beauty in Blackrock for my spray tan which was the most natural-looking tan I have ever had. The week of the wedding, I had a manicure and pedicure in the lovely Mink, which was like a mini spa retreat. My bridal scent was Coco Mademoiselle from Chanel. It has always been my go-to for any occasion. I love how classic it is.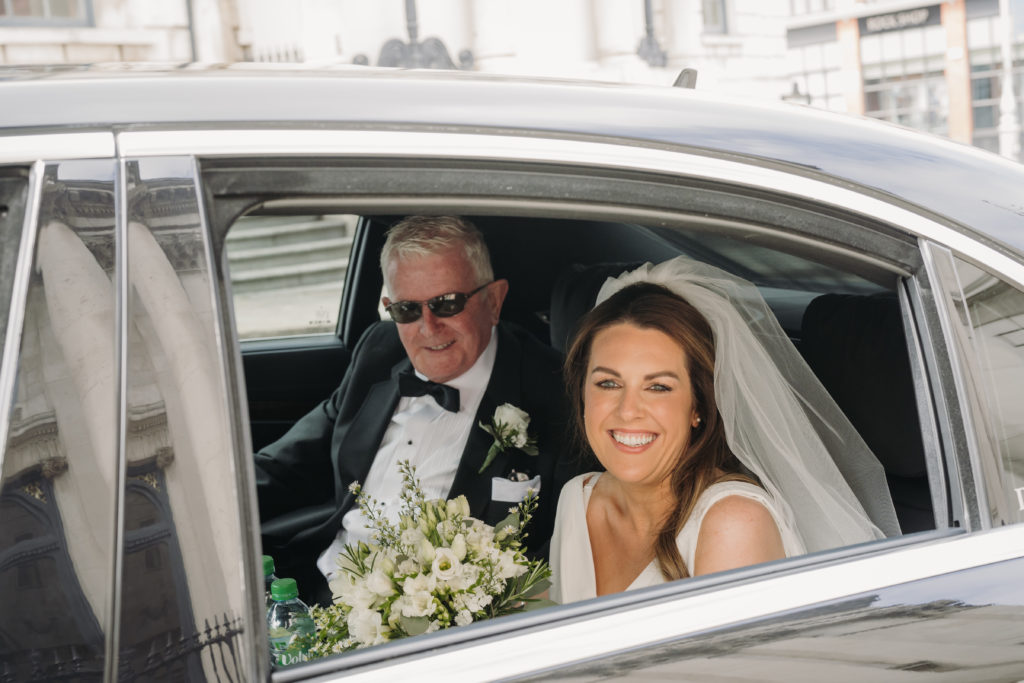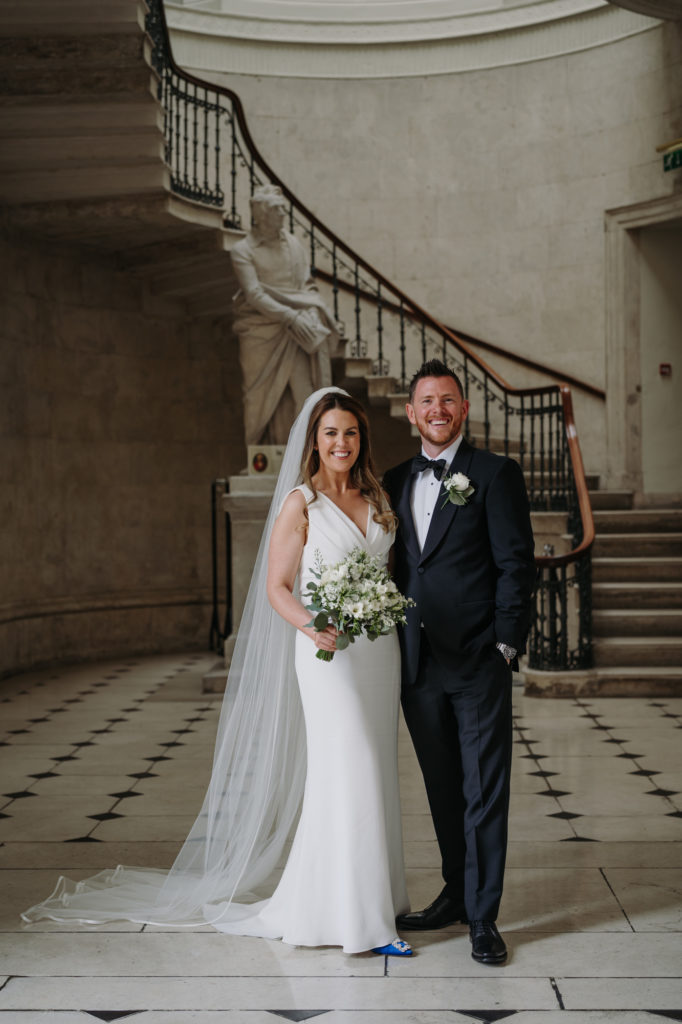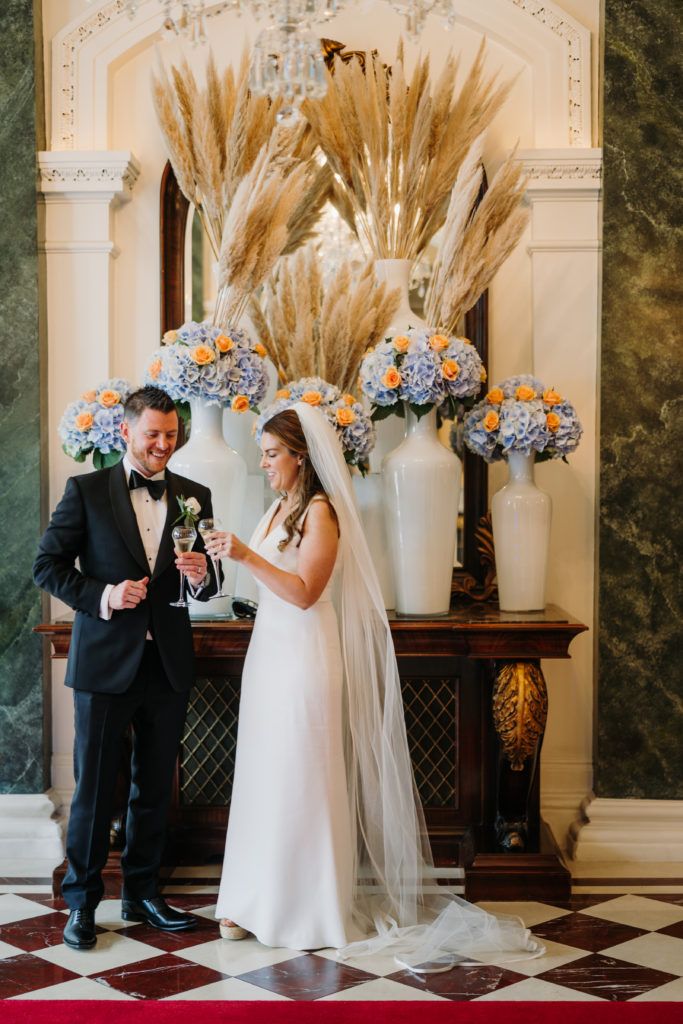 The Dress
I had no idea what type of dress I wanted but I knew that I would find it as soon as I walked through the doors of Sharon Hoey, they have the most wonderful collection. My own mum passed away some years ago, but my godmother Sandra came with me. She too got her wedding dress from Sharon and completely coincidentally, was married on the exact same day as us, 34 years previous. Sharon and her team were excellent in providing support and advice. I chose one of Sharon's own designs and through the three fittings, they created my perfect dress. The attention to detail, care and creativity is why they are the best in the business.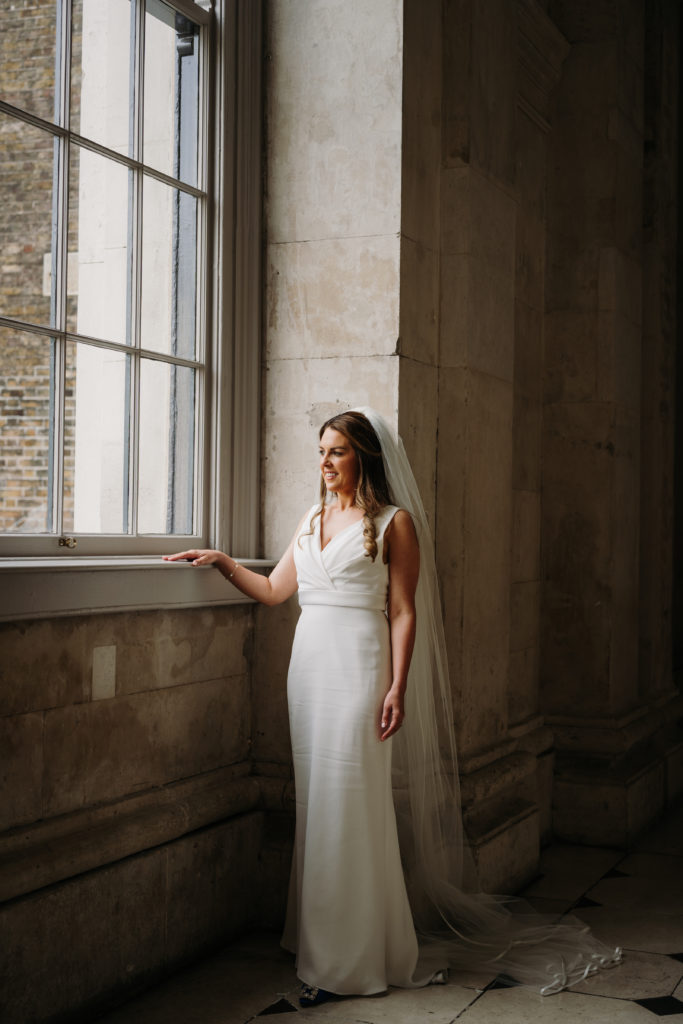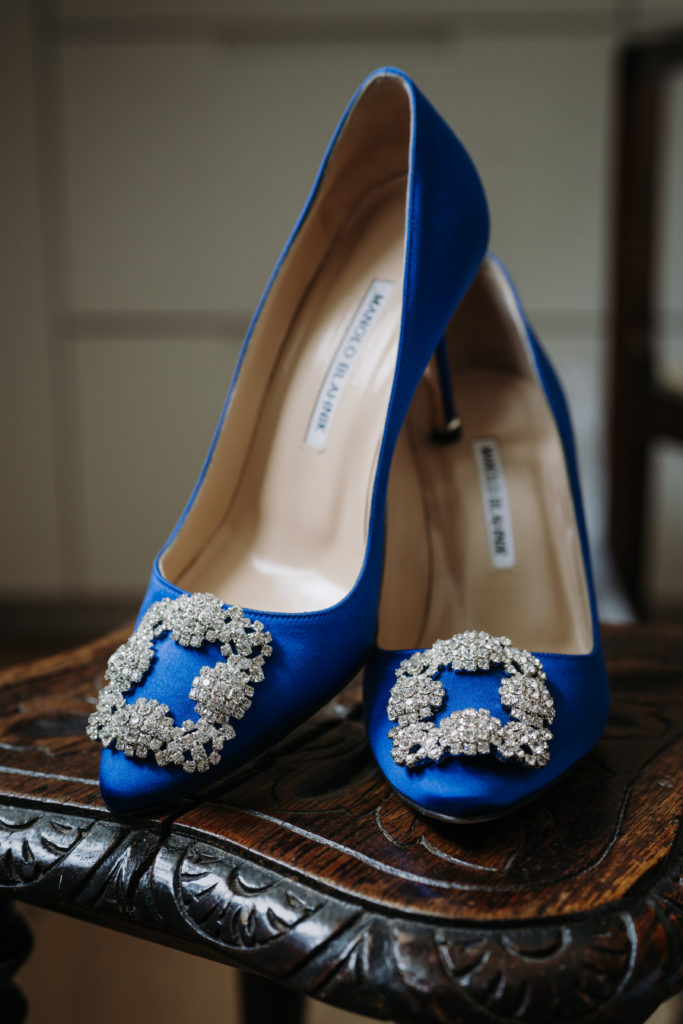 The Entertainment
Music is so important to us both and we wanted to create an atmosphere that was a true reflection of us as a couple. We love Irish artists and when we heard Barry Hughes (Wedding Singer Ireland) playing, we knew he would be perfect. He played some of our favorite songs before and after the ceremony to entertain guests, which gave such a welcoming start to the day. We included some of our favorite songs by The Cranberries, Thin Lizzy and The Pogues during the ceremony, and Barry's rendition of Raglan Road nearly got a standing ovation. We loved that the soundtrack to our day was so personal. For the reception, we had to follow the restrictions in place so unfortunately could not have our live band Ultrasound play. However, they created an amazing DJ setlist which had everyone up dancing. I think people fear that entertainment can be overwhelming with a smaller wedding but to be honest, I think it is needed more than ever.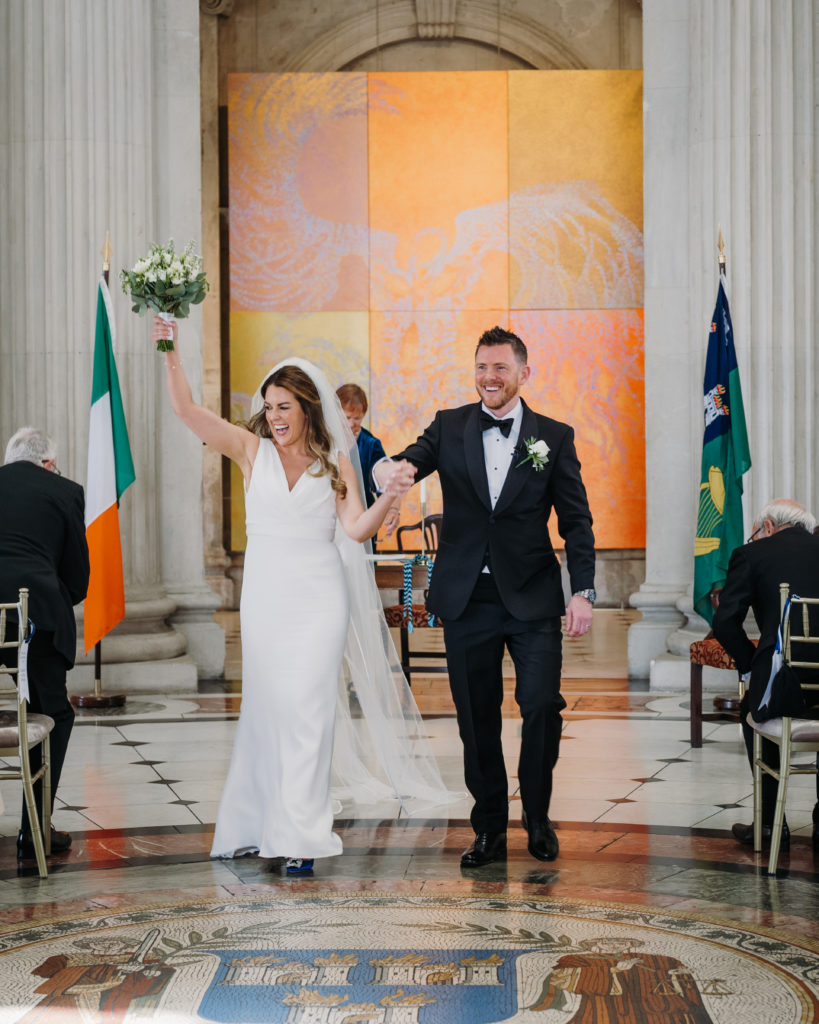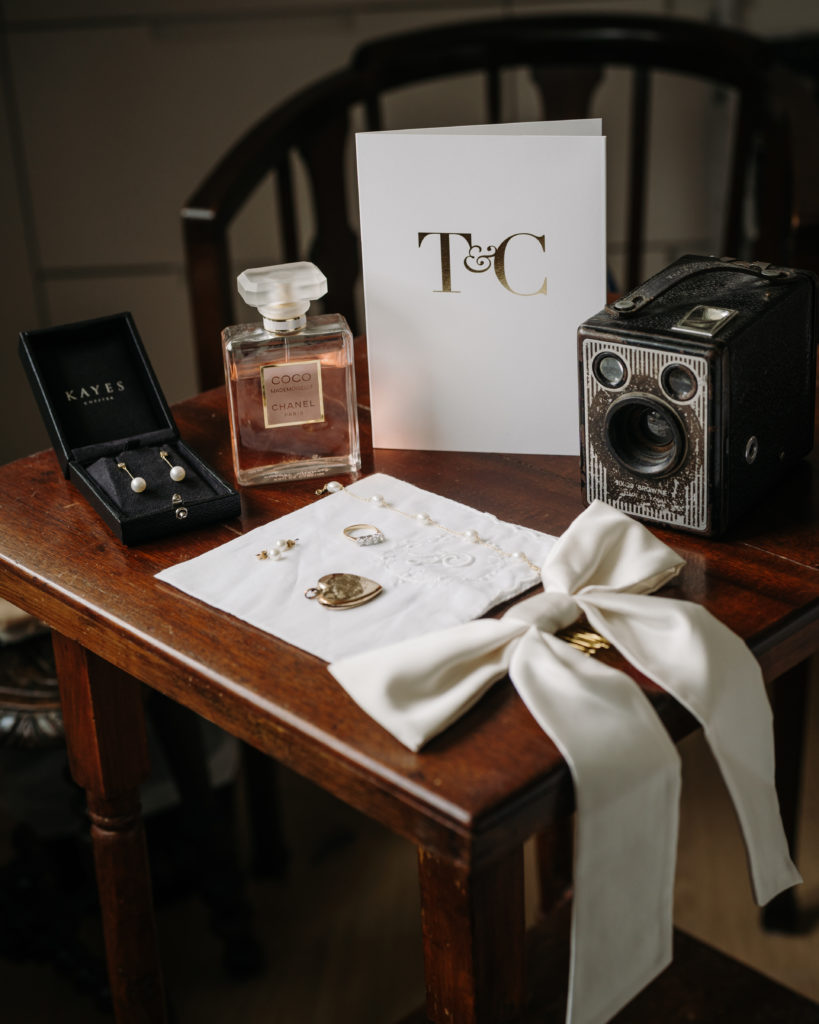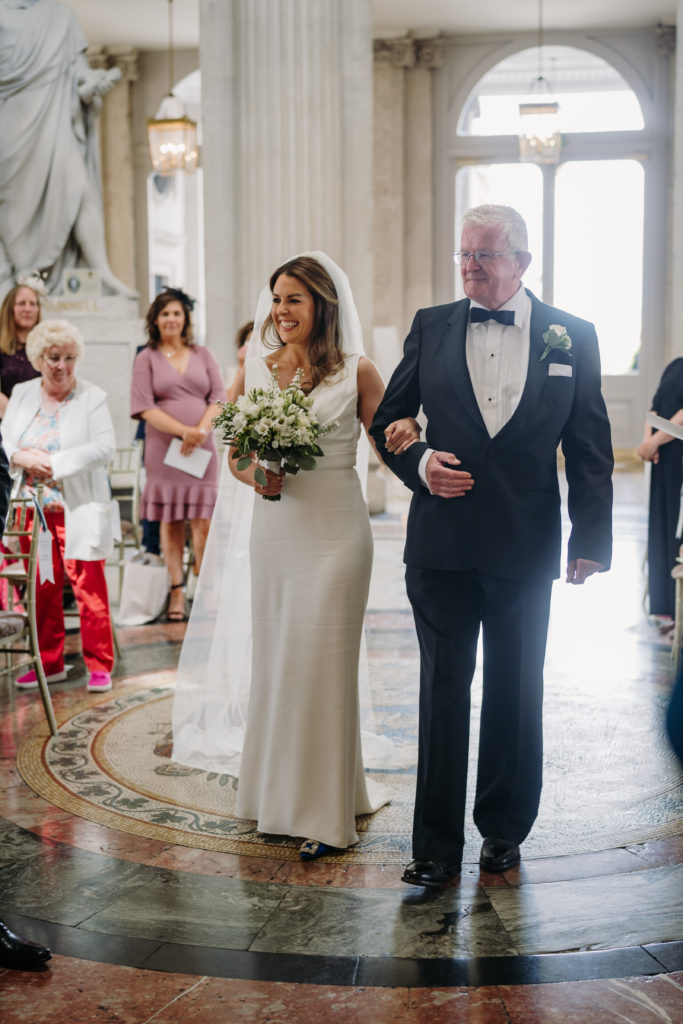 The Bridesmaids
My wonderful maid of honour Anne-Maire has been my friend since school. She was brilliant on the day and kept me laughing the whole morning when nerves started to kick in. I am incredibly lucky and thankful for the huge support I had from my family. From aunties to cousins, to the girlfriends of cousins, everyone stepped up to help and they all made the day so special. It got a bit chaotic in the morning, but they all pulled it together to get me to City Hall on time.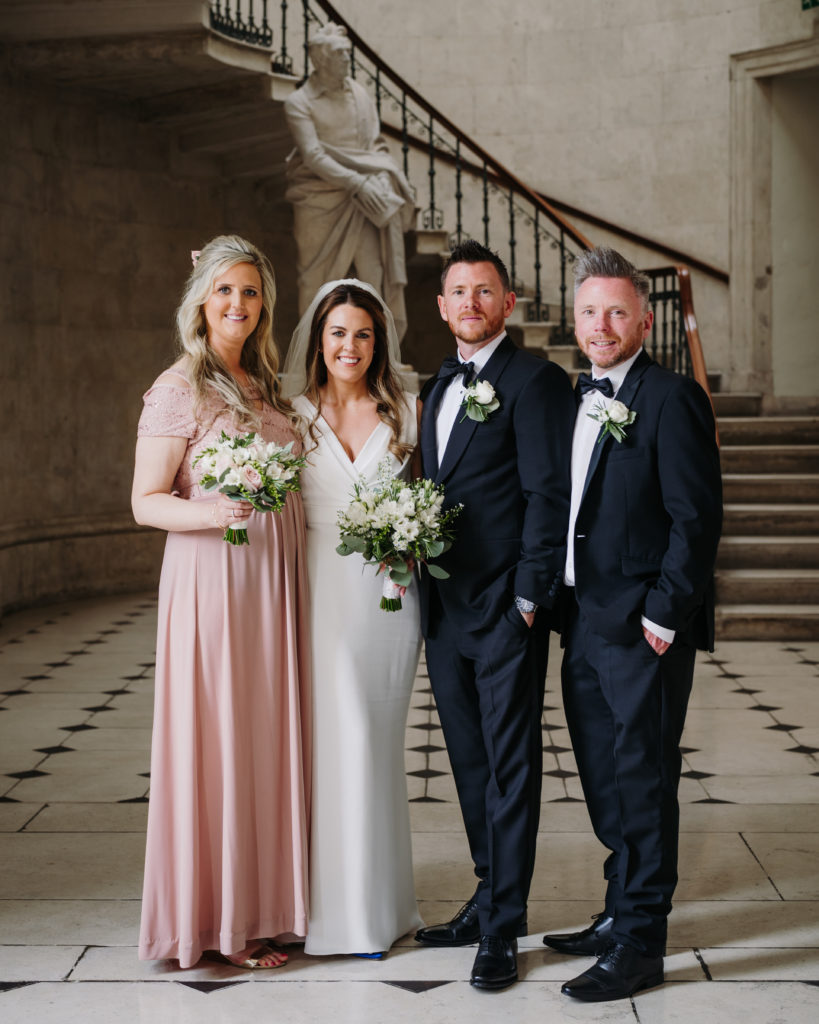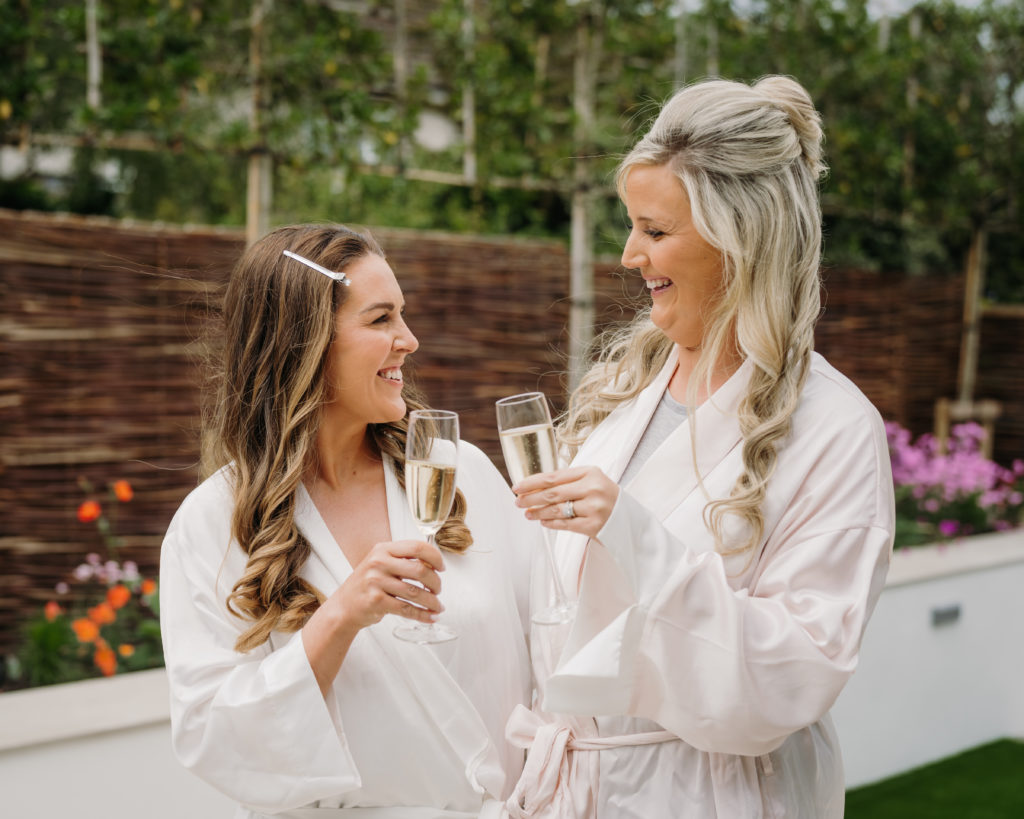 The Best Decision
Choosing Dublin as our backdrop. We took a walk from City Hall to Temple Bar with our photographer Elaine Barker and Emma from Edithouse. They were brilliant at capturing the magic of the day as it unfolded. It was the first weekend that allowed for outdoor dining, which meant the streets were packed. As we walked into Temple Bar, the place erupted with people clapping and cheering.  The atmosphere was electric. We even got to stop and enjoy a pint at The Temple Bar Pub. It was lovely to have those few moments to ourselves to celebrate. The day goes by so quickly, but I will never forget that first drink, just the two of us in the centre of Dublin with the city cheering us on.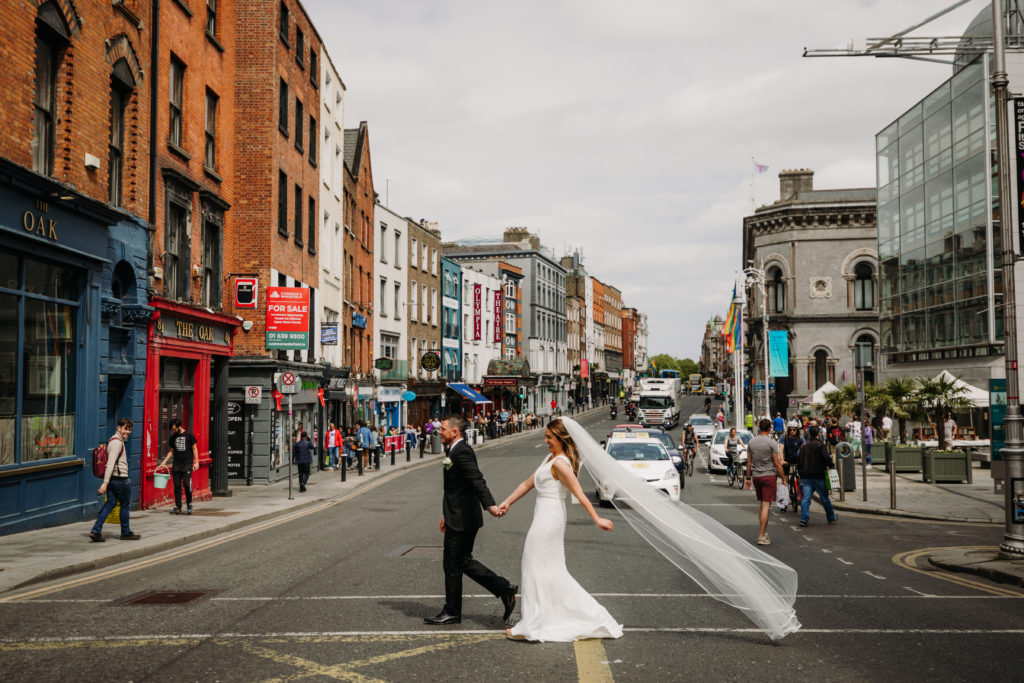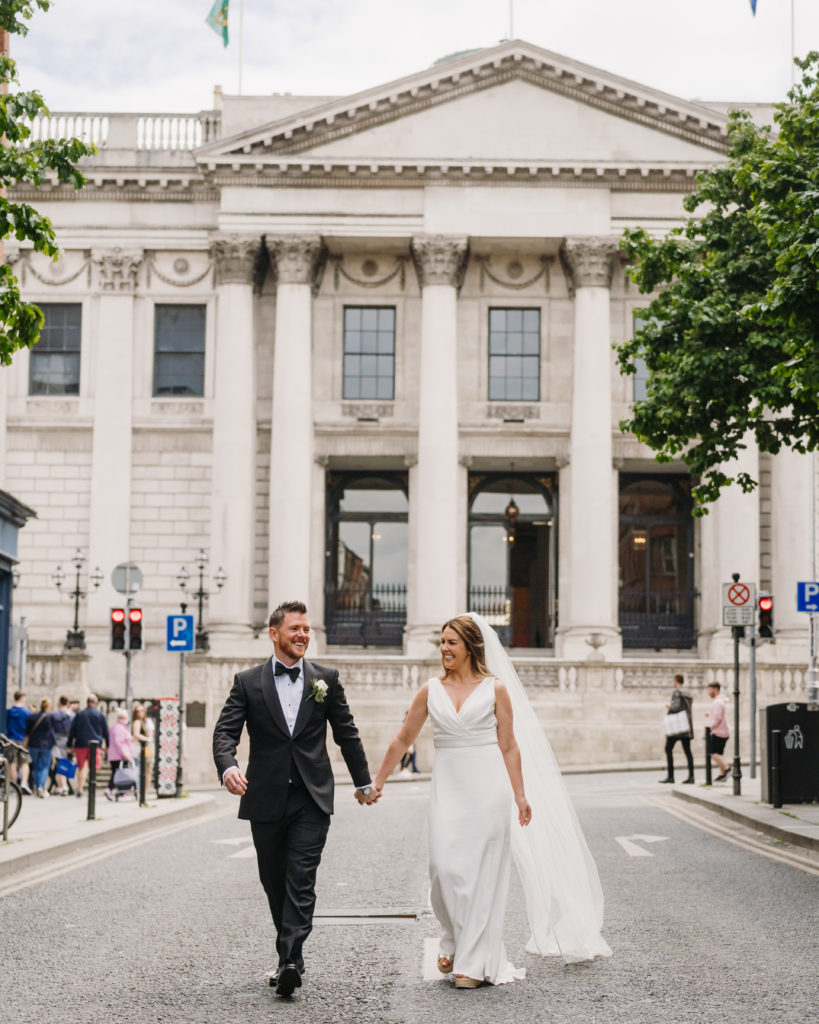 The Worst Decision
I hate to sound annoying but honestly, we have no regrets about our day. The only thing I would try to change was how much I worried beforehand. I tried to think of all the little things and plan for them, but there was no need. We booked amazing professional suppliers, they had so much experience that they knew exactly what was needed. There was nothing that I even thought about second-guessing. Joe from Green's Florist knew exactly which flowers I should include in my bouquet and Niall from Devine's Chauffeurs had thoughtfully supplied a bottle of water for me in the car in case I needed it. I wish I would have handed over the reins to the professionals sooner and not worried as much. They know weddings inside out and they pulled out all the stops to make it the best day.