Physician Assistant Annie Zupan married Commercial Strategist Brandon Ostrowski in an intimate Waterford Castle wedding in July of 2022.
Photographer: Kyrstin Healy
The Meeting
Brandon and I met 11 years ago, in our final year of high school, after being raised in the same suburban town just outside of Chicago, Illinois. We attended the same high school for three years prior to getting to know one another. Friends became flirting followed by a first date. 




The Proposal
After supporting each other through years of undergraduate and graduate degrees, we planned a dream vacation to the beautiful volcanic islands, the Faroes, in April 2020. Brandon had every intention of a beautiful proposal which was ultimately thrown off course by the COVID Pandemic. After several months of working in the thick of the pandemic, we planned a more local escape to the Michigan lakeshores. On October 11th 2020, after a two-hour hike, Brandon proposed to me on a secluded beachfront surrounded by fall foliage and blue waves.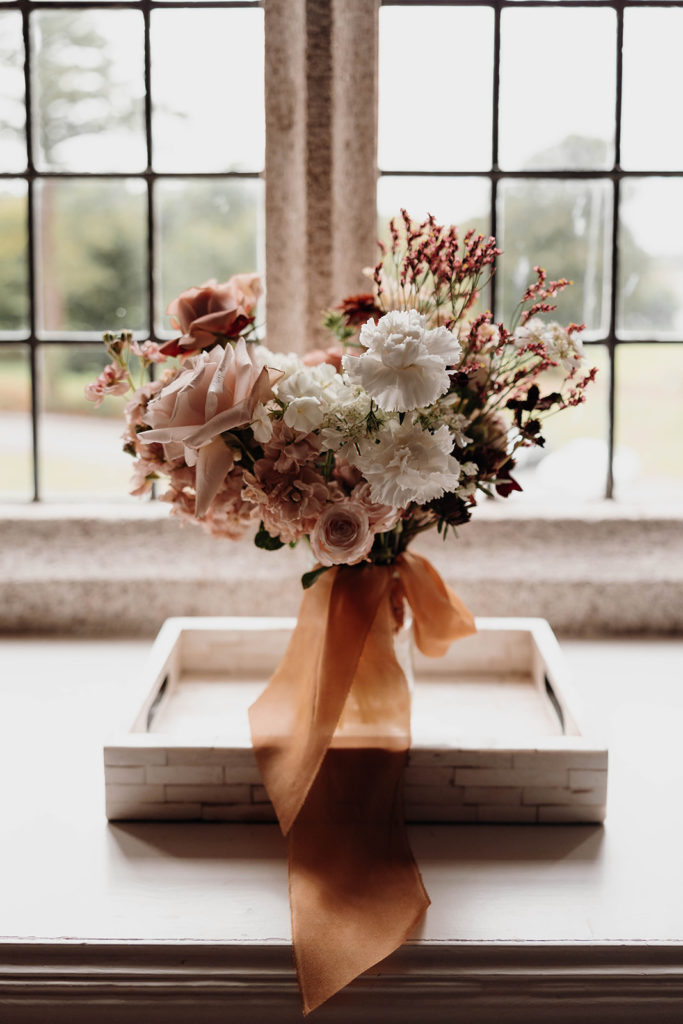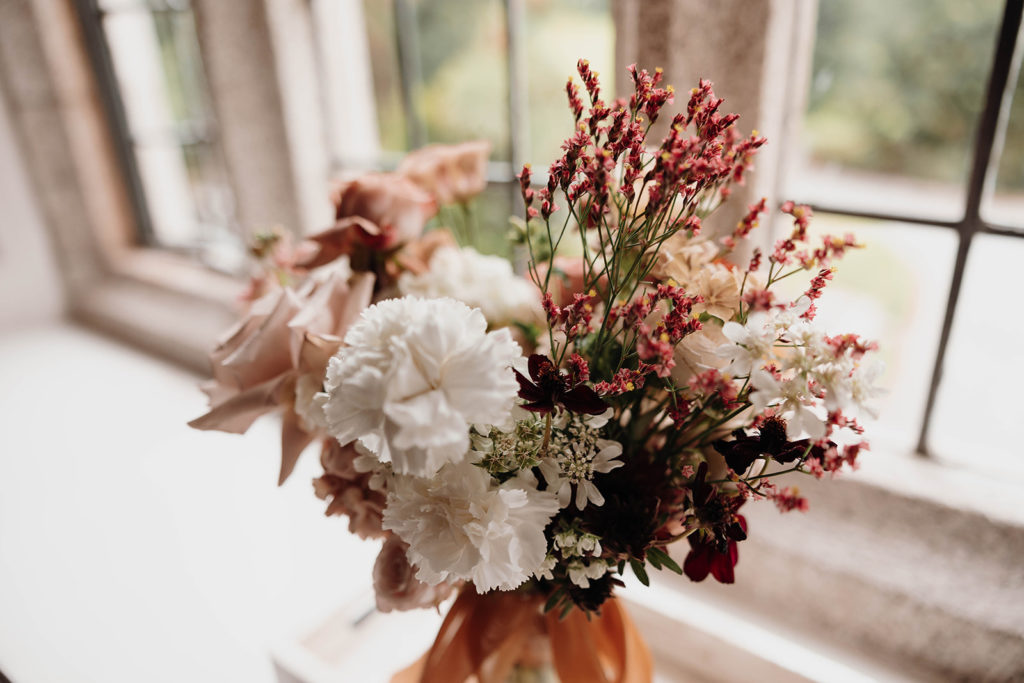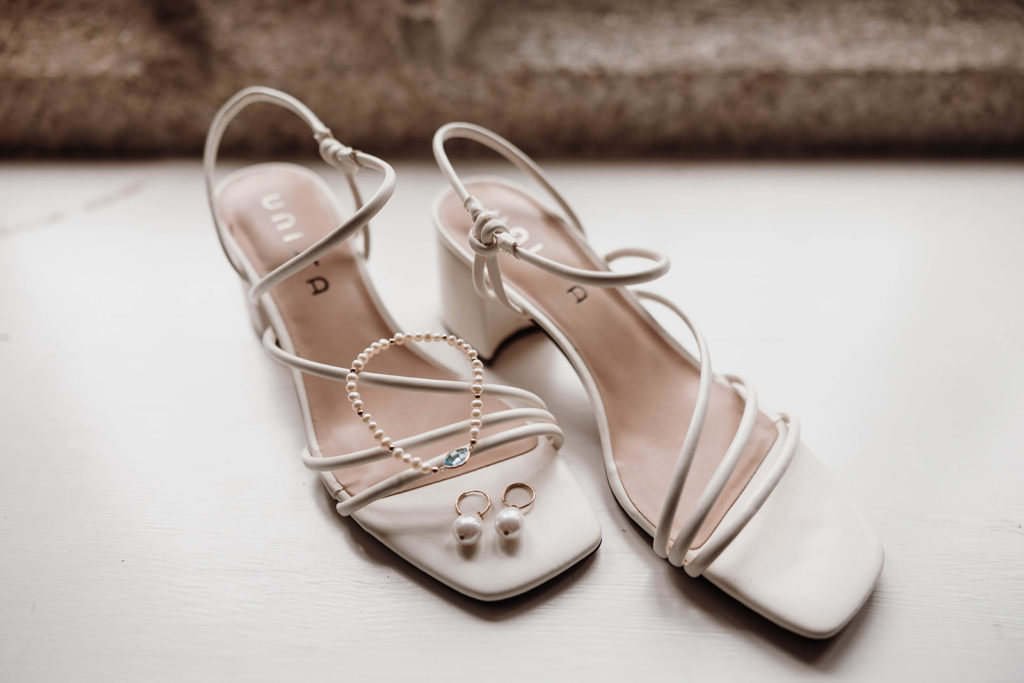 The Beauty
My wedding preparation and beauty journey was a bit challenged by the two weeks of travel across the United Kingdom prior to our wedding day. Before leaving the United States, I went for a few regular facials and then filled my very precious luggage space with lots of moisturizers. My hair benefited from the two-week-long break from my hot styling tools and was pulled back into a simple style by a local Waterford hairstylist. As someone with a very simple makeup routine, I was sceptical of having a full face of makeup and not feeling like myself. I ultimately decided to invest the time into mastering my own natural look and fit in the alone time for myself to do my own makeup the morning of my wedding. For my scent, I wore Mediterrano by Carthusia.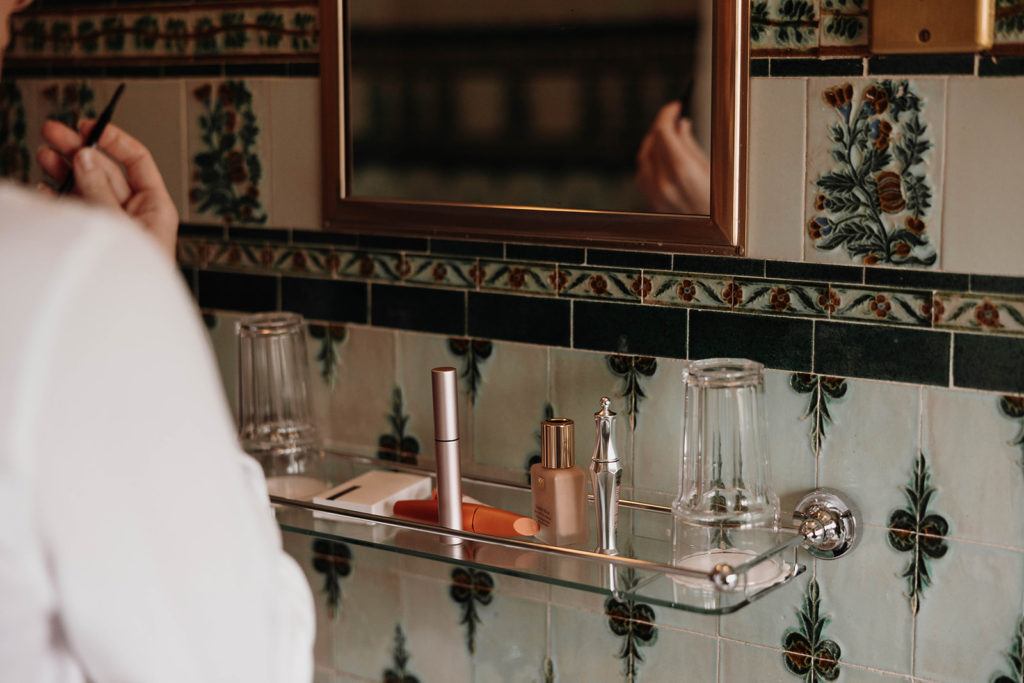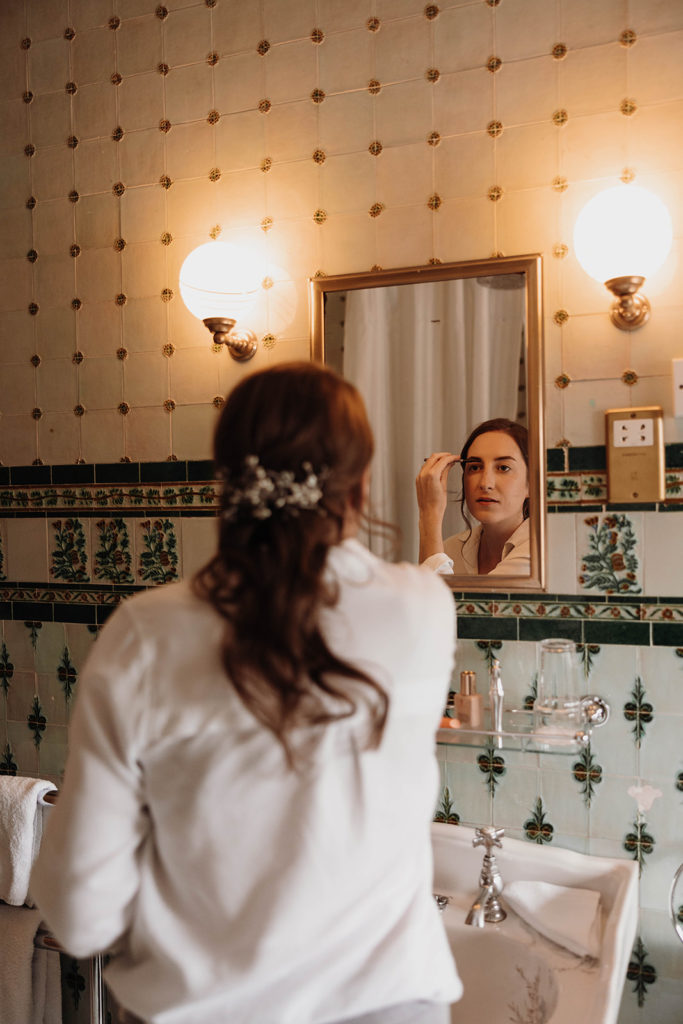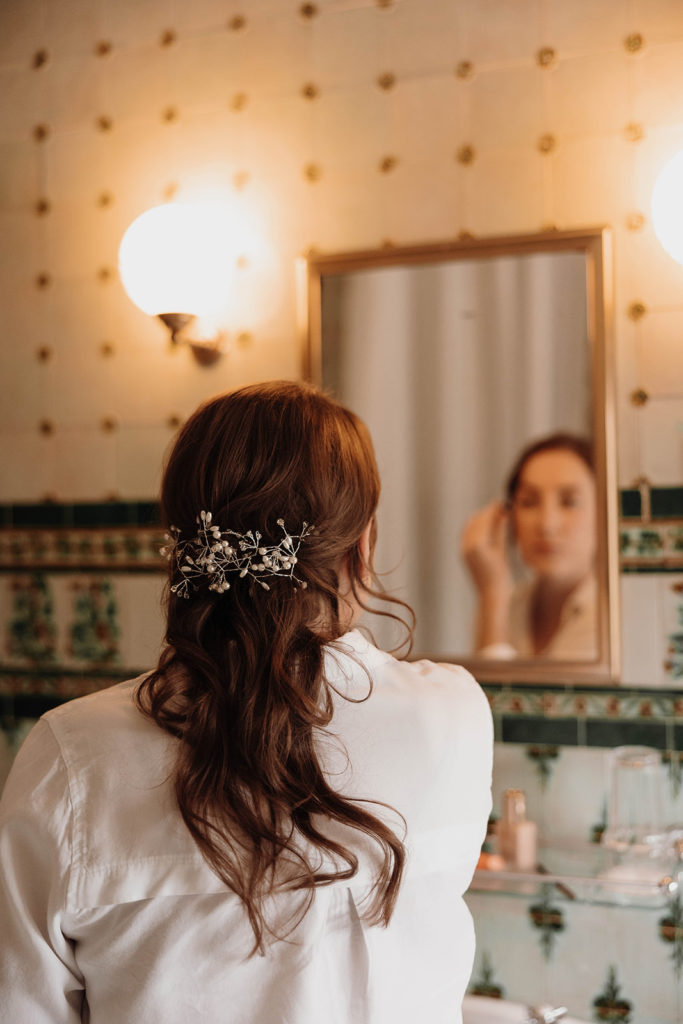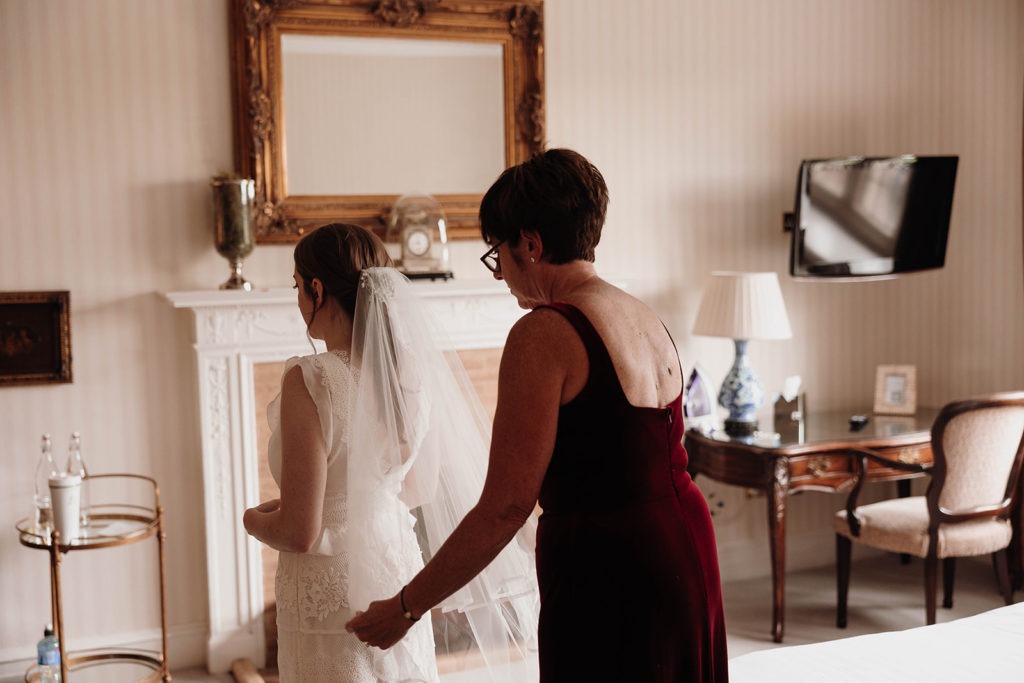 The Dress
I began the search for my wedding dress with my first appointment scheduled exactly one year, to the date, prior to our wedding day. I intended for this appointment to be one of many, and unexpectedly, left the bridal salon with my dream dress. I was intent on a modern and minimalist design that ultimately did not suit the romantic setting of our venue. After walking by an allover cotton lace column gown hanging on display numerous times, pretending I wasn't interested, I tried on the gown. I have never felt so confident in an item of clothing and knew it was the one. My sister, Molly, chose a simple, ribbon-edged veil for me to wear.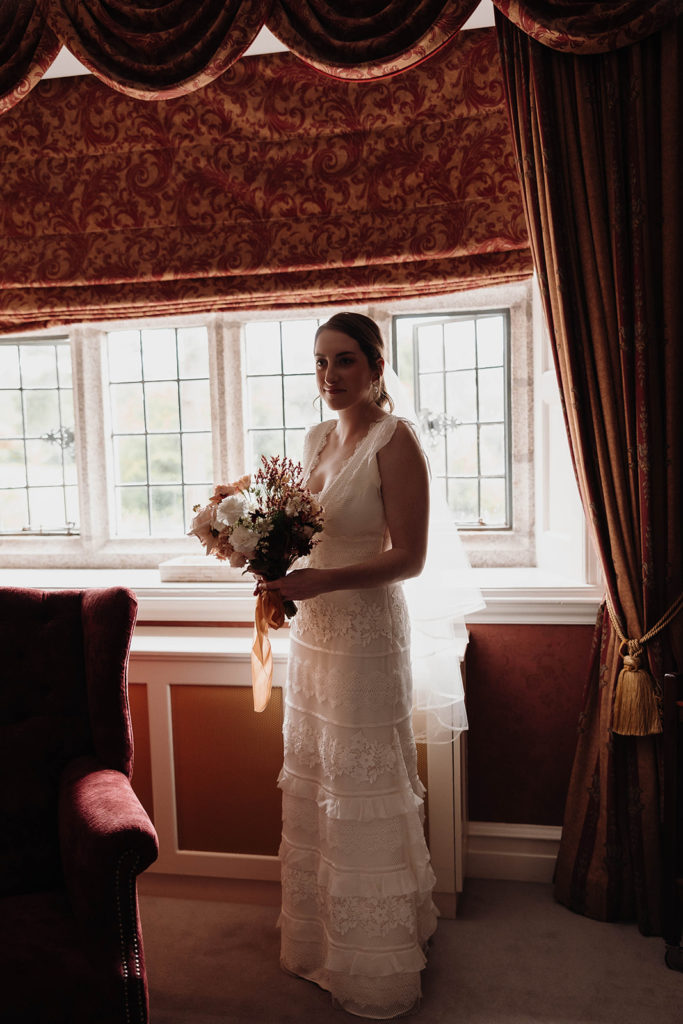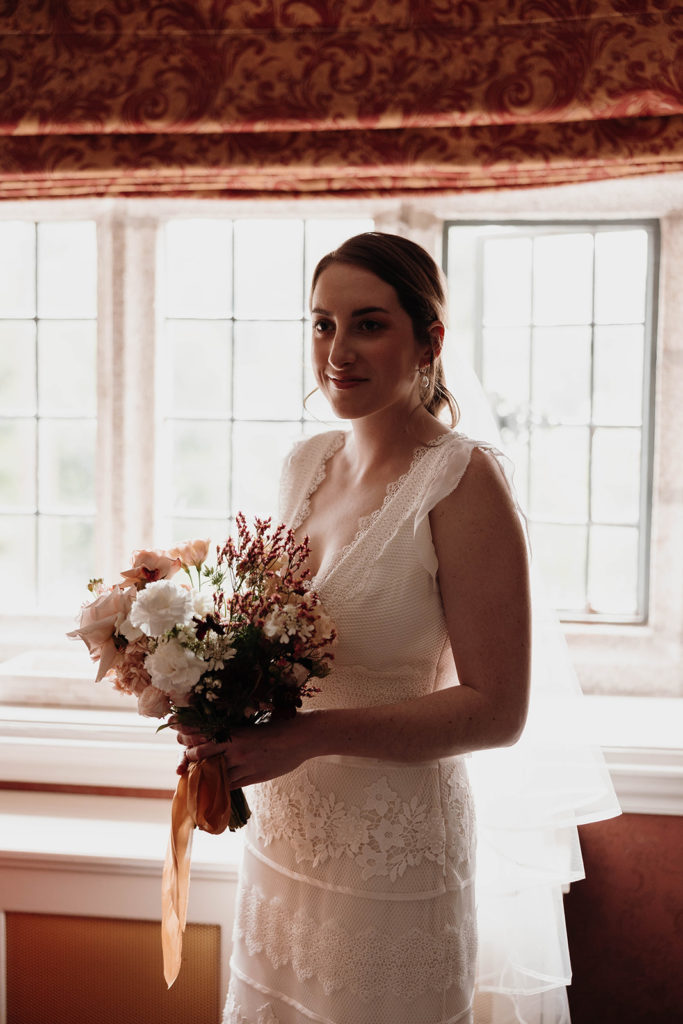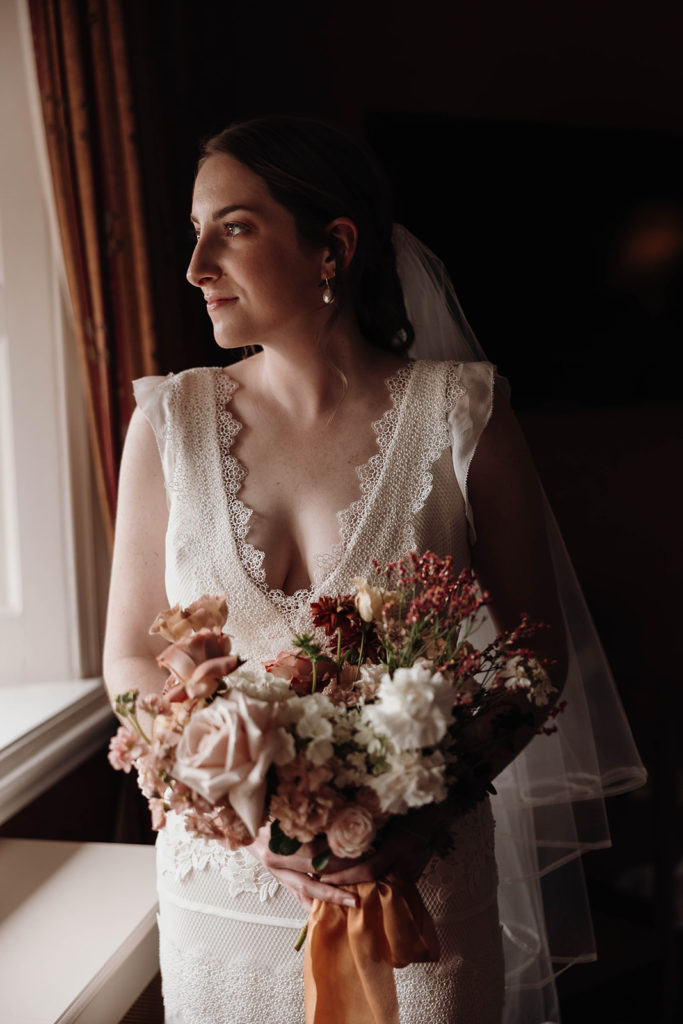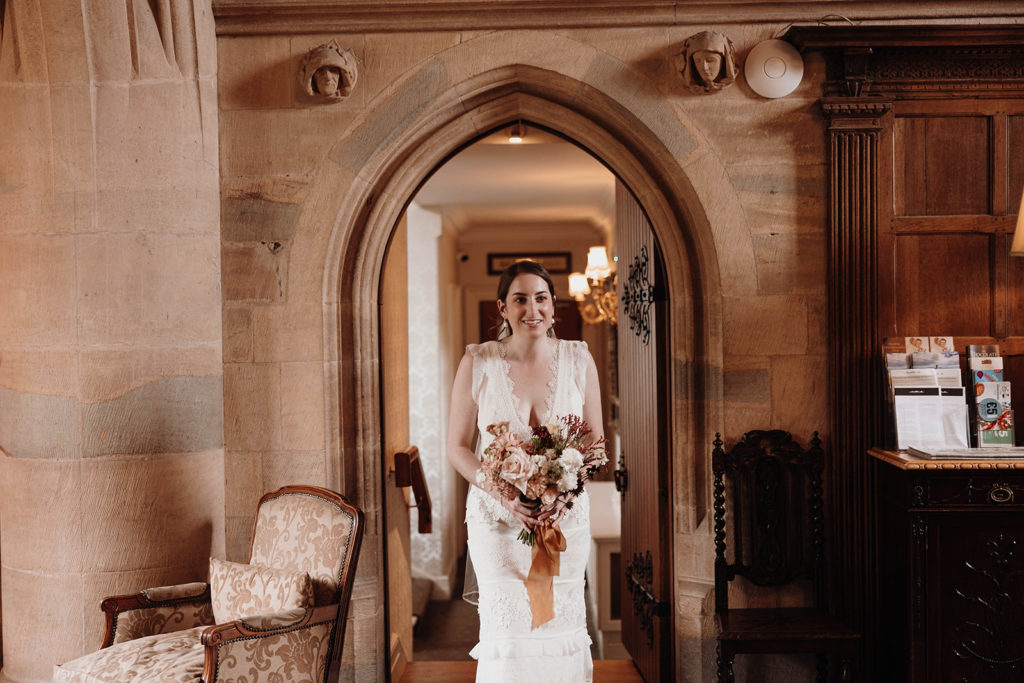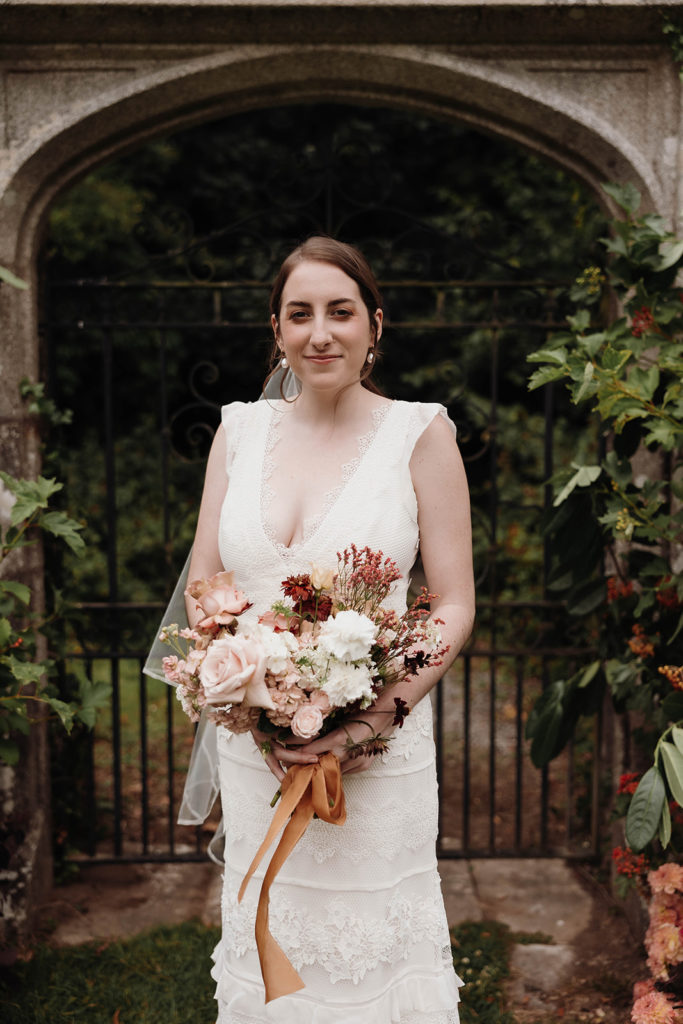 The Groom's Suit
To suit our wedding locale, Brandon wanted to wear a custom textured tweed three piece suit paired with cream coloured accents. Brandon's shoes were a cap toe oxford by Stacey Adams.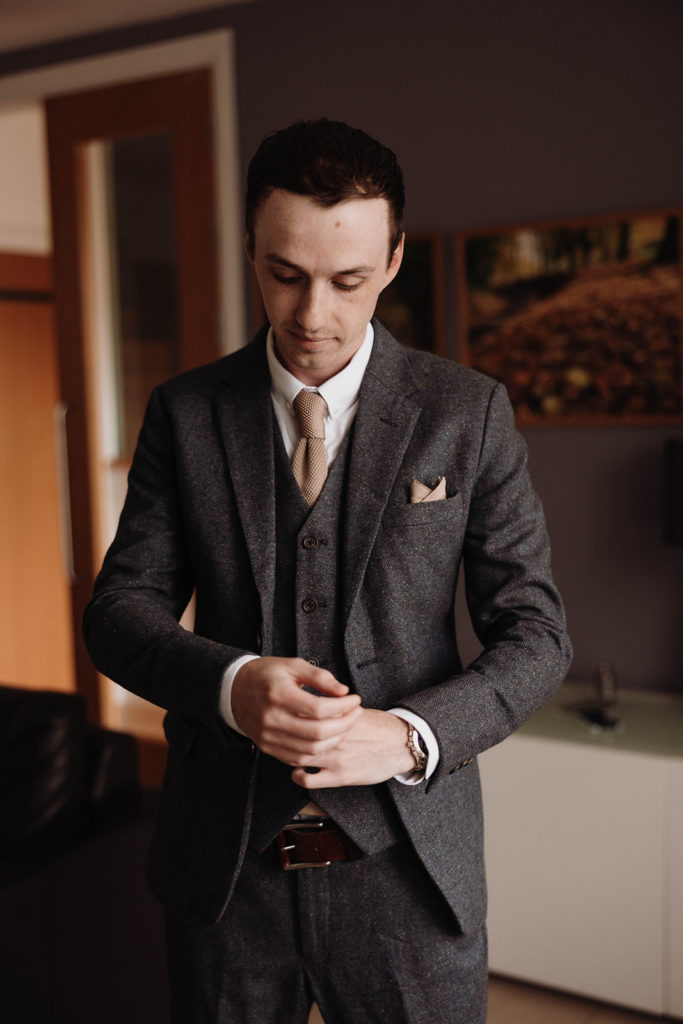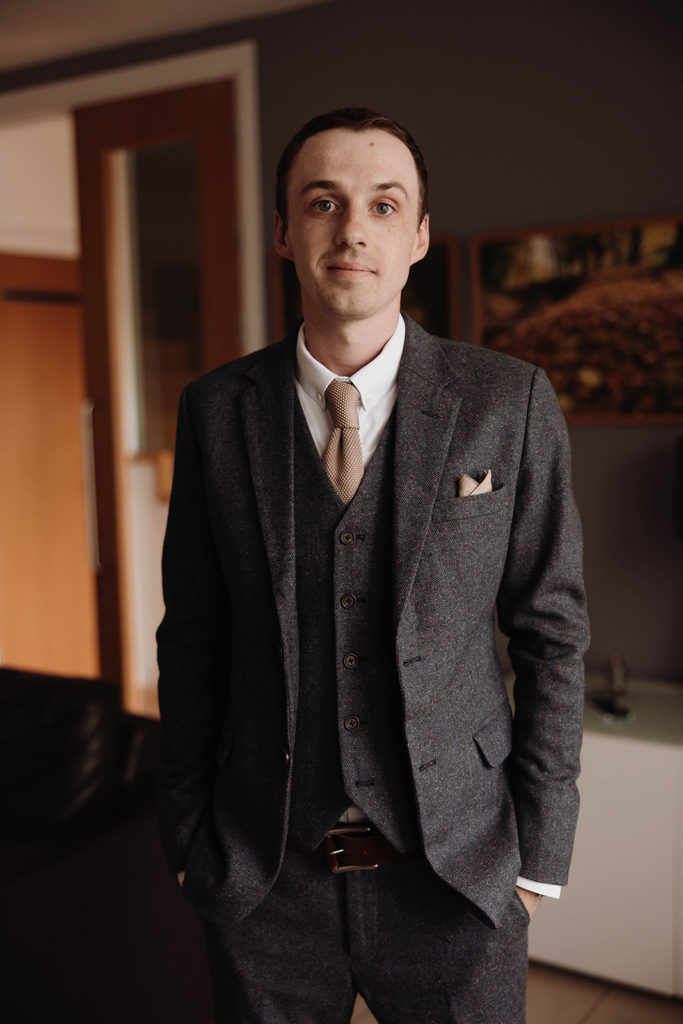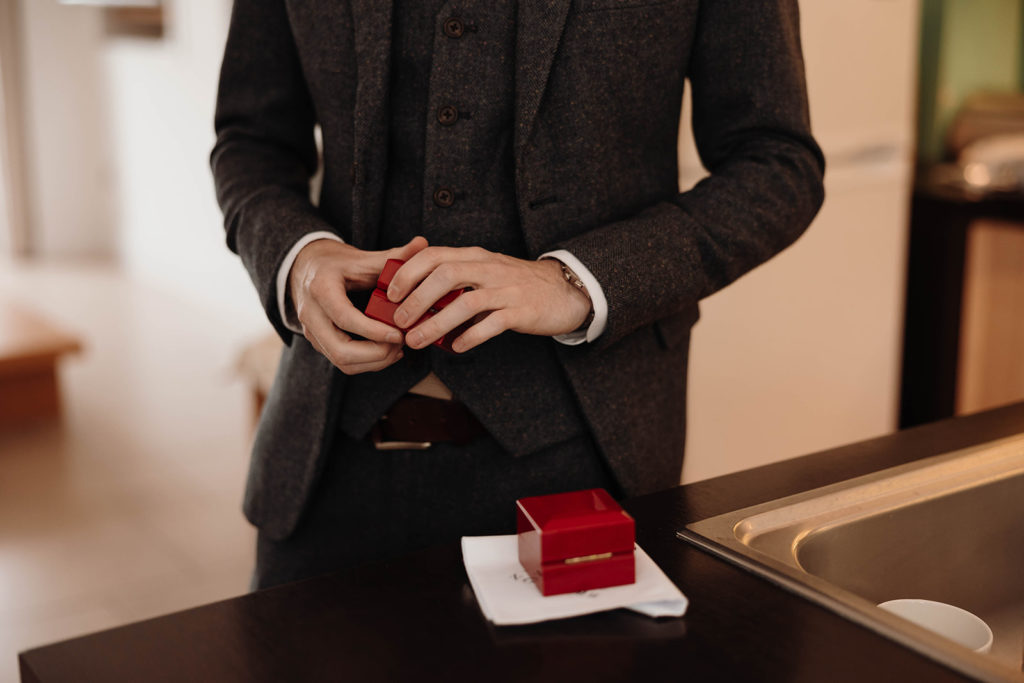 The Bridesmaids
We chose not have a bridal party considering the intimate nature of our ceremony and dinner party. We were surrounded by our immediate family members. My mother, Maureen, and sister, Molly, chose their gowns from BHLDN in Chicago. My mother in law, Beth, found a beautiful vintage gown which she had tailored. Our family knew us well and without any guidance, chose various hues of maroons and greens creating a cohesive look.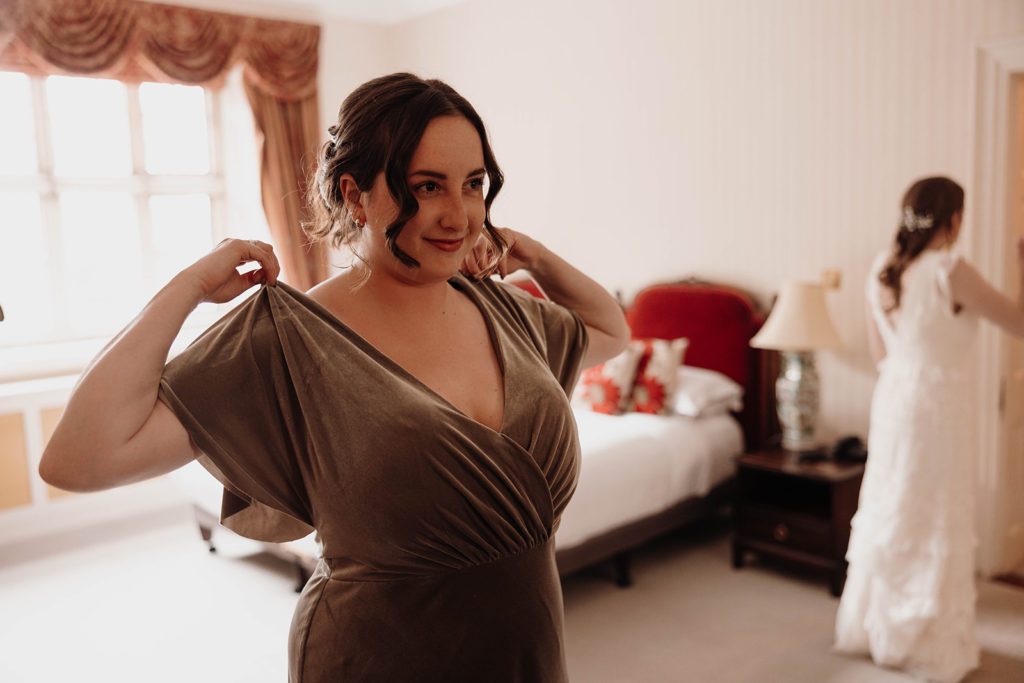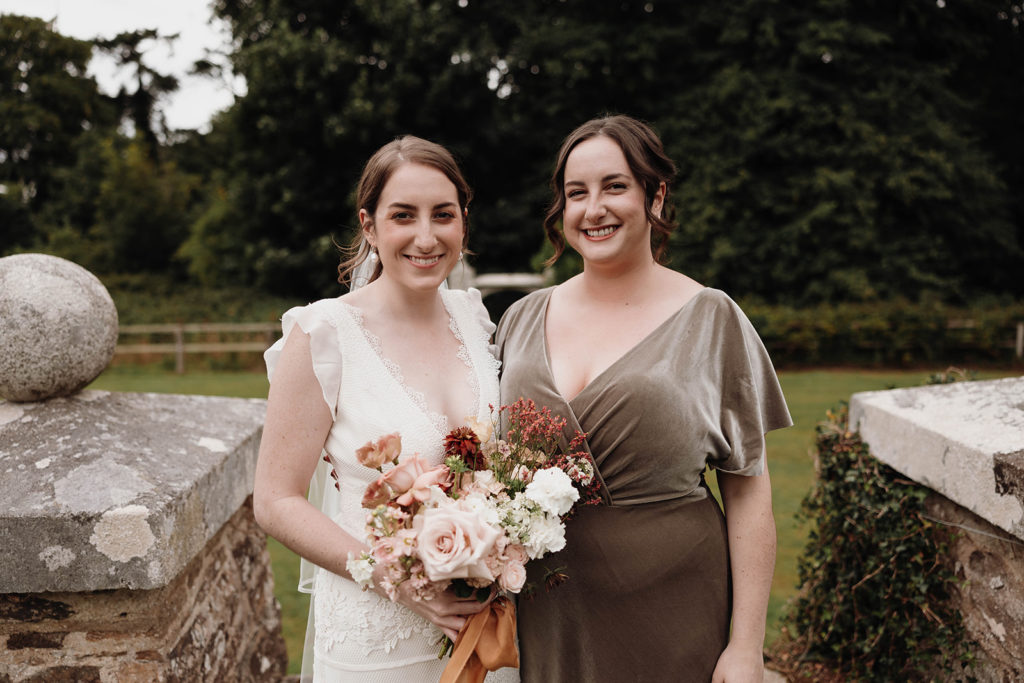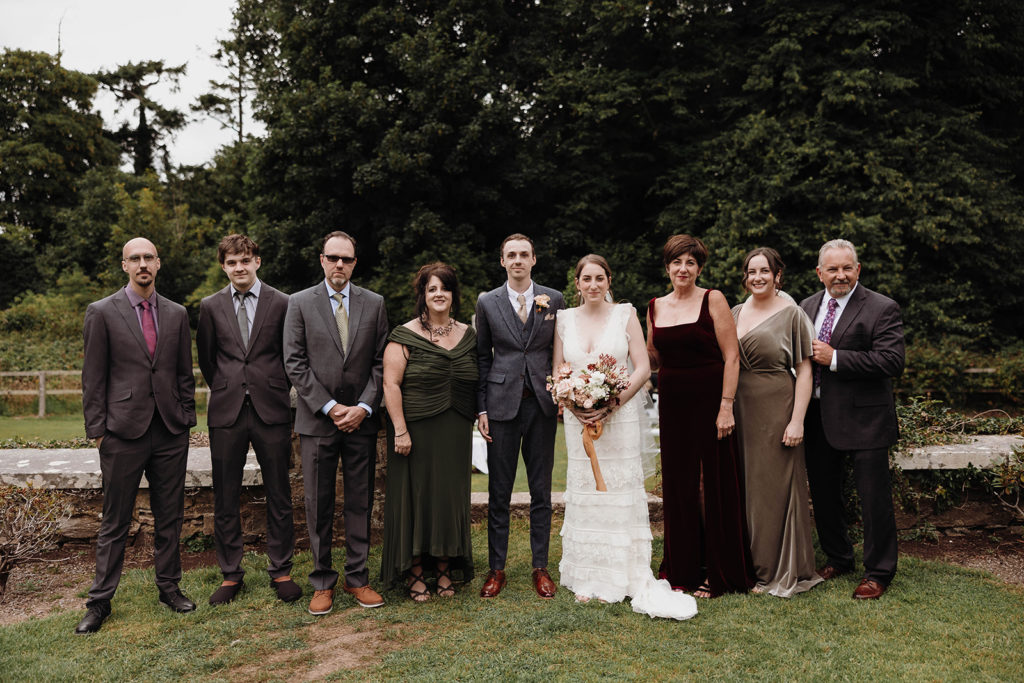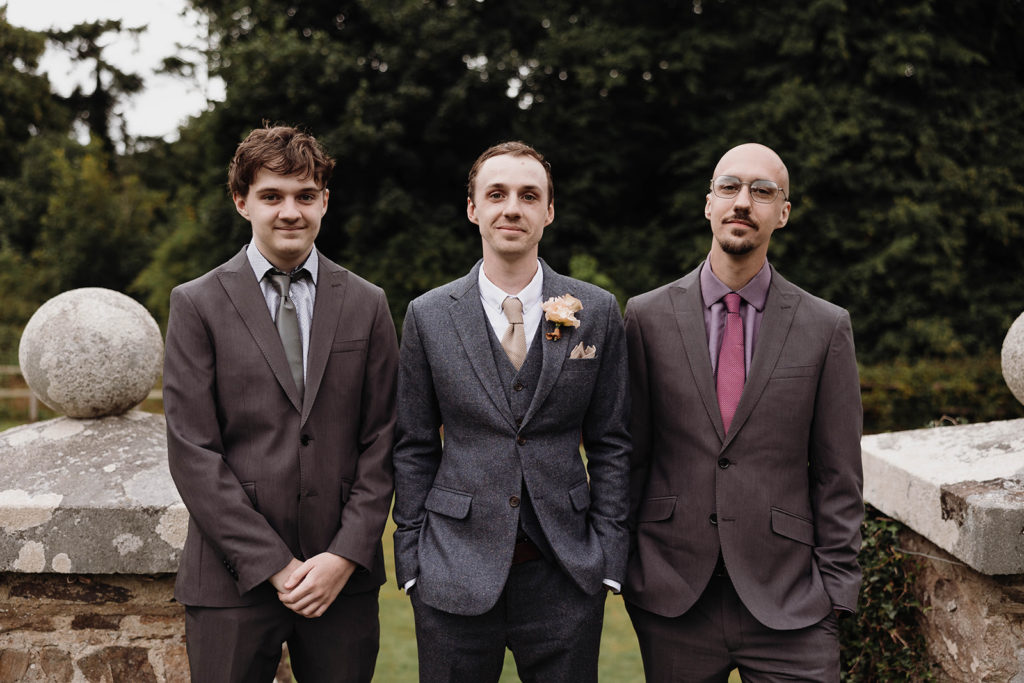 The Ceremony
Even prior to a Pandemic, Brandon and I loved the idea of a more intimate, micro wedding, surrounded by our closest loved ones. We saw this as an opportunity to truly celebrate ourselves, our families, and our love for travel. We pictured a beautiful and moody dinner party, seated at a single long table, of course, in the beautiful country of Ireland. Brandon and I approached our families with the idea and they were on board without hesitation. From there we began planning a week long Irish escape ending with the wedding dinner party.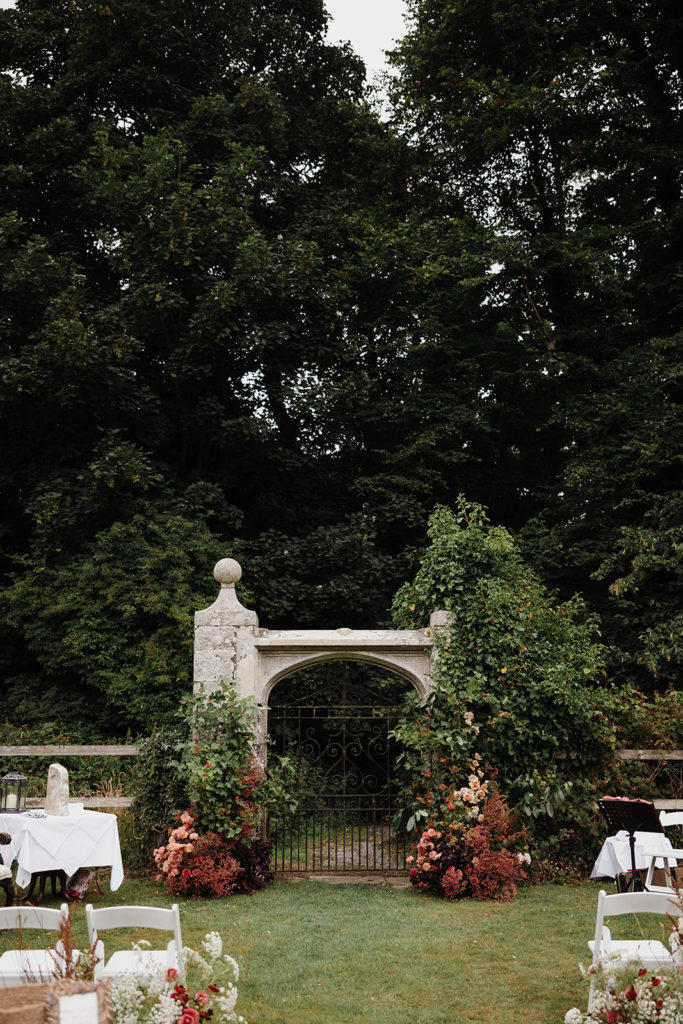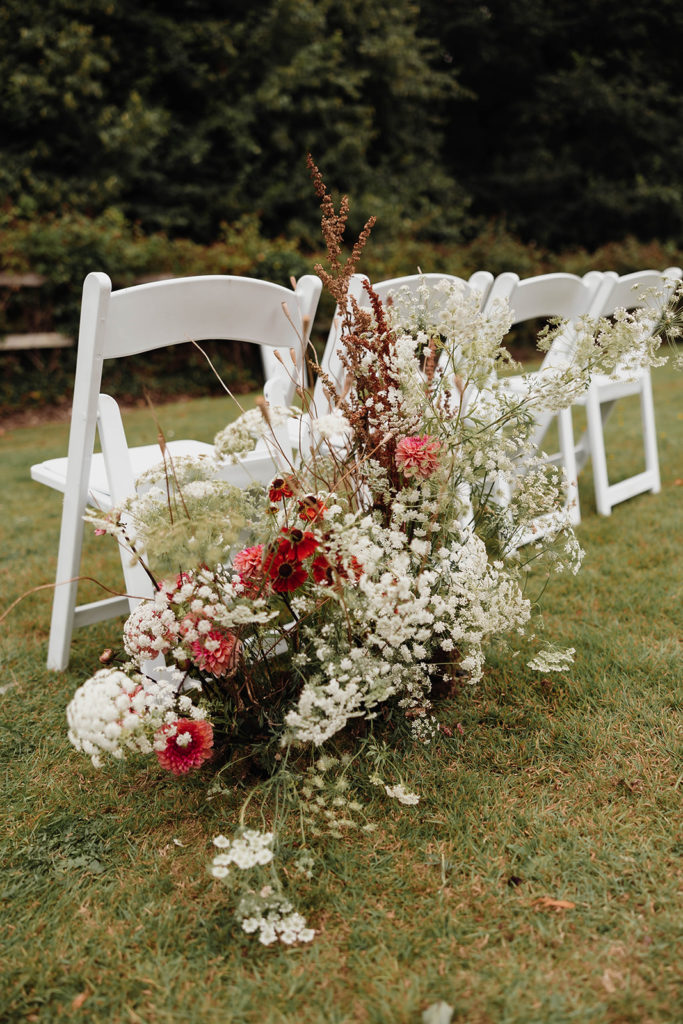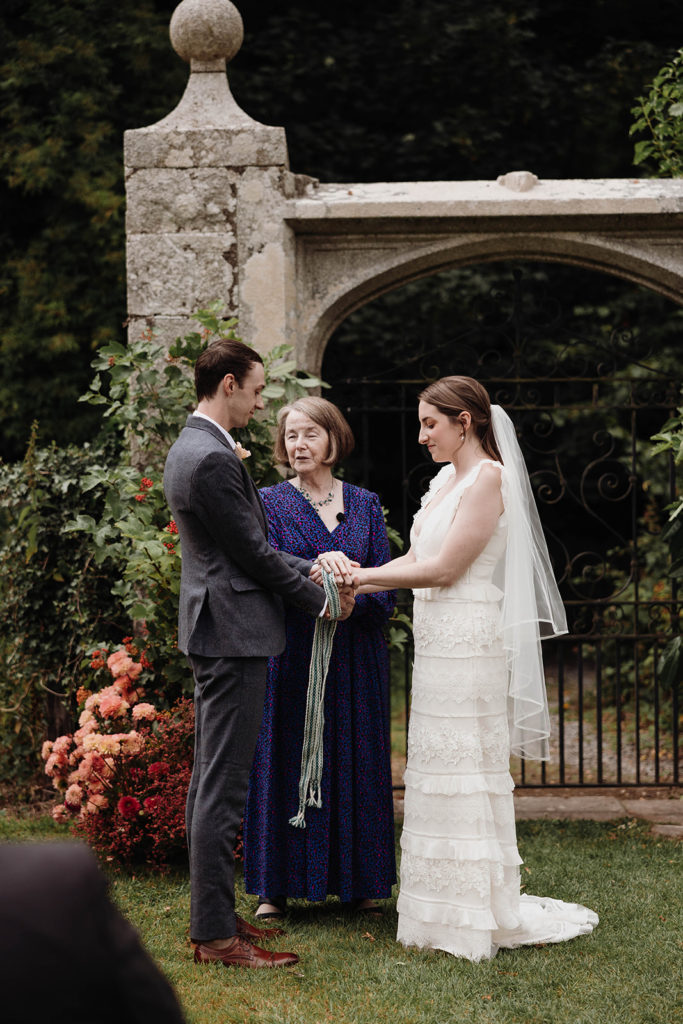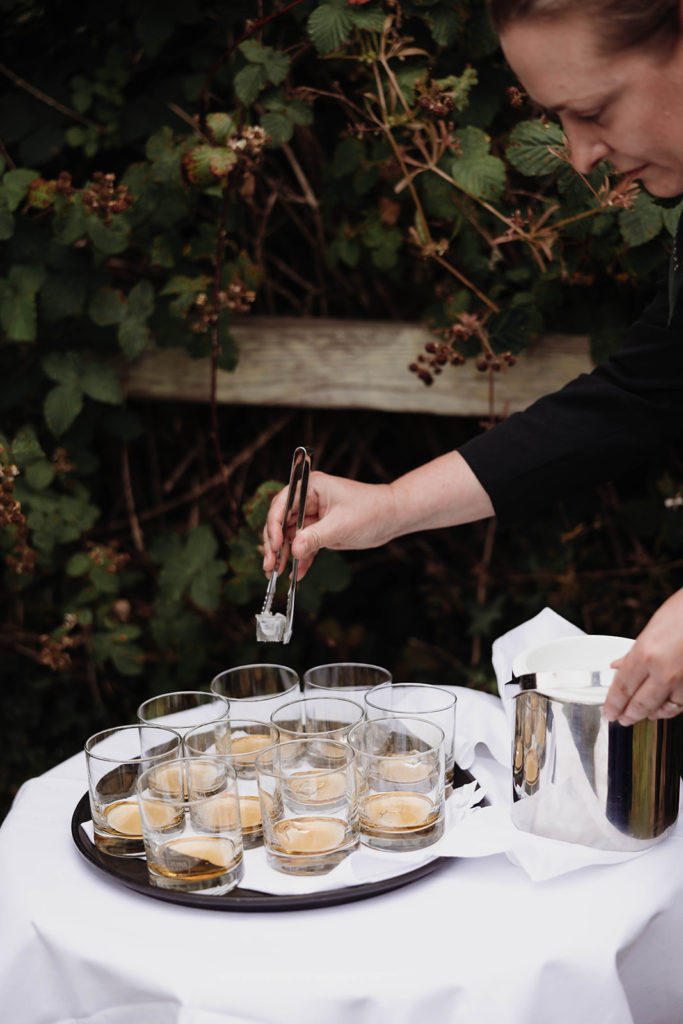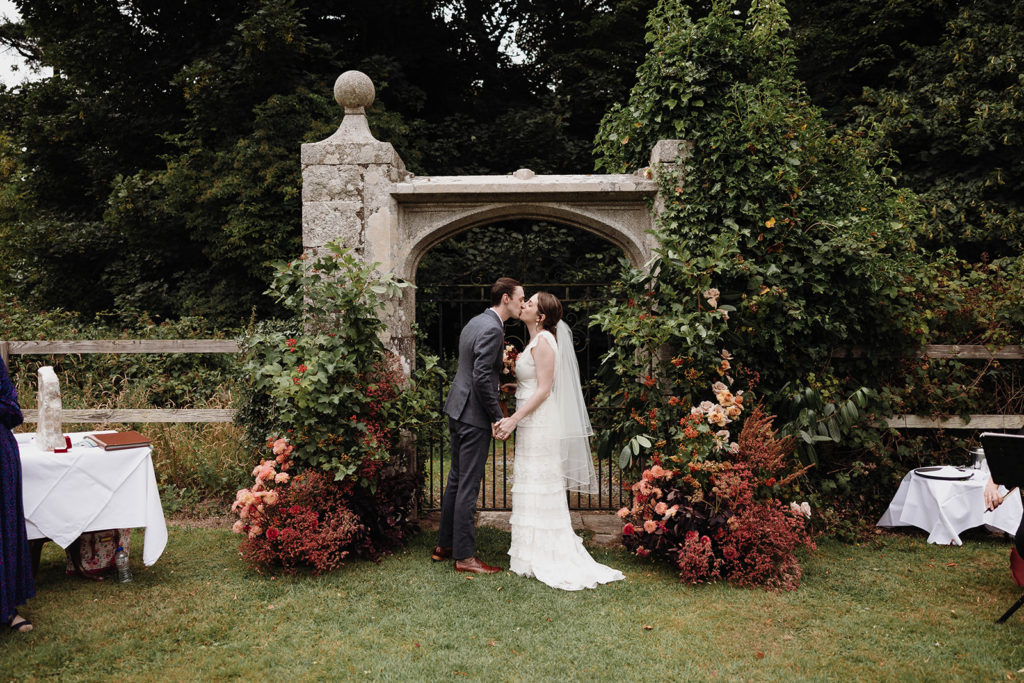 The Venue
After months of long distance research, we stumbled upon our final venue, Waterford Castle and fell in love with the charm of the stunning 16th century castle and private island. After just a few meetings with the resort's wonderful wedding team and wedding co-ordinator, Gillian O'Dea, we knew our long distance planning would be in great hands. We booked the venue without ever stepping foot on the property. We were given a video glimpse of the beautiful lawn steps and conservatory, picturing that intimate ceremony and single long dinner table filled with our family, beautiful flowers, and great music. Looking back on the event, the wedding team and resort staff were unforgettable, making us feel top of their priority and effortlessly working in the background. Brandon and I spent weeks designing our own playlist to fill the room with music throughout our dinner party. We chose songs loved by our families and ourselves.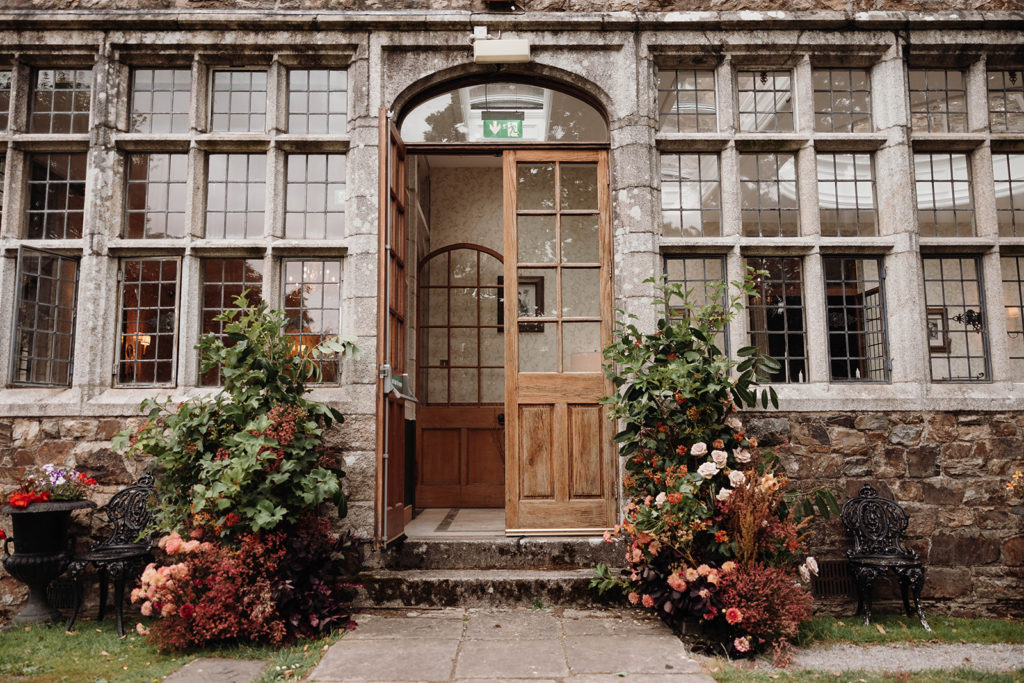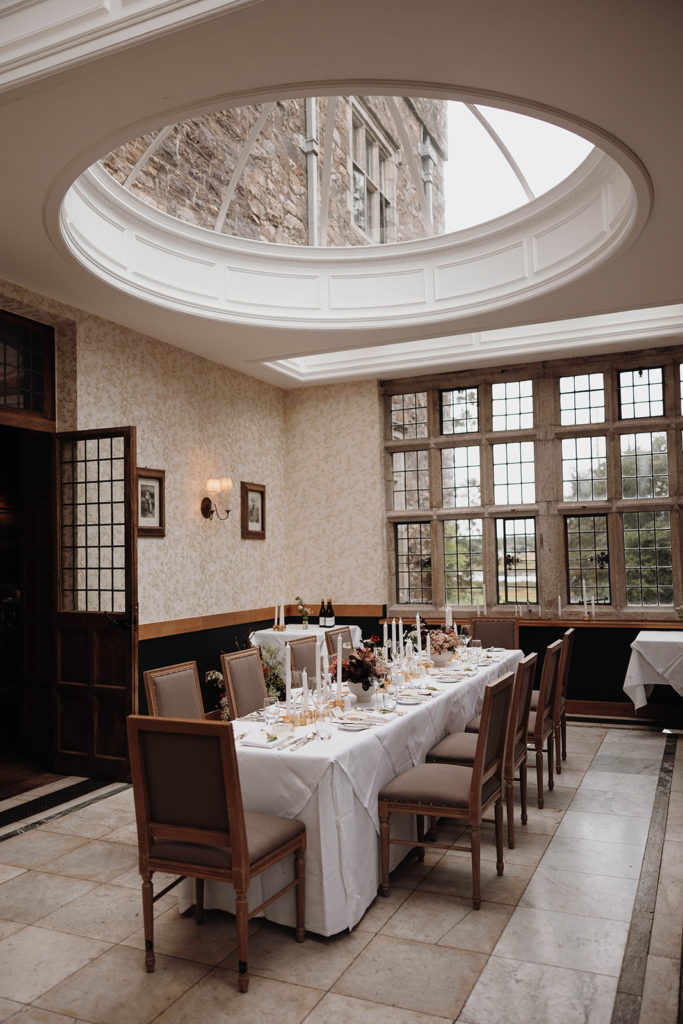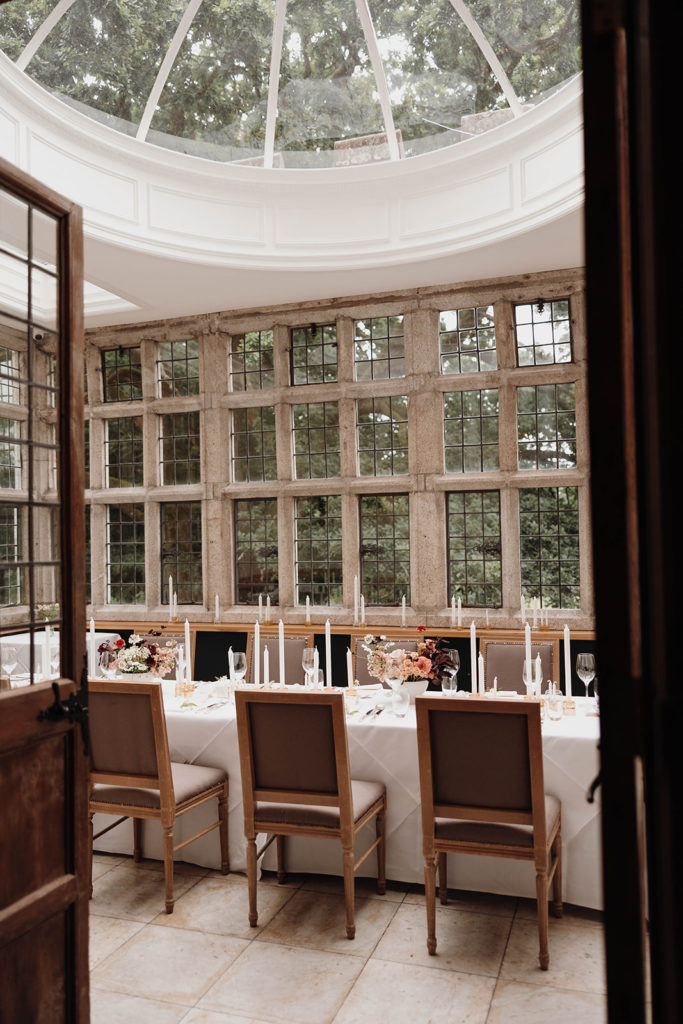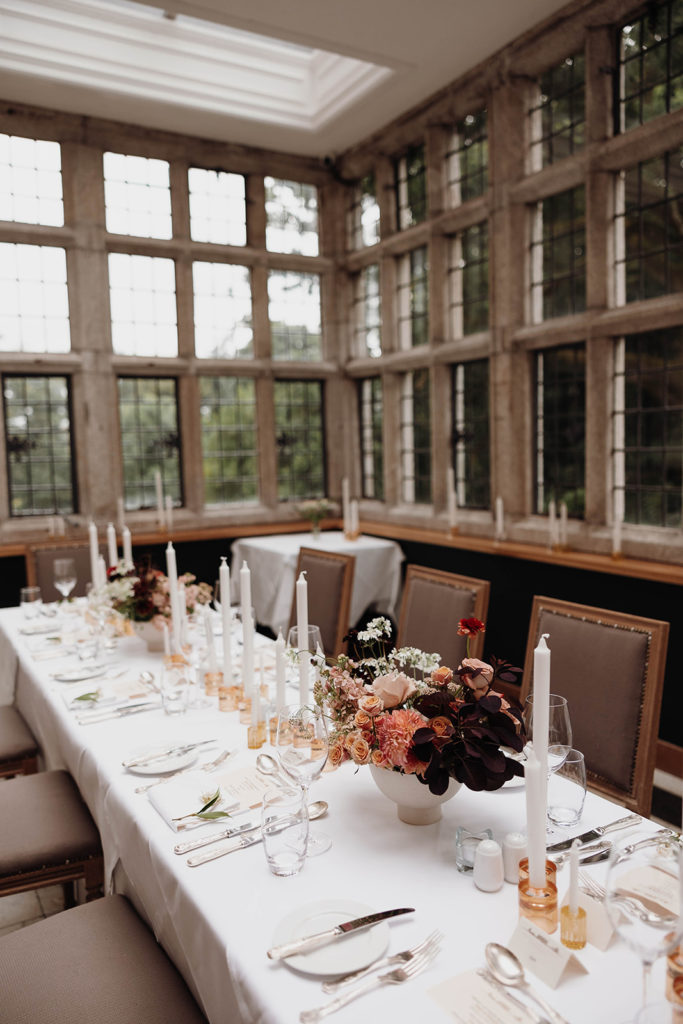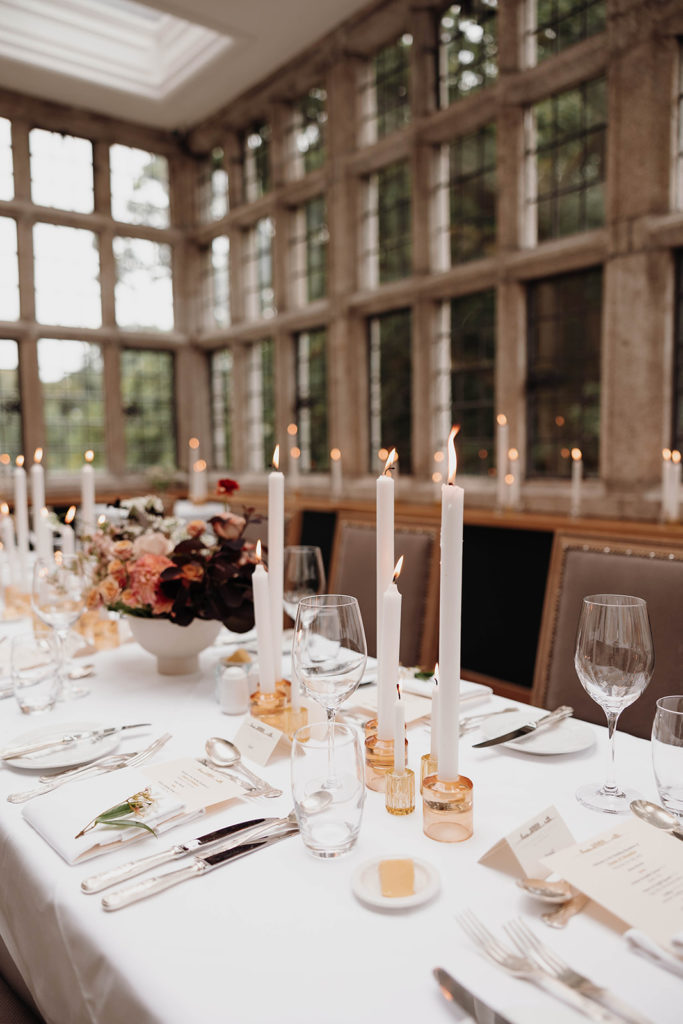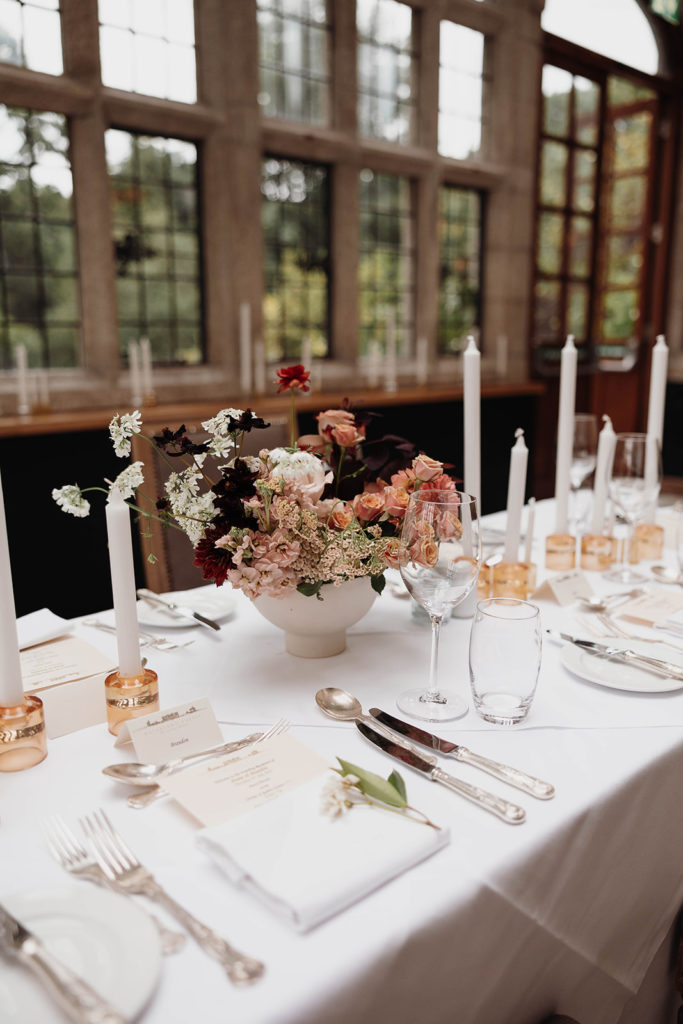 Best Decision
Spending time with our ceremony celebrant, Teresa Graham, to create a personalised ceremony with a few Irish traditions. I also will always be grateful we decided to write our own vows.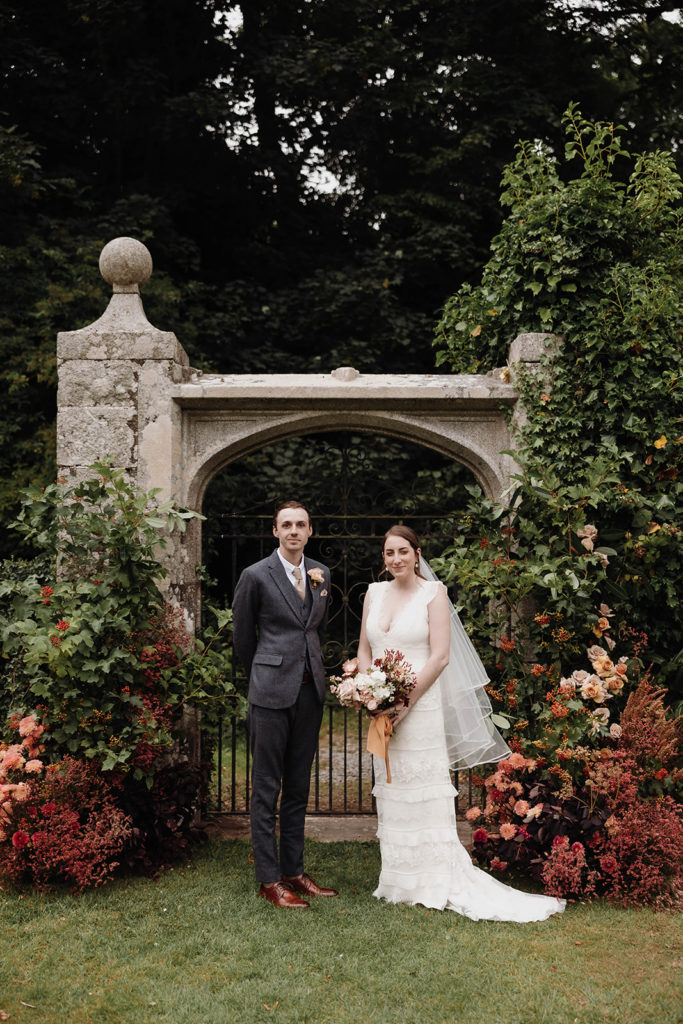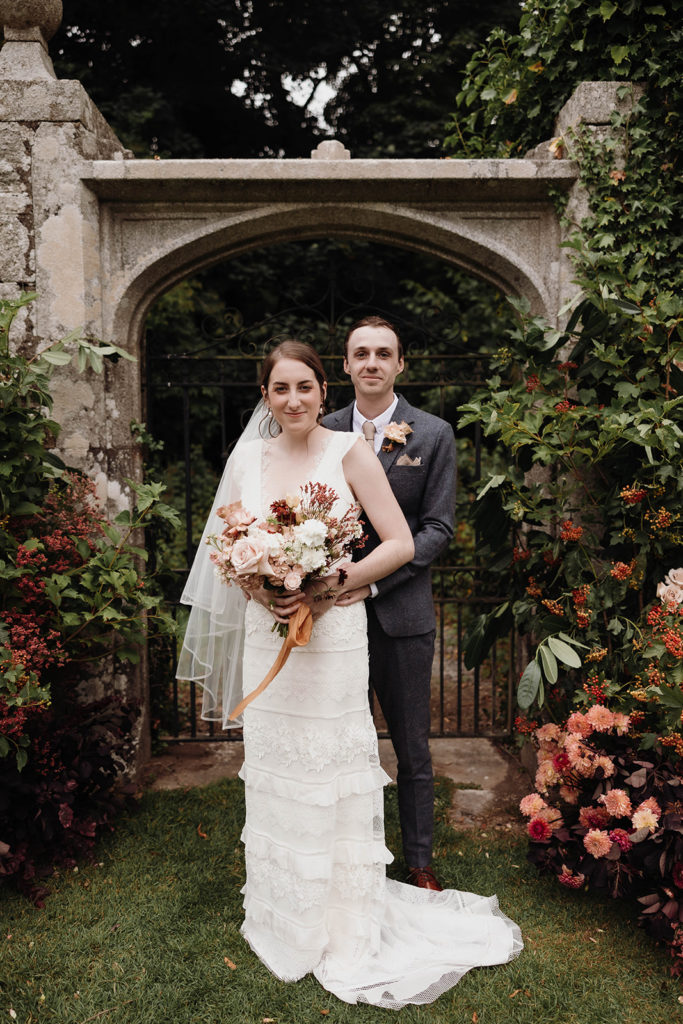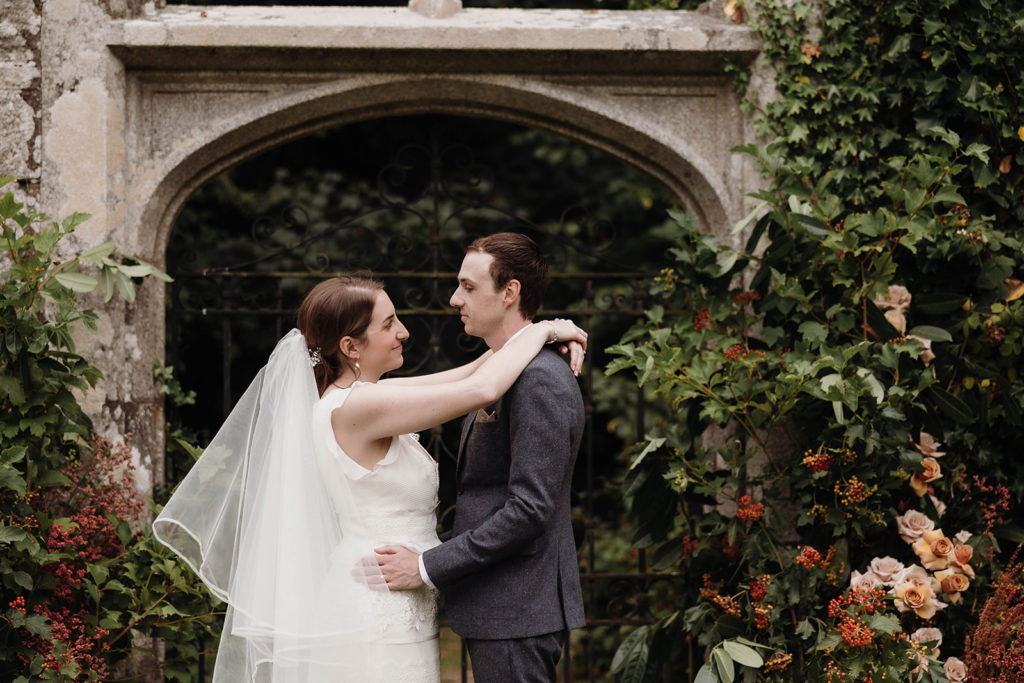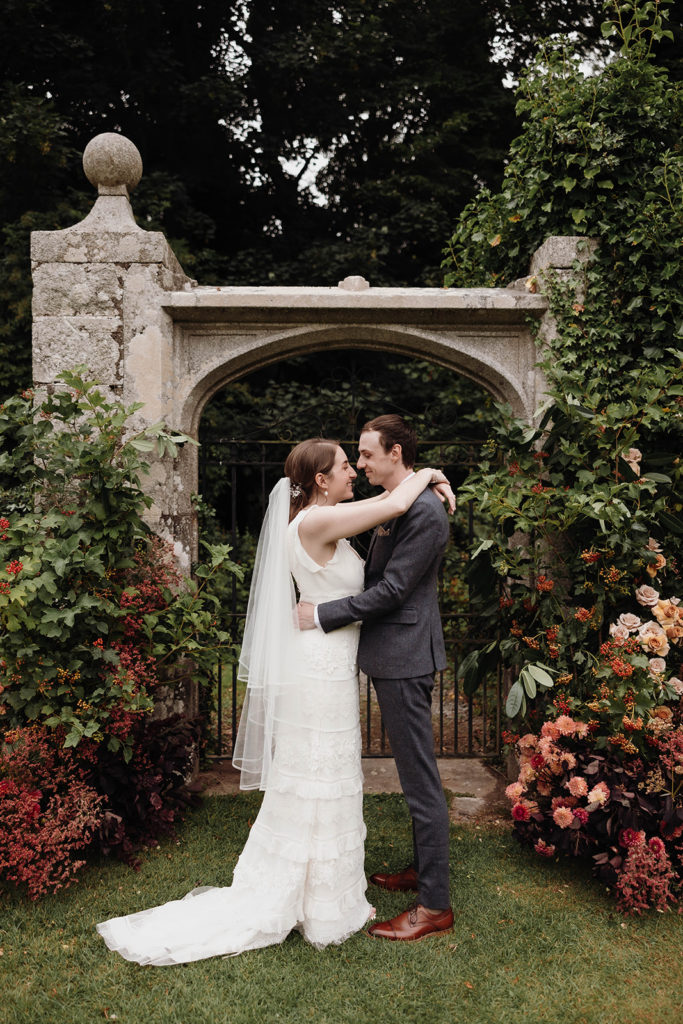 Worst Decision
I wish I planned for more fun with my mother, mother-in-law and sister the morning of the wedding. The morning felt a bit rushed and we spent so much time focused on hair appointments.