Abby Mitcham, admissions and Enrolled Student Specialist at the University of North Carolina, said I do to PhD Student in Finance at Duke University John Barry in an intimate ceremony at Ballinacurra House in late August 2022.
Photographer: Kyrstin Healy Photography
The Meeting
I'm from Houston, Texas, and John is from Galway, Ireland, though he spent a large portion of his childhood living in America. After university, we both ended up teaching English in Huelva, a small town in southern Spain. As luck would have it, we met at a St. Patrick's Day party hosted by fellow ex-pats, though I had already spotted John on the streets of Huelva prior to the party and had been asking around for background info on the "cute new boy in town." I like to think I impressed John with my outstanding fake Irish accent, and John captured my interest by playing the strong, silent (i.e. shy) type. The rest, as they say, is history. We've been together almost nine years now, and what an incredible journey it has been. We've lived in Barcelona, Princeton, New Jersey, Boston, Massachusetts and now Durham, North Carolina.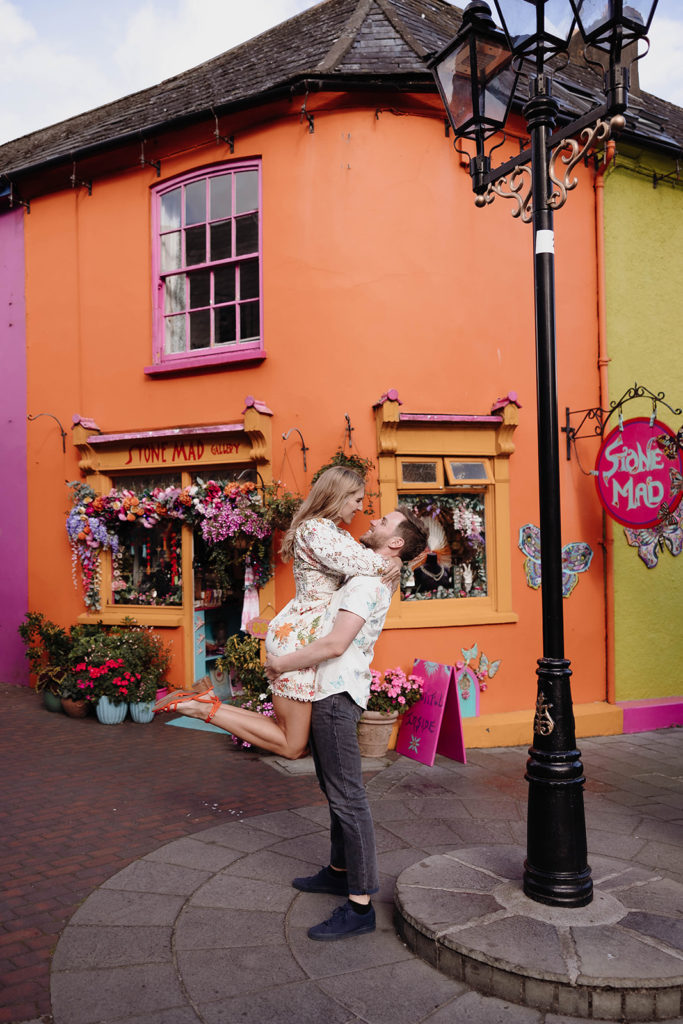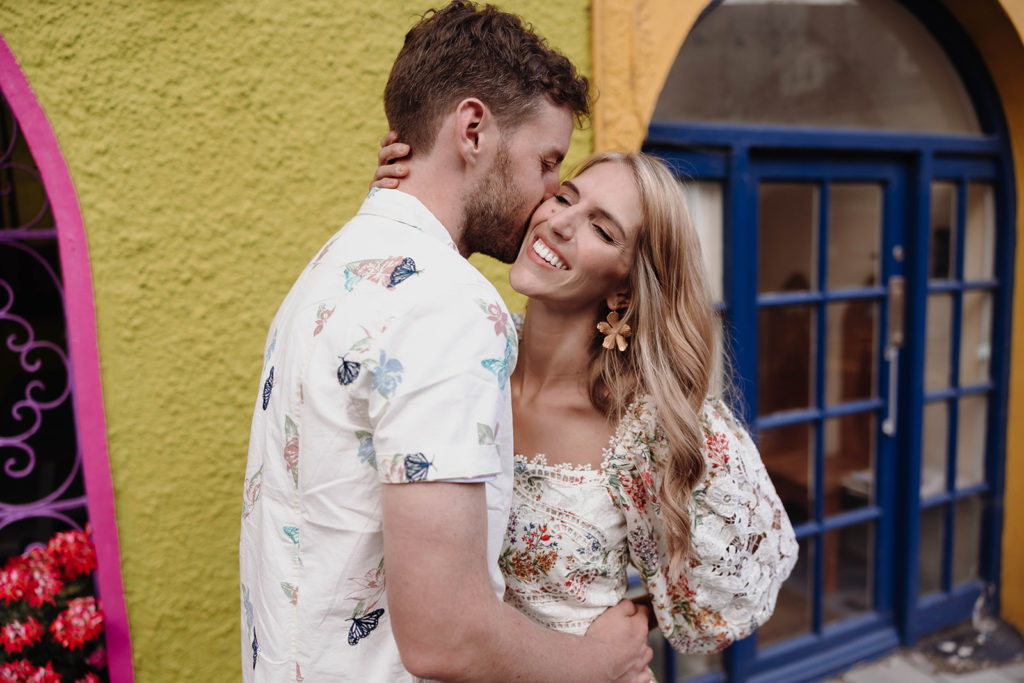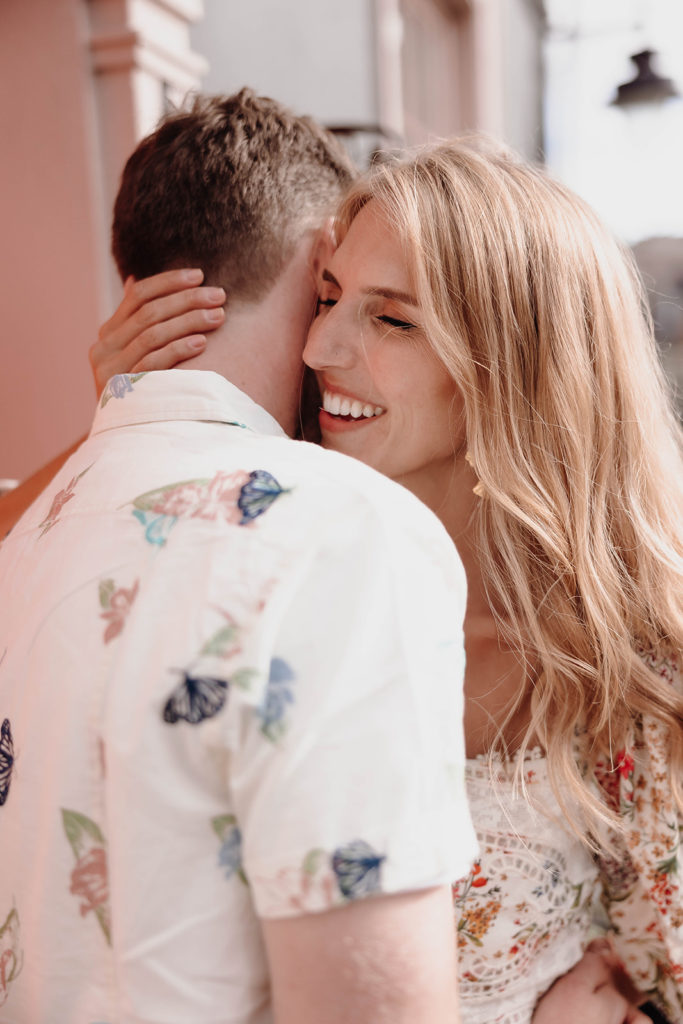 The Proposal
John proposed Christmas Eve 2019 during an unforgettable trip to Peru. It was a total surprise! I had been joking earlier in the trip that we should tell the flight attendants we were on our honeymoon to get special treatment, not knowing John had the engagement ring packed away in his carry on! As we walked back to our Airbnb after dinner, I insisted we go the most efficient route to save time, as we had a very early start for hiking the next morning, but John kept insisting on taking the longer, scenic (and much more romantic) route through the main plaza, which has a beautiful fountain and was decorated with lights and stalls for the Christmas market. I eventually gave in, and was so glad I did. It was the perfect setting for a very sweet proposal.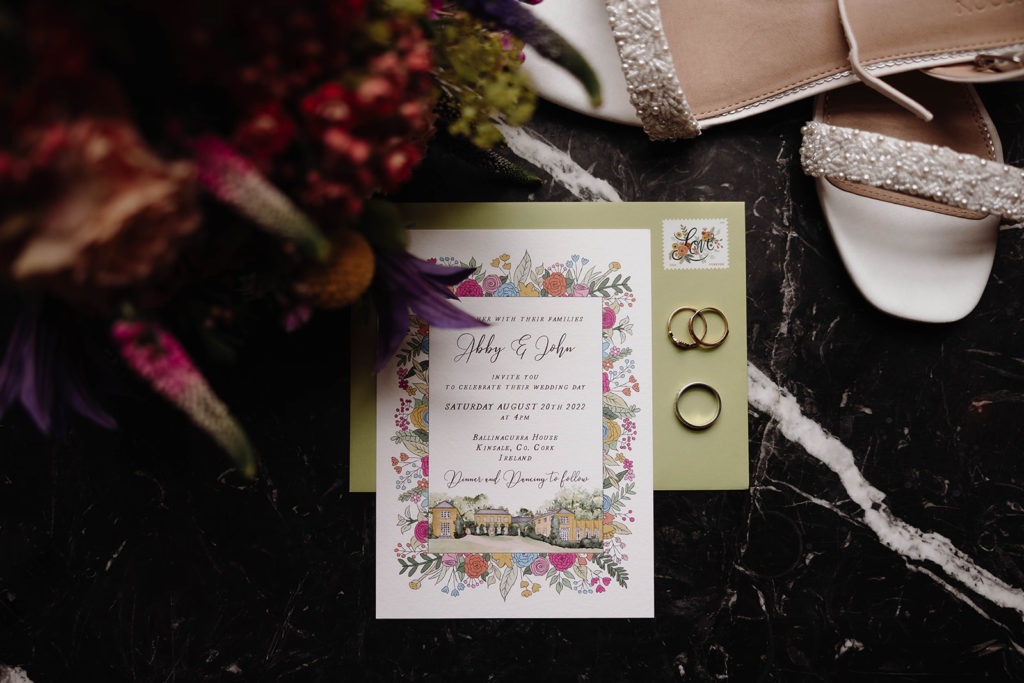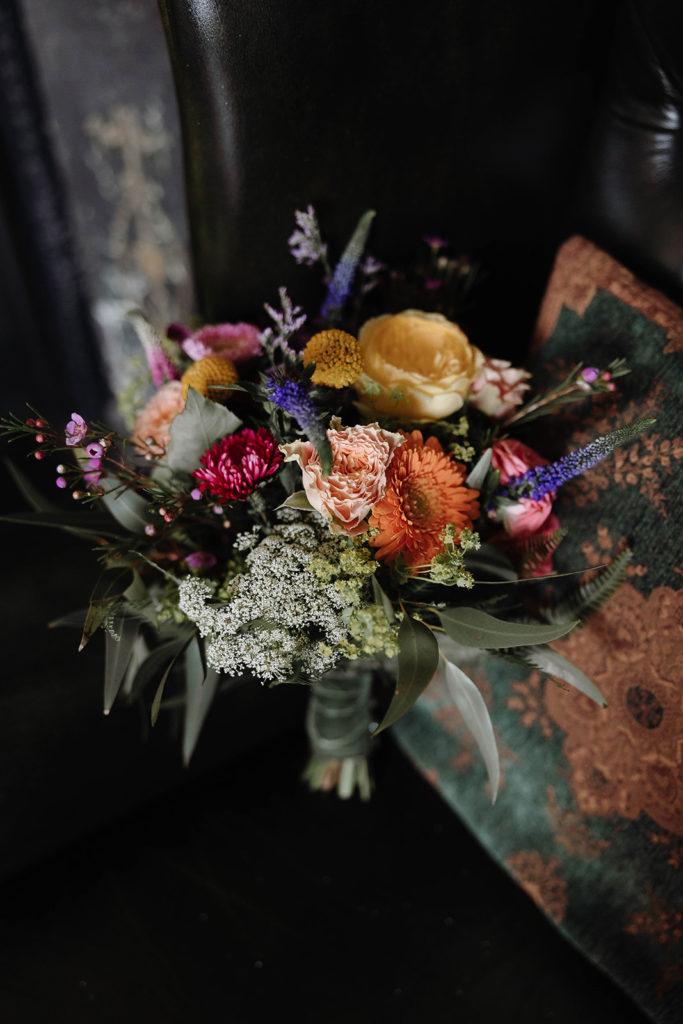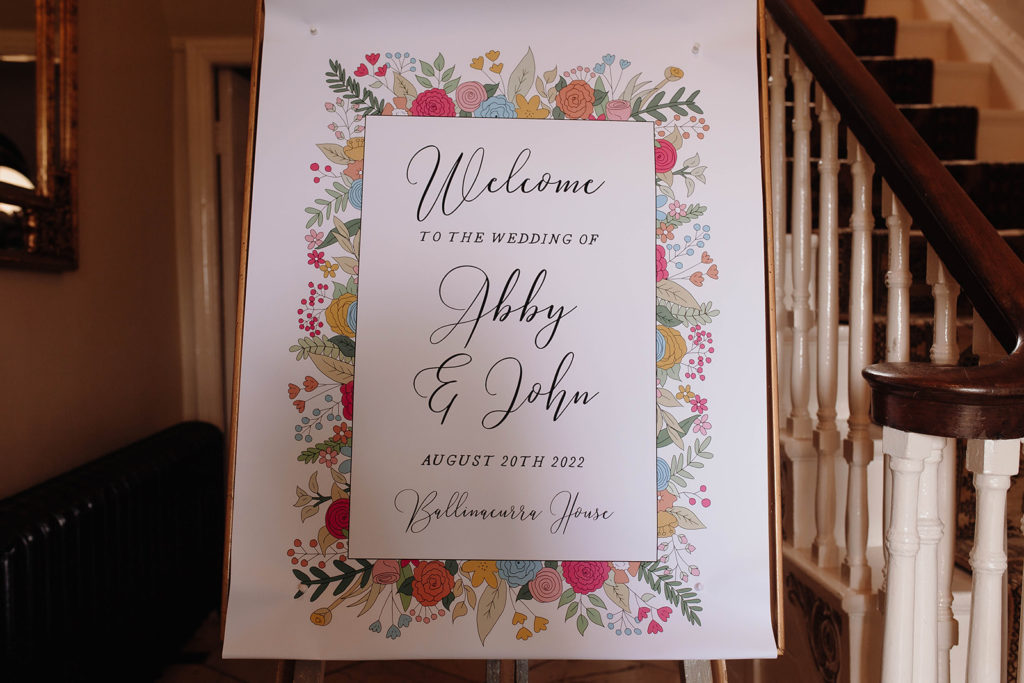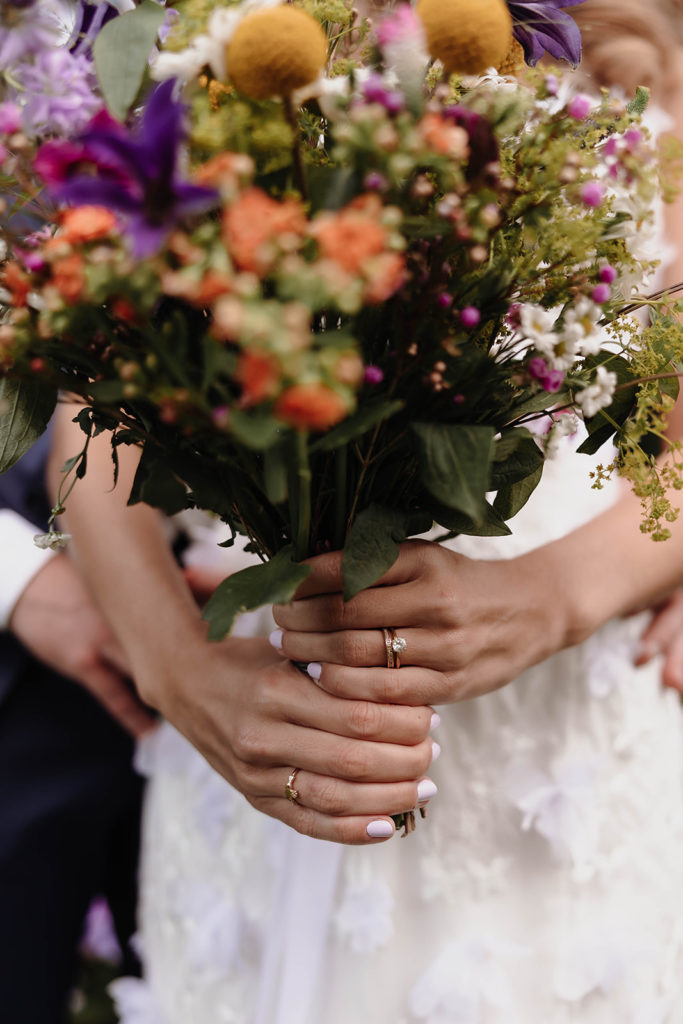 The Beauty
I'm pretty low-key when it comes to beauty regimes. I used Crest White Strips to brighten my teeth the month before, and made sure I had fresh highlights in my hair to give a summery glow. Planning a wedding from a distance was challenging at times and I was nervous about how my hair and makeup would turn out having never met the vendors in person.  I'm very grateful to my hair stylist and make-up artist for fitting in trails in the days just before the wedding. They made sure I felt completely comfortable with the looks in advance so that there would be no stress on the big day. I also had a lot of fun choosing nail polish colors. I chose a lilac for my fingers and a pale blue for my toes.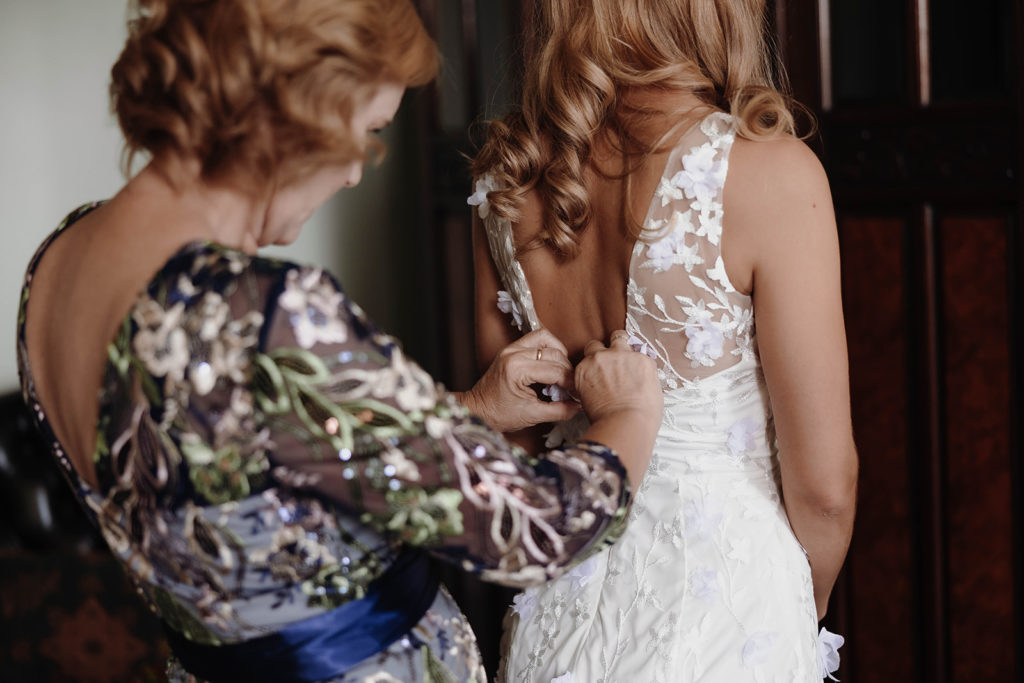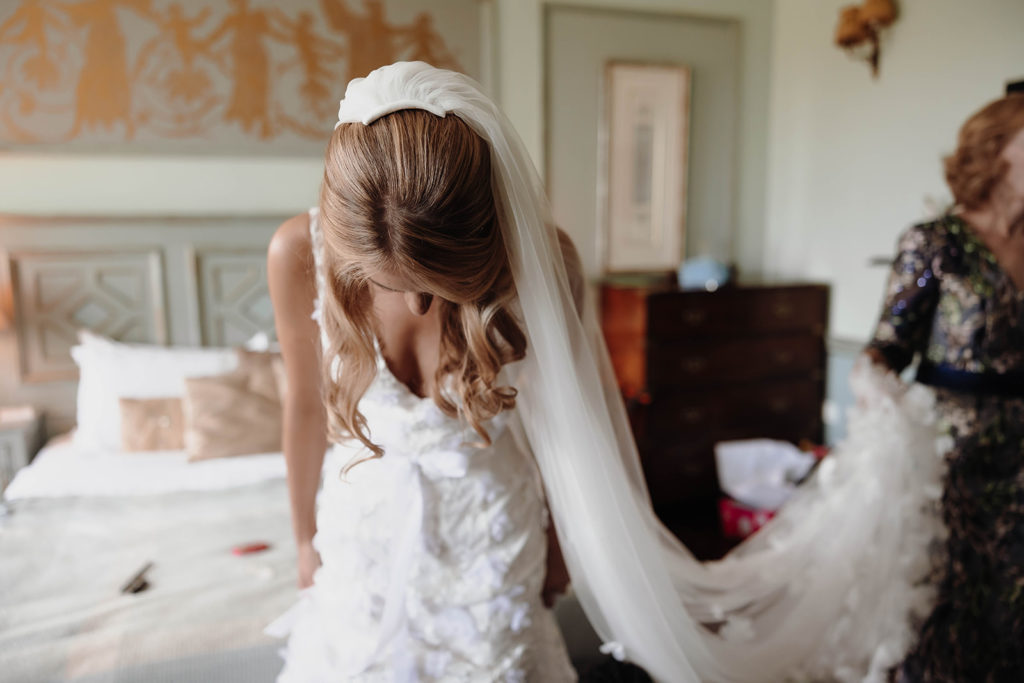 The Dress
Well, it was certainly a process! A generally fun, but at times stressful process. I didn't have a clear vision of how I wanted to look on my wedding day, so I started out trying on a wide variety of dresses in different silhouettes to find what best suited my figure and what style felt the most in tune with my personality. I tried on countless dresses at many different shops, but could not find a dress that felt like "the one." I ended up buying a Marchesa Notte dress in a v-neck style similar to one I had tried on at BHLDN for a huge discount on a pre-owned wedding dress site. The only issue was the dress was about 4 sizes too big! My mom was confident alterations would be possible, and I decided to just have a little faith. A local seamstress did the major alterations and my mom, who, luckily for me, also happens to be very good with sewing, made minor changes, and was hand stitching flowers, trim, and seams right up until the night before the wedding! It was a labor of love, but the end result was well worth the work. I absolutely loved how it turned out and was glad for the windy outdoor ceremony which showed off the 3D floral appliques - my favorite design feature.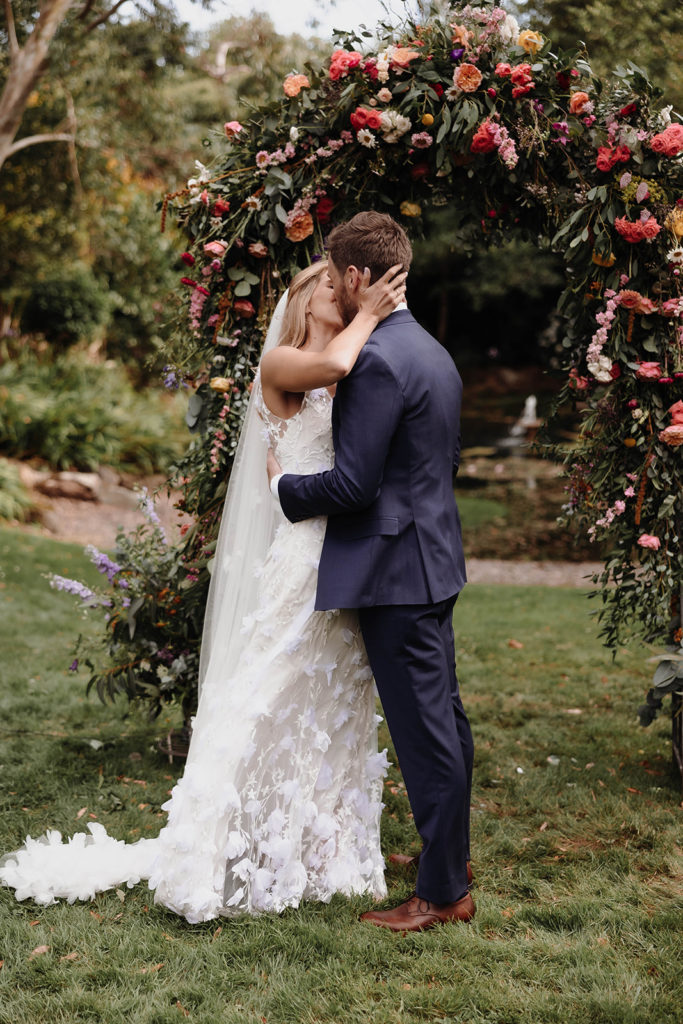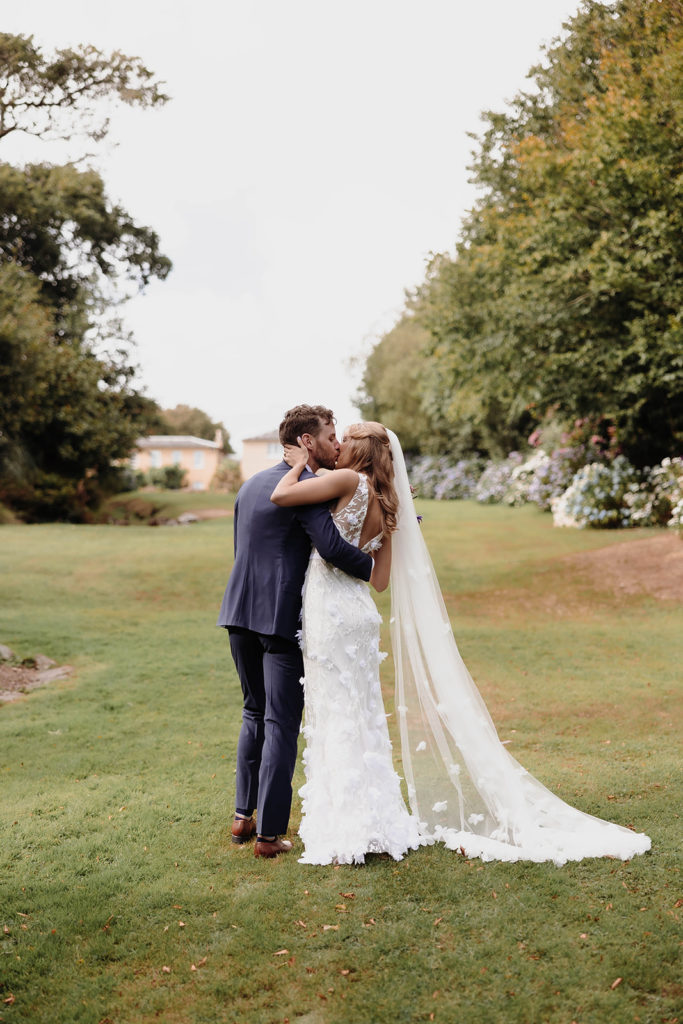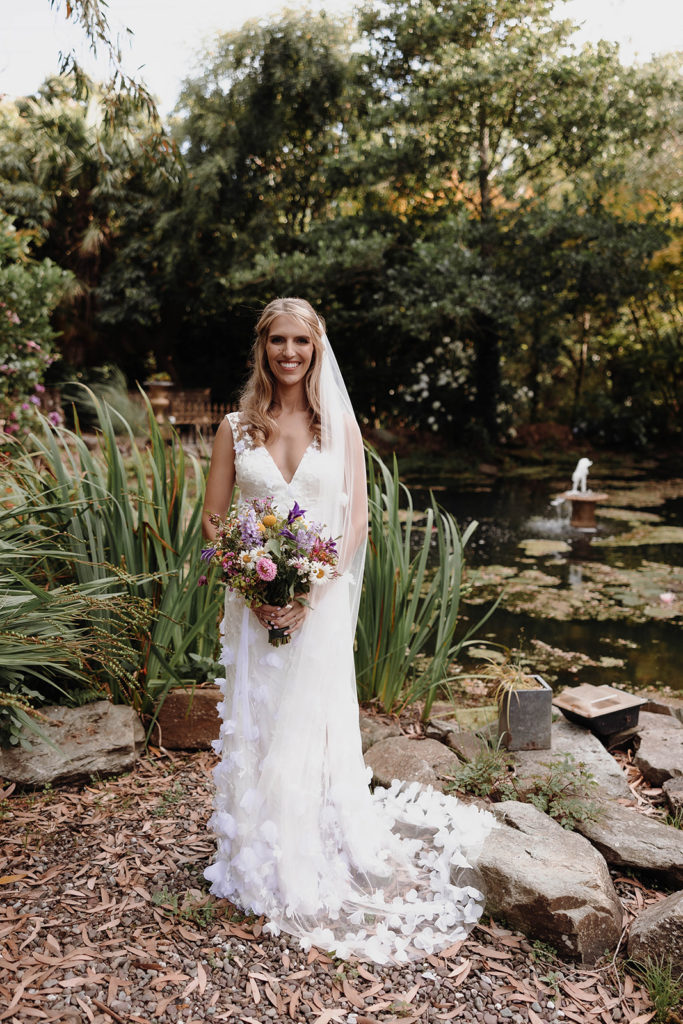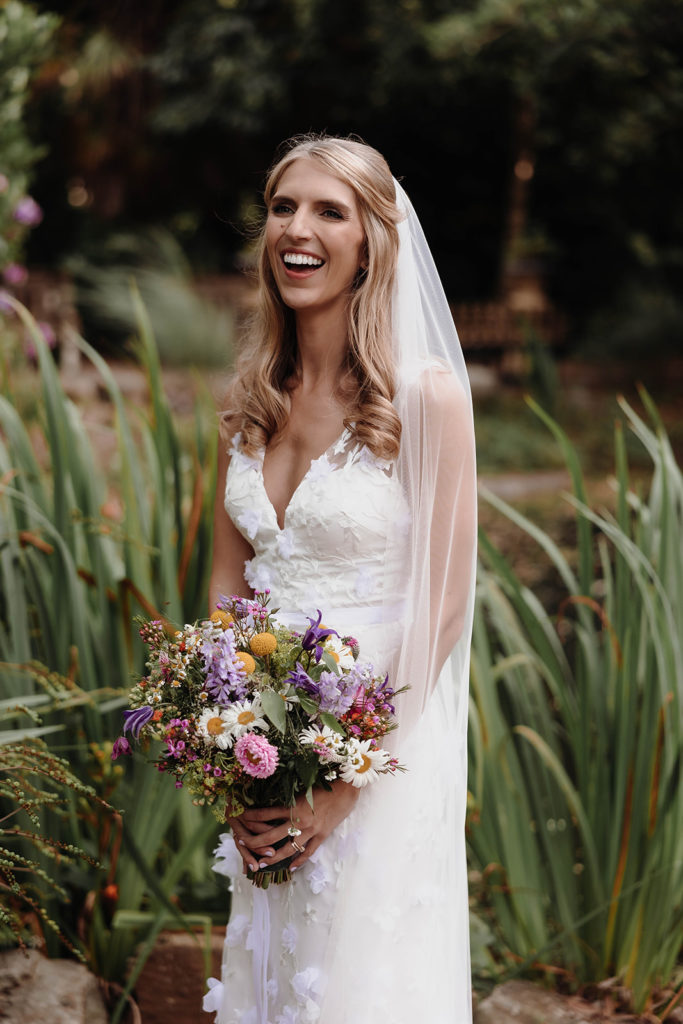 The Wedding Party
We let the wedding party pick out their own outfits. The main thing we wanted was for our wedding party to feel confident and comfortable in whatever they chose to wear. Our one directive was to incorporate bright, happy colours. I also asked my sisters to make sure their outfits didn't clash with my mom's dress and father's tie, just so the family pictures looked a bit cohesive. My mom found her dress first, so my sisters ended up with dresses in blues and greens to compliment her look. They all looked absolutely gorgeous! The two groomsmen, Mikey and Tuan, wore their own suits and the groomswoman, Olivia, wore a bright pink dress with a happy-face emoji print. I loved it! It totally embodied the joyous spirit we wanted for the occasion and also suited her personality so well.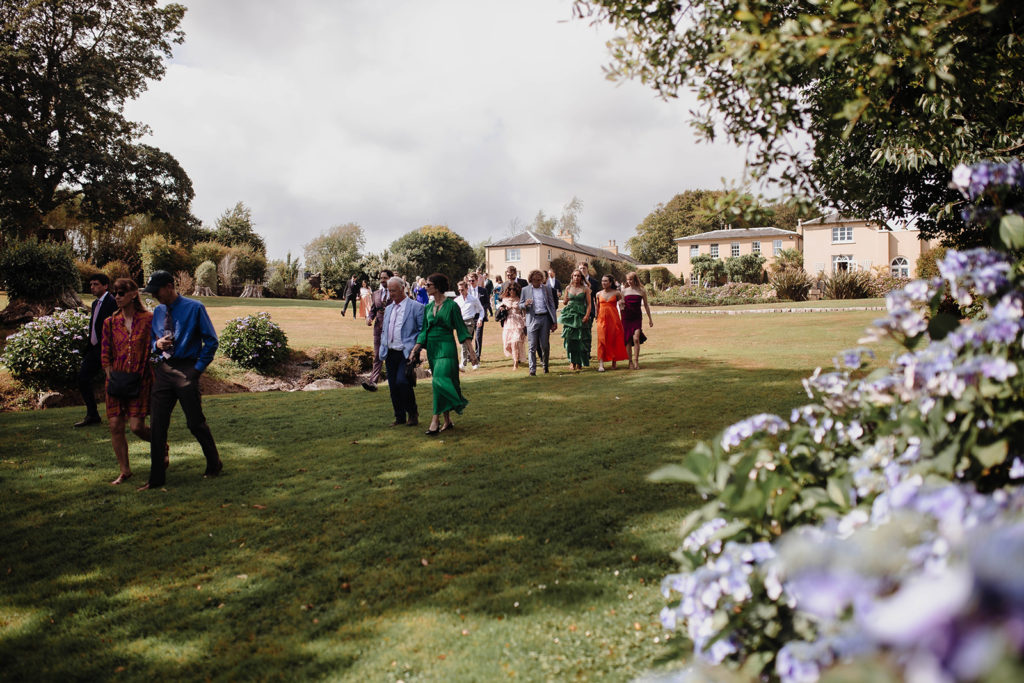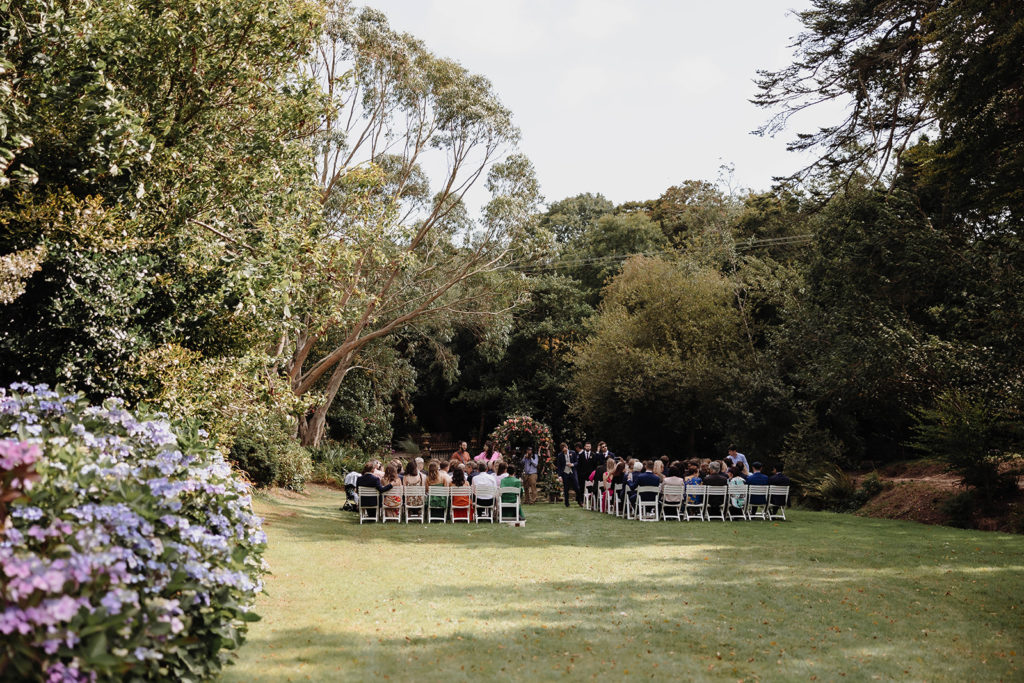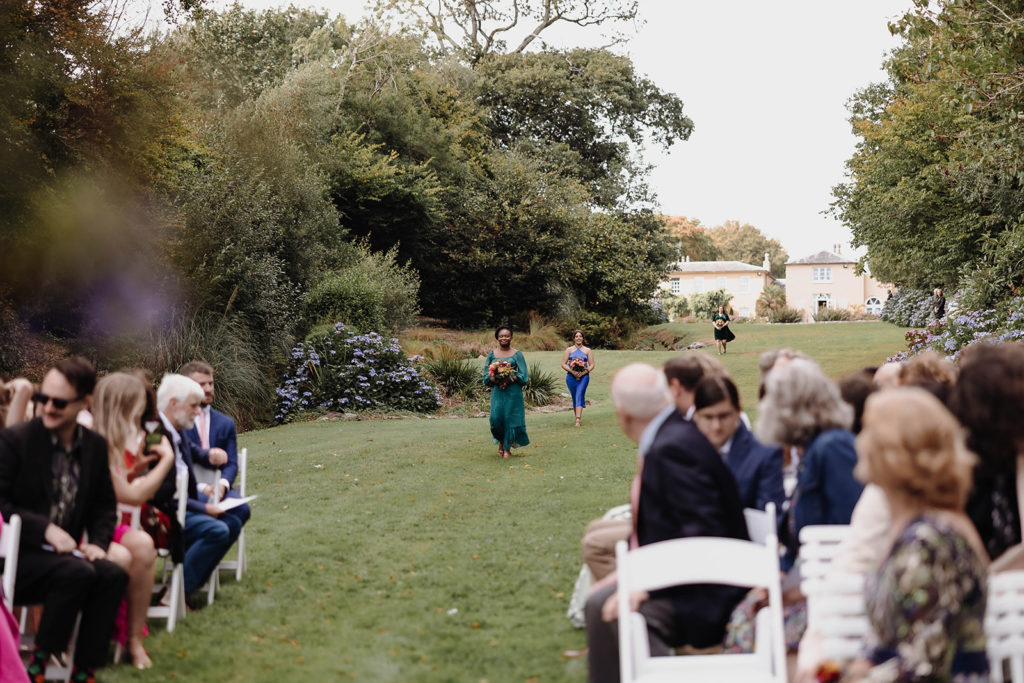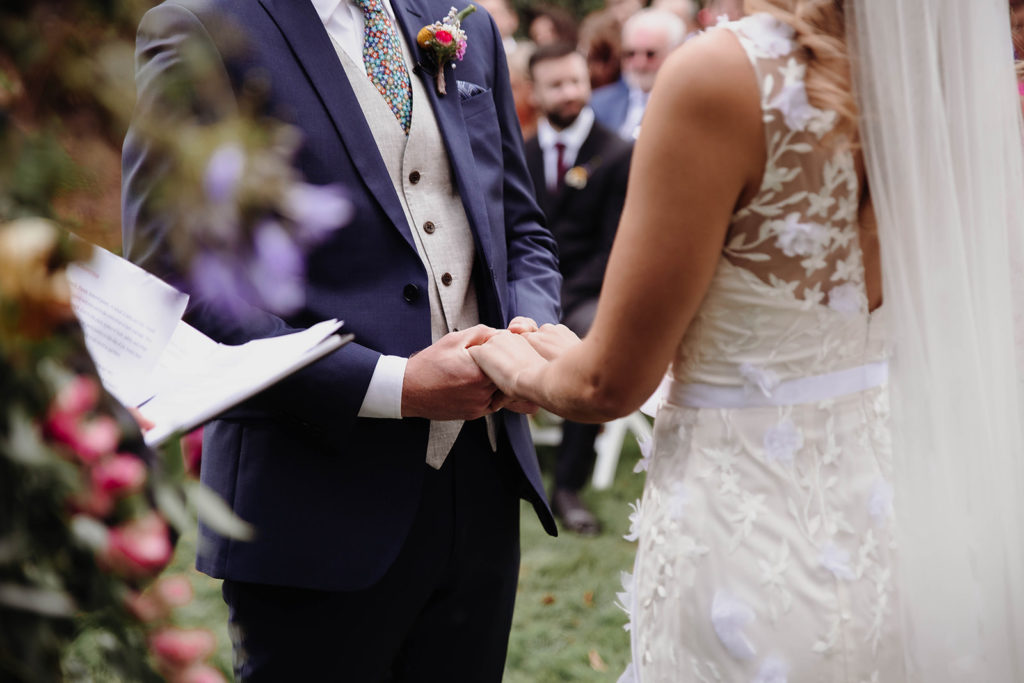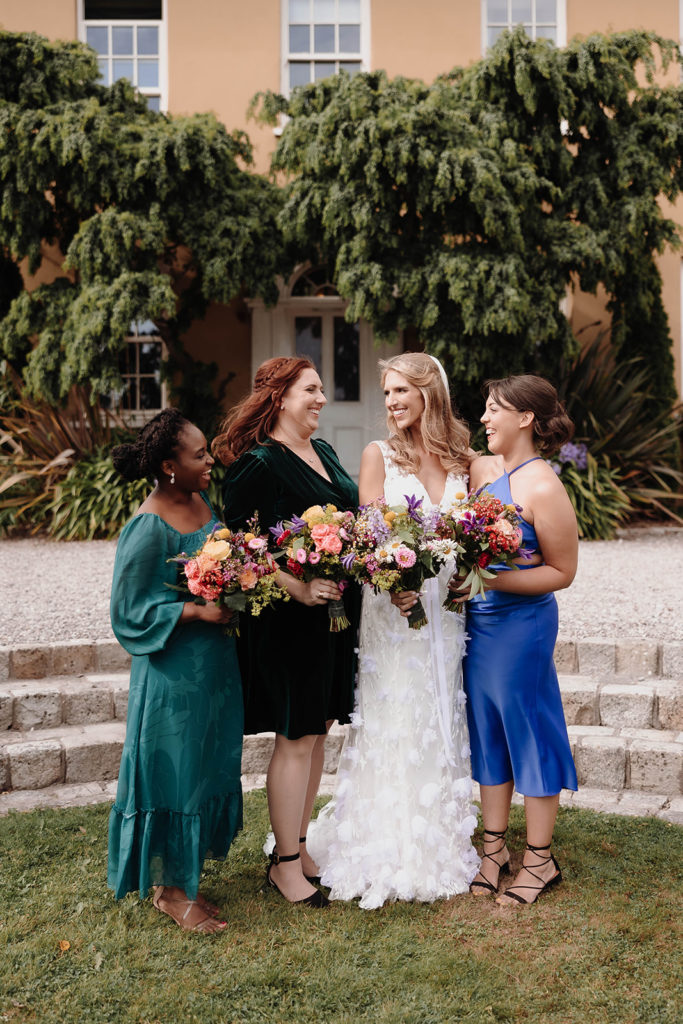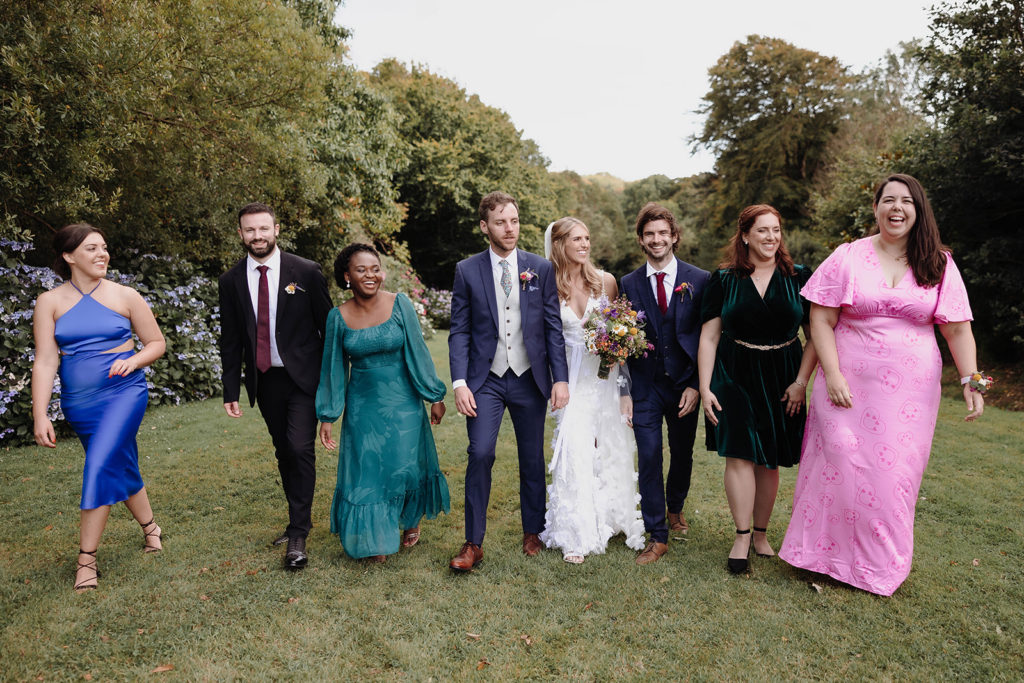 The Venue
John's family are all from Cork, and he was born there, so having the wedding locally made a lot of sense for the Irish side. He was also familiar with Kinsale and thought it would make the perfect place to host pre-wedding activities. It's such a charming, colorful town and has everything you need for a fun week with friends and family. For the wedding itself, we wanted a "country-house" style venue with a place to have the ceremony outside, and Ballinacurra House was the perfect choice. It also has some funky, unique design features that really suit our personalities. The best part about it was where we had the ceremony - at the bottom of the garden, right in front of a small pond, surrounded by the most incredible hydrangea bushes.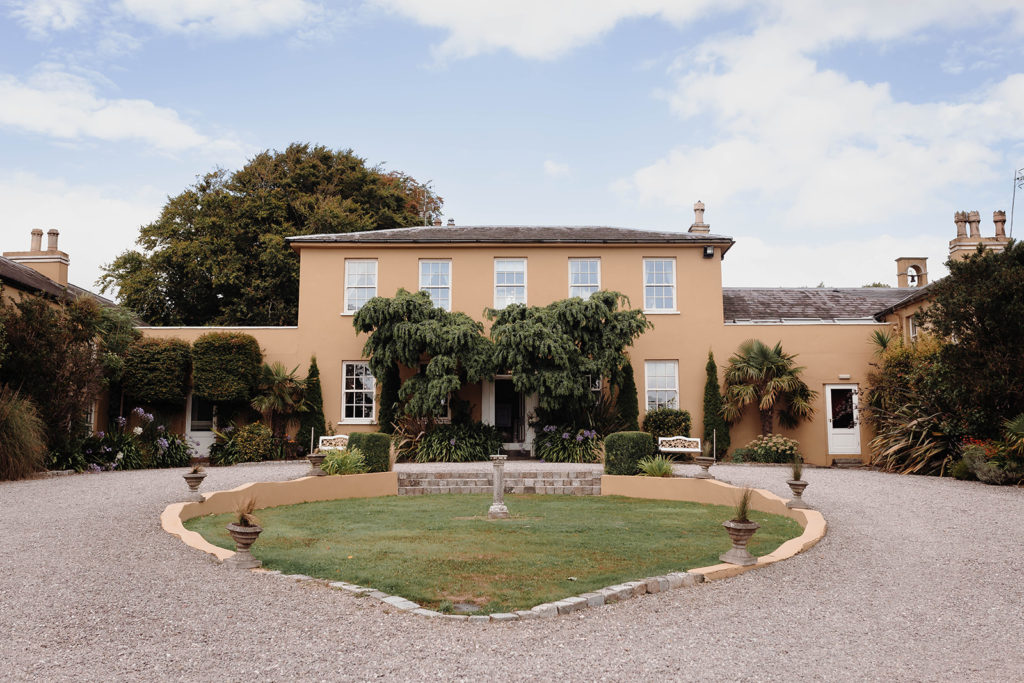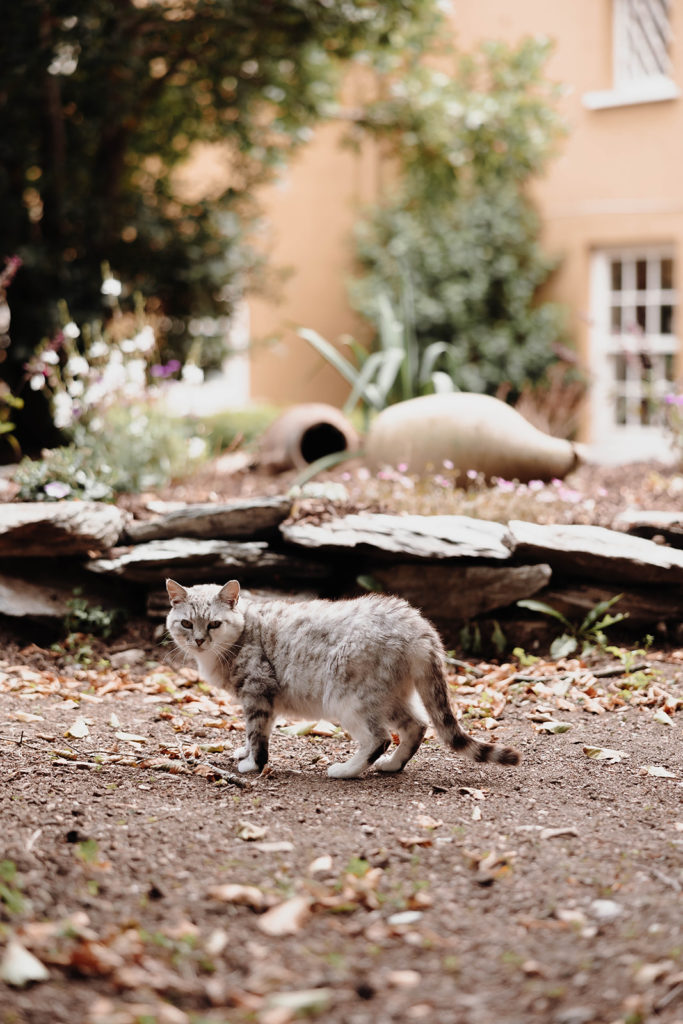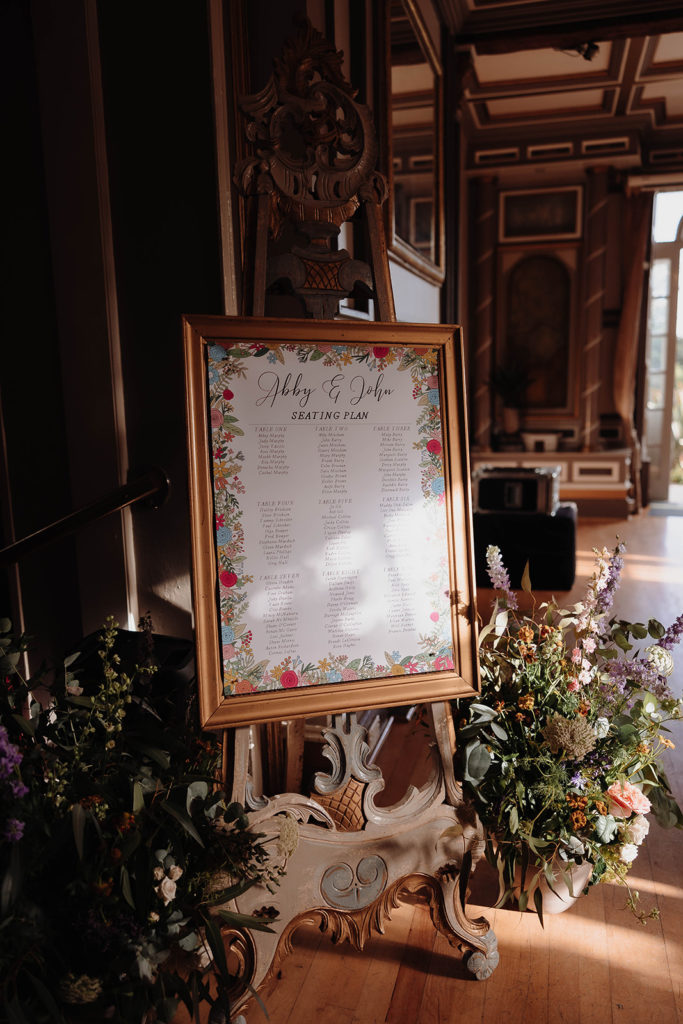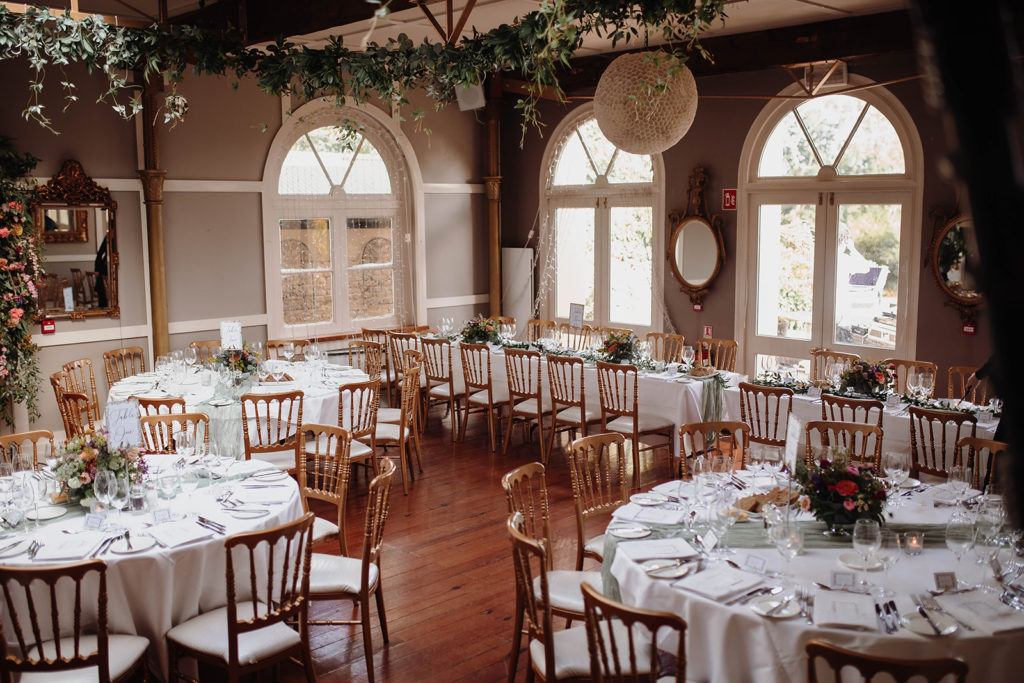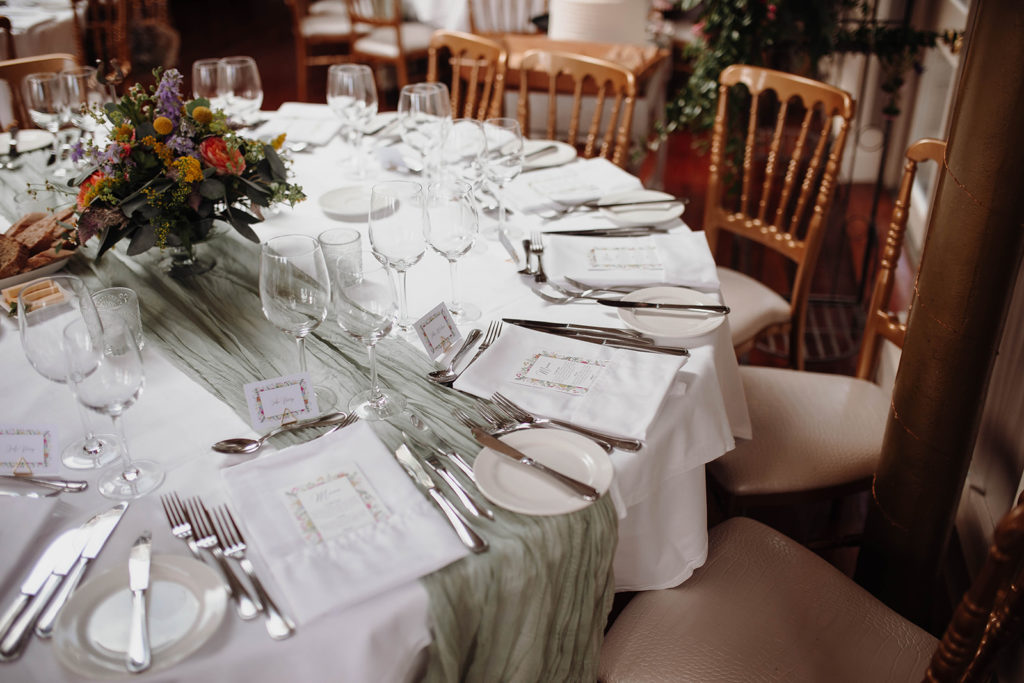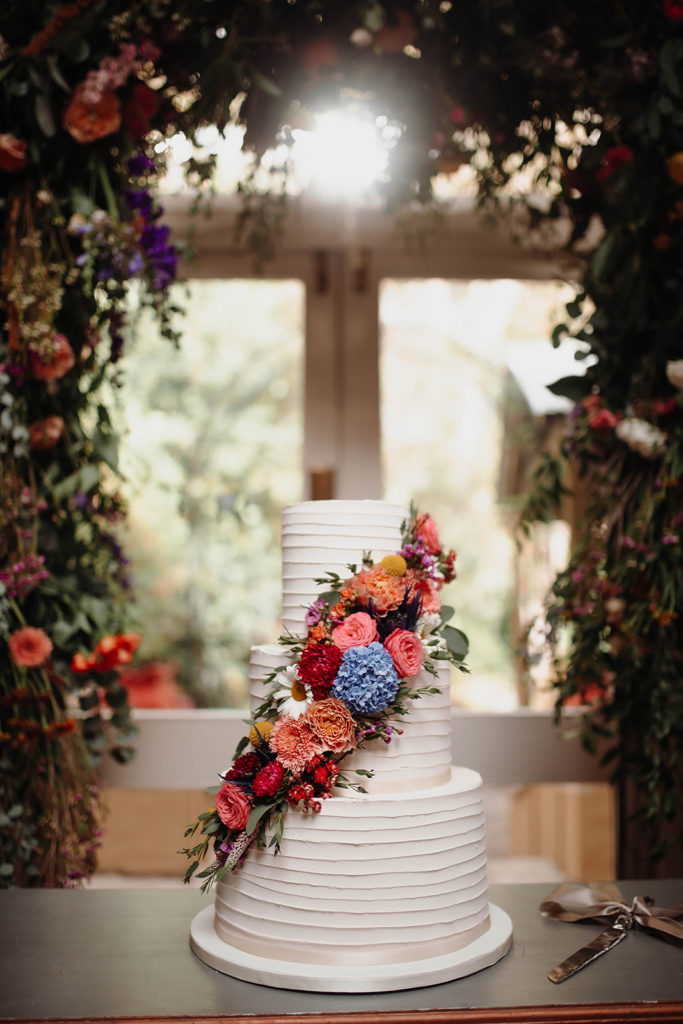 The Entertainment
We wanted our wedding reception to feel like a really fun house party. When we found Velvet DJs site, his vibe just seemed to match what we were going for. We also wanted to make sure we incorporated "classics" from both Ireland and the US and felt that Dermot's time living in the US would be an added value. He played 60's motown and soul for the drinks reception on the lawn and party hits for the reception. As a bonus, a few of John's cousins and friends who play traditional Irish music brought their instruments to the wedding, so there was a bit of trad sesh going on outside the ballroom as well. They are all amazingly talented musicians, and we feel very lucky to have had them perform at our wedding. All the guests, especially the Americans, loved it!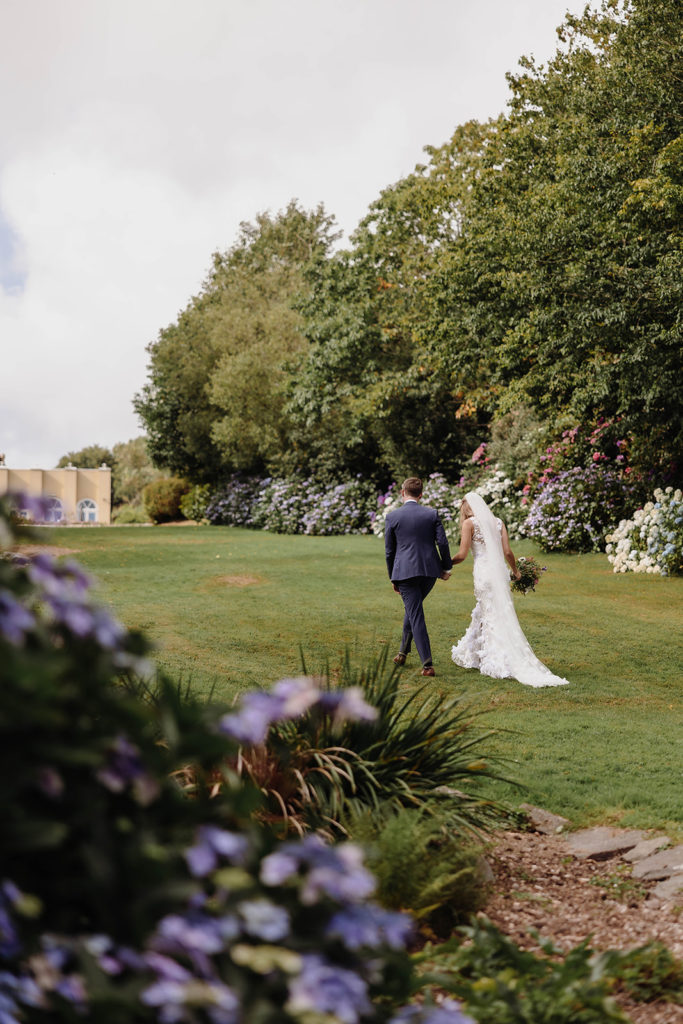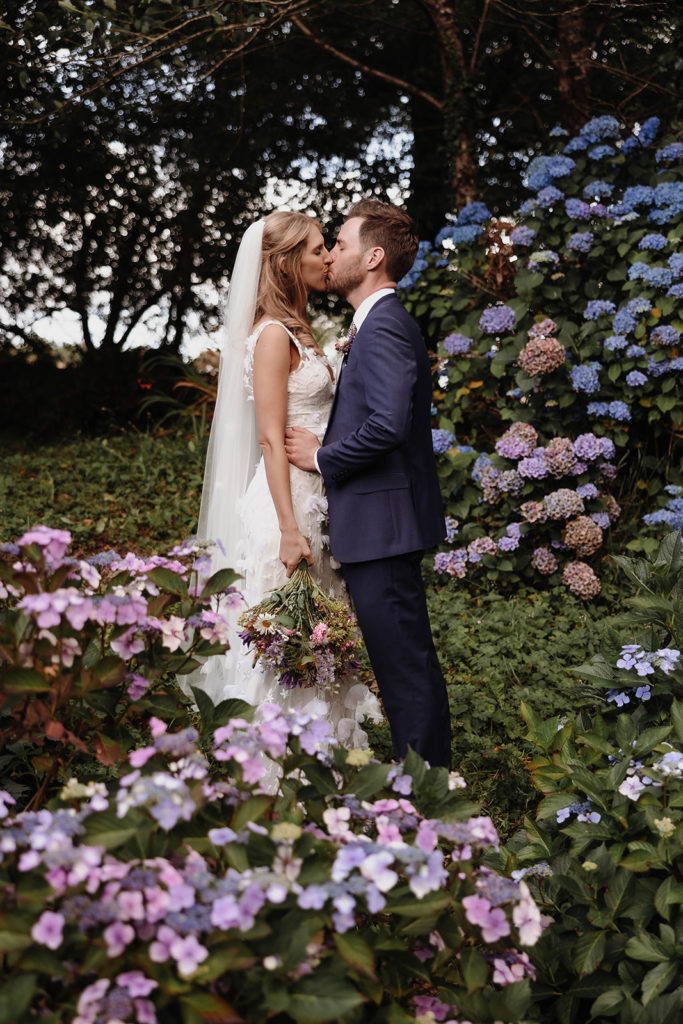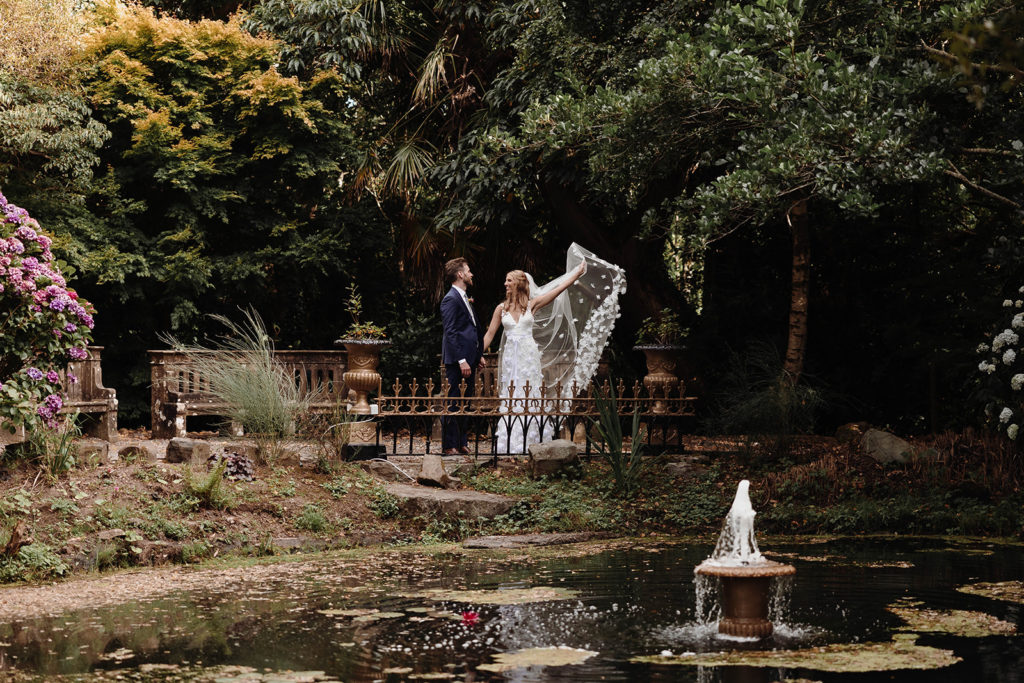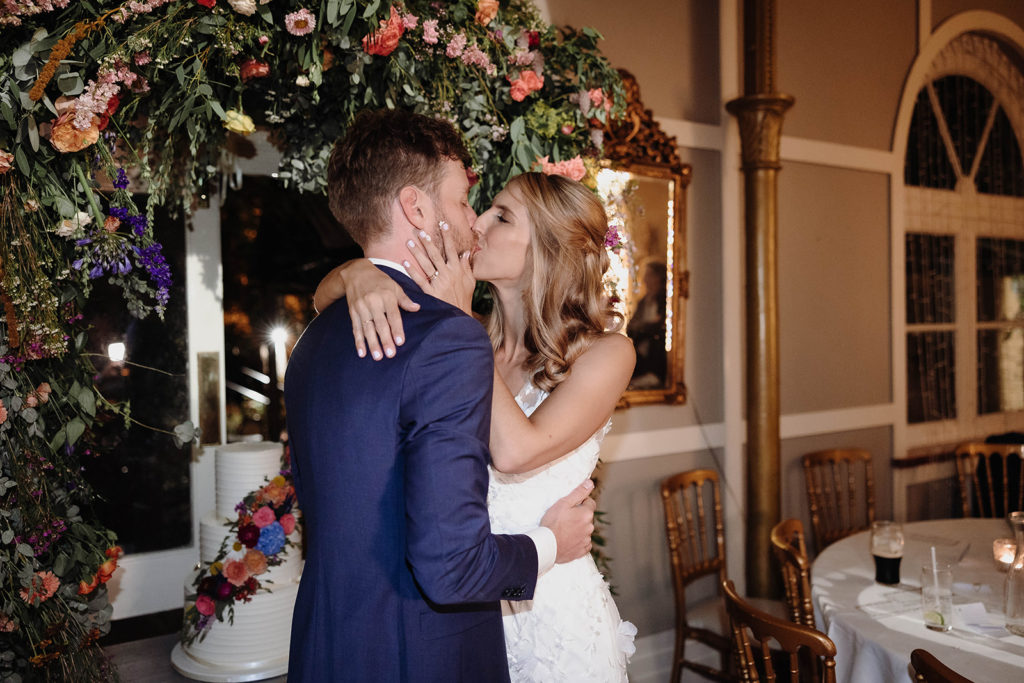 The Best Decision
To get married in Ireland! It truly meant so much to us that our family and friends could be together in one place and that my family had the opportunity to experience the culture and natural beauty of John's homeland firsthand. For many of my cousins, it was their first trip outside of the US, so it was exciting to see them gain confidence as travelers and broaden their horizons. John and I know this may have been one of the few times that our extended families would be together, having everyone in Ireland was so special.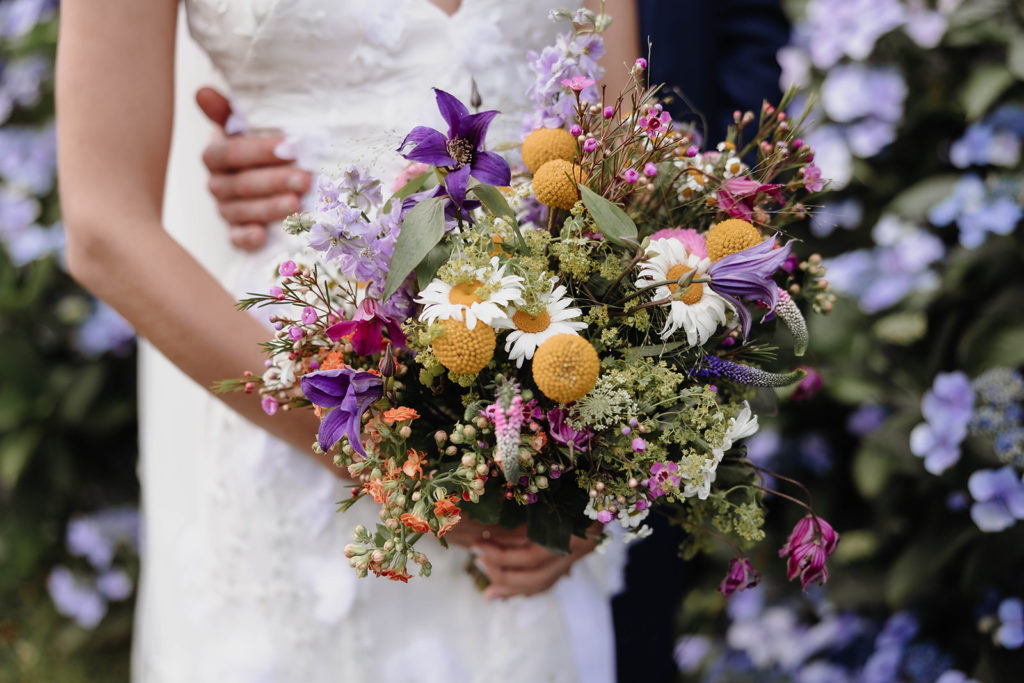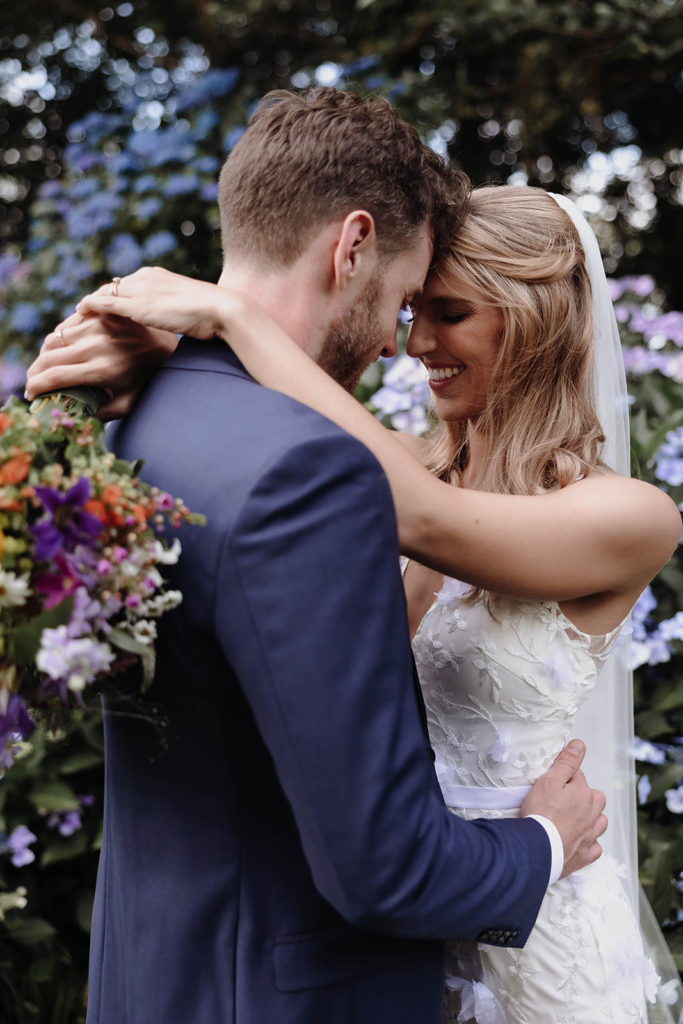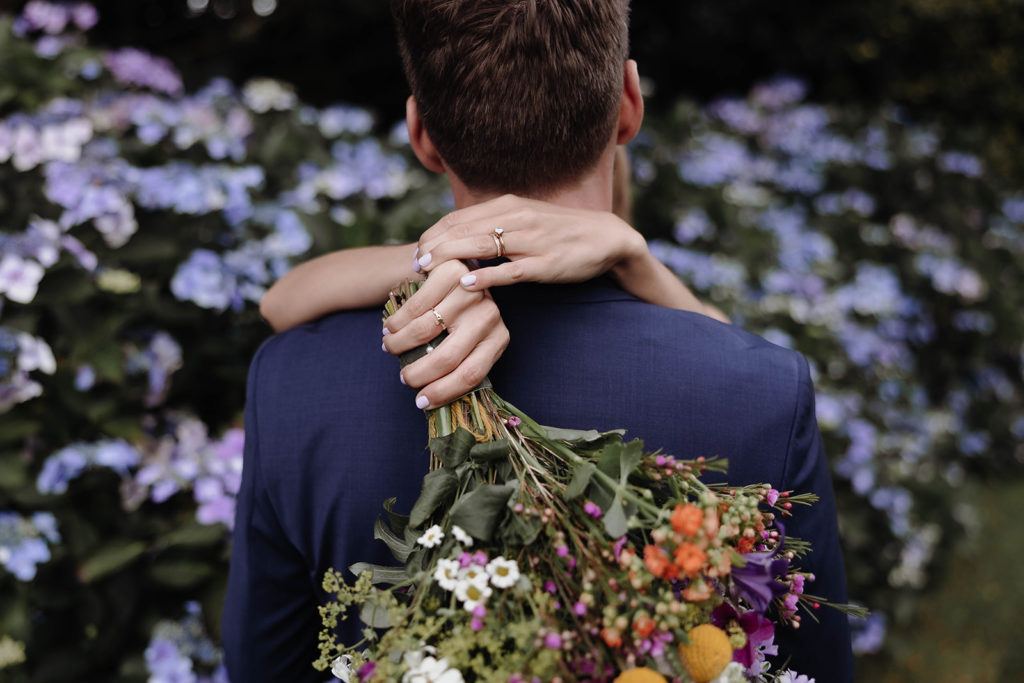 The Worst Decision
Starting the ceremony late. As an American, wedding ceremonies typically start much later in the afternoon, around 5 or 6 pm. When the venue suggested we set the ceremony for 3 pm, I couldn't imagine what all the guests would be doing from 3:30-6:30 (when the dinner bell rang), so I decided to start the ceremony at 4 pm instead. In hindsight, we both wished we had more time with family and friends during the drinks reception (the bit between the ceremony and dinner). The ceremony ran longer than expected and by the time we finished taking photos afterward it was already time to head inside.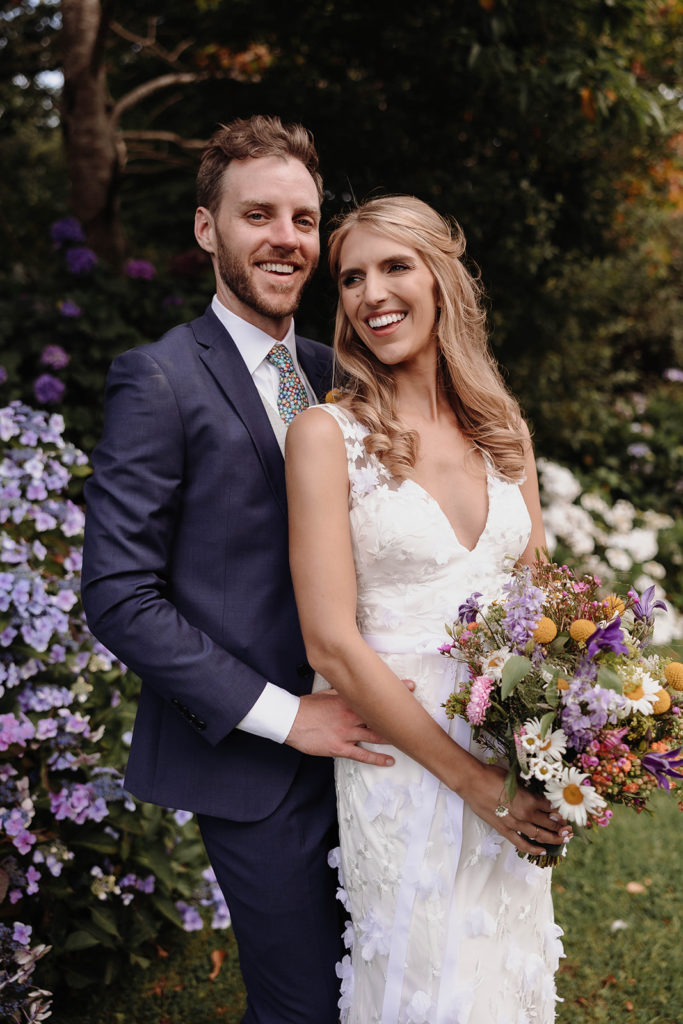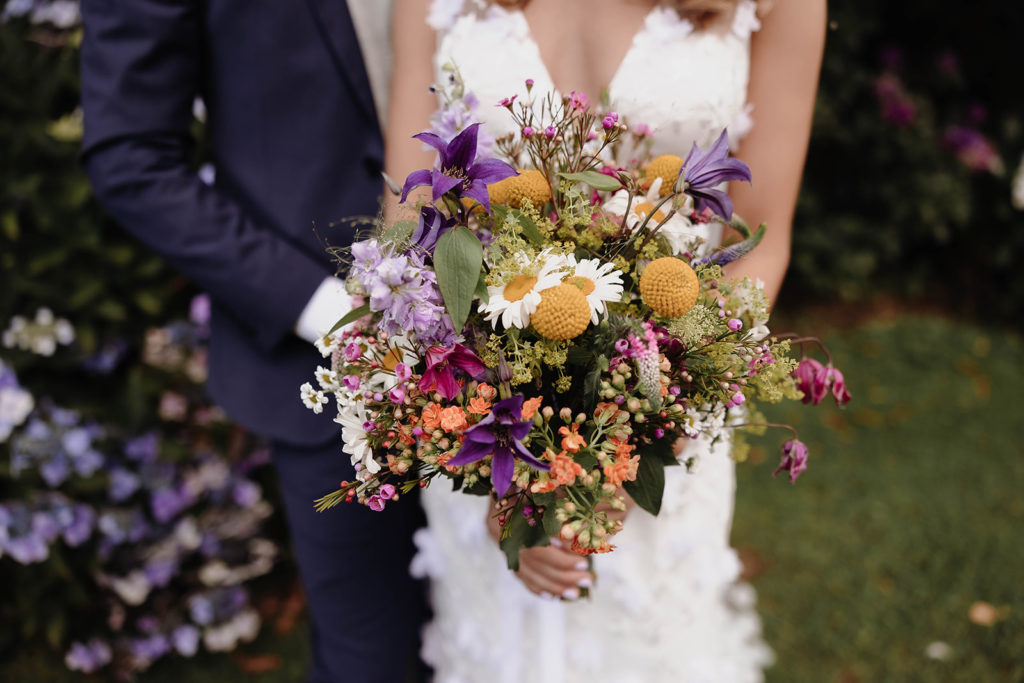 - Gráinne