Ciara Flynn and Peter Garrigan tied the knot at the elegant Tankardstown House on 2nd June 2018. Photography by Christina Brosnan.
The couple lived close to each other growing up and often crossed paths, both show horses and regularly met at competitions. However, it wasn't until the summer of 2007 before things took a romantic turn and they began to date.
Ciara and Peter had been together for nine years when they began to plan a ski trip to Saalbach in Austria for January 2016. They travelled with friends and family, with Ciara's sister Alison and Peter's best friend Seamus joining them on the trip. On the fourth day of the holiday, the couple went out skiing alone, but it wasn't long before a blizzard hit and cut short their adventure. The snow was that extreme that they could barely see each other, Peter skied ahead while Ciara followed. Suddenly, Peter stopped on a scenic part of the slope and began taking his skis off. 'I thought there was something wrong. As I skied over, Peter was down on one knee and taking a box out of his pocket, wiping the snow from my goggles, I could see he had a ring in his hand. He asked me to marry him and I, of course, said yes.'
The couple decided on a long engagement as they didn't want to rush the process or feel under any stress or pressure. Both Ciara and Peter knew they wanted a summer wedding, so they set a date for the June Bank Holiday 2018. They both knew they wanted a countryside wedding and the lead-in to the big day gave them plenty of time to organise all the details, find the perfect location and book the vendors they wanted.
Their first port of call was to guarantee the perfect venue for the day, and so they immediately started looking at locations. Tankardstown House was the very first venue they visited, and as it would be, they fell in love with it straight away.
"Once we drove up the long avenue of mature beech trees we could imagine our day there. We saw the horse statue on the lawn and the lovely equine paintings in the drawing room, and we felt that it was a sign as we both love horses! However, the deciding factor was definitely when we saw the Orangery; we knew this was it!'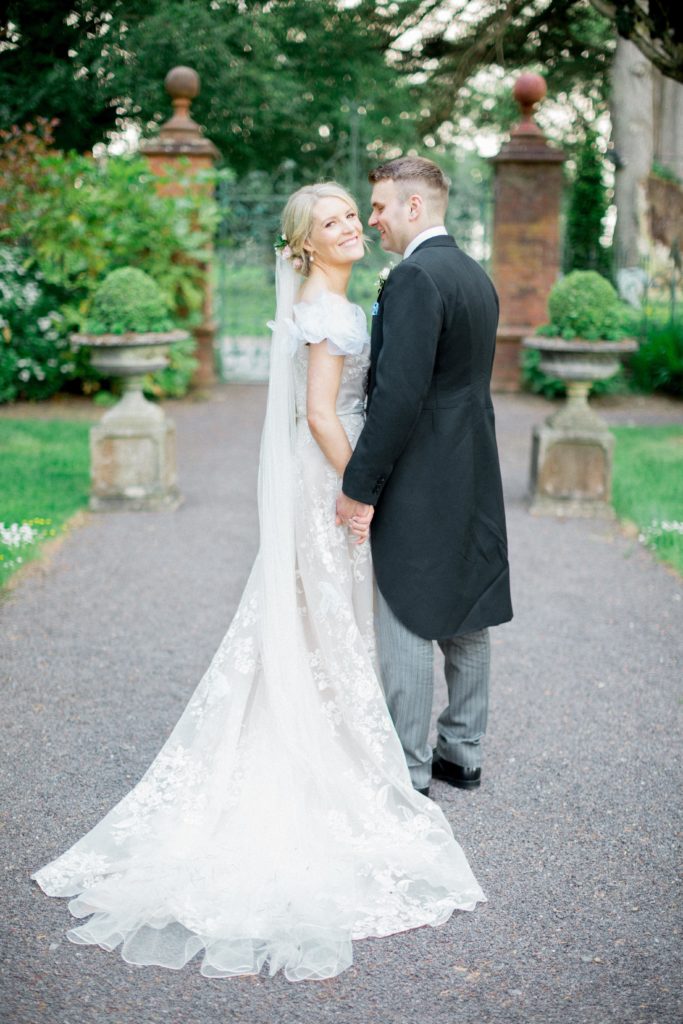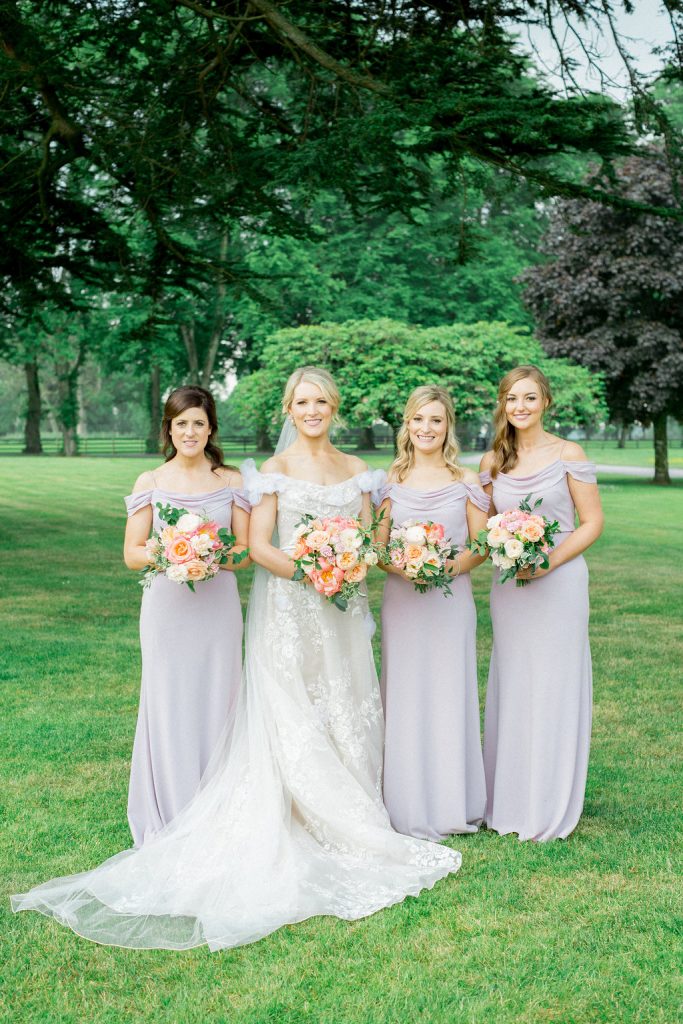 The Orangery is a beautiful and brightly decorated room with gold gilt furniture and olive trees. The couple wanted a venue that would be suitable for whatever the Irish weather could throw at them, and Tankardstown had it all. The cherry on top was the fact that Tankardstown House offers exclusive use of the venue for all weddings, meaning Ciara and Peter could celebrate their special day privately, surrounded only by friends and family.
Ciara wanted to add her personal touch to the day and so designed the invitations and ceremony booklets herself. An artist by profession, she works for Irish animation company Boulder Media, she loves working with watercolour and knew that she wanted to find a way to incorporate the venue and gardens into their invitations. With this idea in mind, she decided to paint her interpretation of the green gates at Tankardstown and so, when you open the gates of the invitation, she placed two beech trees either side to portray the avenue and represent the journey of their day.
The invites had a green foliage and floral theme, which was something Ciara wanted to carry through throughout her day. Ciara also hand painted each of their guest's names onto a preserved salal leaf and used it as a placename. Tying all of this together, she also created the table plan and table numbers for a seamless look. The couple gave a personal feel to the venue by gathering framed photos from their engagement shoot, as well as past occasions, and placing them around the house, making it feel like home. Peter, as a Tillage Farmer, supplied the potatoes for their meal, which was a nice personal touch on their menu.
For Ciara, the highlight of all the planning was picking her dress. 'I loved going dress shopping with my mum and sister, and I fell in love with a beautiful Marchesa dress from Browns Bride in London.'
The day was so perfect for the couple that they wouldn't change any aspect from start to finish.
'We wouldn't have changed a thing! We had such a special and memorable day with our family and friends, everything fell into place. As it was the Bank Holiday weekend, we decided to have a BBQ in Tankardstown on the Sunday to continue the celebrations.'
Her advice to other brides would be to try and not stress, and if you are going to stress, get it over with before the wedding day!
'Once the Big Day arrives, go with the flow and enjoy it. Don't be afraid to delegate! I got better at delegating as the wedding drew closer. Spend time choosing suppliers that you both like, we were lucky that we had plenty of time to do our research and book the vendors we wanted early. (The advantage of a long engagement!) Also trust your suppliers, listen to their advice and let them do their thing! At the end of the day they've most likely been to more weddings than you! Most of all, have fun and enjoy every moment!'