A 17th-century authentic Irish castle located in the beautiful County Sligo on the route of the world-famous Wild Atlantic Way. Standing on a secluded 500-acre estate, Markree Castle was the location for Madeline Scalzi and Joshua O'Reilly's beautiful Summer 2023 wedding. With photography by Christina Brosnan and styling by Waterlily Weddings, if you're considering a castle wedding then this is one for your inspiration board!
Josh and Madeline went on their first date on September 13th, 2019, 6 months to the day before New York shut down because of the pandemic. From the very beginning, they both knew that they had something special, and had whispered talks about marriage, but neither knew it would happen so soon. In March 2020, about 3 weeks into quarantining together at Madeline's best friend's apartment on the Upper East Side the pair found out there was going to be a travel ban, between the United States and Ireland, to limit the spread of COVID-19. They both knew that if Josh decided to go back to Ireland, the couple would not see each other again for an undisclosed amount of time. Contemplating what life apart might look like, they came to the mutual decision that they wanted to keep dating each other, and to do that had to be married.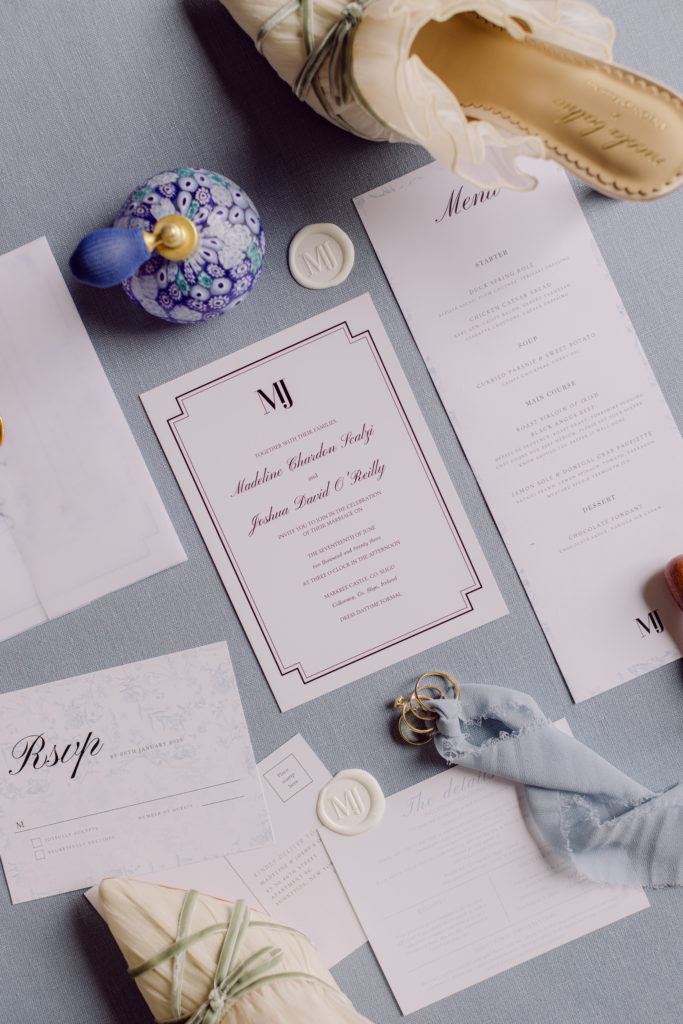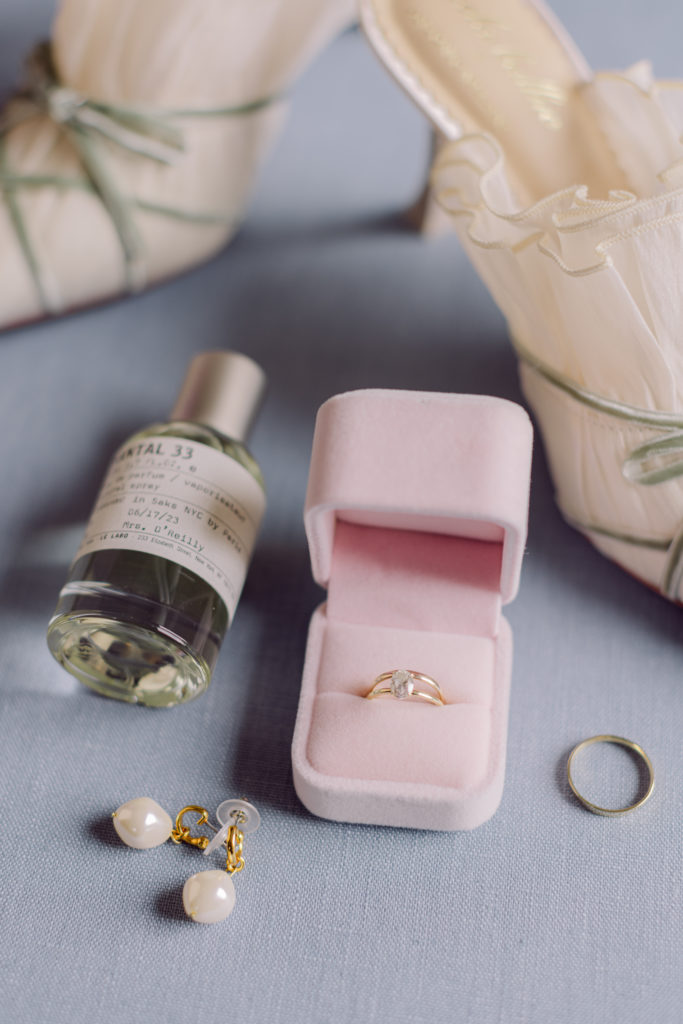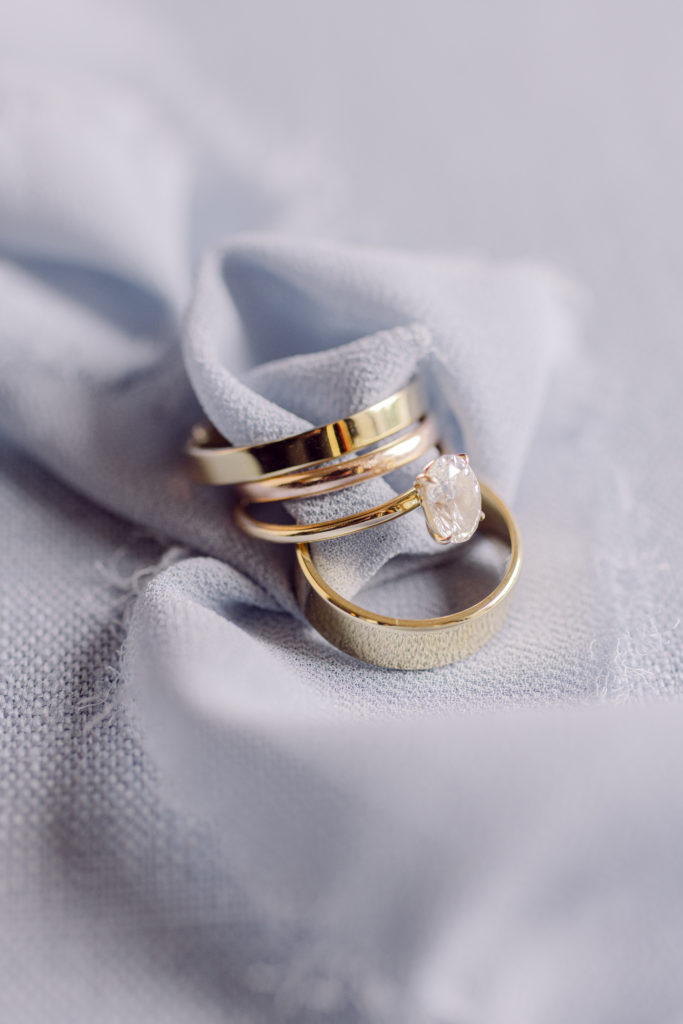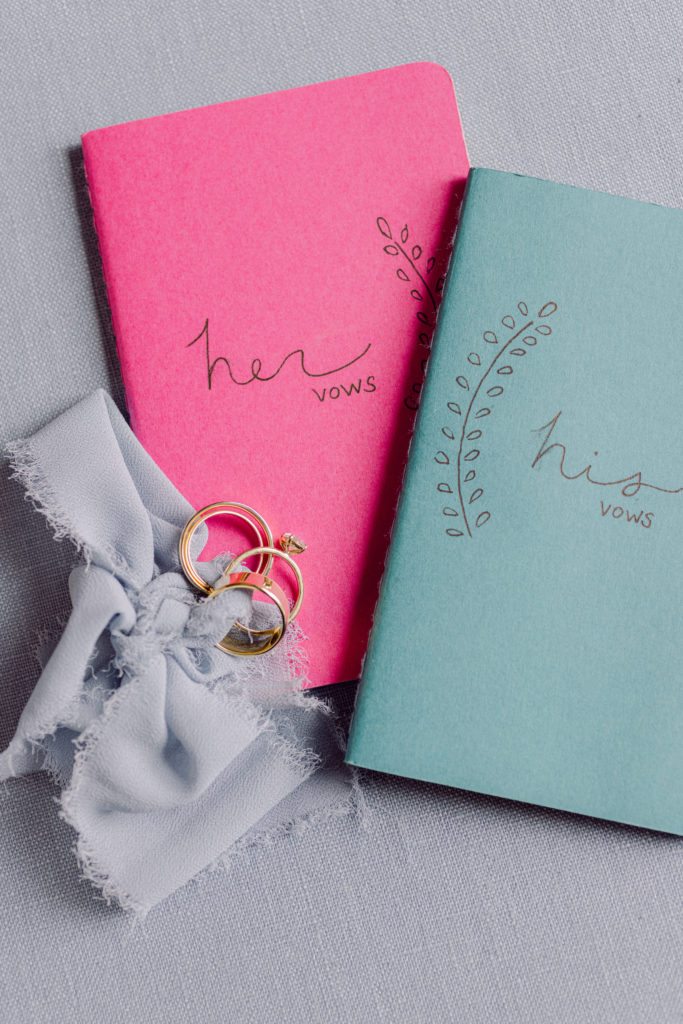 "I honestly can't remember who "proposed" to whom, but we knew the love was there and life was so much better together. We had our first wedding in my parent's backyard with Josh's family Zooming in from Ireland, on June 6th, 2020, 276 days after our first date." They knew then, that once the pandemic was over the two would get to have their "big wedding" bringing together both families and all of their loved ones under one roof to celebrate. "We got to spend the next three years reclaiming the moments COVID took from us. One of those moments was a formal proposal." During the lockdown, Madeline and Joshua had lots of time to dream about the places they would get to experience together once the world reopened, and one of those special places was Paris – a city they loved separately and now get to love together. Josh gave his bride-to-be the engagement ring two years later sitting on the bank of the River Seine watching the Eiffel Tower at night!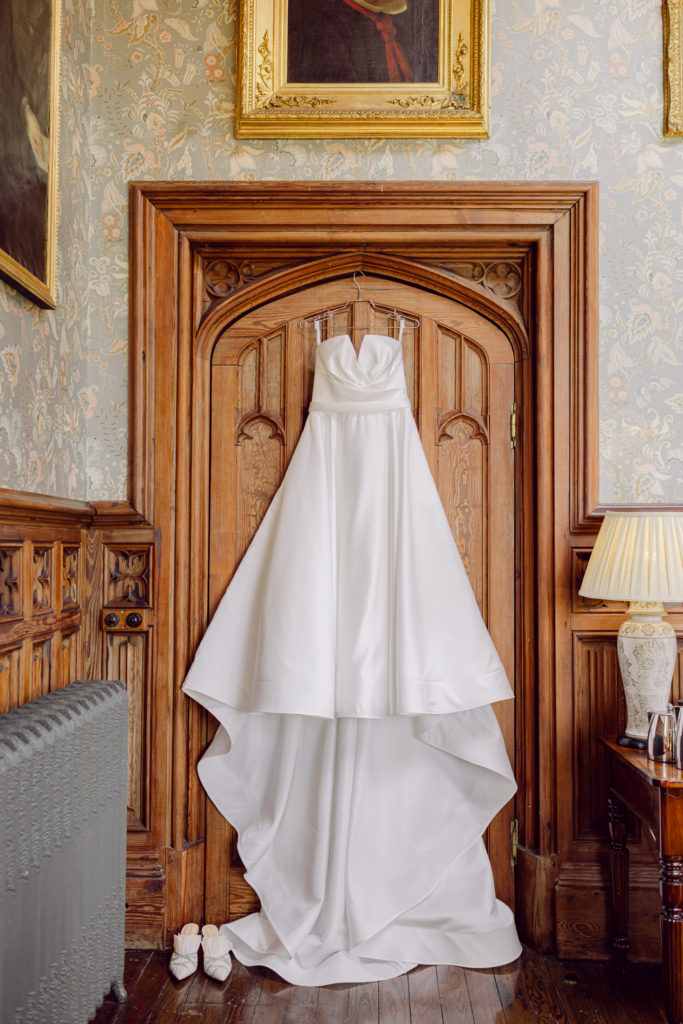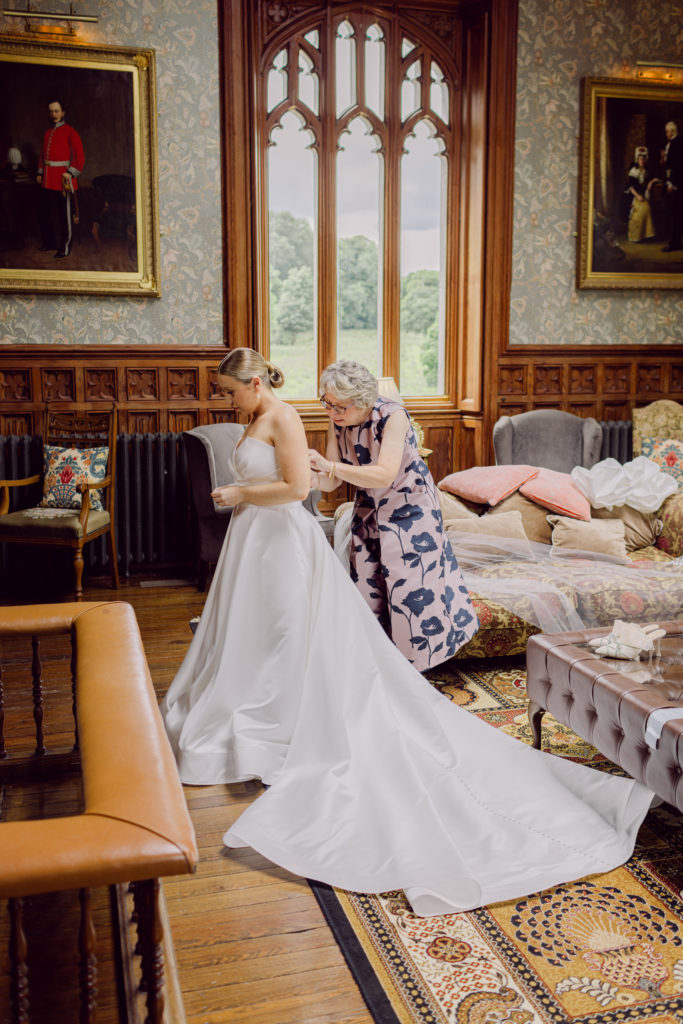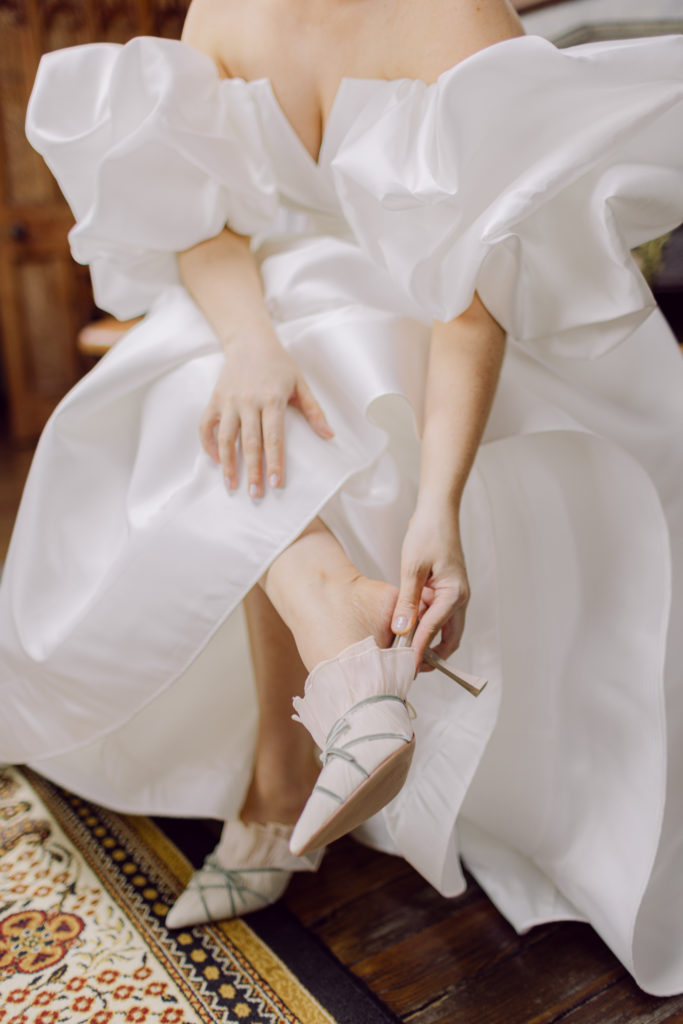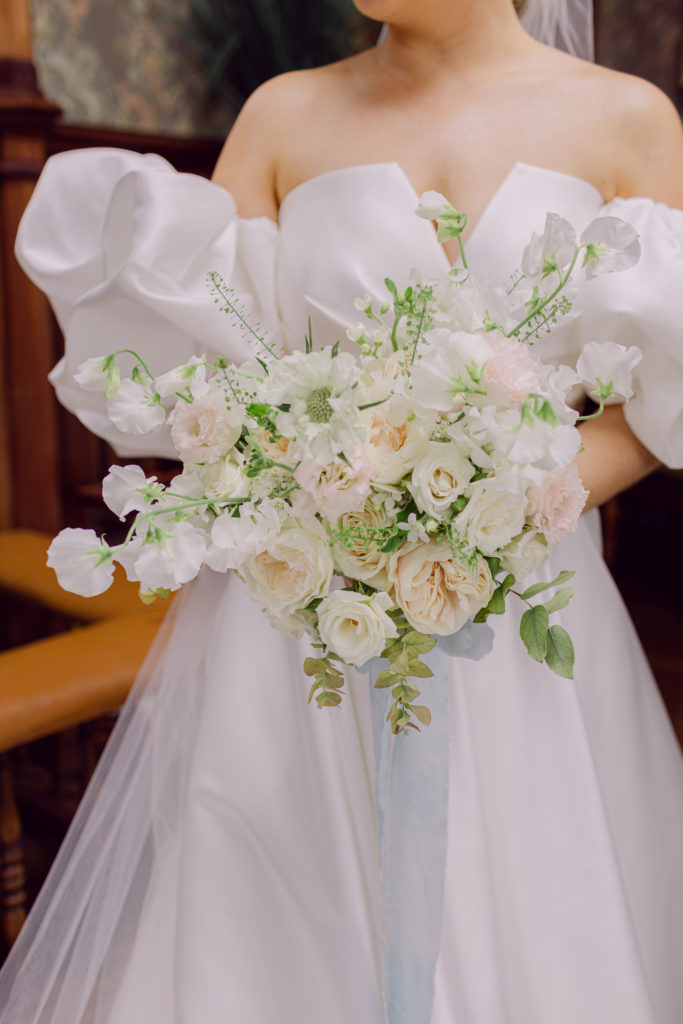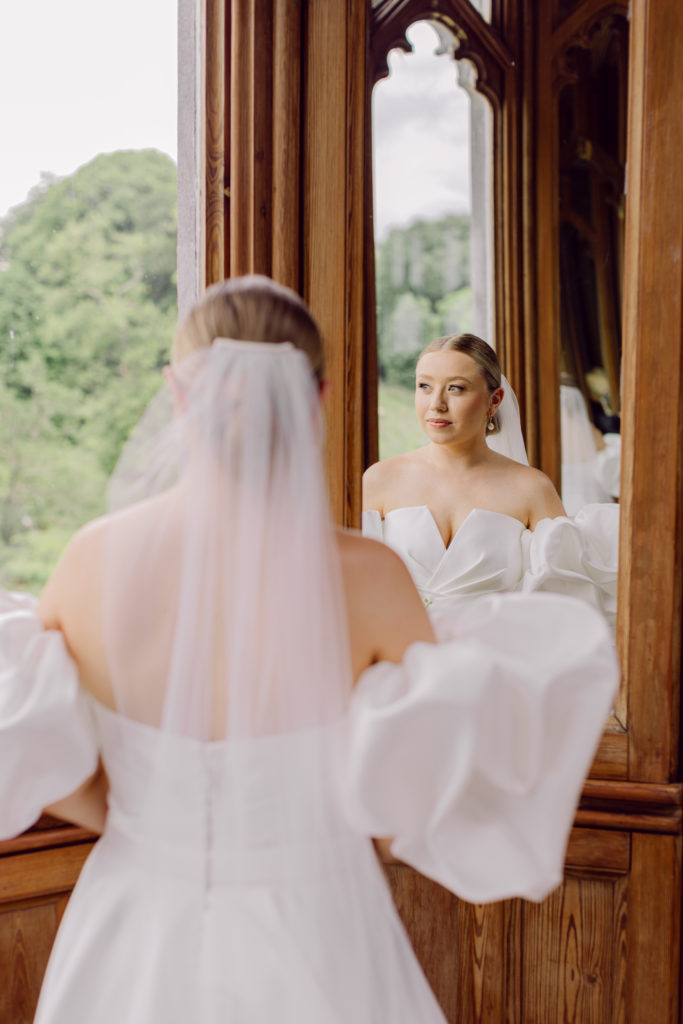 Being in the United States, but planning a wedding in Ireland made sourcing all of the vendors a little bit tricky. Madeline sourced nearly all of the vendors based on their Instagram photos. Selina G Makeup-Artist was one of those people. "I loved how her brides' personalities show through the makeup, making them look like more elevated versions of themselves." She did such a wonderful job, and everyone was so happy with the way they looked! Madeline wanted all of her girls to feel like themselves in their own skin. Her signature scent for the wedding was Le Labo Santal 33, a perfume that combines a mix of cardamom and notes of iris and violet with Australian sandalwood, and cedarwood for an intoxicatingly rich and warm fragrance.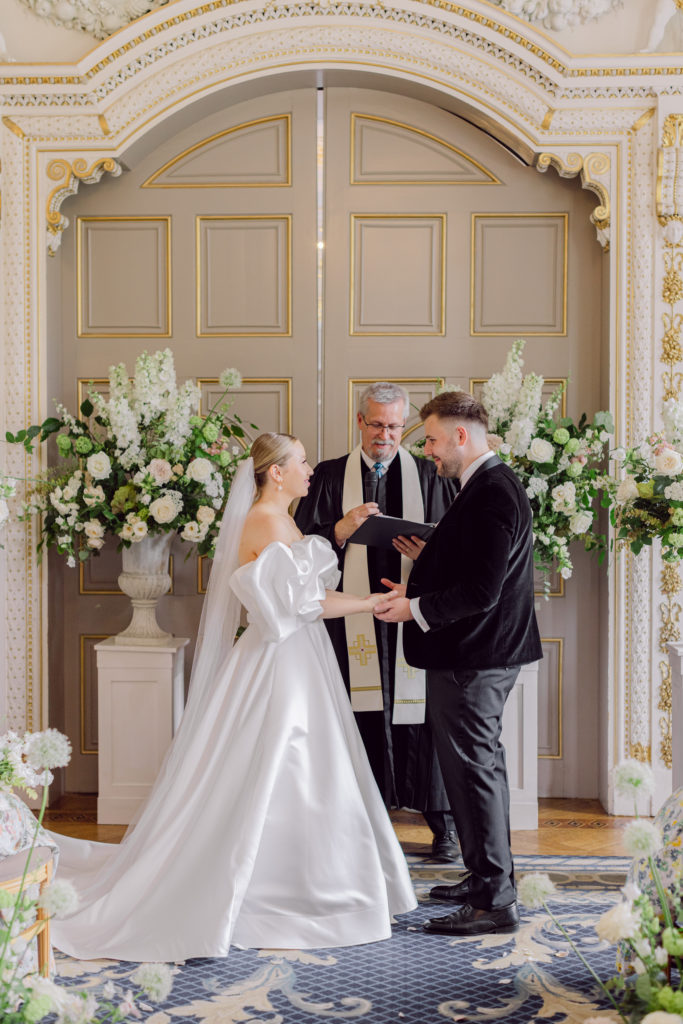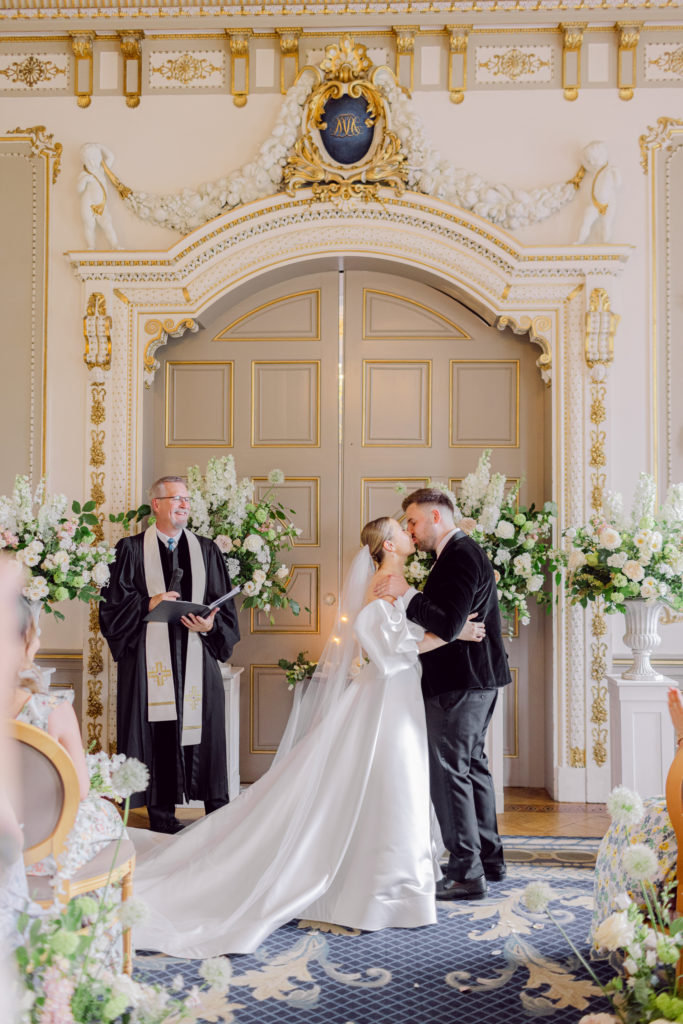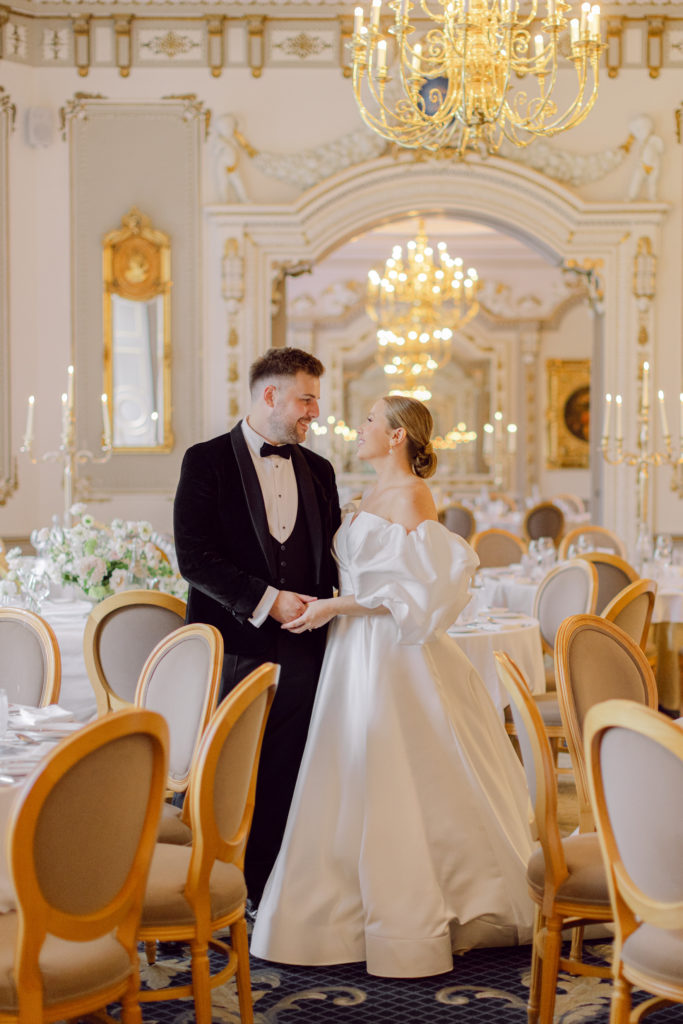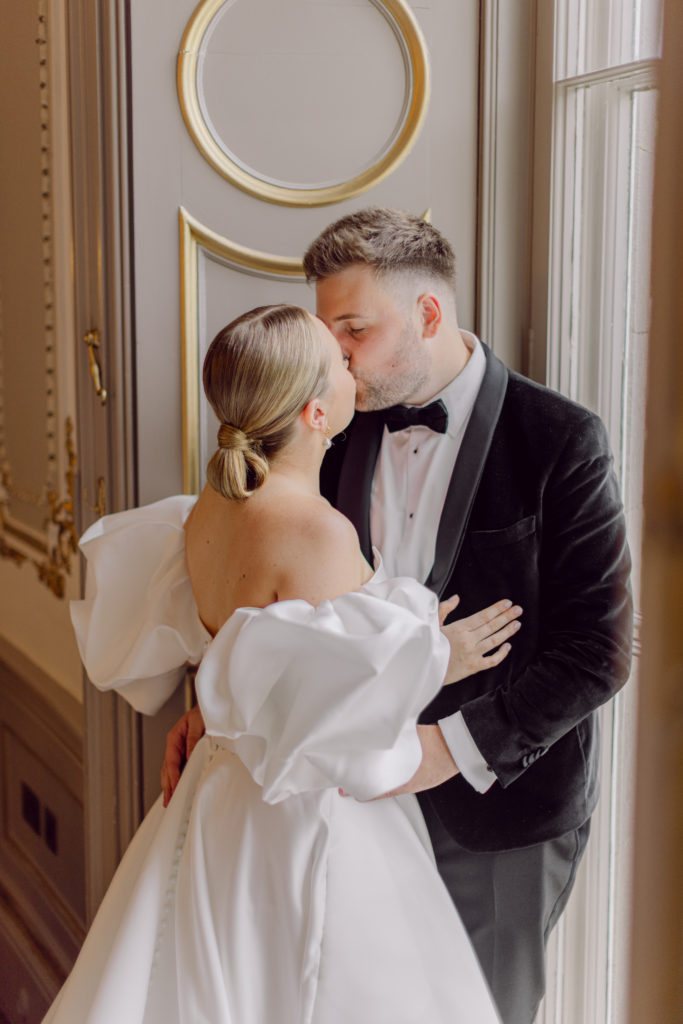 Madeline worked as a Bridal Stylist in New York City before the pandemic, so when it came time to shop for her own wedding dress she had a good sense of what I was looking for. Knowing she wanted something classic and elegant with a little bit of architecture to accent, she went to a few different stores around the city and ended up finding the perfect one at Kleinfeld. The dress was by Rita Vinieris, which Madeline had customized from a matte satin to a sheen satin because she wanted to make sure it caught the light even on the most overcast of Irish days. Our bride-to-be paired the dress with puff sleeves from a different designer to really give it a dramatic touch.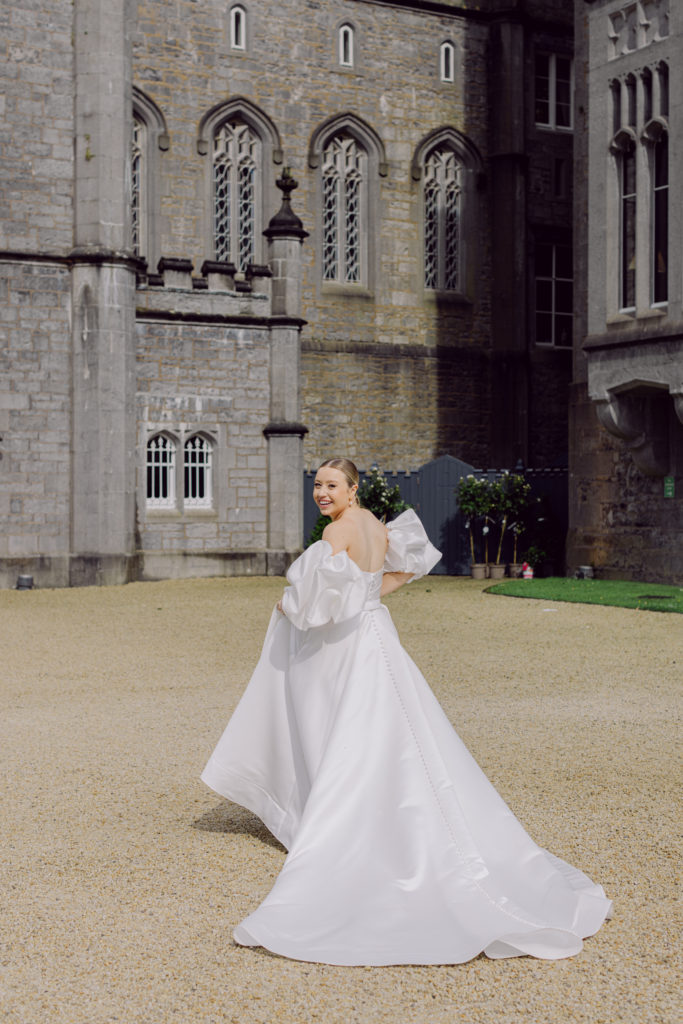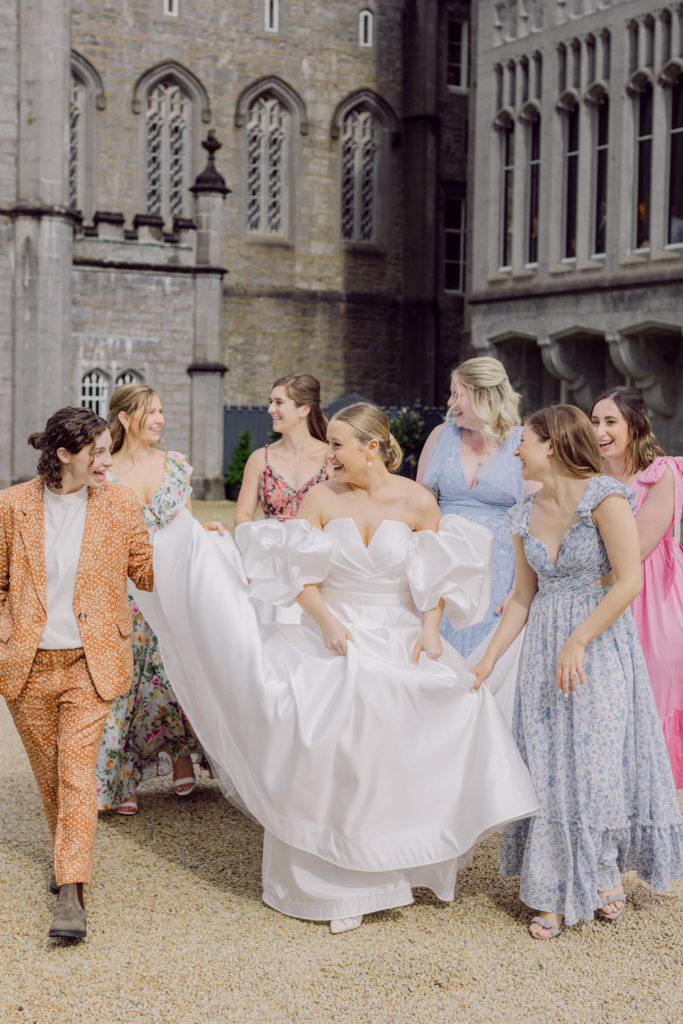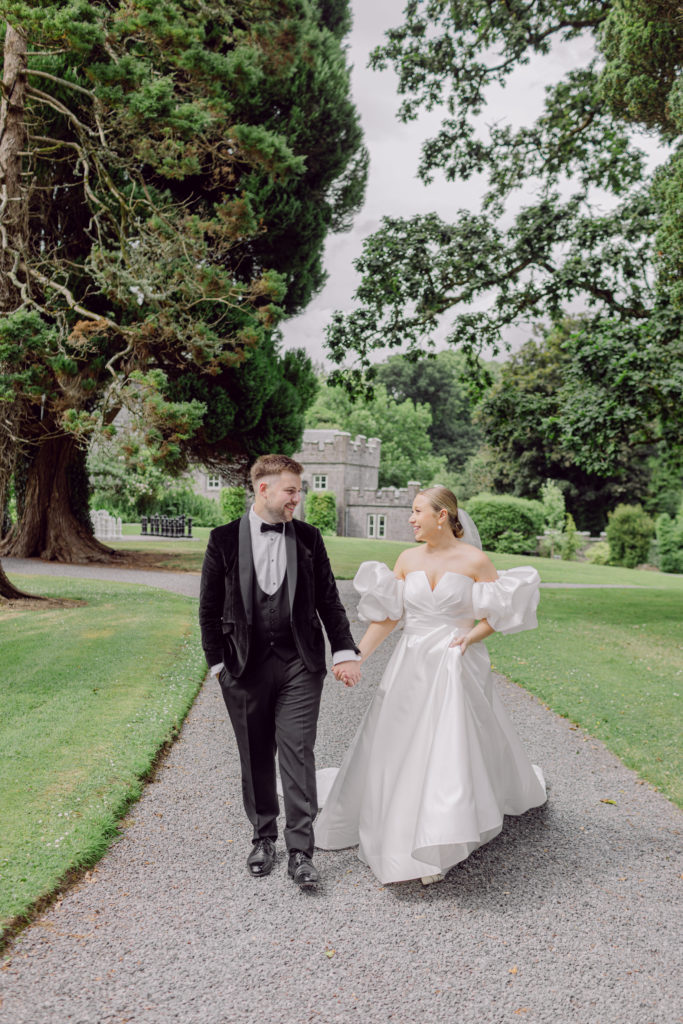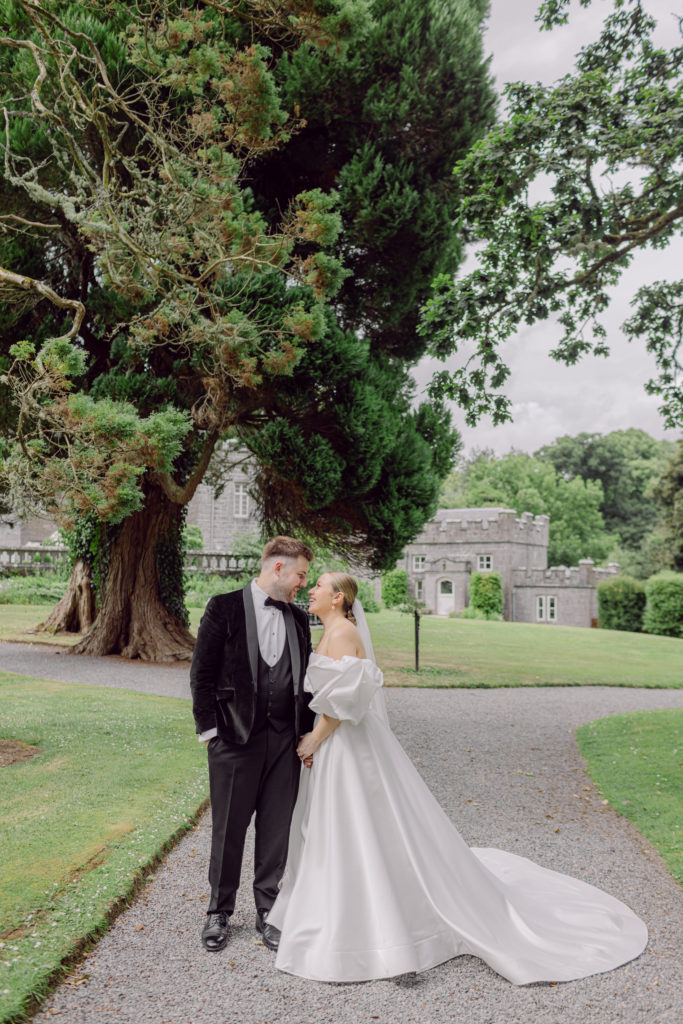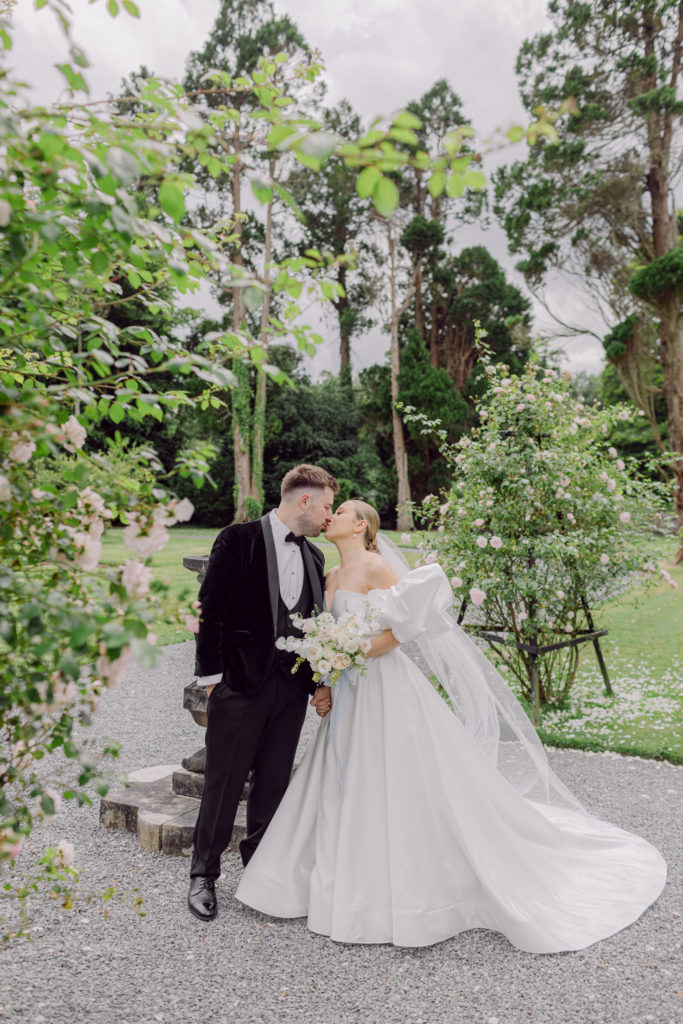 The bridesmaids were a mix of Madeline's high school and college best friends. "I took a very hands-off approach to the bridesmaid's looks because I wanted them to each feel like themselves and get to wear something they loved. My only ask was that the dress be full-length and floral or pastel." Each of the girls then sourced their own dress at a price point they were comfortable with and everyone looked great and felt really comfortable on the day.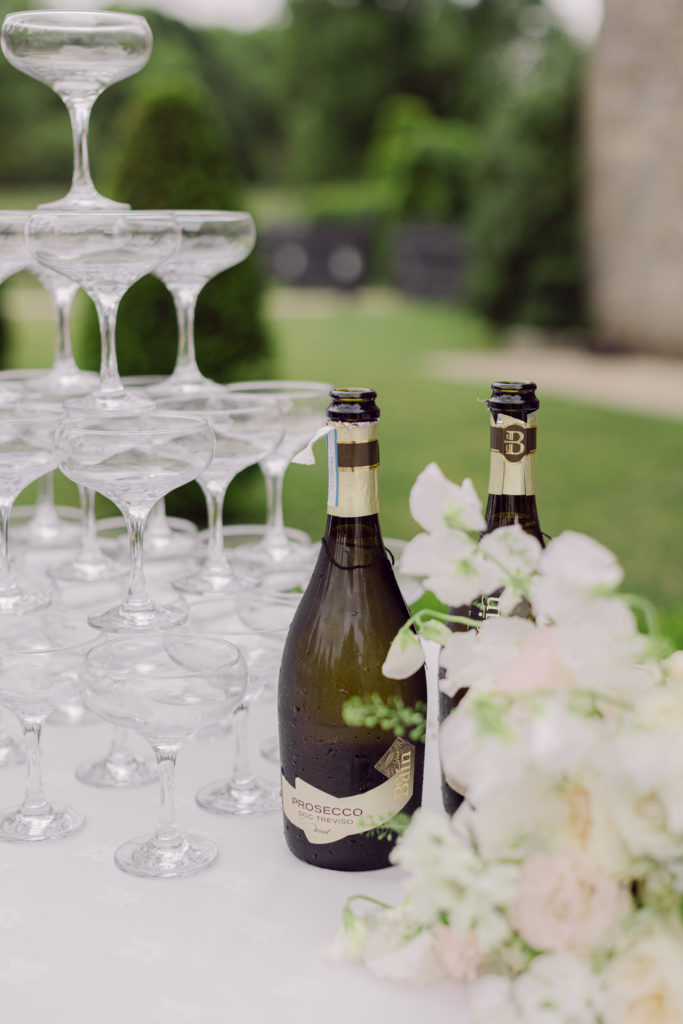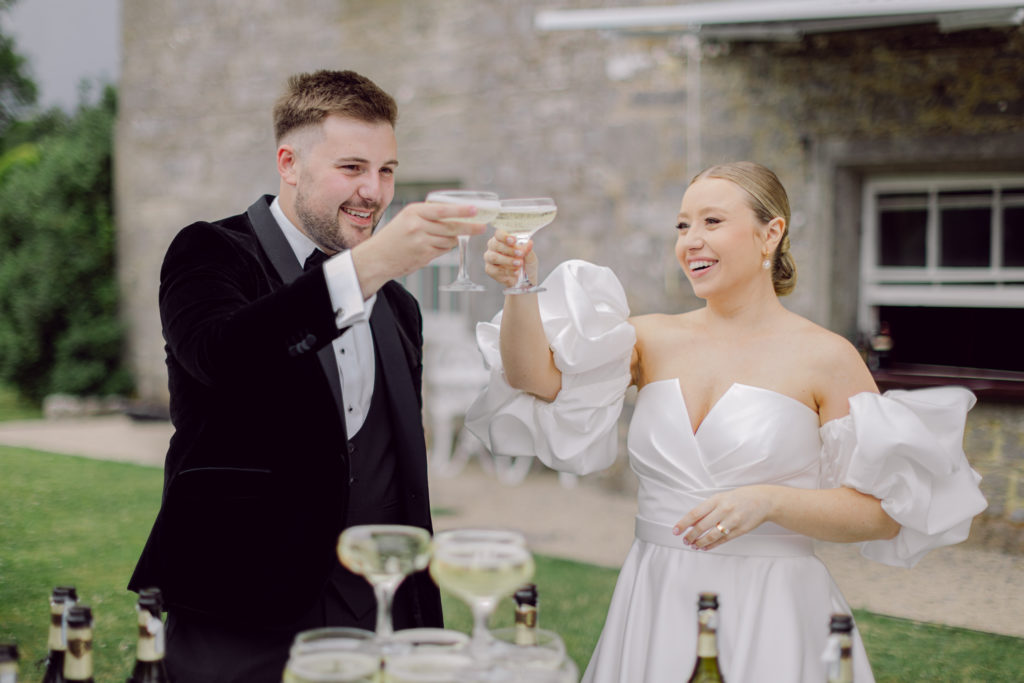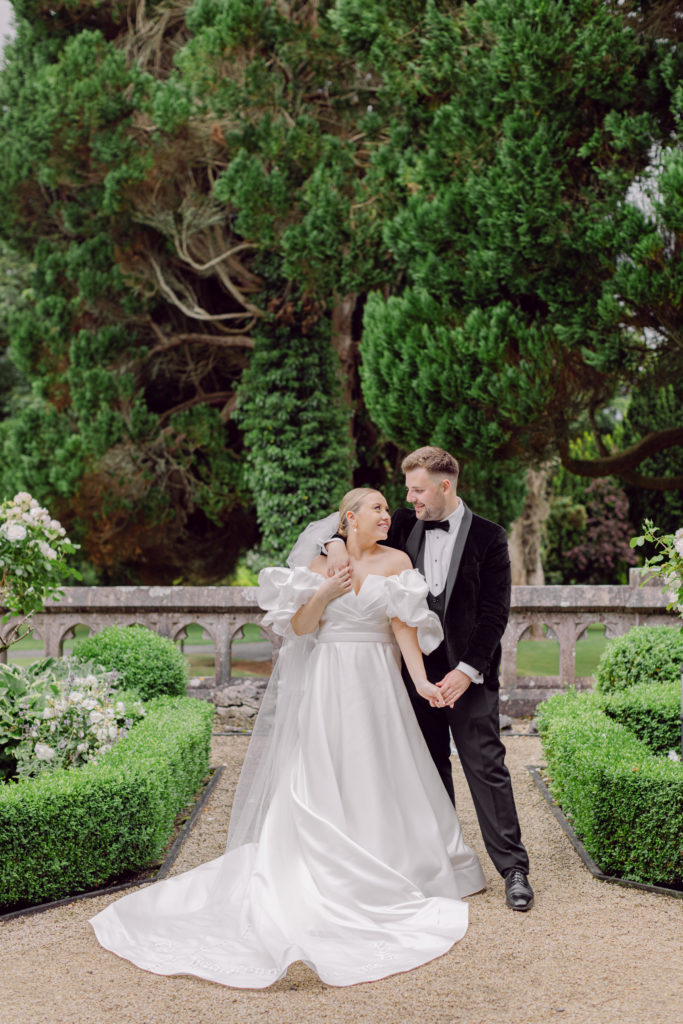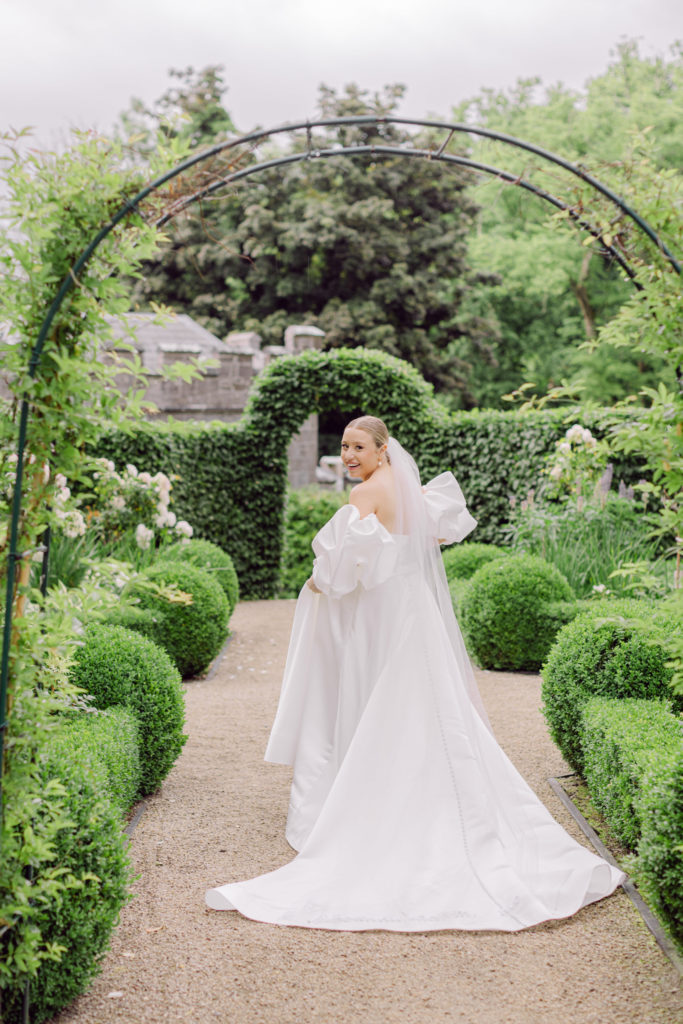 "Walking down the aisle was definitely my favourite part of the day. Walking into the room, holding my dad's arm, and looking at every single person we love in one room some of whom we hadn't seen for 5 years because of the pandemic was so surreal. The first people I made eye contact with before I even saw Josh were the girls I had been an Au Pair with when I lived in Spain back in 2019. We hadn't seen each other since then, since we each lived in a different county, so it was really special to see them all together in a reunion of sorts. Our Ceremony was so beautiful, it truly felt like a fairytale."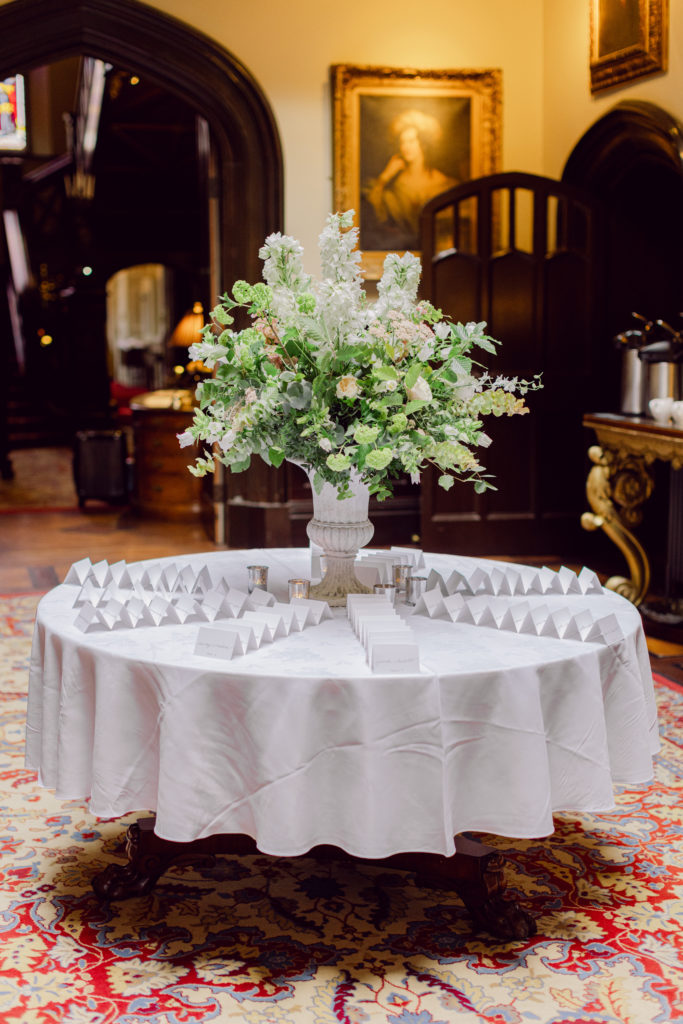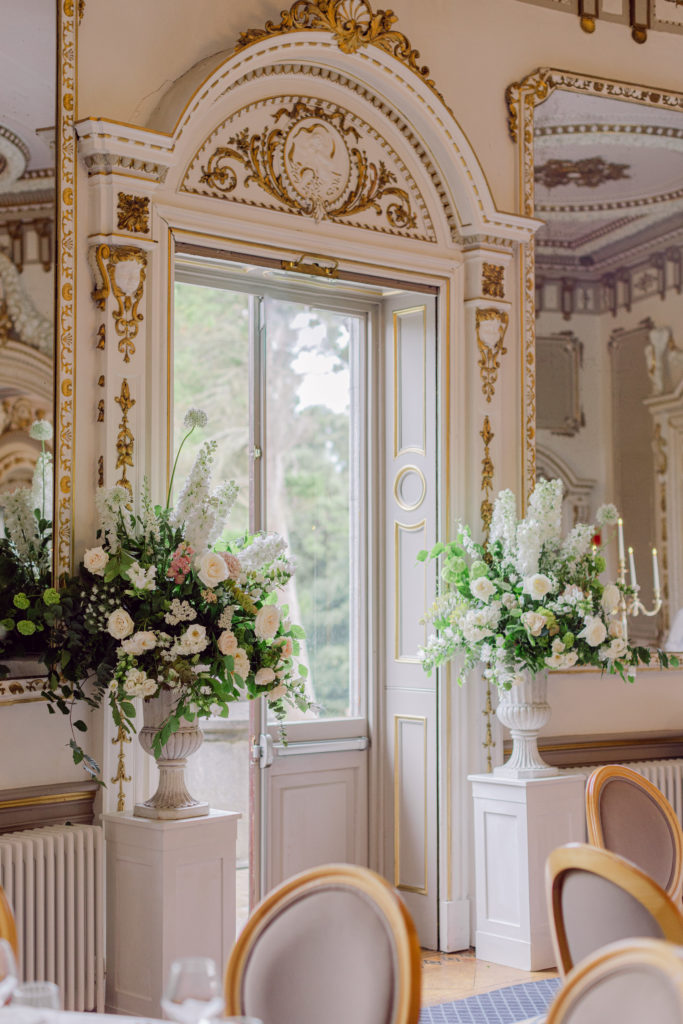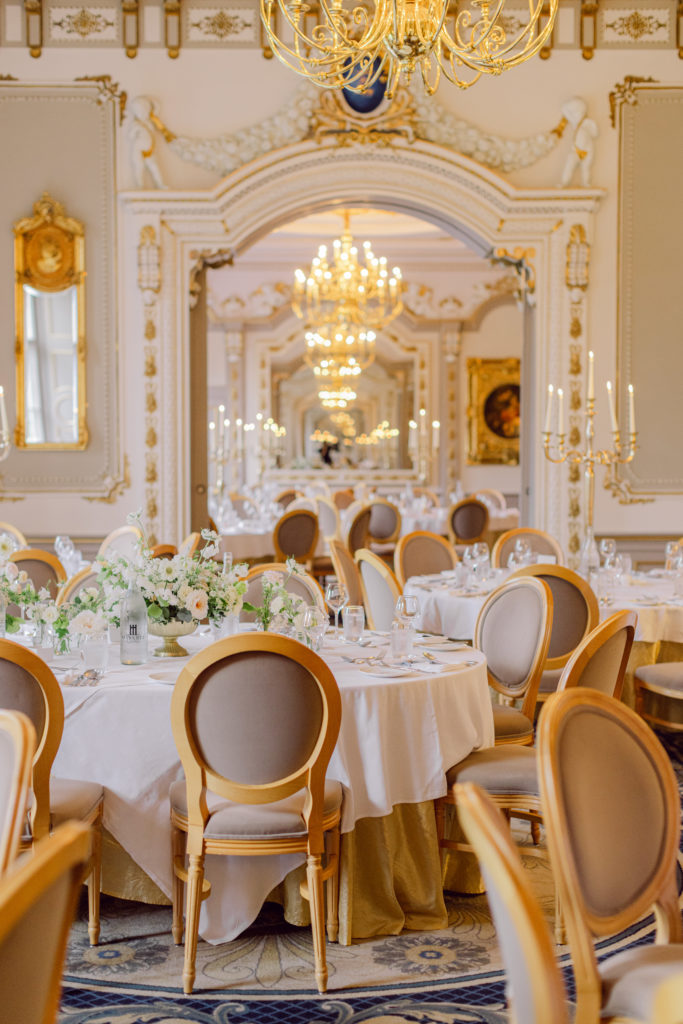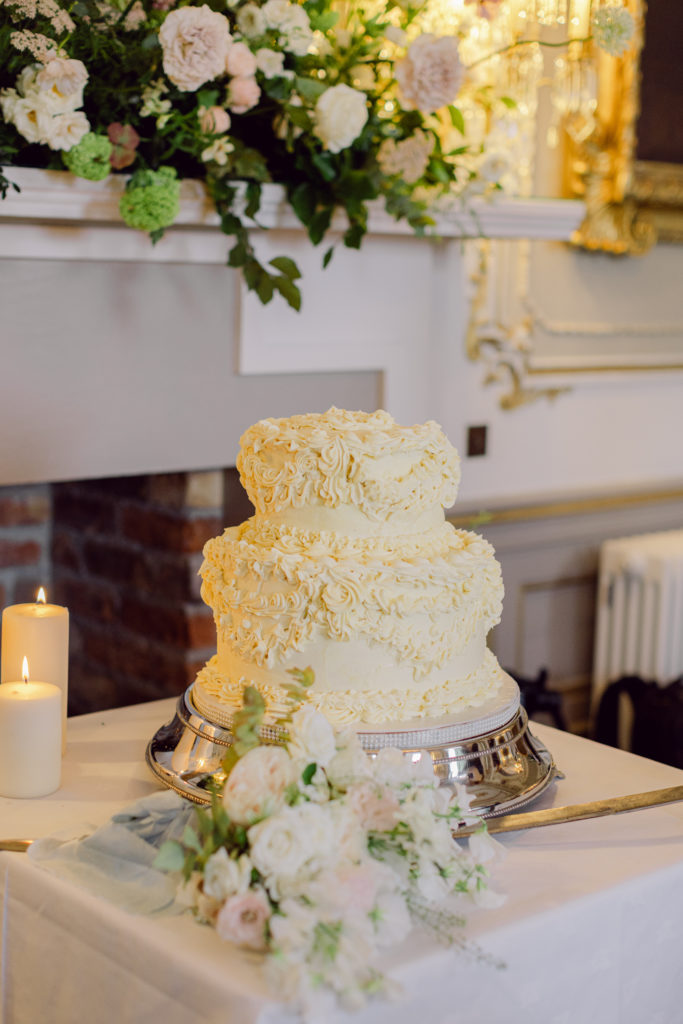 Being based in the States, the venue was another thing the couple spent hours Instagram stalking. They were between two different castles in Ireland but in the end, decided on Markree for a few reasons. First, they loved that the venue was an exclusive hire for the whole day, the two knew that they could be as loud as they wanted and party into the early hours with their guests without disturbing anyone. In addition, the food was outstanding! "We were shocked to hear it was all sourced from within a 50-mile radius. We are big foodies so we wanted our guests to have an excellent dining experience. Lastly, and perhaps the most obvious reason, the castle is absolutely gorgeous! The first time I walked into the ballroom I felt like I was in Versaille, and I knew it was meant to be."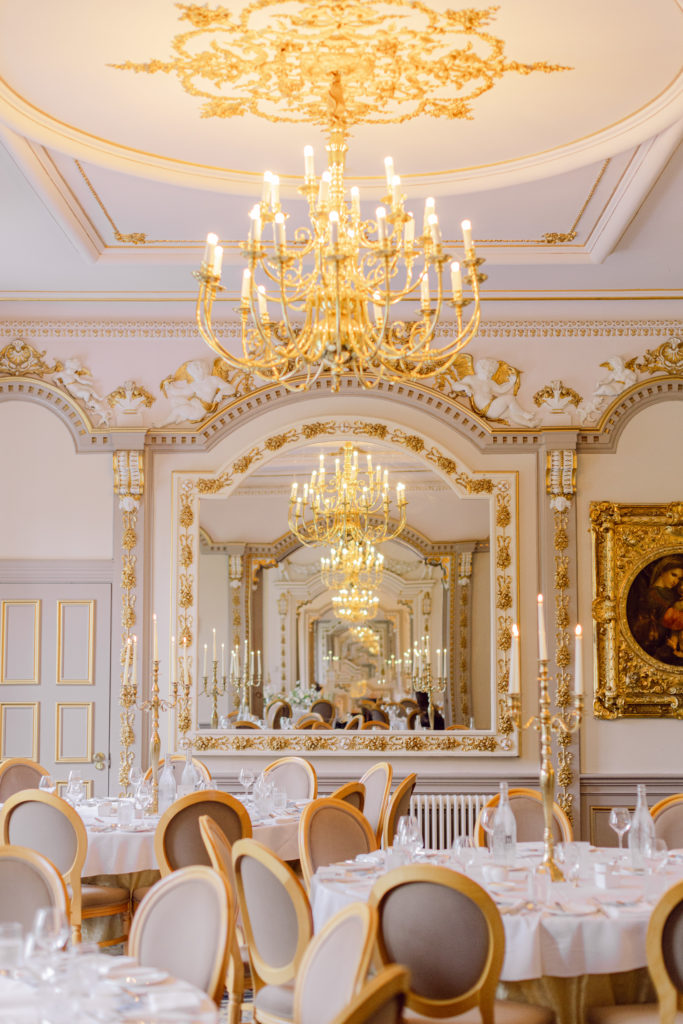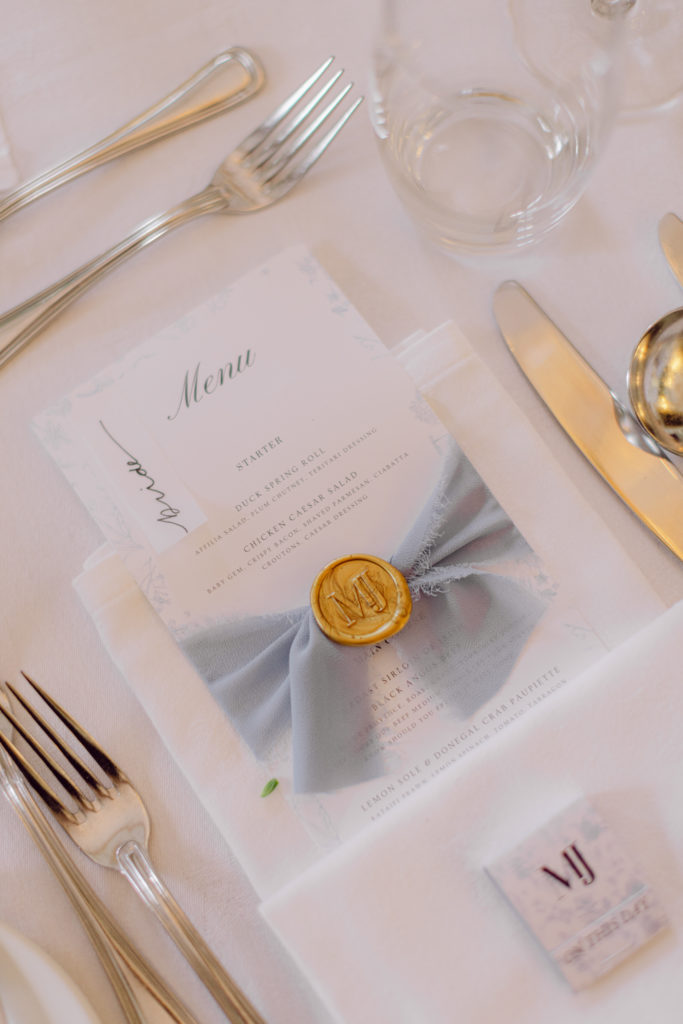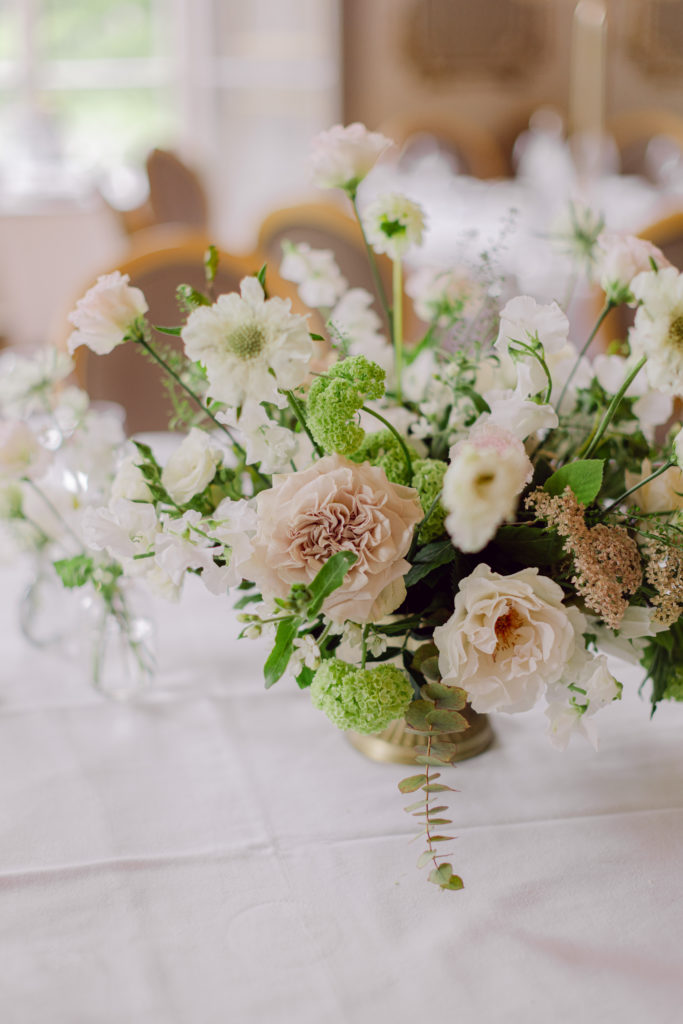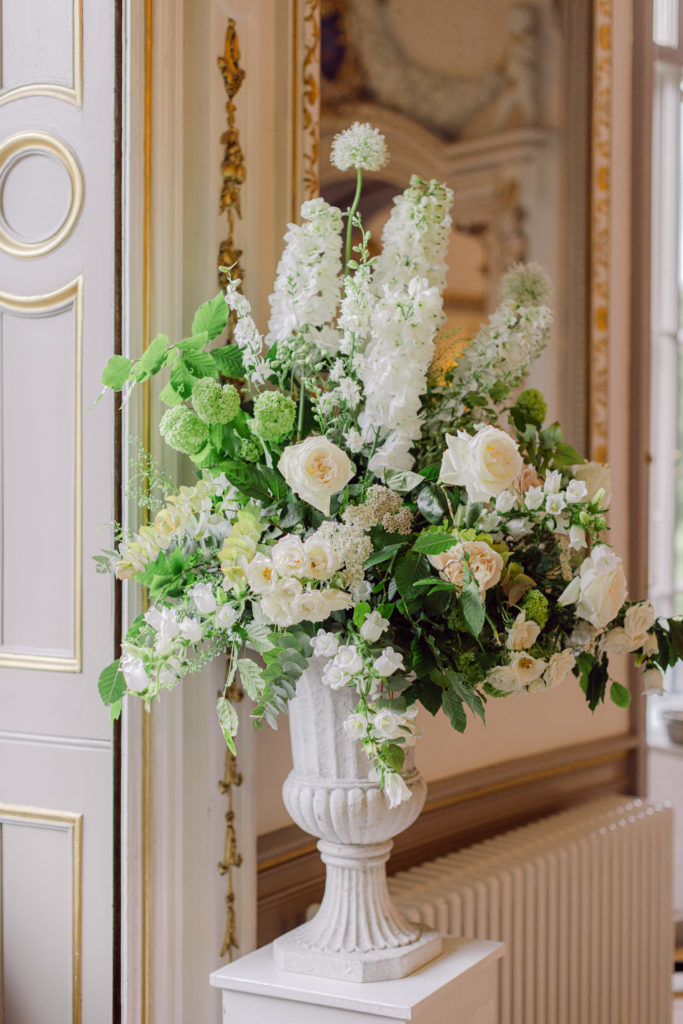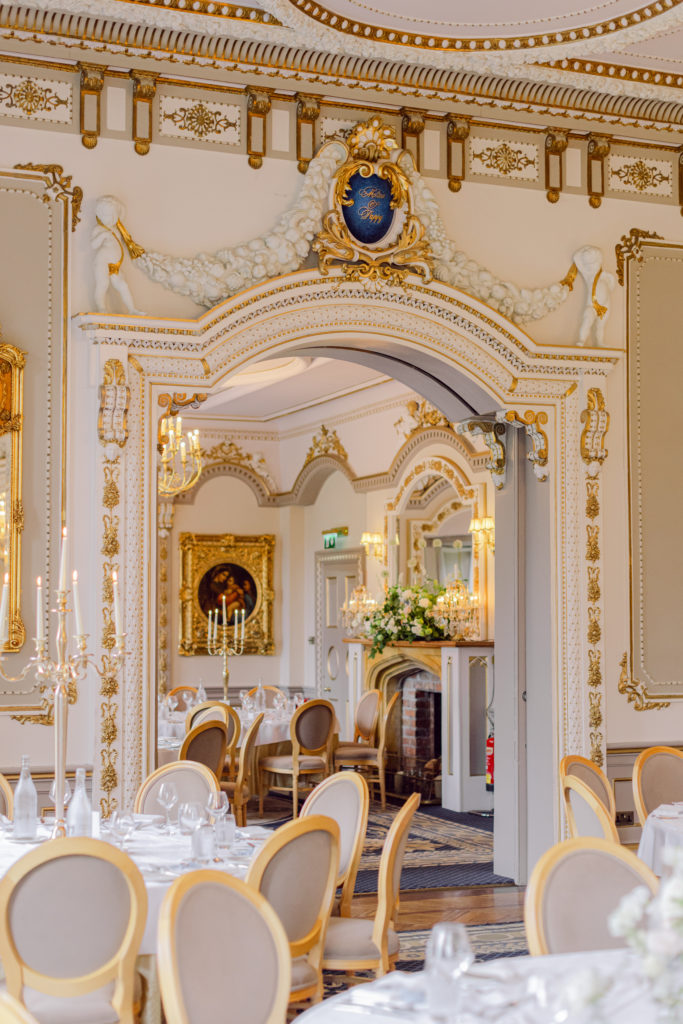 Madeline got to make the final decision on many of the vendors for the wedding, but when it came to the music, Josh was in charge. He is the DJ in their house and always picks the best tunes. If it were up to the bride they would have listened to Taylor Swift for 4 hours! The Mixtapes were incredible! "We worked together to craft a playlist of some 90s and early 2000s jams mixed with some more modern tunes. After their performance, we also had a DJ who came on to do a two-hour set." It was high energy and everyone danced the night away. Even Madeline's dad busted out a few moves!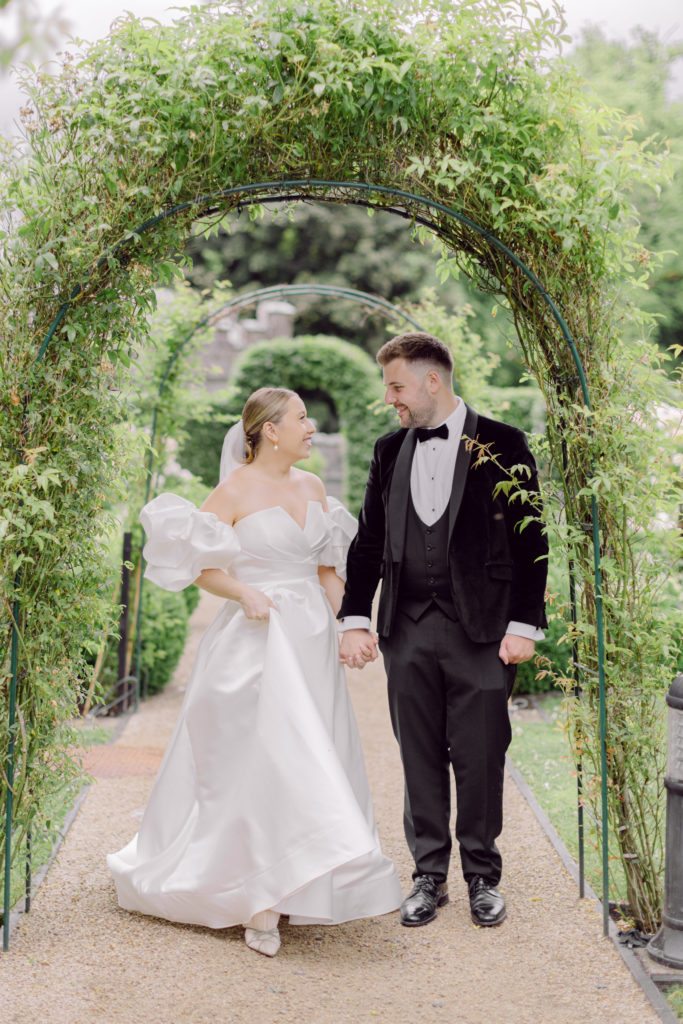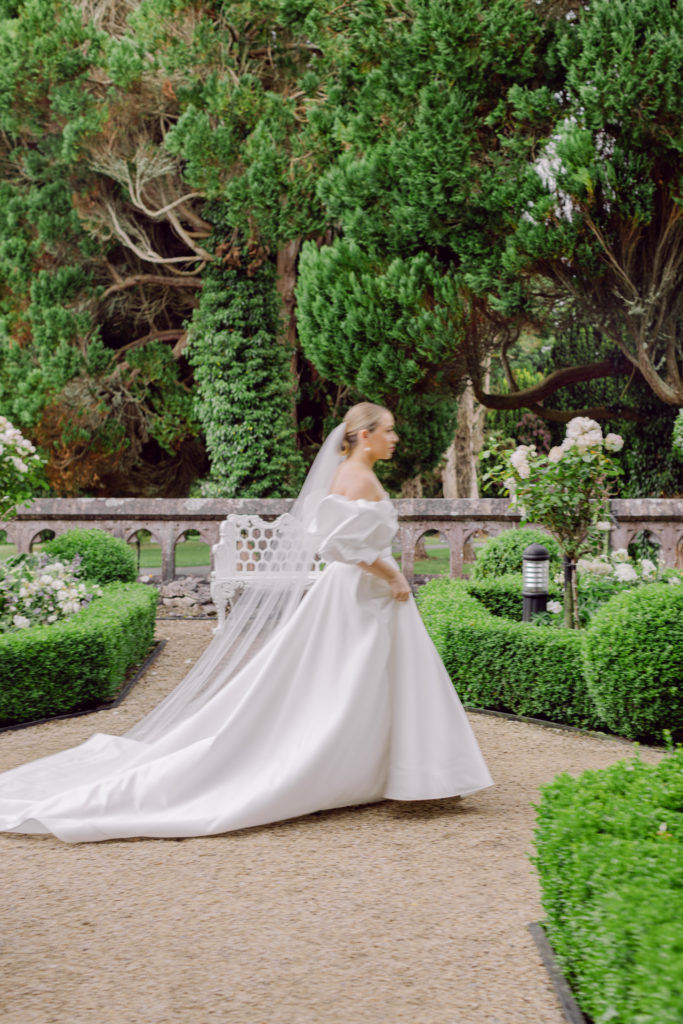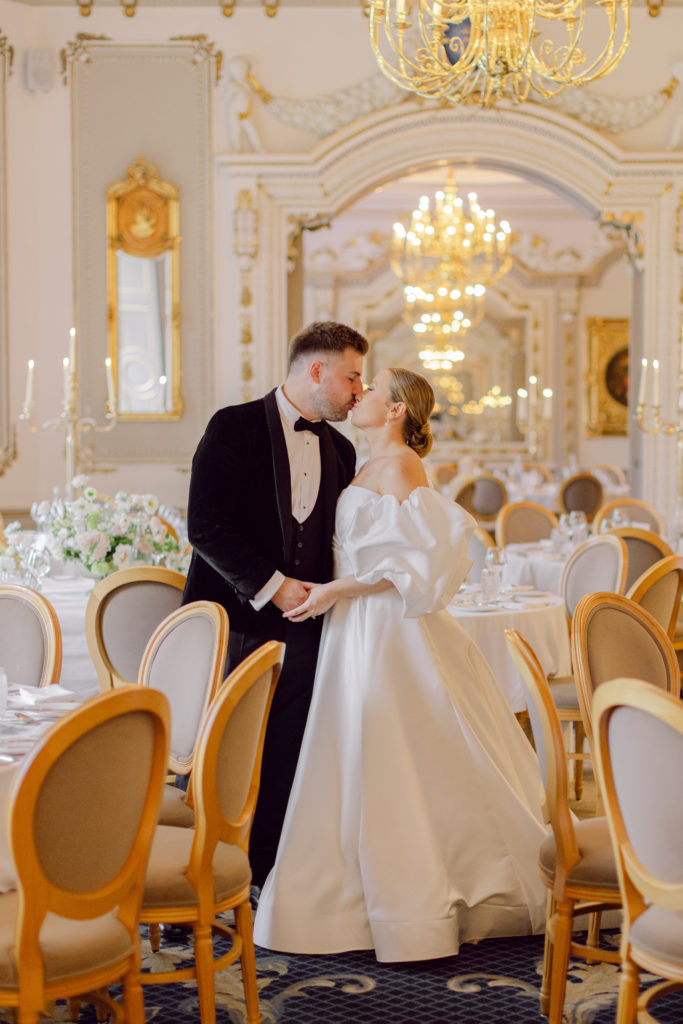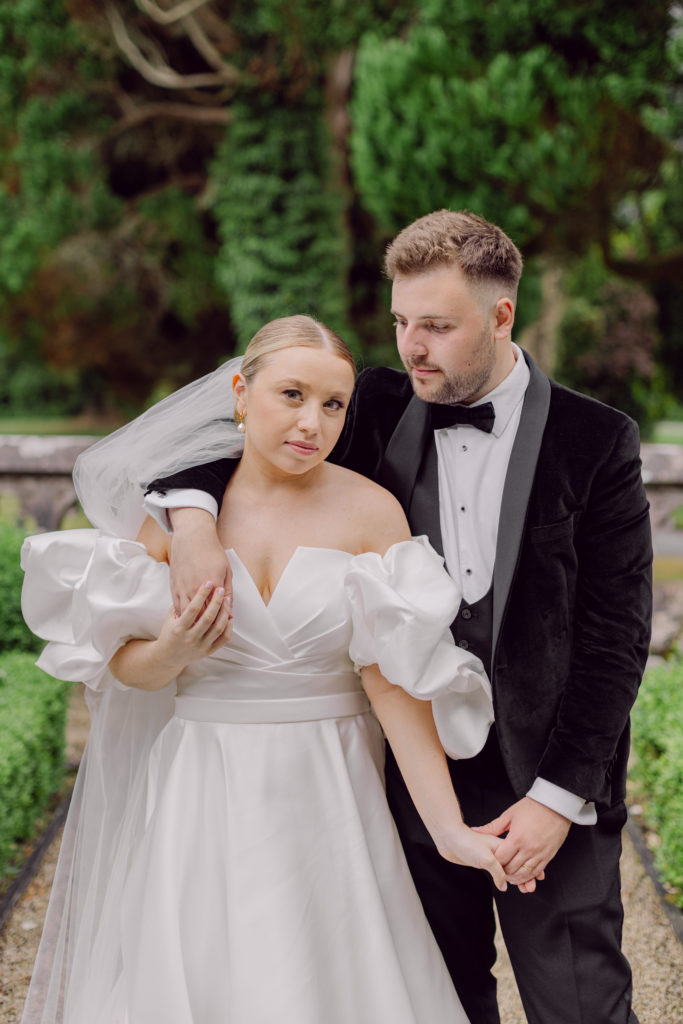 "I feel like there were a few best decisions that led to having the wedding of our dreams. The first was our venue choice. The team at Markree was amazing. They were so kind and accommodating, I also loved that we had the venue all to ourselves for the whole day. I really made it an intimate and special experience. I also loved that we could have all of the immediate family and bridal party stay under one roof in the castle and were able to enjoy a more intimate brunch there the next morning before we went our separate ways."
"I am so glad we chose to work with a coordinator. I am a very hands-on, creative person so I felt like I knew what I was doing to a point when it came to planning, however, as the first of my friends to get married, I felt like there were things I wasn't thinking of and questions I didn't know I should be asking to the right people. When we started working with Waterlily Weddings all of that stress and anxiety went away. Laura was on it from day one asking all of the right questions and helping us make the final arrangements with our vendors. Working with her gave me so much peace of mind the month leading up to the wedding and the day of I truly got to feel like a guest which was exactly what I had hoped for."
- Gráinne