Teacher and Yoga Instructor Kate Canavan married Financial Analyst Brian Kennedy in the sun-drenched Dubrovnik in Croatia last July. 
Photography: StudioDT
The Meeting
Brian and Kate had many mutual friends, both growing up in Dublin with similar interests. The couple ran into each other at a rugby match and started chatting after years of not seeing one another.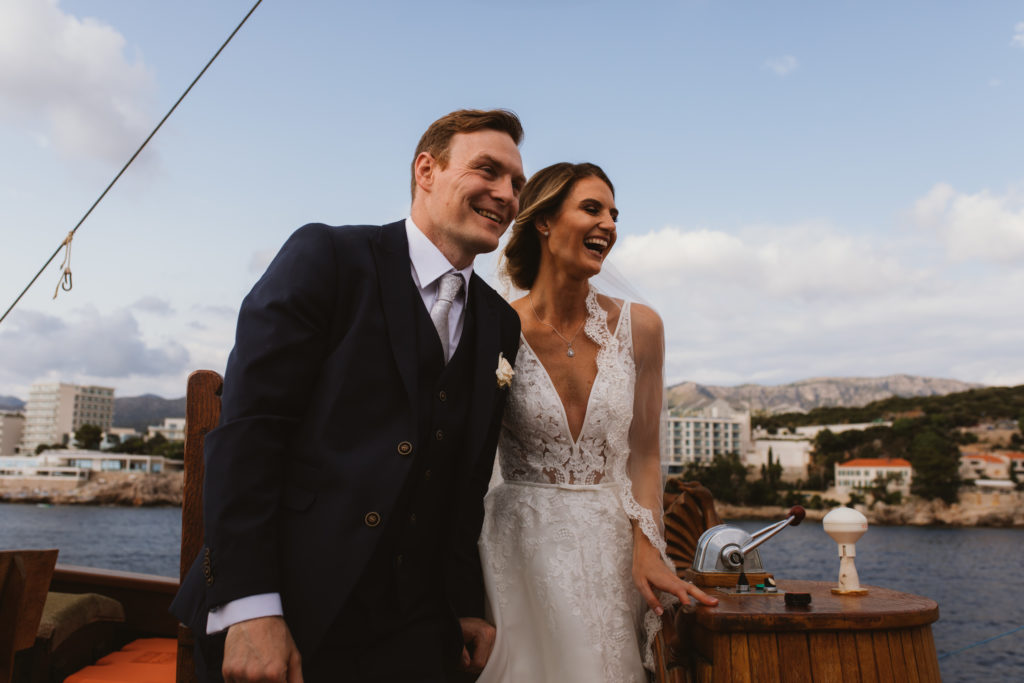 Weeks later, a good friend of mine was moving to New York and had organised going away drinks. Consequently, Brian was also out that night and we continued our chat, exchanged numbers and we haven't looked back since.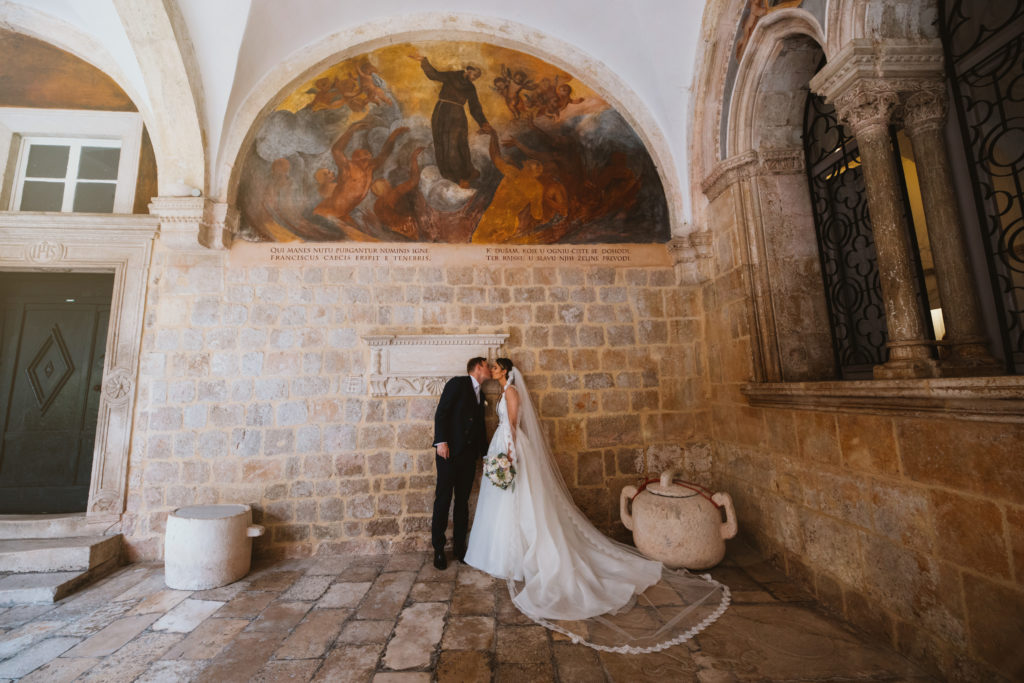 At that time, Kate was looking to move to London for work and thankfully Brian was happy enough to move to London with her. The couple spent several happy years there before returning to settle in Dublin.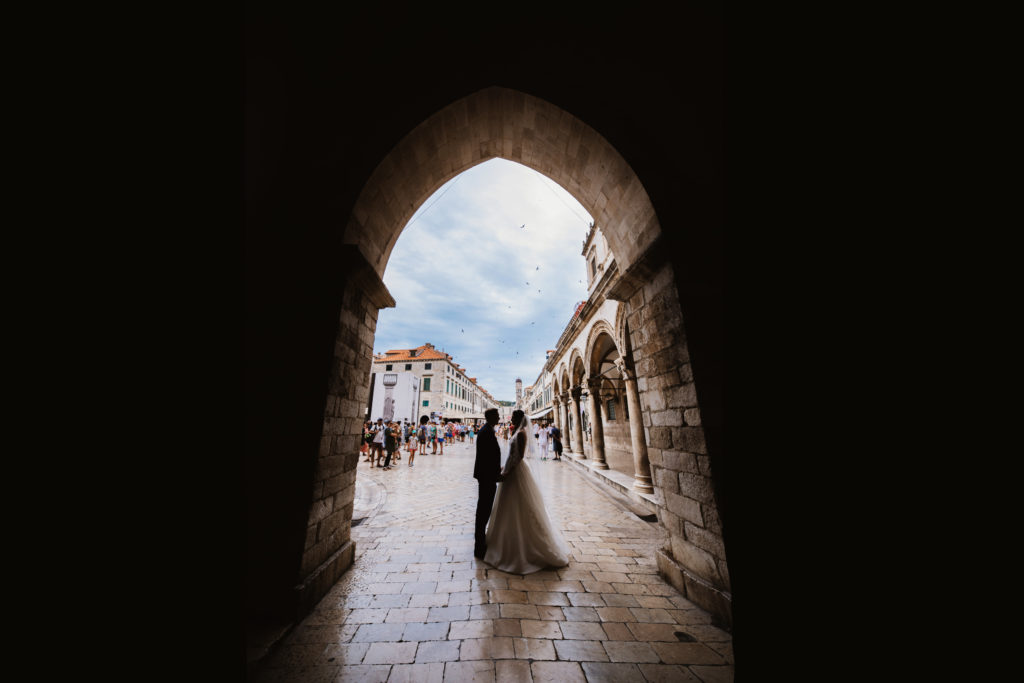 The Proposal
It was Kate's 30th birthday weekend and Brian had planned a trip to New York which is her favourite city, it holds a special place in Kate's heart. After her Dad passed away 20 years ago, Kate's family would spend every Christmas in Fitzpatricks Hotel, a home away from home. She dragged Brian to a 6:30am yoga class the morning of her birthday - to which he obviously couldn't say no to. The soon to be newlyweds had no plans for the day, or so Kate thought, other than to potter around the city. They went for brunch down in SoHo and then came back to Central Park where Kate and Brian started to wander around. They took the usual tourist photos and Kate thought nothing of the day until Brian asked a fellow tourist to take a photo of the two.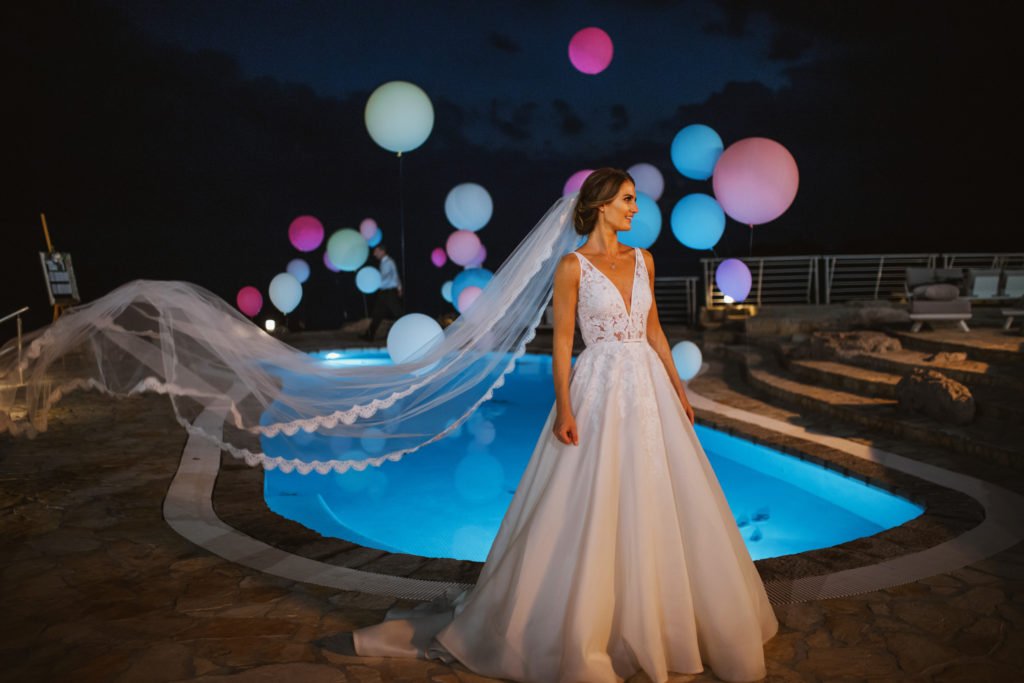 With the backdrop of the city, Brian got down on one knee and proposed. I don't think I ever actually gave him an answer as I was so shocked, and I am certain his knee was getting the better of him even with the morning Yoga.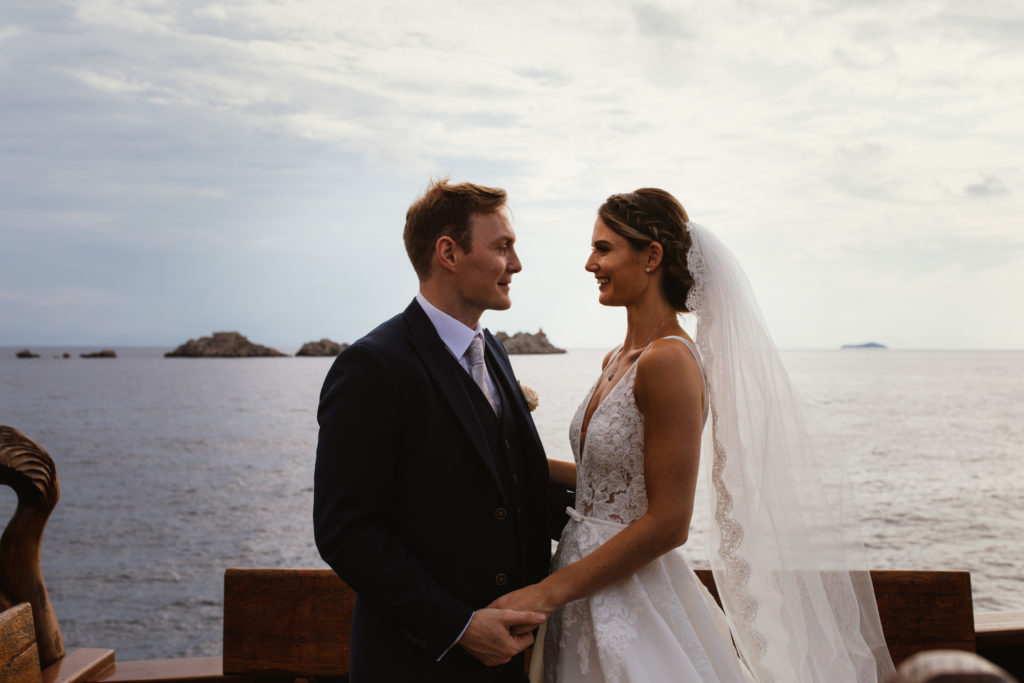 In a daze Brian and Kate made their way to the Boathouse, another favourite of Kate's, to celebrate and then later to the bar at the top of The Standard for further celebrations, which Brian had all pre-organised. The couple kept the news to themselves for a few days and savoured the time together before sharing with friends.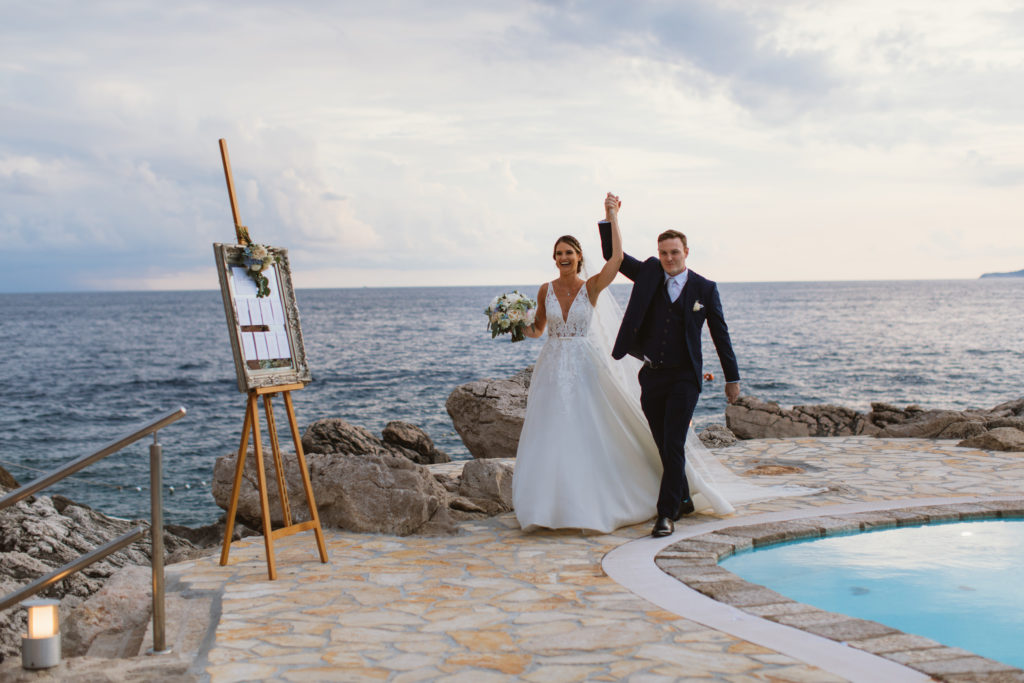 The Dress
The bride always envisioned the dress she wanted. Kate adored Pronovias dresses with their gorgeous lace and figure-hugging silhouettes, but when it came to trying them on, it didn't work out that way. The style of dress she had always loved just didn't suit or flatter her in any way. Kate was totally disheartened by this and thrown by what to go for. All of her sisters had bought their dresses from the superb Kathy De Stafford and as crunch time approached, Kate still hadn't fallen in love with a dress yet.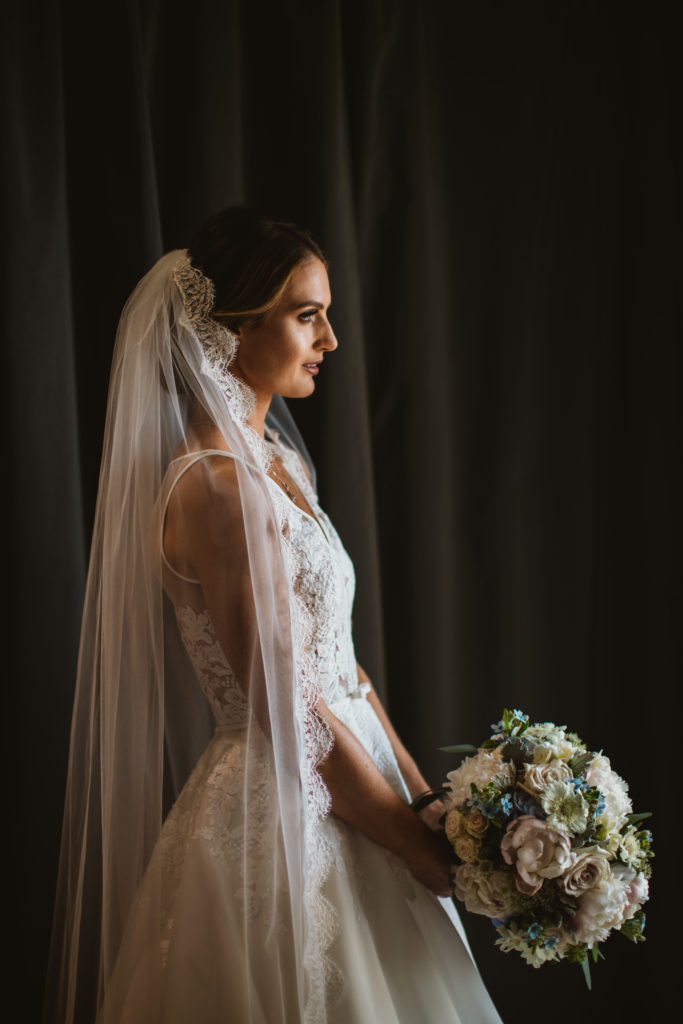 I went into Kathy for yet another trunk show to no avail, until Jane who works in De Stafford Bridal suggested I try on a dress that I would never have considered. Reluctantly, and after much convincing, I tried it on and immediately felt comfortable and relaxed.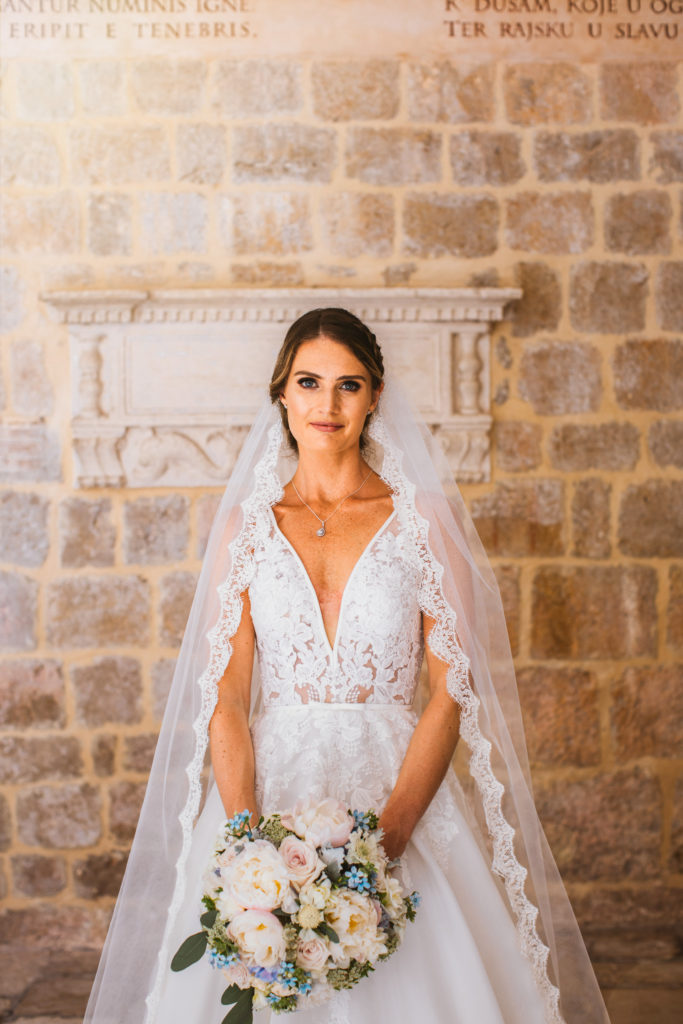 The dress was flattering with beautiful flower details on the corset, a low neckline and a long train. It was also very light which was important as it was going to be so warm. On one of Kate's final fittings, Kathy suggested that she try a Spanish lace veil on instead of a head piece. The veil brought the whole look together - it was traditional, timeless and elegant, everything Kate had wished for.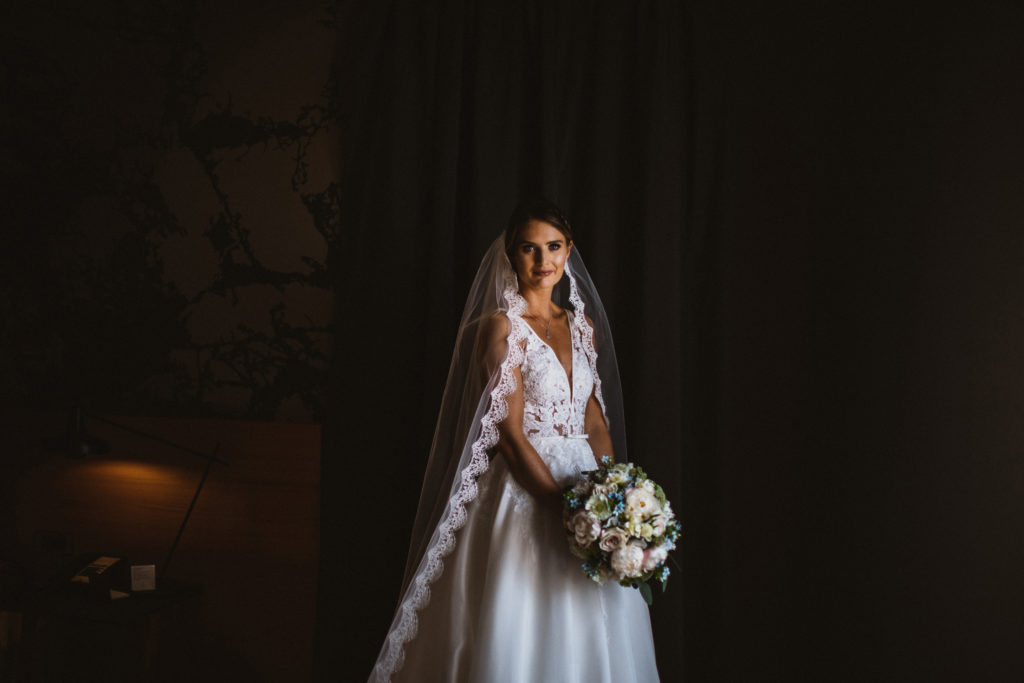 The Venue
Brian and Kate travelled to Dubrovnik the weekend after they got engaged to look at wedding venues. The couple had holidayed there together a few years previously and had the most memorable experience.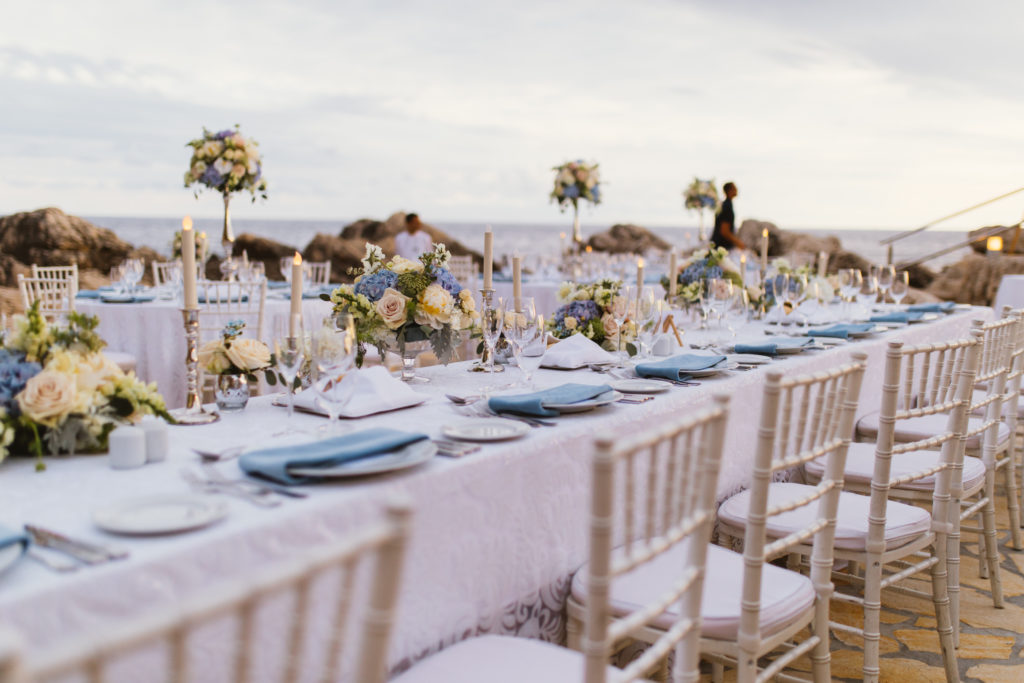 It's an incredibly beautiful city - like walking back in time and indescribable until you see it first-hand. I knew I wanted something different for my wedding and one in the sun.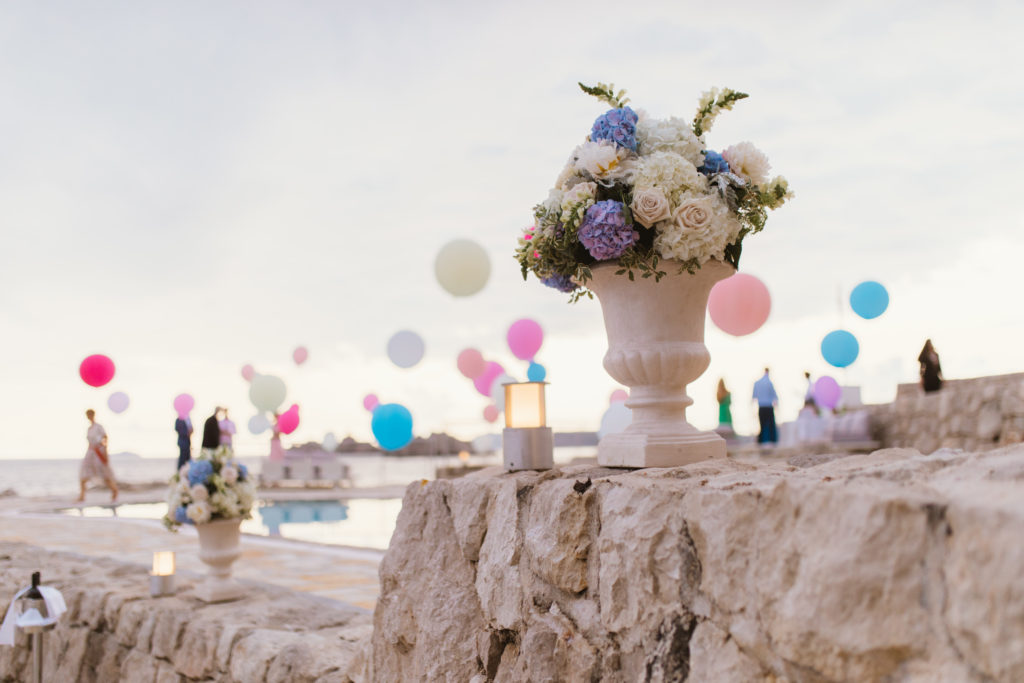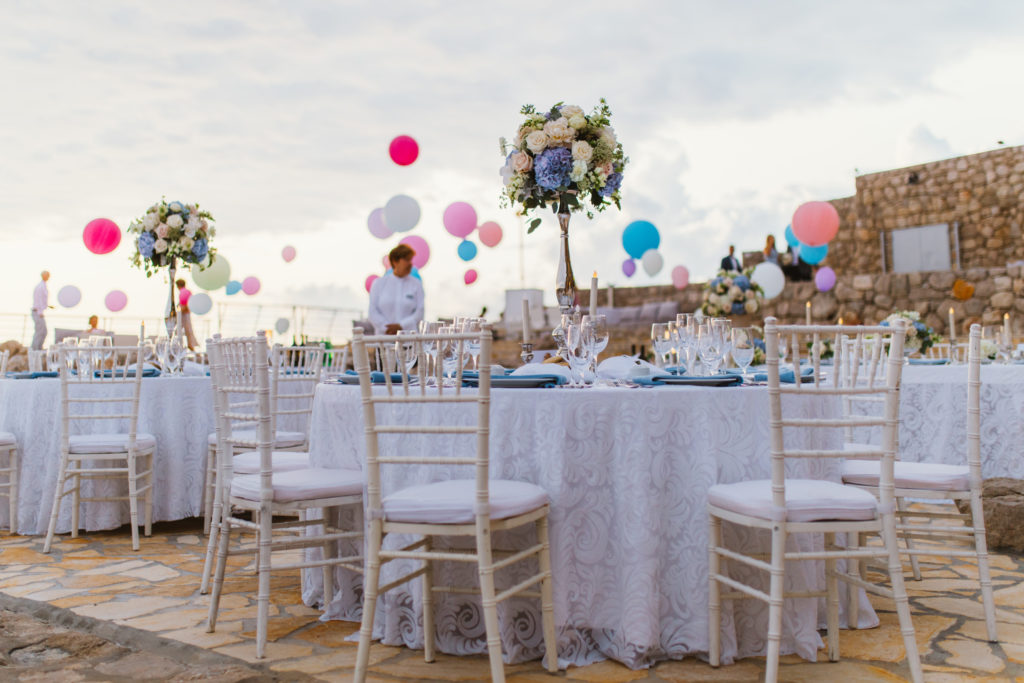 The church in the old town was picturesque and quaint with vibrant details throughout, Kate was also excited to walk through the old town to the church on the day. When we saw the Palace Hotel Dubrovnik, I just knew it was the venue for us. We would be sitting outside, beside the sea with the natural backdrop of the cliffs. It was breath-taking. The sound of the sea crashing against the rocks and watching the sunset was idyllic.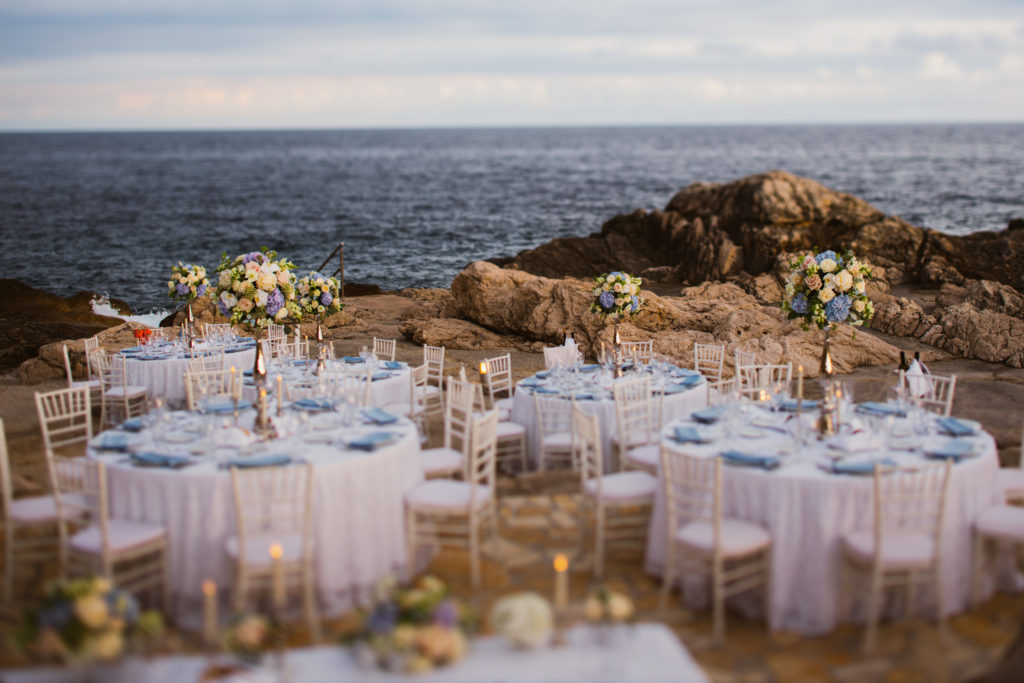 The Entertainment
The music for the church was important to the couple to create a peaceful and pleasant atmosphere for the ceremony.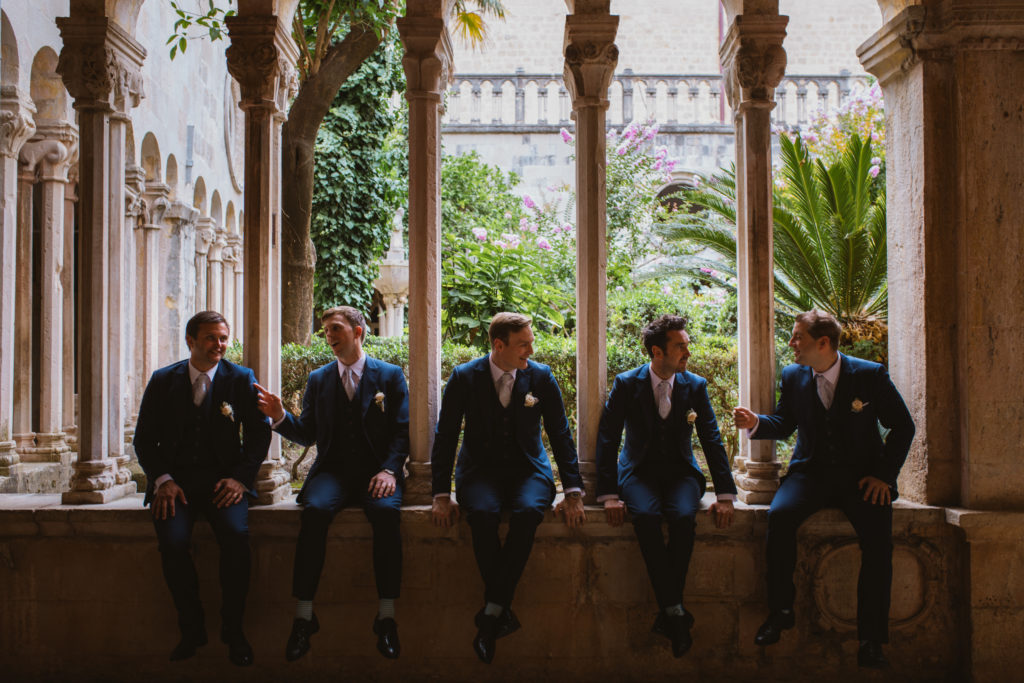 We had a violinist and harpist who played the most beautiful classical and traditional songs from Bach to Mozart throughout the service.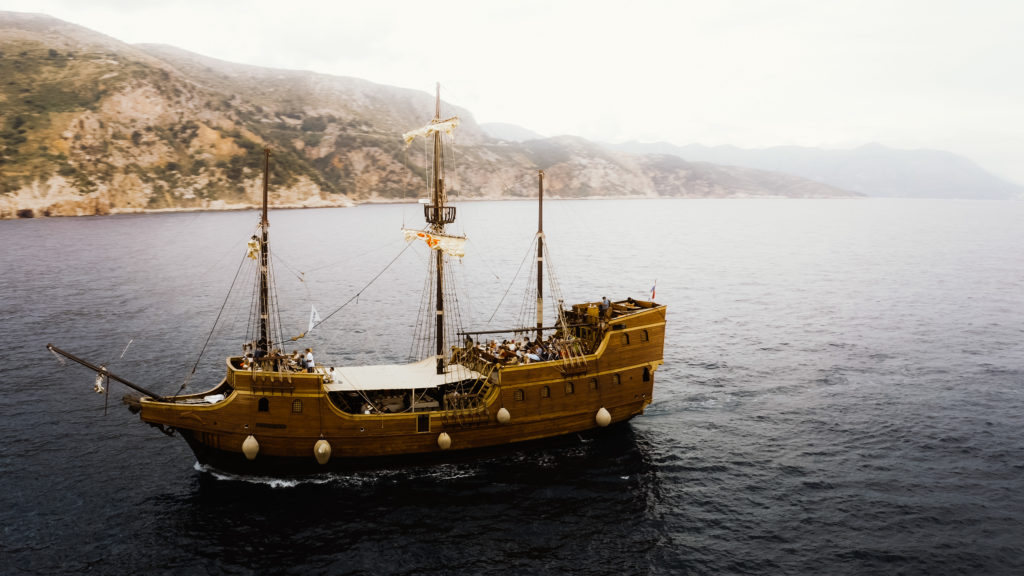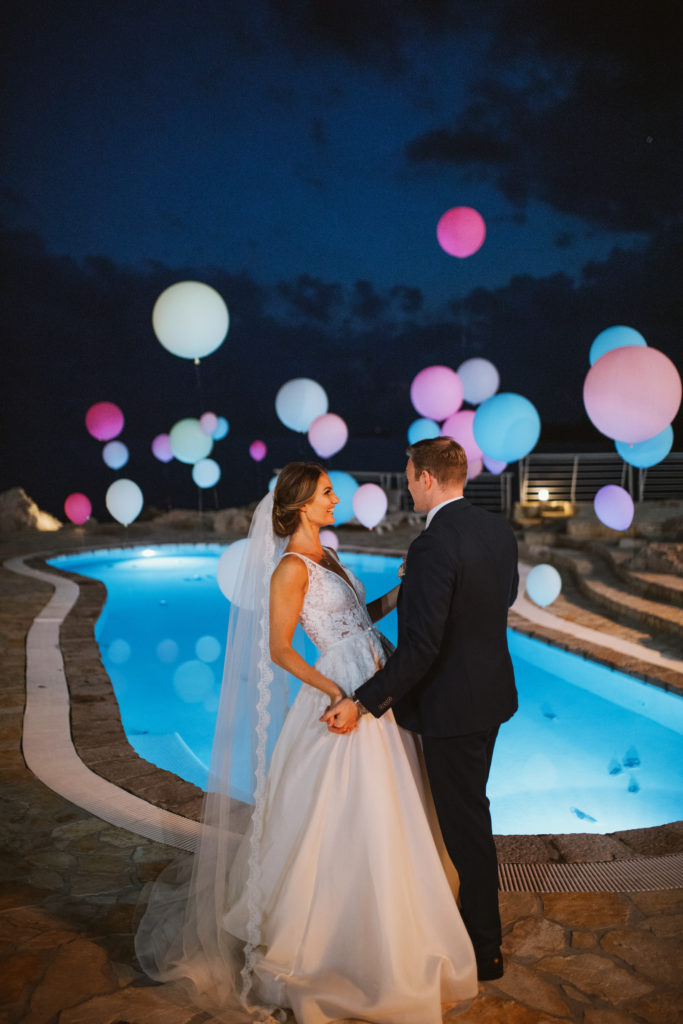 Kate and Brian wanted the band to play during the meal as well as afterwards, the couple loves Motown and all the 80's hits which were performed brilliantly before the newlyweds ventured on to the nightclub where the DJ played all their favourites.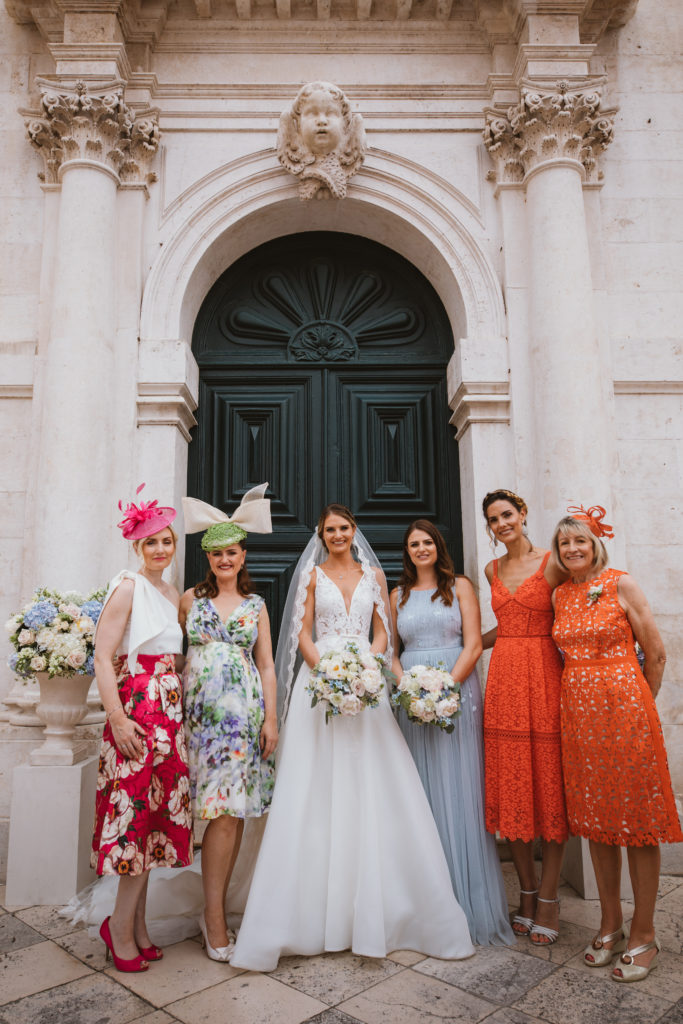 The Beauty Prep
Kate has been visiting dermatologist Dr. Brigid O' Connell for years and she is brilliant, she put the bride on a very strict skincare regime cutting out nearly all products with unnecessary added ingredients and bringing it back to basics. Kate has also had regular hydra facials in the Beacon Face and Dermatology in Sandyford which gave her skin a deep cleanse and clean, leaving her with a beautiful glow for the big day.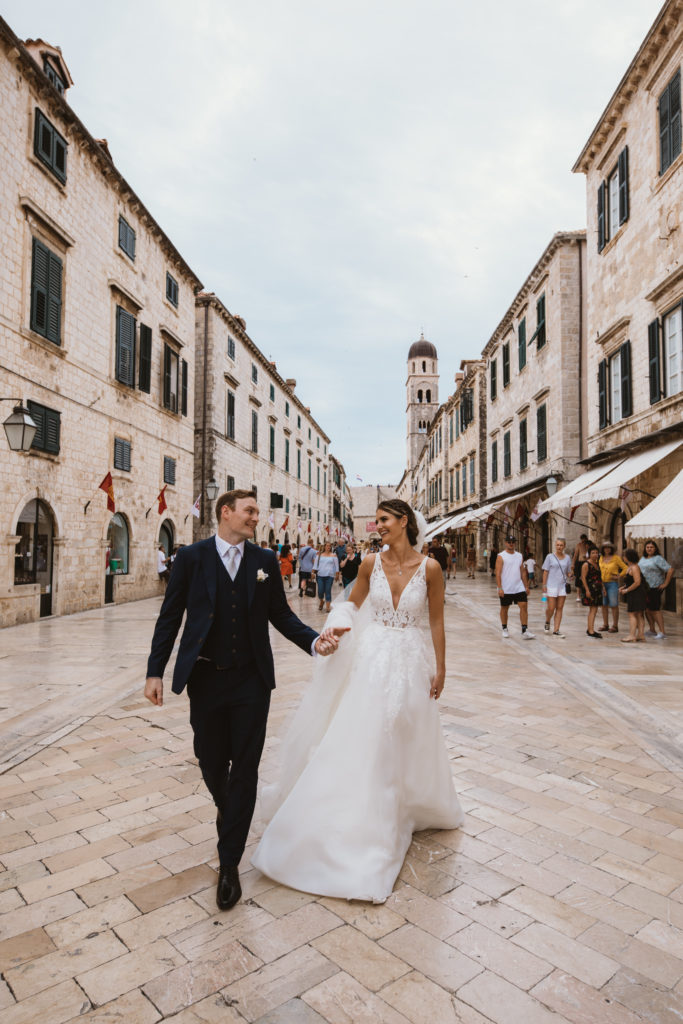 Regarding my diet, I am a yoga instructor and health and fitness coach, so I knew myself that I needed to eat clean and train more. I was aiming at weights training at least five times a week, combined with yoga and the all-important eating healthy and drinking loads of water.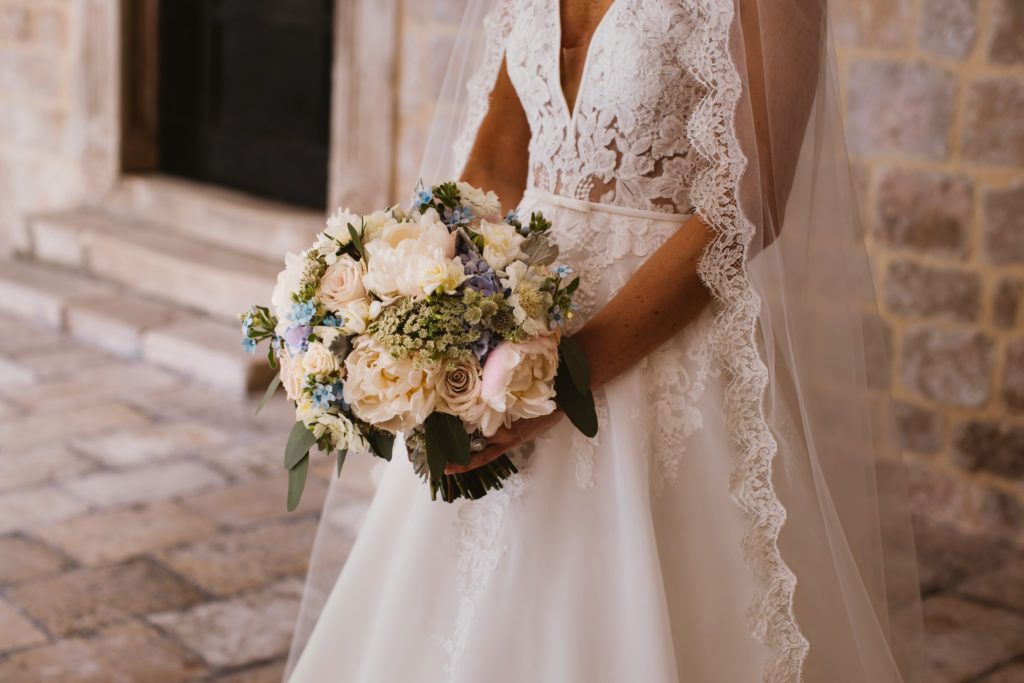 Kate loves Jo Malone and adores their colognes; She used Blackberry & Bay on the day of the wedding. It was just subtle enough and not overpowering so it worked well with the sunshine. It was fresh and light which was ideal.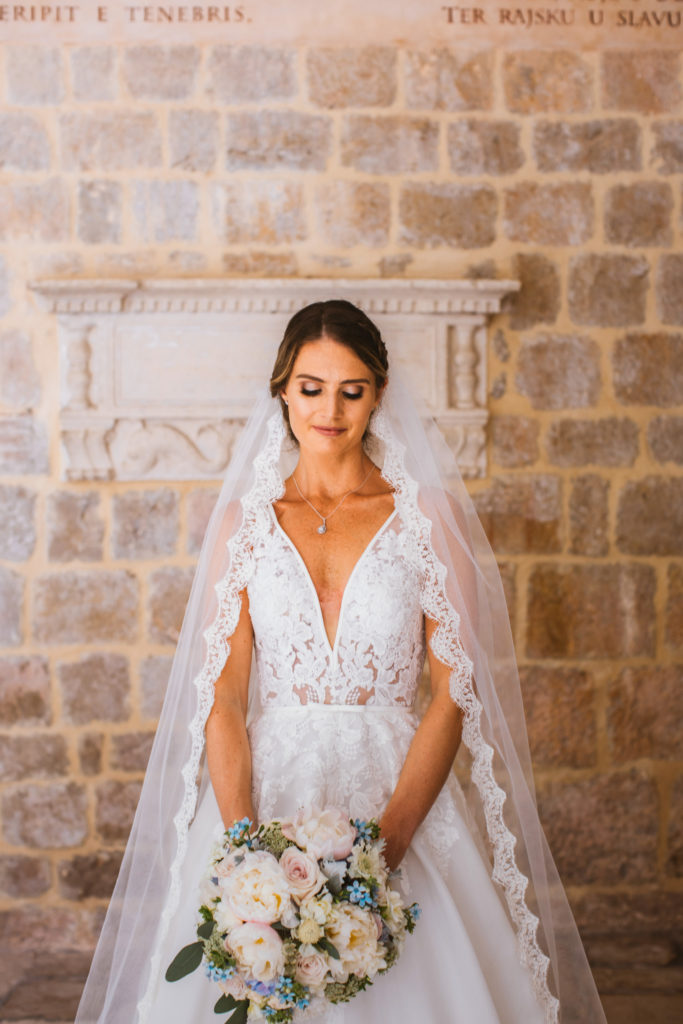 The Bridesmaids
Kate had four bridesmaids and was extremely lucky to have friends that would travel to be by her side, Carol travelled from Australia, Vicky from Dubai and Rebecca from London.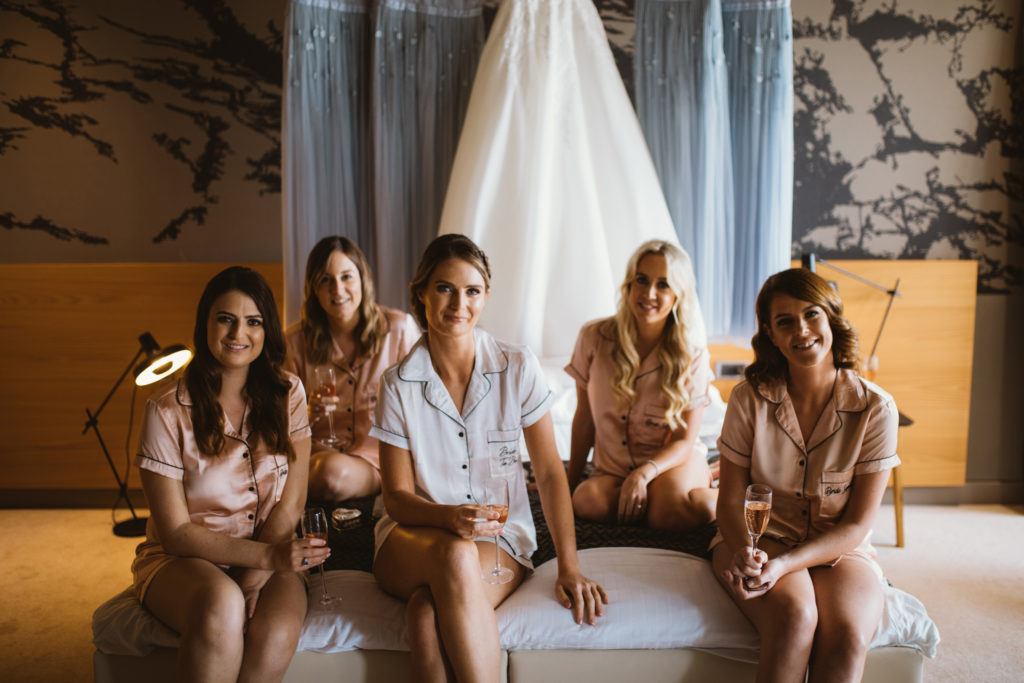 My maid of honour was my sister Grace who is closest in age to me and whom I lived in London with for years. I was extremely privileged to have stood as her maid of honour six weeks beforehand on her stunning wedding day.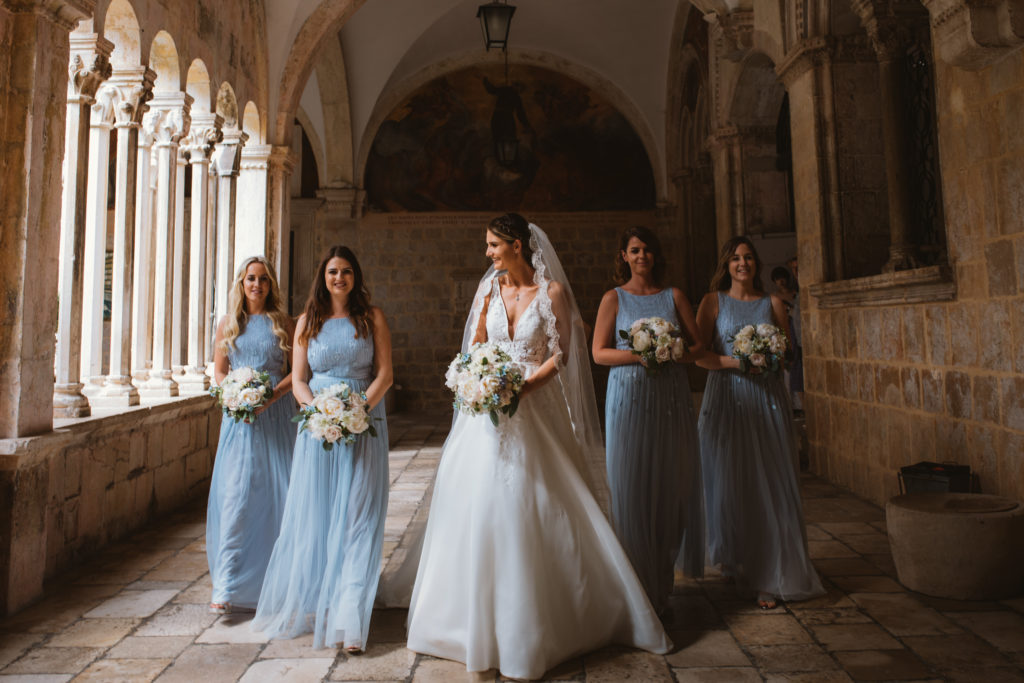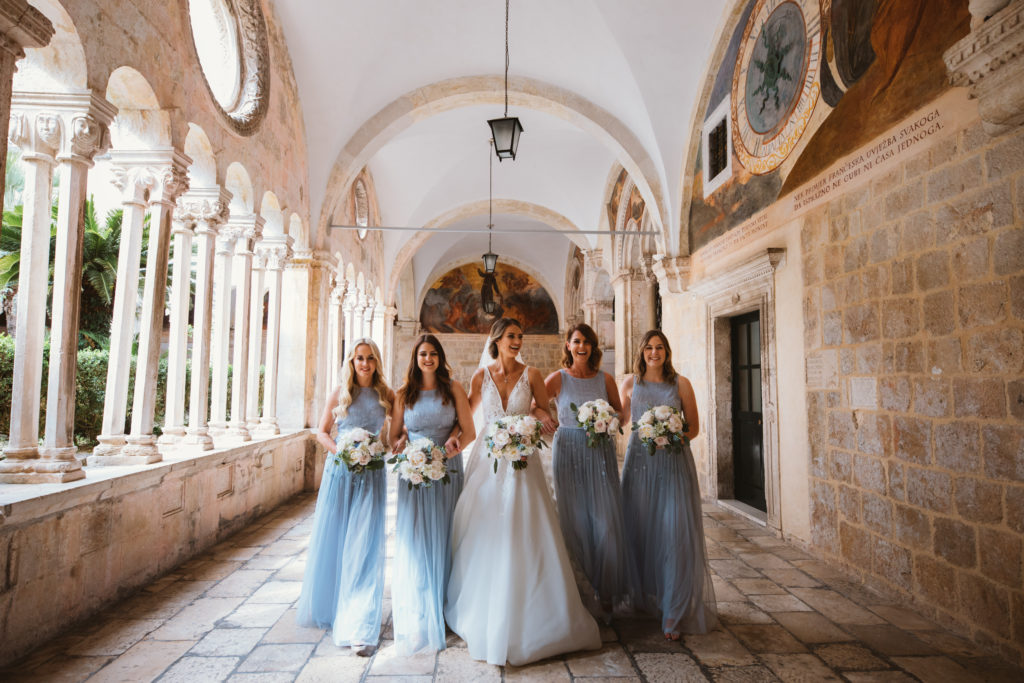 They were all such a calm, soothing presence the morning of the wedding and filled the room with laughter and happiness, the bride-to-be couldn't have asked for anything more.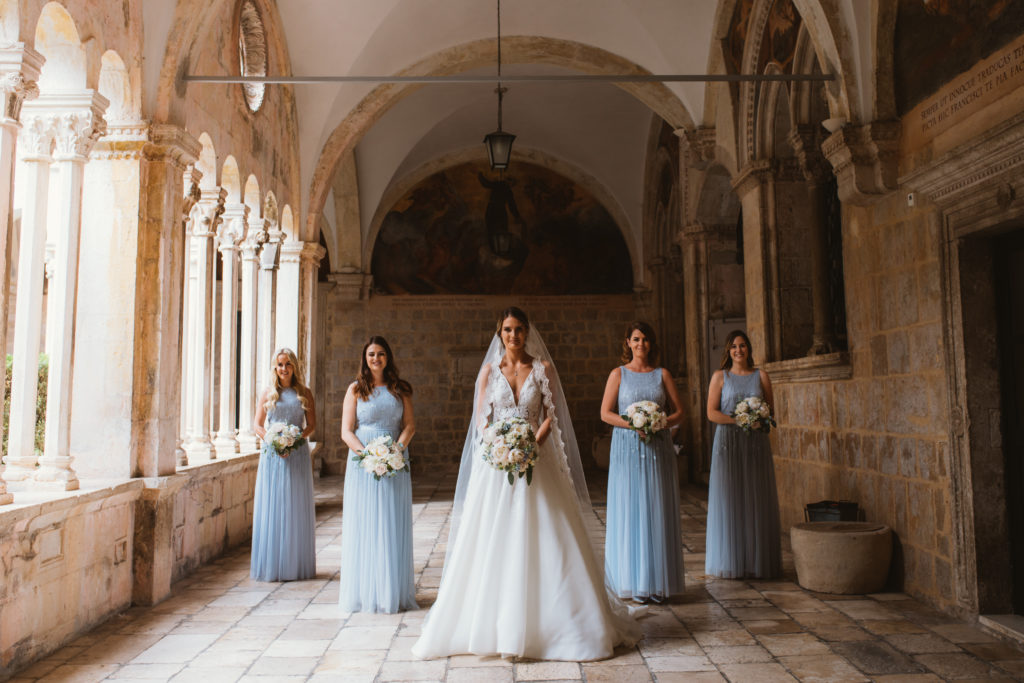 The Best Decision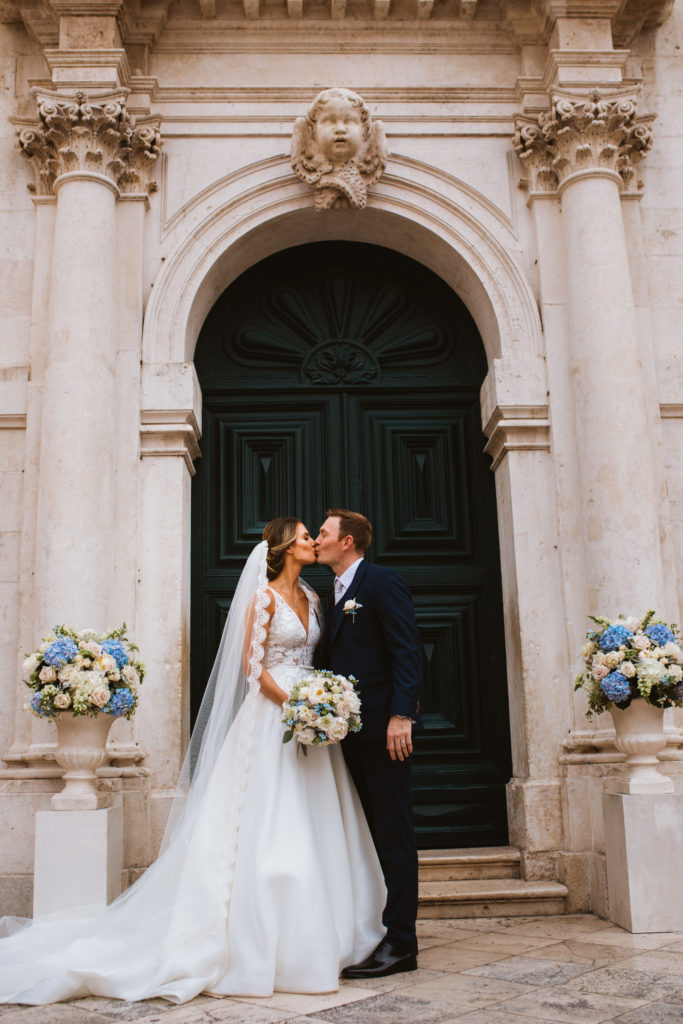 For the day of the wedding, I think it was deciding to have our champagne reception on the boat. We had considered having it in the old town across from the church, but the changing scenery and spectacular coastline was unforgettable on the boat. We also didn't tell our guests where we would be going after the ceremony, so it was a surprise and a new experience for everyone. An away wedding was by far the best decision we made, people who we really wanted there travelled and made the effort, and we got to spend quality time with our friends and family. A lot of our wedding party also stayed on for the week after where we moved onto the island of Hvar and continued our celebrations. 
The Worst Decision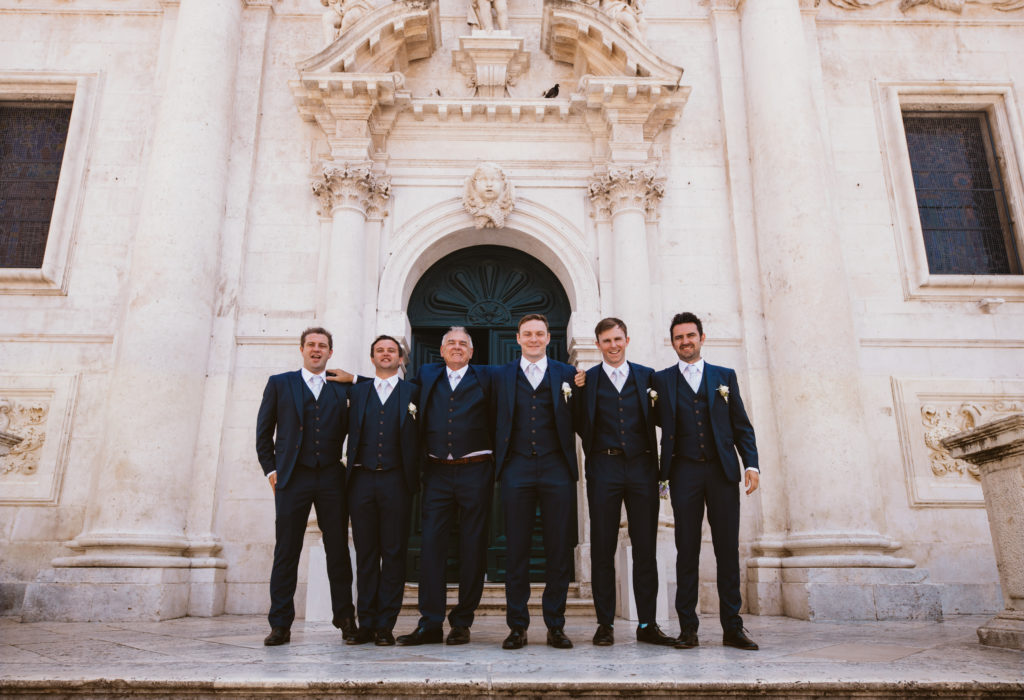 Going to my sister's house for dinner on the Friday before our early flight out to Dubrovnik the next morning.  We had a brilliant evening, but we hadn't fully finished packing and to make matters worse, I realised once we got home that I had left my phone in her house. I had to drive halfway across the city to retrieve it, then come home to pack into the wee hours. Our taxi never showed up that morning, I was frantic and rang my brother-in-law who kindly dropped us to the airport. Once we had checked in and were somewhat certain we would make our flight, the realisation soon kicked in that we had forgotten Brian's and two of the groomsman's suits, along with my dress for the second day. Thankfully, our parents had keys and were travelling over later in the week and could bring the items with them. Not the most relaxing start to our wedding week but totally self-inflicted.