Sharing a love for all things floral, A-list florist and owner of Joeanna Caffrey Flowers, Joeanna exchanged vows with her beau Paul Harvey, Co-Owner of Windyridge Garden Centre & Nurseries in a petal-packed reception at Virginia Park Lodge.
Photography: Mark & Fiona Fennel, The Fennells Photography & Film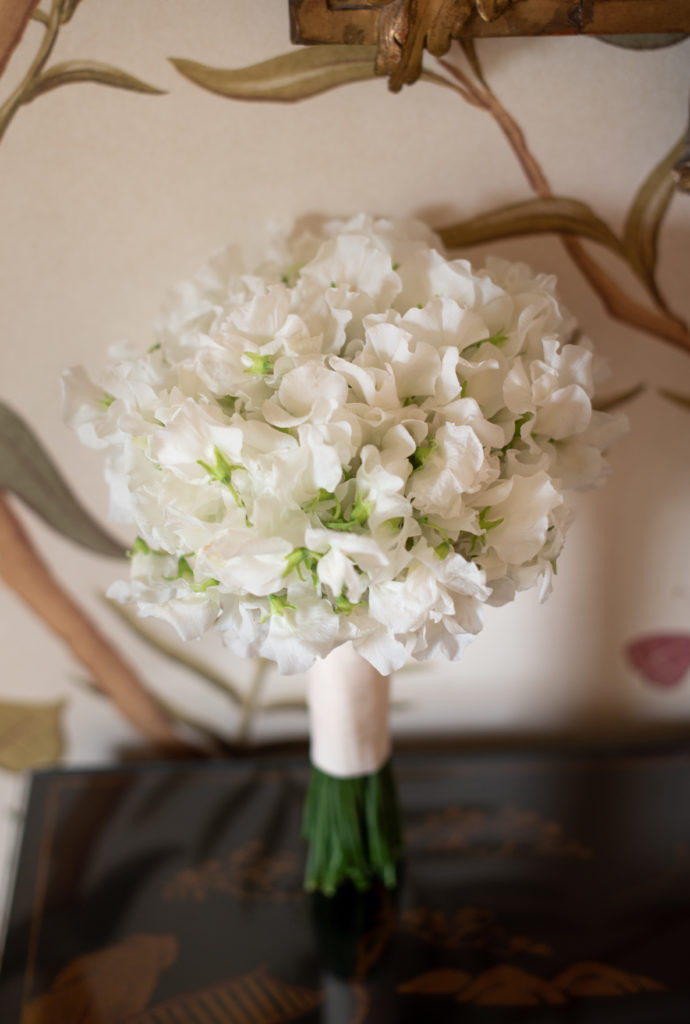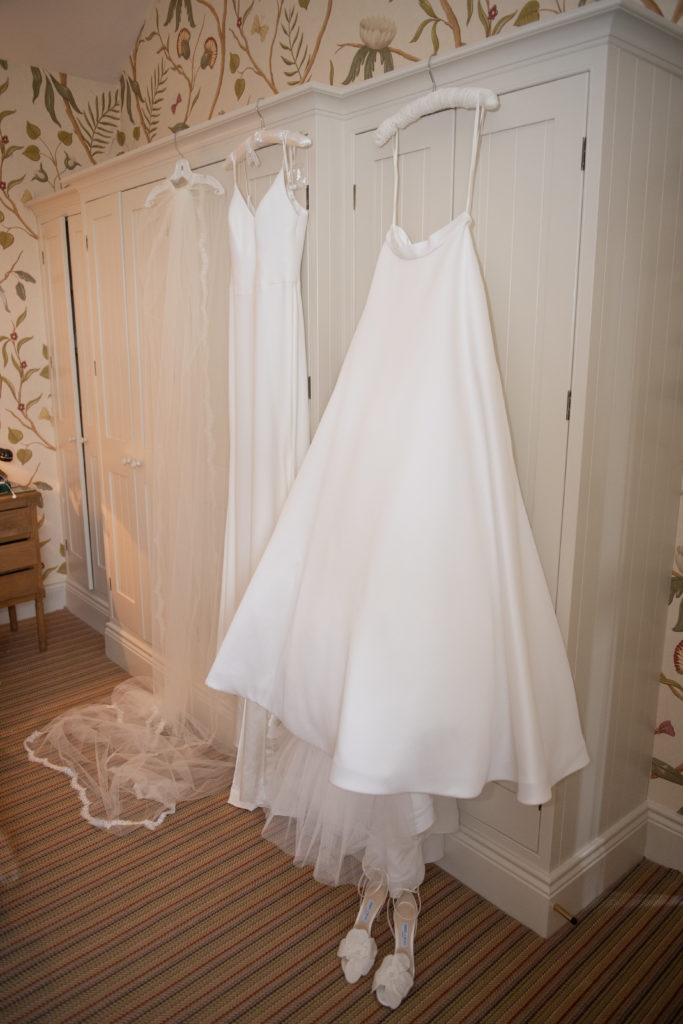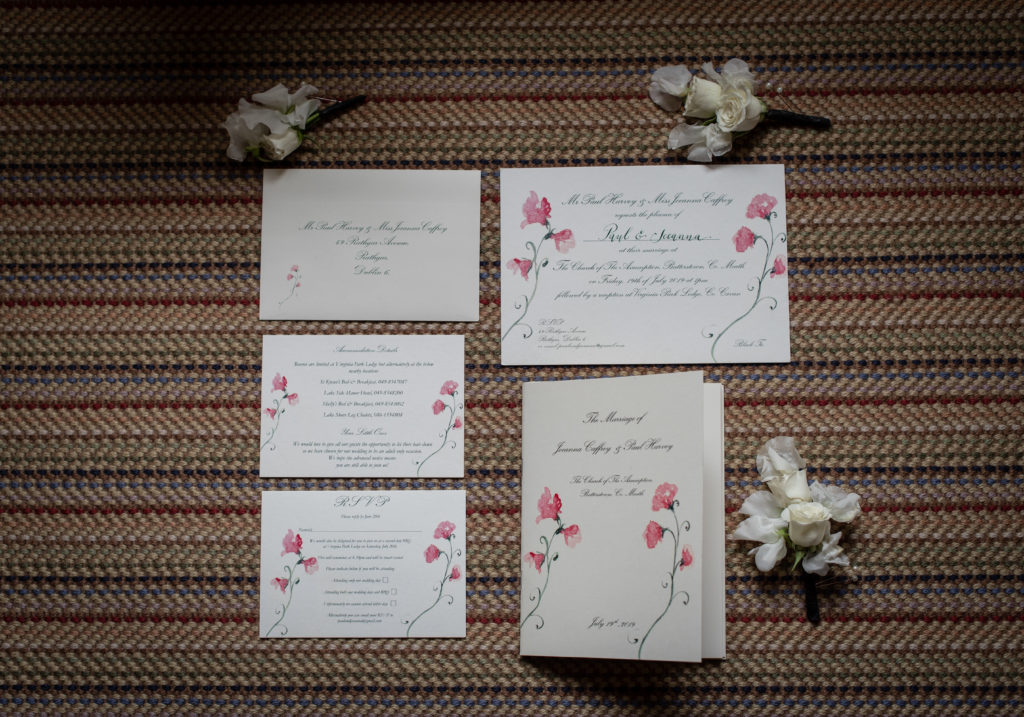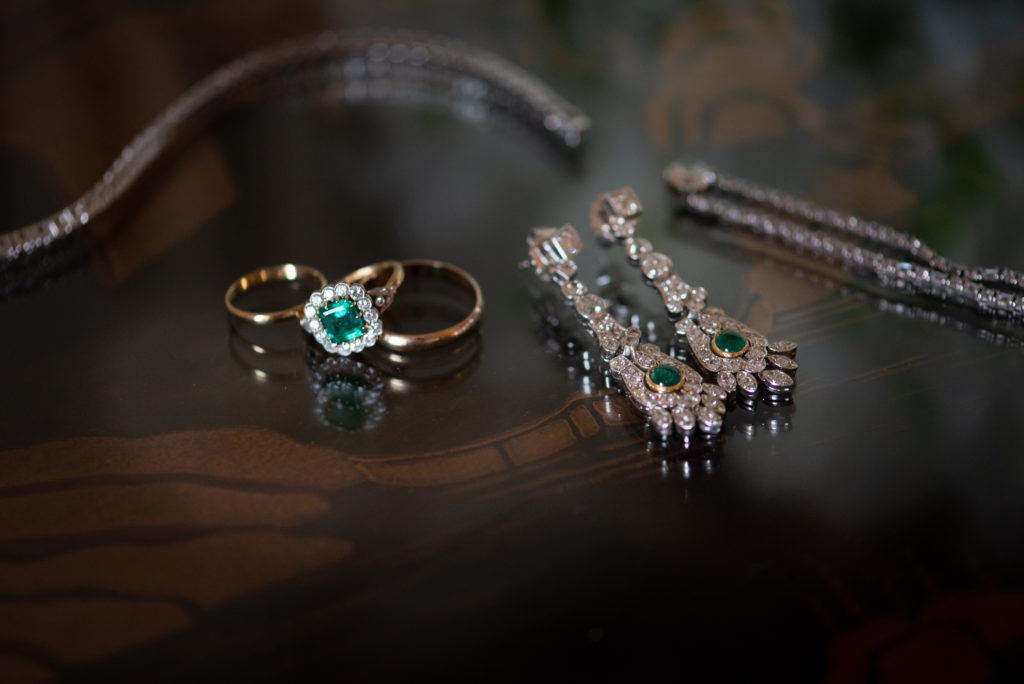 When a Gardener meets a Florist
Paul and Joeanna met five years ago, and the connection was instant, they also had their livelihoods in common, she couldn't believe it when he told her he owned a garden centre with Joeanna being a florist! The couple dated for a few months, but it was not until two years ago when they finally got together. They bumped into each other on a night out in town in September 2017 and have never been apart since.  The rest is history as they say.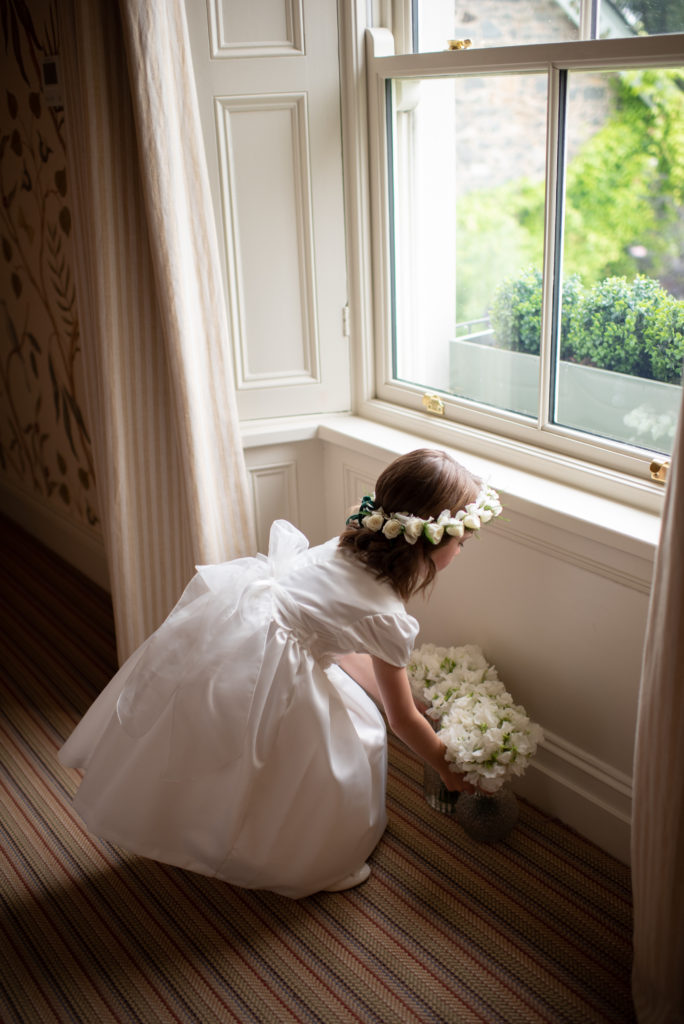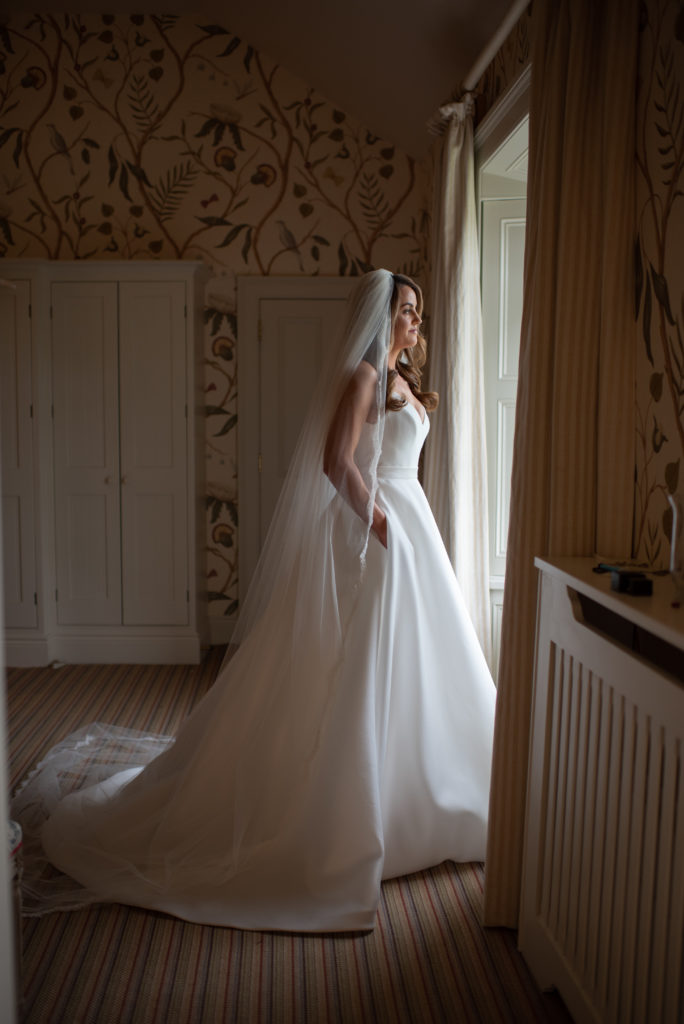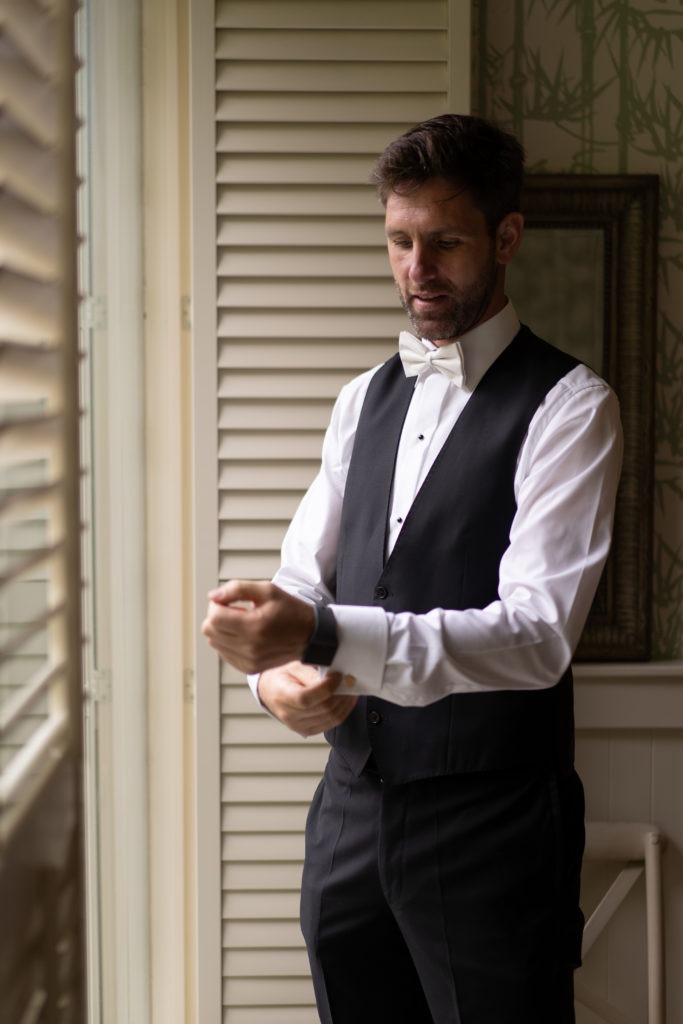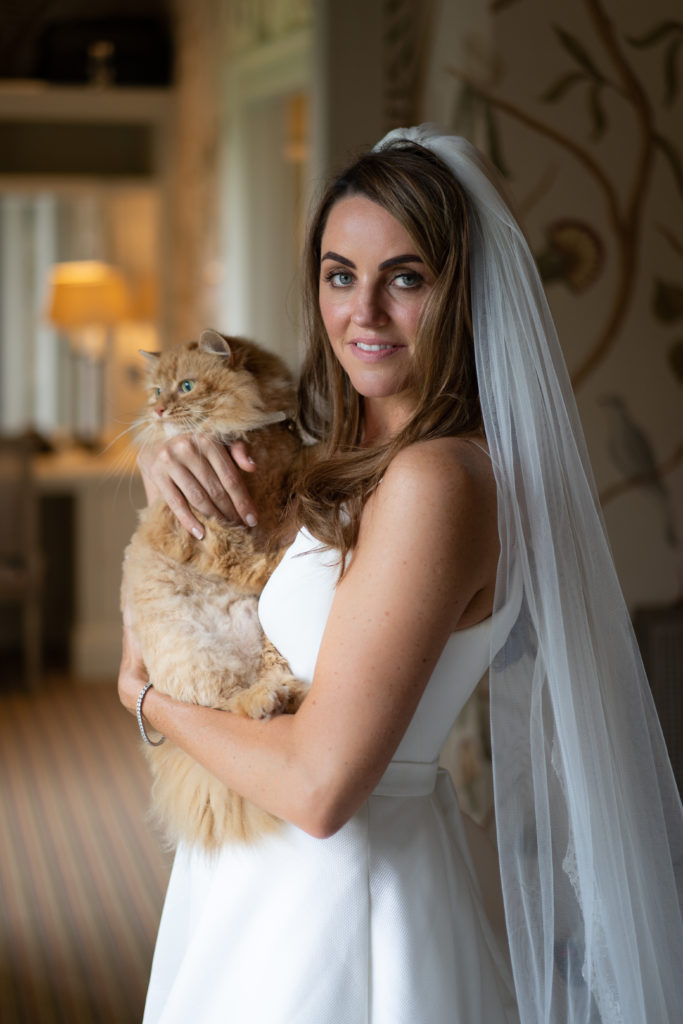 The Proposal
It was January 25th, this year (2019), Paul and Joeanna had just arrived back from an amazing trip to South America where they travelled the coast of Columbia together. The couple was getting ready to go to Paul's Mum's for dinner and Joeanna stumbled into the sitting room of their house where she was greeted by 100's of lit candles and flowers with Paul in the middle of them. He started to read out a list of all the reasons why he wanted to marry her.
"I was of course on the floor with tears of happiness, he then got down on one knee and asked me to be his wife."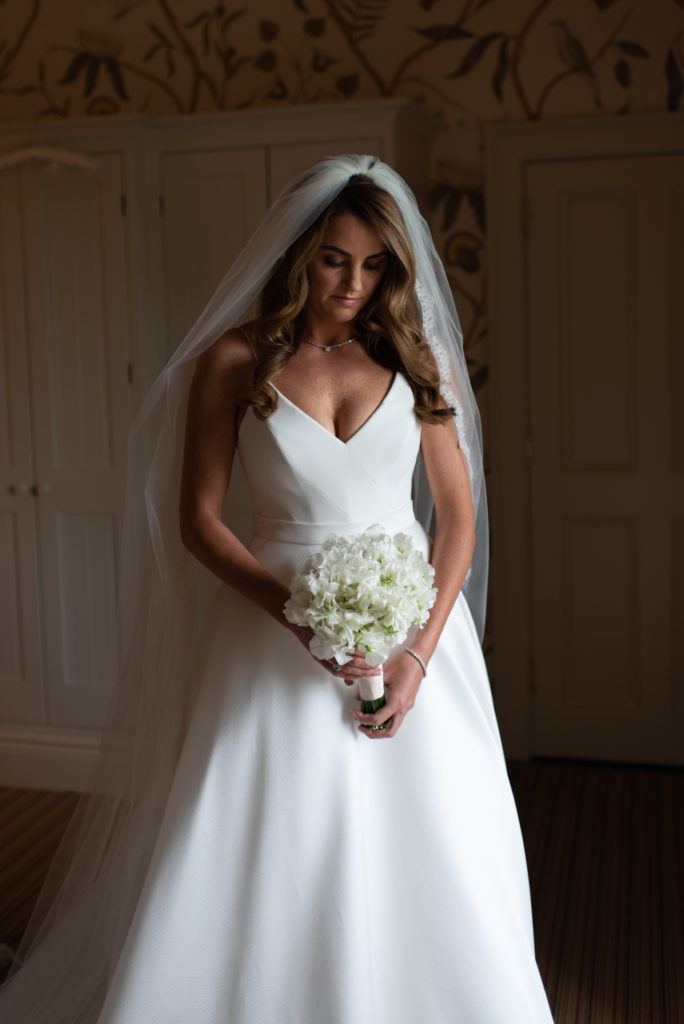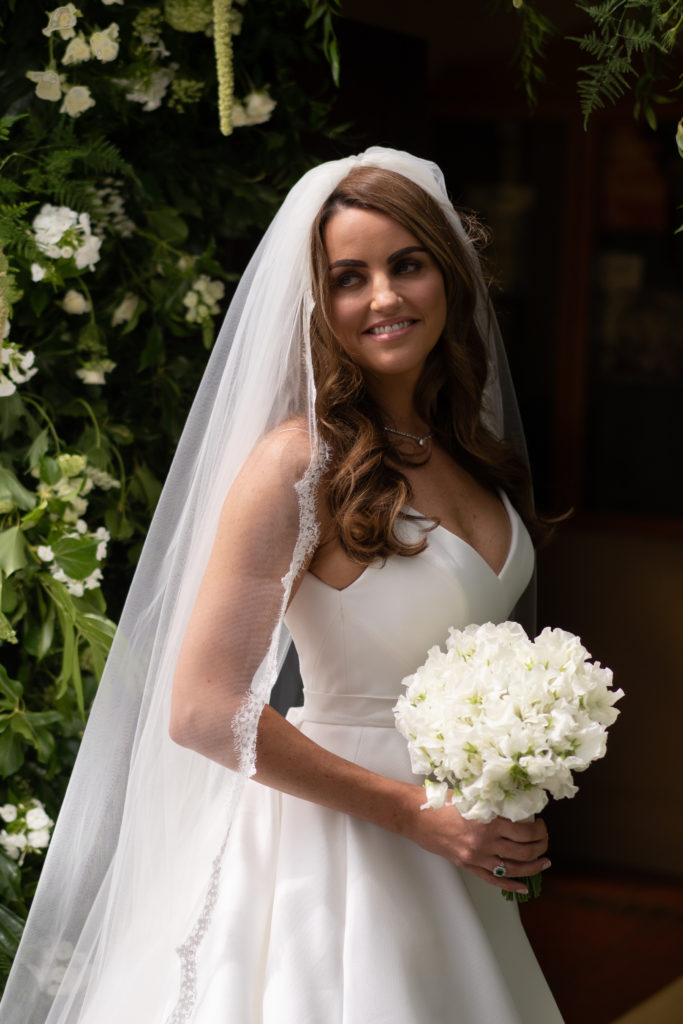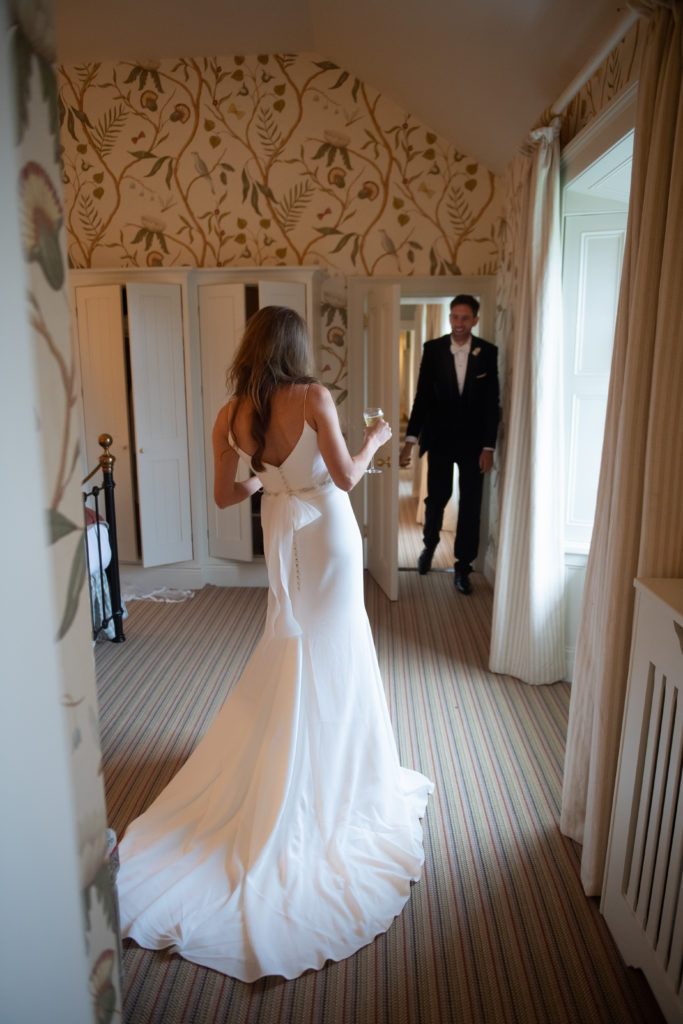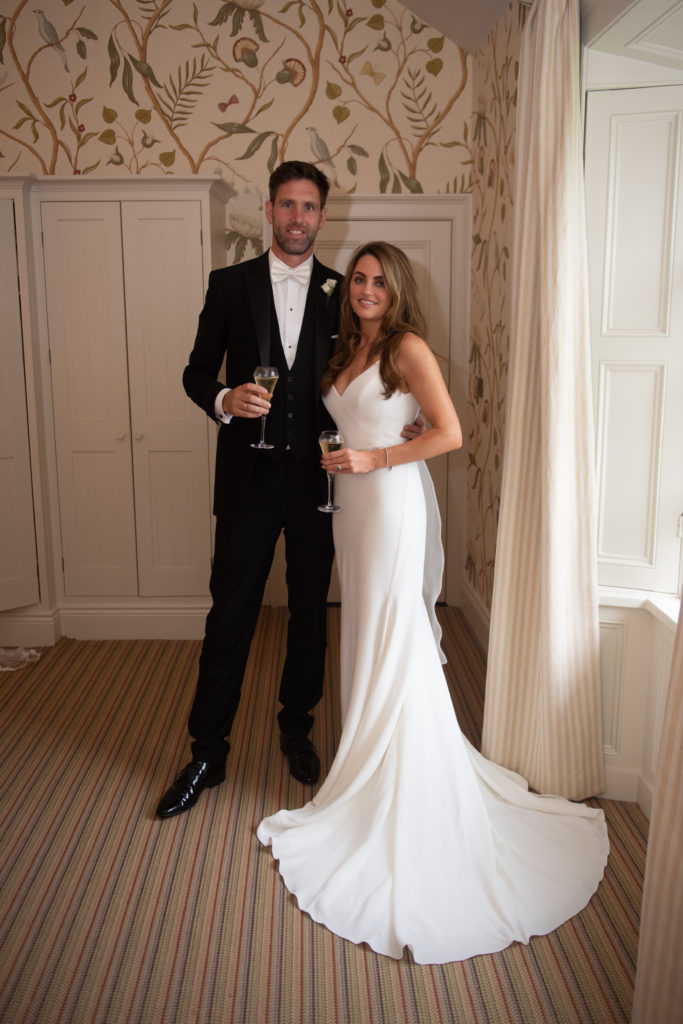 The Dress
Joeanna had no idea what type of dress she wanted, she visited her sister in London a few weeks after the proposal and she had lined up some bridal meetings even though the couple had not even decided the date! It was here that the soon to be bride gained a sense of the style that she loved. Elegance and simplicity were what Joeanna had in mind. Upon meeting Sharon and her team at Sharon Hoey, Dublin, they made Joeanna's decision extremely easy. She tried on two beautiful dresses she adored in the store, the first was a very simple sleek ivory gown and the second a beautiful dress with a full skirt. Joeanna was really looking for a mix of the two, a sleek gown with a bespoke skirt to wear to the church. Sharon made her wishes come true combining the two gowns for her. She removed the skirt just before she entered the dining room for dinner. Her look was finished with a floor-length veil with a Chantilly lace trim.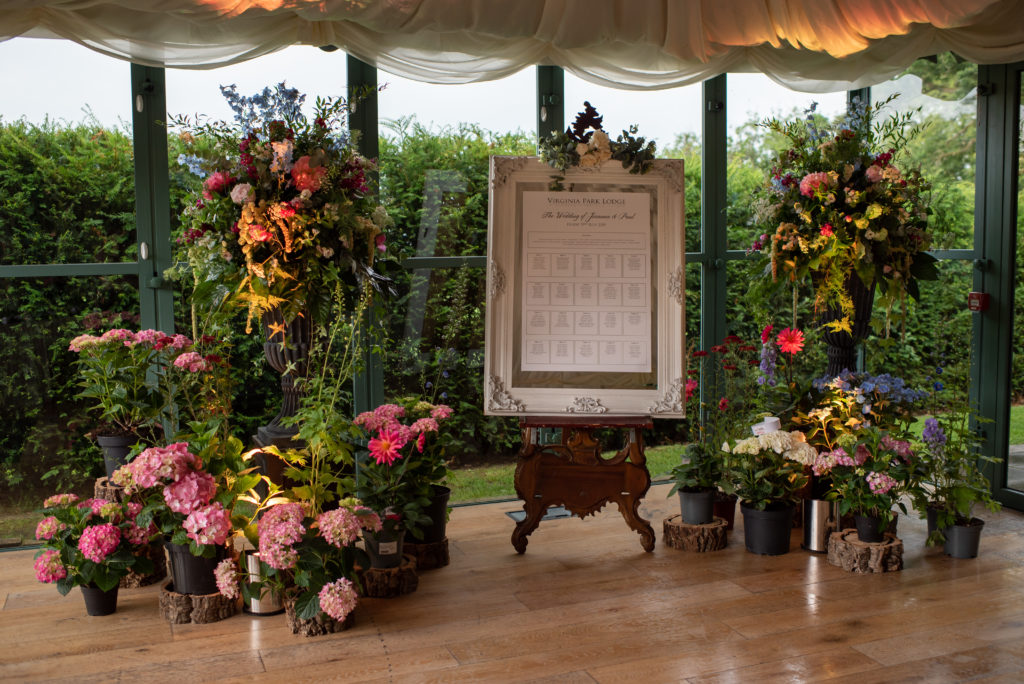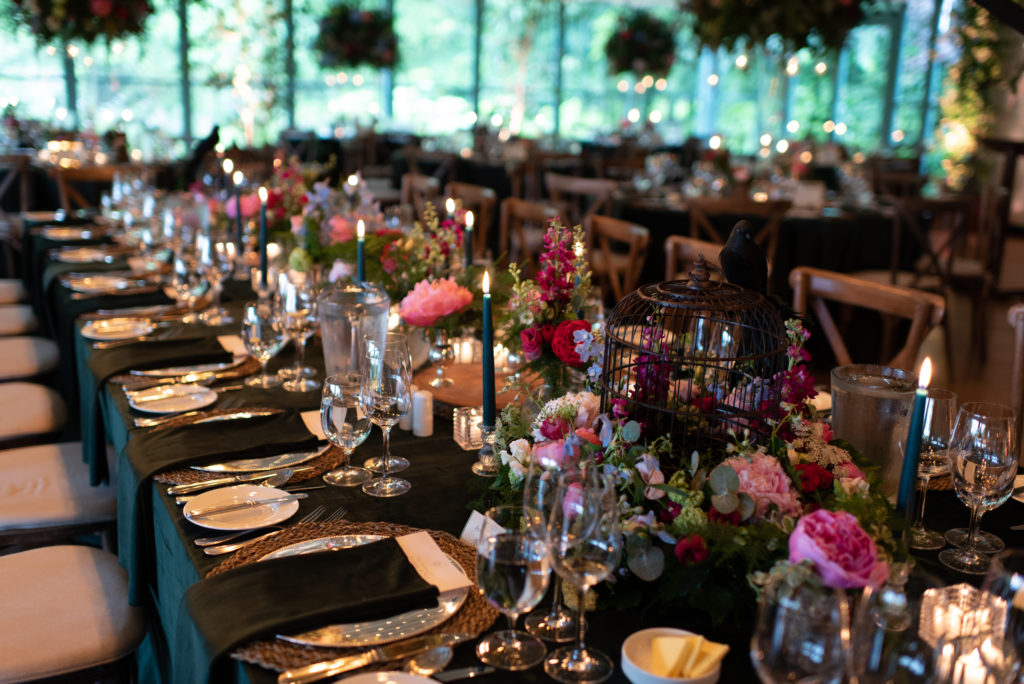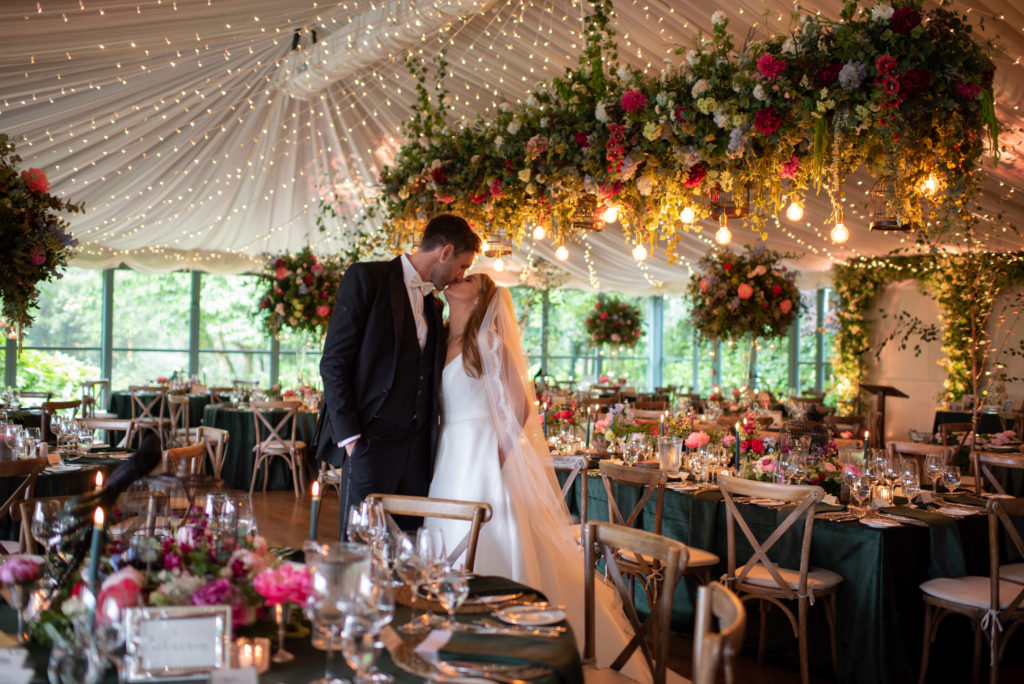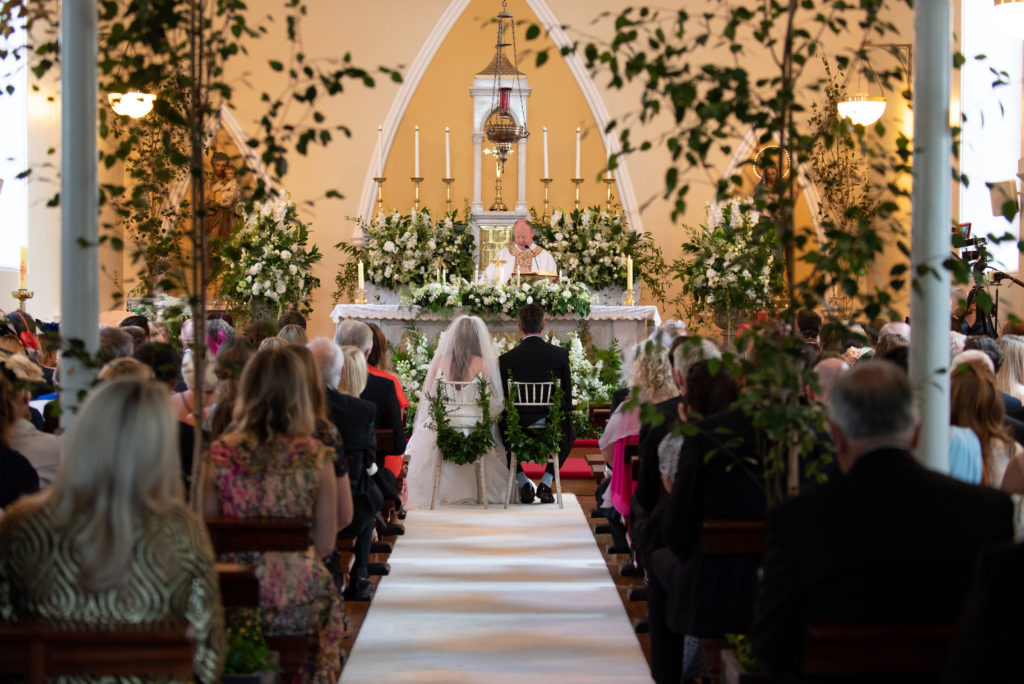 The Venue
Working in the wedding industry made their decision a lot easier as Joeanna has worked in beautiful venues all over the country. Virginia Park Lodge was always on her wish list. Not only it's beauty but the couple adored the fact that you take it over and it is yours for your wedding day with all of your guests. It felt like a second home to the bride and groom, Deirdre Corrigan and her team at Virginia Park made their day so very special for them. It was also close enough to get married in the village where Joeanna grew up, Batterstown, Co. Meath, this was also a huge draw for them.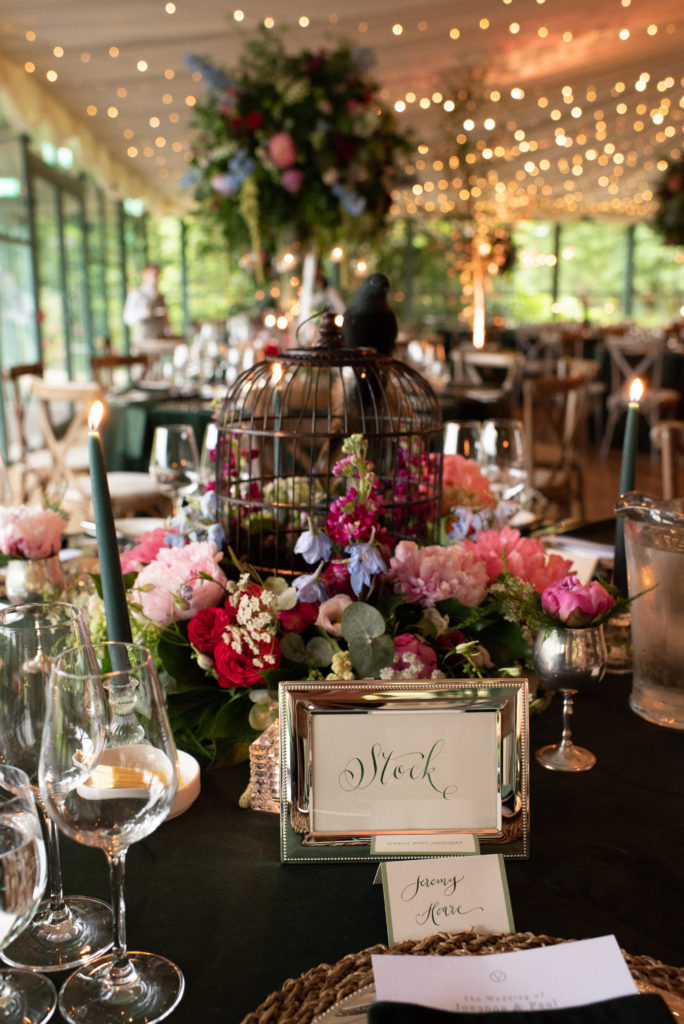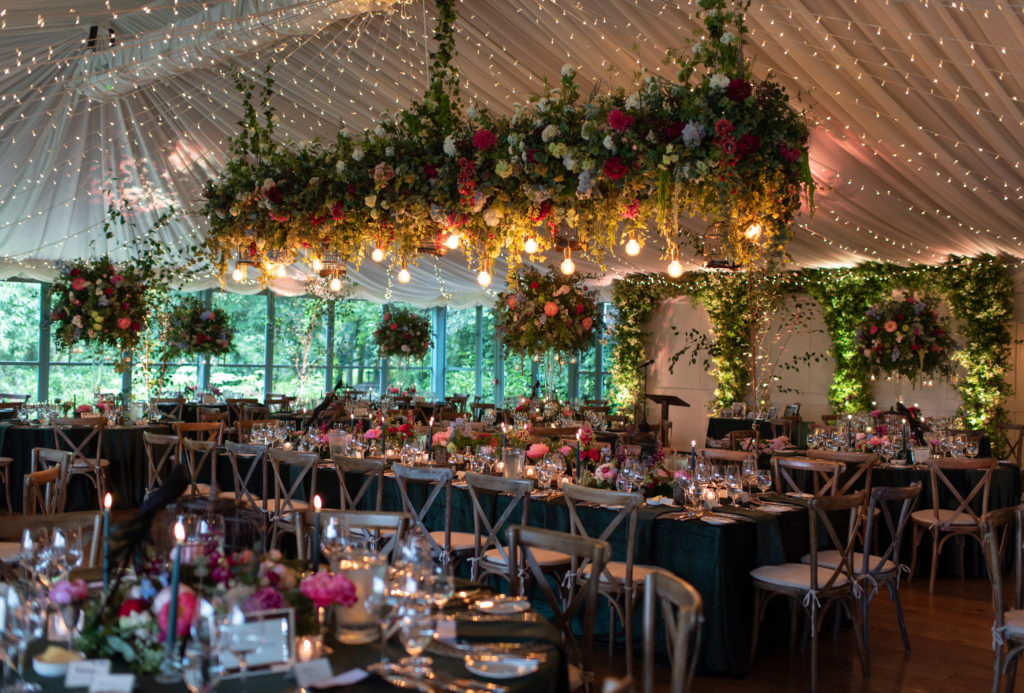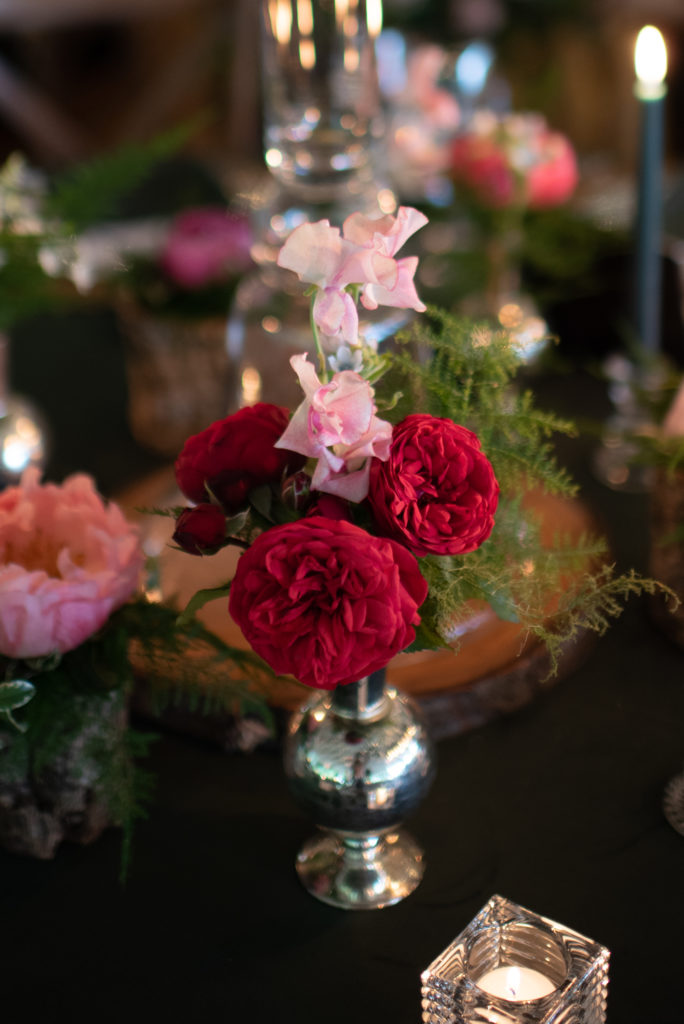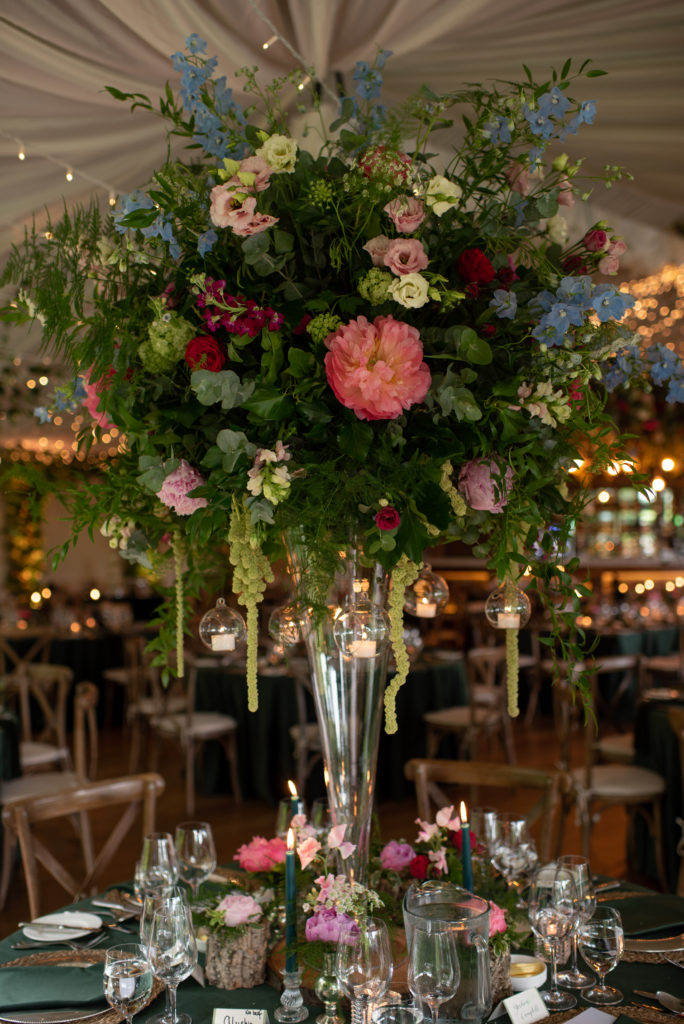 The Florals
Owning her three flower shops at Avoca, Rathcoole, Dunboyne and Kilmacanogue along with running a large nationwide wedding business, as well as Paul owning Windyridge garden centre, the florals were obviously one of the biggest aspects of their day.  Joeanna spent a long period of time deciding on the palette and flower types. The underlying theme throughout the day was a palette of deep green. Her engagement ring is an antique Emerald, this, along with the wild foliage incorporated into their flowers, our bridesmaid dress, the groomsmen's dicky bows, the vintage car and the linens at the venue, green was the base colour for every detail.
Joeanna and Paul decided on a white and ivory 'Wild Country Meadow' theme for the bridal party and church flowers, and a very vibrant colourful "Enchanted Garden" theme for Virginia Park Lodge. For the church, they did a mix of wild style flowers and also incorporated Silver Birch trees and Jasmine Arches. Joeanna chose beautifully scented white sweet pea for all the bridal party flowers as it has always been one of her favourites.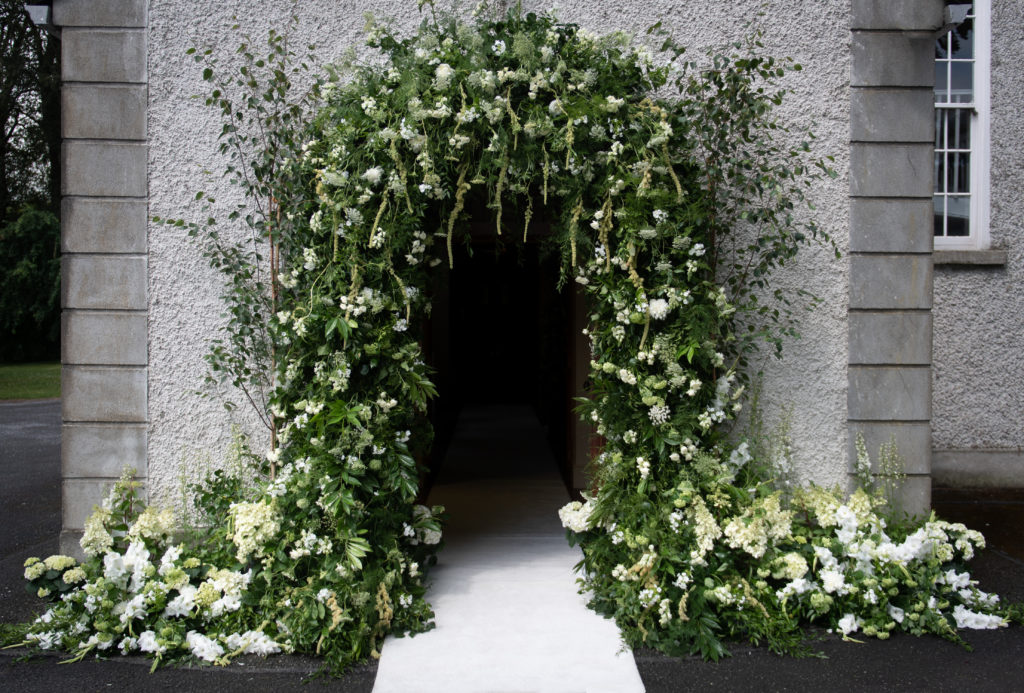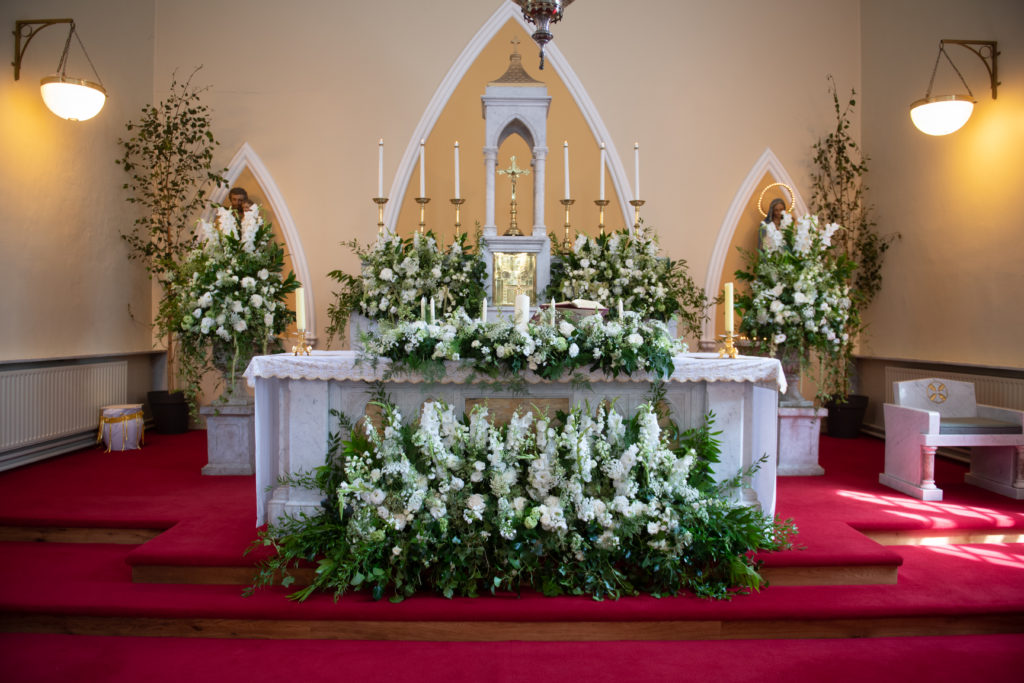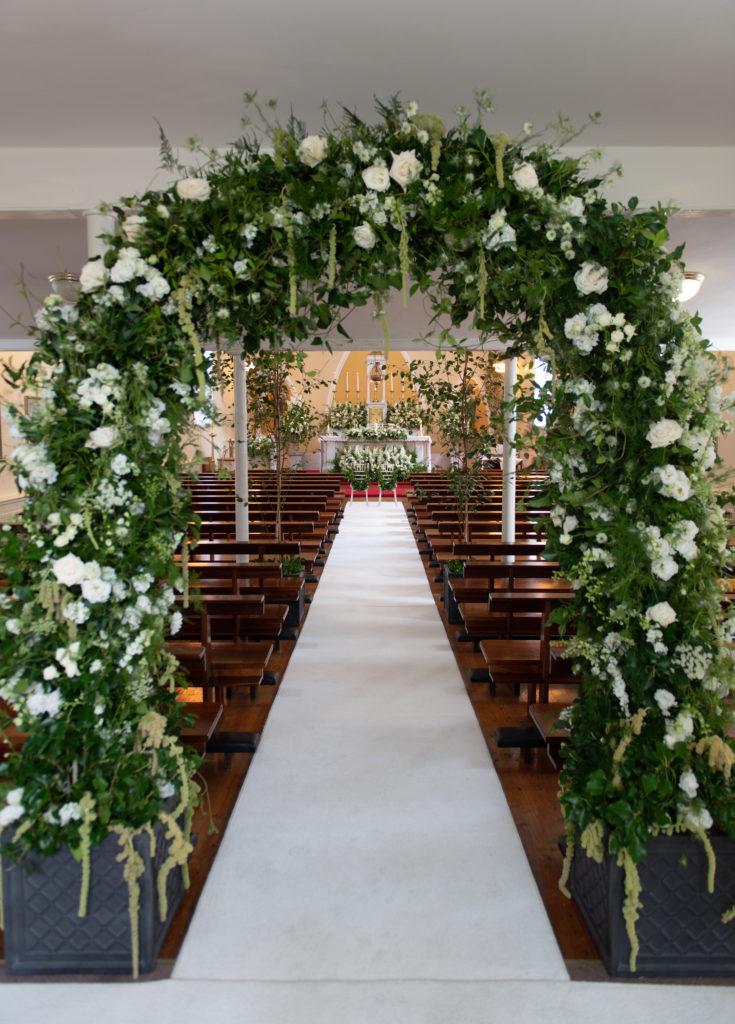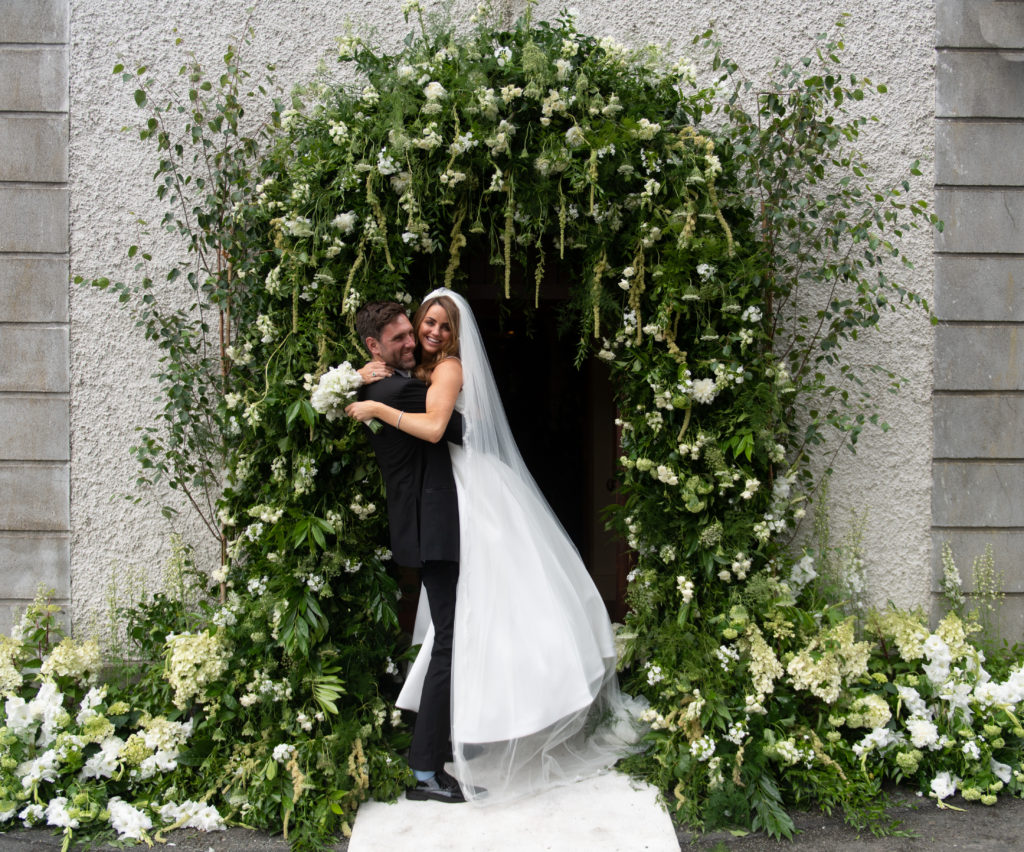 For the venue, the couple tried to bring the outside inside. The pavilion at Virginia Park has a beautiful view of the gardens and wild shrubbery outside the windows and Joeanna really endeavoured to incorporate this into their palette. She chose deep green velvet linens and napkins and sourced the exact same deep green colour dinner candles. They had a mix of rich silver charger plates and silver frames with handwritten calligraphy table and place names, these were also written in deep green ink. She incorporated earthy elements such as plantation-style dark wood birdcages, birds and rustic containers for her flowers. Every single detail was extremely vital to the whole look Joeanna wanted to achieve. As they say, it is all in the detail. This was all finished off with romantic candlelight.
"We are so incredibly grateful to my team at Joeanna Caffrey Flowers and Paul's at Windyridge Garden Centre for all the hard work they put in on the run-up to our special day. We couldn't have brought our vision to life without their help."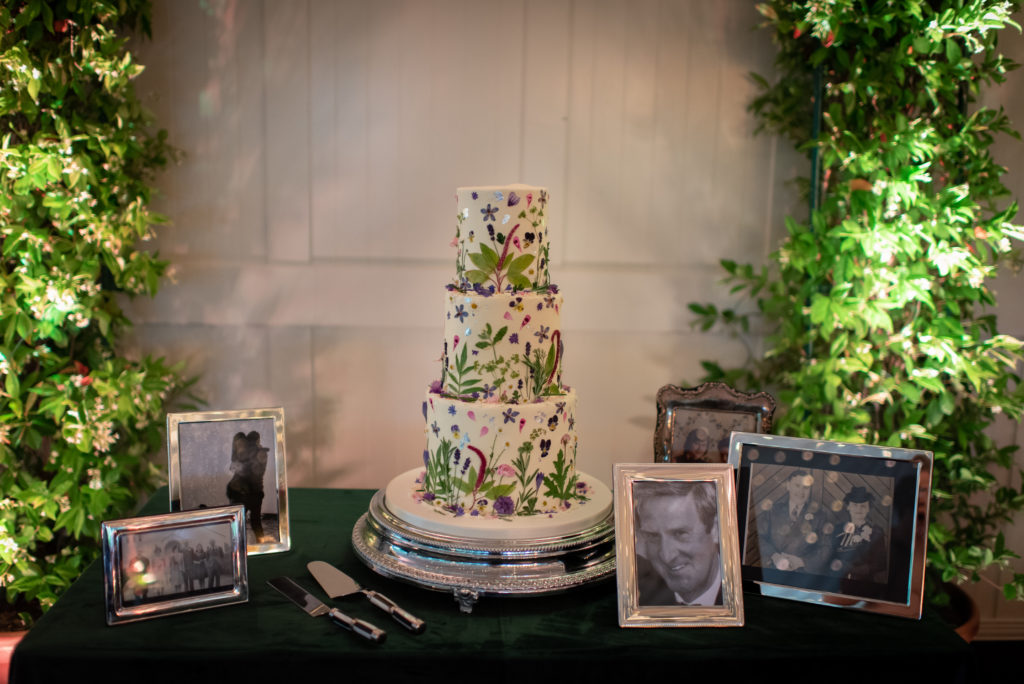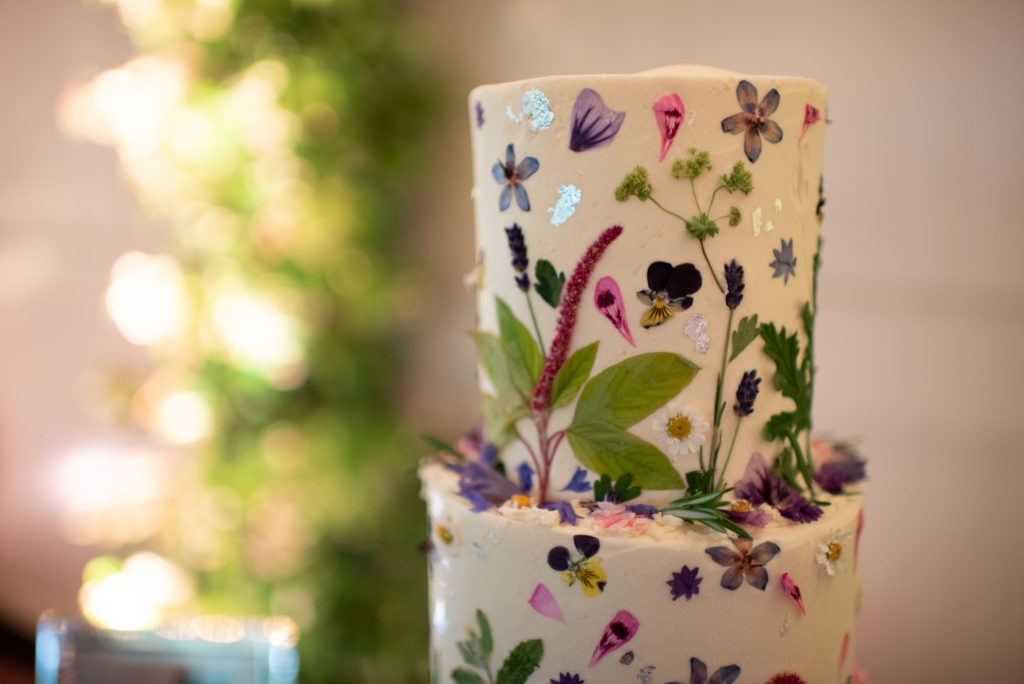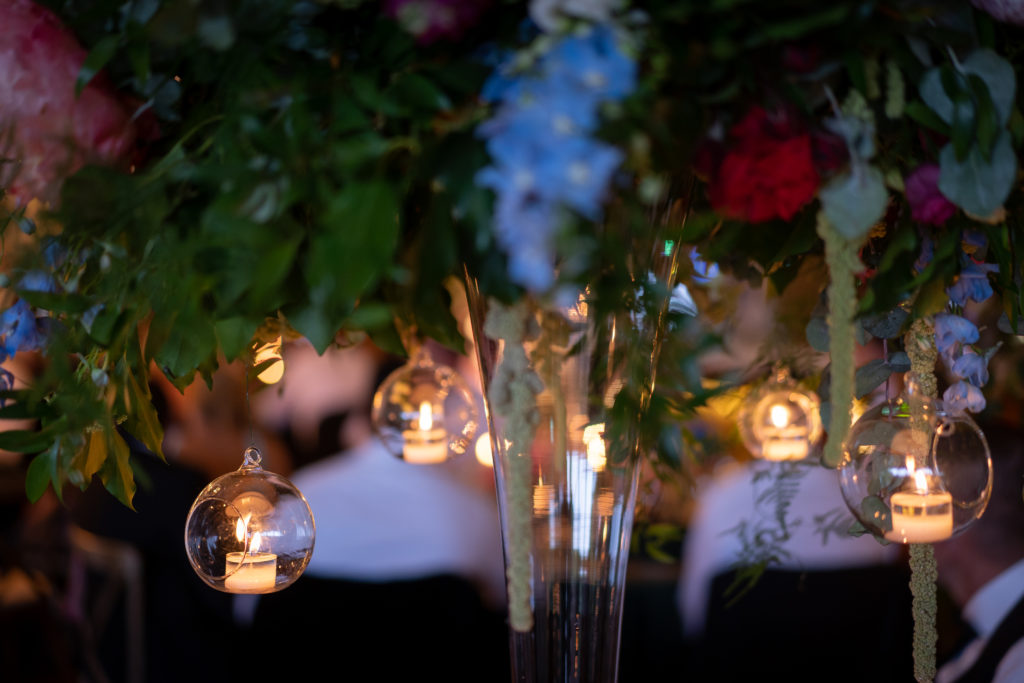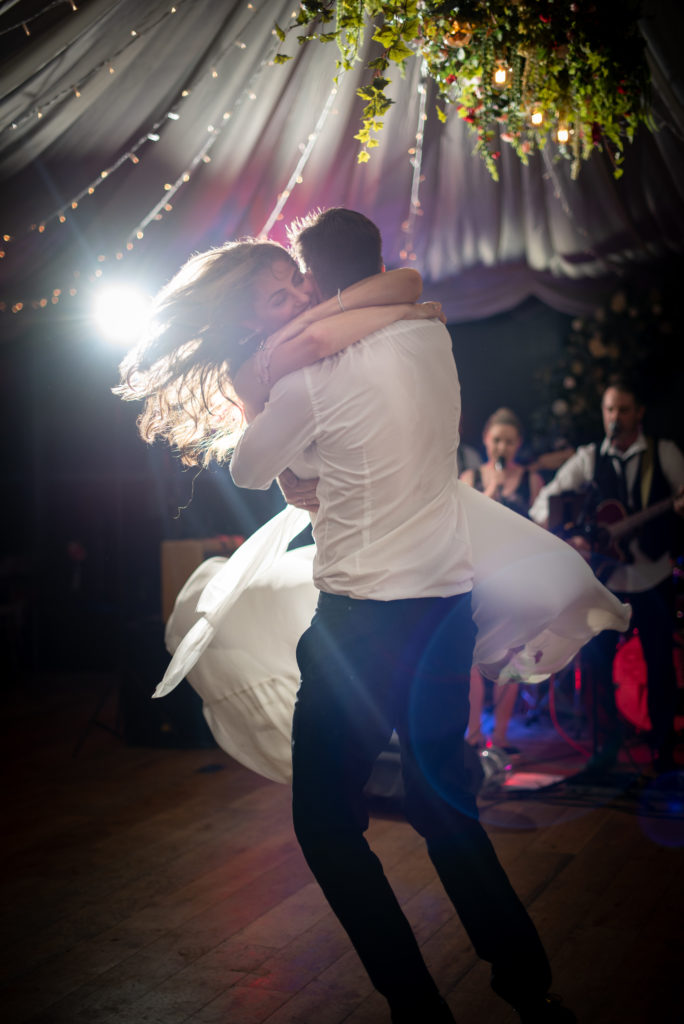 The Entertainment
Paul and Joeanna both absolutely love music so this was important to get right and also keep their guests up dancing and enjoying themselves. For the church, they chose The Dublin String Quartet and they absolutely adored them. When the couple arrived at Virginia Park, they had a wonderful piano player, Joe Kenny, the piano suited the ambience of the venue perfectly. Their band, 'Created by Comets', was fabulous, Joeanna and Paul had seen them at a friends wedding and loved them, they also recommended a DJ for the couples and provided their brilliant saxophonist to play with the DJ after the band finished.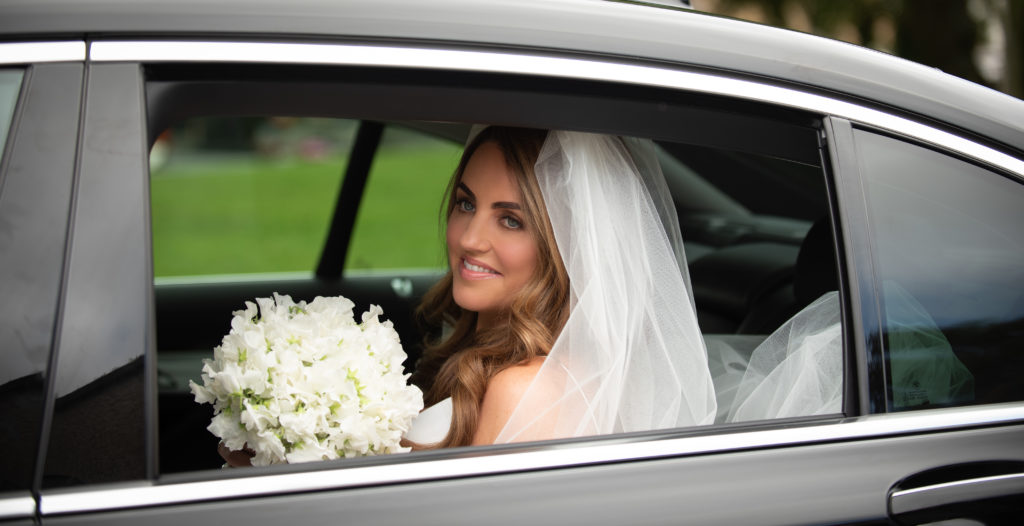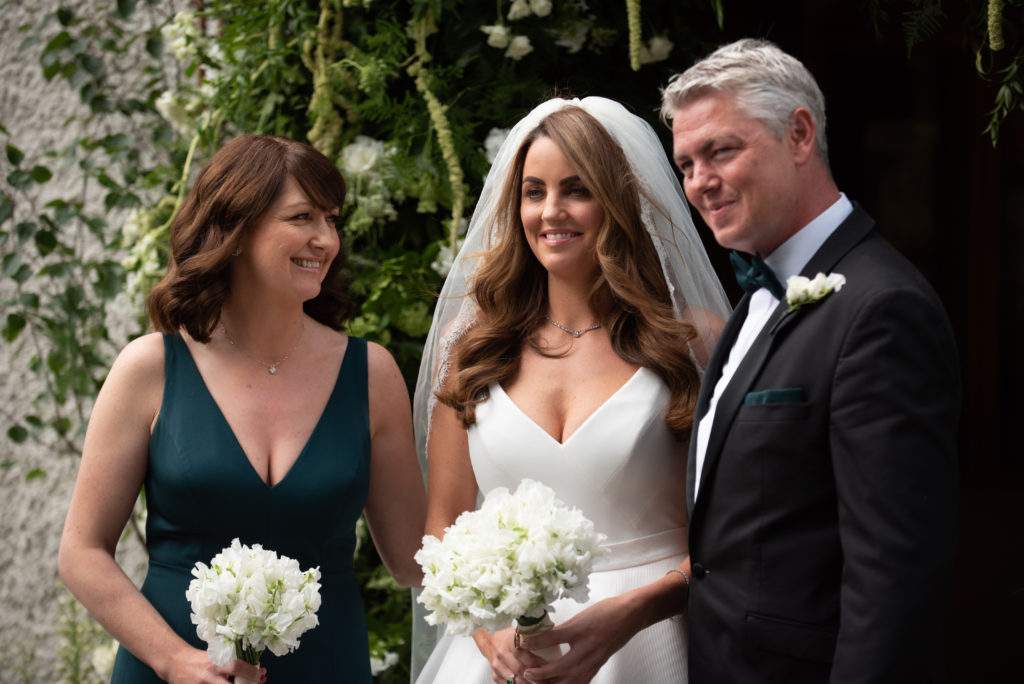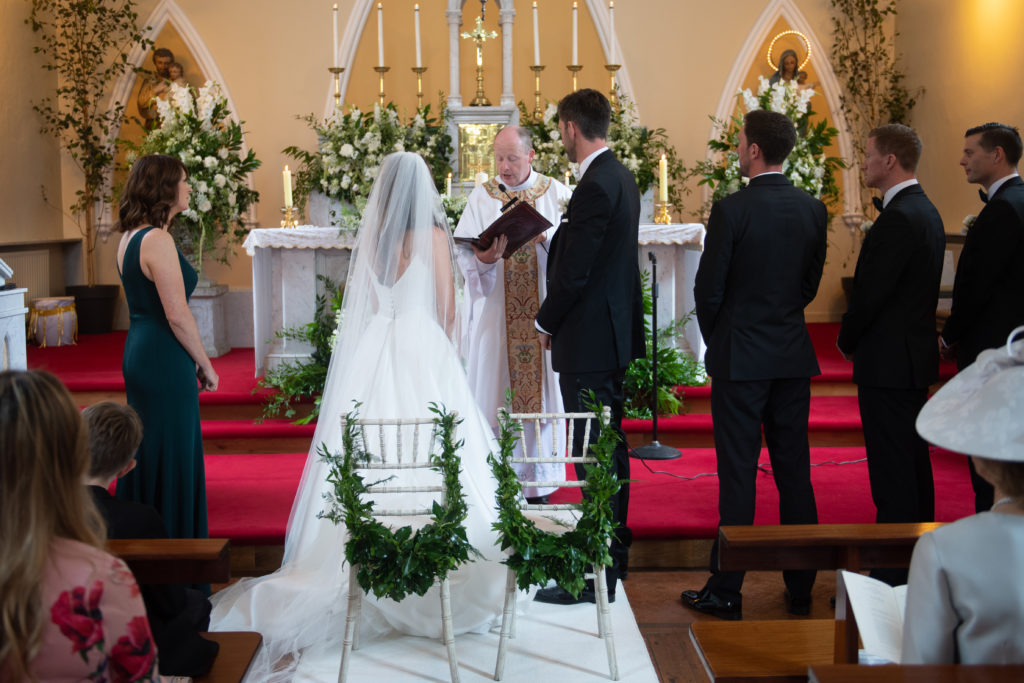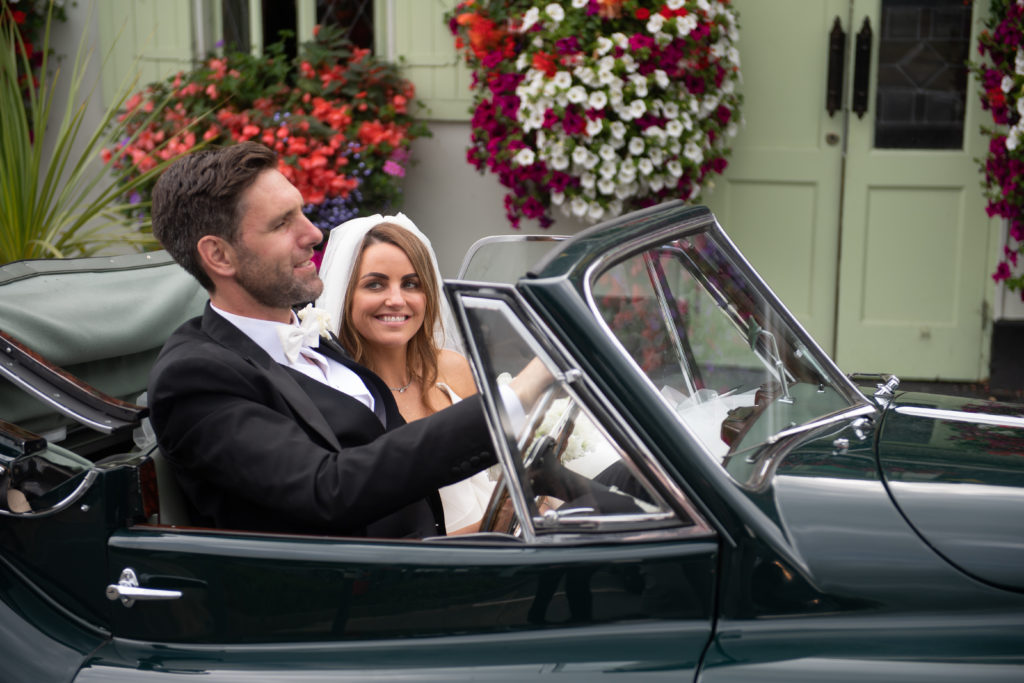 The Beauty Prep
Joeanna was very busy with work on the weeks running up to the wedding but she exercised and ate very healthily which is essential to a healthy complexion. She had a dream team to prepare her on the morning of the wedding. Derrick Carberry did Joeanna and her sisters make-up and Roy Leigh did their hair.
"I am so particular with my make-up and hair but honestly with both Derrick and Roy, I adored their first attempt at my trial so knew I was in safe hands."
Joeanna loved what they both did and they also brought a laugh to the room on the morning of the wedding, which is even more important. The bridal scent was Chanel Coco Mademoiselle.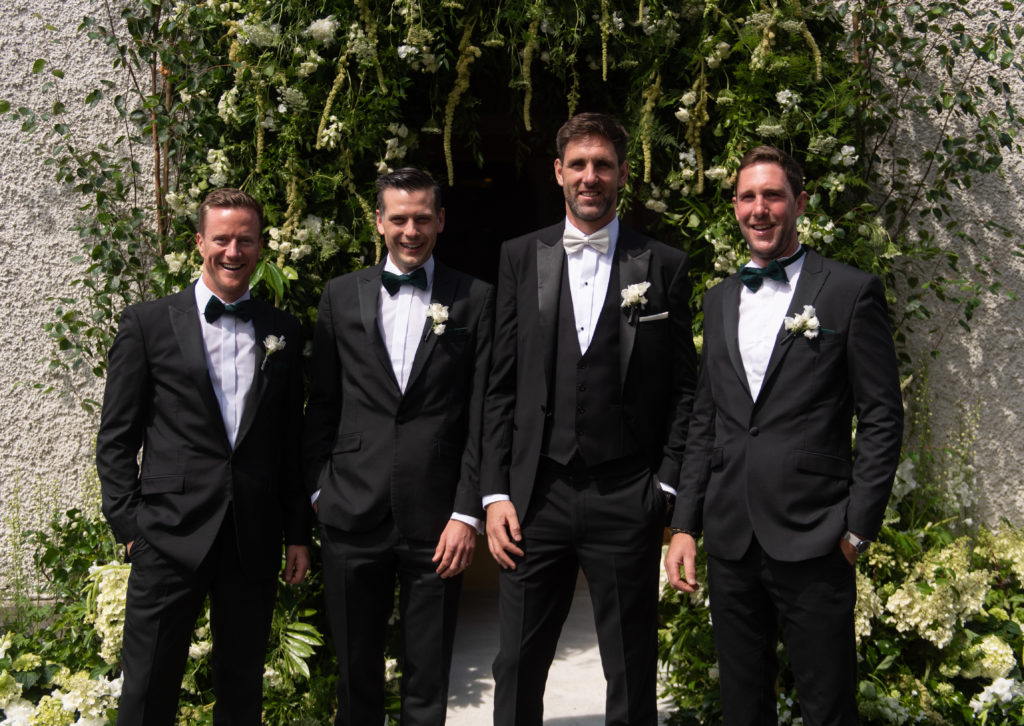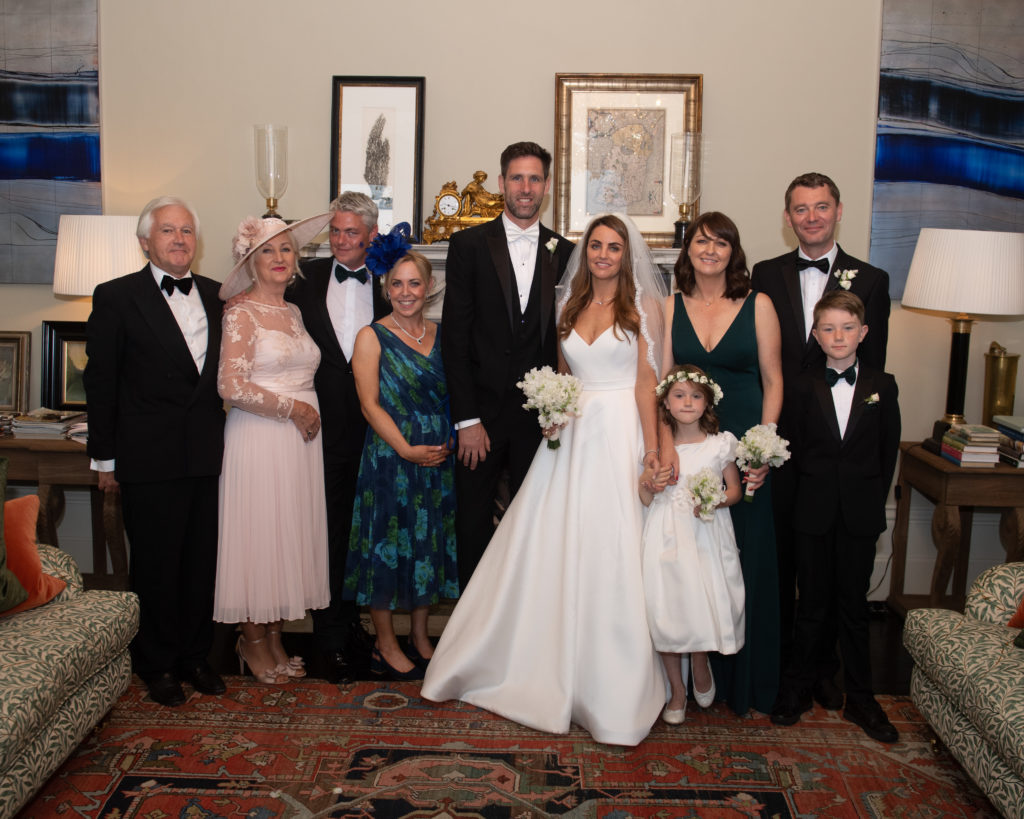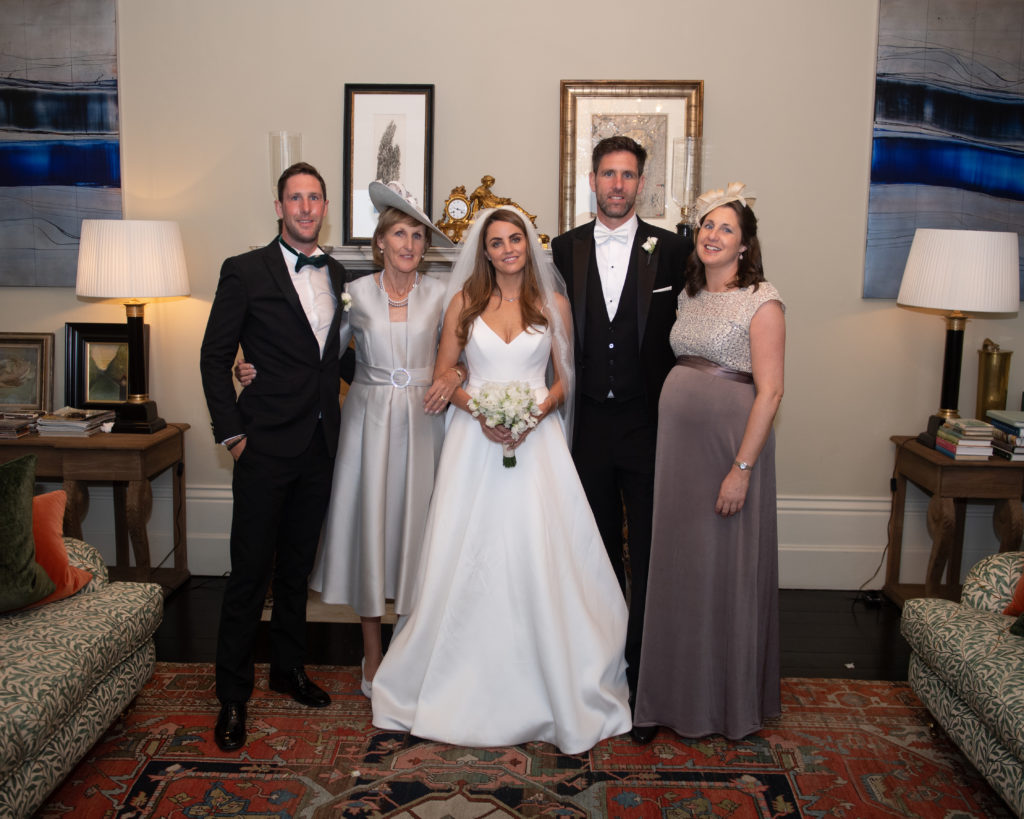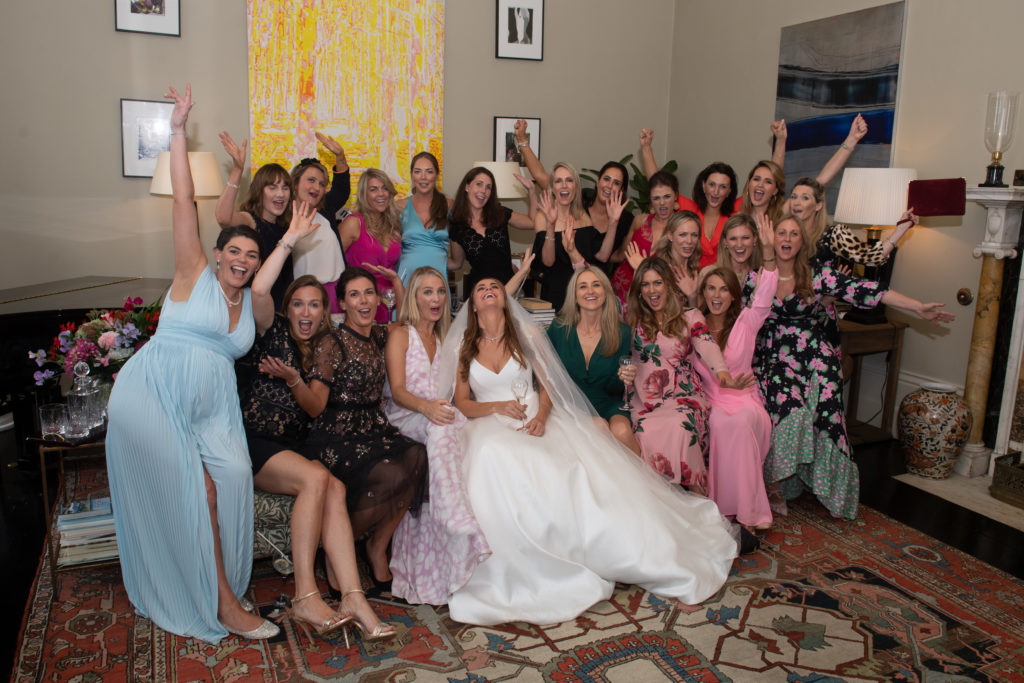 The Bridesmaids
Joeanna has been bridesmaid seven times so this was a hard decision. She is extremely lucky to have an amazing group of friends including her first cousins with whom she is very close. She couldn't have everyone so, in the end, opted for one, her wonderful sister Sarah. Joeanna's friends and cousins were still a big part of the day.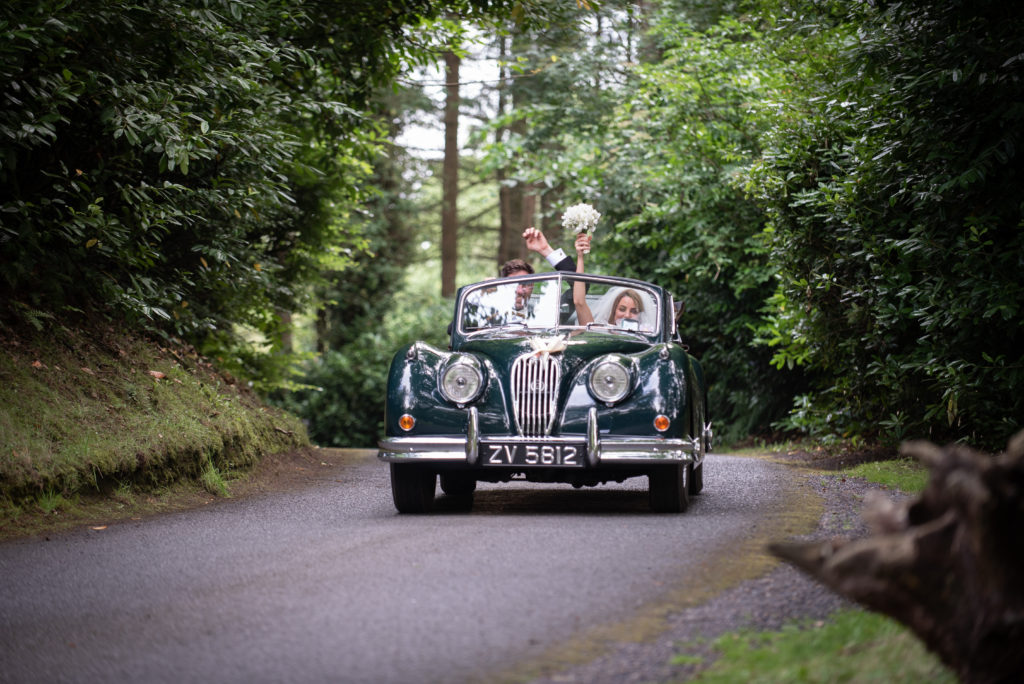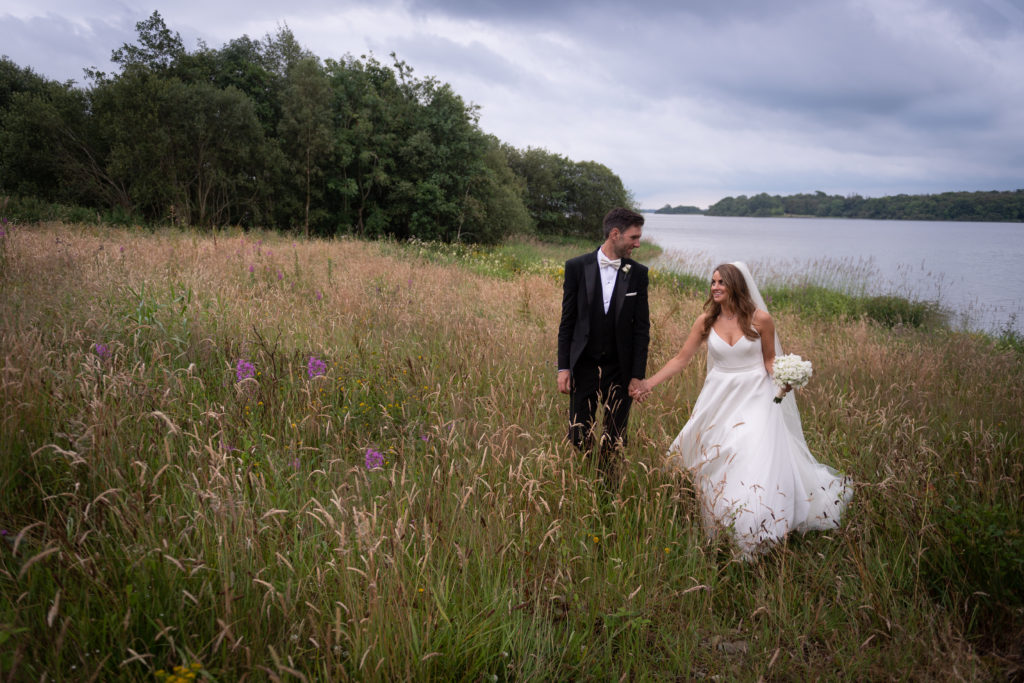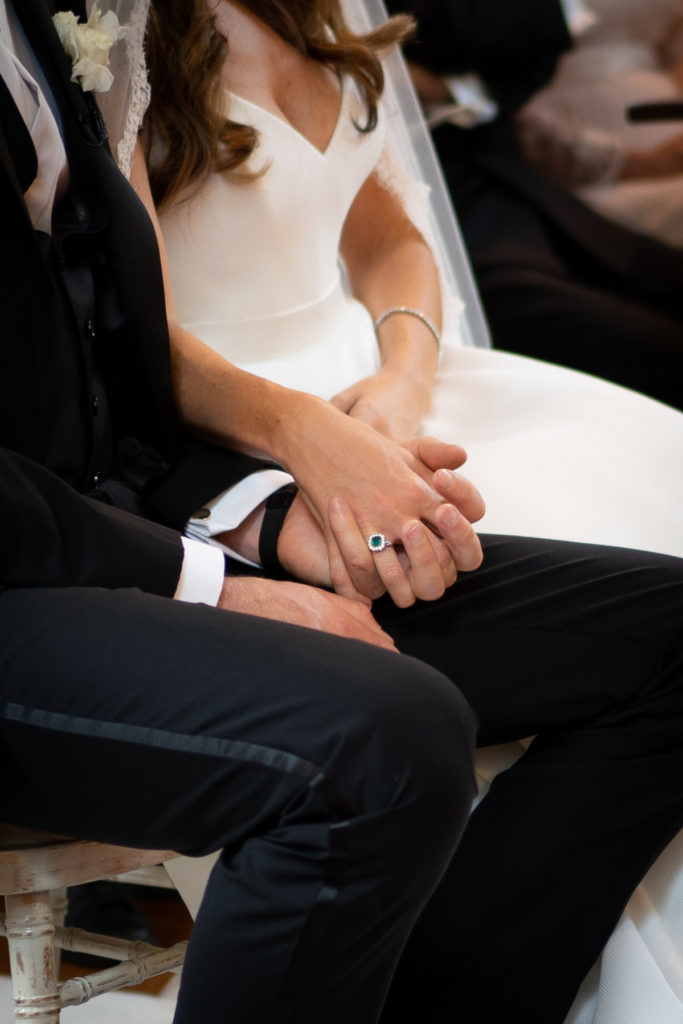 The Best Decision
The best decision was, of course, to get married in the first place, it is the most special and happy time Joeanna has ever experienced in her whole life, the couples have lovely happy times ahead together. In terms of the decisions they made in the preparation, their best decision was to get married in July at Virginia Park Lodge. They also had another beautiful venue for a New Year's Eve wedding but deciding on July in Cavan was the right one for them. Joeanna was a little apprehensive as it did not give them a huge amount of time to plan but it was perfect in the end and it kept the momentum going from when the couple got engaged.
The Worst Decision
Joeanna can't say she regrets anything they did for the wedding, the couple did not have a huge amount of time to procrastinate on decisions, which was good, and Joeanna had a clear idea of what she wanted everything to look like in her head. Being organized is key. If she was to pick something that stressed her a little it was the invitations, which Joeanna also designed myself. Her aunt is an amazing artist so she kindly painted a watercolour of a sweet pea for the invite. It was the printing of these that stressed Joeanna as she wanted it 100% right so had to reprint a few times. She doesn't regret this though as they were exactly what they wanted but looking back, Joeanna wishes she didn't let it stress her.