Communications Manager Jocelyn Grant married lawyer Stephen Heary in the breathtaking Tinakilly house in a gorgeous winter wedding in November of 2021.
Photography: Livia Figueiredo
The Proposal
It was Easter Friday, 2021. We hadn't been dating for that long, so when Stephen suggested we use the day off work to go for a walk along the cliffs in Howth, I certainly wasn't expecting a proposal. There's a great little hidden beach in Howth, down some steps in a cove off the cliffs, where we had gone swimming the previous summer, and we had planned to go there for a picnic. We strolled further to a quiet spot on the far side of the lighthouse, where we stopped to take a photo of the beautiful view of the sea framed by the cliffs. Stephen started rummaging in his rucksack for what, at first, I thought were snacks. Instead, I turned to see that he had gotten down on one knee with a beautiful diamond and emerald ring in his hand! To say he took me by surprise was an understatement, but it was a magical moment.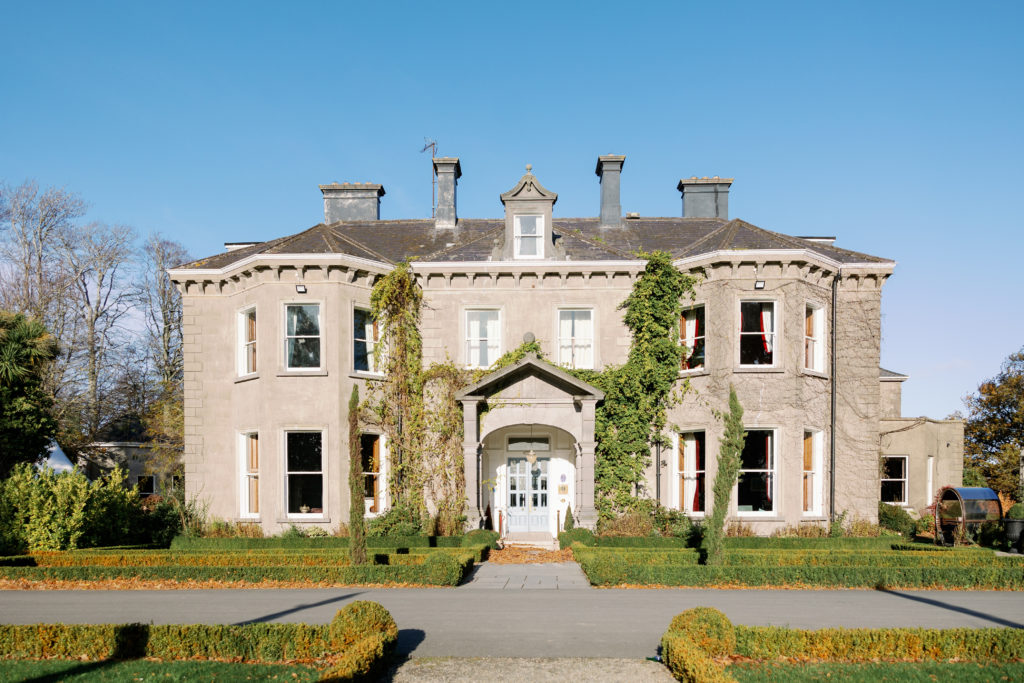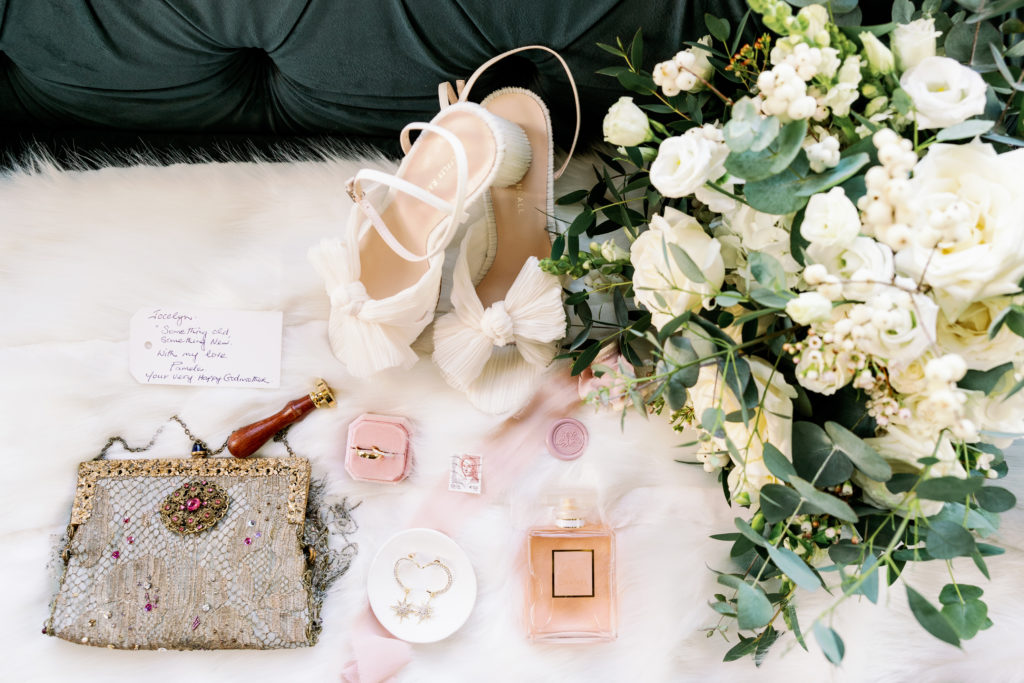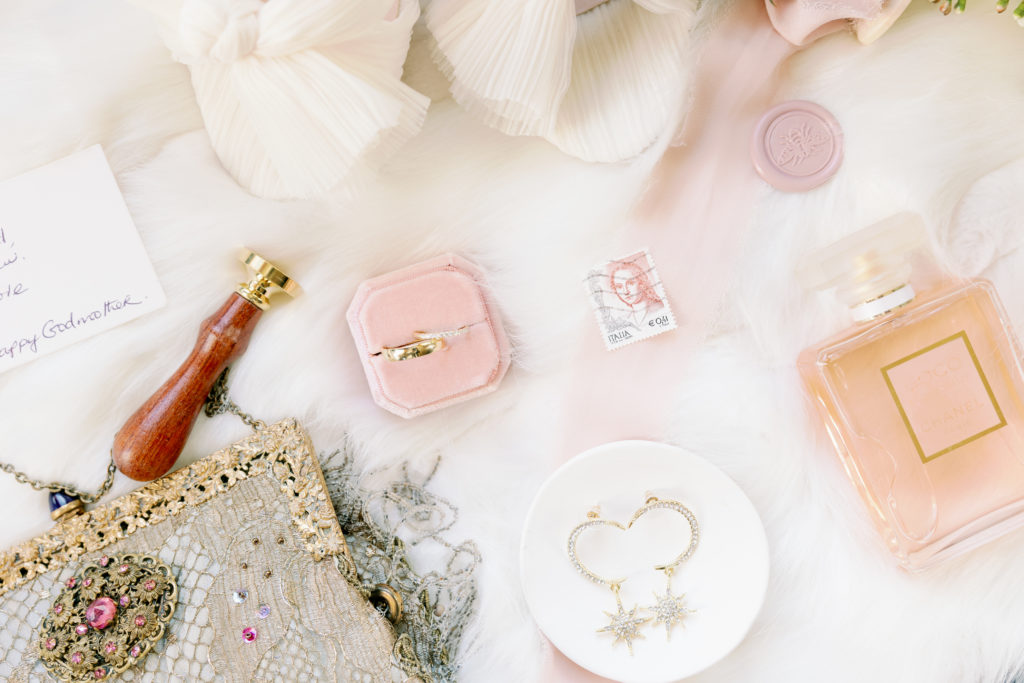 The Beauty Journey
I'm pretty low maintenance generally when it comes to beauty and prefer to stick with tried and tested skincare favourites, so I didn't do anything new in the run-up to the wedding. My sister booked me in for a manicure and pedicure in Mink, which I loved and was the perfect relaxing treat in the lead-up to the big day. A good friend recommended my wedding day hair and make-up artists - Shelly Walsh for hair and Breifne Keogh for make-up and I couldn't have been happier. They both did an amazing job and made me and my bridesmaids look and feel absolutely gorgeous on the day. In terms of a signature scent, I've worn Chanel Coco Mademoiselle for years, but a few weeks before the wedding, Stephen surprised me with a gift of Chanel Gabrielle; as I'd mentioned in passing that I wanted to try it, so I wore that on the day.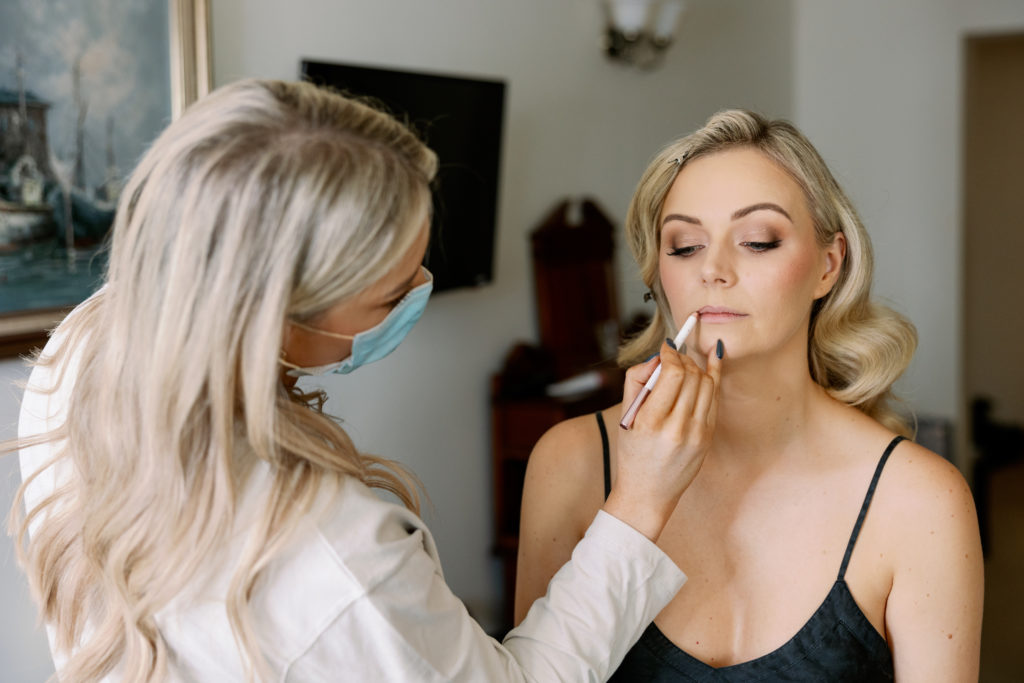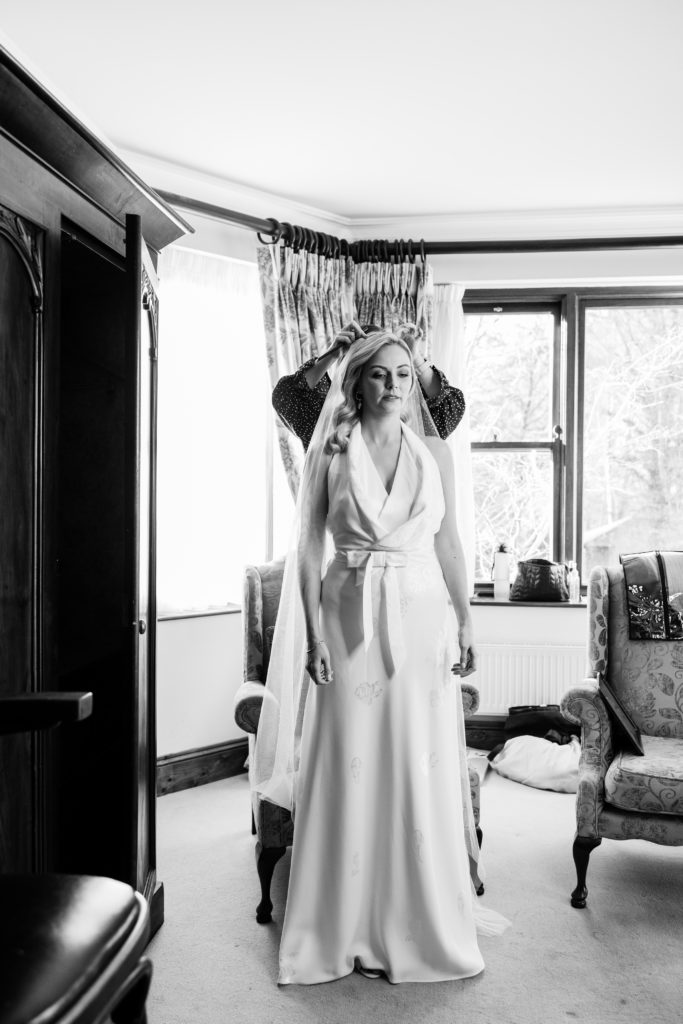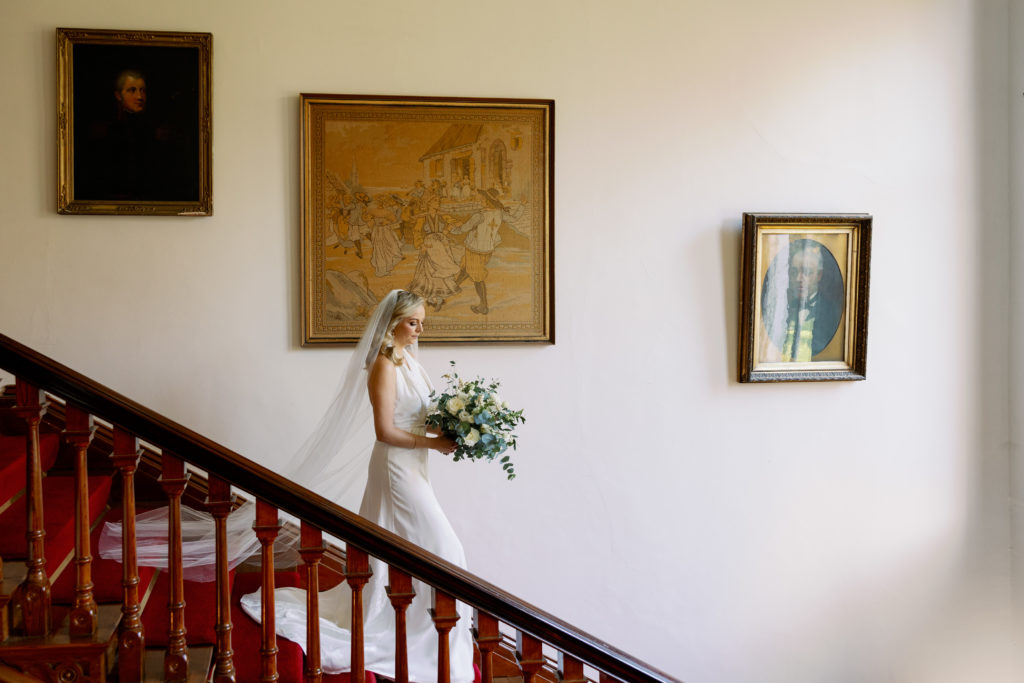 The Dress
To begin with, I didn't have a set idea of the dress I wanted, so I booked a couple of appointments in different dress stores and tried on a bunch of dresses to try to work out what I actually liked. After trying about 15 different shapes, I realised I wanted something that didn't have too much volume and felt a bit vintage, maybe a bit 1930s. A friend mentioned a few designers to look up, one of which was David Fielden. After some online research, I visited his boutique and found my dress. I loved the halter neck and backless shape but also the tuxedo front and rose brocade details that set it apart from anything else I'd seen. Once the dress was chosen, I added a full-length veil and ivory fabric shoes by Loeffler Randall.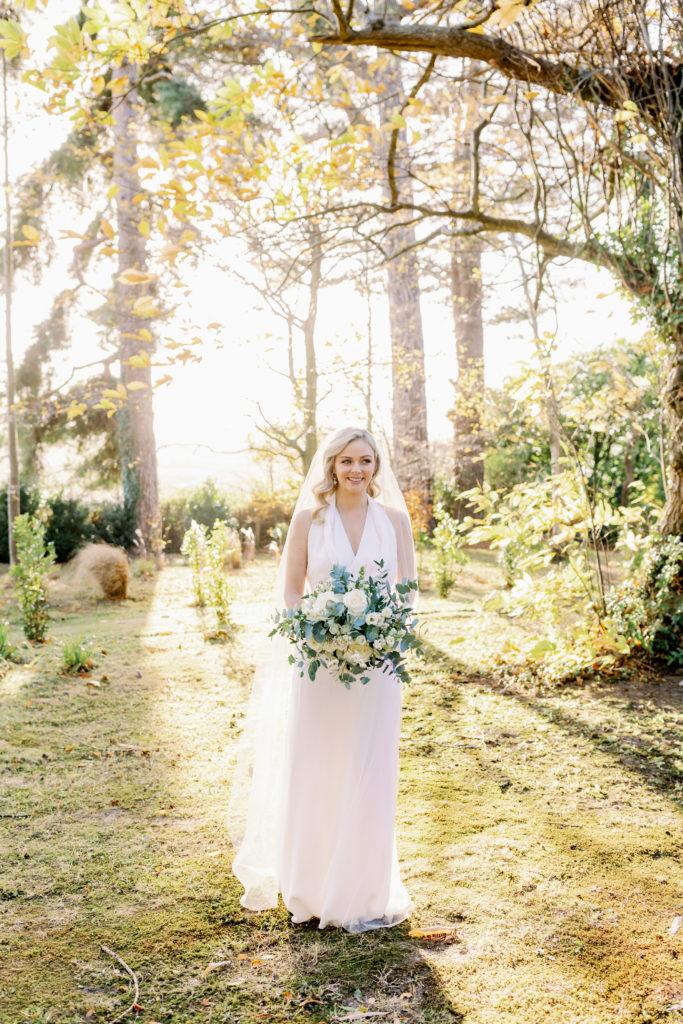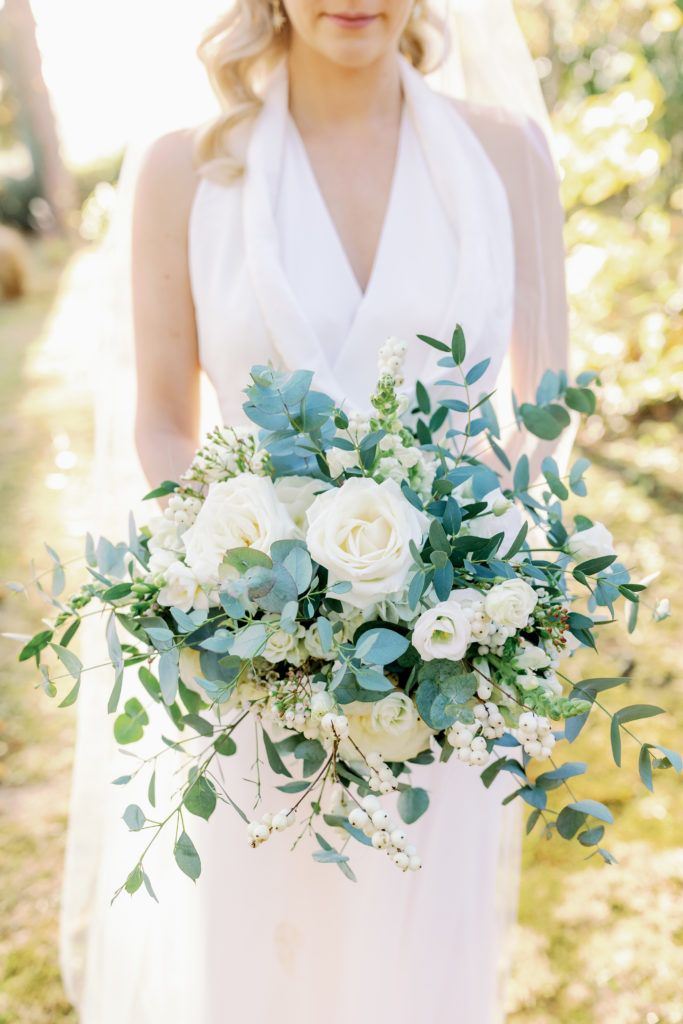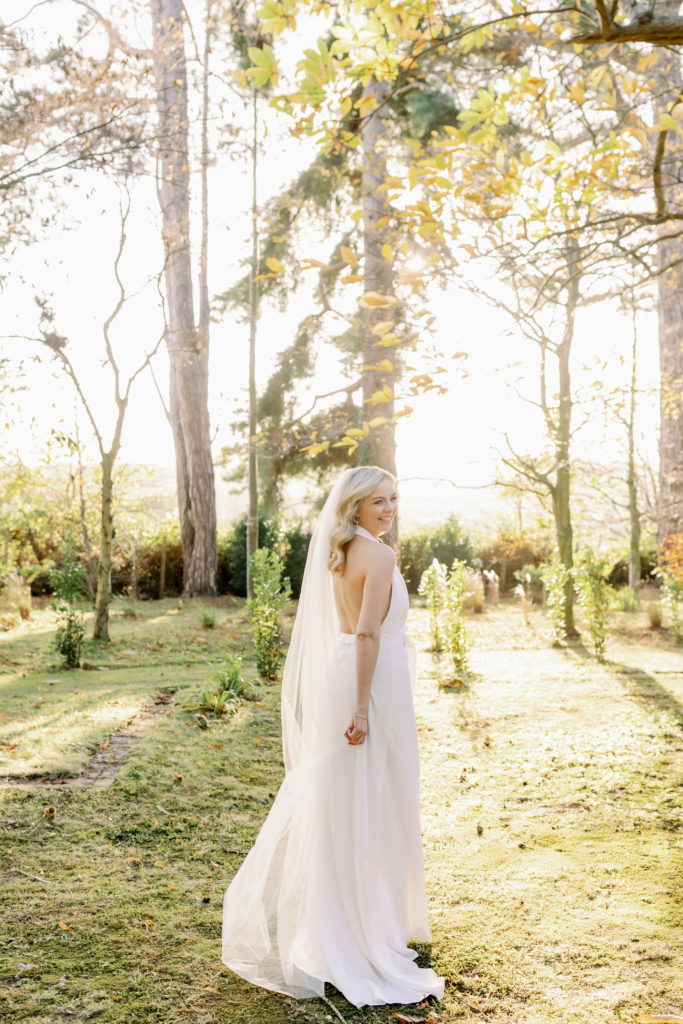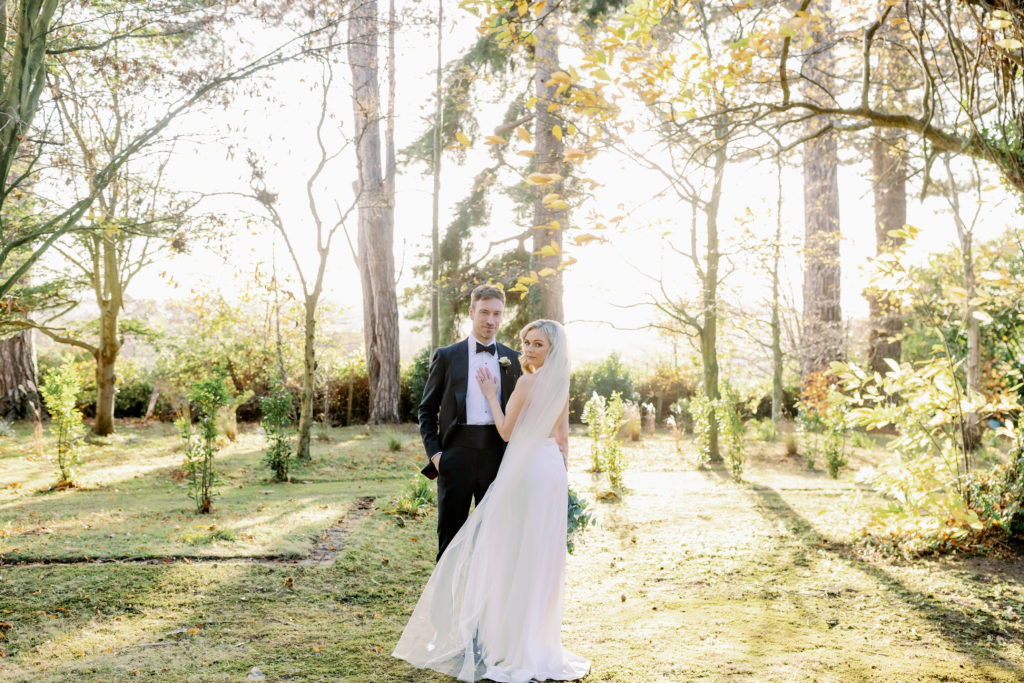 The Bridesmaids
My sister Danielle was my Maid of Honour. As well as being a wonderful sister, she is also a fantastic baker and very kindly agreed to make our beautiful and ridiculously tasty wedding cake. My three closest and oldest friends, Alexandra, Sarajane and Rebecca, were my other bridesmaids, along with my niece Sarah. Still, as she was just 13 at the time, she got to be an honorary bridesmaid instead of a full-time slave to the bride! I went for a selection of forest green velvet dresses from Folkster for my bridesmaids.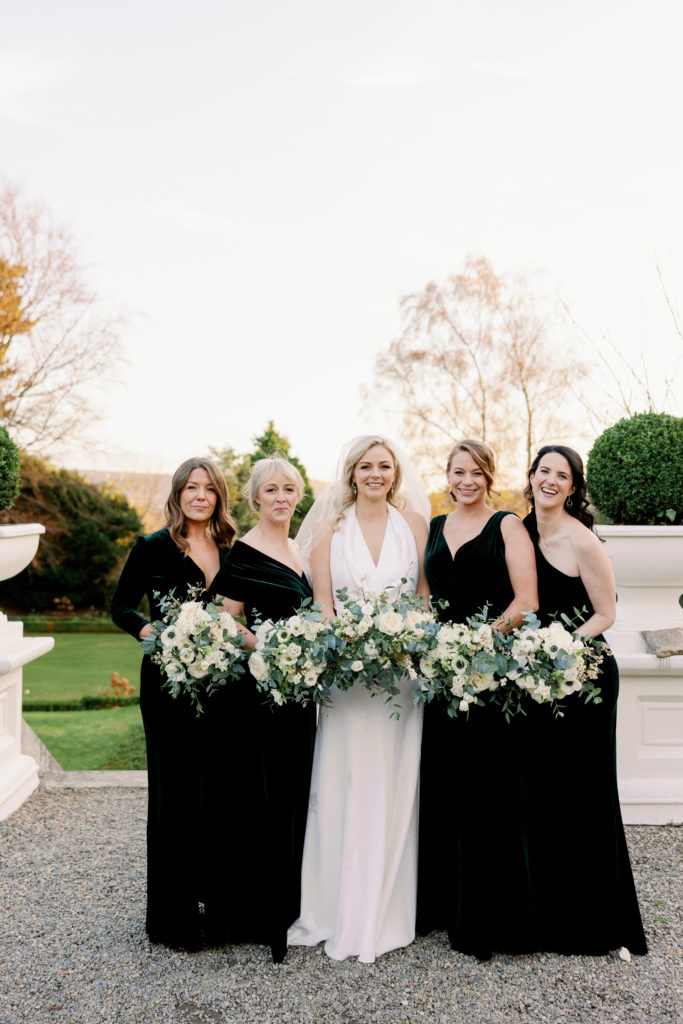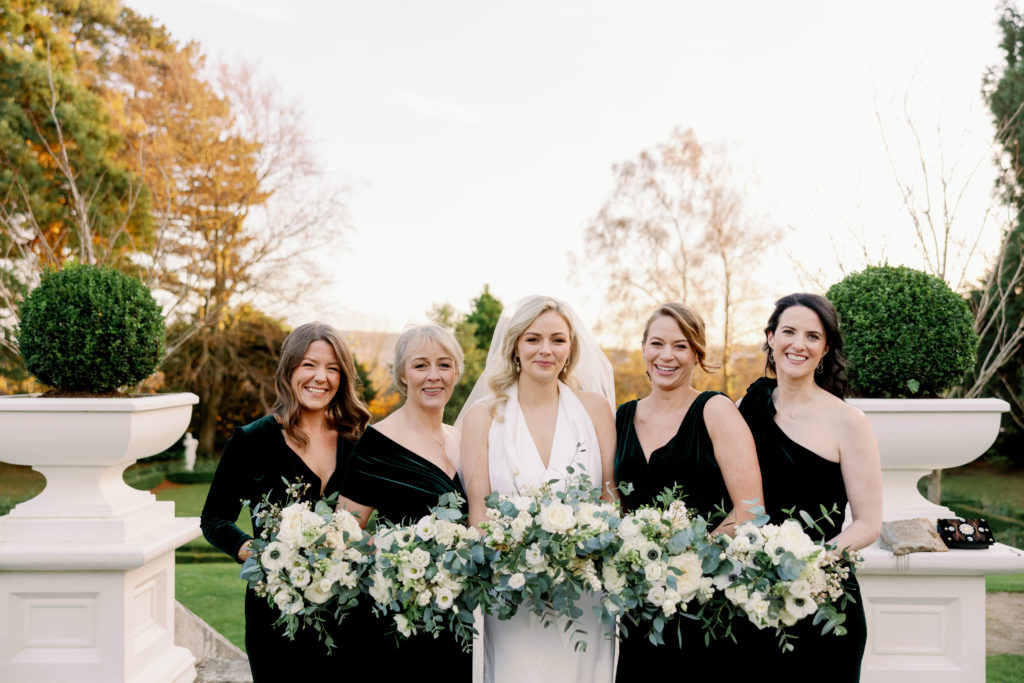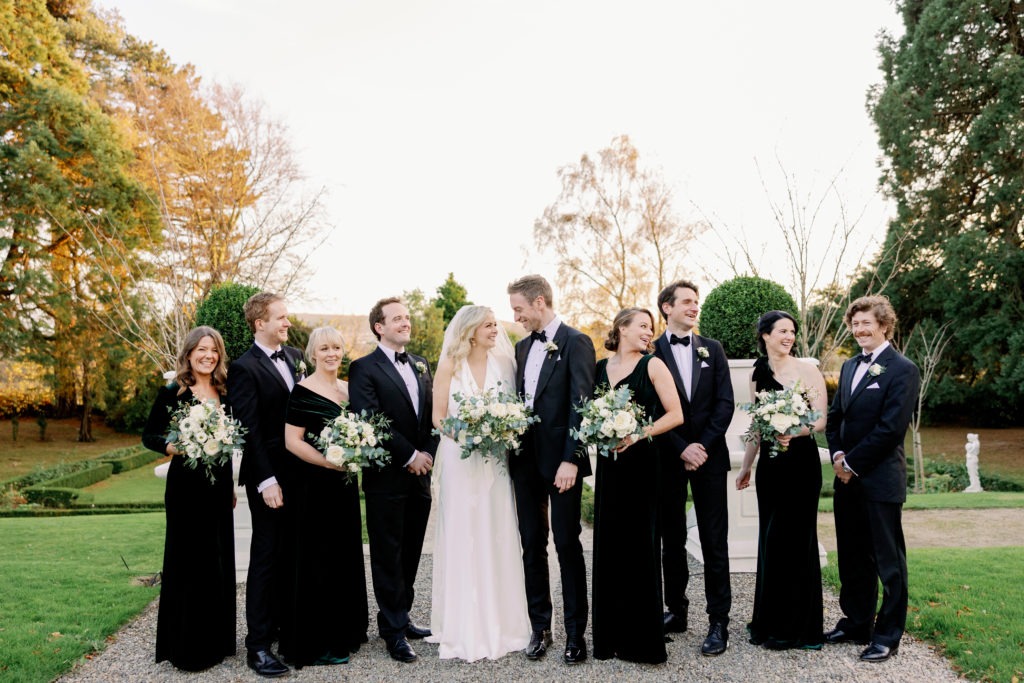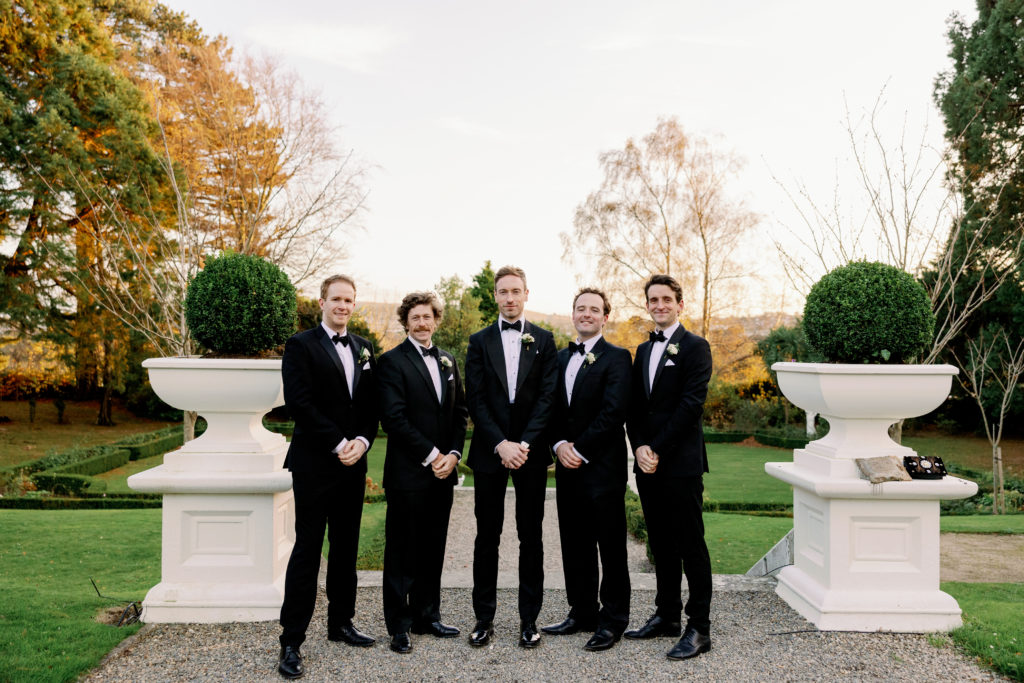 The Venue
Our friends got married in Tinakilly a few years before, and we loved the house and the setting. With families and friends mostly based in and around Dublin, finding a country house hotel that was so close to the city was a huge selling point. We also loved the cosy atmosphere of the place and the fact that we could have our marriage ceremony in the house and our reception a few steps away in the year-round marquee, which was decorated beautifully by the Tinakilly team and our florist, Austen Flowers. The venue has that feeling of being in a friend's home rather than a hotel, and the team at Tinakilly were also fantastic to deal with and put us completely at ease throughout the day.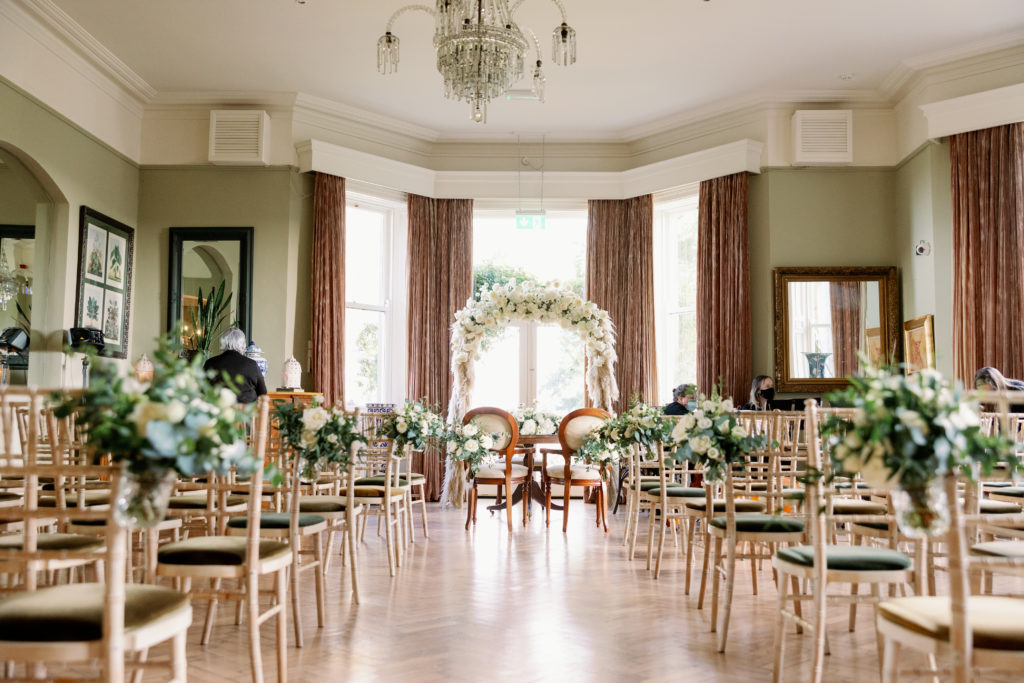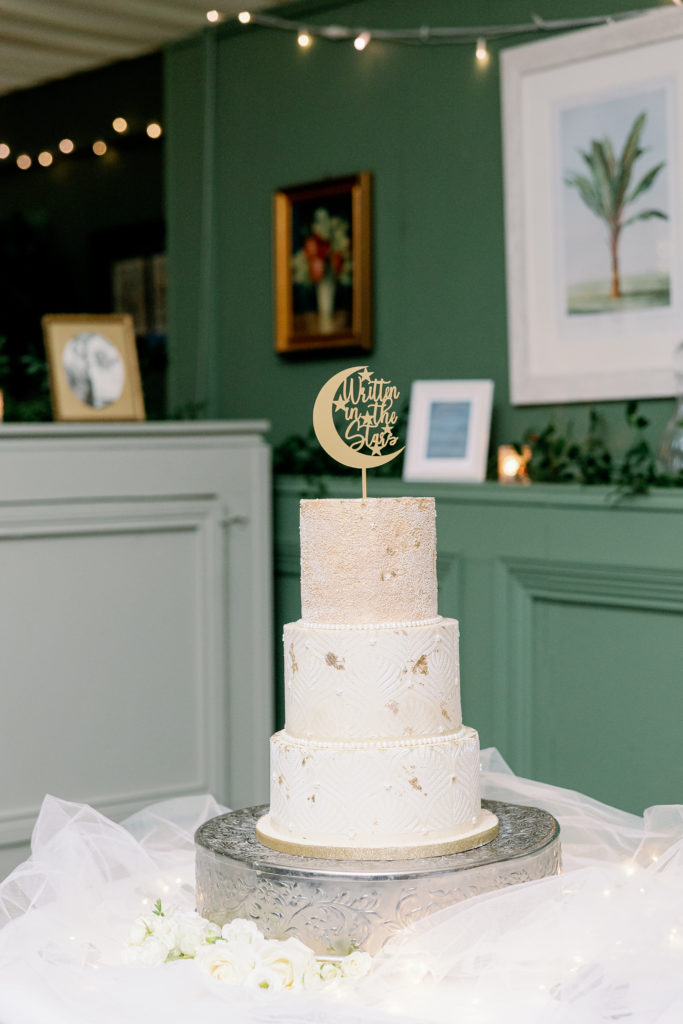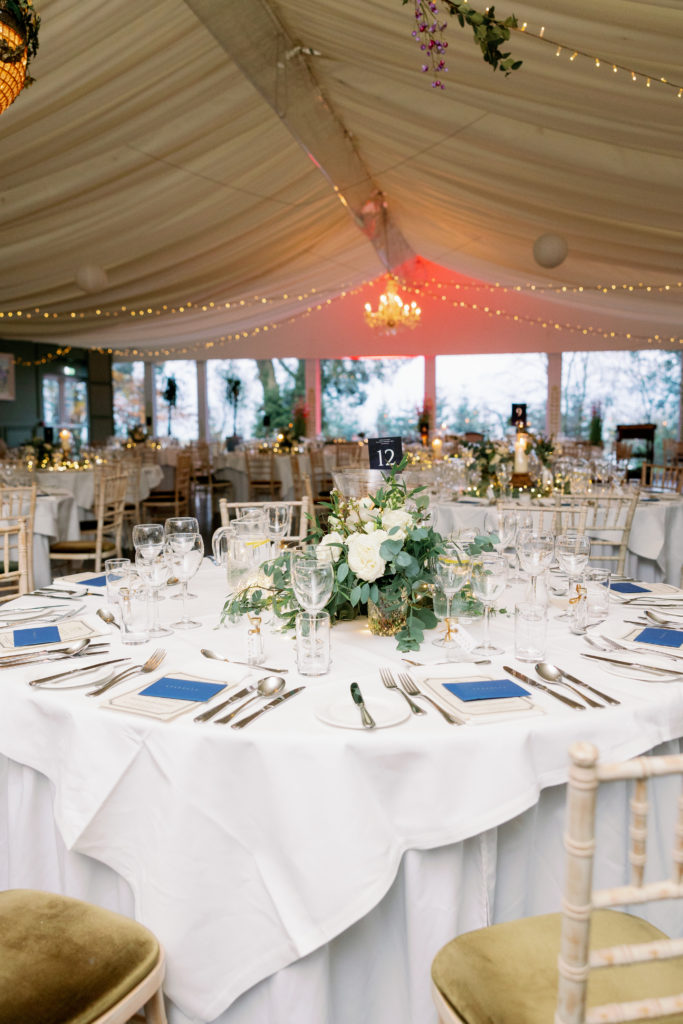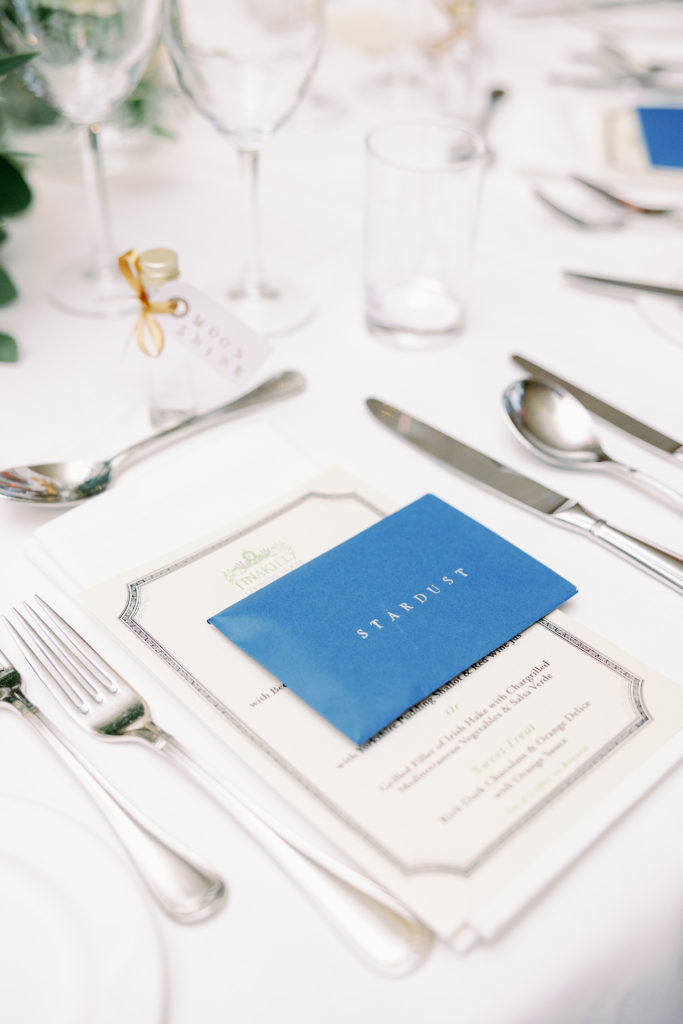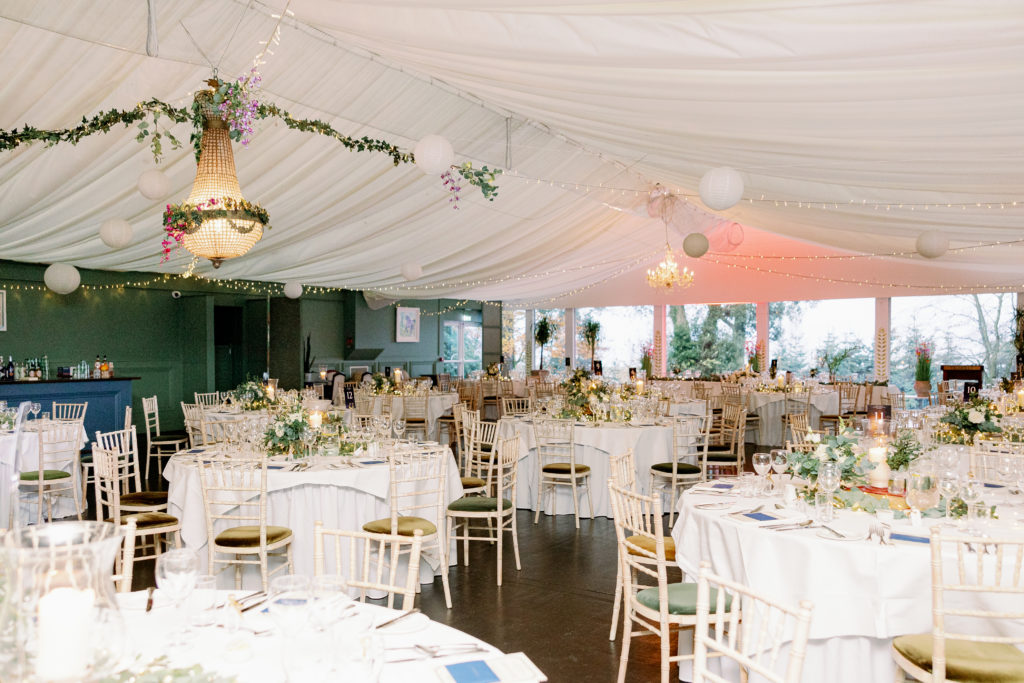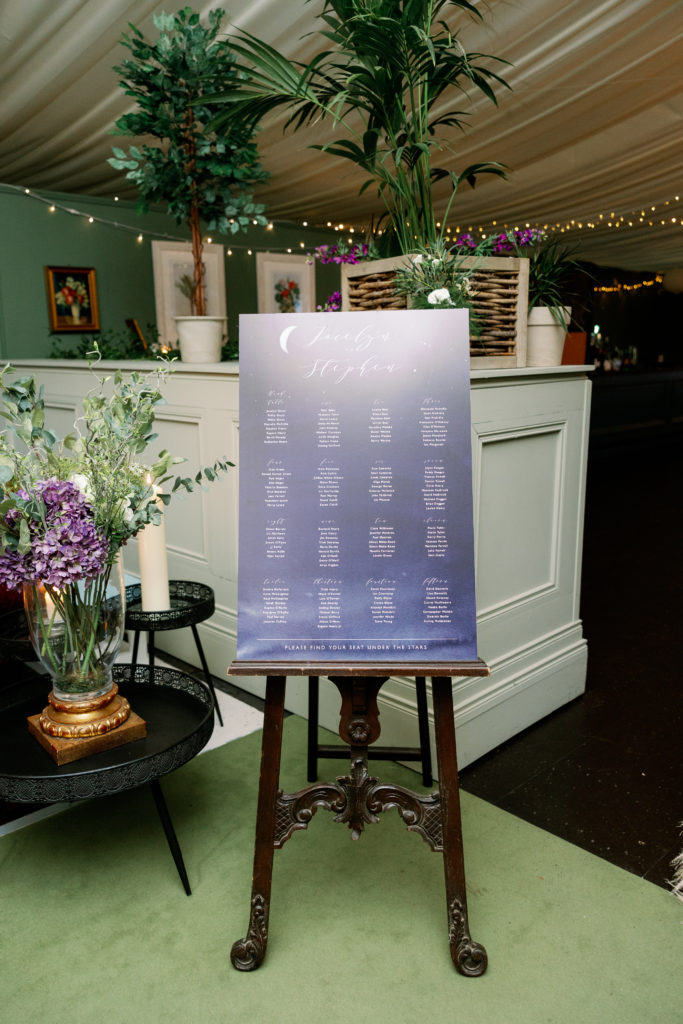 The Entertainment
Stephen lived with friends for a few years in a house in Rathmines and would wax on about the incredible parties they threw there. A staple fixture at those parties was the band Created by Comets, who are good friends with one of Stephen's groomsmen. The band would go on to play at the weddings of many of Stephen's friends as they got married. Having not experienced the parties first-hand myself, I listened to some of their music and really liked them. Although they didn't get to play as long a set as they would have in a non-covid curfew-curtailed wedding, they were fantastic on the night, and we were delighted we went with them.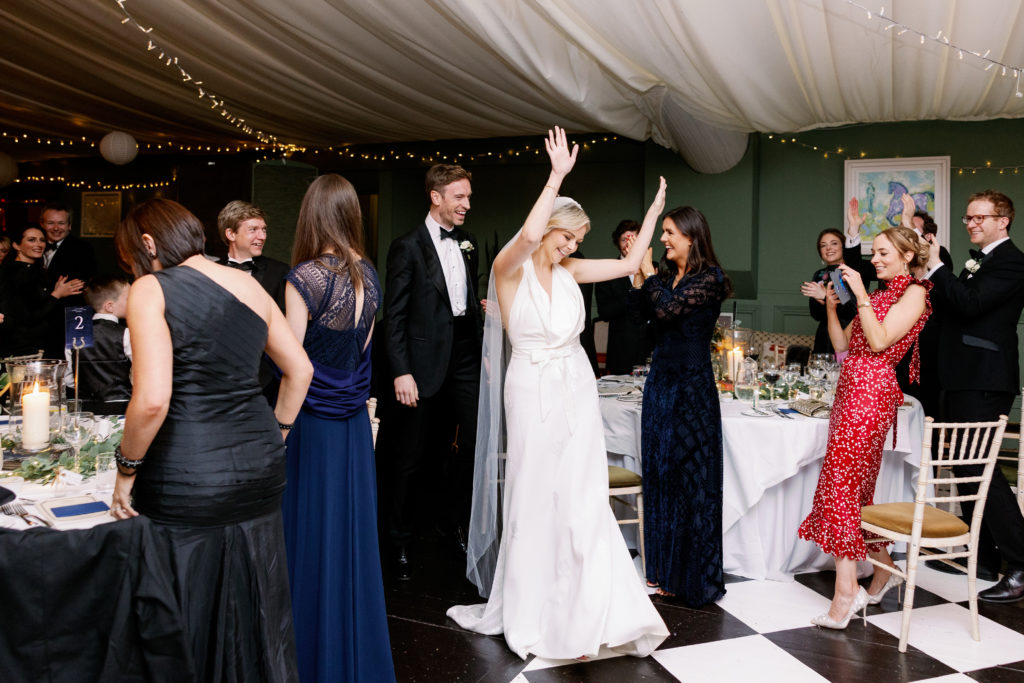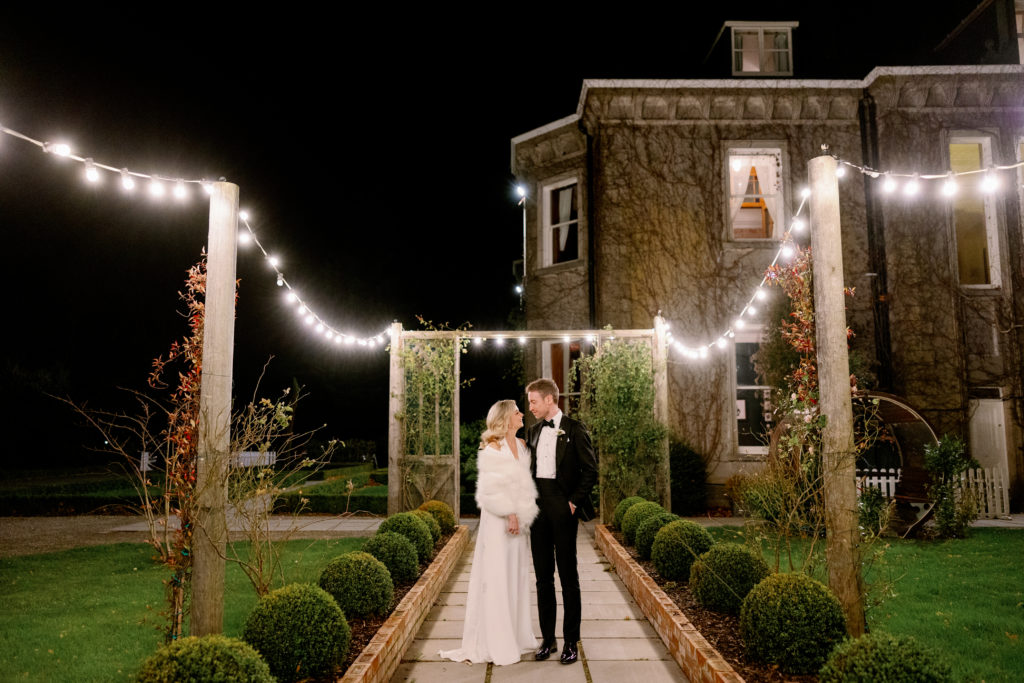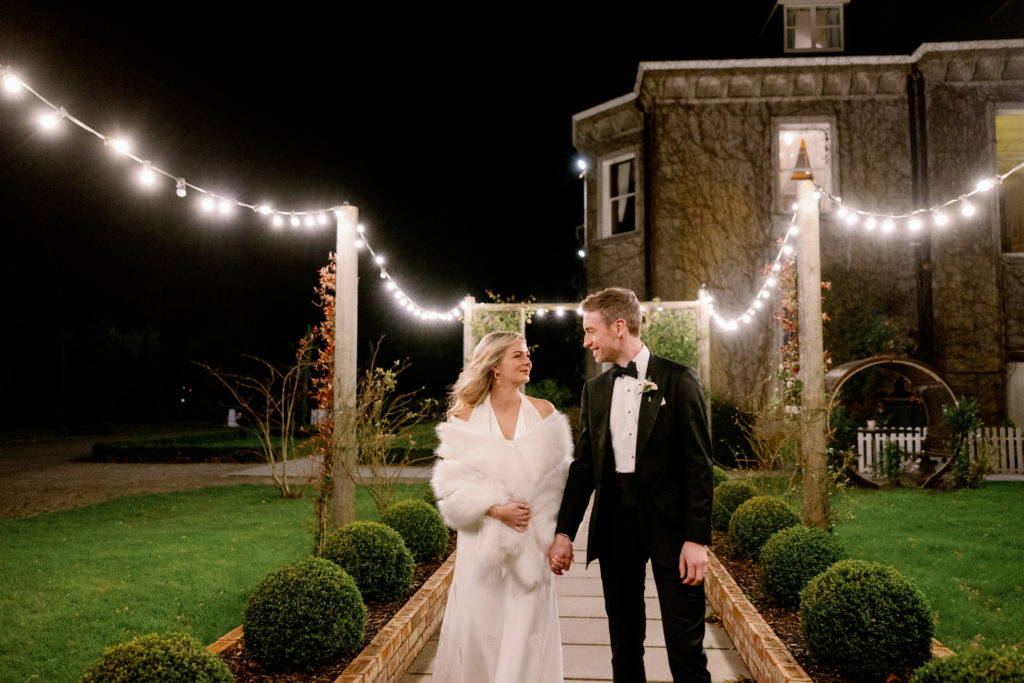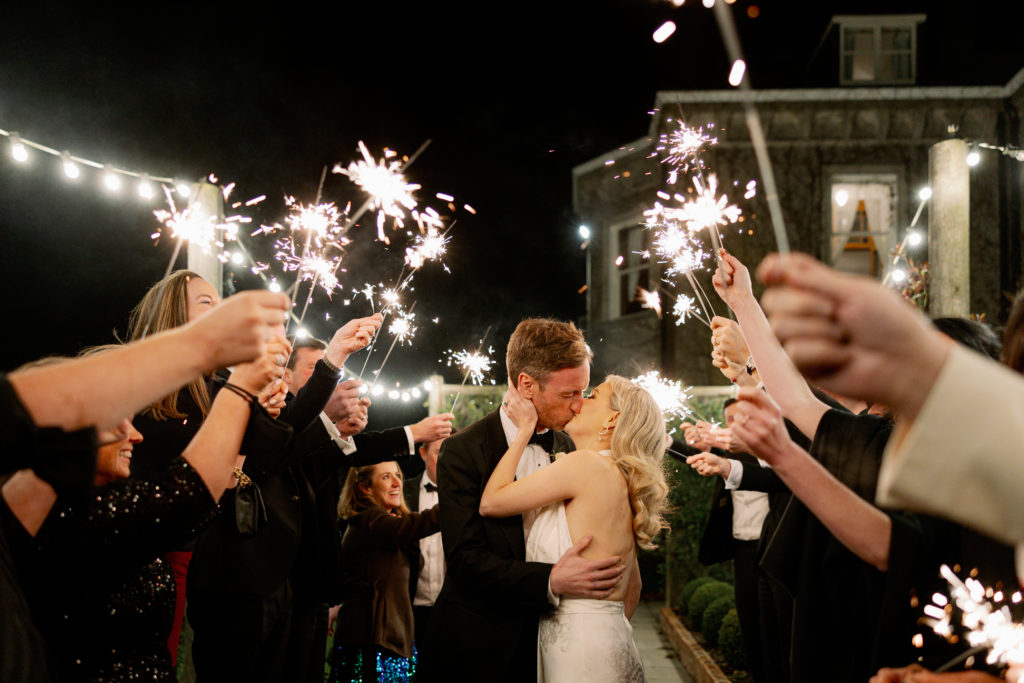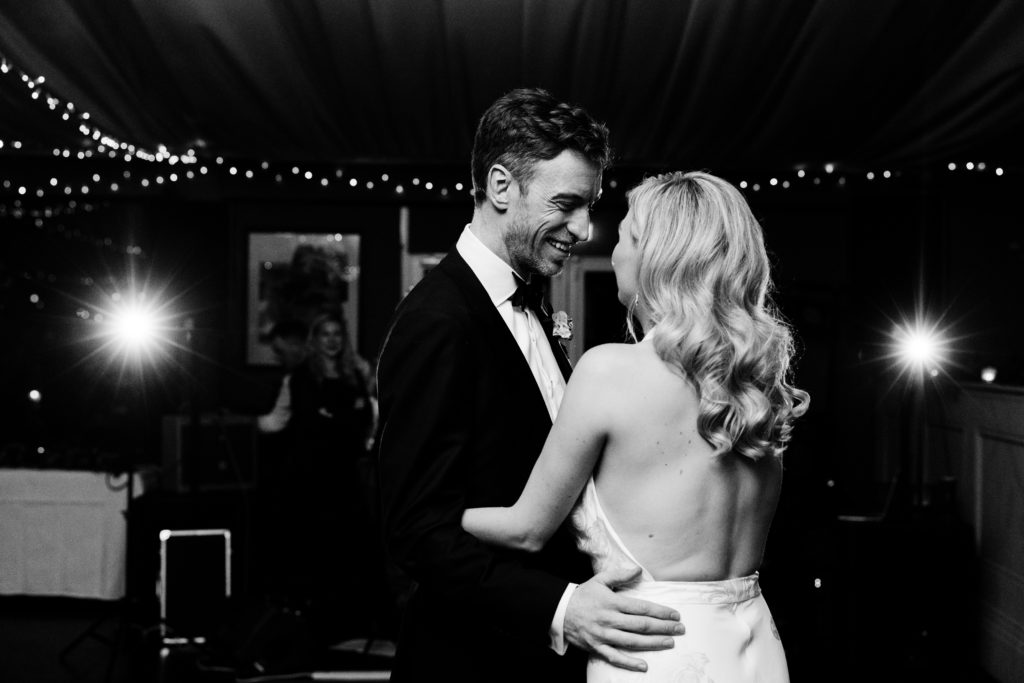 Best Decision
The best decision was to do a "first look" set of photos before our wedding ceremony. You lose the daylight at about 4 pm in November, so we wanted to make the most of the natural light during the day, and it also meant we got more time to spend with our guests at our drinks reception straight after the ceremony. It felt really special to share that moment, and made us even more excited to go and get married in front of all our friends and family afterwards.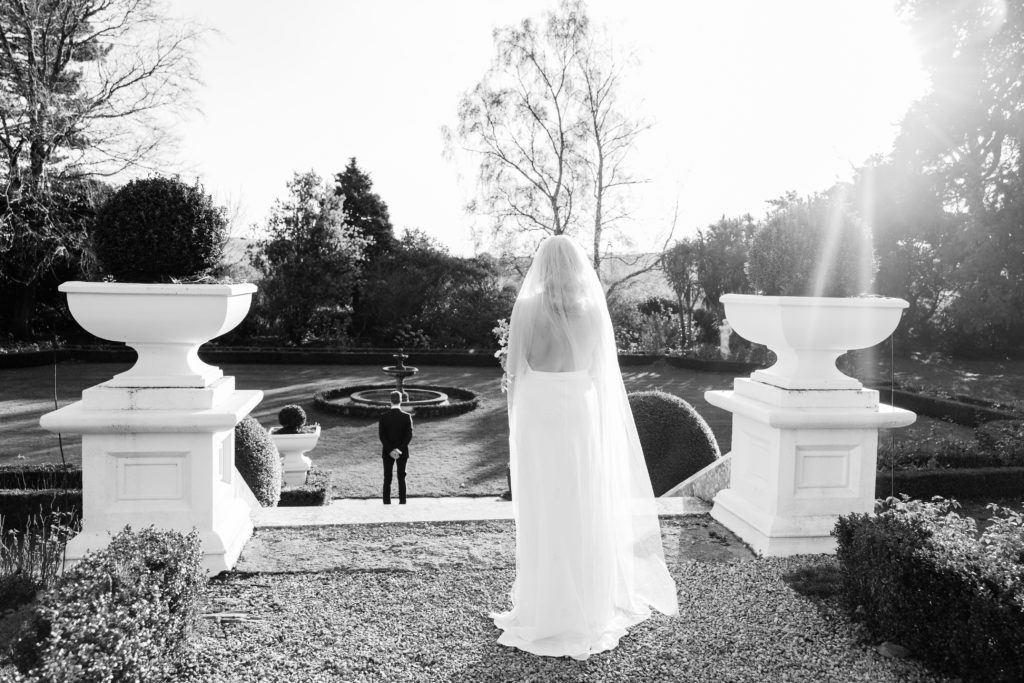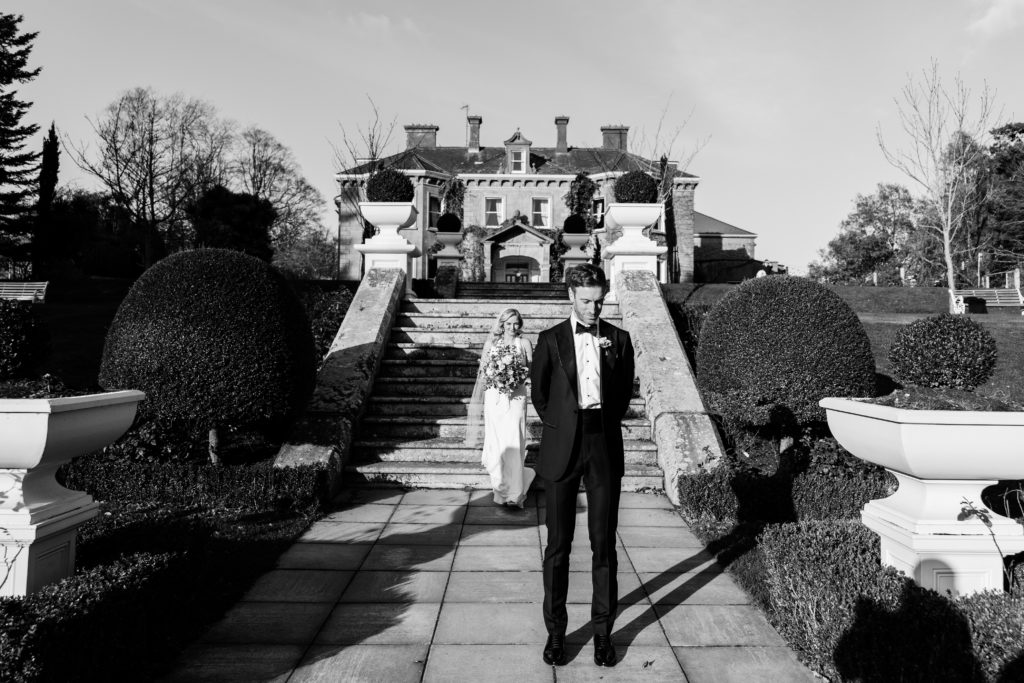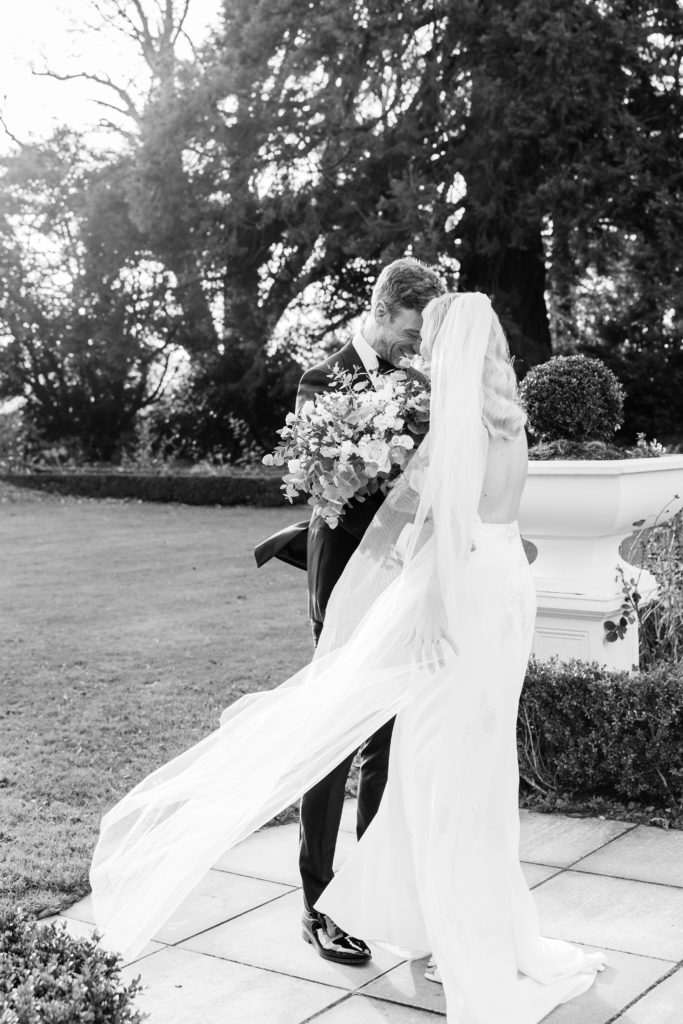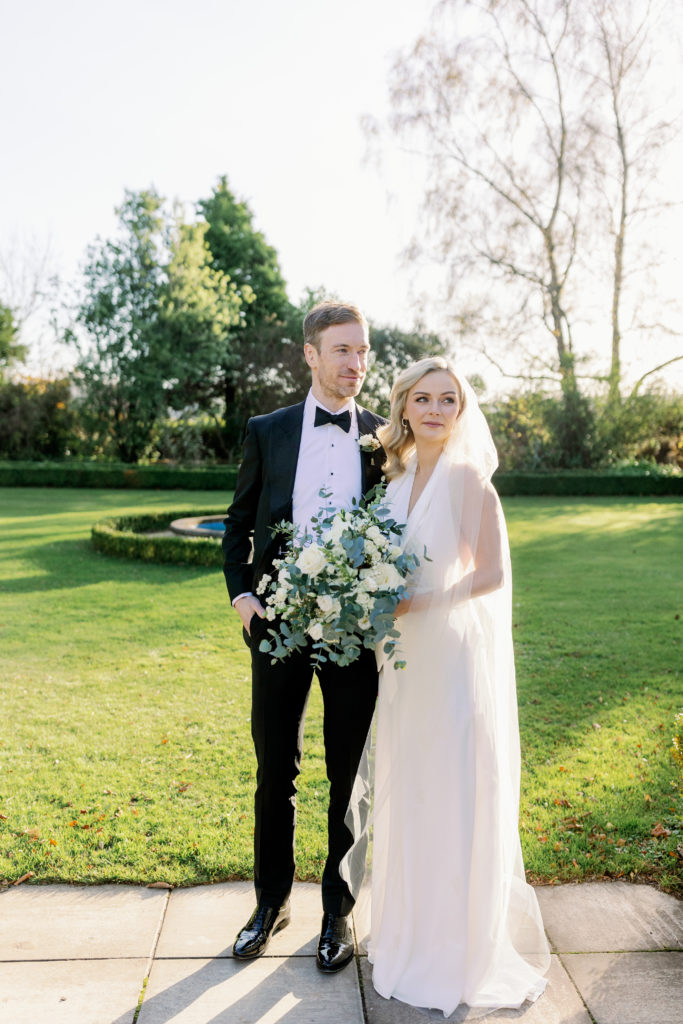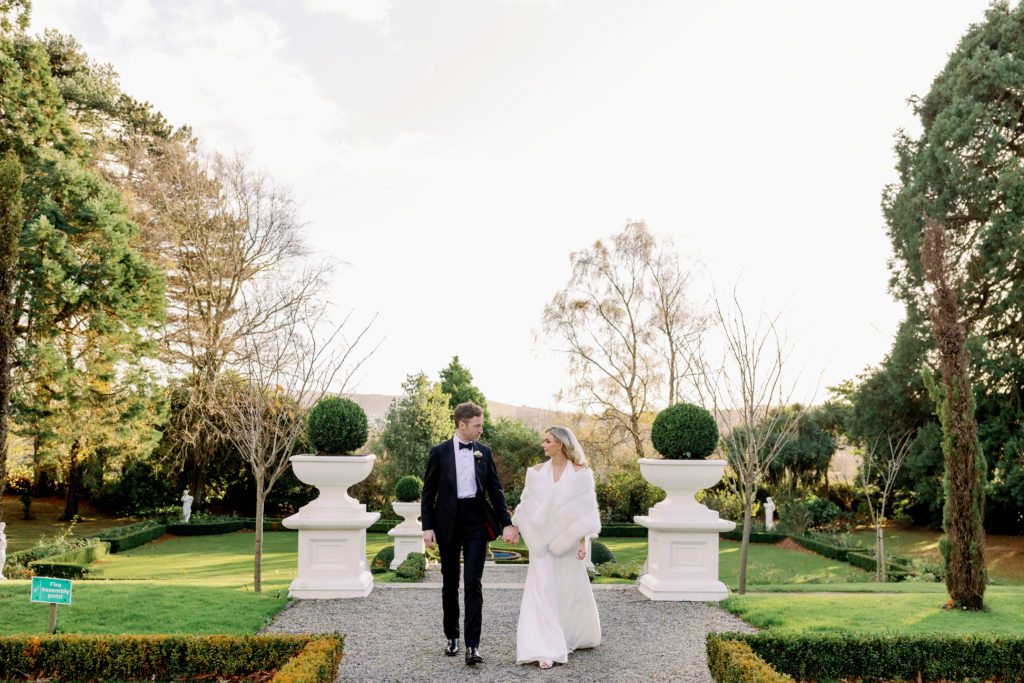 Worst Decision
No worst decision. To have all of the organising fall into place so easily while still in a pandemic and dealing with shifting restrictions and lots of unknowns, we felt incredibly lucky, and it was a dream day from start to finish.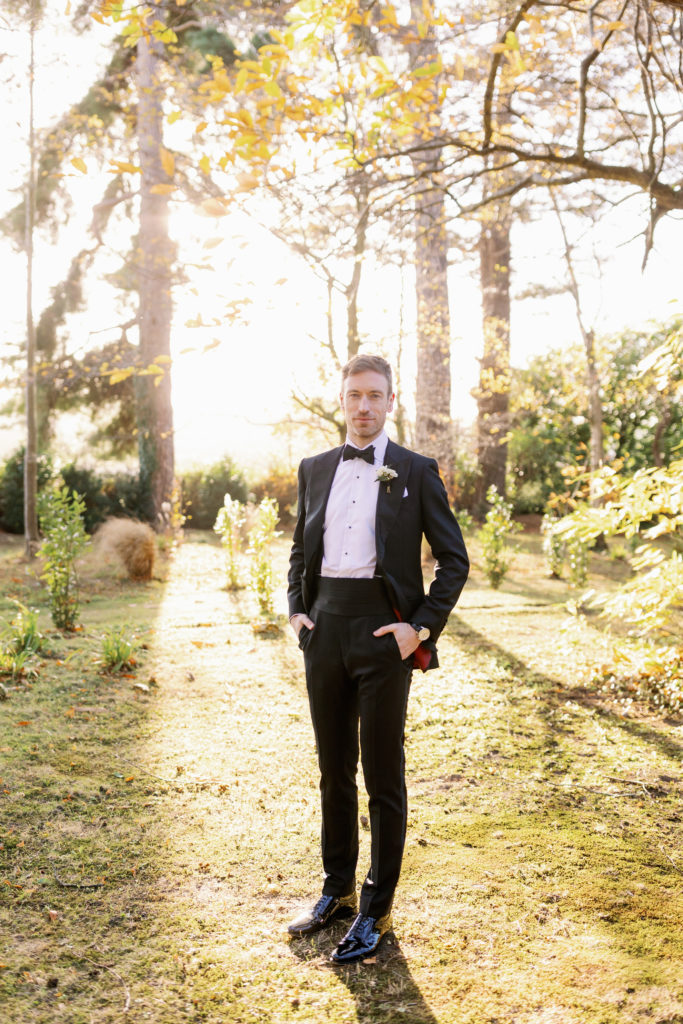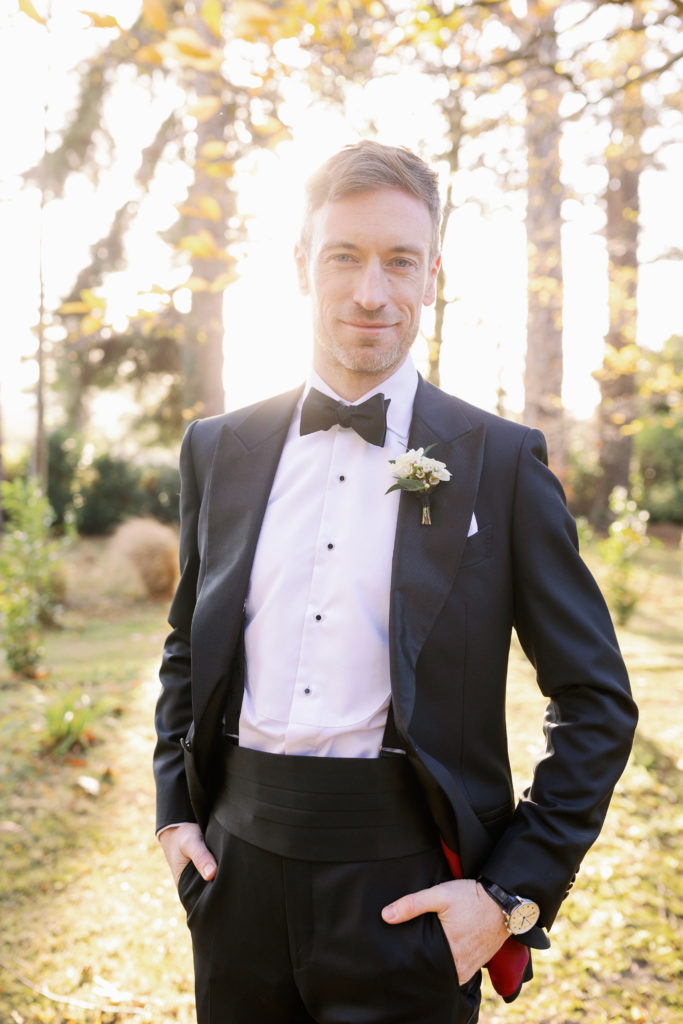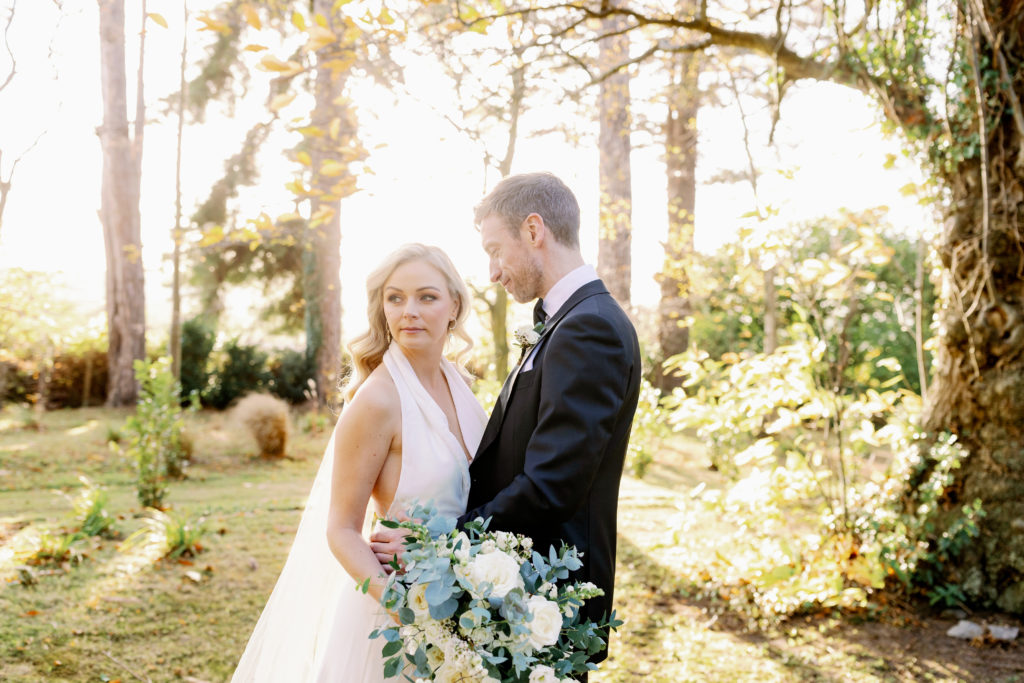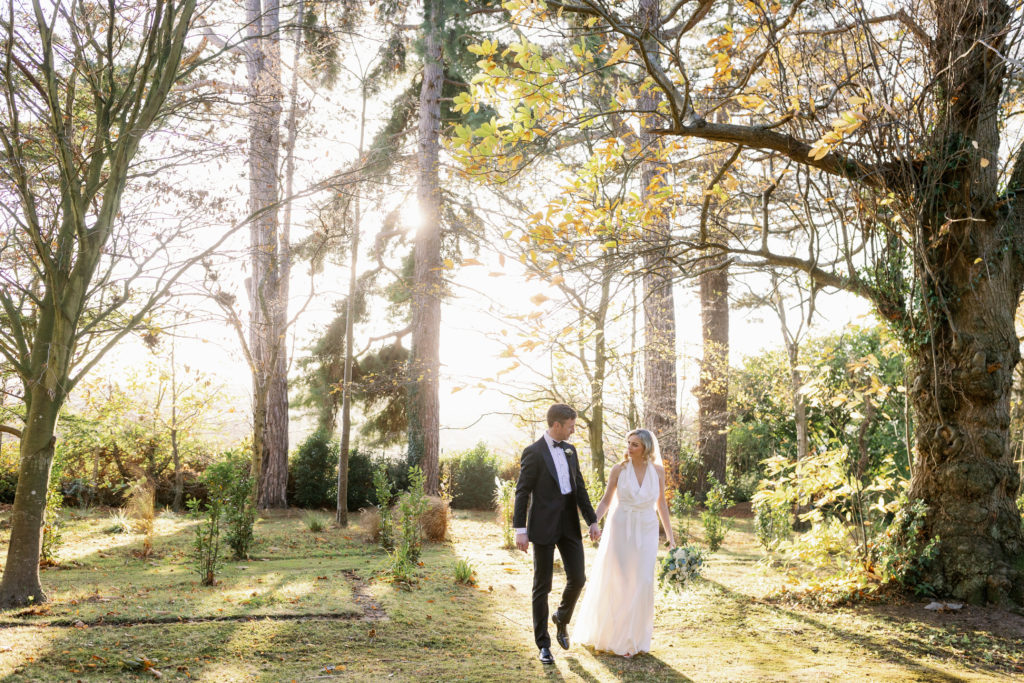 - Gráinne