Ireland's most magical address, Dromoland Castle is set in the lush countryside of country Clare. Dating back to the 16th century, this breathtaking castle was the venue for Running Coach and Director of Program Management Bridget McLaughlin and Arizona Cardinals Football Analytics & Research Manager Charlie Adkins's gorgeous late June 2023 wedding. Photographed by Anna G and styled by Kate Deegan, this is a wedding you don't want to miss out on!
The pair met at a coffee shop on their university campus during the last year of school. They had a number of mutual friends but had never met in the three years they attended The University of Texas at Austin together. Charlie asked Bridget to meet him for a coffee but showed up with a homemade smoothie and told her he didn't actually like coffee! They chatted for a bit about sports, families, and a 5K & 10K race that they were both helped to plan. "I remember thinking he was confident, clever, and thoughtful. From that date (September 12, 2016 – my grandmother's birthday), we have talked almost every day since." The two stayed friends until graduation, then reconnected the following Autumn and decided to start dating while Bridget was living in Boston and Charlie in Arizona. They visited each other every month or so until she moved to Arizona in 2019 and the couple officially started their life together.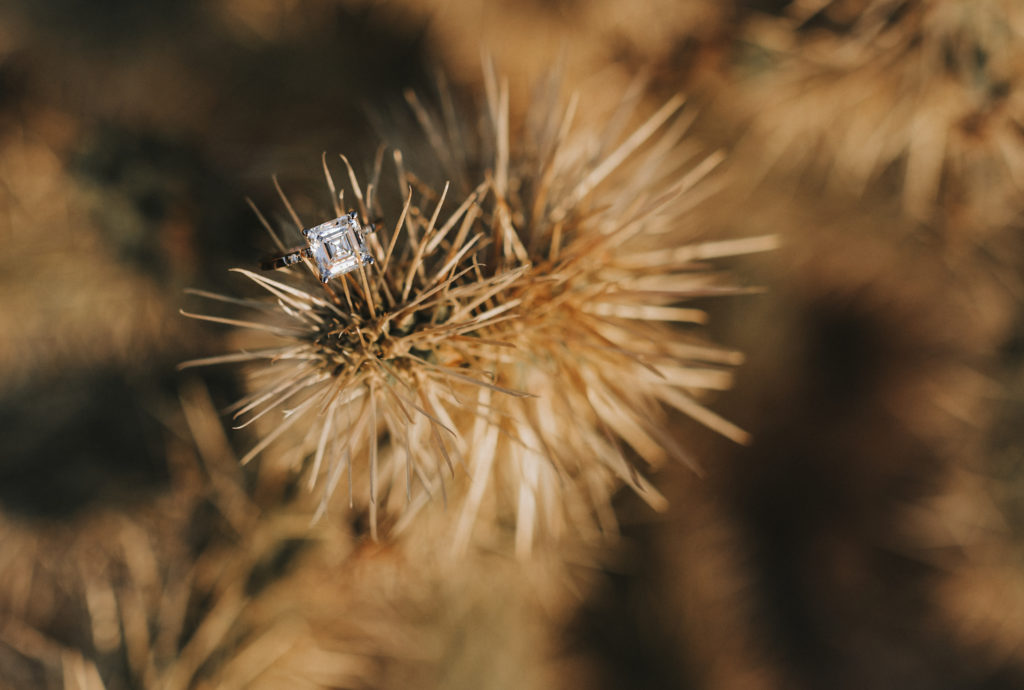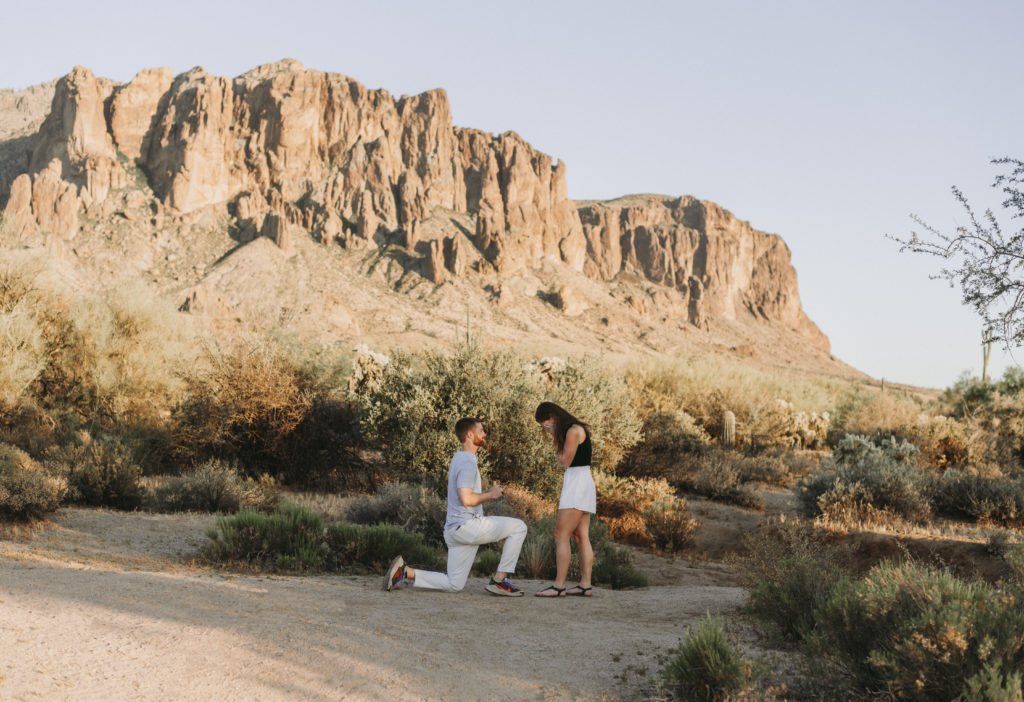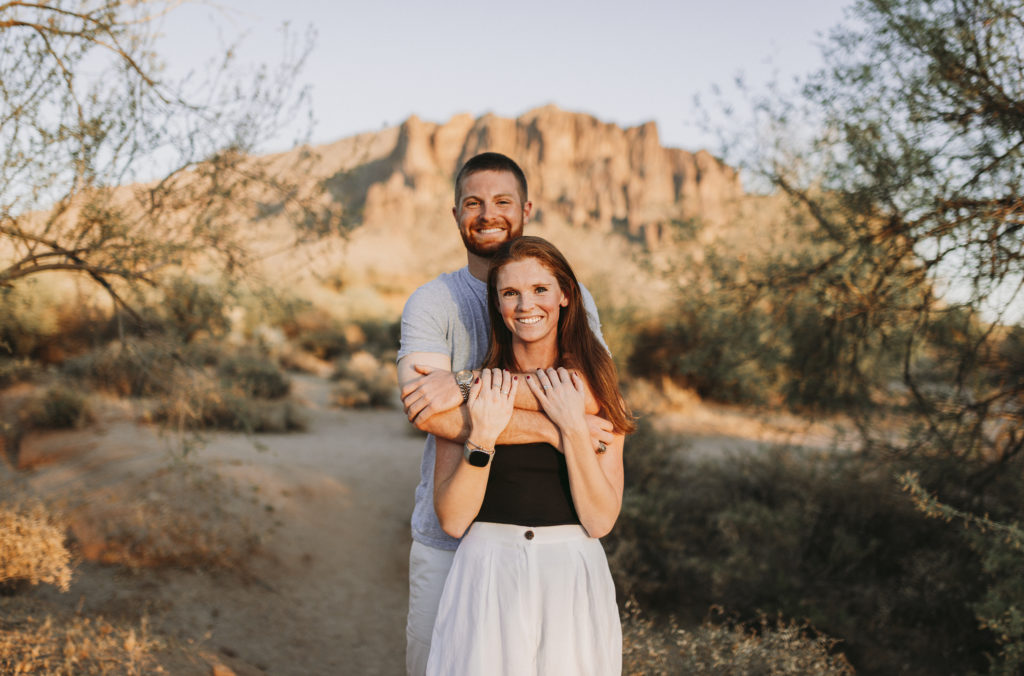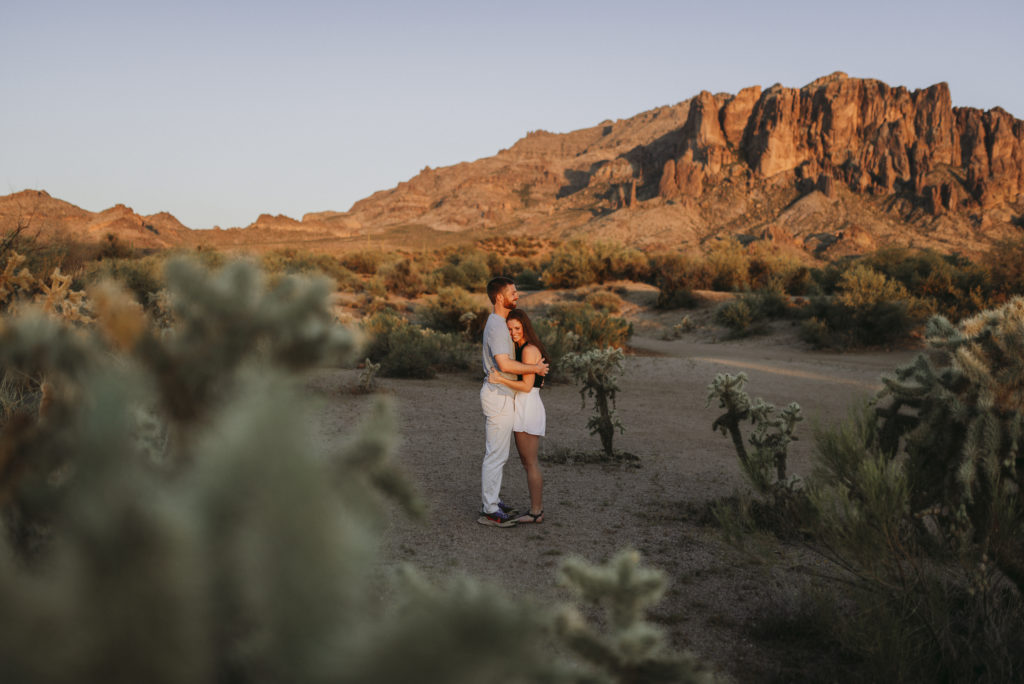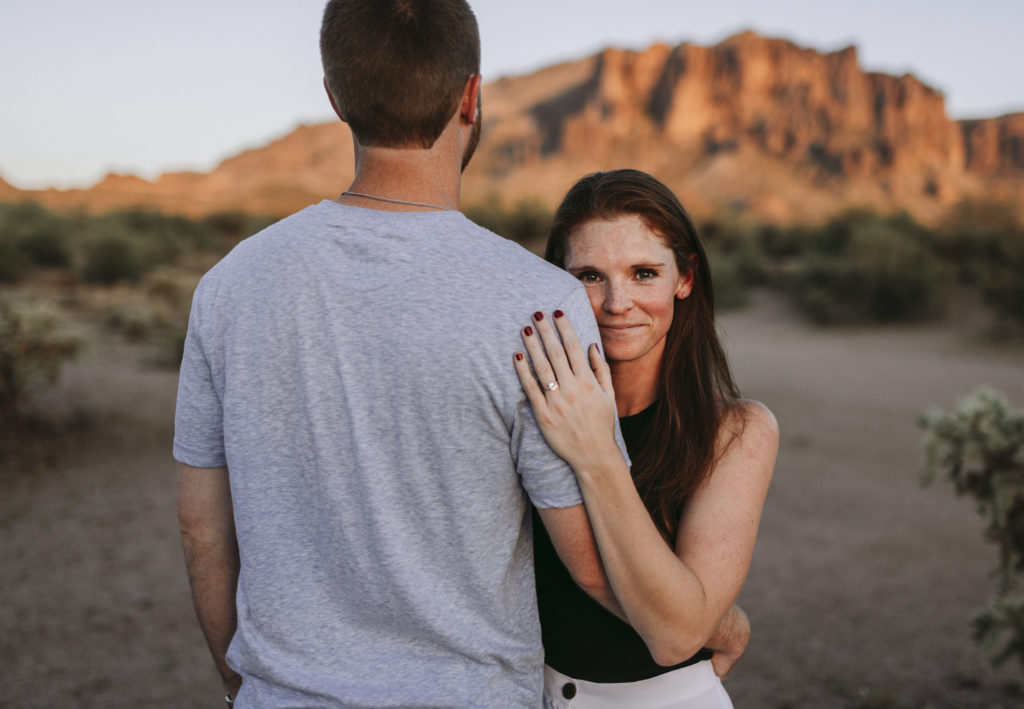 Bridget's friend Carley invited her to a surprise birthday party picnic for her brother-in-law in a beautiful area in the mountains near our home in Arizona. Our bride-to-be loves birthdays, so offered to make a cake, bring food and drinks, help her set up, etc, but Carley assured her that everything was handled. Bridget invited Charlie, and he nonchalantly replied, "Maybe." When the day came, he decided he wanted to join. "We were running a bit late, so I was worried we'd ruin the surprise. I was rushing Charlie incessantly (and later found out that Carley was asking him to wait a bit until the sun was just about to set and we'd have perfect Golden Hour photos). Carley asked us to take a test photo when we arrived so she could get the right angle for the surprise later. Charlie all of a sudden got down on one knee and pulled out a ring. I thought he was joking until I looked at the ring and realised it was the exact one I had wanted." About a year prior to this, Charlie had asked her to send him all the specifications for her perfect engagement ring, so Bridget did – it was a 12-page document with notes and photos. He followed it to a tee! Carley captured amazing photos of the proposal that the two will cherish forever from that day.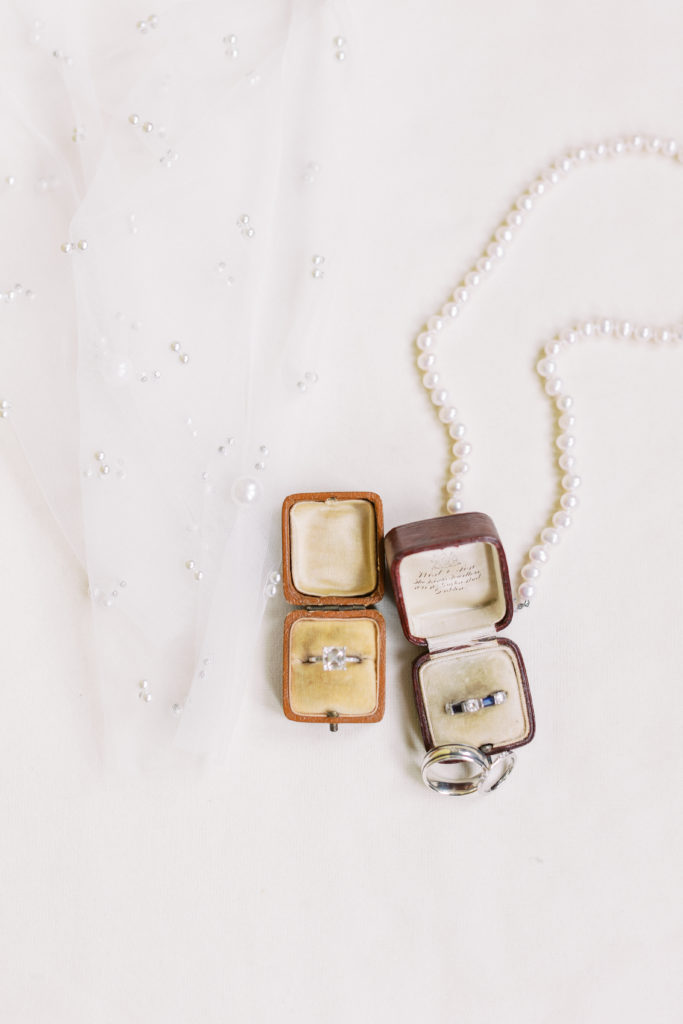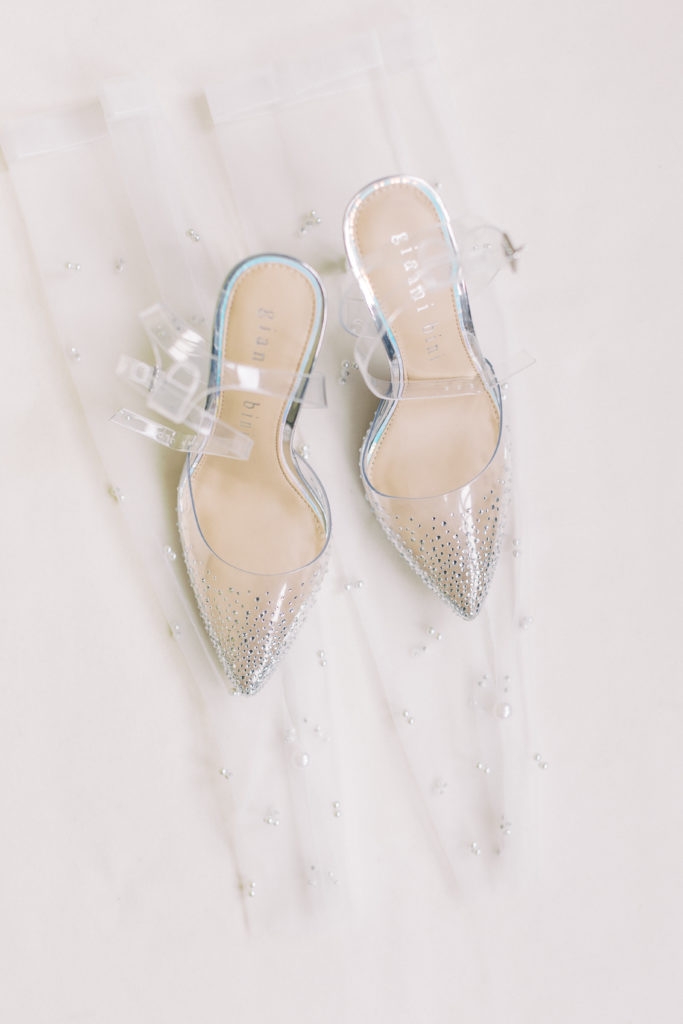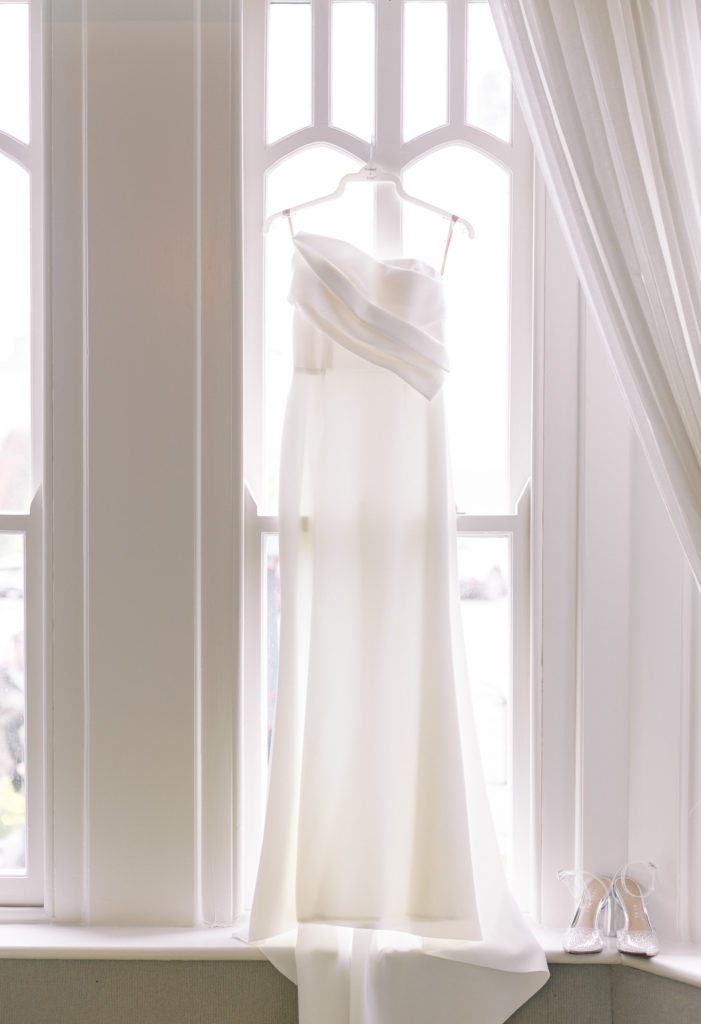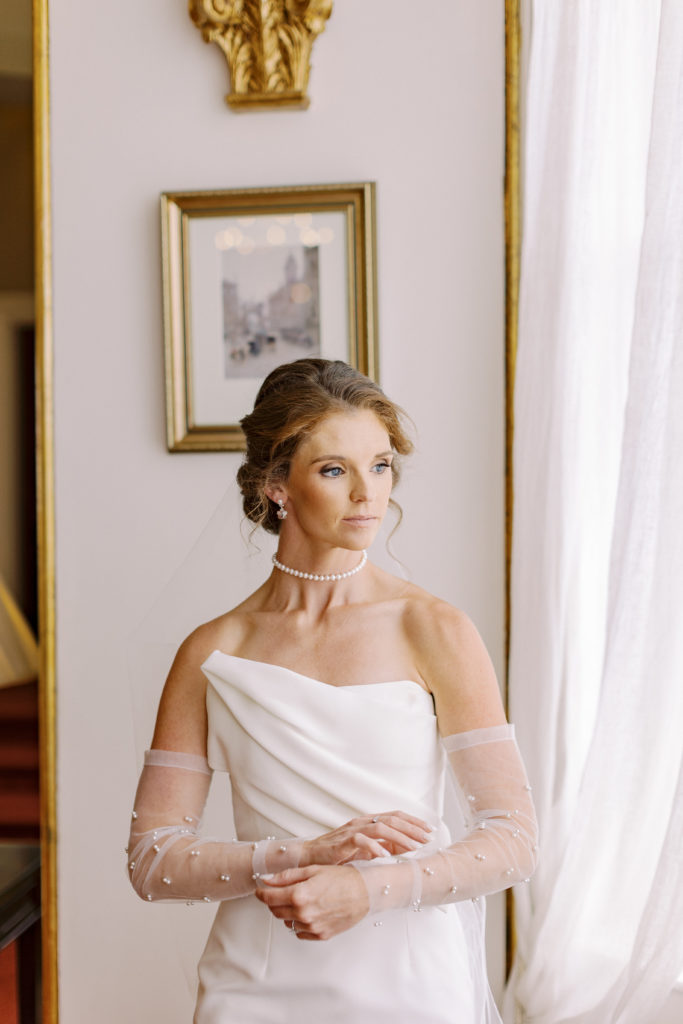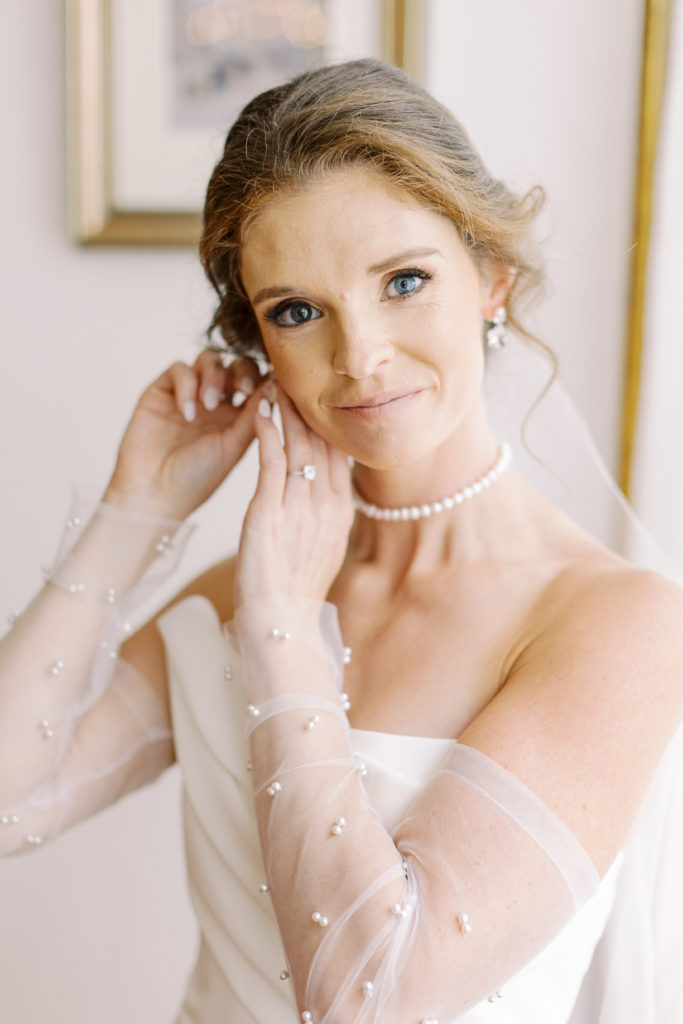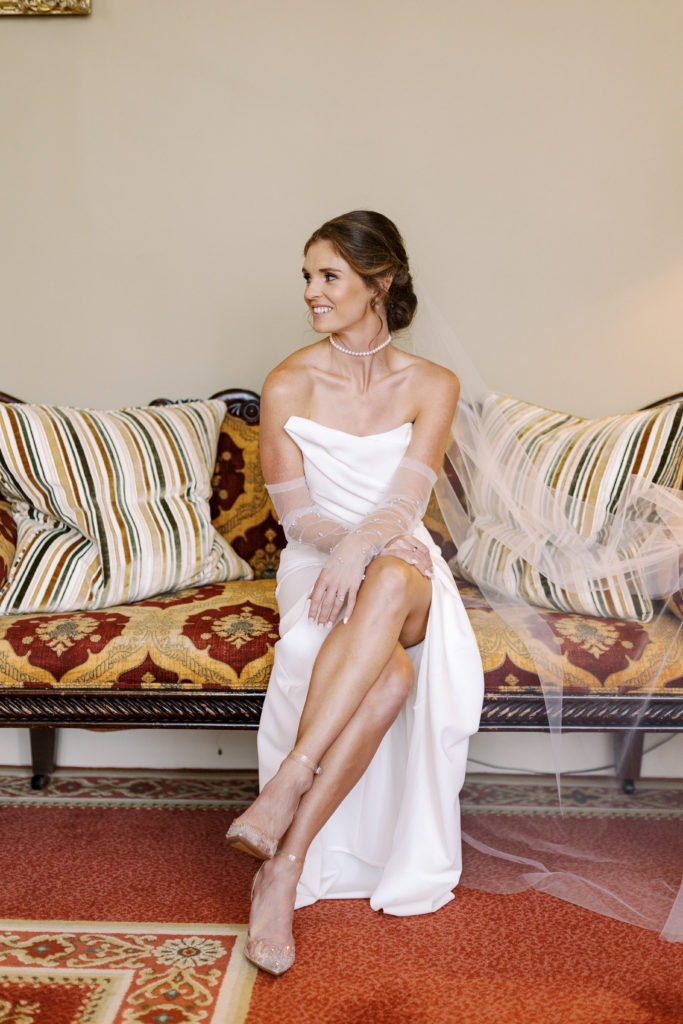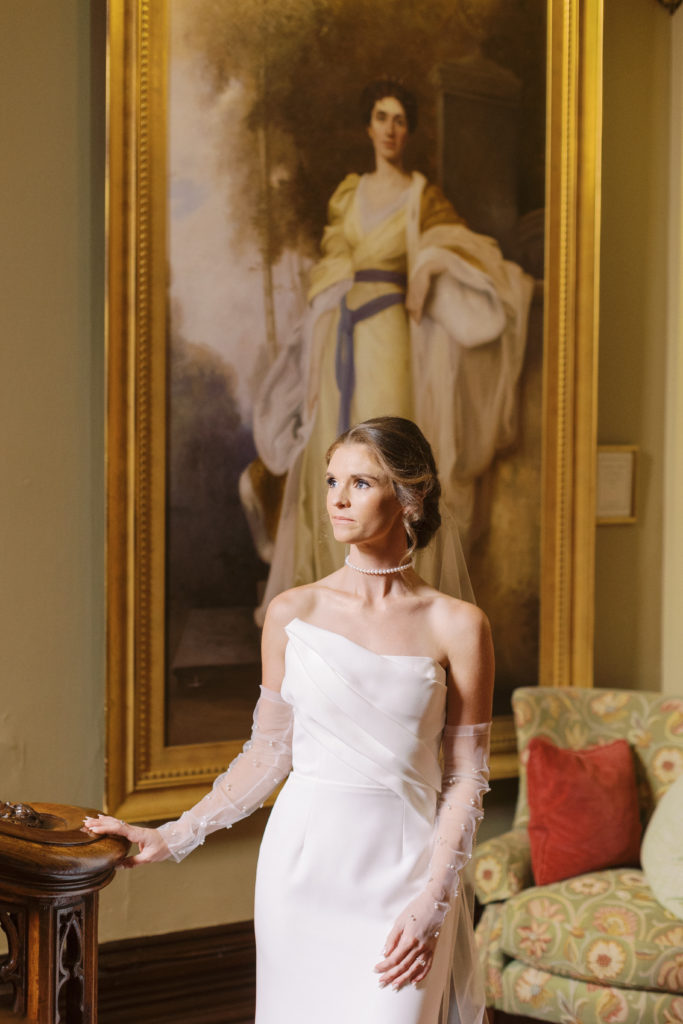 Bridget was so excited to go dress shopping. She admitted that truthfully she's not very fashionable and typically errs on the side of comfort and function. However, wedding gowns have always been interesting to her and she was excited to find out the one! Her sister had just gone wedding dress shopping a month before since their wedding dates were so close together. "It was a blast to sit with my sister and mom and watch her find her perfect dress. She was glowing and we all knew it was the one as soon as she came out of the dressing room!" Bridget did a bit of research on different stylists, materials, and dress shapes before booking an appointment. She had a vague idea of what she was looking for but really wanted to try on a variety. "Ultimately, I picked the second dress I tried on and fell in love with the simplicity and structural design. I knew I could have fun with it, so I added sheer sleeves with pearl beads that I got from an artist on Etsy and they went perfectly with the set of white pearls that Charlie gifted me as a wedding present. The pearl studs from the set are lovely on their own, but my mom took them and added a beautiful drop pennant. She is the utmost creative and was able to capture the vision for the earrings without me even telling her! The crystal drop also matched my studded glass slipper-inspired heels." Bridget was lucky enough to borrow her sister's veil for the occasion – a clean and simple addition from a loved one. For her "something blue," she wore her mother's sapphire and diamond band on my right index finger, and for extra luck, had a small white shamrock painted onto my nails.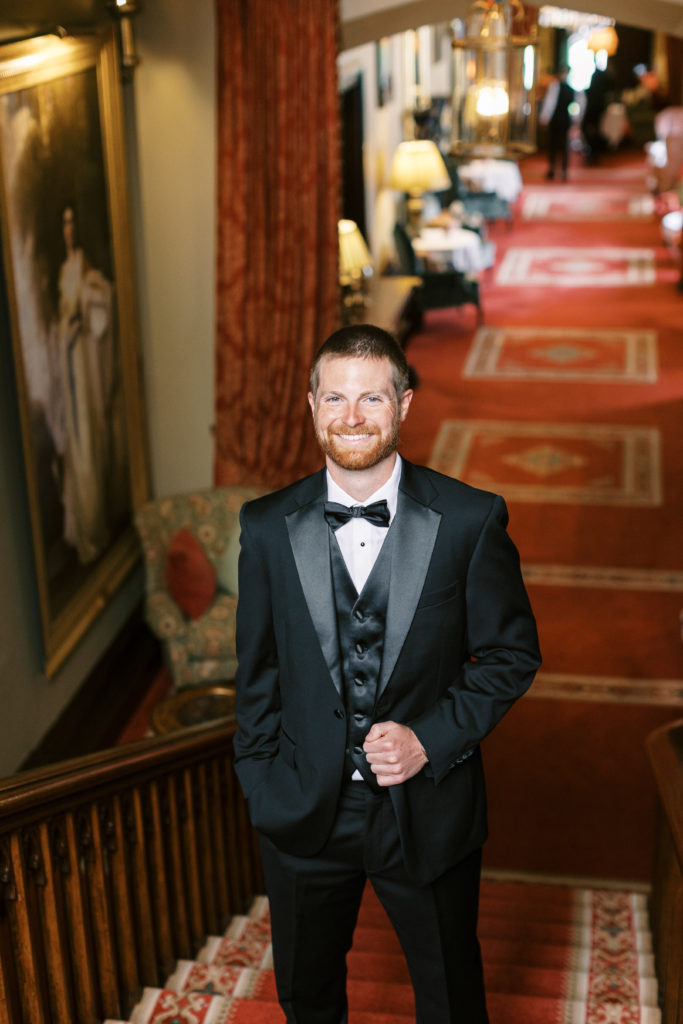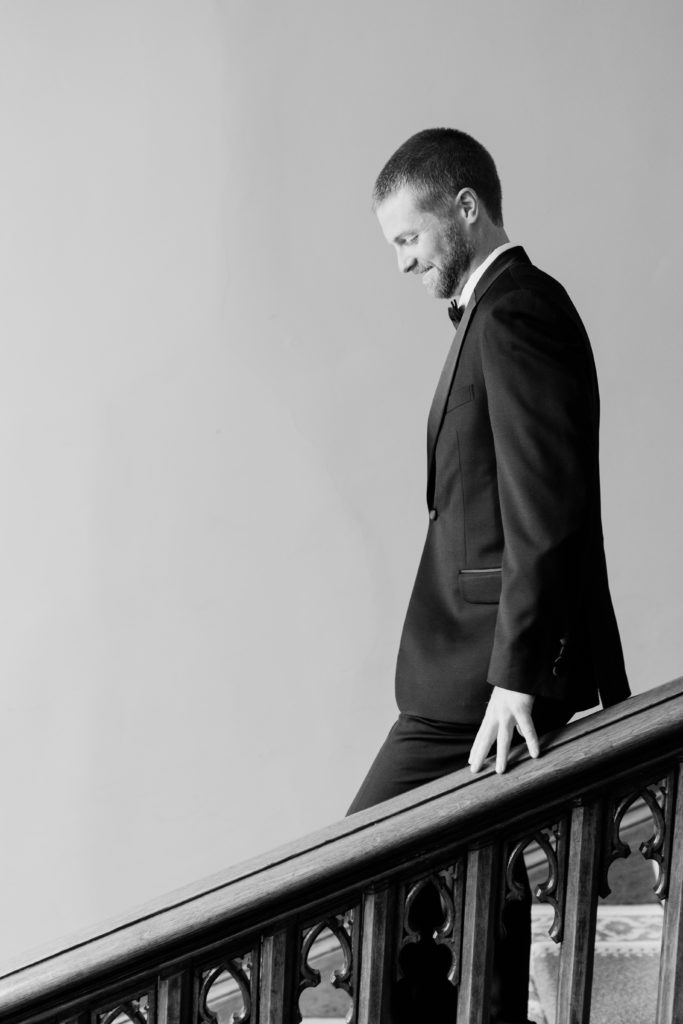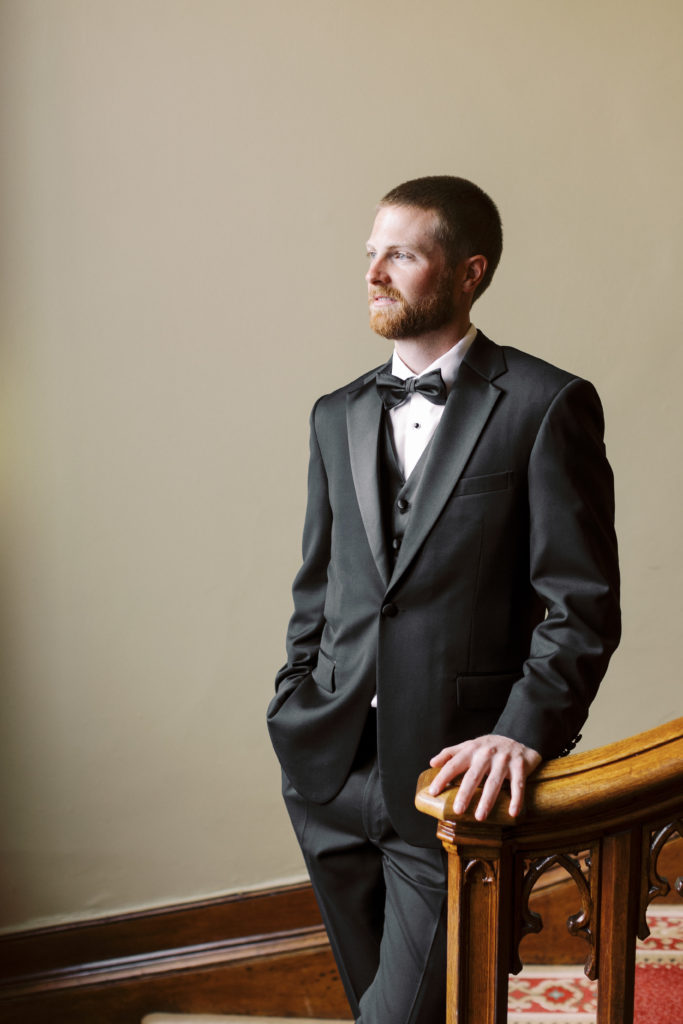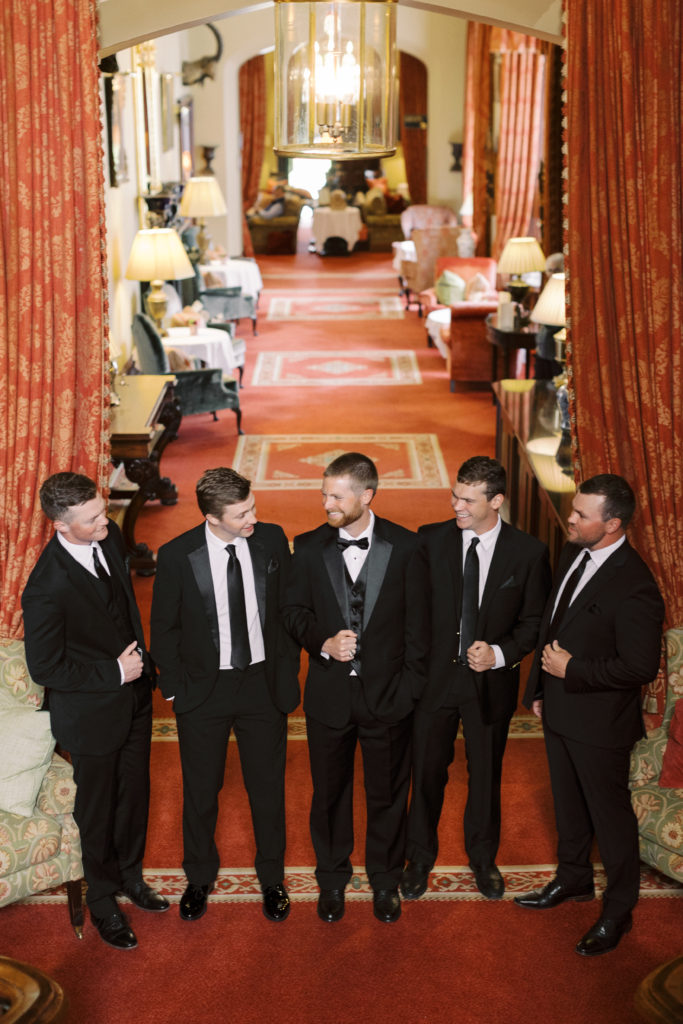 Charlie wore his tux (that still fit him perfectly from his college days) and his bride-to-be gifted him Celtic knot cufflinks to commemorate the day in Ireland. To bring a bit of his Texas heritage to the ensemble, Charlie wore his black Ostrich cowboy boots. The groomsmen (Bridget's brothers and Charlie's brother) all matched in black suits and black ties. Each of them had a green floral pocket square to represent the bride's favourite colour and the beautiful green landscape at Dromoland.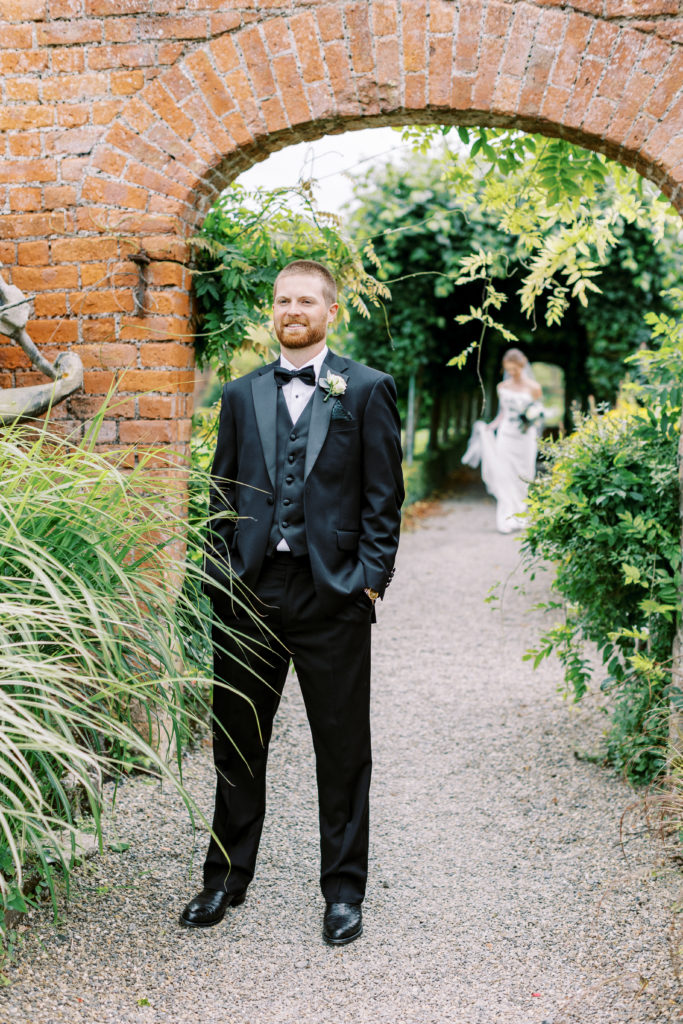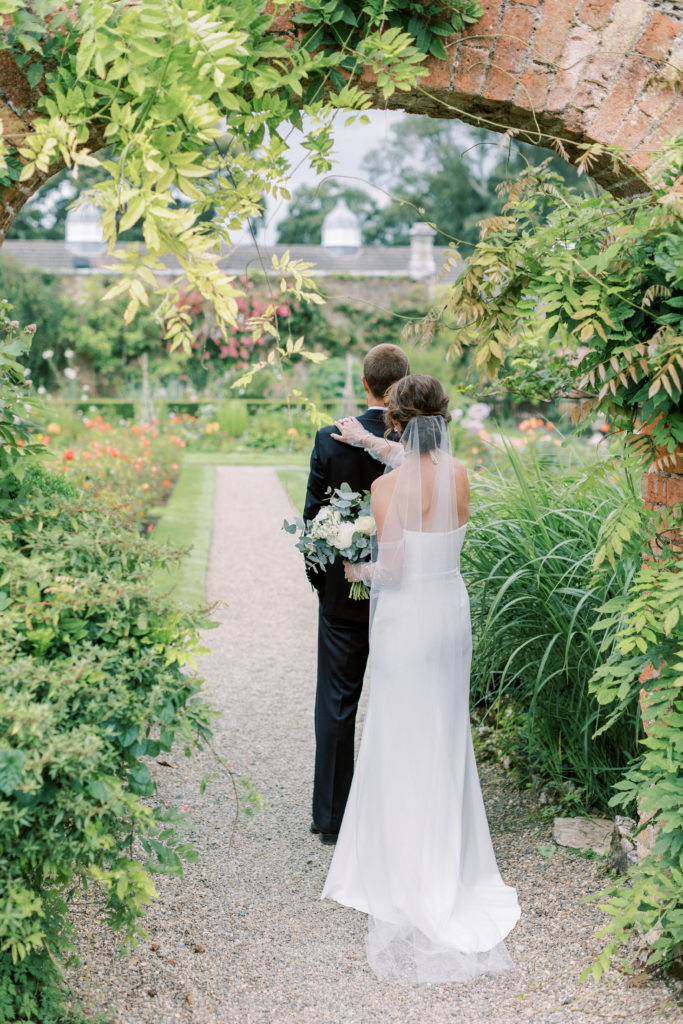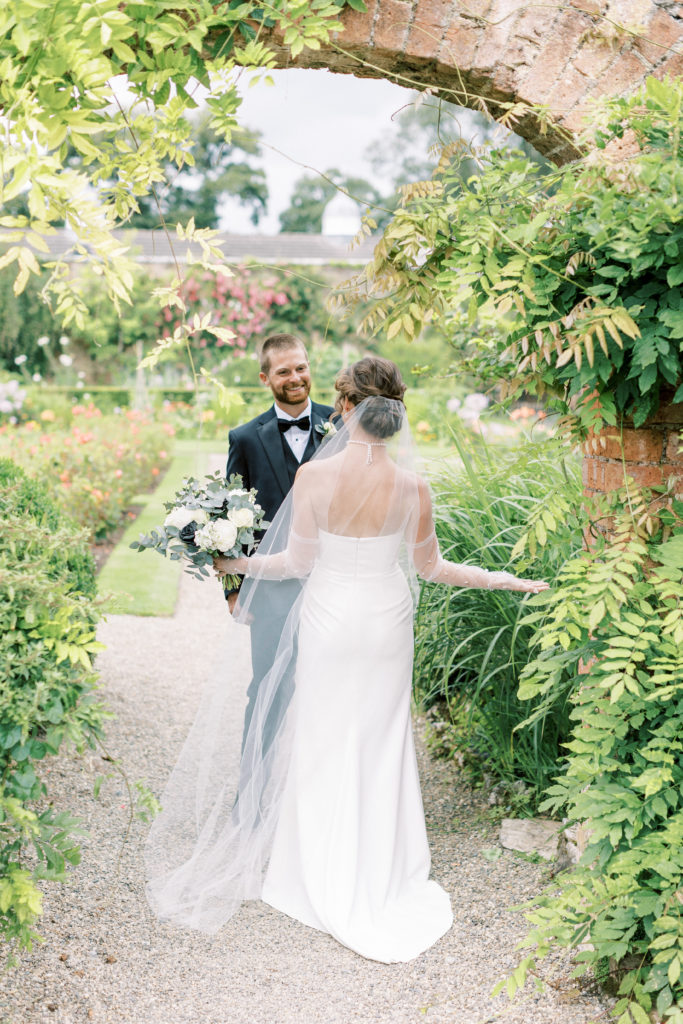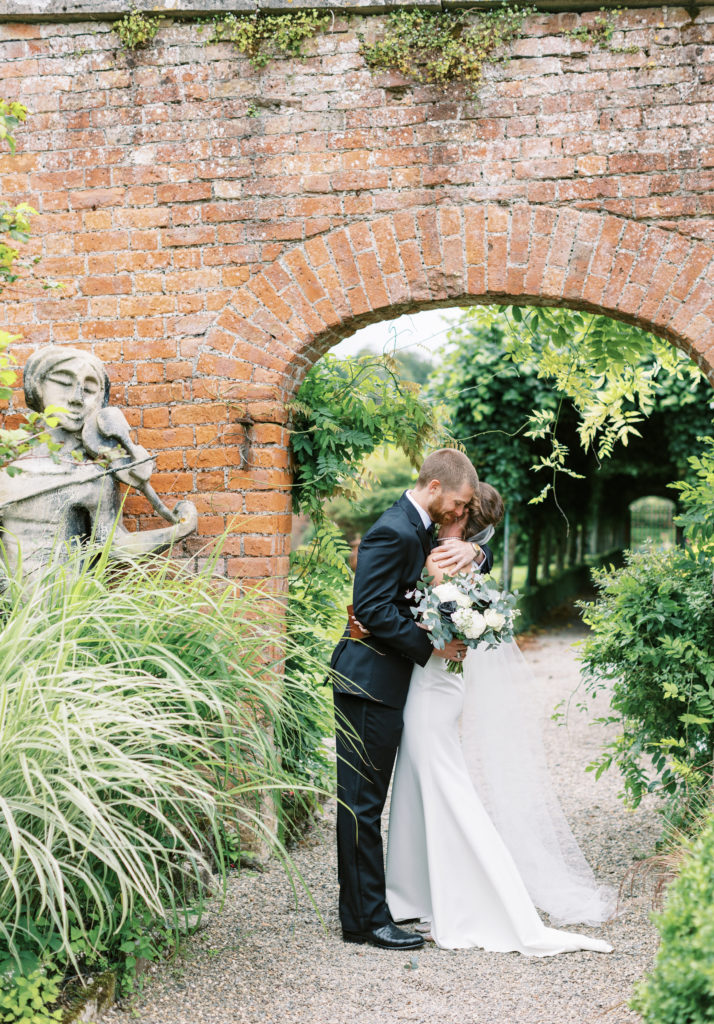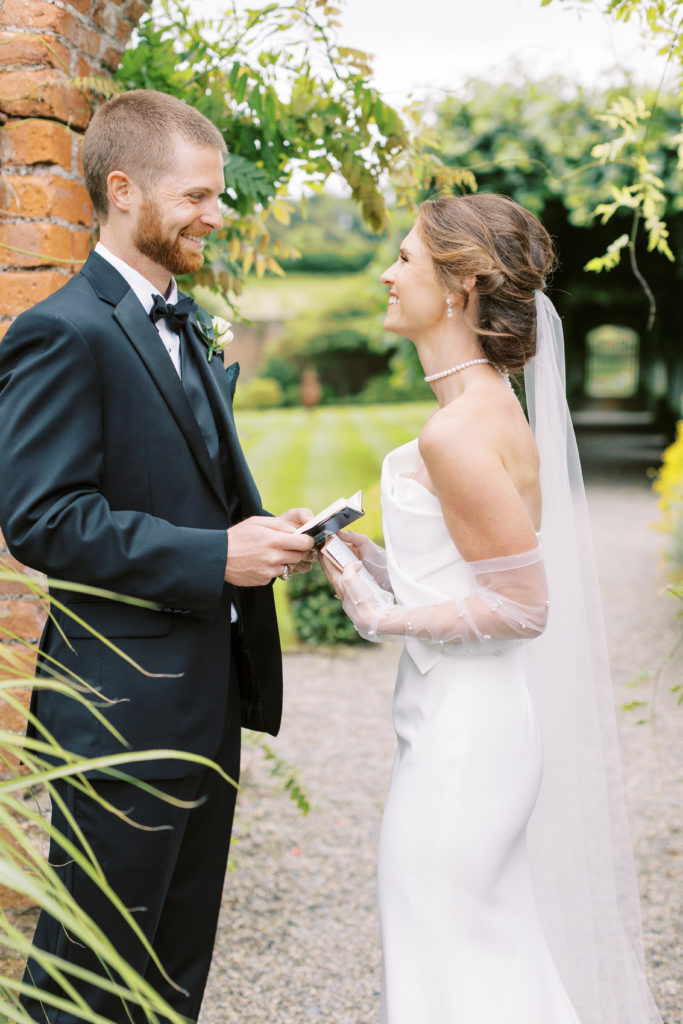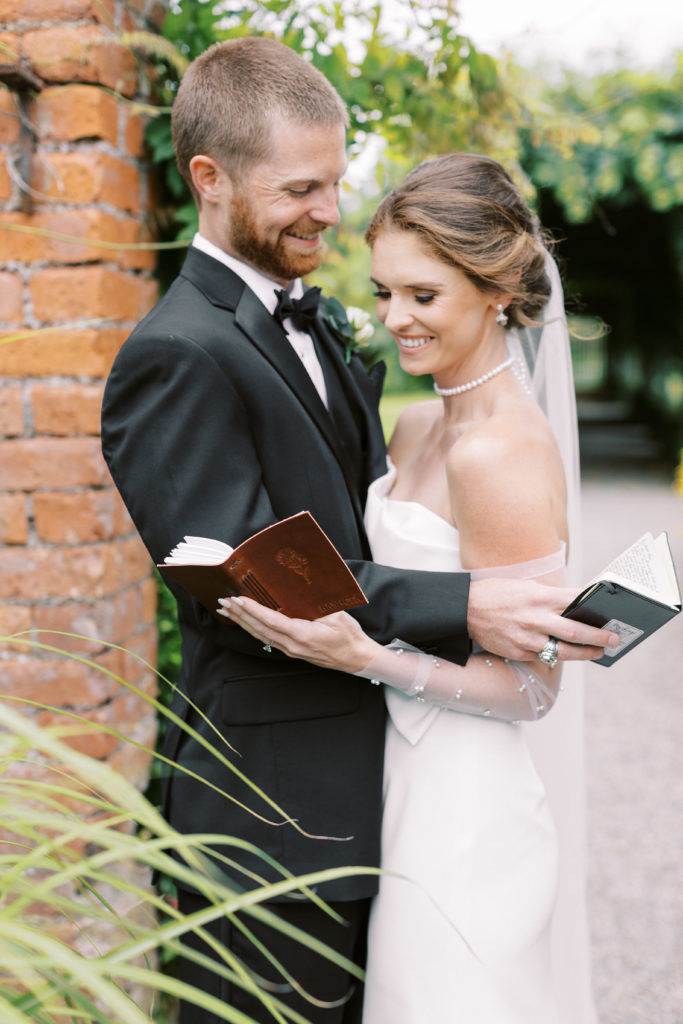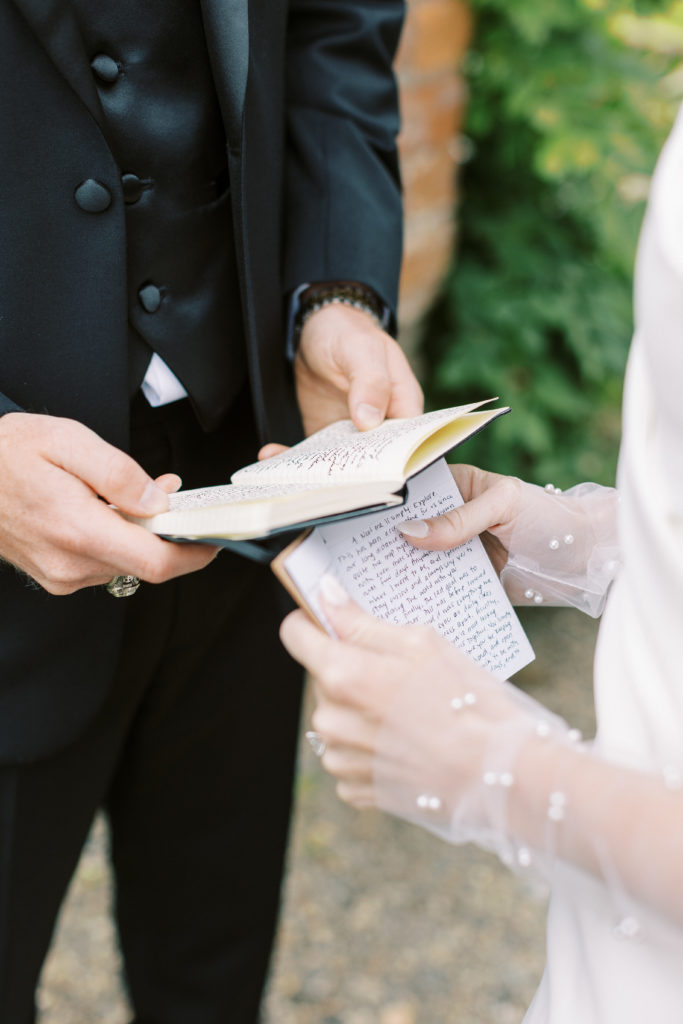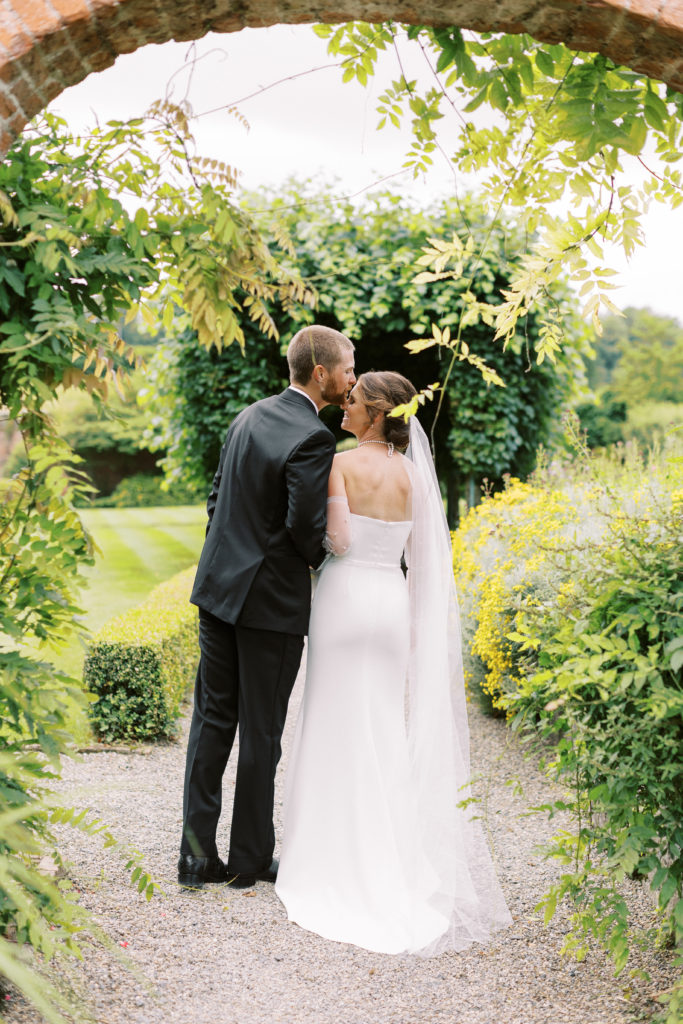 Bridget said that ceremony felt very "us." Their good friend, Alyssa, who had a hand in introducing the two was the officiant, she conducted a beautiful hand fasting ceremony using three cords to represent Bridget's family, Charlie's family, and the new family they were starting together. "While reciting our vows, Alyssa gave Charlie a long line to repeat. He paused and asked her to shorten it so he didn't have to remember it all at once. The whole crowd laughed and it was such an endearing and light moment during the ceremony." Bridget mentioned thinking about how lucky they were that the weather allowed for an outdoor ceremony because it had rained the entire week. Towards the end of our vows, the veil came out of Bridget's hair and flew right into Charlie's best man's hands. Not everything went as planned, but the small snafus certainly made for even better memories than the two could have planned!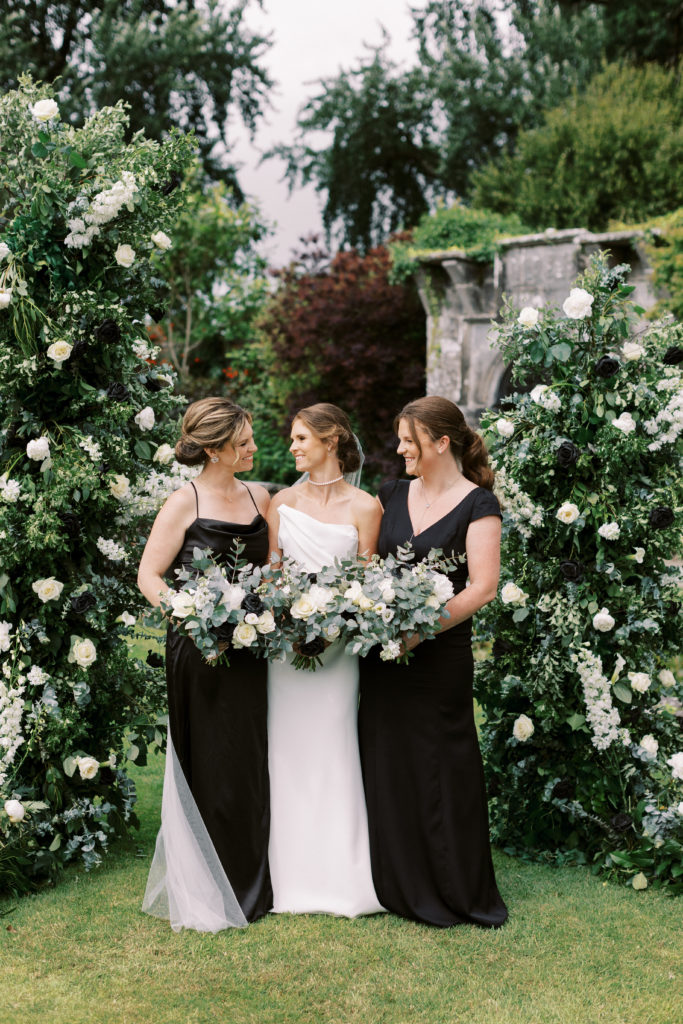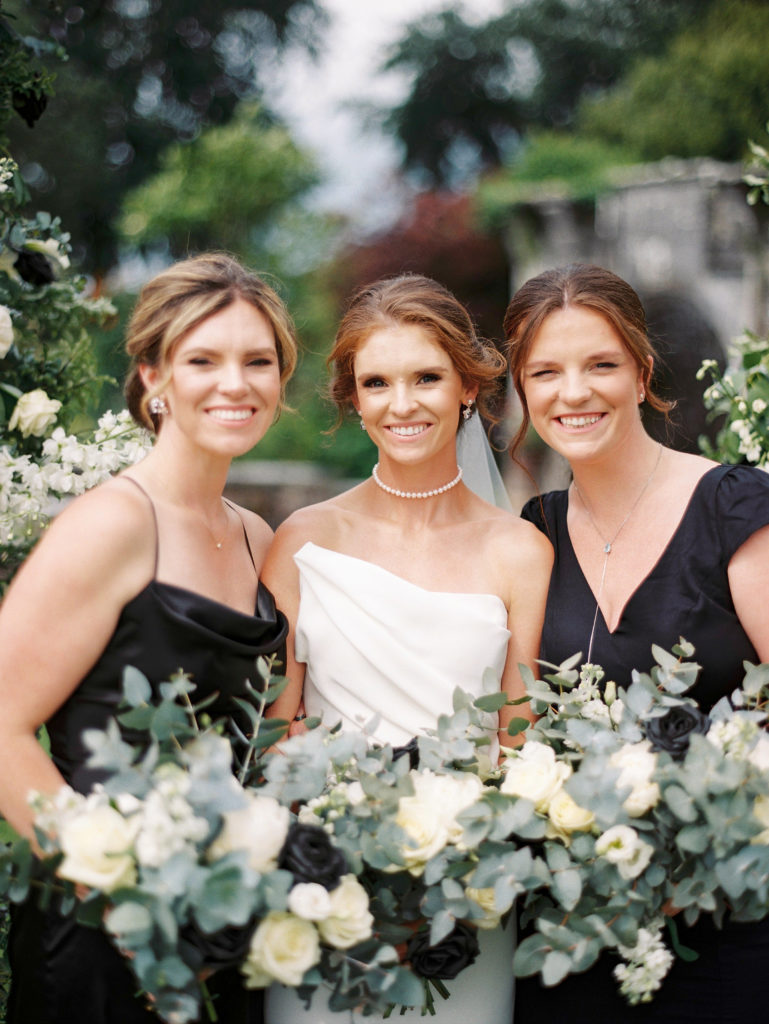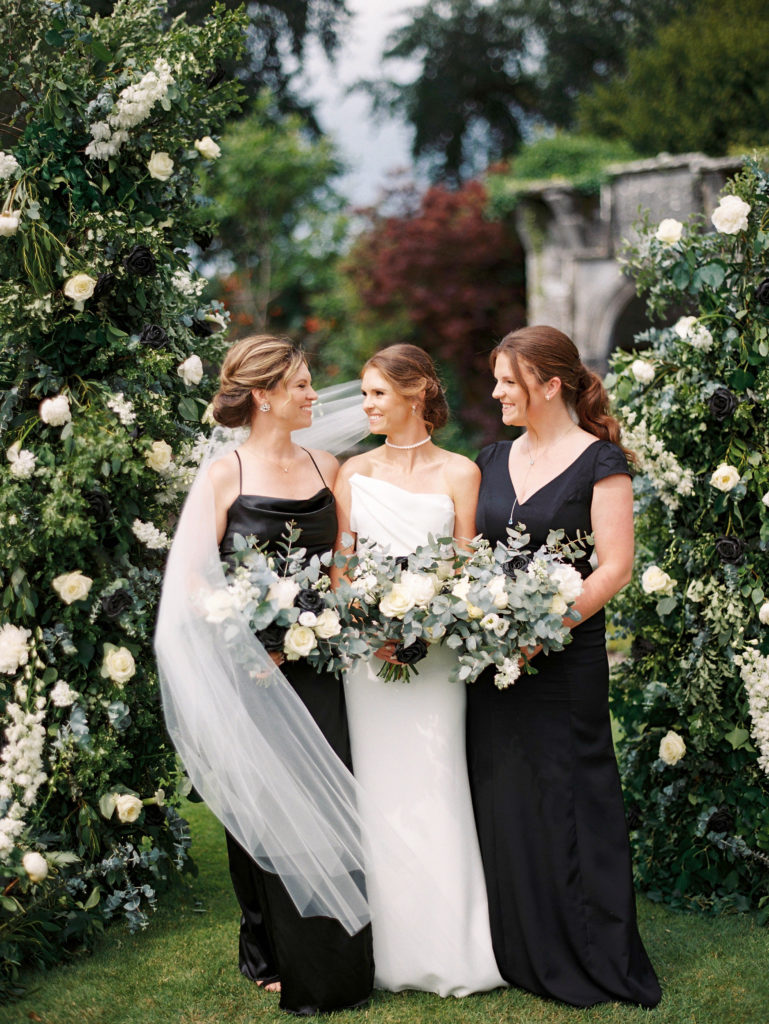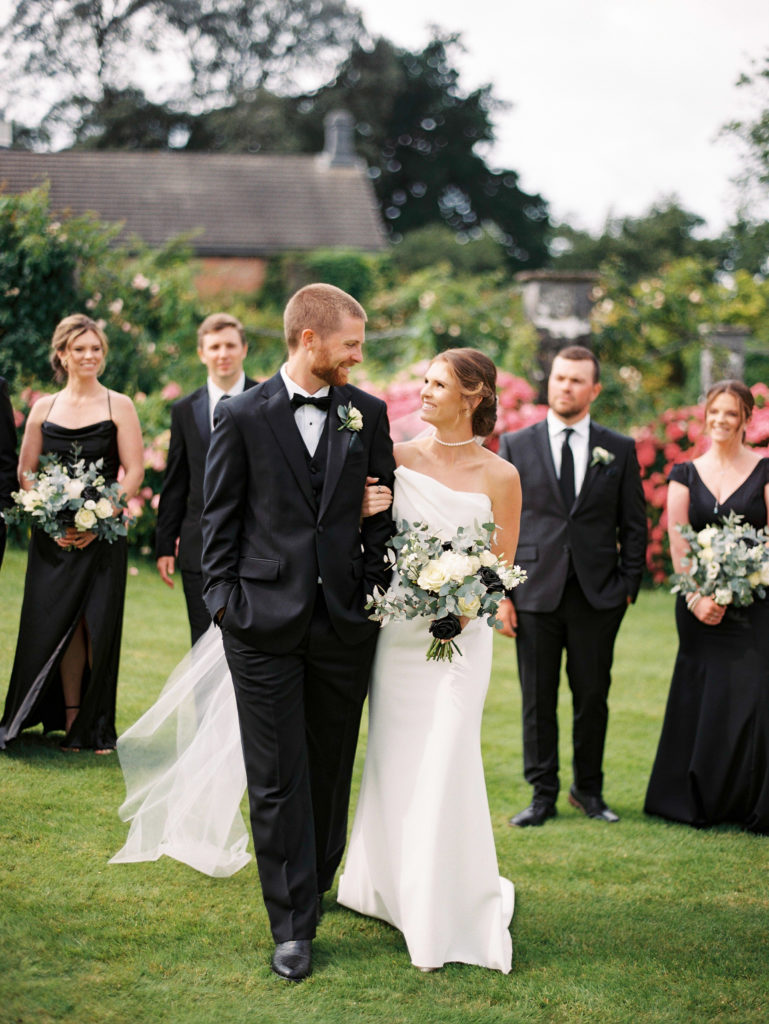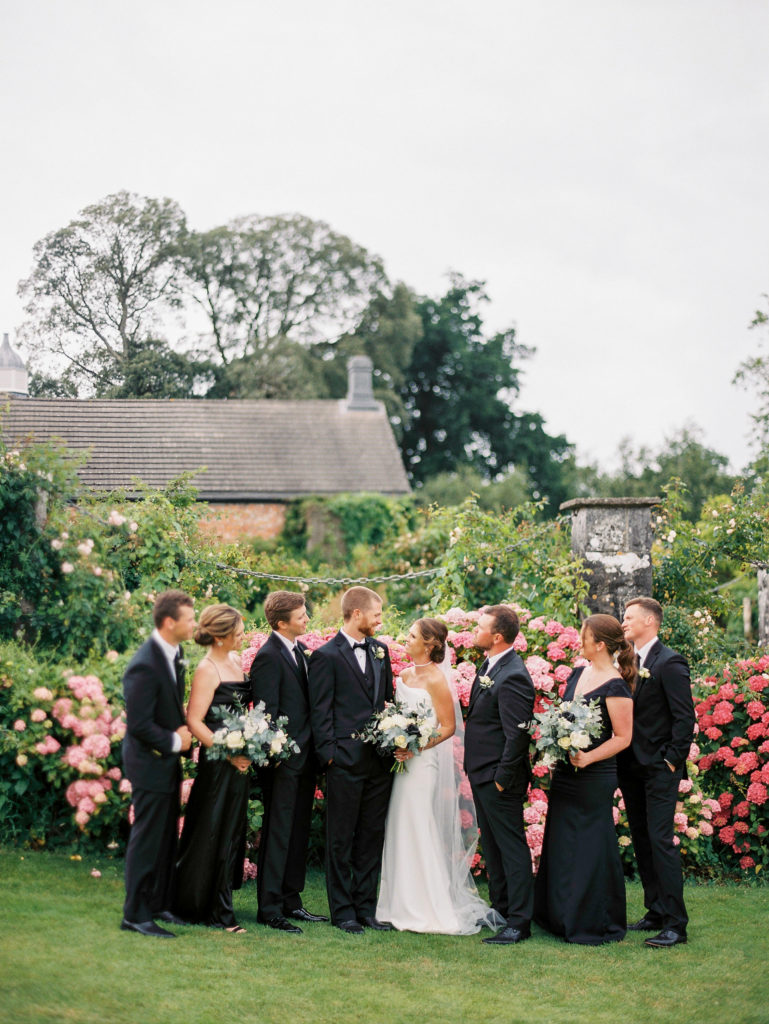 Bridget's two sisters were her only bridesmaids. She is the middle sister, and they have always been her two best friends! She wanted the castle and the grounds to really shine in the photos, so chose black for their dresses. From there, they were able to choose a dress that they loved and felt their best in. "I knew I wanted black and white flowers with greenery, and I think the colour combinations turned out perfect."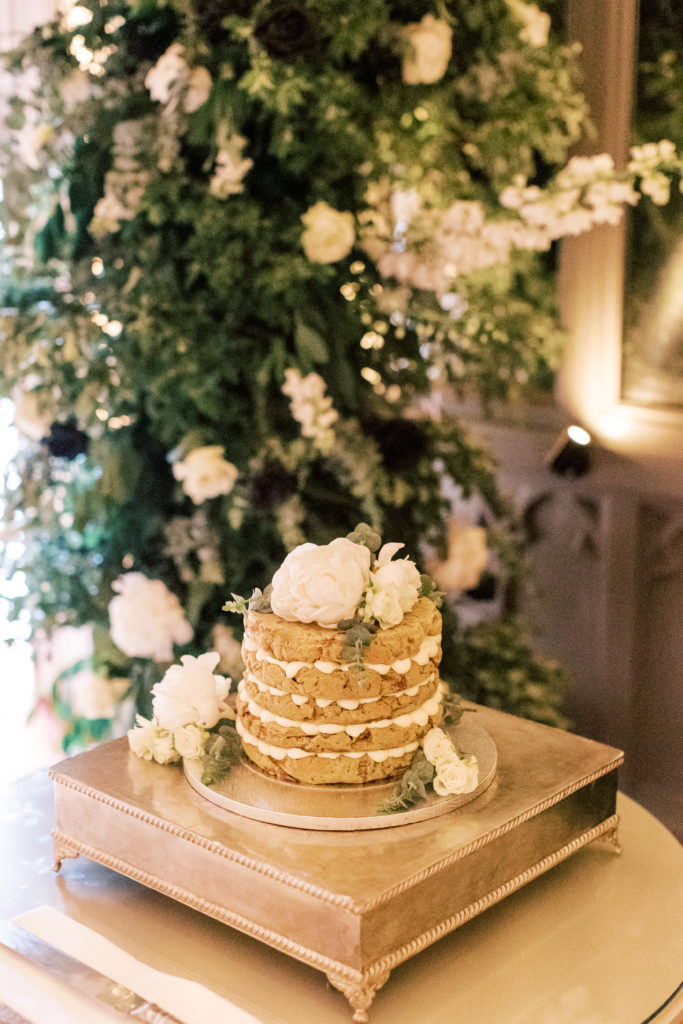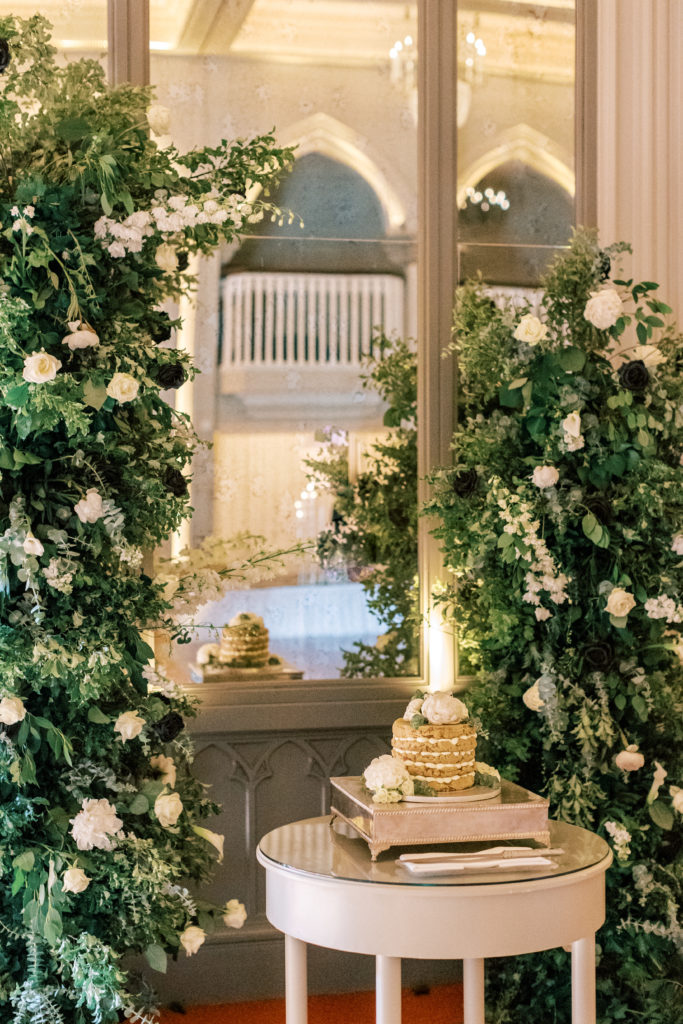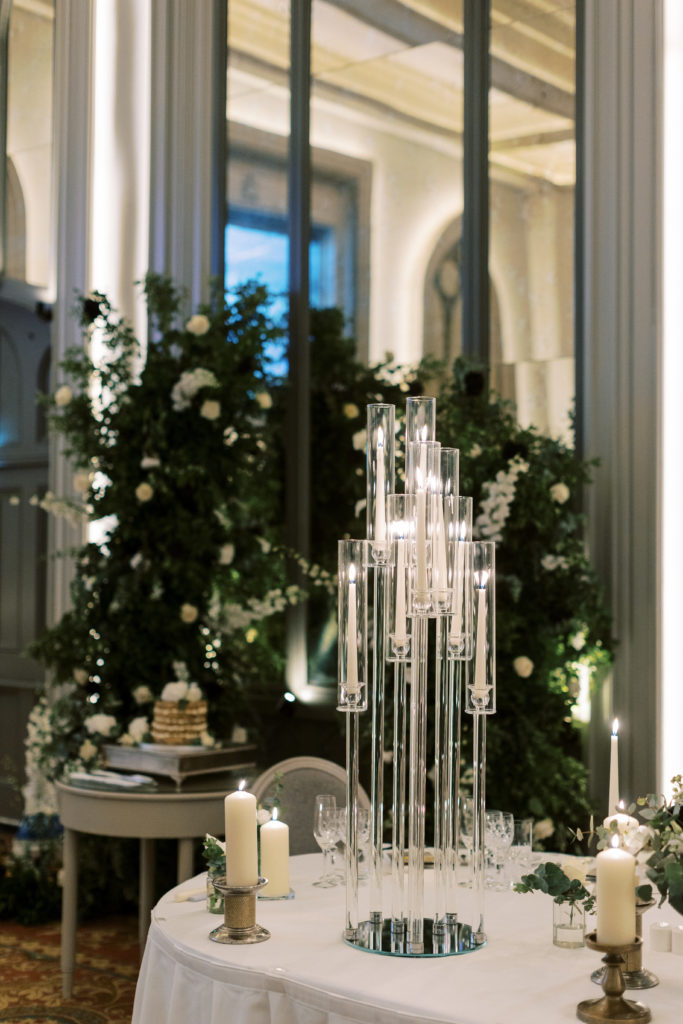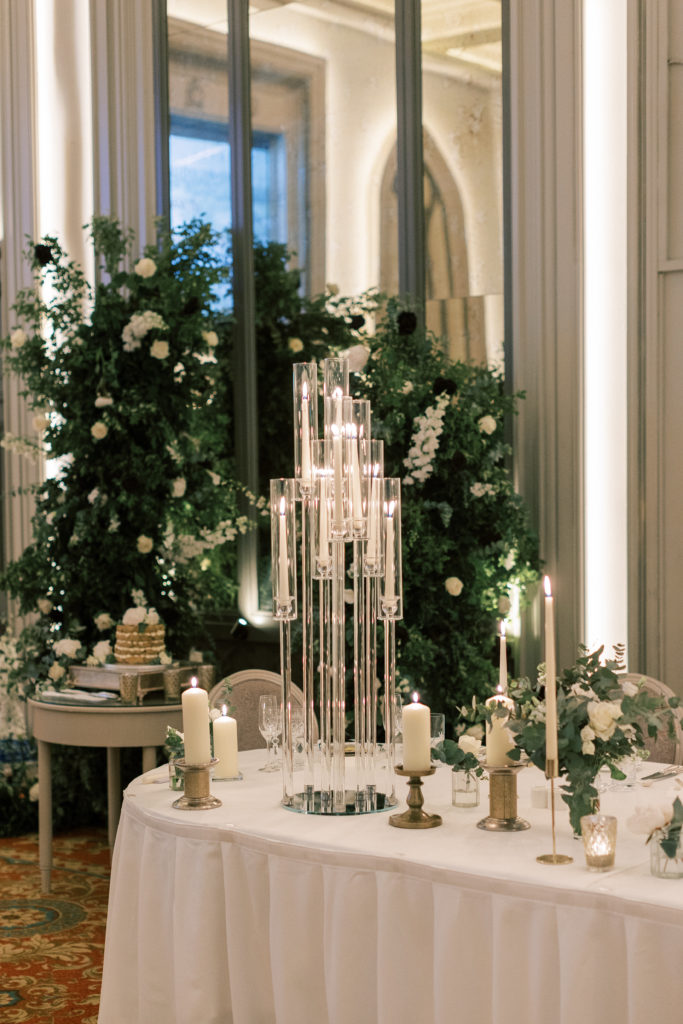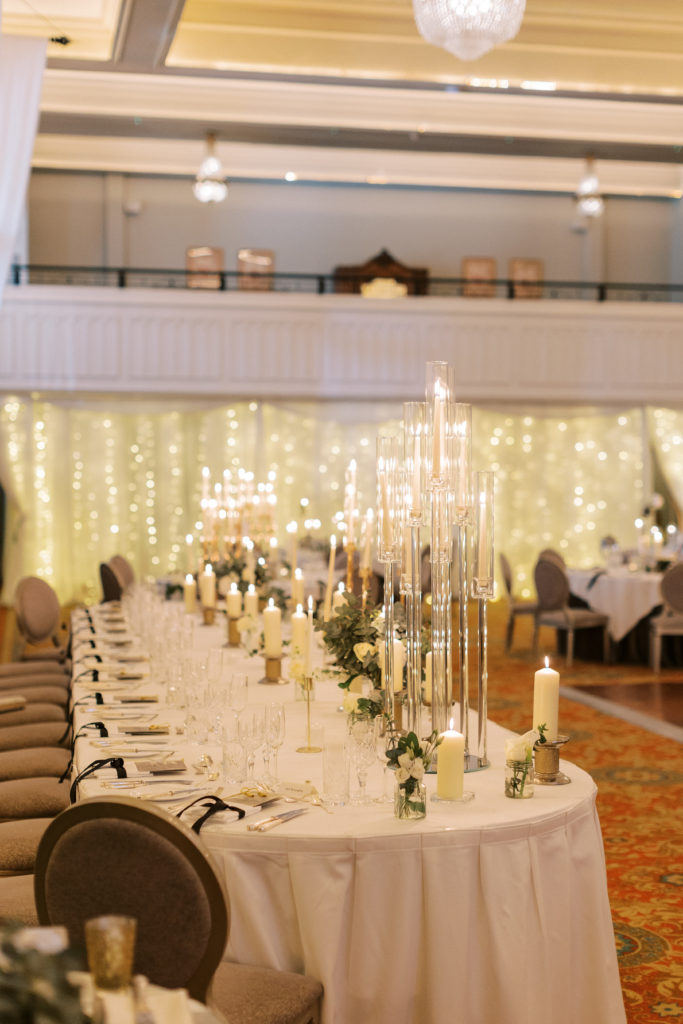 On Bridget's first trip to Ireland in 2005, her dad joked that she could get married in an Irish castle when she was older. Once her and Charlie got engaged, the two thought that it was actually a great idea! "After looking at so many beautiful venues, Dromoland Castle captured my heart. Between the vantage point on the stairs with the castle walls converging in the background and the lush Walled Garden, I was sold." The pair were not actually able to tour the venue before they arrived for the wedding in June, but Bridget's parents were able to take a quick trip from Boston for a menu tasting. They had rave reviews, and she can certainly share that both the rehearsal dinner in The Fig Tree and the wedding night dinner lived up to the hype! "The Dromoland team made planning so easy and communication between Arizona and Ireland was seamless! Judy and Susan are excellent and I loved working with both of them!"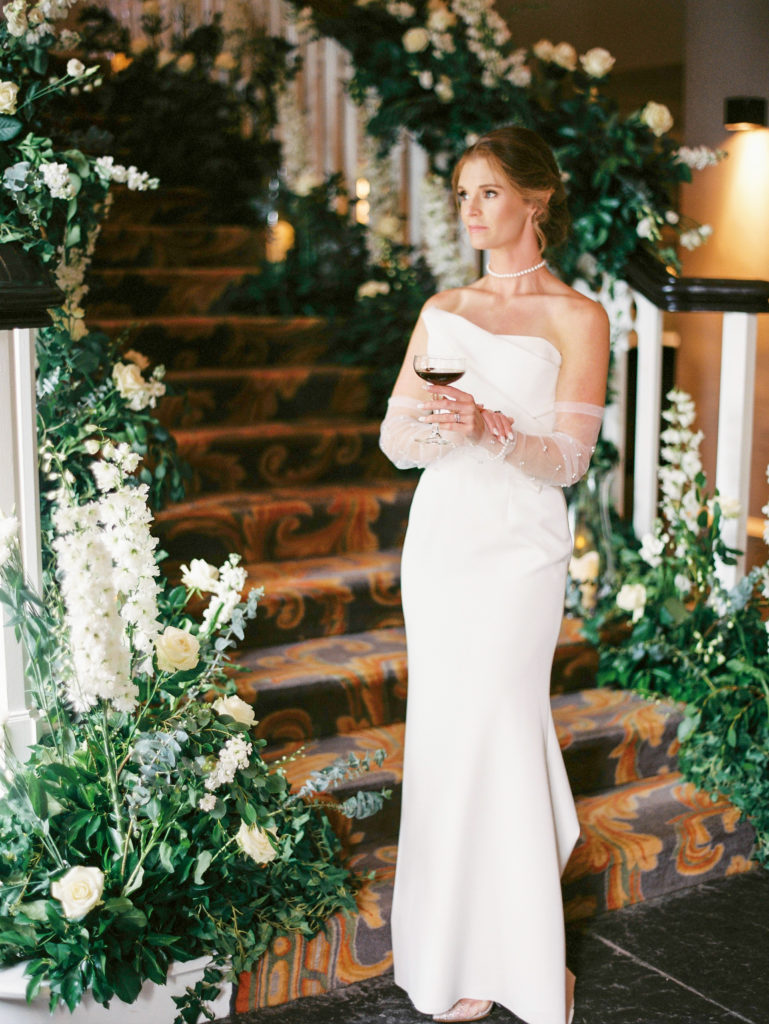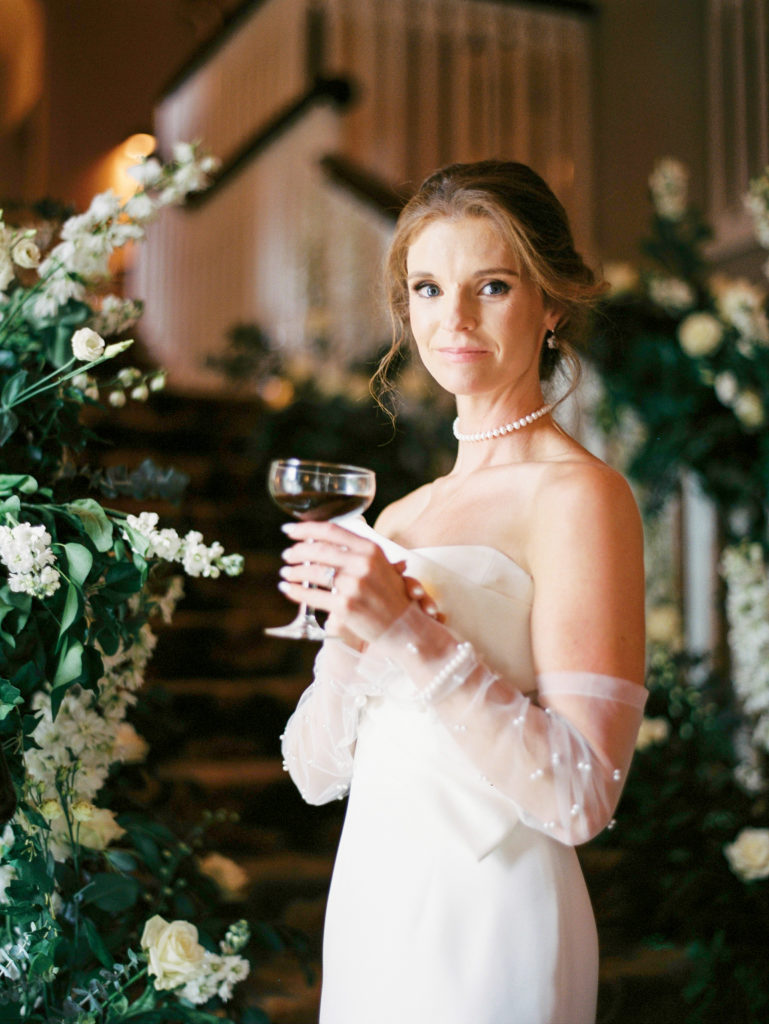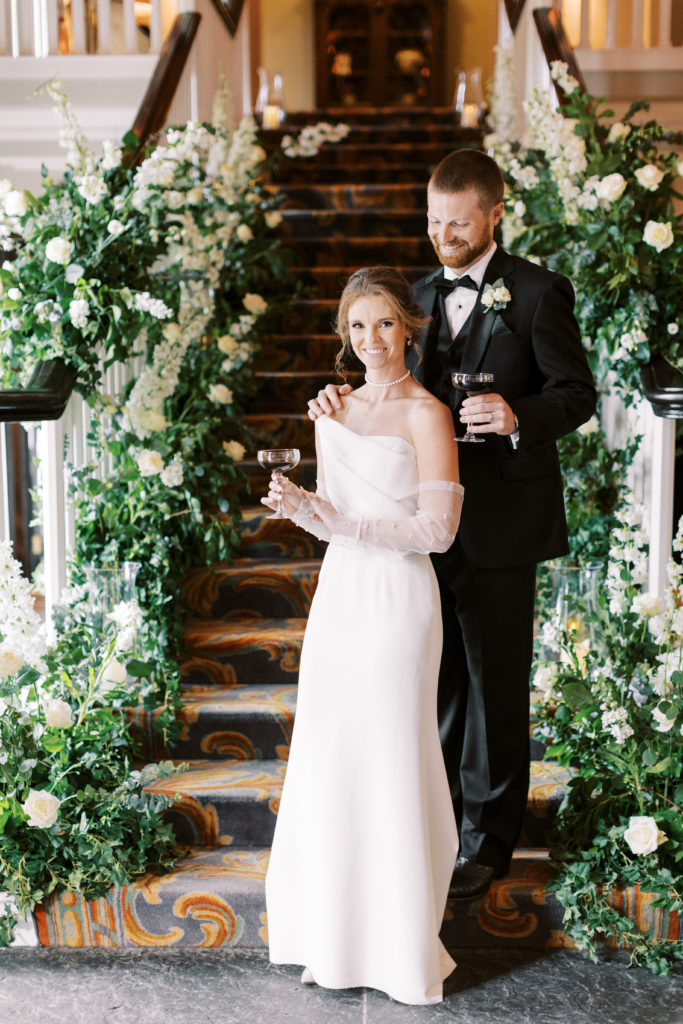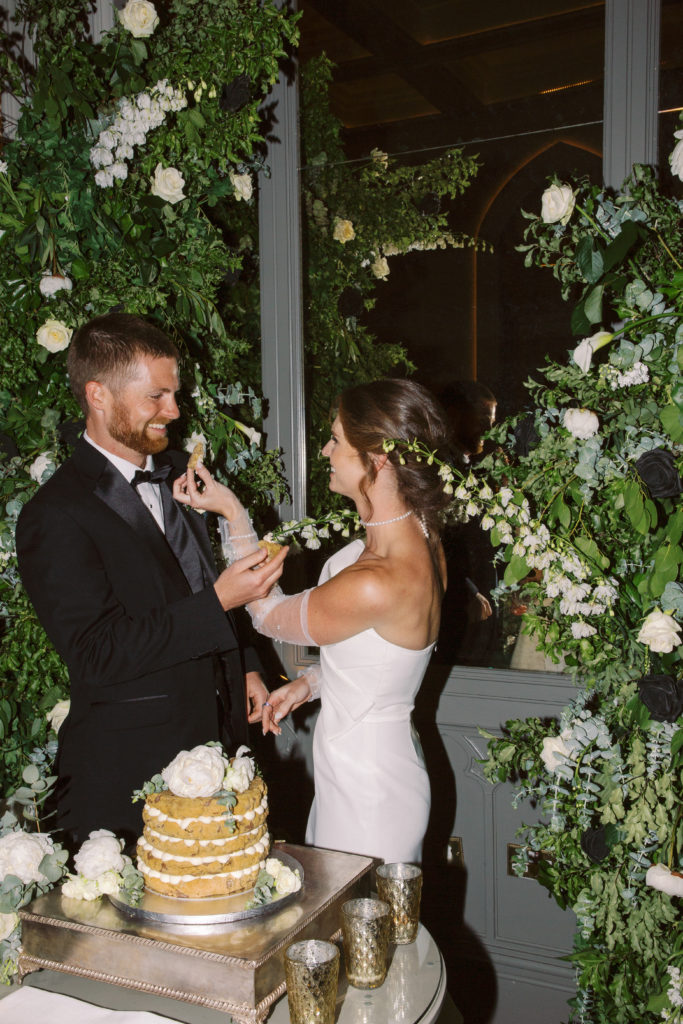 Bridget was enamored with the idea of having a harp at the ceremony to really set the tone. Elaine Hogan was able to learn new songs and recommend some in her repertoire that fit the couples needs perfectly. Bridget's parents' wedding song is Can't Help Falling in Love by Elvis Presley. Elaine played this song while both families and Charlie walked down the aisle. "When I walked down with my dad, Elaine played Still the One by Shania Twain – a childhood favorite of mine. Friends from all stages of life started tearing up and smiling when they heard Shania being played so beautifully on the harp!" For the reception DJ Paudie was highly recommended and from their first conversation, the couple knew he'd be a good match for the party. He had a great personality to conduct the first dances and announcements, and played hits all night long. The dance floor was always packed, and he kept the party going all night!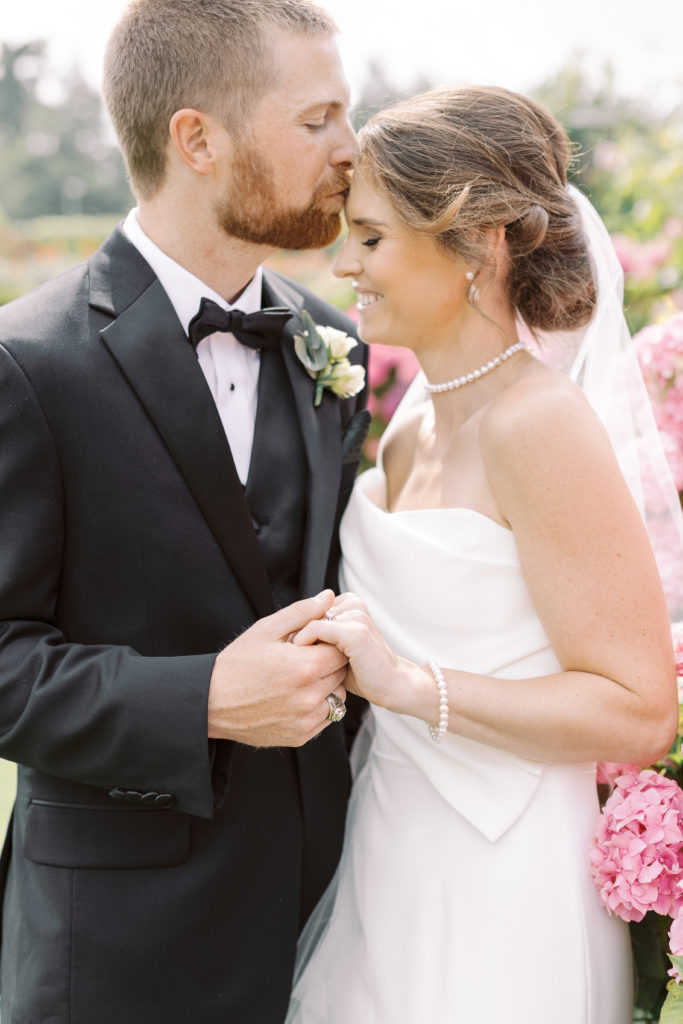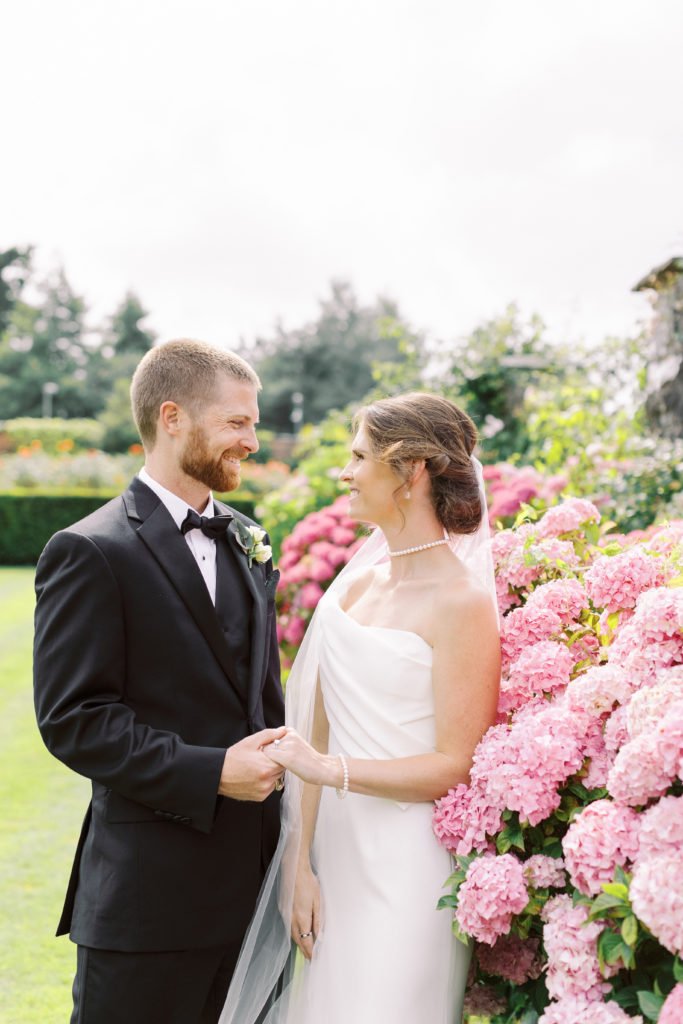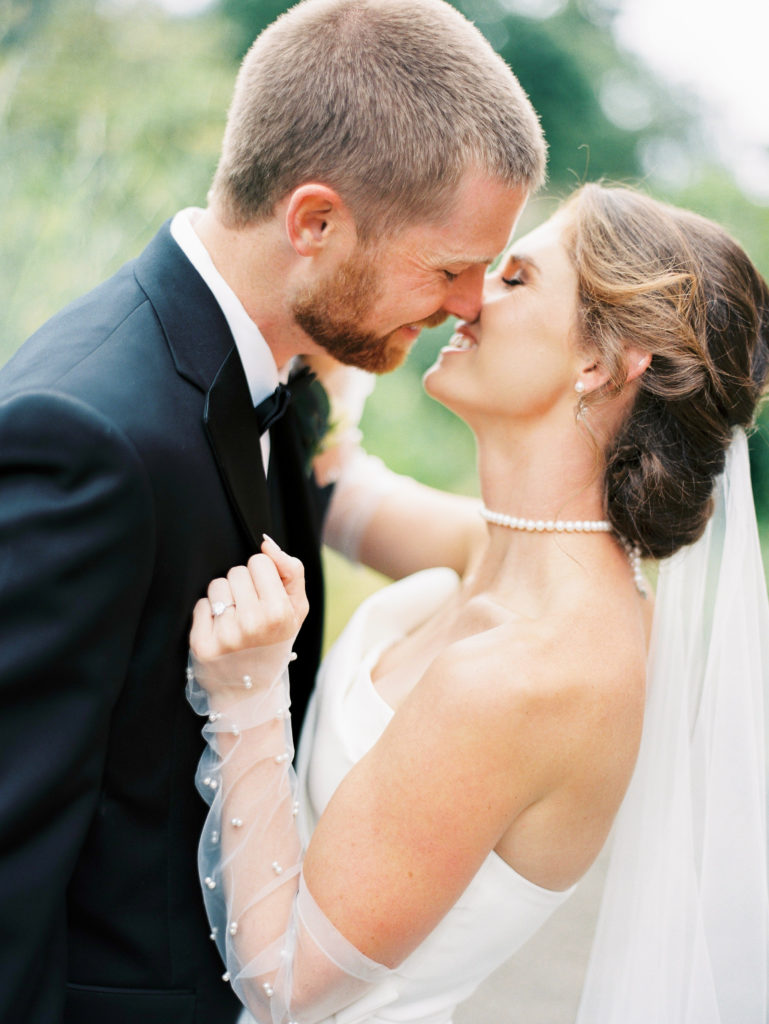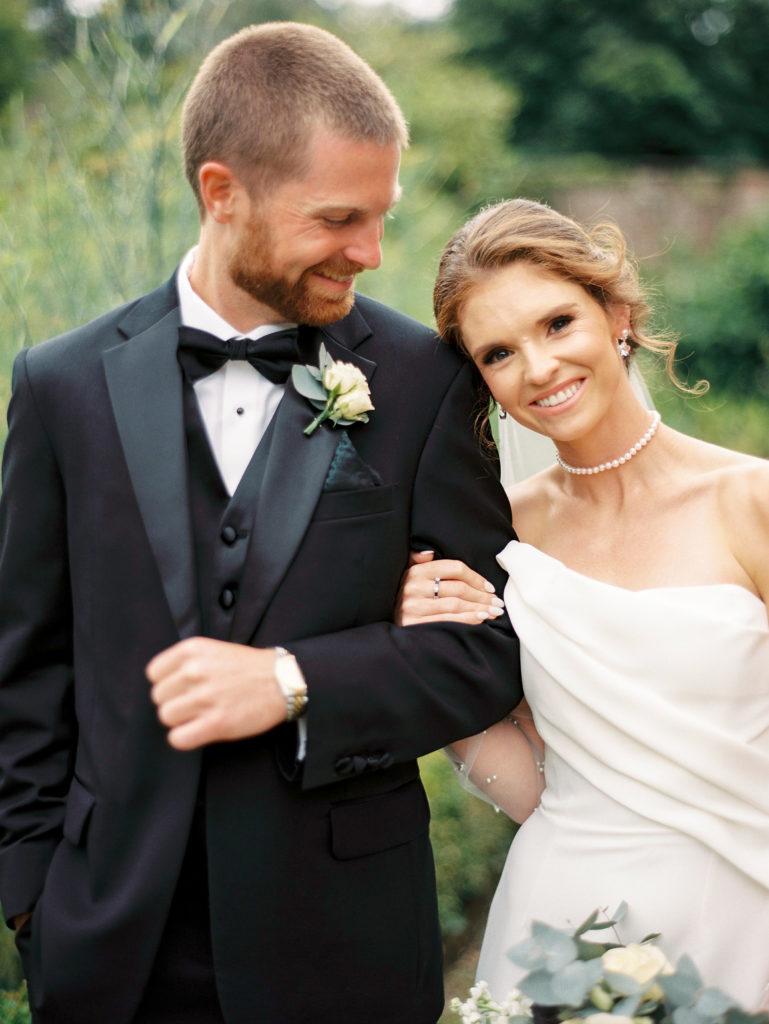 The pair knew they wanted to say their vows privately to each other. They found a place in the Walled Garden that was quiet before the ceremony, and took turns reading their vows. "It was so meaningful, and it eased our nerves to have a moment to ourselves before the ceremony and the rest of the evening. If we could do it all again, we would definitely repeat this!" As a runner, the best decision for Bridget was to bring her white trainers so she could change out of my heels and dance all night long! For Charlie, replacing a traditional wedding cake with a cookie cake from SOS Cookies was the highlight of the night!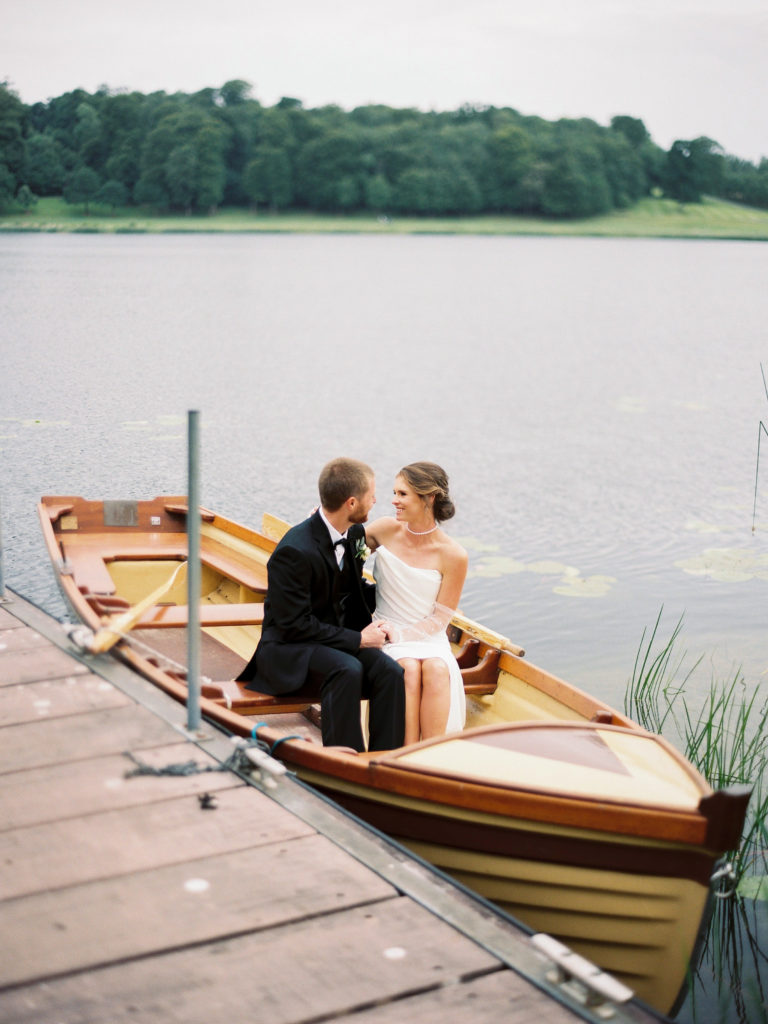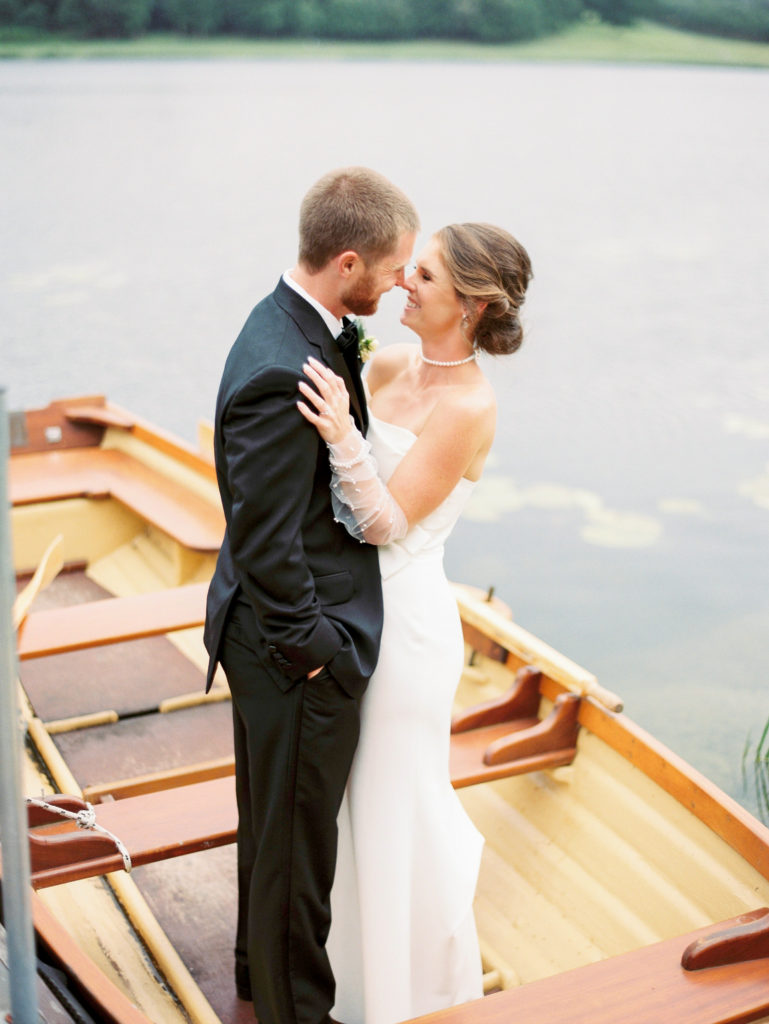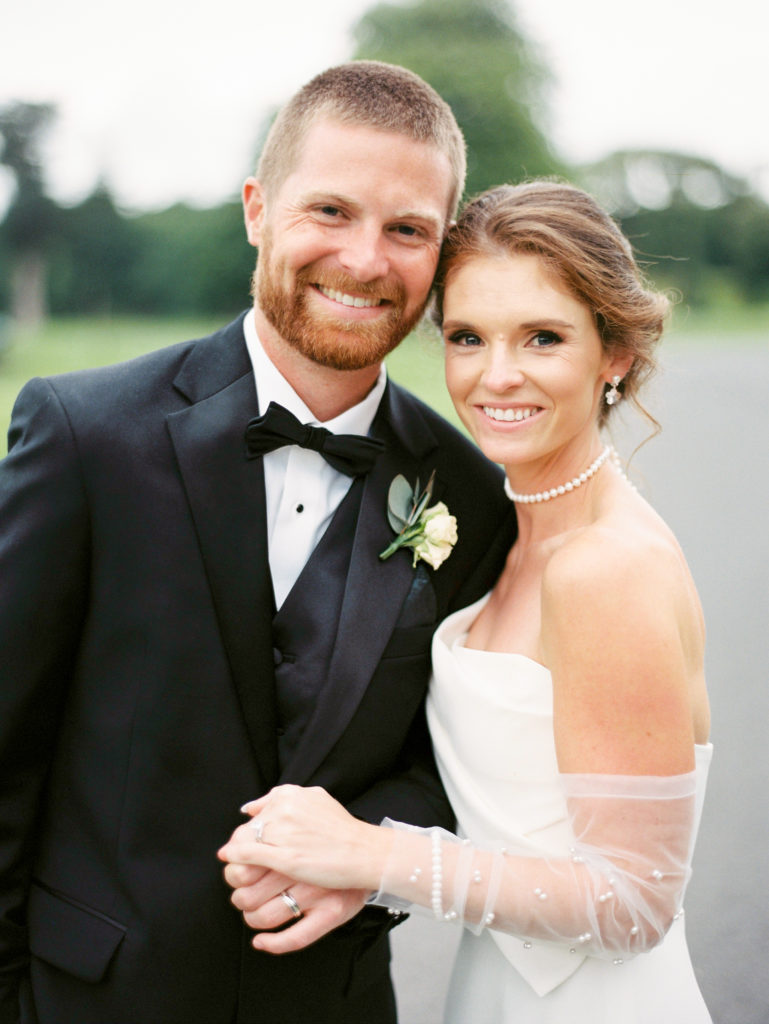 "I truly have no regrets about how our wedding day went, but we knew there would be some tradeoffs with a destination wedding. In a perfect world, everyone we loved would be able to join us in Ireland. Luckily, we could celebrate with them virtually by livestreaming our ceremony, but of course the real thing is best!"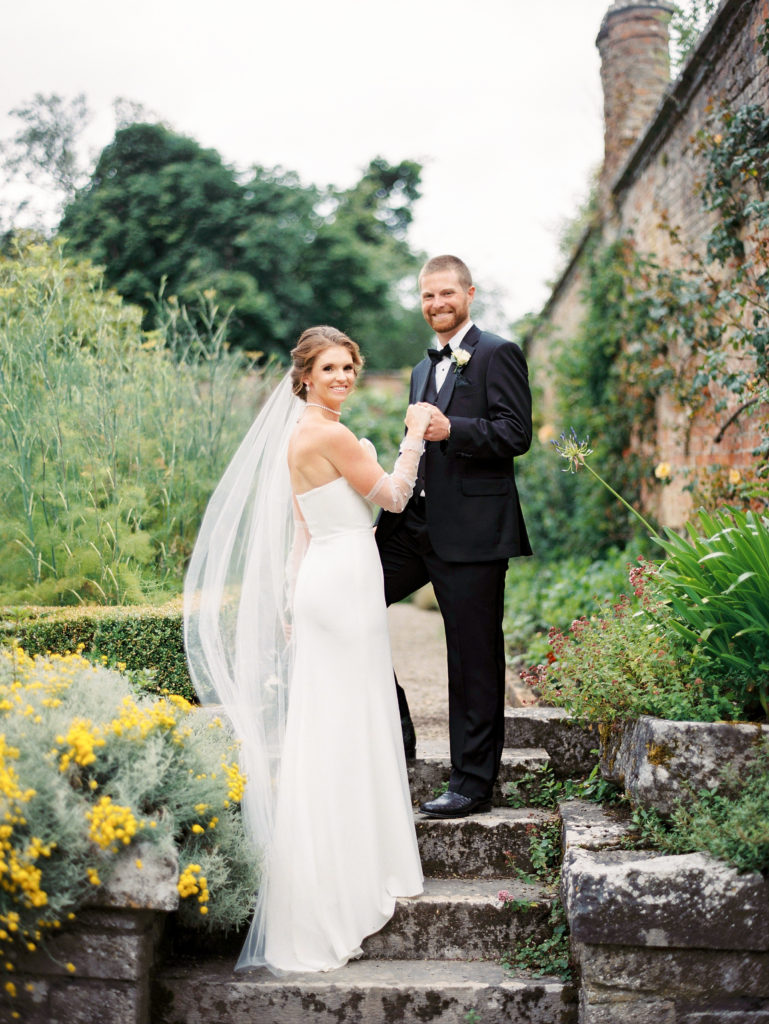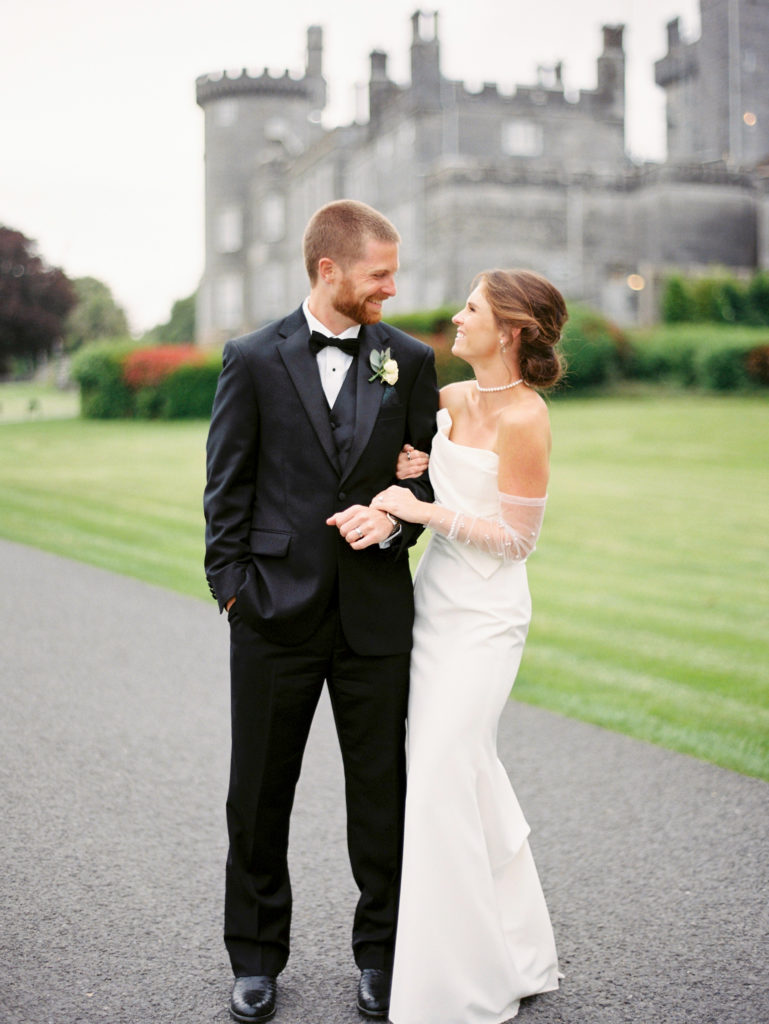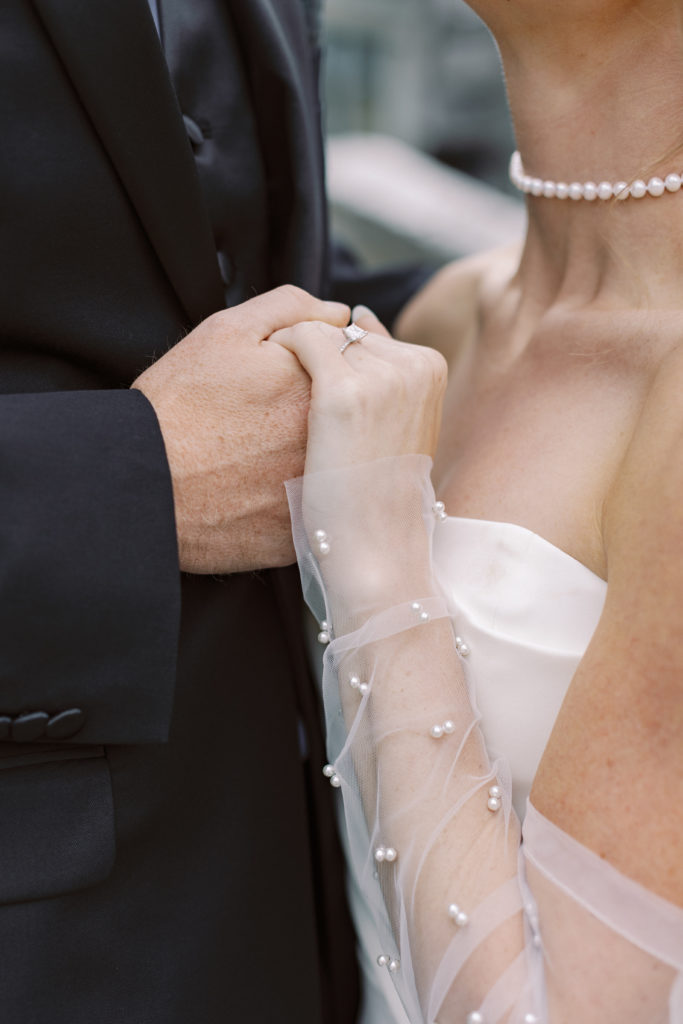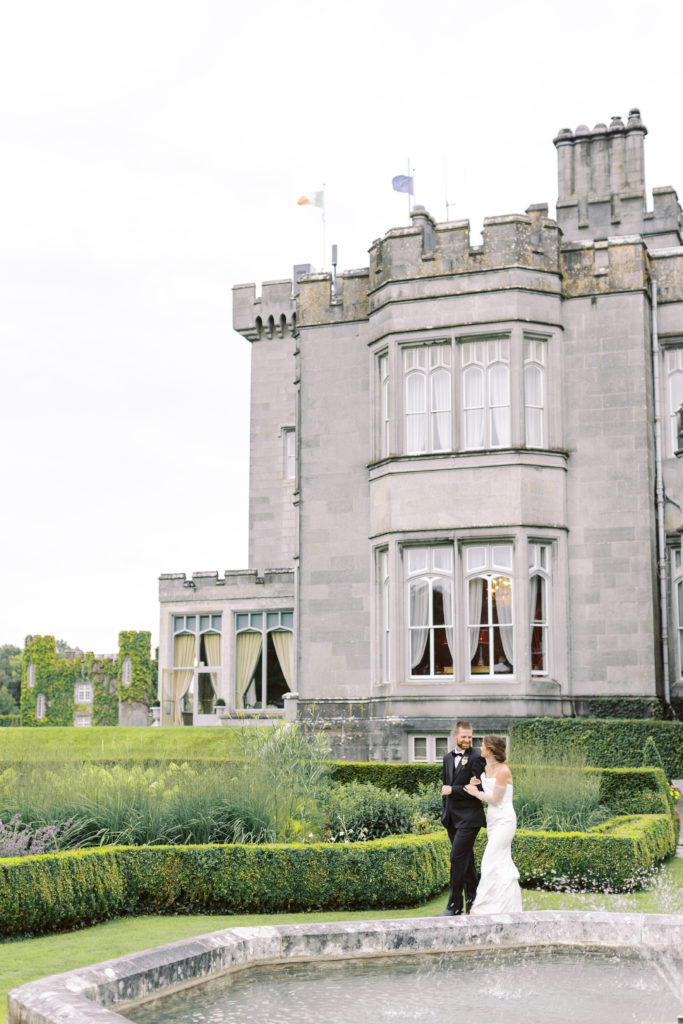 - Gráinne