Getting married at home can be magical but it also creates an entirely new set of logistics for the bride and groom to consider. From fire certs to portaloos: at-home weddings require precision planning before you can even think about the fun stuff like florals and décor. Stylist, Judy Gilroy, shares her top tips on planning and executing a Pinterest worthy marquee wedding in your back garden.
Photography: Anita Sadowska
How we met: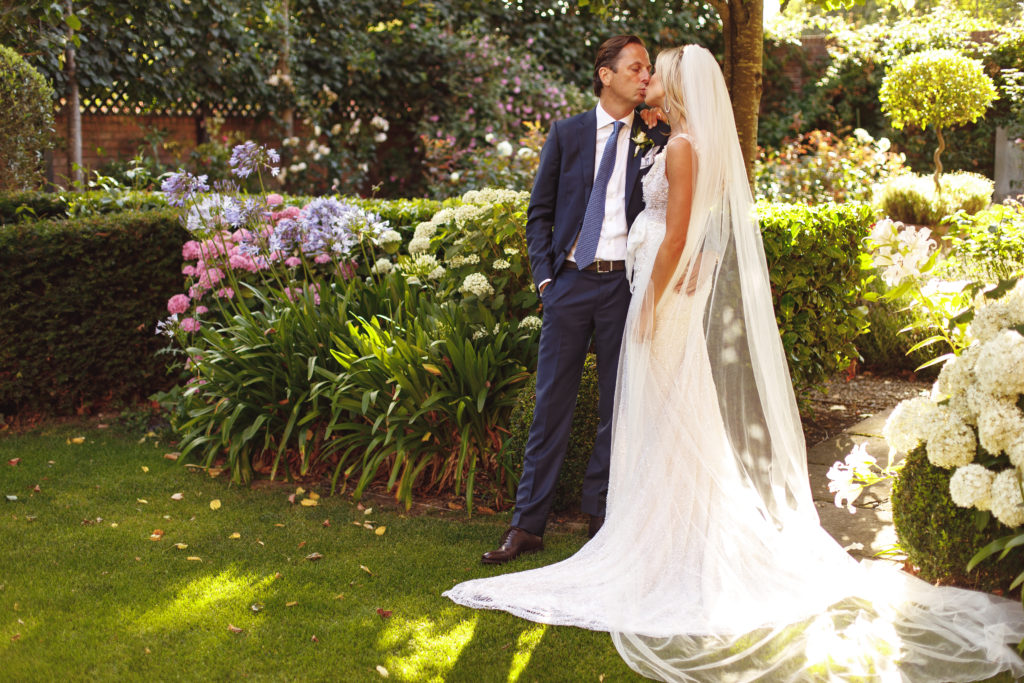 Eoin and I met, entirely by chance, at the Q-Ball (an annual charity event in aid of Spinal Injuries Ireland) in September 2014. We had never met before and had no mutual friends at the time, but he spotted me across the room and plucked up the courage to chat me up. We had a drink together and hit it off immediately. Eoin is incredibly funny and had me in stitches laughing all night while simultaneously swooning over his Northern lilt. We went on our first date a couple of days later; our second date the day after that, and the rest is history.
How he proposed: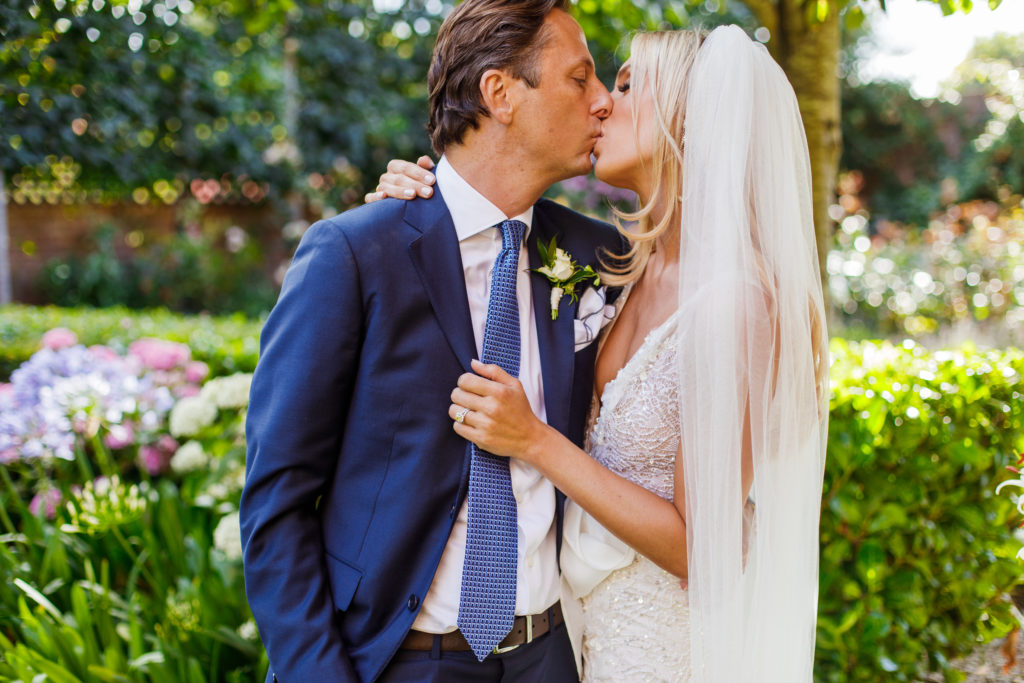 I had no idea that Eoin was going to propose when he did. He surprised me at home, on my birthday, by getting down on one knee in our kitchen with a beautiful eternity ring that had belonged to his Mum and asked me to marry him. I always accost him with long-hugs in our kitchen so there was special meaning behind our at-home engagement for us - it was so romantic. We sat on our kitchen counter drinking champagne and dreaming up our wedding before joining some of our family to toast the news.
Why we chose to host our wedding at home: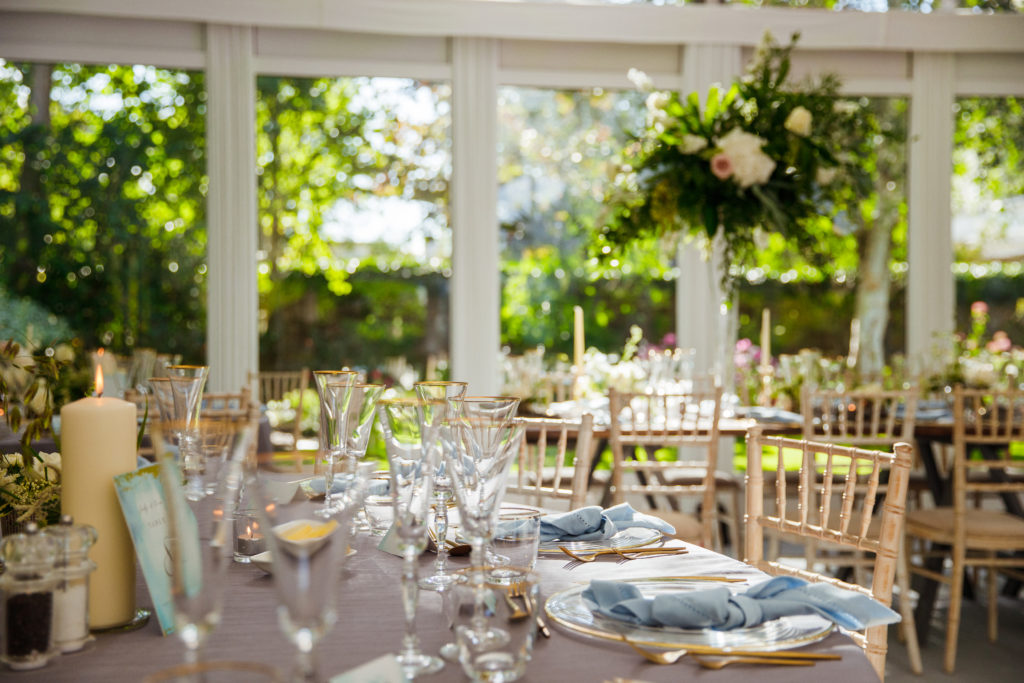 Eoin and I had always talked about hosting our wedding in his family home in Dublin, long before we even got engaged. His family home is in the most beautiful setting, with the most incredible gardens; you couldn't dream up a more stunning venue for a wedding. Sentiment aside, the biggest appeal to hosting our wedding at home was having the freedom to plan the wedding of our dreams, on our terms. We were able to buck the traditional wedding format where we wanted to and we didn't have to battle with other newlyweds for available dates: we just plucked one Saturday in summer out of thin air – July 28th – made sure the church was available and got down to planning. Conveniently, this happened to be the only Saturday that summer without a sports fixture so that my husband wouldn't miss a match and I wouldn't have to erect giant screens in my pretty marquee! We planned and organized our wedding in less than nine months. This is a tight timeframe by usual wedding standards but it was plenty of time to get everything done and to still enjoy it.
Our wedding: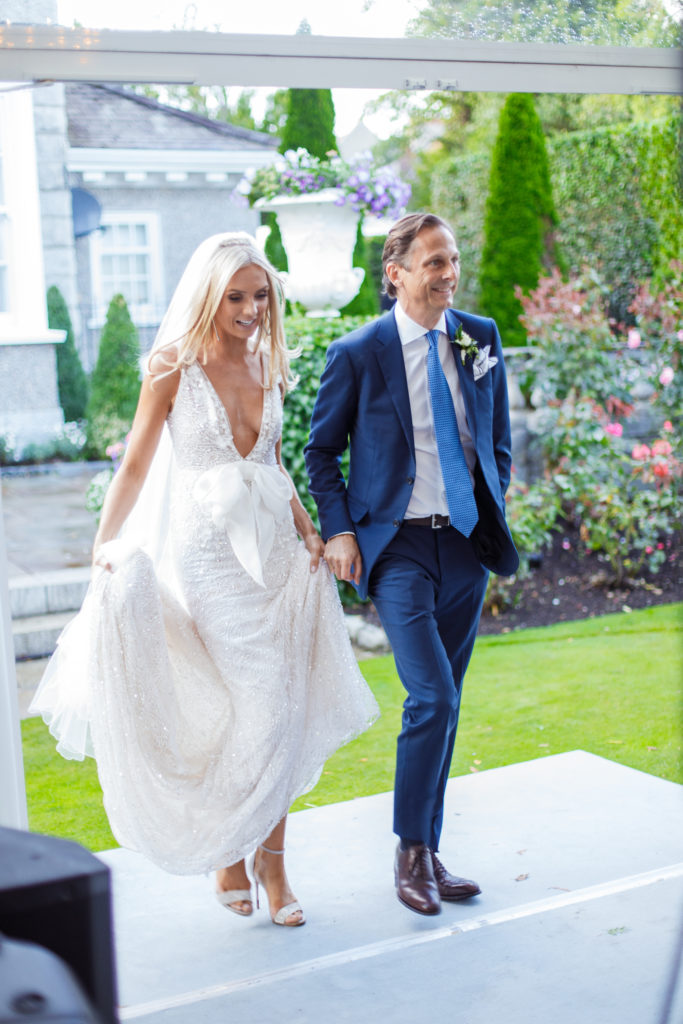 Eoin and I got married on the 28th July 2018 in Donnybrook Church in Dublin. There had been a heatwave for weeks but, of course, it broke on our wedding day and bucketed rain all morning! Luckily, the weather cleared by the afternoon and we left the church to glorious sunshine.
Our guests strolled from the church to Eoin's family home for a drinks reception on the terrace, which was inspired by the laid back luxe vibe of the South of France. Our favourite French Rosé, Chateau Minuty, was served instead of champagne, along with a selection of French-inspired canapés and nibbles by Claire Hanley. Sax player, Chris Engel, completed the French beach feel and set the tone with tunes on his electronic saxophone. Eoin and I missed most of the drinks reception because we were shooting with our photographer, Anita Sadowska, but apparently, it was fabulous!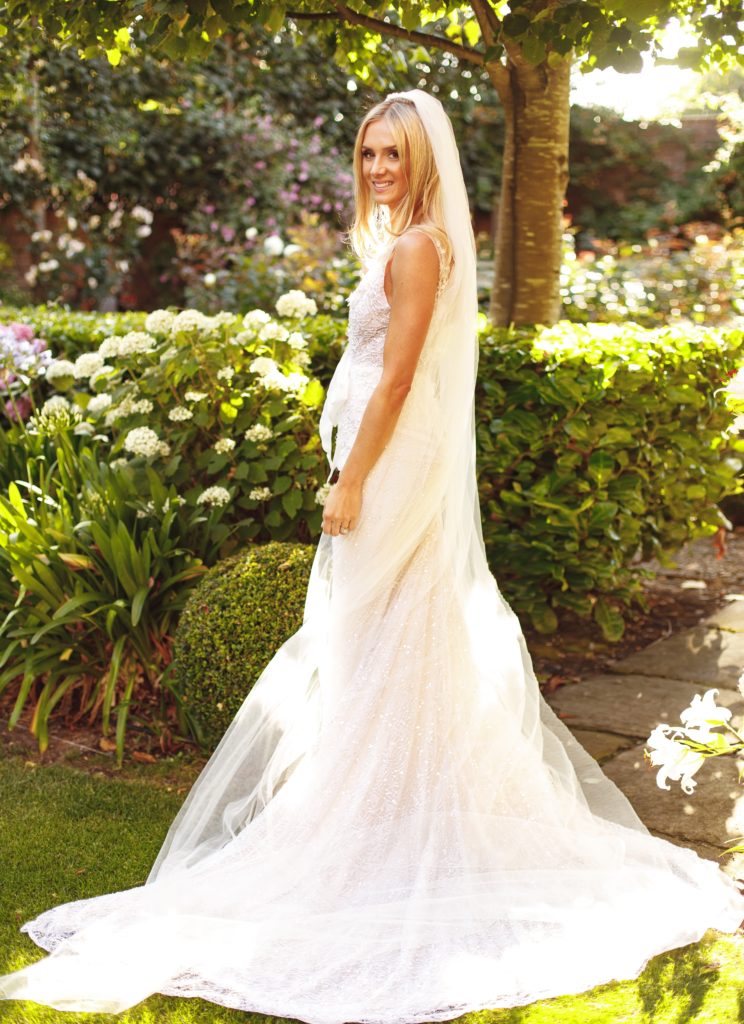 Our French rustic beach theme continued into the marquee, designed by Frog Prince Events, which was styled with a unique mix of round tables and long wooden farmhouse tables. Beach-blues with gold accents were dotted through the tabletop details: from the napkins to menus to cutlery. A mix of tall floral arrangements and urns were used throughout the marquee but the pièce de résistance was the hanging floral arrangement over the top table.
The meal, created by Claire Hanley, comprised of Duncannon Smoked Trout to start, with the most incredible French-style buffet for the main course. The buffet table was a spectacle and was laden with all of our favourite foods including Baked Salmon, West Coast Crab Salab, Rare Fillet of Kildare Beef, Baked Ham and a selection of salads, vegetables and crusty bread. For dessert, guests tucked into two big bowls of Eaton Mess and Sherry Trifle that were placed on each table. To avoid overloading our guests in one go, we staggered the speeches between courses. Although it's not customary for the bride to do so, I chose to make a speech too – and I am so glad that I did.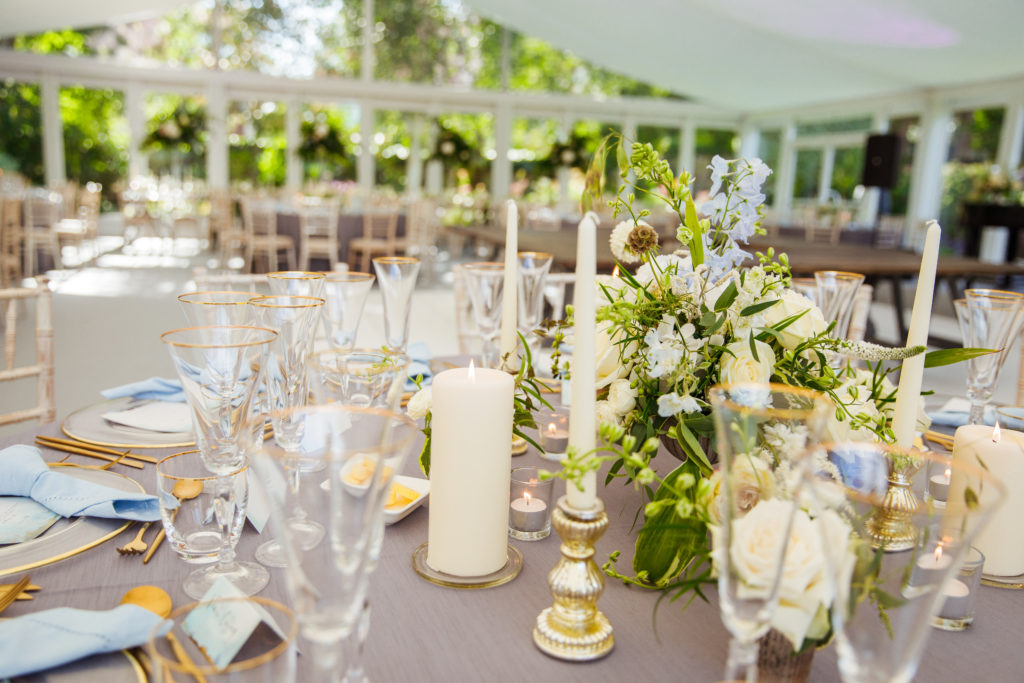 Eoin and I have never loved the typical bands that play at weddings, so we shunned this element completely in favour of something that felt a little more like 'us'. Ivano Cafolla, superstar DJ and close friend of ours, planned all of the music for the party and even jumped on the decks himself later in the night. We started with musician Robbie Doyle who was then joined by Chris Engel on the sax, with a DJ taking over later on in the night. The beach theme continued right through the blue and gold wedding cake, which my sister, Katie Gilroy, made for us. She owns Urbun Café in Dublin where she makes the most incredible bespoke wedding cakes.
Vendors: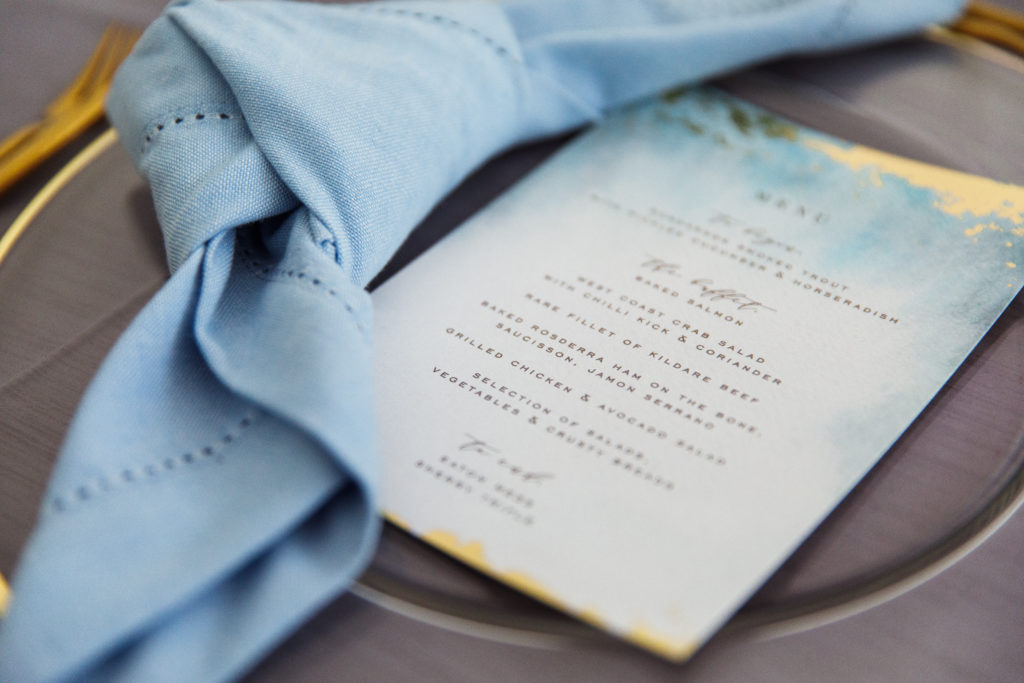 Great suppliers are important for any wedding to run smoothly, but even more so when it comes to a marquee wedding. With a marquee wedding, you are starting entirely from scratch and this can be both a blessing and a curse. On the one hand: you have a blank canvas to create a wedding that can be unique, personal and intimate. But on the other: that blank canvas doesn't come with electricity or toilets, never mind flowers. Before choosing my suppliers: I did my research online and in bridal magazines, spoke to friends and even friends of friends who had similar style weddings, and asked every potential supplier a million and one questions to get a clear picture of the kind of service I could expect from them and how much it would cost. I was really lucky that one of my bridesmaids and best friends, Sophie Cafolla, was an event planner in a previous life and was able to guide me through the process.
Marquee: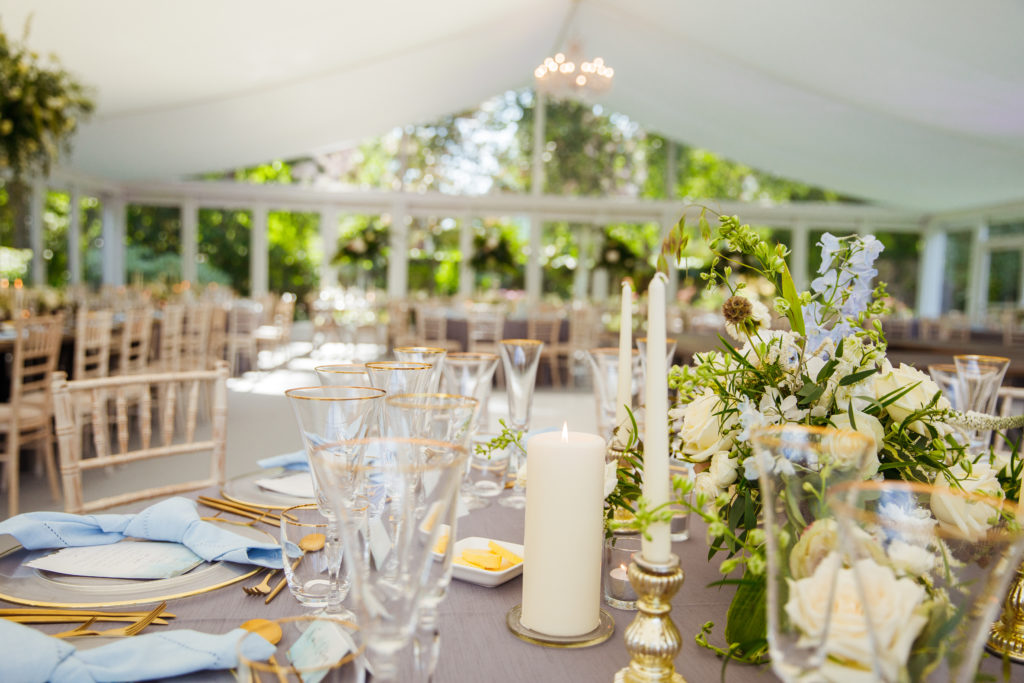 With an at-home wedding, everything revolves around the tent. It's your restaurant, your nightclub and the backdrop to your guests' pictures so you want to get it right: both from a practical and aesthetic point of view. We worked with Pavilion Marquees who were absolutely brilliant from start to finish. They advised us on everything from the size of the tent to the toilet requirements and they created the most beautiful space for our wedding reception.
When planning your site layout for the reception, make sure to think carefully about where to place the toilets, the distance between the tent and the kitchen facilities for serving staff, and to earmark walkways for staff to be able to serve food and clear plates.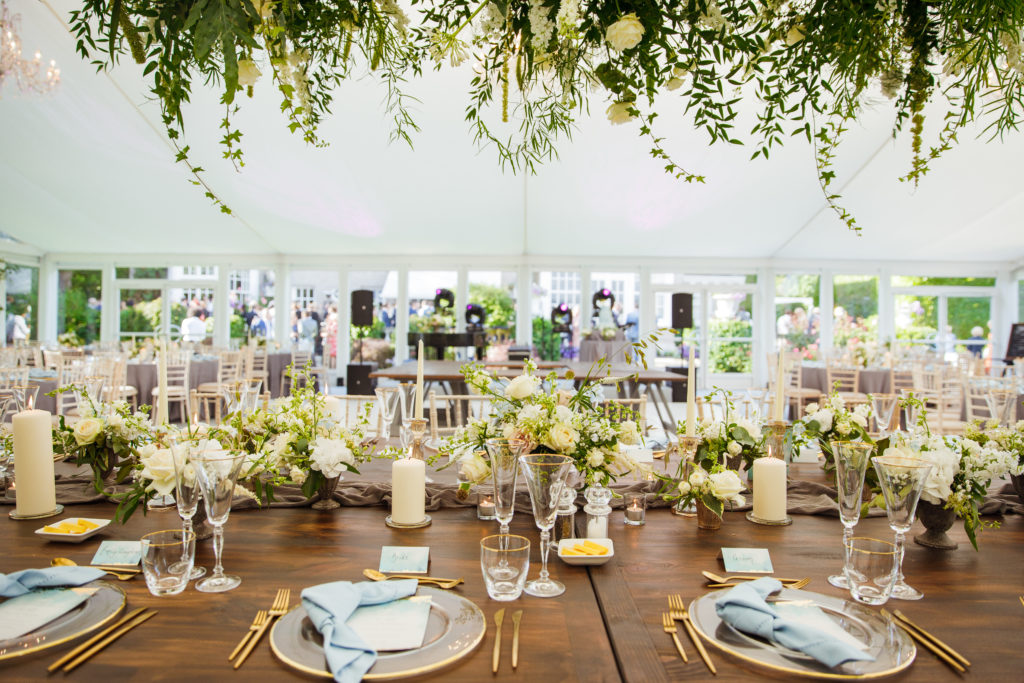 Believe it or not, installing toilet facilities can be pretty expensive and it can be tempting to curtail the budget here. Most marquee providers will have an affordable option, a middle of the road option, and a super fancy option. Dodgy bathrooms are the last thing you want at your wedding but you don't need super fancy either. We went middle of the road – which is as luxurious as most hotel facilities – and added in bathroom baskets, fancy soaps and towels to each one to 'luxe' it up.
The marquee build will start about five to seven days before the day of the wedding so that it is up in time for the rest of your suppliers – from florists and stylists to lighting design - to get in there and set up. Make sure you have accounted for time and budget to have the marquee cleaned before any venue styling takes place.
Catering: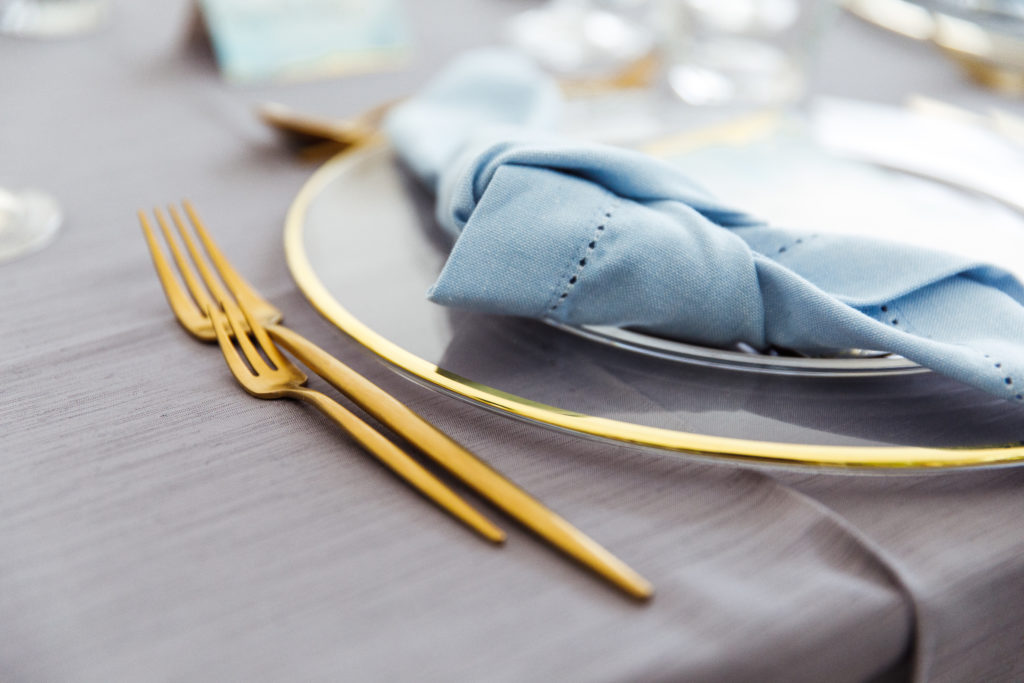 Great food and flowing wine were top of the priority list for our wedding, so we chose culinary genius, Claire Hanley, to cater the event. Eoin and I really wanted to do something different with our wedding menu and Claire was nothing short of superlative in bringing that vision to life – creating a French-style buffet that was as beautiful as it was tasty.
With marquee weddings, it's important to remember that your kitchen equipment requirements will depend on your menu. For example, if all of your courses are hot you will need more ovens and ergo more space - and this can impact your budget. I'd definitely advise any future brides who are having a marquee wedding to bring in their caterer at the planning stages and to loop them in with the marquee supplier to pinpoint these costs or space limitations from the outset.
Usually, with marquee weddings, you need a second 'kitchen marquee' for food service. We had a car-port at our disposal that was able to be half-tented and turned into a kitchen for our wedding.
Wedding Stylist and Coordinator: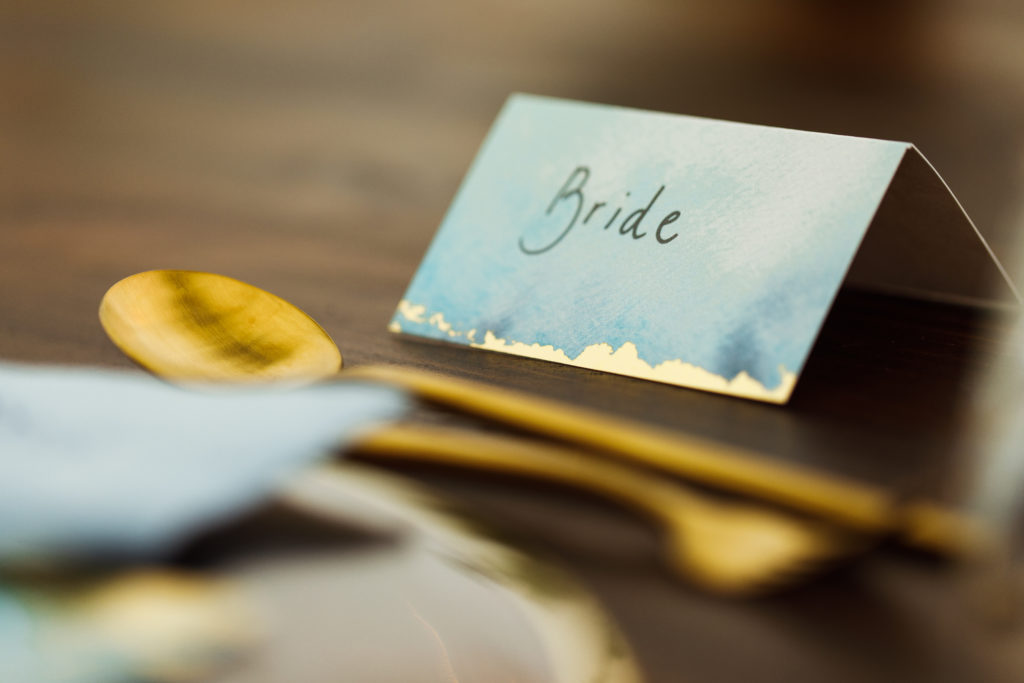 Frog Prince Events both styled and coordinated our wedding. They designed the theme, florals and mood of the event and had one of their team there on the day to ensure everything ran smoothly. They also organised all of those trickier logistics that a bride won't be au fait with: generators for power, electricity, fire certs and sourcing of furniture for the marquee. Having a wedding coordinator present on the day of the wedding has huge benefits. They make sure everything runs to schedule, pay all of your suppliers who, usually, will want cash on the day, and they act as the general go-to person on the day so you and your family can just enjoy the party.
Rainy Day Plan: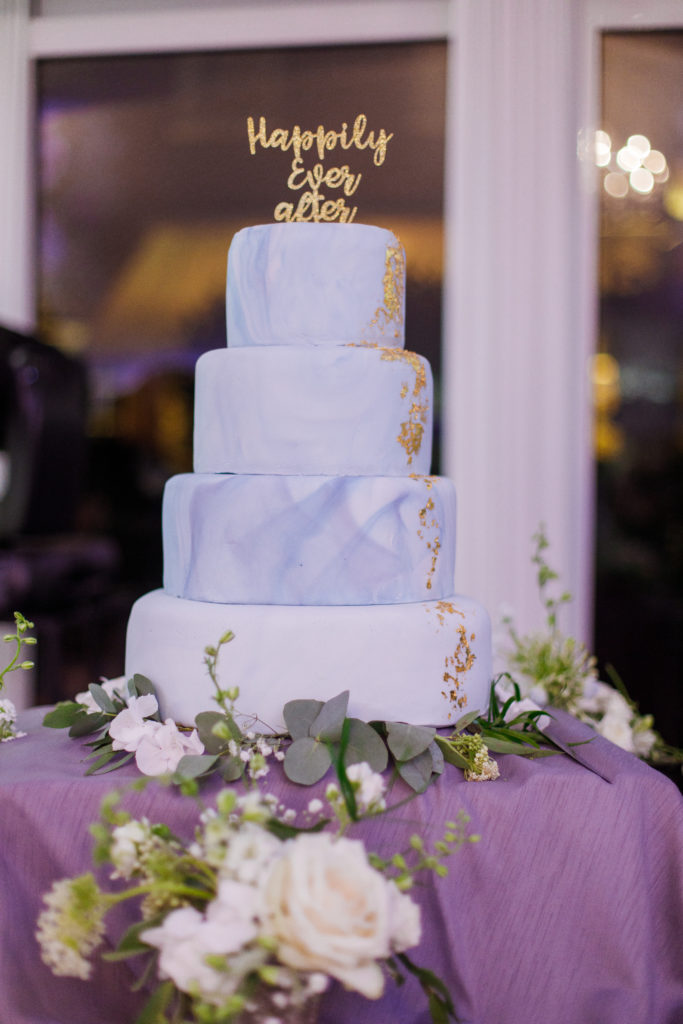 We got married at the end of July in the middle of a heatwave, and with a French beach theme, we were crossing fingers and toes for the good weather to last. It was 24 degrees and sunny on the week of our wedding, but we still had a 'rainy day' plan in our back pocket just in case. And thank god we did: it bucketed rain on the morning of the wedding! Our drinks reception was due to be outdoors on the terrace but in the event of rain, the plan was to move the reception indoors into the house. Luckily, our wedding coordinator Sharon Griffin from Frog Prince Events was keeping an eye on the weather forecast and exactly what time the rain was due to stop. She tweaked the schedule for the day, starting everything later than planned so that by the time our guests left the church, the rain would be gone. The downside of this was that we had guests waiting in the church for my arrival for a long time – almost an hour! – but it was worth it. We exited the church to glorious sunshine and the outdoor drinks reception, and our wedding pictures could take place outdoors as planned.
Bridal Prep at Home: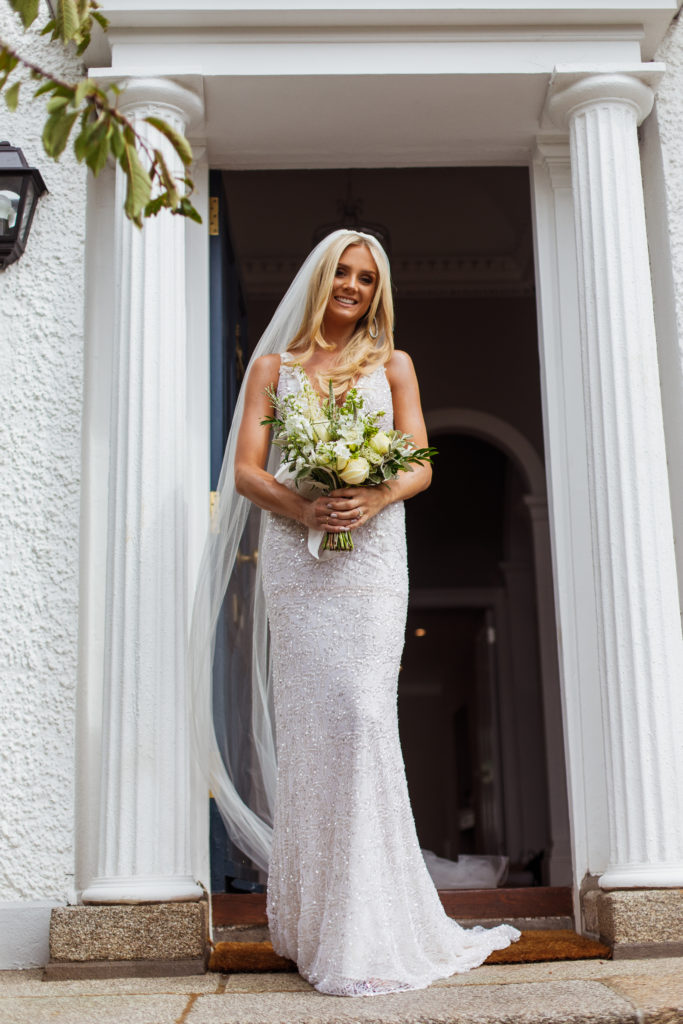 One of my favourite things about having an at-home wedding was being able to get ready, with my bridal party, in the comfort of my own home and being able to have people I know doing my hair and make-up. James Sinnot from Ceira Lambert Salon did my hair for the wedding and I wouldn't have trusted anyone else with my tresses – it's the salon I go to all the time for everything from highlights to blow dry's to extensions. I wear Great Lengths hair extensions all the time but had additional Great Length Tapes added to my hair for volume for the wedding –which I would definitely recommend to any bride. James had extra Great Length tapes with him on the day, just in case I needed more volume! Sue Brophy, who I work with on fashion shoots all the time and is not just a colleague but a friend too, did my make-up for the wedding. She is just beyond incredible – we didn't even do a trial in advance and she absolutely nailed it. I booked both hair and make-up to stay for the full day, until the wedding pictures, which I would definitely advise. Your guests will all want to hug and kiss you when you greet them after the ceremony – this is lovely, but not so lovely for your hair and make-up! Having Sue and James around to fix the damage from all that affection was one of my best decisions.
Tips and Advice for an at-home wedding
• Pay attention to major sports fixtures before you set a date. If there is a big game on the day of your wedding, you'll lose half your guests to the pub while it's on.
• Book hairstylist and make-up artist to stay until the wedding pictures have been taken – it's worth the cost.
• Choose suppliers who have worked together before. Your caterer will need to consult your marquee supplier on the kitchen requirements etc. It will make life a lot easier if they have a working relationship already.
• Ask if the costs quoted include VAT. Lots of suppliers quote ex-VAT but this adds an extra 23% of the cost to your bill.
• Notify neighbours of the event to avoid complaints. Call around each house personally or send a note.
• Hire security – you might think it's only for celebs, but it stops passerby's gate-crashing the party.
• Opt for additional lighting for the marquee. You don't need to go wild on the budget here but it does make a difference to the feel and ambience of the marquee.
• Don't go for a marquee with a glass ceiling – it looks cool on Pinterest but your guests will bake if it's a warm day. Opt for glass walls instead.
• Don't be afraid to be firm on costs. If someone is supplying a product or service, they need to be able to provide an accurate cost for it from the outset. Too many wedding suppliers say things like 'How long is a piece of string' when you ask for costs.
• Pay cash where possible to get a better price.
• Don't scrimp on toilet costs but don't overspend either.
• Don't forget to ask about the cleanup process/ clearing equipment or décor after the event. You don't want to have to worry about this while you are on honeymoon
• Don't leave setting 'place-names' to anyone else - it's too easy to get wrong. Schedule an hour the day before the wedding to lay your place names and to check the marquee is exactly as you want it.
• Speak to other couples that have used your suppliers before you confirm. A recommendation goes a long way.
• Pre-order sandwiches/platters to be delivered to the house where the bridal party is getting ready on the day of the wedding. It's a long day and you want to make sure everyone eats properly.
• Book a cleaner to come to the house (where the bridal party are getting ready) while the wedding is happening if that's where the bride and groom are staying on the night of the wedding. Housekeeping will automatically do this in a hotel but not at home!
• Be mindful of your parents on the week of the wedding – having a wedding at home is a big undertaking for whoever lives in the house! Suppliers will need access to the garden for a full week between set up and take down.