Not just for hipsters, the wedding hashtag is the trendiest and easiest ways to collate extra photos from your wedding but also share the big day with those not in attendance (read not invited). Sure, many people choose to keep their wedding unplugged, private and for an exclusive OK magazine deal, but we're all about sharing here at S&P Weddings, so sit back and relax while we walk you through the perils of creating your very own, unique, hashtag.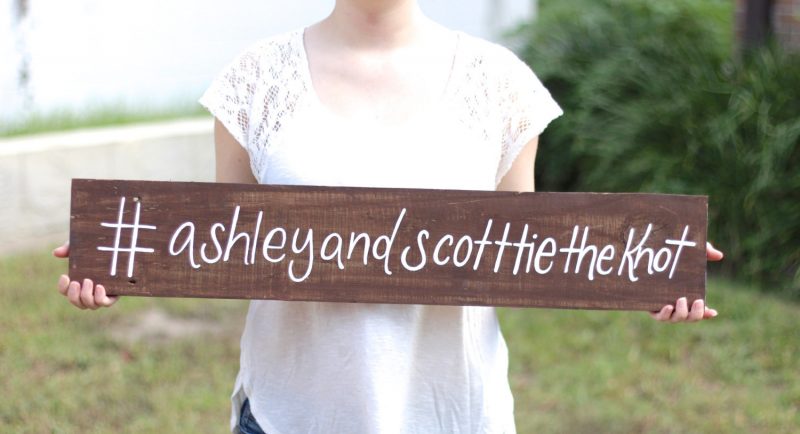 1. Start with your names
Yes, it may seem obvious, but when trying to figure out the perfect wedding hashtag make sure to start with your names. It can be your first, last or nicknames, but a simple name mashup will help guests remember it, and so make them more likely to use it. Mix and match until you find the right combo.
 2. Get punning
Advertisement
Be cunning and get punning. Yes, everyone loves a good pun or play on words, so if you can come up with one, use it! Not sure where to start? Check out an idiom website. Alliteration, rhymes, synonyms and puns make for a hashtag that's both clever and memorable and one that will garner much envy. for example, if his last name Raynor and yours Shine then maybe a #RaynorShine wedding is for you!
3. Avoid confusion
Read over your chosen hashtag and make sure that there can be no confusion over spelling. Sure, it may look alright to you at first glance, but there are many ways to reduce the likelihood of your guests getting it wrong whilst typing in the heat of the moment. Avoid having the same letters together or include capitalisation to set words apart. You may need to move words around or start again, but put the time in, and you will come up with something nobody can get wrong.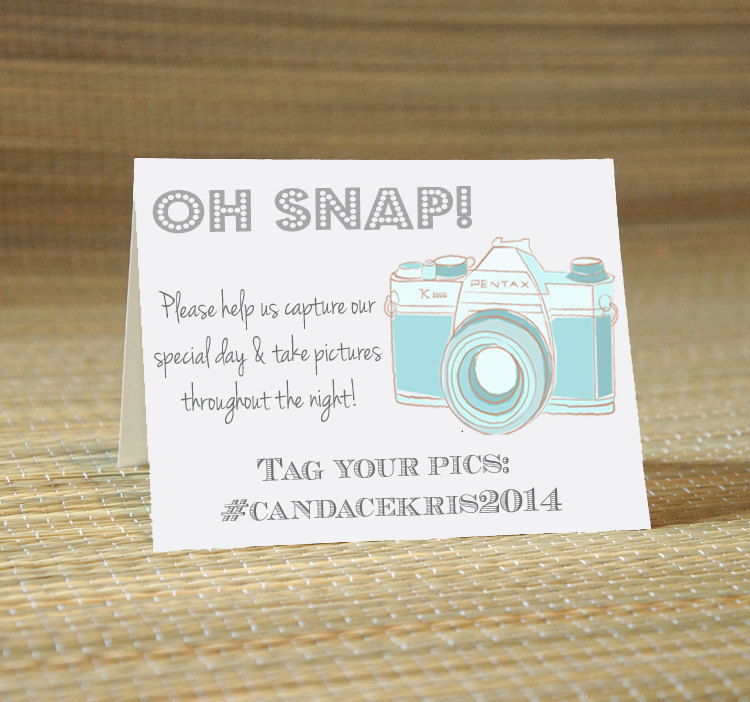 4. Research
This seems obvious, but research, research, research! Be forewarned, if you choose a hashtag that is already in use, then all of your fabulous photos will be lost in a sea of meaningless memories belonging to strangers. Before you go ahead and print your newly formed hashtag on stationery and signage make sure to check that it is, in fact,unique. If not, you will have to go back to the drawing board.
5. Get using and remind people
Advertisement
As soon as you have agreed upon the perfect #hashtag, it is time to get using it, and the earlier the better. Ideally, it should be used on save-the-dates and every other piece of correspondence that you will have with your guests in the run-up to the big day. OK, we don't actually mean for you to sign off on every text with #JackandJillWed, that is a bit Bridezilla, and after all, there are limits to what your friends and family can put up with. For the day itself, print signage and place reminders all over the venue - there can never be enough reminders.
6. A little help
Did you know that there is such a thing as a hashtag generator? Yes, it will actually help you create the hashtag of your dreams or something close. Alright, you can probably do better than a robot, but it is a nice starting point and may get your creative juices flowing.
- Danielle Farrell