Your wedding cake (or dessert table depending on your preference) will most likely be the centrepiece of your wedding and it's important to top it off with a cute, personal cake topper. Whether you just want a standard bride and groom on top, or if you want something a little different, here are some of our favourite cake toppers.
People cake toppers
Even if you do just want to stick to a mini bride and groom, you can still make them cute, funny or personal. There are plenty of places that offer personalised cake topper designs, including Sweet Creations or Cake Toppers Ireland. Your cake topper can incorporate anything, from your passions to your pets and you can even make them look like you, to really personalise them.
Animal cake toppers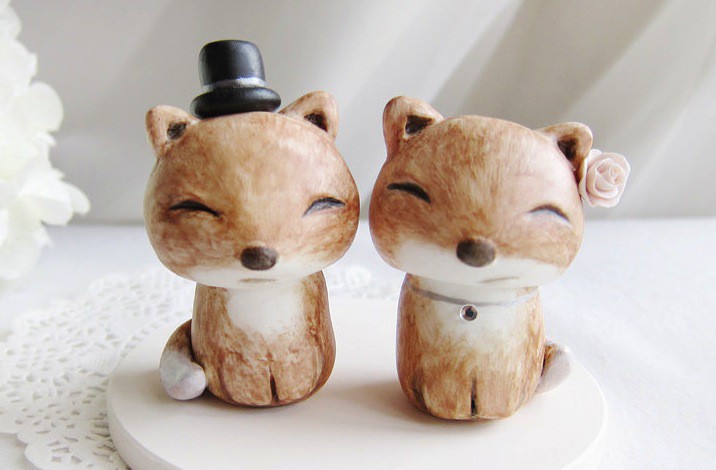 More people are opting for little bride and groom animals now for the cute factor atop their wedding cakes and we have to admit, these little guys are very cute. Little bluebirds, owls, penguins and puppies are just some of the popular choices among animal lovers. We particularly love the little tux and veil that goes onto each one.
Letter cake toppers
If you're looking for a classier look, you might not want figurines on top of your cake at all. Instead, you could just go for lettering. Whether it's your initials together instead of a mini bride and groom, just a "Mr & Mrs" or even just the words "Just Married", lettering on your cake looks pretty cool and modern. You then have the freedom of keeping it with the theme and colour of the wedding. This might be a particularly good idea if you're opting for a dessert table instead of a wedding cake. You might just want to put subtle letters on a smaller cake, rather than big figurines.
Image credits: Bobble heads: Wedding Cake Designs | People: One Wed | Pets: Etsy | Groom with glasses: Etsy | Turtles: It's A Bride's Life | Penguins: Pinterest | Foxes: Etsy | Pigs: One Wed | Birds: Pinterest | N & K: Pinterest | K & J: Pinterest | Happily ever after: Etsy | Hitched: Etsy