Suppose you're not the most traditional couple. In that case, the thought of a guest book might bore you, all these essential memories and messages scribbled into a notebook that will inevitably find its home in your attic or the back of your wardrobe. But, if you want something a little more interesting, they consider breaking the tradition and going out on a limb with something more exciting. So make your wedding day the talk of the town with one of these five excellent unique guest books!
1/ Telephone
The only thing better than having a written expression of love is a verbal one; a great guest book option is wedding voicemails that you can listen back on for years to come! The set-up is quite simple, with companies like Fetefone, After The Tone and The Big Red Box providing a vintage phone instead of writing a note, your guests pass on their love and well-wished as an audio file; from there, the files are sent back to you. It's a fun, kitschy way to relive your happy day and will leave you with a beautiful archive of your loved one's voices for years to come!
2/ Typewriter
If you love the more classic aesthetic, then a typewriter is the perfect pick for your guest book. A little neater and easier to read than a cacophony of handwriting, this cute concept will encourage your guests to unleash their inner author and maybe even compose their message in iambic pentameter! Not to mention that each little note makes for a lovely piece of decor to scatter across your home in decorate frames.
3/ A Quilt
Why needs a dusty old guestbook just taking up space in your cupboard? Skip the added clutter and opt for something that you can use time and time again! Have a table of fabric swatches and fabric markers for your guests to leave their love, then after the wedding day, stitch the whole thing together into a big love-filled quilt! Keep warm in the cold Irish winter with a blanket ladened with memories of the happiest day of your life and the fun you shared with friends and family. Not to mention it makes for a fantastic heirloom to pass down to your children and maybe have them add to it on their own wedding day.
4/ The Dress
You're most likely not going to wear the dress again, you may have dreams of getting it altered into a party dress or passing it down to your children, but another great use of your wedding dress is as your guest book! This works well if you have two separate outfits for the ceremony and reception (It's kind of hard to enjoy dancing with your new spouse when people are trying to draw on you!), but a dress form, fabric markers and your gown make for a memorable guest book.
5/ Write A Song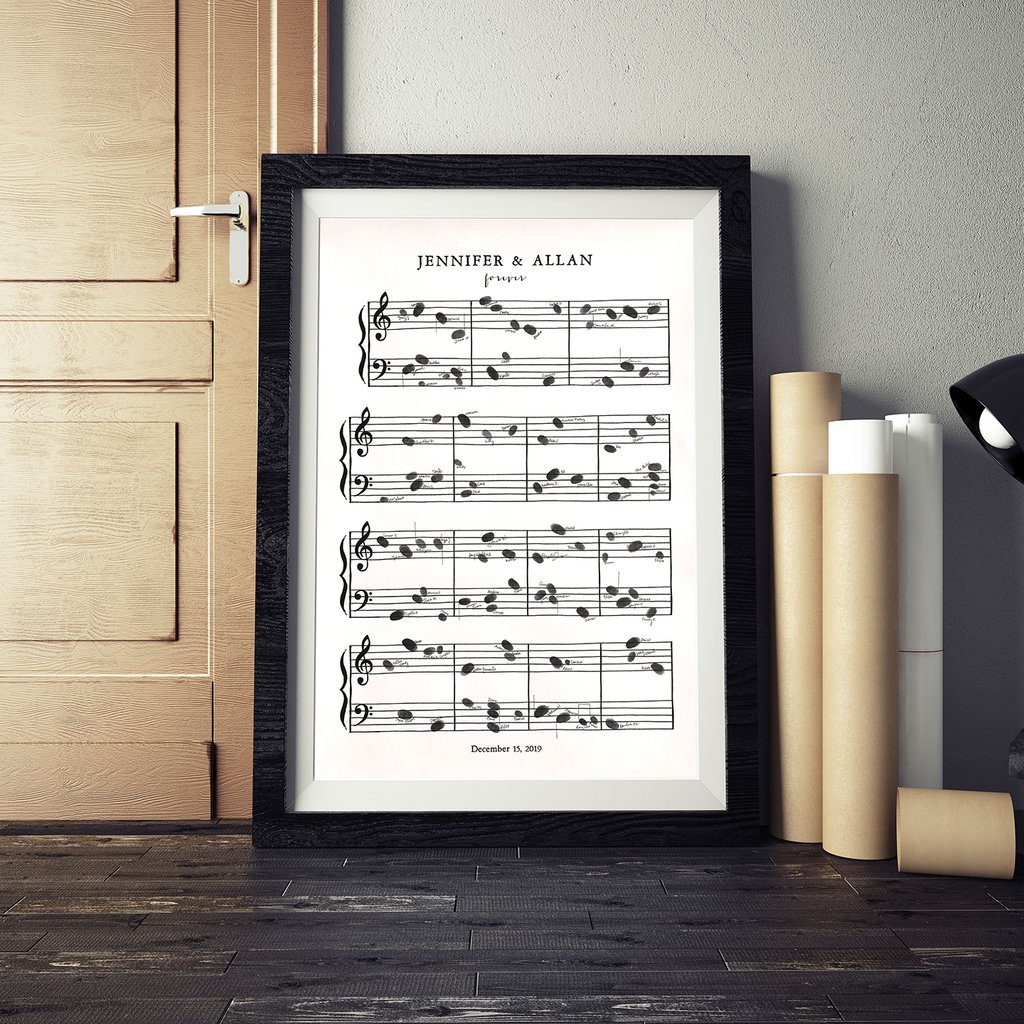 A personalised wedding song is a great idea for a musical couple, have a few pieces of sheet music paper and ink pads laid out and let your guests compose a song with their fingerprints! This might require a table attendant to keep the mess to a minimum, but it is unique to mark the day. Then, after the wedding, do your best to transpose the piece into something a little more readable and voile; you have a personal piece of music special to your happy day!
- Gráinne