In the past few years couples have become more creative with their wedding party's attire, and one of the most interesting and pretty touches that have risen to popularity are a mismatched bridal party. Although chic and an opportunity to think creatively about your wedding, the most appealing aspect of this is that you can cater to the varied tastes and different styles of your favourite ladies (and the different budgets if needs be). However, continuity sometimes is not the easiest thing to achieve and one has to be careful about what way to go about creating this look.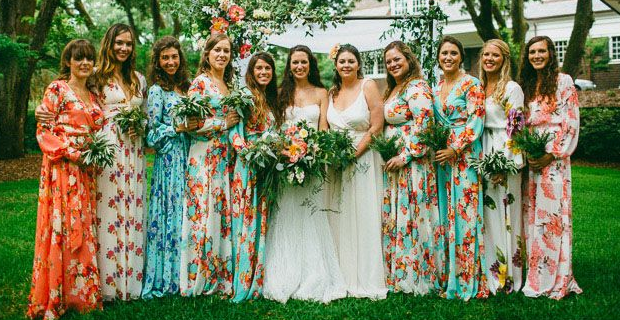 Same colour, different styles
Allowing your bridesmaids to choose their own style of dress but in an identical colour is a great way to ensure everyone is wearing a dress that flatters their shape while making sure that the continuity of your wedding look is not compromised. However, in order to make sure that the same colour is actually achieved it is best to stick to neutral colours where difference in shades might be harder to distinguish, like off whites, or bold colours where there can be no ambiguity, like black.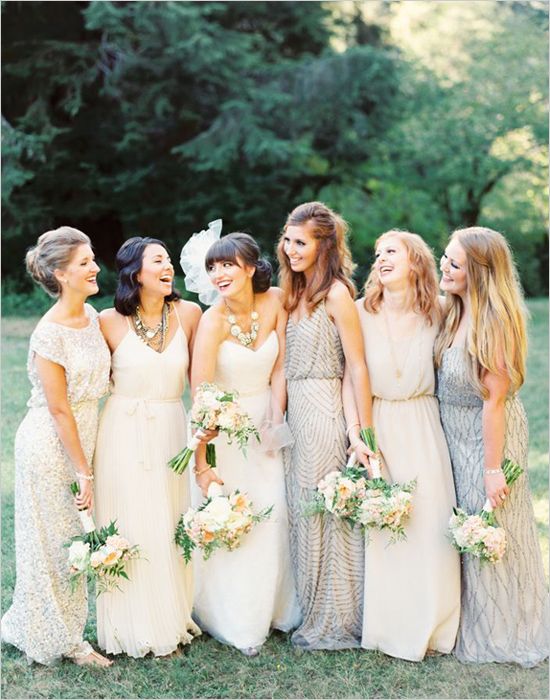 Different colours, same style
Choosing different colours in the same style is an easy way to suit anyone's complexion while keeping continuity in the bridal party. It is also a great way of incorporating the different colours of your wedding while keeping uniformity for those lucky enough to be in the wedding. You could also try assigning colours to your bridesmaids or make a personal meaning for each colour!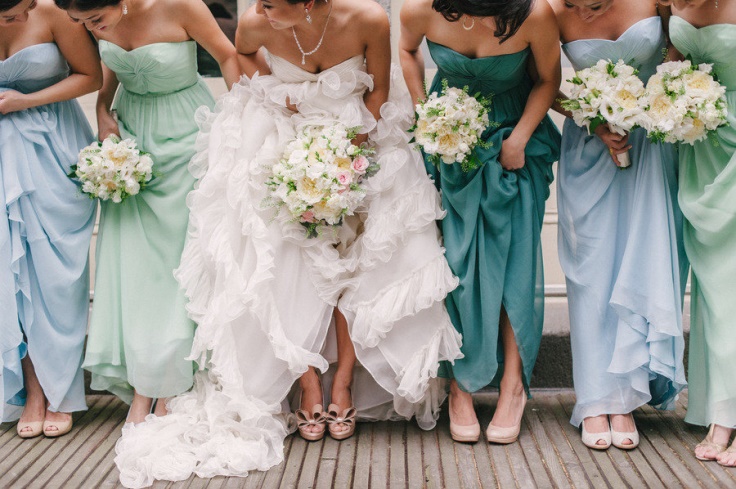 Same colour, different shades
Choosing dresses in varied shades of the same colour allows bridesmaids to wear any style they like and still look like a unified team. Different shades solve the problem that the same colour in different styles has; you can choose colours that are harder to find the exact same shade in different dresses without compromising the overall look. Colours such as coral, green and nudes are ideal for this look as there is so much variation in shades to choose from.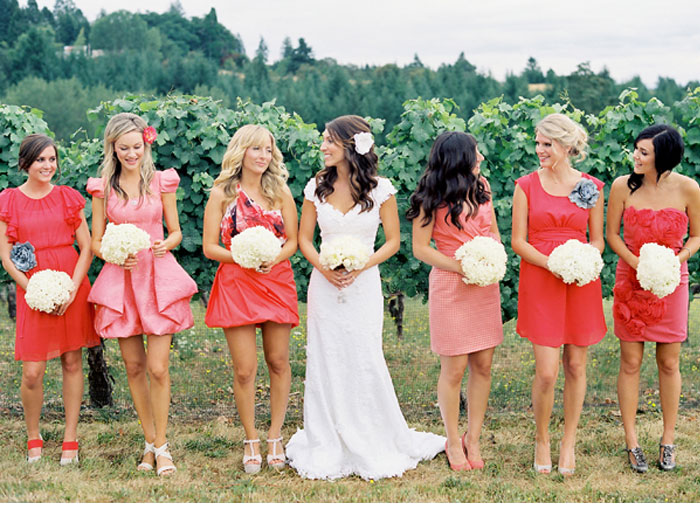 Same dress with statement accessories
A subtle way to mismatch your bridesmaids is identical dresses with statement accessories for each bridesmaid. It allows for a more traditional appearance of the bridal party, but each bridesmaid can express their own quirks in their own way. The easiest way to achieve this look is statement shoes with an otherwise refined dress; simple colours with a bold chunky heel can create a classy yet original look. If the bridal party is feeling more daring then choose a shoe that's a bit more outlandish, like these girls who donned cowboy boots for their bride's big day!
Wing it
The more difficult look to achieve, but sometimes the most appealing, is a free style where anything goes! Well, almost anything, you still need to look like a team. The best thing to do is settle on a colour and let your bridesmaids be liberal with their patterns, textures or embellishments. Be free with length, cut, or necklines to create an original look to your bridal party but still look like the girlfriend team that you are.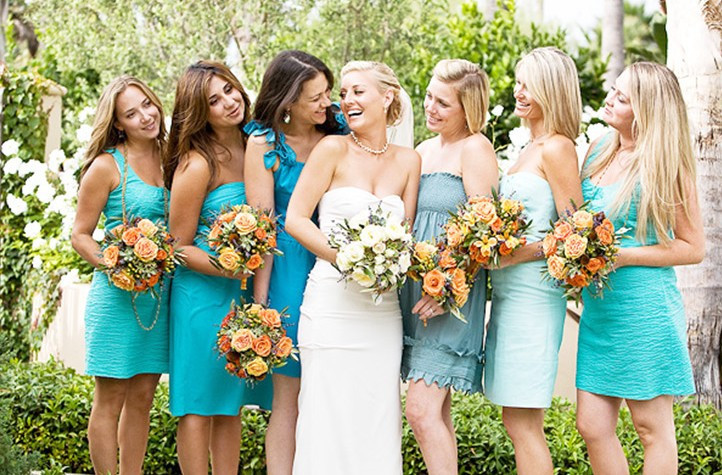 Image Credits: Mismatched bridesmaids: Pinterest | Jenny Yoo | Mismatched colours: Pinterest | Different shades: Wedding Bee | Rings: Belle the Magazine | Mismatched shoes: Pinterest | Black dresses: Pinterest | Blue mismatched bridesmaids: Elizabeth Anne Designs