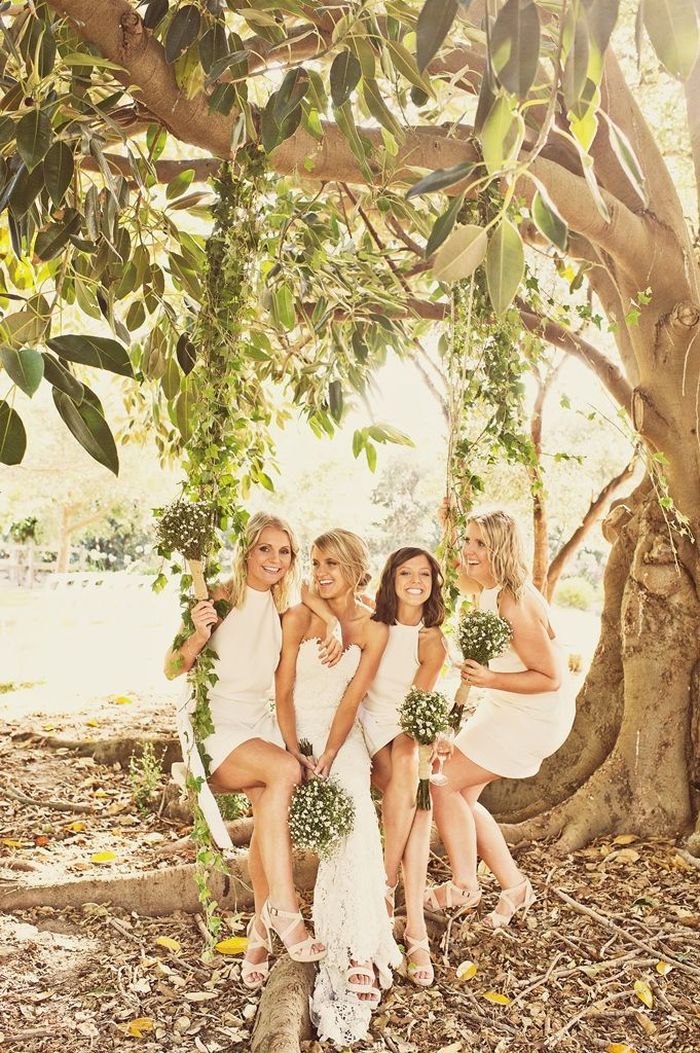 This is probably one of the biggest and longest running social faux paus that exist around wedding season in the minds of both brides and guests alike. In the run up to a wedding, if a guest even suggests the tiniest possibility of wearing ivory, white or bone, their response is always shocked gasps and hands clutching chests. But sometimes, the season that you're in may call for brighter shades, or there's a white based print that you just love or there's a little white dress hanging in the back of your wardrobe that you are still longing to set free. Each circumstance is different, and of course so too is each bride. You may be about to attend the wedding of the most carefree, laid back, new-age girl you know, and are confident she won't bat an eyelid if you show up head-to-toe pristine in white. It is true that brides and the entire bridal scene is becoming less of a landmine for a white dressed guest, times are indeed changing and wearing white is no longer the taboo it once was.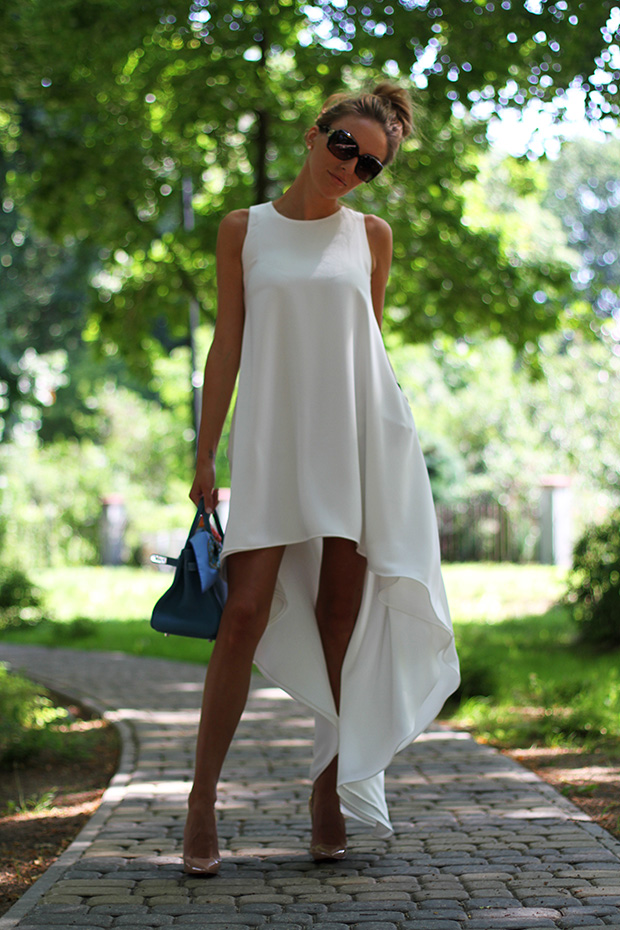 With the rise in popularity of coloured wedding dresses and celebrities choosing to have matching bridesmaids in all white, it's quickly becoming a more frequent and celebrated custom. However, even if it is becoming an accepted norm among the more forward-thinking brides and you think you can side step any angered brides or offended guests and relatives, there are still a few unspoken rules you should follow not to ruin anyone's day. The most important thing any guests should focus on, even before choosing the colour of the dress, is to not upstage the bride. While you might get away with wearing a modern white gown, there are still endless ways to wear white either correctly, or disastrously. So if your heart is still stuck on the idea of an ivory dress, here are the ways you can wear it without setting off alarm bells and urging a crowd stampede.
Don't wear floor length: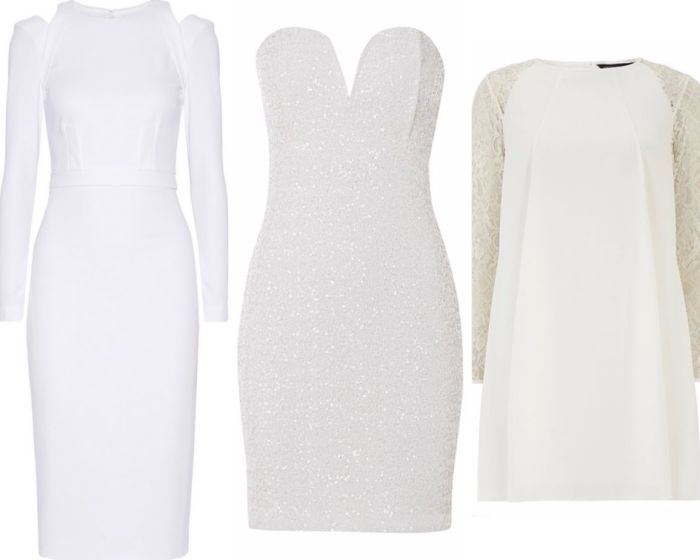 Dresses L-R: Cushnie et Ochs, €1390 | TFNC, €25 | Dorothy Perkins, €25
The very first thing you should avoid when choosing your white gown is a full length silhouette. The entire purpose of censoring your outfit is to make sure that the wedding gown is the only one of its kind on the day. That means no floor length or trailing white maxi dresses that could easily substitute as a bridal double. Wearing a full length wedding gown is essentially looking for trouble and gaining the wrong kind of attention, with many assuming your main intent is to indeed upstage the bride and steal her thunder. Leave the dramatic skirt lengths to the bride and the rest of the guests in colour. If you're going to wear white, wear something over the knee or slightly mid length, with as little resemblance to a wedding gown as possible.
Choose a distinctive shape: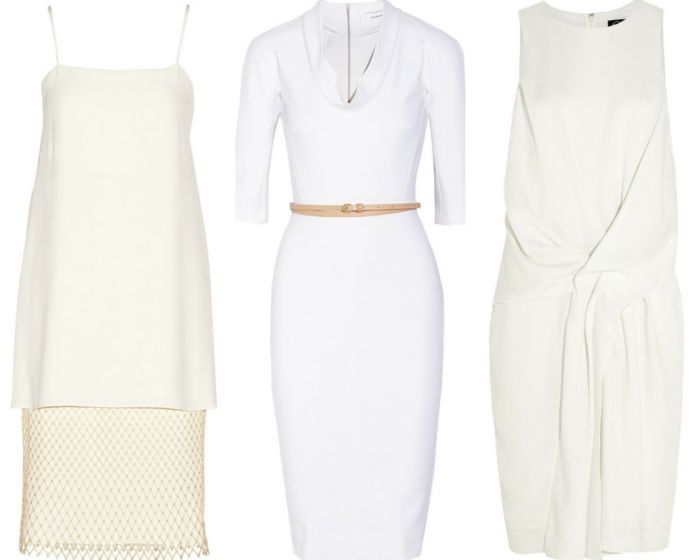 Dresses L-R: Adam Lippes, €1627 | Victoria Beckham, €870 | Alexander McQueen, €495
Again, this principle is based on the same reasoning behind avoiding a full length skirt – not ending up with a dress that looks anything remotely like the brides. For this reason, it's also advisable to steer clear of what's known as the more bridal type of fabrics and silhouettes, like chiffon or A-line skirts and cinched waists. Try choosing a dress that has a distinctive shape and structure. If you decide on a dress with asymmetrical lines and edging, then that will have you steering clear of looking like a stand-in bride. You want to make your dress as edgy and modern as possible in order to look sleek and individual, not soft and bridal.
Decide on a print: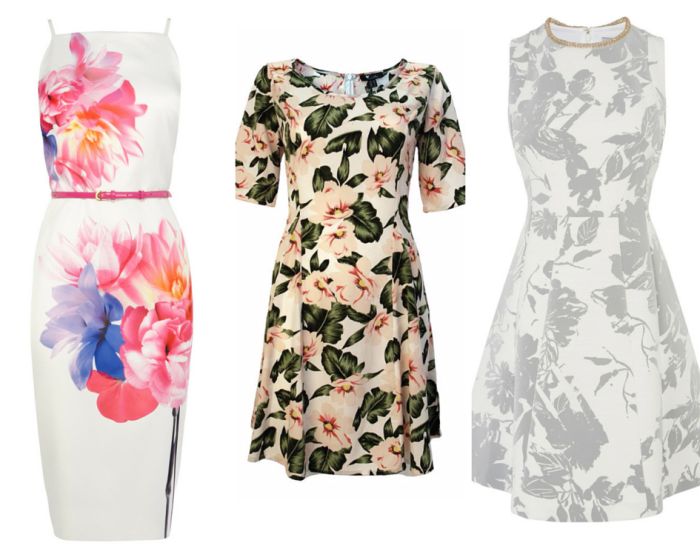 Dresses L-R: Coast, €99 | Cutie London, €96 | Coast, €95
Use white as a base for your dress, rather than an all-encompassing singular colour. This will get you off the hook when it comes to an all-white colour gown and gives you the excuse to inject some vibrancy without looking too cluttered. It works wonders for both ends of the spectrum in terms of your attitude to a wearing white. If you're too afraid to boldly bare an all-white gown, then choosing a dress with a pattern and decoration will still give you that pristine effect but with that added security of a flattering pattern. Alternatively, if it's the perfect floral pattern for that summer wedding that you're after, but are too worried of looking cluttered and overcrowded, a white base is perfect. A white colour will serve as the perfect base for any floral or bright prints you may be too afraid to wear as a whole. It will provide a pleasant break amidst a sea of pattern and print, and will be discreet enough not to have red flashing in any bride's eyes.
Inject a bit of colour: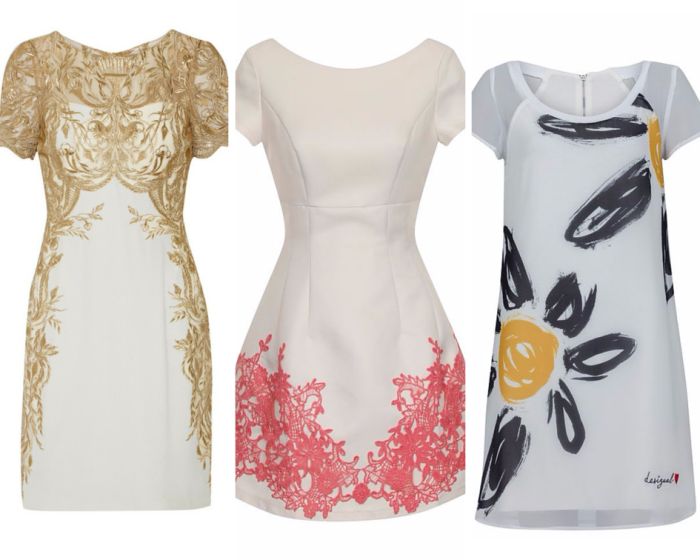 Dresses L-R: Marchesa Notte, €967.53 | Chi Chi London, €63 | Desigual, €79
A pop of colour will break an entire white dress and will also brighten up the outfit. While the white dress itself will provide the main focal point, a slight adornment of coloured pattern or lace will lend that party feel to what would otherwise be a very ceremonious gown. The good thing about choosing white is that it literally goes with any other colour, so the possibilities are endless. From light lace to glittering sequins, it's a straightforward yet rewarding process if you chose to adorn your white dress. In doing so, you are guaranteed a night of contention in your chosen dress, while making sure that the bride is happy in seeing another white dress safely and non-threateningly encased in colour.
Choose monochrome: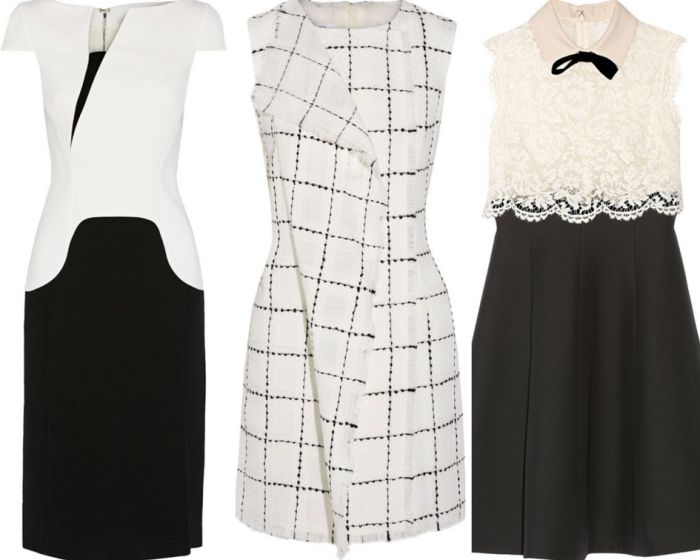 Dresses L-R: Antonio Berardi, €1255 | Oscar de la Renta, €1885 | Valentino, €2690
However, if bright colours aren't exactly your thing, you can also break up a white dress by choosing the trend that is always considered a classic, which is monochrome. Monochrome opens up a whole range of pattern and prints that can be explored in a very safe zone, which is always guaranteed to look chic regardless. You still get your white dress fix, but do so with the safety and assurance of an accompanying black pattern or colour block. The pair are best when they're put together in striking asymmetric patterns or stacked together, to flatter the silhouette and create a sense of elegance. Black and white will always provide a sense of style and formality, while most important of all in this scenario, not stealing any attention away from the bride herself.
Wear trousers: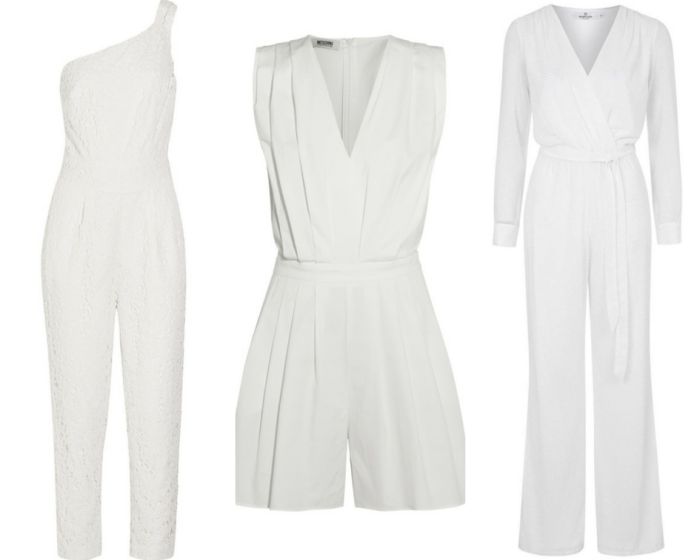 Dresses L-R: J Crew, €435 | Moschino, €148 | Topshop, €59
This is one of the bigger loopholes around wearing any form of white clothing to a wedding, and comes back to our most basic and important rule of wedding guest fashion: not upstaging the bride. Referring back to one of our previous guidelines about the skirt length and ensuring it doesn't resemble a wedding dress, wearing either a jumpsuit or a playsuit will completely eliminate that threat. Jumpsuits and playsuits have the luxury of appearing both stylish and ceremonious, with that added edge and slightly casual vibe, which is guaranteed to never trump the bride's dress. They are the perfect go-to outfit if your heart is set on wearing white but you don't want to steal any (well ok, most) of the attention away from the bride.
Load up on accessories: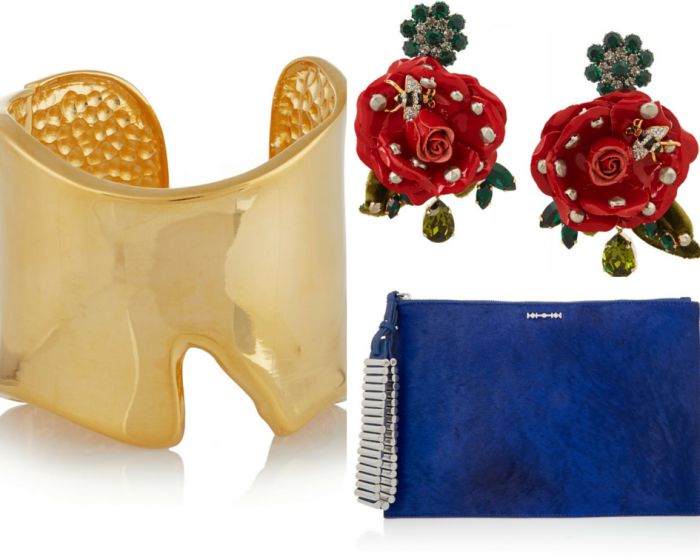 Accessories L-R: Kenneth Jay Lane, €200 | Dolce & Gabbana, €945 | Alexander McQueen, €474
If you do bravely opt for a simple yet stylish short white dress, then you should consider loading up on accessories in order to brighten up your overall ensemble and downplay the starkness of an all-white dress. Throw in as much colour and vibrancy here as possible, which will work great with white and show that you are not afraid of some stylish statement jewellery. From bright blue and red to shimmering gold, you can downplay the bareness of your white dress with striking jewellery that stand out against your gown and tie your entire outfit in together. Make your jewellery the focal point of your outfit, and the bride will happy to see your necklace and earrings first before she sees your white dress.
- Roisin Curran
Image Credits:  Bridesmaids in white: Two little owls in love | Guest in white dress: Marriages.net