We all love the idea of a luxurious wedding gown, with flowing organza skirts and long, draping veils. While all these glamorous and luxurious styles of wedding have no doubt kept our minds occupied and busy since your adolescent years when it comes to a wedding abroad a lot more serious wedding dress concerns need to be factored in. From the climate and the surrounding areas, a lot of sensible and practical thoughts need to go into arranging the perfect wedding dress to fit your perfect location. We've gathered just a few factors to consider and weigh in when you begin choosing the right destination wedding dress, in order to ensure that your destination wedding is both glamorous and comfortable.
Terrain
This will decide the required style and silhouette of your dress, along with its fabrics. When it comes to choosing your wedding dress for your destination, it's all about thinking practically. Consider how and where you will be moving around on the day of the wedding, and the answer will determine your style of fabric, the shape of your dress and much more. For example, if you want a Caribbean island wedding, then you have to choose a dress that will glide through sand and sea breeze, rather than flap around your hips violently and cast a sand dune over your guests. Light chiffon fabric and breathable lace are the best options for a beach wedding, take a look at our handpicked beach wedding dresses here.
Likewise, if you're thinking of running down the timeless cobblestone streets of Italy with the man you love, make sure you have the shoes for it. Cobblestones are a pair of high heels' worst nightmare, from the cracks that trap a heel to the uneven surfaces bound to cause a stumble. In this case, maybe opt for a pair of flats throughout the day until you can slip into something a little higher for the party. Or if you're thinking a country estate with rolling hillside backdrops, it's usually best to choose an organza gown with a dramatic skirt and flowing veil, to suit the tone of grandeur among your surroundings.
Climate
This will determine your level of accessories and some basic fabric requirements. If you're after a winter wonderland wedding in some faraway castle in a city like Prague, then you're going to need the dress to keep up with whatever the weather throws at you. If you know you'll be tying the knot in snow-filled streets, then make sure that you bring comfortable and warm undergarments. No matter how much you assure yourself that going from a heated car to a heated hotel will save you the chill while still getting the picturesque backdrop you signed up for in your destination wedding, you're wrong. Between mingling outside the church and inside the reception hall of the hotel, to standing outside in order to capture those memorable photographs, you will at some stage be exposed to the cold. And what other time if not at a winter wedding would it more than acceptable to sheath yourself in glamorous fur throws and winter coats?
Just like you would need to dress for the cold, you also need to dress for the sun. A beach or exotic escape destination wedding dress will require the lightest of light fabrics, from flowing chiffon and lace to light tulle. These fabrics not only make you appear like an ethereal, beach-ready bohemian goddess, but it will keep you cool and give you complete free movement in the sun and sand.
Respect Local Customs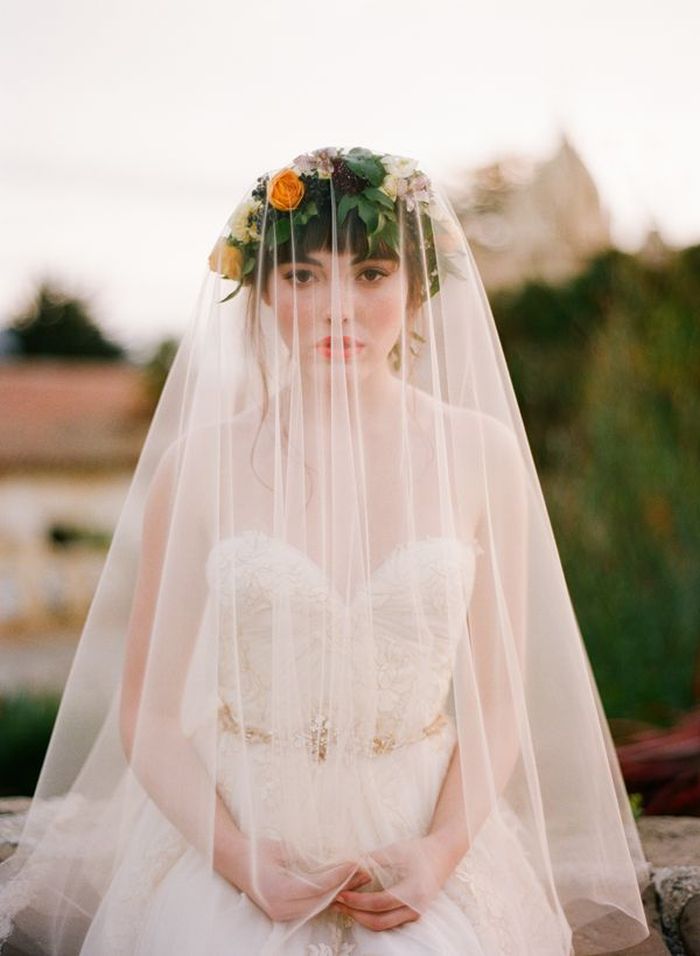 If you're getting married in a highly religious place, like the Mediterranean island of Malta, which is very Catholic in its culture and customs, then you will be expected to uphold their traditions as some common courtesy. It's required for all people entering churches to have covered shoulders and knees. While these aren't strict prohibitions on all guests, it would be appreciated if the local customs were upheld, even though simply providing a wedding favour shawl to all your guests that they can keep as a souvenir and reminder of a distinct experience in another culture. Malta is famous for its lace, and your own wedding ensemble could be completed and accepted by the church by having your wedding veil fashioned out of their expert lace and draping over your shoulders during the ceremony. That way, your entire wedding party is well received by both the locals and wedding attendants, and your guests get an insight into how another country lives.
Incorporate The Culture
Along with respecting and upholding all the traditions, you could also try your hand at incorporating some of their customs and traits into your destination wedding dress attire, for that authentic and otherworldly feel. From Italian lace to the Turkish evil eye pendant, most countries will have a familiar and unique style known only to its own culture. Perhaps on your first trip over to the wedding destination (and it is always suggested that you take the first trip over to research hotels and the area) take a look around local markets and vendor stalls. Many of the tourist-geared sellers will let you into the history and popularity of their fashion items, and you can begin thinking of ways to incorporate them into your own wedding dress and perhaps the bridal party also. If you're making the effort of flying abroad and choosing to pledge a vow in another country, you may as well dress accordingly. Give a nod to your surroundings with the country's authentic and historical dress, from a small pendant to a pair of earrings. That way, you can bring home a piece of your wedding location to keep with you for years down the line.
Wedding Insurance
We know no bride wants to hear this phrase when she thinks of a destination wedding, but a lost dress can sometimes happen. Just like any other travel and holiday-related mishaps we've had in the past, it's always advised to take out wedding insurance. Unfortunately, it's a sad truth that a lot can go wrong with the dress, from the supplier or bridal boutique ceasing trading after you've paid a deposit, to the dress being lost somewhere along the airport luggage carrier journey. To help you sleep safer at night (or on the flight over) take a look at a few tips we've compiled on how to travel with the destination wedding dress, to ensure that it gets to your wedding destination as safely as possible. After everything else has been taken care of, all you have left to do is walk down the aisle in an equally comfortable and stunning dress, in a fascinating and enticing romantic getaway surrounded by the people you love.
- Roisin Curran