Whether it's your distant second cousin or that new gym bunny best friend, you will no doubt need a perfectly orientated outfit for their wedding. Thankfully, there is no need to start stressing about the ever daunting appropriate skin-to-hem length ratio. We know it can sometimes be a very hard judgement call to make on what is considered acceptable wedding attire, as each bride and your relationship with said bride will be different than the next. We have gone ahead and divided each fabulous style of guest fashion and dresses by their style – maxi dresses, mid-length dresses and mini dresses.
Maxi Dresses
For an elegant yet breezy and casual look, maxi dresses will always be the go-to style. They can add the perfect sense of occasion yet at the same time flatter and comfort your figure. Perfect for a family wedding, there are enough options out there to still incorporate your own taste into the gown but to also ensure that you get that approving nod from aunts and uncles. Go with flowing sleeves, dare a front slit in the skirt or even become completely glamorous with a little embellishment in the corset. You can be chic and safe in these handpicked flowing gems, knowing you are making a stylish statement without the risk of flashing anyone.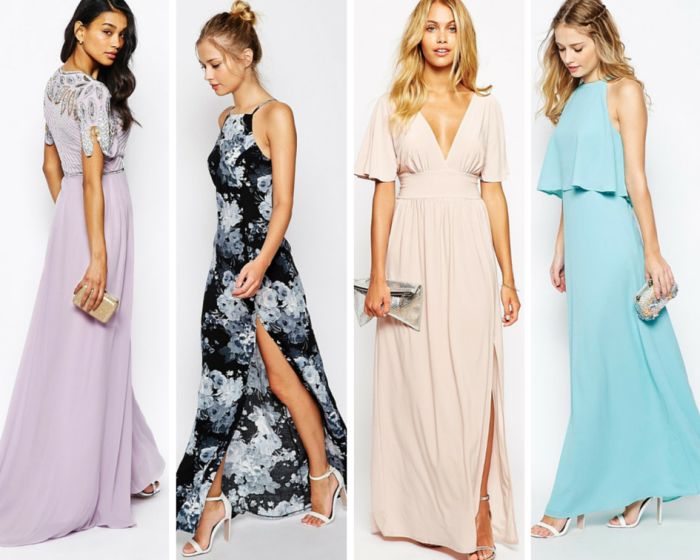 Dresses L-R: Virgos Lounge maxi dress with embellished sleeve, €212.32 |ASOS floral high neck maxi dress €61.64 |In Love With Fashion kimono sleeve maxi dress, €43.83 | Jarlo London maxi dress with overlay, €120.54
Midi Dresses
The perfect combination, these gowns that graze just below the calf embody the best of both worlds, a shy show of leg with the perfect amount of material in the dress to be graceful and coy. These midi dresses don't have to look like you just dashed away from the afternoon meeting at the office and only had time to change your heels. These days, midi dresses can easily inject a bit personality and colour with all the glamorous trends and outfits that are available. Choose from either tight and form-fitting pencil skirts or a flowing A-line skirt under a cinched waist to suit your own personal style. From capped sleeves and draping bodices to figure hugging skirts, a midi dress is the perfect way to stay formal yet at the same time on trend with current fashion.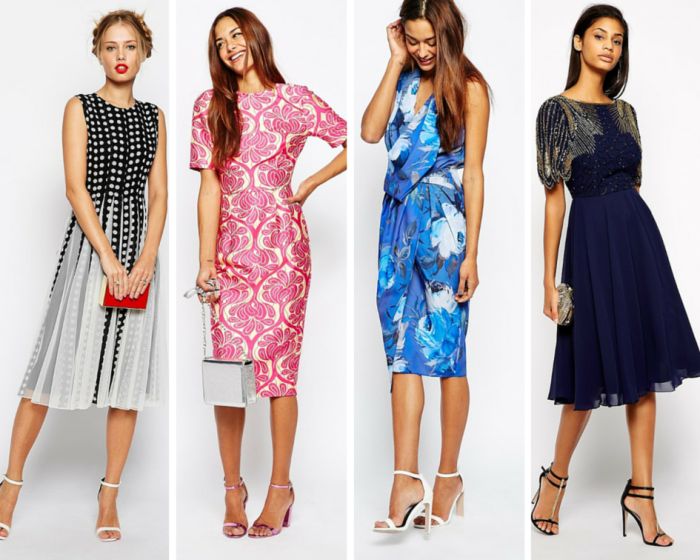 Dresses L-R: ASOS polka dot chiffon dress, €79.24 |  ASOS,  Jacquard capped sleeve dress, €88.80 | ASOS, Printed drape dress, €89.04 | Virgos Lounge Midi Prom Dress with Embellishment €123.28
Mini Dresses
Sometimes seen as a daring move, these mini dresses can be fun and light-hearted, especially for a daytime, summer wedding. Able to incorporate both individual prints and styles with free flowing skirts, these dresses are perfect for the guest who wants to arrive in style. Not solely confined to those who are looking for a more youthful dress, these short gowns are perfect for a bit of light-hearted flair. With the right amount of embellishment and the perfectly chosen print, mini dresses can be made into the most glamourous guest dress. We particularly love the floral flowing skirts and the capped sleeves, making them youthful, yet at the same time, elegant and graceful. Whatever style it is or statement you are trying to make at a wedding, determining the length of the dress and the pattern that you want will bring you one step closer.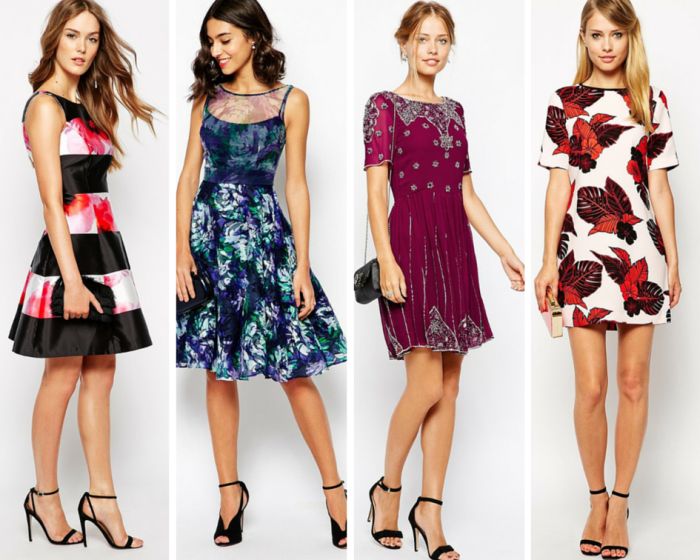 Dresses L-R: Coast, Striped printed mini dress, €204.93 | Coast, Swing skirt floral dress with illusion neckline, €239.09 | Frock and Frill, Embelished swing dress, €90.17 | Oasis, printed shift dress, €47.81