Teacher Alison McQuaid married her childhood sweetheart Ronan Mannion in the exquisite surrounds of Carton House.
Photography: Martina California
The Meeting
Ro and I met almost thirteen years ago when we were 16. We were both in Transition Year in school and met through mutual friends at a rugby match in Clontarf Rugby Club. Annoyingly, Ro kept robbing my scarf to get my attention but his charm offensive obviously worked as I agreed to meet him in town the following weekend. Two weeks later we were boyfriend and girlfriend and the rest, as they say, is history.
The Proposal
We had just bought our first home and were in the process of renovating it so a proposal was the last thing on my mind. Ro and I have always celebrated Christmas together on the 23rd of December as we spend Christmas Day with our families. On the night of the 22nd, Ro booked a nice dinner for us in Roly's, one of our favourite spots, to kick off the festive celebrations. We had just returned from our close friend's wedding a few days before so I wasn't really in the humour to go out on the day. We exchanged presents as usual in Mary Mac's and headed over to Roly's where we had a lovely private table looking out over Ballsbridge. Just after dessert Ro got down on one knee and popped the question. I have to hand it to him, he really did take me by surprise which is no easy task! After dinner, we went back to my parent's house where both of our families were gathered with the champagne ready to share in our happy news.
As Ro proposed with a token ring, we decided to have the very talented Omar Lorusso from Lorusso Jewellers in Howth design a bespoke ring which was such an exciting process to be involved in.
The Dress
Once we had booked the venue and church for August 6th I had to start thinking about a dress straight away as we only had eight months until the big day. After two unsuccessful trips to other bridal boutiques, I decided to go alone with my mum to Myrtle Ivory. I value my mum's input so much as she has an amazing sense of style and always gives her honest opinion. From the moment we walked in, Meghann and Marina were so warm and welcoming and I loved the more intimate style of the boutique. Mum and I picked one or two dresses, and Marina picked another few after chatting with me about my style.
Marina picked out the David Fielden dress I chose and from the moment I looked at myself in the mirror and saw my mums reaction I knew that this was the dress for me. It was the first dress that I could imagine walking down the aisle in. It was slinky and simple yet it had a nice bit of lace detail at the front and back.
My mum then bought me a beautiful David Fielden veil that matched the lace of the dress and my lovely mother-in-law bought me a fabulous Stephanie Browne hair clip that I wore in the evening, once I had taken the veil off. To complete the look, I wore my grannies vintage drop pearl earrings.
The Venue
Carton House holds a special place with my family. My dad has been a member of the golf club here for many years and I remember having lunch there one weekend and being entranced by a wedding that was taking place. I still remember thinking it was the most beautiful thing I had ever seen and since then I had always said I would love to get married there. So naturally, as soon as we were engaged, I booked an appointment with the Wedding Co-ordinator. Carton House has a unique backdrop and historic setting, and upon viewing the Gold Salon all set up for a wedding that day, with its beautifully decorated ceilings I knew that it would be the perfect fit for our special day. There was one Saturday available in August so we immediately booked that date and hoped the rest would fall into place. Luckily we had lovely weather on our wedding day so we were able to head off on our golf buggy to the hidden shell house on the grounds where we managed to get some beautiful photos while our guests relax in the manicured rose gardens which were in full bloom. We had our meal in the modern Silver Ballroom and the following morning returned to the old house where we hosted a private breakfast for our guests.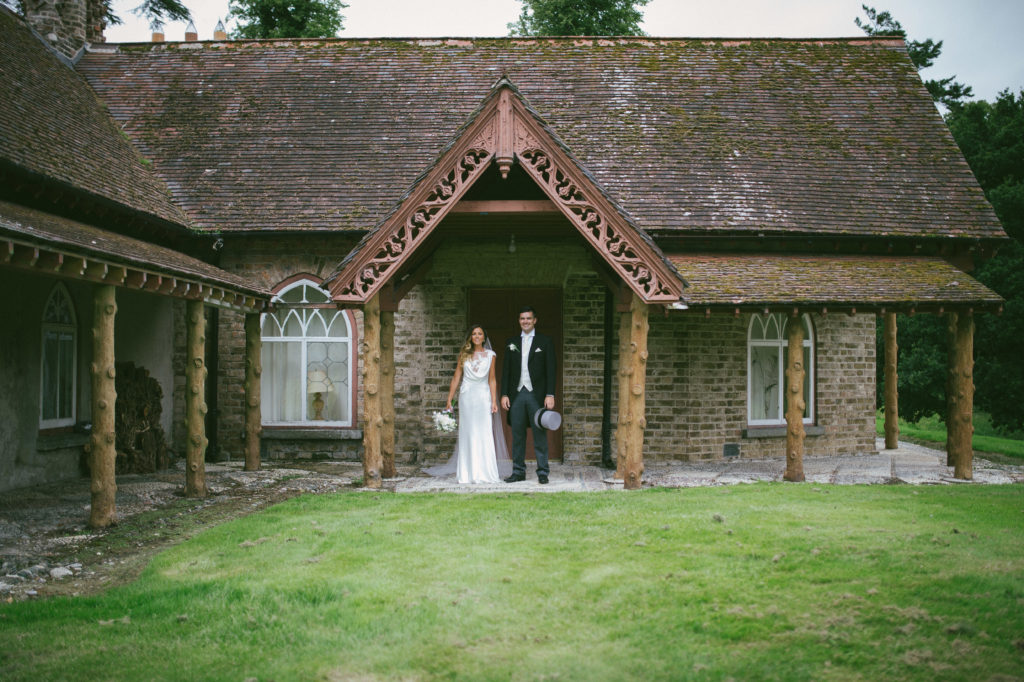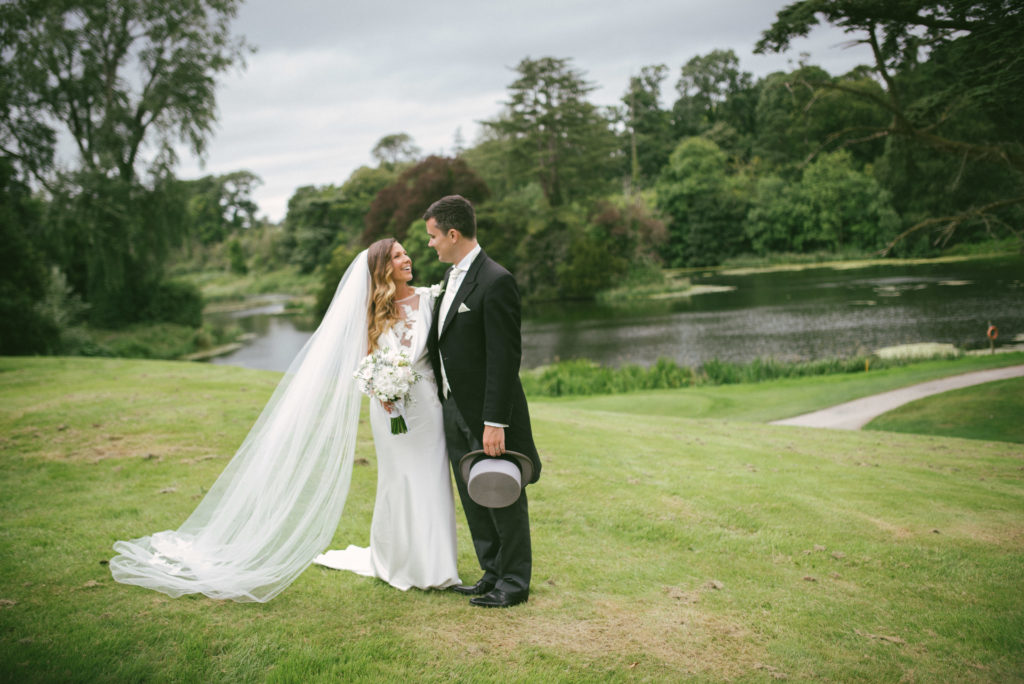 The Entertainment
Being a music teacher, the entertainment was definitely my responsibility. I work with and went to college with some great musicians so it meant so much to me to have my fellow colleague and great friend Jane Kelly sing at the church whilst one of my best friends and bridesmaids, Jacqueline Ferrigan played the violin. I and Ro are big fans of James Vincent McMorrow and one of my favourite memories of the day was surprising Ro by walking up the aisle with Dad to Higher Love.
Throughout the drinks reception in the Gold Salon, we had a jazz pianist which helped to set the mood. 'The Bentley Boys' provided the after-dinner entertainment. We never left the dance floor and the band had great interaction with all of our guests.
Once the band finished we had a DJ who played some great golden oldies that took us into the early hours of the morning where the singing continued in the residents' bar!
The Best Decision
There were several decisions which made our day extra special to us. I and Ro both come from very close, loving families, so it was important that our day centred around family.
One evening I got a notion that I would love to name our tables after family members and have photos of the couples on their wedding day along with a note explaining who they were and the date they got married. Ro thought I was mad as there was a lot of work involved in finding photos of great grandparents and grand uncles and aunts on their wedding day. Both our parents were a huge help in gathering all the photos together and we were so pleased with the end result as they were a real focal point on the tables.
One decision we made early in the planning process was to go away, just the two of us, before the wedding. We went to Spain for a week two weeks before the big day. It was such a fun, memorable trip and it gave us the time and space needed to enjoy each other's company in a stress-free environment. We both came back so relaxed and ready for the seven-day countdown!
Another last-minute decision, and probably the best, we made was getting a videographer. All along we had said we only wanted a photographer but we changed our minds at the last minute. To have our wedding vows and the speeches recorded is an absolutely priceless memento of the happiest day of our lives.
The Worst Decision
The worst decision we made was not making a list of 'must-have shots' for the photographer. This was a complete oversight on our behalf as we had decided that we didn't want to spend too long taking photos as we wanted to be present and enjoy the day. It's a balancing act as in some ways it's lovely that we have action shots of everyone just enjoying themselves, however, as a result, we missed getting photos with some of our guests which was a real shame. When talking with Martina we decided that we would like a documentary style of photography rather than posed shots but in hindsight, a list of 'must-have shots' would have been an efficient way to ensure that along with the action shots we also would have got the must-have photos that we wanted with our guests.
The Beauty Prep
I'm really bad at looking after myself but my cousin Susan is an amazing beauty therapist and made sure I had regular facials and started me on Image products in the lead up to the big day.
On the morning itself, Elaine Cruz, a fantastic MAC make-up artist, and Nadine Quinn from The S.P.A.C.E hair salon did what can only be described as miracle work in helping to get all the ladies camera ready with the help of some industrial strength waterproof mascara!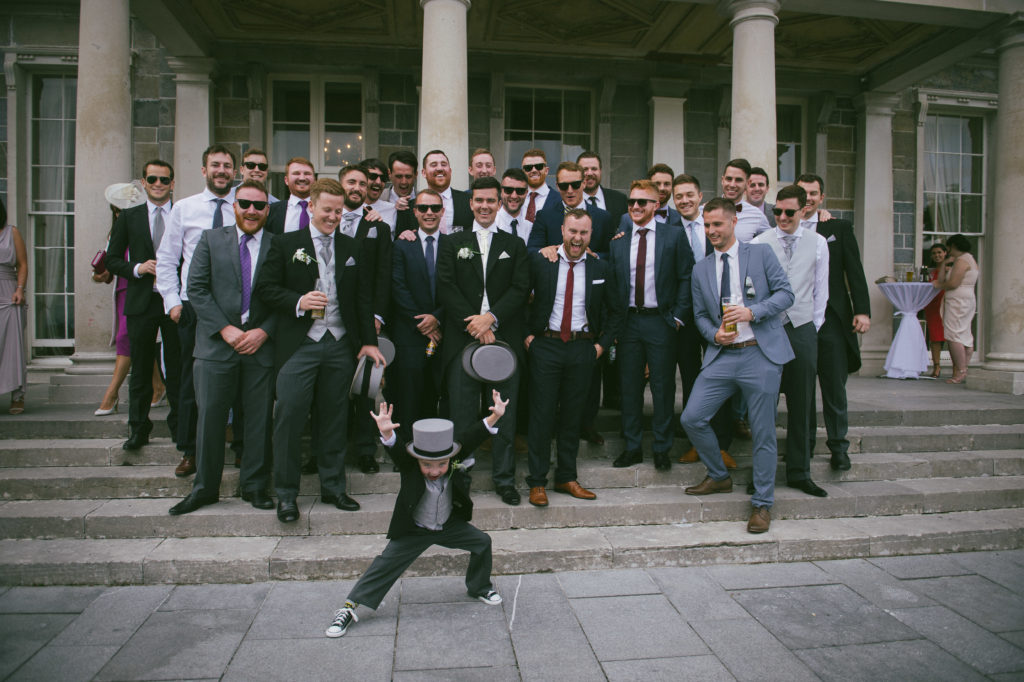 The Scent
BVLGARI - au the blanc. My sister and maid of honour, Carly bought this for me as part of a beautiful 'Wedding Day Pack' and I'm now obsessed!
The Bridesmaids
Being the youngest of three girls I was always going to have my two other mothers/big sisters as my bridesmaids. Jen is the eldest and the most sensible and Carly, my maid of honour, has always been there to lead me astray! The three of us are very close in age and so growing up we have always had an unbreakable bond. My eldest sister Jen's little boy Sean is the light of all our lives and I was delighted when Ro asked him to be his 'Little Best Man'. He was so good the entire day and he absolutely stole the show with his break dancing skills long after his bedtime! My other two bridesmaids were my best friends from school and college. Emma has been my partner in crime for the past 15 years and flew home from Singapore to share in our big day and Jackie, my best friend from college, is the most amazing confidant. All of my bridesmaids are the strongest, most thoughtful and fabulous women I know and I was so honoured that they stood by my side on my wedding day.