Stockbroker Orla Bolger exchanged vows with teacher Gavin Cowzer at a decadent weekend celebration in Cloughjordan House. Photography: Louise Scott Photo
The Meeting
Even though we went to secondary school around the corner from each other, we only got to know each other in first year in college when we both attend the 21st birthday party of a mutual friend. We ended up staying up all night chatting and laughing but despite Gavin's charming efforts, I had a boyfriend at the time so we decided to remain friends. Later that summer when I was newly single, Gavin took me on a date to Elephant and Castle for chicken wings and things took off from there. We've been together for 10 years now and had always said when we get married we wanted a big party weekend.
The Proposal
Back in January, I had a Friday off work so Gavin and I had planned to go for a casual pizza and some beers locally. During dinner, he told me that he had a surprise planned for me for the weekend and I had 10 guesses of where we were going. I asked him twice if he had he prearranged for someone to look after our two dogs for the weekend! Then I asked him if we could drive there, if it was in Ireland, if I would need a passport, if I had been there before, if it was warm or if it was cold there. I then asked would I need a warm jacket and on my last question, it suddenly popped into my head so I asked if were we going to Iceland and he said YES! We have both always wanted to go to see the Northern Lights so it was set to be a really romantic trip and my suspicions were definitely raised! On the Saturday after an amazing day visiting the Blue Lagoon and exploring Reykjavik, Gavin popped the question during dessert. He produced a gorgeous gold promise ring in a Paul Sheeran box. After I answered yes, I burst out laughing at how nervous he was asking me! I got to pick my own ring out in Dublin which I really enjoyed when I got home.
The Venue
The venue was the easy part! We only visited one and instantly fell in love with Cloughjordan House in Tipperary. We loved the fact that we got exclusivity for the entire wedding. We booked the Whole Hog package which includes a family dinner the evening before and a bbq the day after in the Asado area which is incredible. We also fell in love with the local Catholic Church in the village for our ceremony which is within walking distance of the venue. Drinks and games on the lawn, a marquee with the banquet style long tables and an adjacent ballroom for dancing provided the perfect setting for the fun, relaxed, party atmosphere we wanted to create for our day. We even organized a yoga class on the lawn for the morning after led by my best friend Jenny Keane. Being a cookery school, the focus is all around organic ingredients and the venue really lived up to their reputation for quality, delicious, organic food, which all our guests raved about after. Peter and Sarah, the owners, are so personable and on the day we were leaving, they invited us to plant our own tree in the woods to remember our wedding date which was a really nice memory for us from the weekend.
The Dress
I got my dress in the White Room in Mullingar. I knew I wanted some element of lace and I also thought you only get one day to wear the big dress so I was instantly drawn to A-line fuller shaped skirts. I loved the Paloma Blanca gown the minute I tried it on as the tulle skirt was so easy to walk around in. I had one other shop booked for the next day but I kept comparing everything I tried on to 'that dress' and knew it was the one so I called and ordered it straight away. The White Room were great to deal with and they have a gorgeous selection with loads of choice in terms of shapes and designers. I would really recommend a trip there to any brides-to-be.
The Entertainment
For anyone who knows us a couple, they will know that we both love a good party and love to dance! Therefore, music and entertainment at the wedding was really important for us. For the Church, we booked Emma Farrell who is a Dublin based gospel singer and has the most incredible voice. For the drinks reception, we managed to get the Trinity College a capello group the Trinitones but kept it a secret from all our families and friends. It was one of the highlights of the day when they walked out to our drinks reception and started singing a capella in harmony, taking everyone by surprise!
We had The Mixtape band for our reception and they were incredible and brought so much energy from the beginning of their set! The dancefloor was packed all night and they play a great mix of old and new. For the BBQ the day after, we booked Peter Weldon who is a solo singer and guitarist that covers both classic hits and new songs. He kept us entertained for hours, had everyone singing along and was the perfect 'day two' entertainment.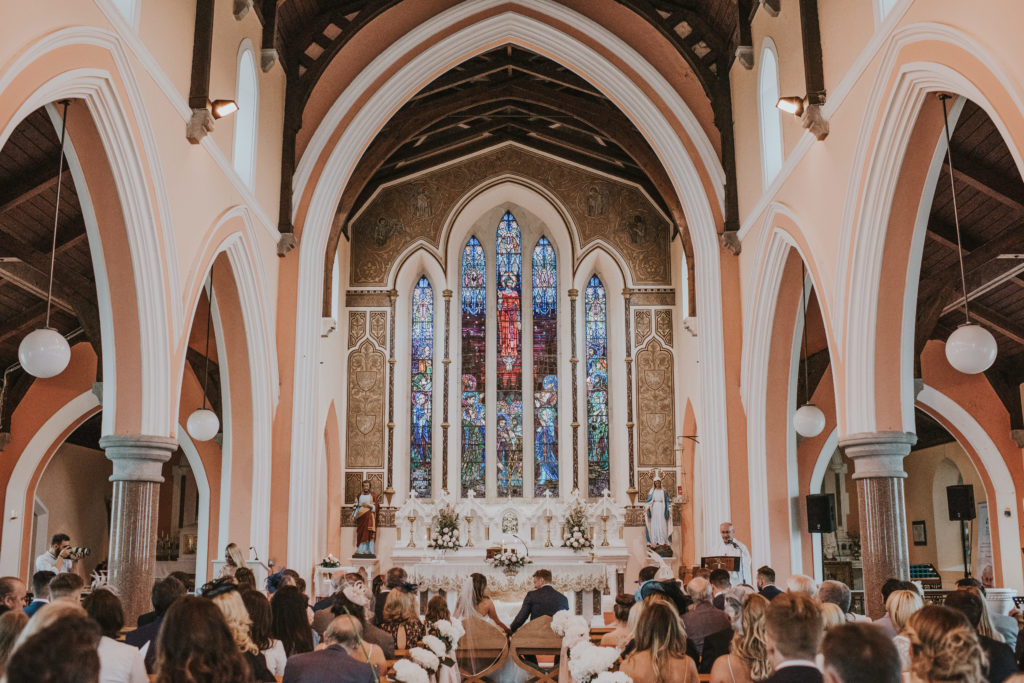 The Best Decision
One of the best things I did was to try meet the vendors in person. For example, even though I loved her work online, I met our photographer Louise Scott for coffee first before booking her and we instantly hit it off. I think its important to personally get on with your suppliers, particularly your photographer and videographer as they are with you all day and it helped me relax. One of the best decisions I made was to book a decorations specialist, elk stylist, to help with all the decorating for our wedding. I love 'the little details' of weddings and had a lot of ideas of the decorations and style I wanted and Lorraine was able to bring all of this to life. She is fantastic at pulling all the elements together and it meant I could really relax and enjoy the day before and the morning of the wedding and leave all the execution to her. She even comes back, disassembles everything and takes all the decorations away so it takes away a lot of the hassle of packing up when the wedding is over.
The Worst Decision
In terms of our suppliers, I would not have changed a thing, I was so happy with them all! My only regret is that we left our two Maltese dogs Poppy and Lolly at home, they would have been very sweet ringbearers.
The Beauty Prep
I went to Rouge Salon in Ranelagh for an Image skin peel two months prior to our wedding which I found really helpful for a deep cleanse and rejuvenating my skin. The bridesmaids and myself got spray tans in the salon two nights before the wedding also.
About two months before the wedding I also went to Seapoint Clinic in Blackrock to get teeth whitening and some bonding work done with Dr Altona Myers to perfect my smile for the big day.
The Bridesmaids
The bridesmaids' dresses were from Covet in the Powerscourt Centre and I loved the blush colour which matched perfectly with the soft colour palette I had mapped out for the wedding. The dresses were from the Jenny Yoo collection but Aleana and her team at Covet were able to personalize them with buttons down the back and tweaks here and there. The flower girl dress for my niece Emmie was from Monsoon and Covet again were able to personalize this and match it in with the bridesmaid material with the bow and buttons on the back.