Your big day is just around the corner, and we can't wait to join in on the joy and excitement that's undoubtedly bubbling inside you. We know that planning a wedding can be both thrilling and a tad overwhelming, but fear not! We're here to help you breeze through one essential aspect of the wedding preparation - the packing list for your special day!
Picture this: You're all dressed in your dream wedding gown, ready to walk down the aisle and embrace your happily-ever-after. But wait, did you remember to pack everything you need? Fret not, dear friend, as we've compiled the ultimate wedding day packing list to ensure you shine like the star you are.
1/ Wedding Attire
Wedding Dress: Yes, your showstopper gown is undoubtedly the most crucial item on this list. Double-check it to ensure it's free of wrinkles and ready to dazzle.
Veil or Headpiece: For that extra touch of elegance and magic, don't forget to pack your veil or headpiece.
Shoes: Comfy shoes for the reception, especially if you plan to dance the night away!
Lingerie: Your something new, something blue, and something special to make you feel fabulous.
2/ Bridal Beauty Essentials
Makeup: If you're hiring a makeup artist, coordinate to have a touch-up kit with your favorite lip shade, blotting papers, and any other essentials.
Hair Products: Keep some hairpins, hairspray, and a small brush on hand for quick fixes if needed.
Perfume: Choose your signature scent and spritz some on for a long-lasting, romantic allure.
Tissues or Handkerchief: Tears of joy are bound to flow, so be prepared with something to dab them away.
3/ Jewellery
Wedding Rings: A symbol of your eternal love and commitment. Make sure they are safe and secure.
Earrings, Necklace, and Bracelet: Coordinate your accessories to complement your gown and personal style.
4/ Documentation
IDs and Important Documents: Don't forget your identification, marriage license, and any other relevant paperwork.
5/ Emergency Kit
Band-Aids and Blister Plasters: Just in case your dancing shoes decide to give you a blister.
Safety Pins and Sewing Kit: Be ready to tackle any wardrobe malfunctions that may arise.
Pain Relievers: Ensure a headache won't dampen your magical moments.
Snacks and Water: Stay energized and hydrated throughout the day.
6/ Electronics
Phone and Charger: Keep your phone charged to capture precious moments and stay connected with your loved ones.
Camera or Camcorder: If you have someone responsible for documenting the day, make sure their equipment is ready.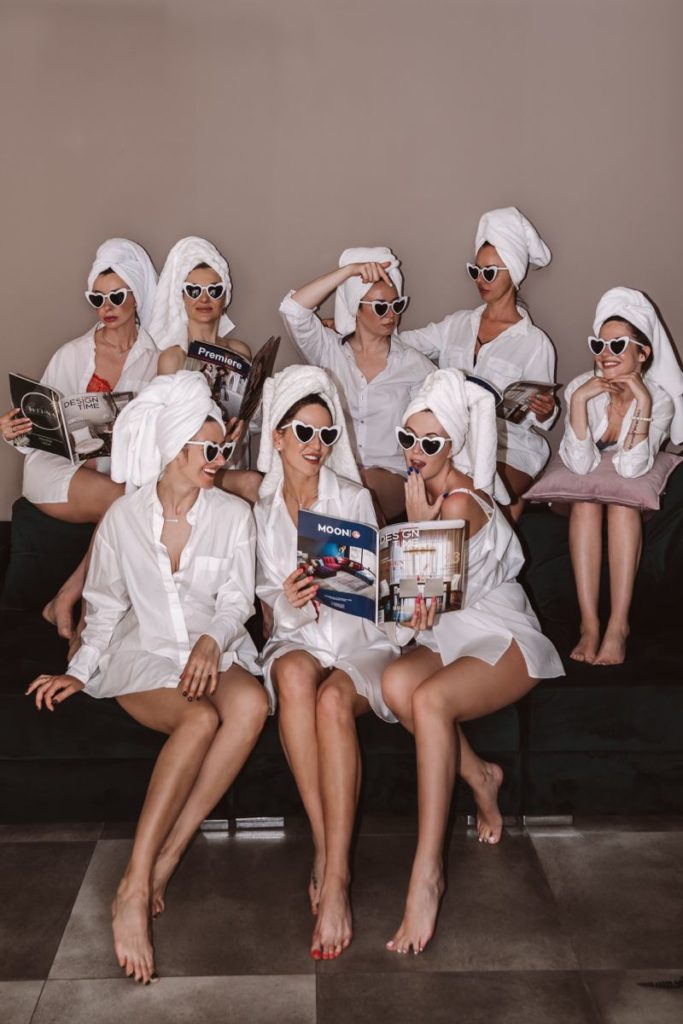 7/ Personal Touches
Love Letters or Vows: Carry heartfelt notes from your partner to feel their presence and love throughout the day.
Keepsakes: Bring sentimental items that hold a special place in your heart.
8/ Gifts
Gifts for the Bridal Party: Show appreciation to your bridesmaids and other members of your bridal party with thoughtful gifts.
9/ Relaxation Aids
Scented Candles or Essential Oils: Create a calming ambiance to help you relax and unwind.
Relaxation Techniques: Consider practicing deep breathing or meditation to keep any pre-wedding jitters at bay.