One of the more highly anticipated wedding details; you don't want to skimp on the cake! Not only is it one of the few edible centrepieces at a wedding, but the cake-cutting portion of a wedding is also actually quite symbolic; the hand of the groom is placed over that of the bride to show his support and as a promise to take care of her and their future. The couple was encouraged to cut from the bottom tier as a reminder of the relationship's longevity. It can be a little daunting to plan and pick the perfect cake for your wedding day; with tasting appointments, designs, flavours and costs to consider, it can be almost as important as picking the dress! We've put together the ultimate guide to sway your nerves and give you a chance to enjoy some sweet, fluffy deliciousness on your special day!
Baker Background Check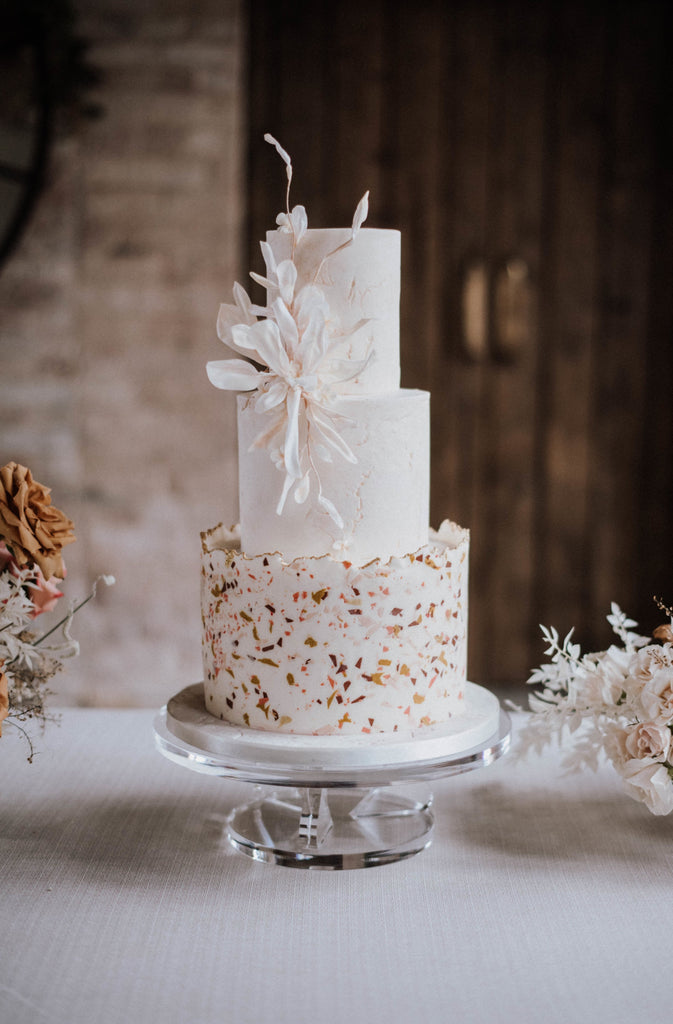 As with any vendor, it's important to do thorough background research before signing a contract is even considered! How long have they been in business? Do they have a bakery location or do they bake from home? How many wedding cakes on average do they sell in a year? Do they specialise in wedding cakes or are they more of an event baker? And one of the most important questions to get the answer to is, are you licensed and insured? You have to remember food hygiene and quality standards when you pick the person making your wedding cake; sure they may make the best red velvet cake you've ever tasted but are you running the risk of giving your guests food poisoning or worse by hiring them? You can find a lot of this information online so do a quick deep dive before booking the first consultation.
Do they have vegan/gluten-free/dairy-free options? This is a pretty important to know if you, your spouse or a beloved family member is dealing with intolerances or dietary requirements they you probably want that to be accommodated for. It's also a general rule of thumb that bakeries able to easily accommodate dietary requirements will be just as efficient at catering to allergies. If your soon to be spouse is celiac or lactose intolerant you still want them to enjoy their cake on the day so asking these questions in advance will save you a huge headache further down the line.
Ask around and look online. Word of mouth is one of your best tools in wedding planning, if you've been to a wedding and thought the band was a riot then you're going to ask the bride for their contact info! The same applies to cake, if you, your partner or a family member is raving about some delicious wedding cake they had at a friends wedding then it doesn't hurt to reach out and book as tasting!
If you know you want a vanilla sponge cake with buttercream frosting then see if you can buy a slice before coming in as a couple for an official tasting. It's not really surprising that most shops are going to put extra care and effort into the tasting array, they want your business after all! But you should try and taste their cake after it's been sat out in a display all day, much like your cake on the day, see if it gets dry or gummy, if the icing is a little too sweet for your palette or even how it pairs with your chosen wine! Having an idea of likes, dislikes and changed for their specific recipe before going in for a tasting will make your consultation that more effective and will ensure the final product is as perfect as perfect can be!
Plan For The Tasting
Discuss your budget! I've said this over and over again but you need to know how much money your partner is willing to spend on each element of the day and why; You might feel a certain way about cutting costs on the cake while they're all about opulent baked goods and if you can't come to a happy agreement then that's going to cause a problem. It's also very important to have this conversation before sitting down with a vendor in a consultation; it's very easy to feel pressured to agree when a third party is present and you really want to avoid any hostility when it comes to the planning process. Sit down and make a list of everything you want on the day, then each write down how much you would be willing to spend on those elements and compare your lists.
Gather inspiration images. If you've ever gone into a hair dresser and asked for a big change but had no idea what you want then you'll know the look of confusion and mild annoyance your vendor will give if you and your partner haven't planned design. All it takes is 15 minutes on Pinterest to get a general idea of what you like and what you absolutely don't; Having a list on 100% noes can be just as helpful as a list of 100% yeses!
Consider your guest list; there's no point paying for a four tier layer cake if you only have 20 guests coming! Even if you don't have an exact number of guests, discuss what you do know with the baker and they can give your their professional advice on the size to best accommodate your party. They may encourage you to air on the side of more rather than less, not because it means more money in their pocket, but because you have to consider last minute additions and possibly other vendors like your band, photographer or officiant also wanting a piece.
Think about the venue before you plan anything, if you're thinking of getting married outdoors then there are certain icings you cannot go for, climate control plays a very important role in your cake standing tall all the way through the dinner and speeches or falling apart as the starters get served! Again, have a chat with the baker and even with the venue about previous experiences, methods of maintaining the cake or even a portable fridge to keep it tucked away in until the right moment. When it comes to the rather unpredictable Irish weather, pre-planning is going to be your best tool!
Have a chat about flavours; you might be in love with the idea of a rich chocolate cake while your partner is more in favour of a delicate lemon sponge. Discuss before hand the flavours your interested in and why, it could be that one person doesn't mind a denser cake but thinks chocolate is too rich or they simply haven't ever really had a lemon cake they loved. It's also really important to talk about flavours to your baker as different kinds of sponge cakes have different strengths and therefore can't be used in your dream design! An angel food cake is simply too light and airy for a multi tier cake, the weight would squish the air our or even wore cause the whole thing to topple! Your baker will know best from years of experience and can help guide you in the right direction, it may even mean that rich chocolate is sturdy enough for the base of the cake and light lemon is delicate enough for the top tier so you both get to enjoy the cake you love on your special day!
The 101 On Icing
Fondant
If you've ever had a shop bought cake then chances are you've had fondant. Made from powdered sugar, water and glycerine, fondant is a thick, sweet play dough like paste, best known property is it's ability to be rolled into a thin sheet and draped over a sponge.
Pros
Fondant is incredibly versatile, it can be moulded and shaped into flowers, figures and letters or it can be rolled paper thin and used to give a cake a smooth, even coverage.
It's stable for six to ten hours and is the perfect icing for display in indoor or outdoor venues. If you're planning an outdoor wedding then you'll want fondant.
The cake will still include buttercream. Fondant requires a glue to adhere it to the surface of the cake, bakers will often use a thin layer of buttercream (Also known as a crumb coat) to even the surface of the cake and give the fondant something to stick to.
Cons
Fondant is one of the more expensive icing options due to it's shorter work time. Bakers must work diligently with fondant since it dries quickly. If there is a tear or wrinkle, the entire fondant must be redone. It's time-consuming nature leads to a major price increase.
Because it's made with sugar and water, fondant can be sickly sweet if rolled too thick. This can usually be balanced out with the filling but it's something to keep in mind if your sweet tooth isn't super strong.
Buttercream
Buttercream is a combination of butter and sugar whipped together to make it smooth and spreadable, it's a very common topping on cupcakes as it can be easily piped and if kept relatively cool will hold it's shape.
Pros
Generally, buttercream is a guest favourite. It might not form into seamless designs the same way as fondant, but the consistency and flavour is more enjoyable. Fondant is extremely sugary and gummy; because of this, many attendees generally choose not to eat it, no matter how pretty the design is!
It is more cost-effective. Due to its creamy texture, this style of confection is much easier to prepare. There is also no rolling or fear of wrinkles when designing a buttercream cake.
Flaws are fixable. The baker can easily add more icing to one section or smoothen out an uneven layer without redoing the entire cake. This also adds to why buttercream is less expensive.
Cons
It melts in the heat. Because it's mostly comprised of butter it is very heat sensitive, buttercream will melt much faster when the sun is out, which is usually something you want to avoid on your wedding day!
It is harder to achieve a smooth finish. No matter how many times the designer smoothes out the surface, the cake will never hold the flawless texture of fondant.
You are limited on colours. You can definitely dye the icing to your liking, but it is much more difficult to achieve a super rich pigment. Those beautifully marbled or hand-painted cakes are often made of fondant.
Whipped Cream
Whipped cream is simply heavy cream (may be sweetened or flavoured) that has been whipped to stiff peaks. In terms of flavour, whipped cream is considerably milder and lighter than even the most basic buttercream.
Pros
It has the most versatile flavour and pairs really well with fresh fruit. Whipped cream has a very light, delicate flavour and texture so if you're not a fan of sugar this might be the perfect frosting for you.
It has a really lovely texture too, if you pair it with a delicate cake like angel food cake, a traditional victoria sponge or genoise you'll feel like you're eating a cloud.
Cons
It's the least stable of the icing types. Some bakers may add gelatin to bulk up the stability but at the end of the day it's still just whipped cream.
It doesn't freeze well at all. If your cake is fairly large and will likely turn into leftovers, it may end up in the freezer. So, whipped cream is not the best idea. It tends to dry out and crack in the freezer, leaving you with a gross crumbled mess.
It is incredibly temperature sensitive, if you've worked with whipped cream then you'll you know that the slightest increase in temperature will reduce your delicious fluffy cream to a delicious pool on the floor.
Swiss Meringue
An upgraded version of your standard buttercream, sticking with the same original ingredients of sugar and butter, swiss meringue incorporates egg whites for added stability.
Pros
This whipped icing is almost as light in texture as whipped cream, has a delicate flavour, and isn't overly sweet like a fondant of buttercream would be.
Decorating wise it works almost identically to buttercream, allowing you to create a smooth, even cake with minimal work and a long work time.
It's substantially more stable than buttercream, the process of whipping the sugar and egg together creates a meringue (The reason for the name) that will set and vastly improve the firmeness of the frosting.
Cons
Much like buttercream and cream this icing is susceptible to melting in the sun and heat so avoid keeping it in a bright spot or near a window.
It's more difficult to make, requiring the use of a double boiler, this can add to the cost as it will cut into your bakers time substantially.
Decor Details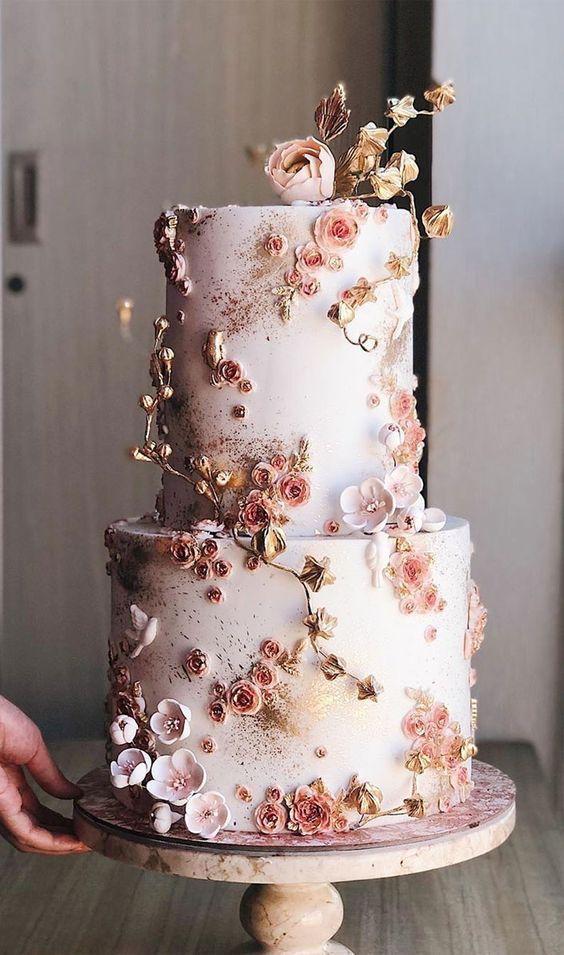 One of the big quandaries when it comes to cake decor is fresh flowers or sugar flowers? Each have their own charm and distinctly change how a plain cake looks. For some it boils down to aesthetics, sugar flowers are considered a little bit old school and for the more modern couple they might look a little too much like the wedding cake your granny had in the 40's. For others it's the price, sugar flowers cost a lot more than fresh. If you want fresh flowers on your cake then you reach out to your florist and they'll put together a bundle of blooms for around €50-100 that the baker can then place all over the cake; while sugar flowers are hand-made by the baker or apprentice. This takes quite a long time as each petal has to be delicately formed and then glued to the body of the flower, these then have to dry overnight or even into the next day to ensure they wont crumble to pieces when being placed on the cake, depending on the baker you could be adding an extra €200 to the overall cost of the cake with sugar flowers alone!
Details like cake stands, toppers and other non-edible decor can often be rented from your baker for an added fee. This is usually a more eco-friendly option as the pieces will be used over and over again for different couples. Some people however would prefer to hand select their stands or toppers and keep them as heirlooms from the day, these can be given to the baker a few days before the wedding to be incorporated into the final cake and transported as a group to ensure nothing goes missing. The renting vs buying debate really just boils down to the couple but as with anything, renting is always going to be cheaper than buying if you expect the same quality.
The topper is one of the most iconic elements of a wedding cake! Some couples are happy with the traditional little plastic bride and groom standing arm in arm, others chose something a little more kitschy, and some forge it all together in lieu of flowers or a mountain of fresh fruit. Different toppers can have different effects on the cakes over all look, a heavy porcelain topper is going to make a slow decent into the centre of your delicious dessert if the sponge is too light or the icing has too much give; dainty toppers might not be able to find purchase on the top tier without being stabbed into the delicious sponge below. If you have a cake topper in mind bring it to your consultation and let the professional come up with a solution that wont negatively impact the look of their creation on the day.
Sizing
The size of the cake pan will obviously determine how many servings one cake can provide, this is also true with layers:
6-inch round creates 12 servings
8-inch round creates 24 servings
10-inch round creates 38 servings
12-inch round creates 56 servings
14-inch round creates 78 servings
15-inch round creates 89 servings
This brings in the fun element of cake math! Your baker will ask you for your guest numbers, the style of cake you would like and if you want layers. This will all be used to determine how many layers you can have, how large each layer will be and if any of your cake will be faux. You heard that right, faux cake! For some couples the idea of a small wedding cake is simply a no-go, the bigger the better is their motto; for this bakers will often take a round of styrofoam, decorate it like the rest of your cake and add it to the bottom as the base! This adds structure for cutting a light cake but also gives you the look of a dessert fit for a small village without any of the food waste or cost of a 12 inch layer cake!
The Price
Just like calculating the costs with all of your other wedding vendors, wedding cake pricing depends on a multitude of factors.
Time
Ingredients
Flavour
Size of the cake and number of tiers
Level of intricacy with designs, colours, and style
Type of frosting
Delivery fees
Customisation
Add-ons such as cake stands/toppers
As of December 2022, in Ireland the estimated cost for a 4 tier, 130 serving cake is around €700-1000 depending on decor, frosting and the timeframe.
- Gráinne