Have you heard of live painting? It is essentially exactly what it says on the tin; you have an artist come to your wedding and paint a scene as it's transpiring. It could be your first dance, saying your vows or even the big "I Do", but there's certainly something special about watching an art piece transpire before your very eyes. One of the most coveted vendors on your wedding day is a good photographer. You want to have the opportunity to reflect on your wedding day and reminisce about how happy and in love you were on that special day for years to come. So should you splash out and hire a live painter, or keep the money and settle for photos?
Pros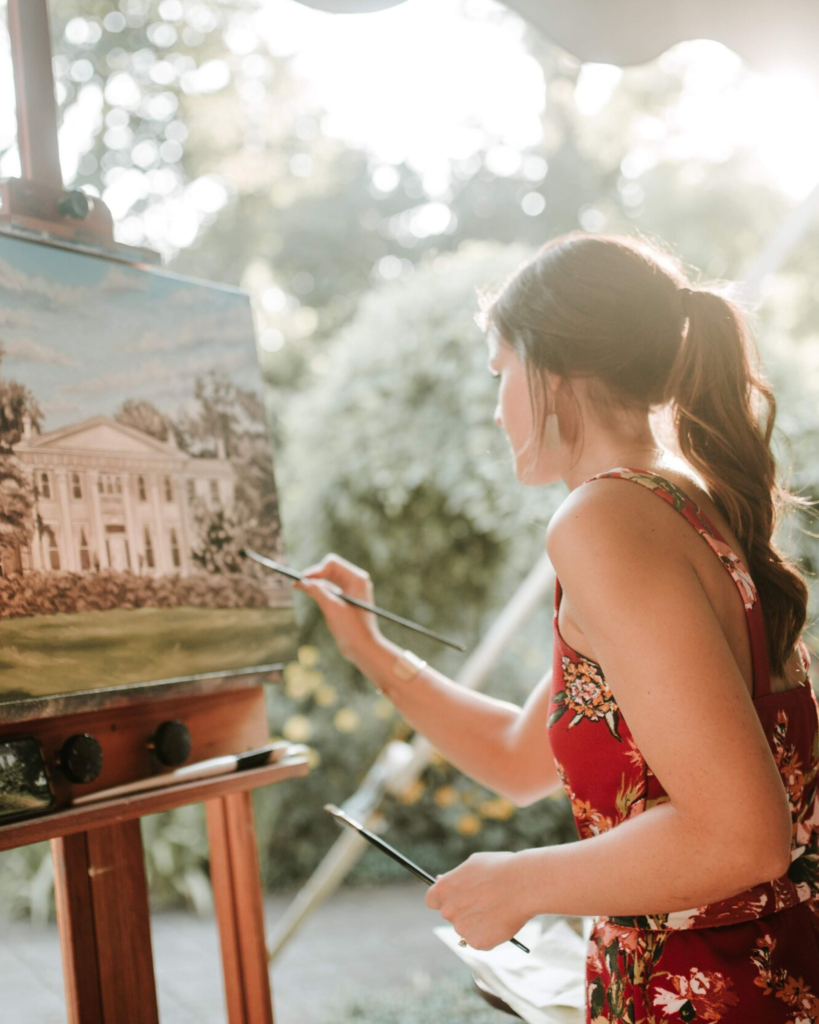 It's A Beautiful Piece of Memorabilia
This is something you'll want to hang over your mantlepiece and show off to family and friends, it's quite literally a handcrafted piece of art showcasing one of the happiest days of your life. Not to mention the skill needed to complete a live painting in a few short hours makes it a very extravagant piece of decor.
It's Completely Personal To You
This is one piece of art that is 100% personal to you and your spouse. Not to mention the intimacy of having somebody recreate your special day with their own artistic interpretation; unlike a photo that can be printed time and time again, a painting like this is one of a kind!
It's A Once In A Lifetime Opportunity
How many times in your life can you say that you're been painted by an artist? If you're anything like me then the answer is 0! Not to mention your wedding will be so memorable for your friends and family since not many of them will have experienced anything like it.
It's Great Entertainment For Guests
It's quite a fun experience for wedding guests to watch the artist recreate the scene on canvas in real-time, kind of like watching your food get prepared in a restaurant. There's a certain satisfaction in looking at art being made and being able to look around and see the subject all around you.
Cons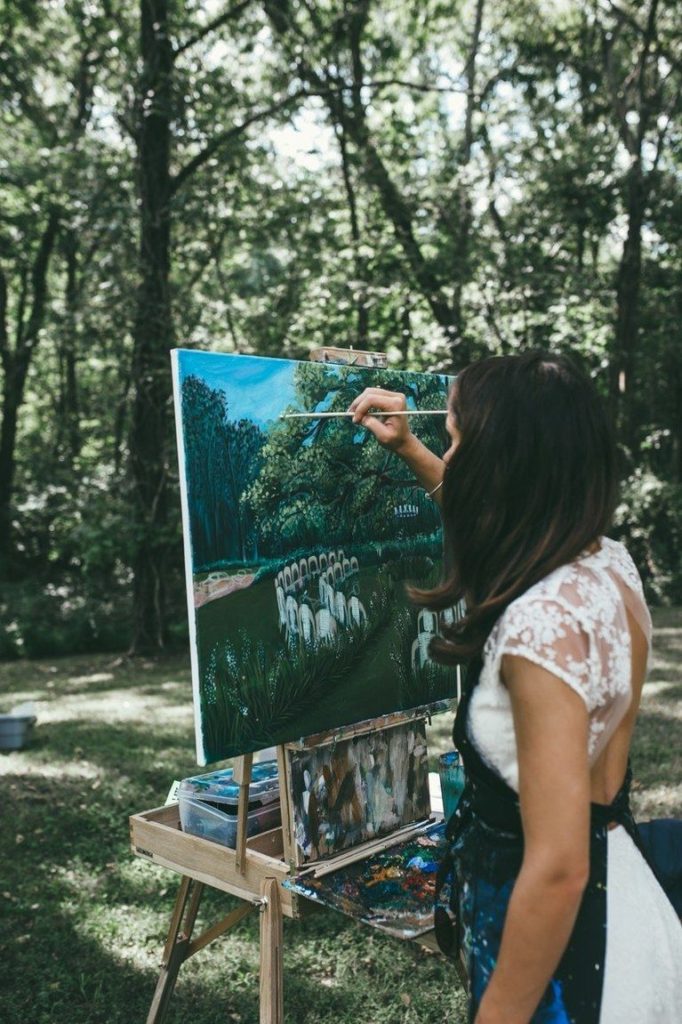 It's Expensive
As is the case with many elements of a wedding, there's a hefty price tag attached to having a live painter; costing anywhere from €1,000 to €5,000 depending on the size of the canvas, the location of the venue and how far the artist has to travel.
It Takes Up Space
You're going to have to block off a good amount of space in your venue space to give the artist room to paint and to prevent guests from accidentally damaging the painting while it's in process. If you're already tight on space and can't shuffle things around to accommodate then there may be no physical way to incorporate a live painter into your wedding.
Things Can Go Wrong
You can't control everything on your wedding day, it might start to suddenly lash down during your outdoor ceremony and ruin the painting or a drunk guest might trip and knock over the canvas. It's ultimately up to you to ensure there are safeguards in place to protect the artist and the art e.g. a marquee for the artist outside or a rope blocking off their area to keep out guests.
You Can't Guarantee You'll Like It
You're most likely not going to see the painting until later in the wedding (seeing as you and your spouse are the ones being painted) and you may find that you just hate how it looks far too late for it to be changed. One of the easiest ways to circumvent this though is to have a good conversation with the artist beforehand about what you do and don't like; or have your maid of honour post up beside the artist and give undue tips!
- Gráinne