If you're looking to make a classy cocktail with a champagne twist, then you've come to the right place. The team at S&P Weddings have tested and tasted to bring you our top choices of bubbly cocktails you can make yourself!
MIMOSA
Classic mimosas are a crowd pleaser with champagne mixed with fresh orange juice. For each serving, pour equal parts of Champagne (or any other sparkling wine) and fresh orange juice. One bottle of Champagne will yield about eight cocktails.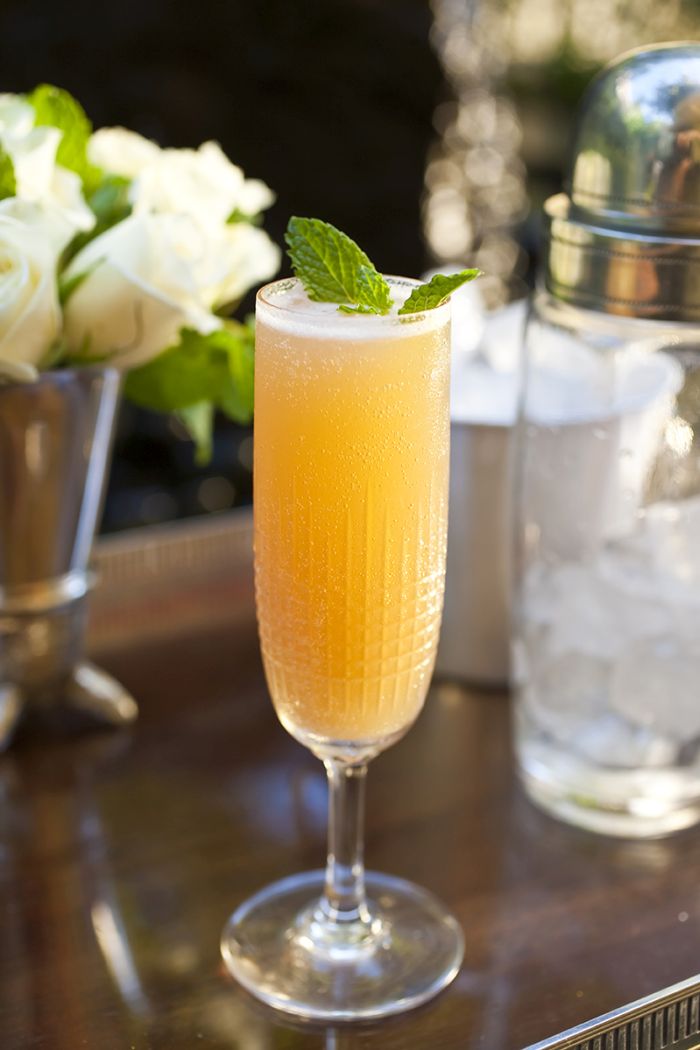 KIR ROYALE
Ingredients
- 3 ounces (6 tablespoons) creme de cassis
- 1 bottle Champagne or other sparkling white wine
- 6 strips tangerine or orange zest, for garnish
Directions
Just before serving, pour 1 tablespoon creme de cassis into each glass. Fill with Champagne, and garnish with zest.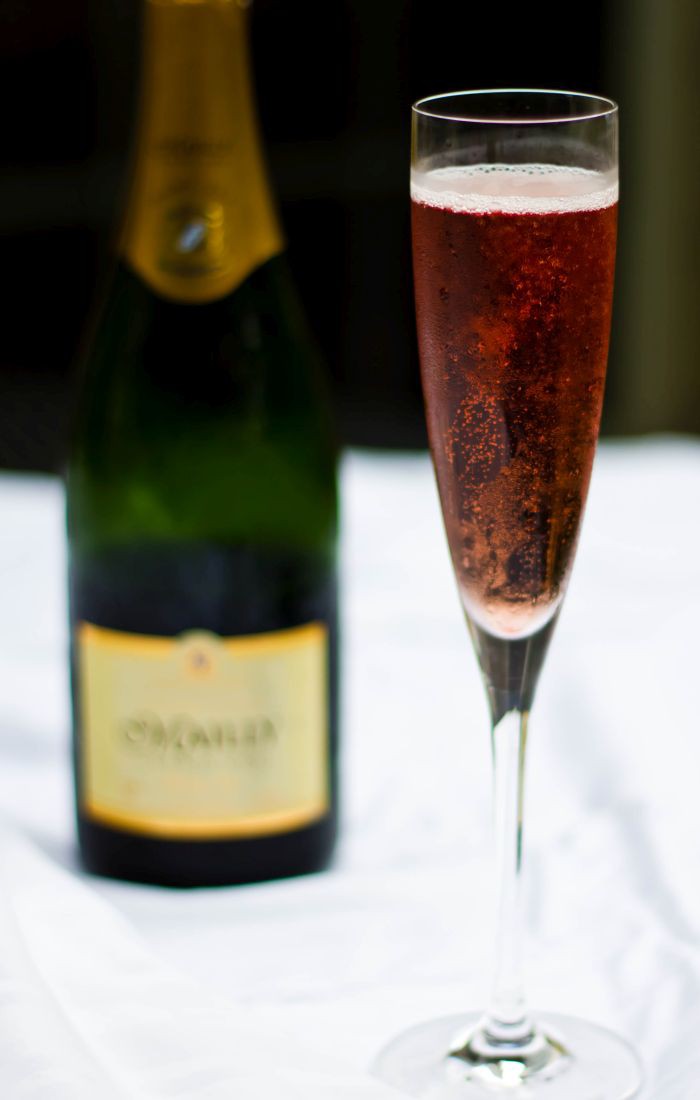 LAVENDER INFUSION
Ingredients
- 1/2 cup sugar
- 1 tablespoon dried lavender
- 4 bottles (750 mL) dry Champagne or sparkling wine, chilled
- Fresh lavender sprigs, for garnish
Directions
Bring sugar and 1/2 cup water to a boil in a saucepan, stirring to dissolve sugar. Stir in dried lavender. Remove from heat. Let cool completely. Strain out lavender. Refrigerate syrup until ready to serve (up to 1 month).
Pour about 6 ounces Champagne and 1 1/2 teaspoons syrup into each flute. Garnish each with a lavender sprig.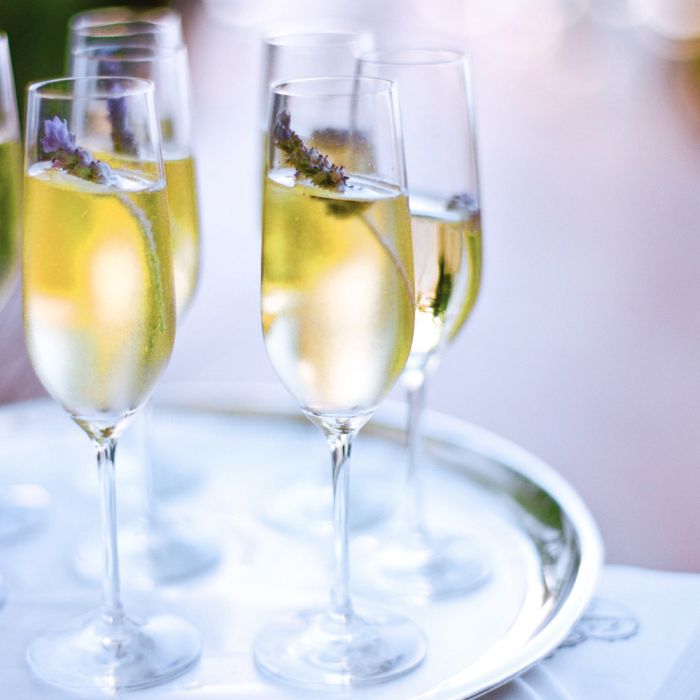 CHAMPAGNE MOJITO
Ingredients
- 6 fresh mint leaves
- 3/4 ounce freshly squeezed lime juice
- 1 ounce Simple Syrup
- 1 and 1/2 ounces rum
- 2 dashes Angostura bitters
- 2 ounces Champagne or Prosecco, chilled
Directions
In a pint or mixing glass, muddle together mint, lime juice, and simple syrup to release mint oils. Add rum and bitters; shake over ice. Strain into a cocktail glass or coupe; top with Champagne.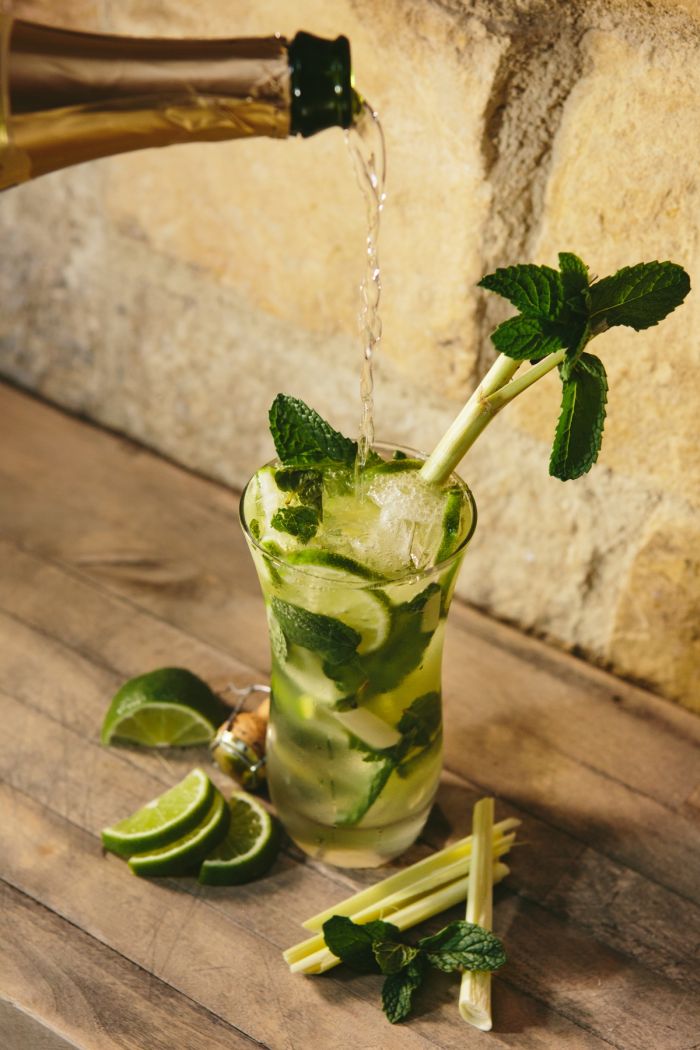 BASIL VODKA FIZZ
Ingredients
- 2 oz basil infused vodka
- Good Brut Champagne
- Cucumber
Directions
Fill two champagne glasses about 2/3 full with a good brut champagne, or one that isn't too sweet.  Pour approximately 1 oz of basil infused vodka into each glass.  Garnish with a fresh basil leaf and some refreshing cucumber.  Enjoy!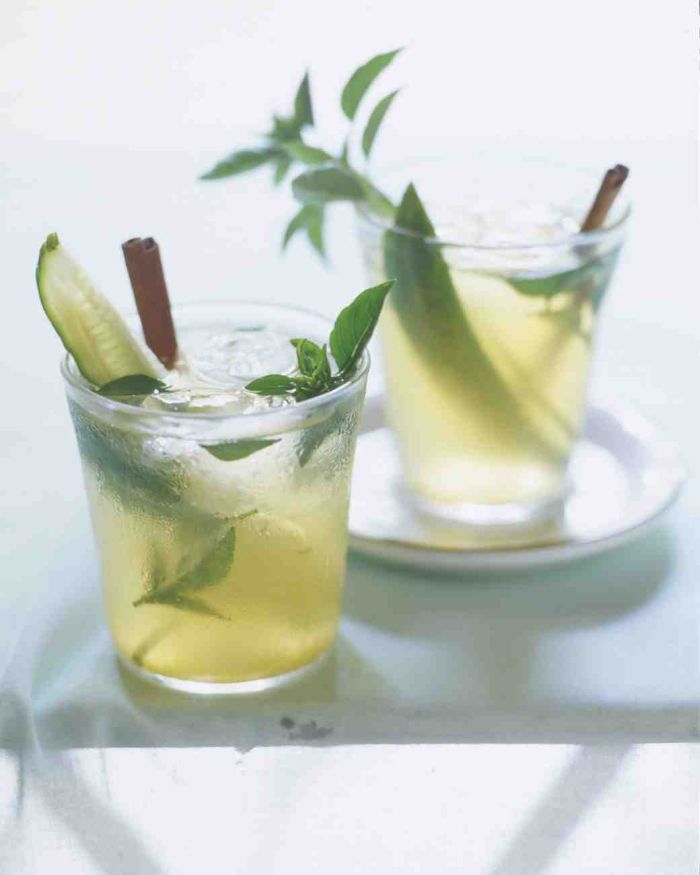 PEAR LEMON FIZZ
Ingredients
- Ice cubes
- 1/2 ounce (1 tablespoon) pear vodka
- 3/4 ounce (4 1/2 teaspoons) Lemon Verbena Simple Syrup
- 1/2 ounce (1 tablespoon) fresh lemon juice
- Champagne, for topping off (about 1/2 cup)
- 1 fresh lemon verbena leaf, for garnish
Directions
Fill a cocktail shaker with ice. Add vodka, syrup, and lemon juice. Shake, and then strain into a glass. Top off with Champagne. Garnish with lemon verbena.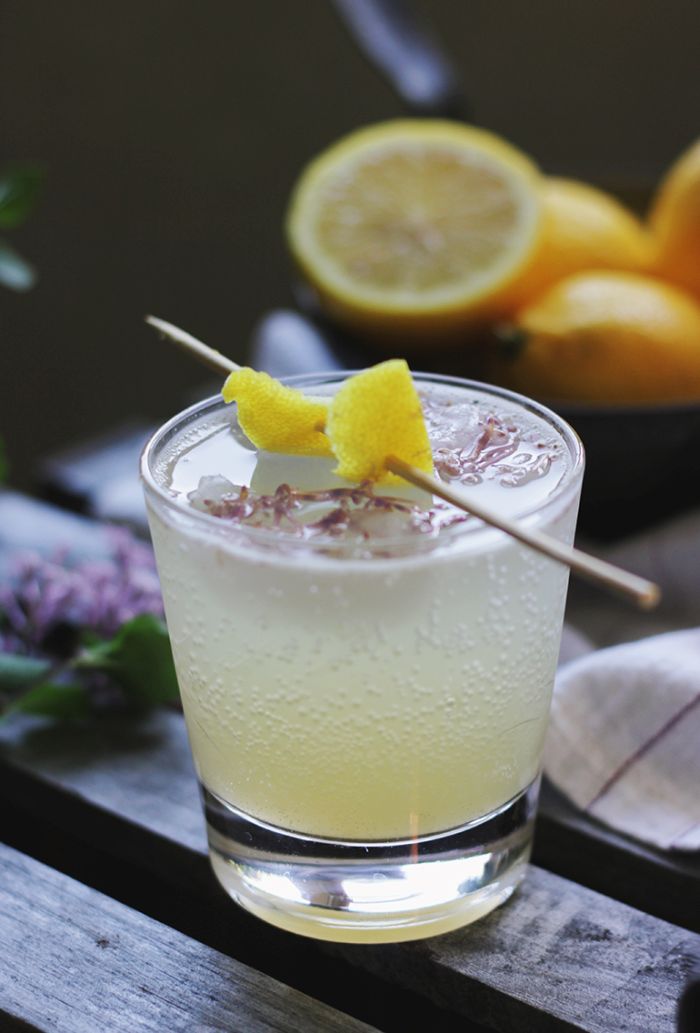 MIXED BERRY PUNCH
Ingredients
3 tablespoons grenadine
3 tablespoons Cointreau
2 tablespoons brandy
1 3/4 cups champagne
Raspberries, apples, or other seasonal fruit
Directions
Fill a small ice bucket halfway with ice. Pour grenadine, Cointreau, brandy, and champagne over ice. Stir gently, and ladle punch into 2 wide-mouthed stemmed glasses. Garnish punch with raspberries, apples, or any other fruit in season.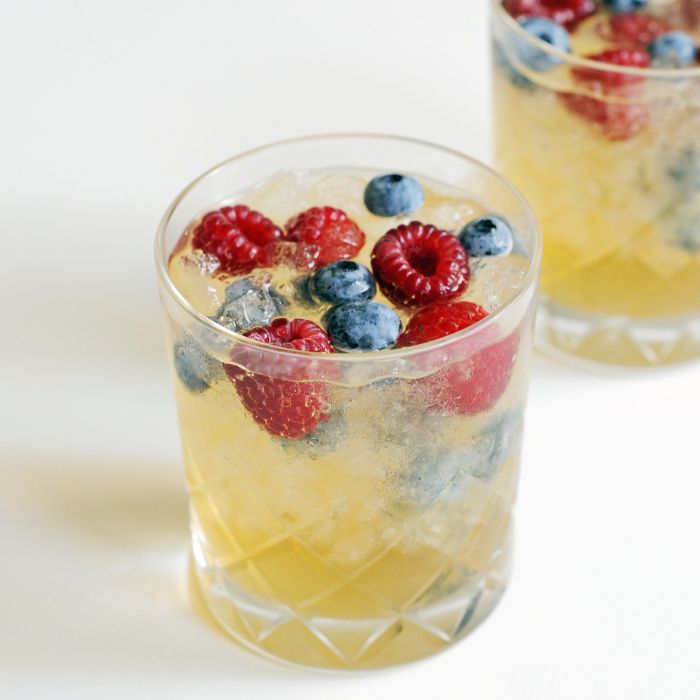 SPARKLING SANGRIA
Ingredients
1 peach
1 nectarine
3 apricots
5 ounces peach brandy
1 bottle (750 mL) chilled Prosecco, (Italian sparkling wine)
1 cup peach nectar
Superfine sugar (optional)
Directions
In a pitcher, combine peach, nectarine, and apricots, all pitted and cut into wedges. Stir in peach brandy; let sit at least 1 hour. Stir in Prosecco and peach nectar. Add superfine sugar, if desired. Serve chilled.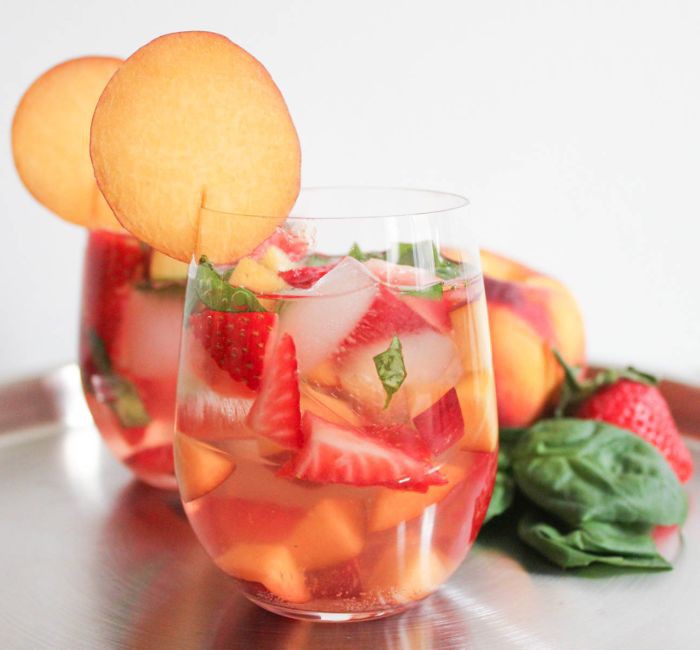 GRAPEFRUIT ELDERFLOWER SPARKLER
Ingredients
- 1 and 1/2 ounces grapefruit juice
- 1 ounce St-Germain elderflower liqueur
- Rosé Brut Champagne or sparkling wine
- 1 grapefruit twist
Directions
Pour grapefruit juice and elderflower liqueur in a Champagne flute. Top with Rosé Brut Champagne. Garnish with grapefruit twist.