So you've reached that wonderful stage in your relationship where you're ready to ask that big question: Will you marry me? First off—congratulations! Here at Social and Personal Weddings, we have you covered for everything you need to prepare and plan for your nuptials. Now that you're ready to pop the question, you're likely ready to start planning how to do it. If you're not sure how to do it, you're in the right place: we've come up with five creative ideas for you, below.
1. See a show
Is there an event or act that is special to you both? Maybe you're both big theatre fans or love the opera, or you bonded over a mutual love of your county GAA or provincial rugby team. Whatever shared interest you and your partner have, you can use it to make your proposal really memorable. Get in touch with the stage manager or venue of the show, or the captain/manager of your team, and find out who they can help you propose at halftime or intermission. Give yourself plenty of time ahead of when you plan to propose to get in touch and make the arrangements. One caveat: Make sure your partner is someone who will be okay with a public proposal. (See tip 1 below.)

2. Put your love on display
When you've found that person you want to spend the rest of your life with, you often want to put your love on display for the world to see. If that sounds like you, use it for your proposal! Think of places where you could spell out your proposal where you can take your girlfriend/boyfriend to see it. You could bring her/him to a local gallery and pre-arrange with the venue to post your proposal up toward the end of the exhibition. You could have friends and family meet him/her at the door, each holding a sign with one word of your proposal, "Will", "You", "Marry", "Me", "Name?". Sit or kneel behind those friends, and have them part to reveal you with a ring when your girlfriend/boyfriend is done reading their signs. Or, use stones to build your message in the garden or on your favourite beach for a more private proposal. (On those rare times when there's snow in Ireland, you can use that too to spell out a message.)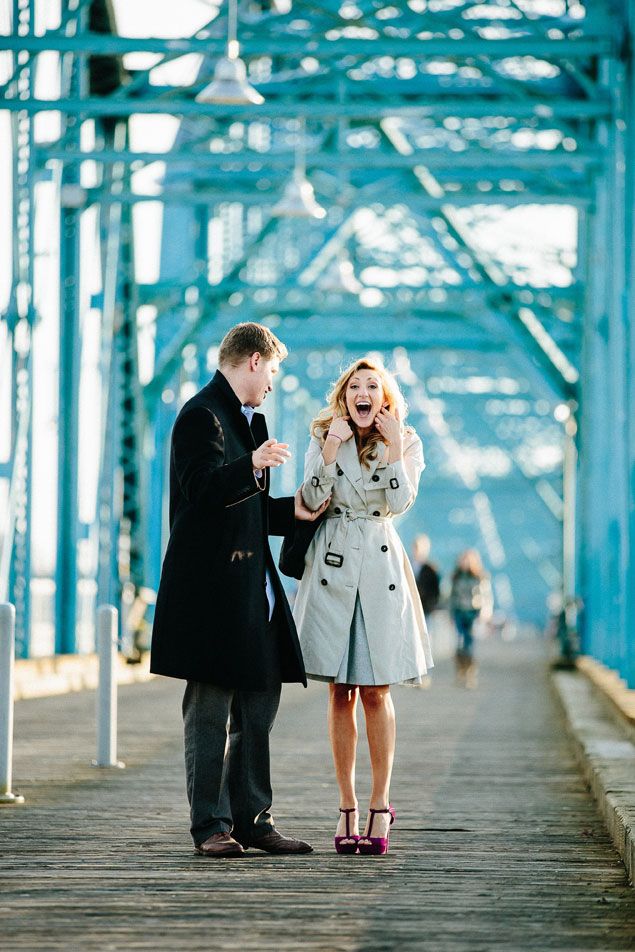 3. Get some help from some four-legged friends
Is your intended crazy about animals? Then use that to plan your proposal. When the dog comes to greet her in the morning, have a ring in a ring bag tied to his collar. When the cat is mewing to see her in the evening, attach a message of proposal to kitty's collar so your partner will see it when the cat jumps on her. Does he/she like to go horse riding? Then put the ring in a saddle bag or hang it up for you're your partner to find in the stables area. Use good sense if you want to try this idea. Make sure you tie the ring bag on securely enough that it won't fall off; you don't want to be searching for an expensive ring on your hands and knees. Also, if Fido is the sort that likes to chew on things or Sheba likes to rip paper, this might be one to give a miss.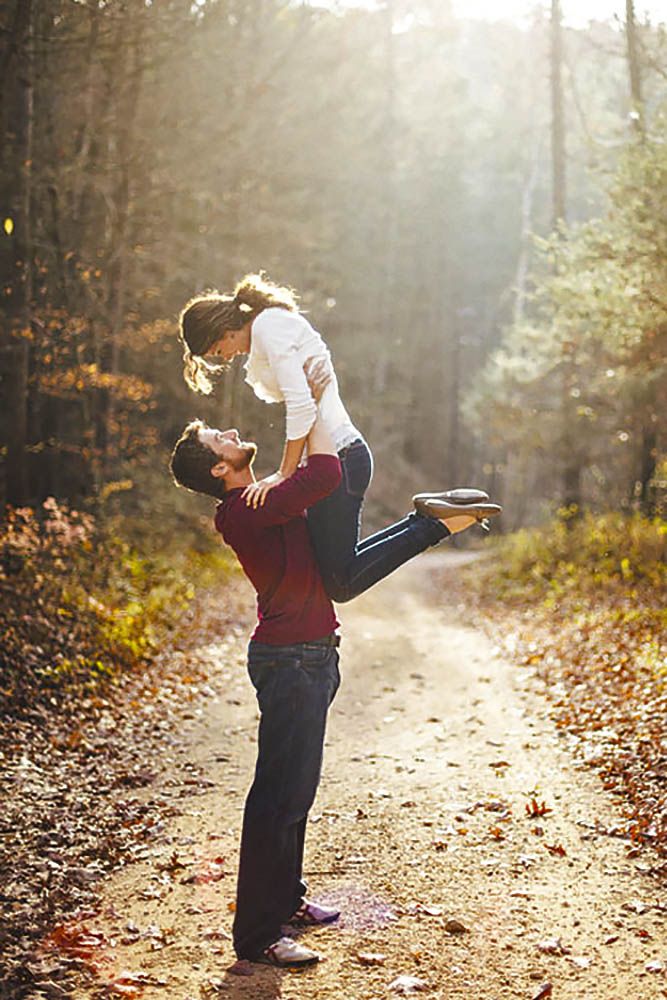 4. Do a treasure hunt
Adult life does not involve enough opportunities for a treasure hunt, in our humble opinion! For your proposal, you can change that fact to devise a creative and extremely memorable proposal. Pick a day where your partner is off from work and ensure he/she doesn't make other plans for the day. (Enlist a friend if needs be, to pretend they need your partner to help them with something for the day: See tip 2.) Choose all your favourite and special places as a couple, and maybe some that are special just to your partner, and leave clues that mean something to him/her. You could put these clues in envelopes placed somewhere secure, or with a person at each venue who can hand it to your partner. Think of your favourite restaurants, local sites, homes of friends and family, and make your partner solve puzzles or clues (make sure they're not too difficult!) to bring him/her to the final site where you'll be waiting, on one knee, with a ring and a bottle of bubbly.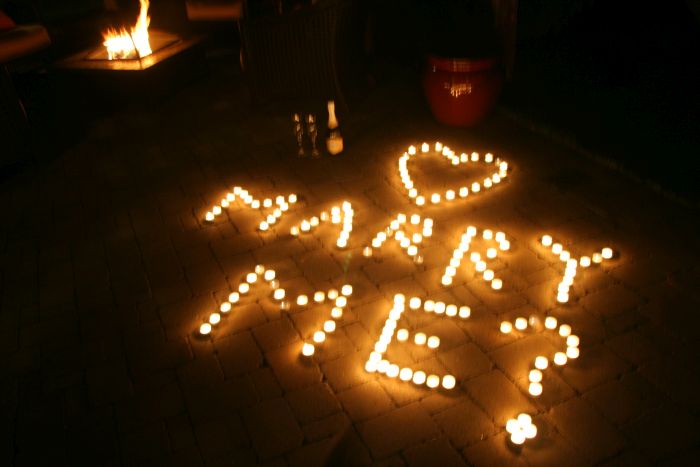 5. Use a holiday to make your proposal
If there's a holiday coming up, it could be the perfect time to pop the question. For Christmas, think about tying an engagement ring onto the tree or sitting it into a homemade mince pie. (Make sure to wrap it in greaseproof paper for the latter, and be sure your loved one eats slowly!) For New Year's, wait until the moment the countdown to midnight ends and get down on one knee when the bells start to chime. For a summer holiday, bring your partner to a landmark or somewhere else they were excited to see and wait until toward the end of the day to propose.
Whatever way you plan to propose, good luck and congrats again from us here at S&P Weddings!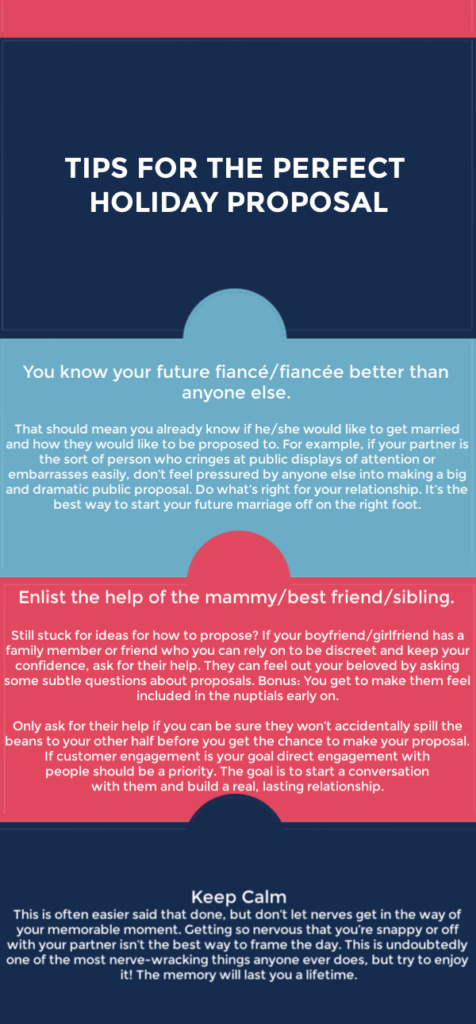 -- Erica Mills