Your wedding day is an event you're going to remember for the rest of your life, you'll tell your children, work colleagues and extended family about it until they eventually beg you to stop. Here's how to make your wedding reception as unforgettable for your guests as it is for you!
Music
One of the most important things to consider when throwing an absolutely unforgettable party is music. From background music during the speeches to the after-dinner dancing, it's important to consider the overall vibe you're looking to achieve and keep it consistent through the night. You don't want your wedding to be remembered for its heart-attack-inducing 180-degree switch from classical to dubstep as soon as dinner ends! If your after-dinner entertainment is a swing band and jive music then have the band (or DJ) play relaxing jazz throughout the meal and speeches so everything flows seamlessly from one to the other.
If you really want to throw the bash of the century then splash some extra cash on more than one band or DJ to perform throughout the dinner and the dancing afterwards, turn your wedding into a mini music festival!
Food
If you're planning for the night to go on long past your elderly relatives heading home then why not rent a food truck for the guests partying till the sun comes up? If you or your guests are anything like me then a few tacos at 1 am after they've been partying since 8 pm is the closest thing to having a religious experience. Serving food later in the night, whether it be typical pub food or a slightly classier version of the night out staples e.g. miniature hotdogs with artisan apple slaw, pepper jack cheese and jalapeno relish, will not only keep your guests happy, it doesn't actually cost as much as you might think.
Seating
Depending on your guests then some strategic seating might be necessary to make sure every table is having a good time and the ice gets broken early into the reception. Seating a party animal with your grandmother might not be the best idea, however, sitting a few of your more introverted friends at the same table as some more extroverted family members will certainly help encourage all of your guests to get involved in the fun and bring up the energy in the room. Try to group people together with similar backgrounds and interests, so they'll have something to talk about even if they've never met before.
Games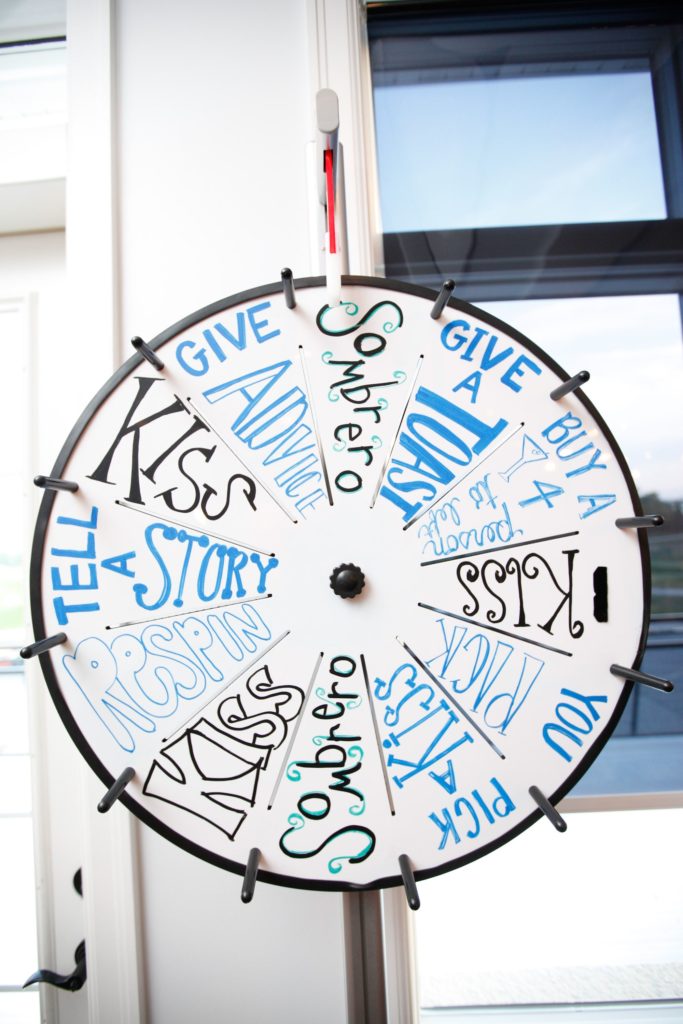 Not everybody wants to dance for 5 hours straight and honestly who doesn't love a few games on a night out? I've not saying you have to break out the Uno cards, but giving your guests some fun games to take part in throughout the wedding reception and after-party is a surefire way to have people mention your wedding when the topic arises at gatherings. Buy disposable cameras and set a photo scavenger hunt with weird tasks that encourage teamwork e.g. take a photo of a human pyramid. Not everybody has to take part, but once a group of people start having a blast taking part you might be surprised with how many others want to join! Set up a big wheel to spin with prizes, challenges and punishments on it (e.g. win a free shot, arm wrestle one of the groomsmen, post a really ugly photo on Instagram and add the wedding hashtag) let each guest have a certain number of spins and watch chaos ensue!
Drinks
This aspect of your reception honestly depends on your guests and how much they like to drink, if you're inviting an unruly bunch then I would advise against an open bar. People can tend to get a little wild when nobody is stopping them and they don't have to pay the cost of their drinks; if you still want to let people get a little wild (within reason) then I would suggest having a limited tab on the bar or drink tickets for each guest, this lets everybody enjoy a few free drinks but nobody can go totally overboard on your credit card! If your guests aren't huge drinkers then consider the cost of an open bar and if you don't feel that it would be used enough to justify the overall cost then why not offer a signature cocktail for the big day. Nobody will be bouncing off the walls but there's a fair amount of luxury in having a personalised drink on your big day that your guests will absolutely pick up on.
As is pretty common advice when it comes to alcohol consumption, be practical and practice constraint. If people are getting too sloshed then let the bar staff know that they can make the call to cut them off. At the end of the day, a fun night isn't worth the potential risks of binge drinking!
- Grainne