Every single detail will probably feel like the be-all and end-all when it comes to planning your wedding, but the truth is, your guests probably won't remember that you went with Easter lilies instead of calla lilies, or that you added subtle hints of gold to the place cards. Each of these details will be important to you and your pictures will look incredible, but the truth is, if you don't nail the seven things guests remember most about your wedding, they definitely won't be talking about the décor.
The Food
The food is one of the main parts of the wedding that your guests will remember. Everyone remembers if the food was amazing, and more importantly, everyone remembers when the food is not up to scratch. It's your day and you should have a menu that you like but you should steer clear of risky or complicated dishes, not just for your guests but also for your budget. No matter what kind of show you put on or how great the speeches are, everyone will remember if the food is not good and it can often put a dampener on the evening for your guests. Check out these five foods not to serve at your wedding.
The Speeches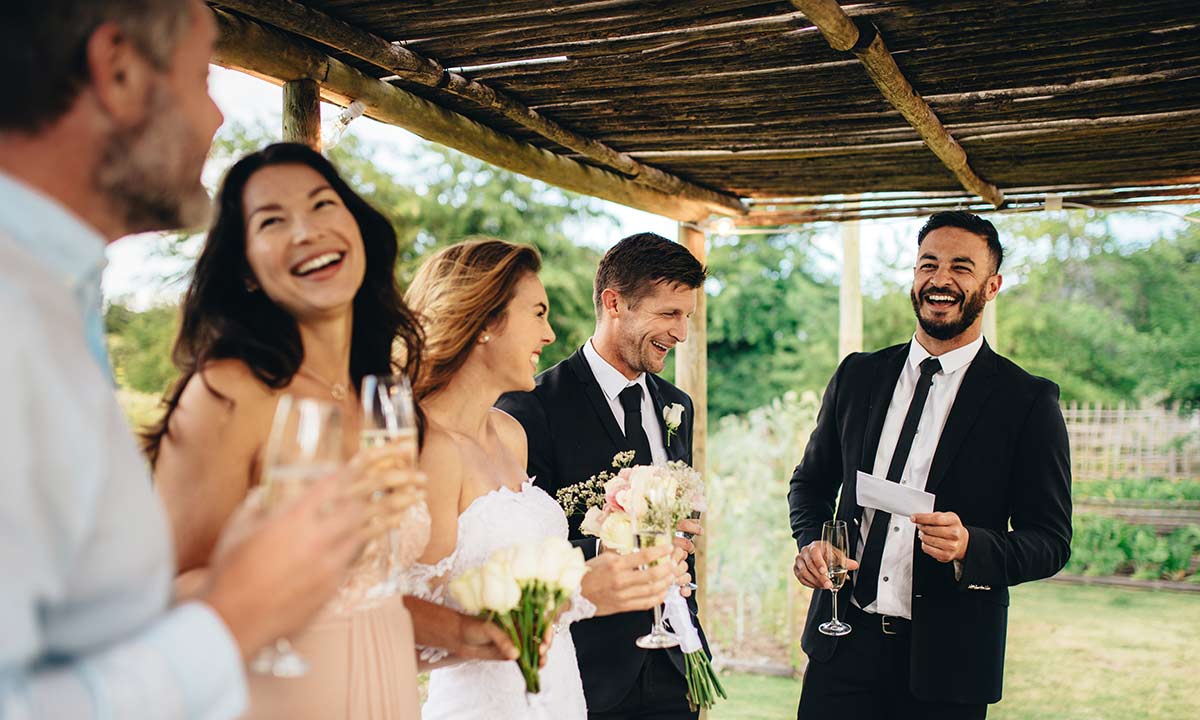 Guests always come back from a wedding with stories of speeches. Whether they're too long, too boring, cringy or personal or whether they were just the right amount of funny, touching and entertaining. As the bride, you don't have a whole lot of control of the speeches, but it might be good to have your bridesmaids check the speechmakers. The main thing is to make sure they're not too long. You don't want speeches that go on for 20-30 minutes – especially if they come before the food. No one likes going hungry. If you're making a speech, check out these top tips for toasting.
The Organisation
While guests aren't involved personally in the organisation of the wedding details, they will notice when they are organised well, and even more when they are disorganised. It's good to have an order of the day for your bridesmaids or your wedding planner to have. Herding a big group of guests from place to place on the day of the wedding is not easy and there needs to be some structure to it and people that should be in charge of it but those people should not be you. The bride and groom do not need the pressure of trying to organise their guests throughout their wedding day. Make sure you delegate this job to your bridesmaids.
The Travel Time
We know you may have found your dream venue for your reception and your dream venue for your ceremony, and they may be on opposite sides of the country. You may also have the mentality, that the guests who really care about you will travel anywhere for your wedding. Bearing this in mind, they will always remember that they had to travel three hours from the ceremony to the reception. We're not saying you should have your reception five minutes from your ceremony, but travel time should be factored in if you're worried about irritating your guests.
The Music
Guests remember if you have good music that made them want to dance. If most of your favourite songs are slow ballads, that's fine but on the flip side, if you want your guests to be up dancing all night, you might want to reconsider your playlist. Another thing to consider, especially if you only have the one room for guests to mingle in, is the volume. You want your music to be loud enough for your guests to enjoy it and dance the night away. However, you also want your guests to talk to one another and be able to hear each other, especially your older guests. When choosing your wedding entertainment, remember to ask these important questions.
The Personal Touches
Guests don't necessarily remember every little detail at your wedding, which may be hard to hear when you've spent the last year pouring over your flower arrangements and your place cards. However, guests will pick up on the little details if you really put some personal thoughts into them. If you have fabulous, bespoke table numbers, not every guest will go home and remember them. However, if your table numbers are personalised, they are more likely to remember them. Personal touches are a lovely way to give your guests an insight into your relationship and really make your wedding memorable.
The Thank You Cards
One of the major gripes guests have after attending a wedding is a lack of engagement between them and the bride and groom. Thank you cards are a vital part of wedding etiquette. Guests will remember your wedding fondly when they receive their thank you card. It may not be something they wait by the letterbox for but they will remember not getting one, once a significant amount of time has passed. It's not okay to forget or not bother with thank you cards, for those who made the effort to celebrate with you or send you a gift. Most guests who do not receive a thank you card will only remember that about you and your wedding, regardless of how spectacular it is.
- Jenny