Halloween is the season of spookiness, and what better way to celebrate this chilling holiday than by incorporating some eerie cocktails into your festivities? Whether you're planning a ghostly celebration or just want to add a touch of macabre to your Halloween night, these six cocktails will be a bewitching addition to your bar menu.
1/ Black Widow Smash
The Black Widow Smash. The "spookiest" of Halloween cocktails, but also one of the simplest. Fresh blackberries muddled with rosemary, lemon, a couple of dashes of orange bitters, tequila, and topped off with sparkling water, for a little bit of fizz. It's both eerie and warming, perfect for the cool nights ahead. To make it, you'll need:
8

 

fresh blackberries

1-2

 

teaspoons

 

fresh rosemary, plus a sprig for serving

1/2 oz lemon juice

1-2

 

tablespoons

 

honey

1 1/2 oz

 

tequila

A couple of dashes of orange bitters

Sparkling water
In a cocktail shaker or glass jar, add blackberries, rosemary, lemon juice and honey. Muddle all of the ingredients together, squishing everything to release the juices. Add the tequila and orange bitters. Add ice to your glass and strain the drink over the ice. Top the glass with a little more ice, pour the sparkling water over, and gently stir to combine. Garnish with fresh rosemary.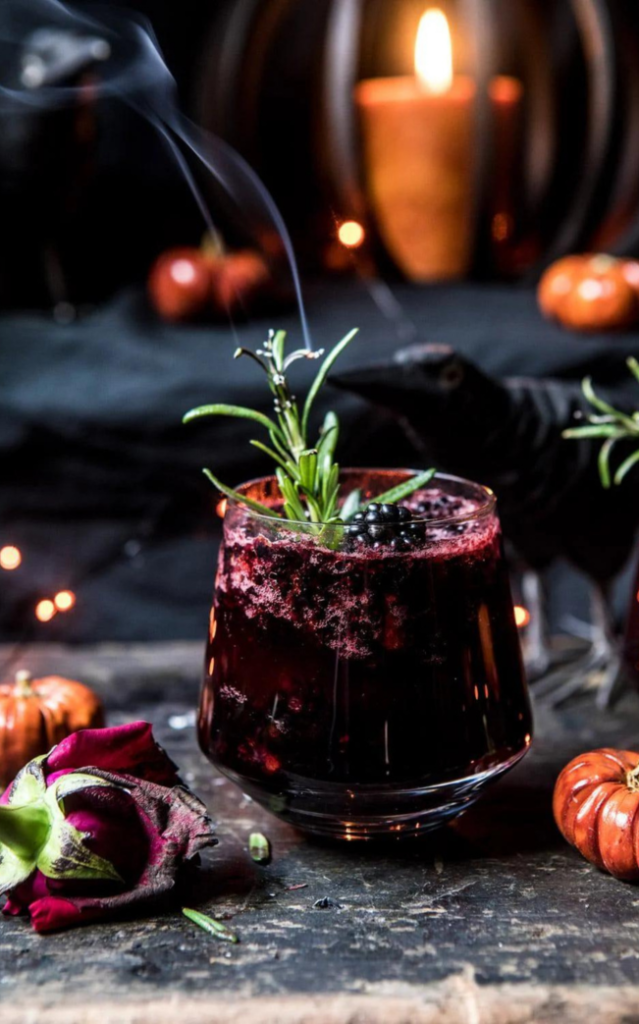 2/ Poisoned Apple Martini
The Poisoned Apple Martini is a nod to classic fairy tales and is perfect for a Halloween night. The deep red colour and apple flavour give it a wickedly enchanting appeal. Here's how you can make it:
2 oz apple-flavored vodka
1 oz sour apple liqueur
1 oz cranberry juice
Shake the vodka, sour apple liqueur, and cranberry juice with ice in a cocktail shaker. Strain into a chilled martini glass and garnish with a thin apple slice. This martini is as tempting as it is treacherous.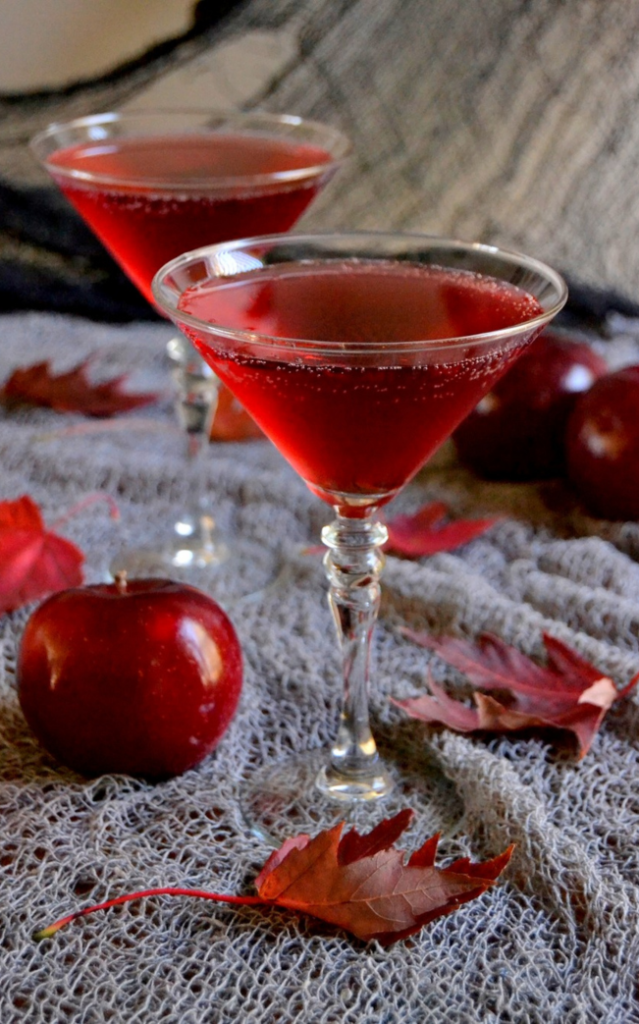 3/ Witches' Brew Punch
For a communal, eye-catching drink that can be prepared in advance, consider serving Witches' Brew Punch. This blood-red concoction is both spooky and refreshing. You'll need:
2 cup bourbon
3 cup cranberry-pomegranate juice
1 cup fresh grapefruit juice
1/2 cup fresh orange juice
2 bottles of sparkling wine
Fresh cranberries for garnish
Combine bourbon, cranberry-pomegranate juice, grapefruit juice, orange juice, and sparkling wine in a punch bowl and chill. Garnish with cranberries.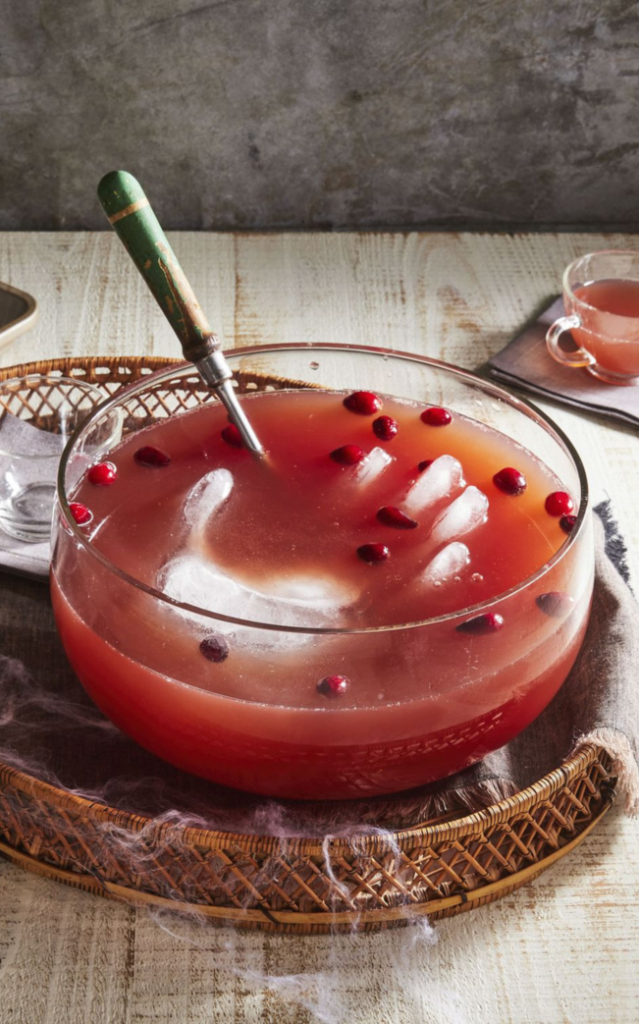 4/ Dark and Stormy Night Cocktail
For a more sophisticated and mysterious option, the Dark and Stormy Night Cocktail is a perfect choice. The deep, dark colour and the kick of ginger make it a favourite among cocktail enthusiasts. Here's what you'll need:
2 oz dark rum
3 oz ginger beer
1/2 oz lime juice
Lime wedge for garnish
In a highball glass filled with ice, pour the dark rum and ginger beer. Squeeze in the lime juice and garnish with a lime wedge. The Dark and Stormy Night Cocktail is a brooding drink that adds an air of mystique to your holiday celebration.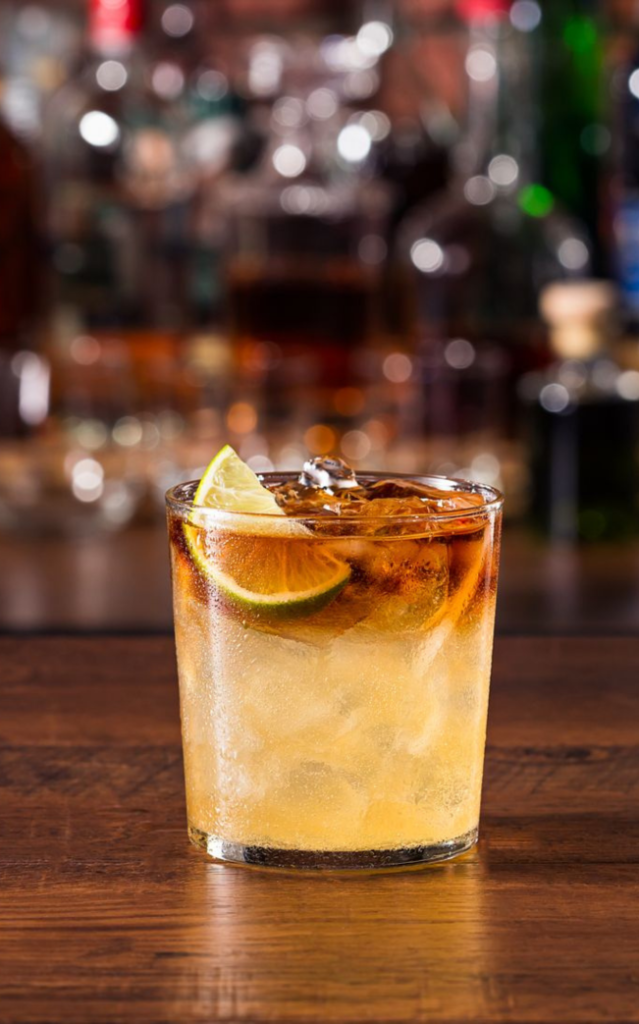 5/ Pumpkin Martini
Sweet, creamy and rich, this pumpkin martini is like a slice of pumpkin pie in a glass! Although not as spooky as some other drinks on the list, if you're a sweet tooth you're going to adore this drink! You'll need:
2

 

oz

 

vodka

1

 

oz

 cream liqueur

½

 

oz

 

cream

1

 

tablespoon

 pumpkin purée

1 pinch cinnamon to garnish
Combine the vodka, cream liqueur, cream, ice and pumpkin puree in a cocktail shaker and shake. Strain into a chilled martini glass, top with a pinch of cinnamon and enjoy!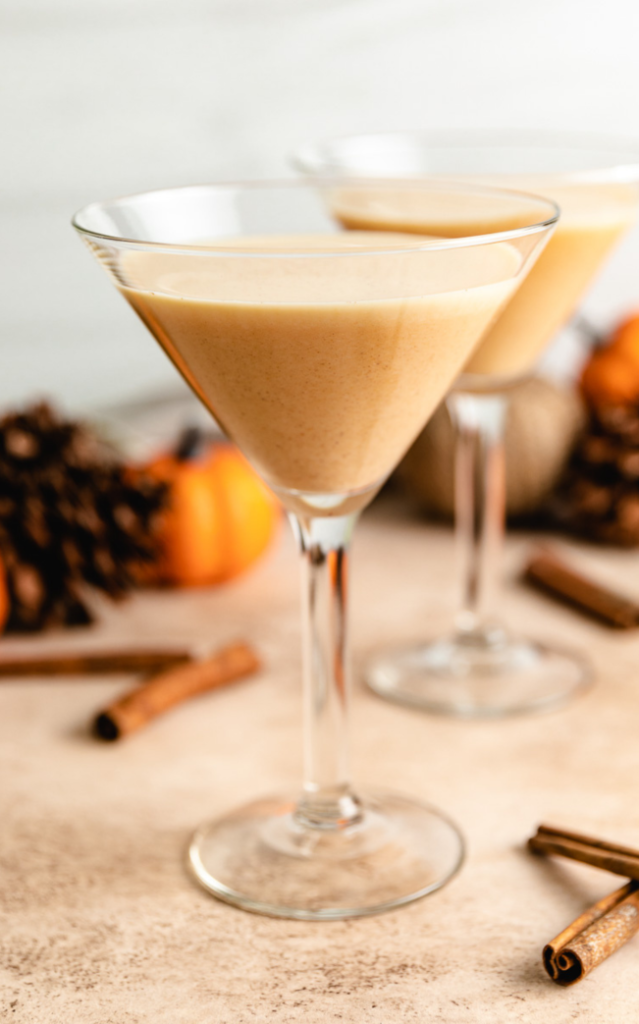 6/ Ghostly White Russian
The White Russian gets a spooky makeover with this Ghostly White Russian. The creaminess and simplicity of this cocktail make it a smooth and delightful addition to your Halloween menu. You'll need:
2 oz vodka
1 oz coffee liqueur
1 oz heavy cream
Crushed ice
1/4 oz brown sugar syrup
To make this chillingly good cocktail, fill a glass with crushed ice. Add vodka, coffee liqueur, brown sugar syrup and heavy cream. It's a sweet treat for all your guests.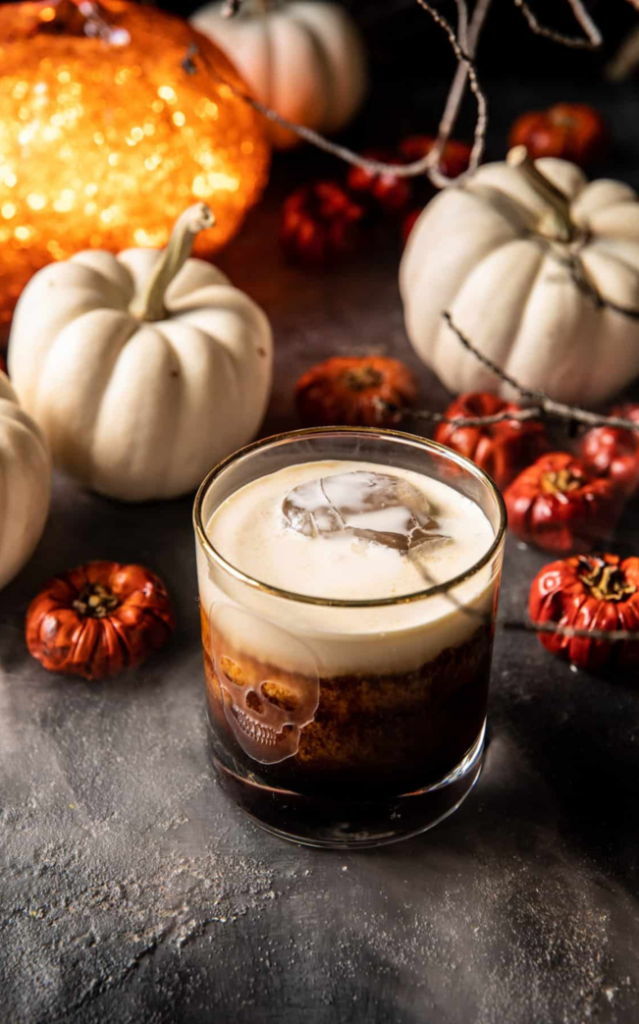 - Gráinne