With winter creeping in and the weather turning sharper and colder, there's no better night than being curled up in front of a roaring cocktail, a book in one hand and a strong cocktail in the other; sometimes a cup of tea just doesn't cut it! Warm up your cold January with one of these deliciously seasonal cocktails!
1/ Sticky Date Martini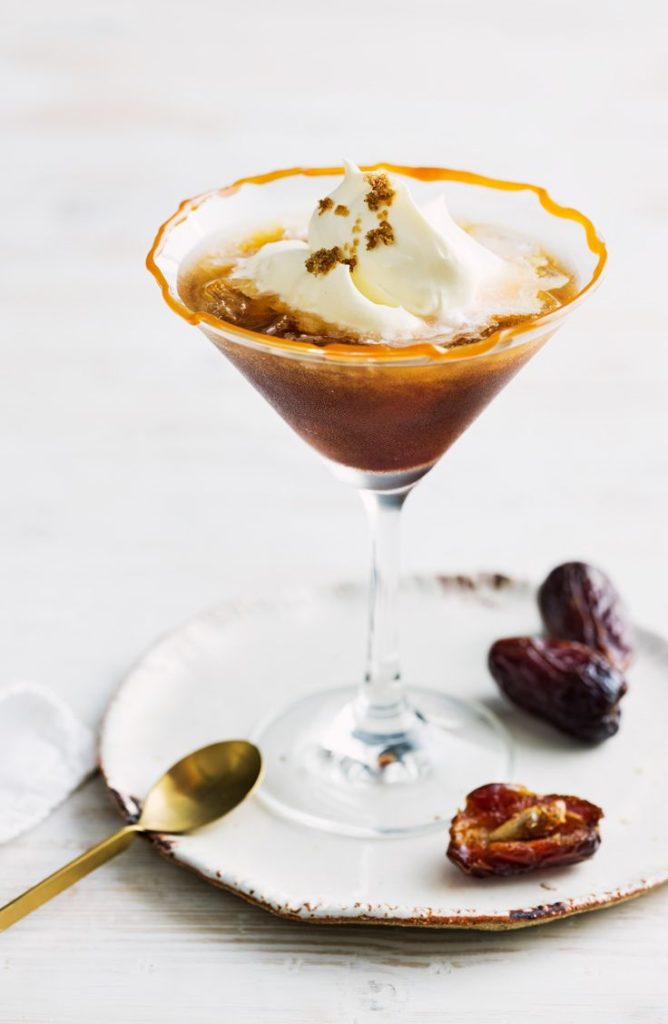 Sweet and rich, this take on the classic sticky toffee pudding is to die for! If you're a dessert fan then this delicious sticky date cocktail will be your go-to in the cold dark evenings.
You'll Need:
160g brown sugar, plus extra, to serve
4 dates, pitted, finely chopped, plus extra, to serve (optional)
40ml vodka
20ml butterscotch schnapps
Ice, to shake
Caramel sauce, to drizzle
Whipped cream, to serve
Directions:
Place brown sugar, dates and 250ml water in a small saucepan. Cook, stirring, over medium heat for 1 minute or until the sugar dissolves. Simmer for 10 minutes or until the mixture is thick and syrupy. Set aside to cool completely. Strain through a fine sieve. Discard dates.
Place the vodka, schnapps, ice and 100ml date syrup in a cocktail shaker. Shake well to combine.
Drizzle caramel over the rims of 2 martini glasses. Fill with the martini mixture. Top with cream and sprinkle with extra brown sugar. Serve with extra dates, if you like.
2/ Caramel Apple Hot Toddy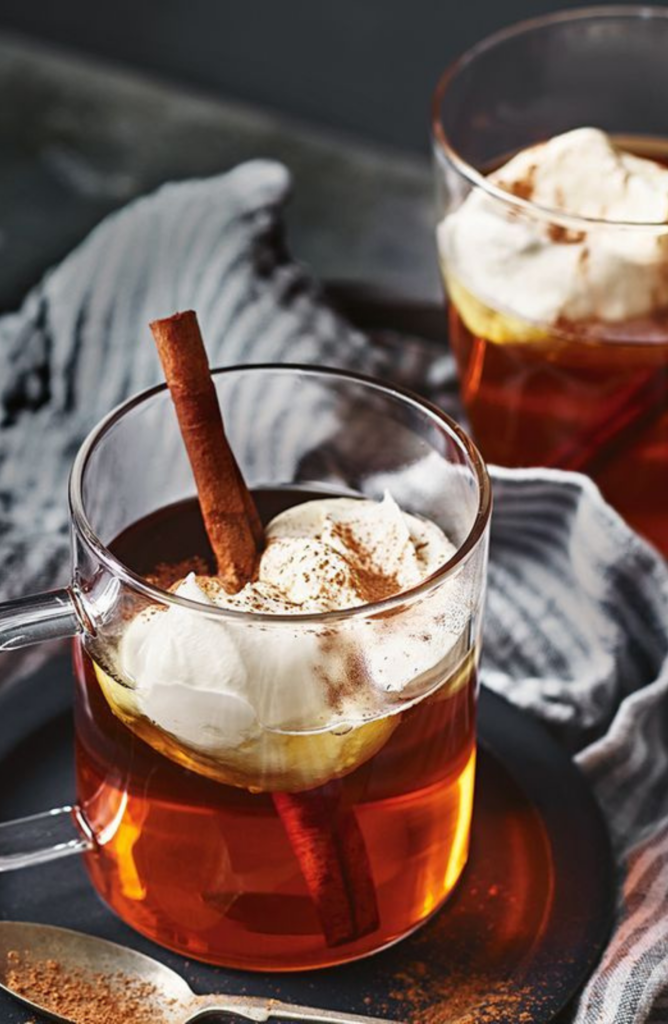 No drink says Christmas quite like a hot toddy! If you spent your childhood in Ireland then you've probably perfected making a few of these for your granny; this festive take on an iconic drink is a gorgeous way to warm up your sweet tooth.
You'll Need:
150g caster sugar
165ml apple juice
4 cinnamon quills
165ml apple pie liqueur
Whipped cream, to serve
Ground cinnamon, to dust
Directions:
Place sugar in a medium heavy-based saucepan over high heat with 1 tbs of water. Cook, swirling the pan, for 5-6 minutes or until golden and caramel.
Using a metal spoon (and being mindful of the steam), stir in 500ml of water and swirl the pan until caramel and water are combined. Stir in apple juice and cinnamon quills, then stir in the liqueur.
Divide among glasses, spoon over whipped cream and dust with cinnamon to serve.
3/ Winter Negroni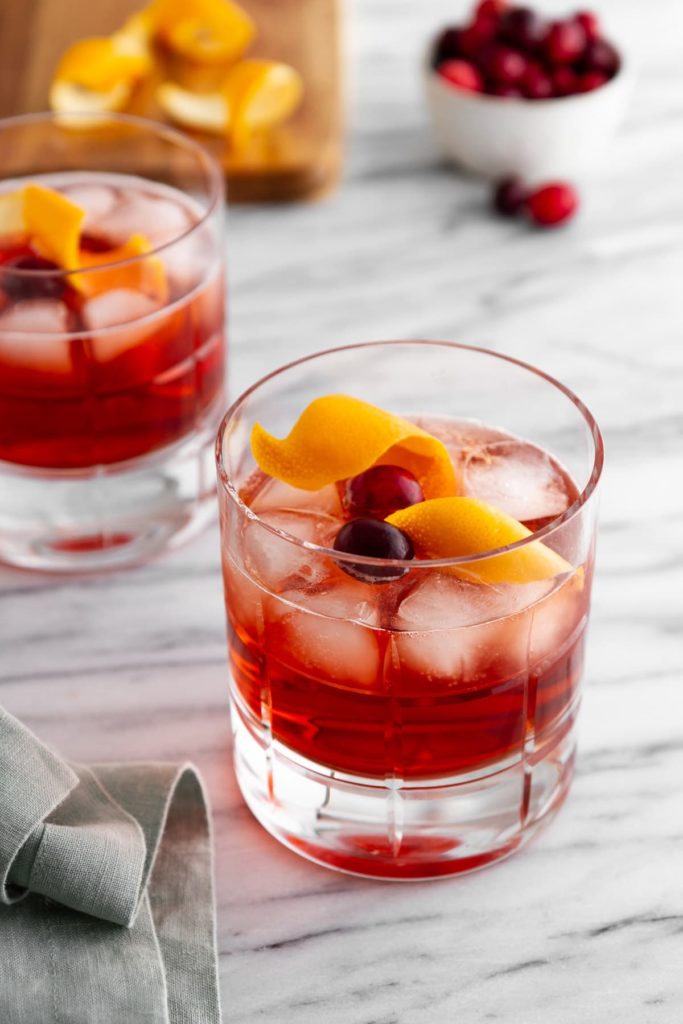 A negroni is perfect for any season, however, a decadent caramelised orange slice and the bright cranberry and orange syrup add a familiar warmth and wintery twist to the classic. Perfect for sipping with Christmas dinner or lounging in a steaming bathtub; this cocktail is my personal favourite.
You'll Need:
195g caster sugar
1 orange, cut into 5mm slices, plus juice of 2 oranges
1 tbsp cranberries (optional)
Ice cubes, to serve
250ml gin
250ml red vermouth
250ml Campari
Directions:
Place 110g sugar in a shallow bowl. Dip both sides of orange slices in sugar. Grease a large non-stick frypan and place over medium heat. Add orange slices and cook, turning once, for 2-3 minutes on each side or until dark and caramelised. Transfer to a tray lined with baking paper and cool completely.
Place cranberries, orange juice and remaining 85g caster sugar in a small saucepan over medium-low heat and stir to dissolve sugar. Bring to a simmer and cook for 5 minutes or until thickened.
Fill serving glasses with ice cubes. Combine gin, vermouth and Campari in a large jug. Divide among glasses, top with warm syrup and caramelised orange, and serve immediately.
4/ Whiskey Spritz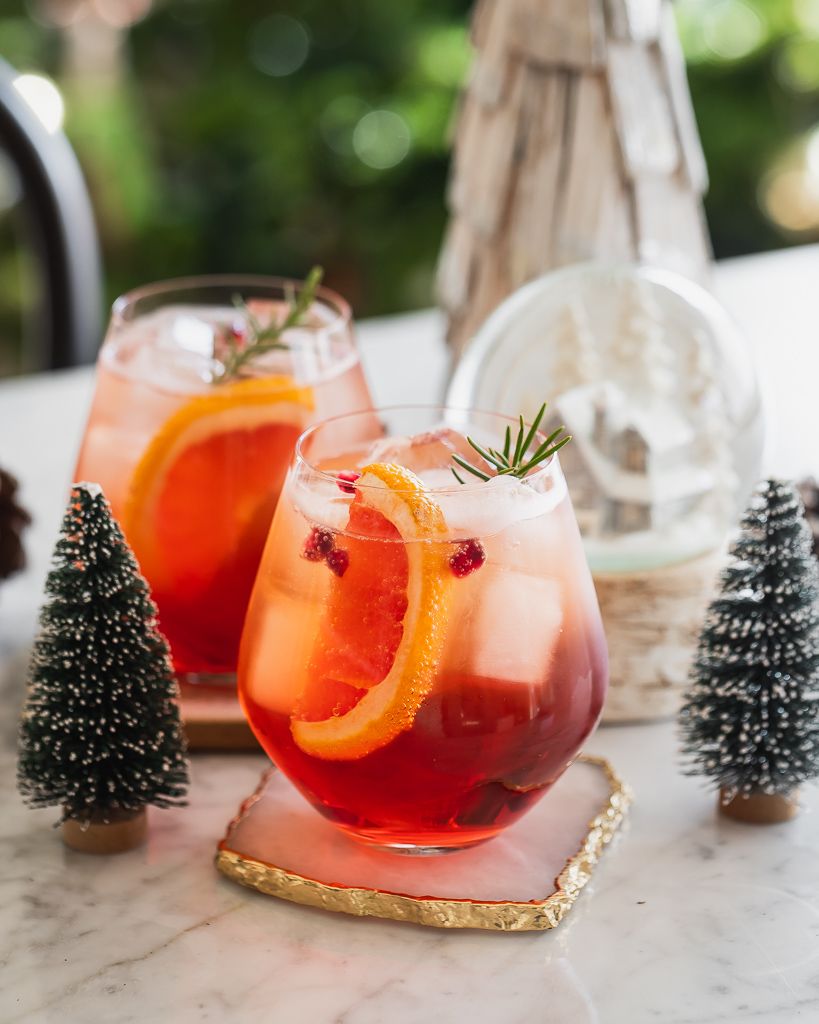 It wouldn't be a list of cold-weather cocktails without Irish whiskey, the ultimate spirit to warm you from the inside, stimulate your tastebuds and make you feel right at home. Who doesn't love a spritz? This cocktail is sweet, full-bodied and hard not to drink in two minutes flat! A perfect choice for those who like the flavour of whiskey but need a hit of sugar for easy sipping, not to mention it's insanely easy to make!
You'll Need:
30ml Irish whisky
60ml ginger ale
90ml sparkling apple juice
1 lemon wedge
Ice cubes, to serve
Directions:
Fill a tall glass with ice.
Add 30ml whisky.
Pour in ginger ale then gently squeeze a wedge of lemon in before dropping it in the glass as garnish.
Top with sparkling apple juice & stir.
5/ Maple Old Fashioned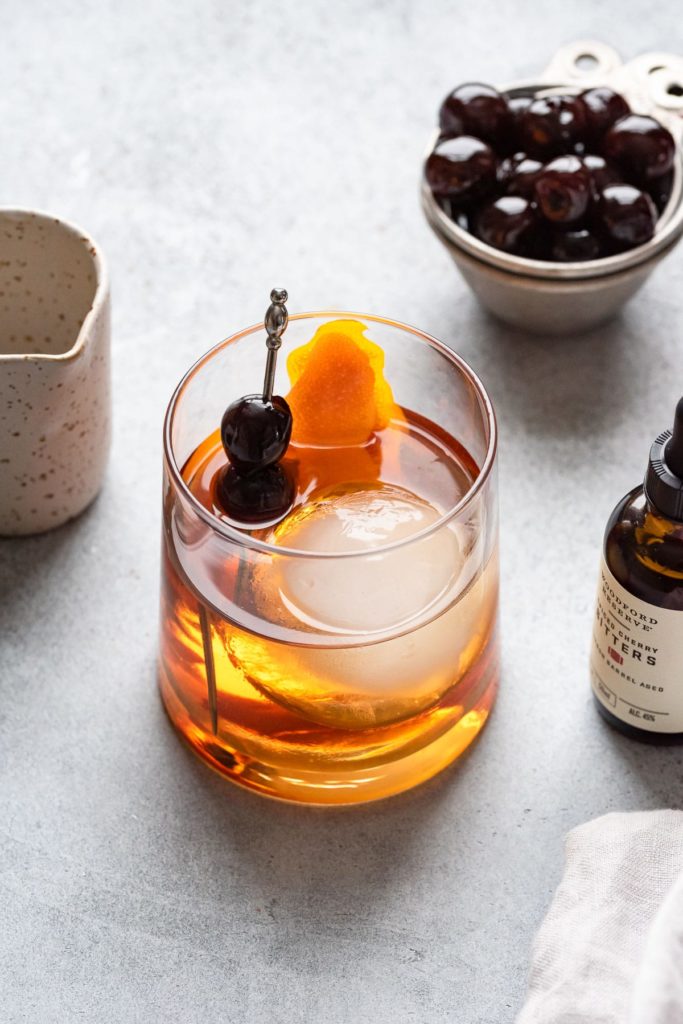 If Santa Claus could pick a cocktail it would 100% be this one! This maple old fashioned is warm, nutty, tart and sweet all in one glass.
You'll Need:
60 ml Irish whiskey
7ml cherry liqueur
7ml maple syrup
3 dashes of toasted pecan bitters
Pitted black cherries, to serve
A ribbon of orange peel, to serve
Directions:
Stir together the bourbon, cherry liqueur, and maple syrup with ice in a cocktail shaker until chilled.
Strain into a chilled rocks glass with fresh ice.
Top with the bitters.
Add the cherries, and squeeze the orange peel to release its oils into the cocktail before placing it into the glass (for added flavour, gently and carefully singe the peel with a lighter before squeezing). Enjoy immediately.
- Gráinne