Over the last two years, weddings in Ireland have changed drastically, no longer expected to be a huge event with over 200 guests, it's far more acceptable to opt for something small and intimate on your wedding day. Celebrate with your nearest and dearest in style! From city to countryside, Ireland has no shortage of amazing wedding venues elated to host your special day, embrace the intimacy and pick a venue designed to give a smaller group the five-star experience!
Whether you're dreaming of an elegant black-tie bash in a country house, a chic city affair for 20 or a festival-style celebration for 75, we've curated our 15 favourite intimate wedding venues across Ireland.
Slap in the middle of Dublin city, the Shelbourne hotel might seem dauntingly big from the outside but rest assured their coordination team will work hard to make sure your smaller guest list feels like royalty! The Shelbourne has always been Dublin's most distinguished address, a byword for elegance and luxury, and the destination of those in the know. Take a stroll down Grafton street with your wedding party or lounge in St Stephens Green and drink in the energy of Dublin city in style.
Capacity:
Available options for your wedding space would be the George Moore Suite with 25 guests maximum or the Adam and Deirdre Suites that accommodates 50 guests minimum.
Coolbawn Quay is that unique romantic venue offering couples intimacy and privacy in a charming bespoke village in North Tipperary in possibly one of the most picturesque lakeshore settings with unbroken panoramic views over Lough Derg. It's the perfect venue for family and friends to stay and gather in celebration.
Capacity:
The drawing-rooms can accommodate guests numbers from 25 - 50.
Marco Pierre White's Courtyard Bar & Grill in Donnybrook is a beautiful and unique restaurant wedding venue, where old-school glamour with a modern twist is on the menu! Tucked behind a vine gate, guests can stroll through the lush courtyard into relaxed luxury.  Clubby, urbane and suave, this is an intimate wedding venue designed to offer something different.
Capacity:
The Garden Room can seat between 30 and 60 guests, the Libary Room can seat between 10 and 20 guests.
Located in Dublin's Georgian Mile, No. 25 Fitzwilliam Place spans three floors; each floor has a classic and contemporary style. Impeccably restored Georgian features highlight the property's rich heritage. The elegant space is the perfect backdrop for intimate gatherings, wedding receptions and civil ceremonies.
Capacity:
The Gandon Rooms seats up to 60 guests.
If you're looking for a rustic, garden-party vibe for your celebration, Airfield Estate in Dundrum is the perfect spot. The historic house is surrounded by a stunning walled garden, greenhouses and open fields so you completely forget you're right in Dublin city! Have your ceremony outdoors with a gorgeous view over the Dublin mountains and soak in the sunshine and the scents of nature.
Capacity:
Their Lilly Butler package has a max of 52 guests.
Steeped in history and set within acres of beautiful unspoiled countryside, Ballymagarvey Village in County Meath offers the perfect setting for your wedding day. From cosy winter weddings to beautiful summer ceremonies, their stunning banqueting hall, Millpond, courtyard and walled garden along with spectacular manor house provide the perfect place for both you and your guests to enjoy. Ballymagarvey's understated yet distinctive character makes their private estate feel like your very own home away from home.
Capacity:
The Conservatory Library can seat up to 50 guests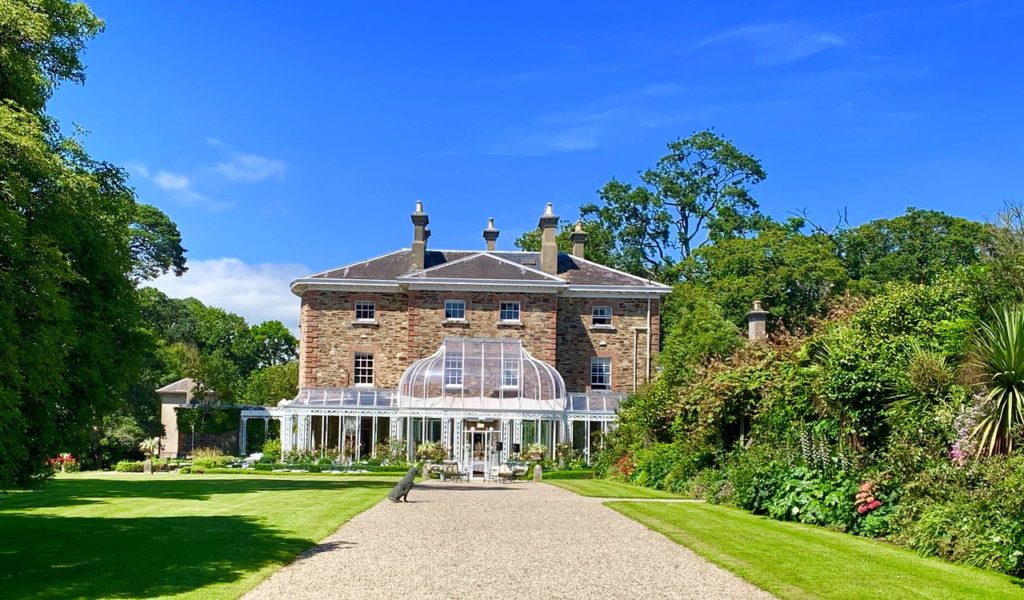 Marlfield House Hotel is long established as one of Ireland's most romantic country houses and is situated just one hour south of Dublin. Set on 36 acres of grounds it is truly an oasis of tranquillity and can be yours exclusively for your wedding day making your fairytale wedding dream come true.
Capacity:
up to 55 guests in the Print Room, up to 140 guests in the Conservatory Dining Room
Idyllically situated in Co Meath, just 40 minutes from Dublin and just over an hour from Belfast, Tankardstown House is set on an 80-acre estate comprising magnificent woods, courtyards, walled gardens and parkland. Beautifully enhancing the focal point of the estate; an imposing 18th Century Manor House & Orangery.
Capacity:
Accommodating weddings as small as 50 people, Sunday to Wednesday.
Martinstown House is a beautiful manor home, hidden on a 140-acre estate in the Kildare countryside. Tucked away amongst lush trees and sprawling gardens, this venue is designed with intimacy in mind! With a ceremony space nestled in their woodlands, Martinstown House is the perfect choice for couples wanting to steal their loved ones away to celebrate their love.
Capacity:
The Drawing Room can seat up to 60, the dining room seats up to 35 and the morning room seats up to 12 people.
Set in 14 acres of mature landscaped gardens overlooking the Irish Sea Tinakilly offers peace and tranquillity yet is only 45 minutes from Dublin. This stunning award-winning Country House Hotel in Wicklow is steeped in history and oozes charm and sophistication.
Capacity:
The Mizen Room sits up to 20 guests, the Asgard Room sits up to 35.
Blairscove House is situated on the picturesque inlet of Dunmanus Bay in West Cork on the Wild Atlantic Way. Not touched by mass tourism, it appeals to couples who want to get away from it all but still desire a five star standard of service and food, with home from home comforts in terms of welcome and accommodation.
Capacity:
up to 48 guests in the Garden Room, up to 100 guests in the Restaurant
Overlooking the picturesque Sheen Falls, this venue is the epitome of Irish elegance and luxury! The 300-acre estate gives you the feeling of being hidden away in paradise and is the perfect location for couples looking for an escape on their wedding day. With a local area begging to be explored and spa and dining facilities fit for royalty, Sheen Falls is a location guaranteed to kill your homesickness!
Capacity:
Sir William Petty Suite with a capacity of up to 80 guests, The Drawing Room with a capacity of up to 40 guests, The Library with a capacity of up to 14 guests and The Wine Cellar with a capacity of up to 10 guests.
Intimate and elegant, the Manor House is an exceptional choice for weddings of up to 96 guests. Offering Georgian glamour and exquisite dining, its opulent interior has been designed to take your breath away. A place for celebration and romance, it is an exquisite destination to welcome family and friends and celebrate your love. Exchange vows indoors or out, share a toast on the front lawns, feast in their Michelin-starred Lady Helen Restaurant and dance the night away in a house designed for love and laughter.
Capacity:
The Manor House has the capacity of hosting up to 96 guests.
Killeavy Castle is a gem in the lush Irish countryside, overlooking the ancient landscape of the Ring of Gullion, Mourne and Cooley Mountains, our Castle, Walled Garden and surrounding woodlands provide a spectacular backdrop in which to capture the festivity. For the ultimate privacy and experience, the whole of Killeavy Castle Estate can be exclusively hired for your wedding day, ensuring you and your guests are the sole residents of the Estate, offering the experience of a lifetime.
Capacity:
Both the Castle Drawing Room & Garden Lounge are suitable parties of up to 40 guests.
The River Lee offers an unparalleled wedding setting along the river in the heart of historic Cork. Perfectly suited to both larger events for up to 120, or to today's more intimate weddings, their dedicated and passionate team will work directly with you to create a bespoke occasion that is completely your own, assuring happy memories that will last a lifetime.
Capacity:
The Lookout seats up to 60 guests Cabaret Style.
- Gráinne