We're starting to see glimpses of Summer sneaking its way in and with it comes the excitement and anticipation of hot holidays, long nights and ice cold cocktails in the warm sun. We've gathered twelve of our favourite summery cocktails, perfect for garden parties and swanning poolside. As a bonus, they're also totally delicious!
1/ Gin Basil Smash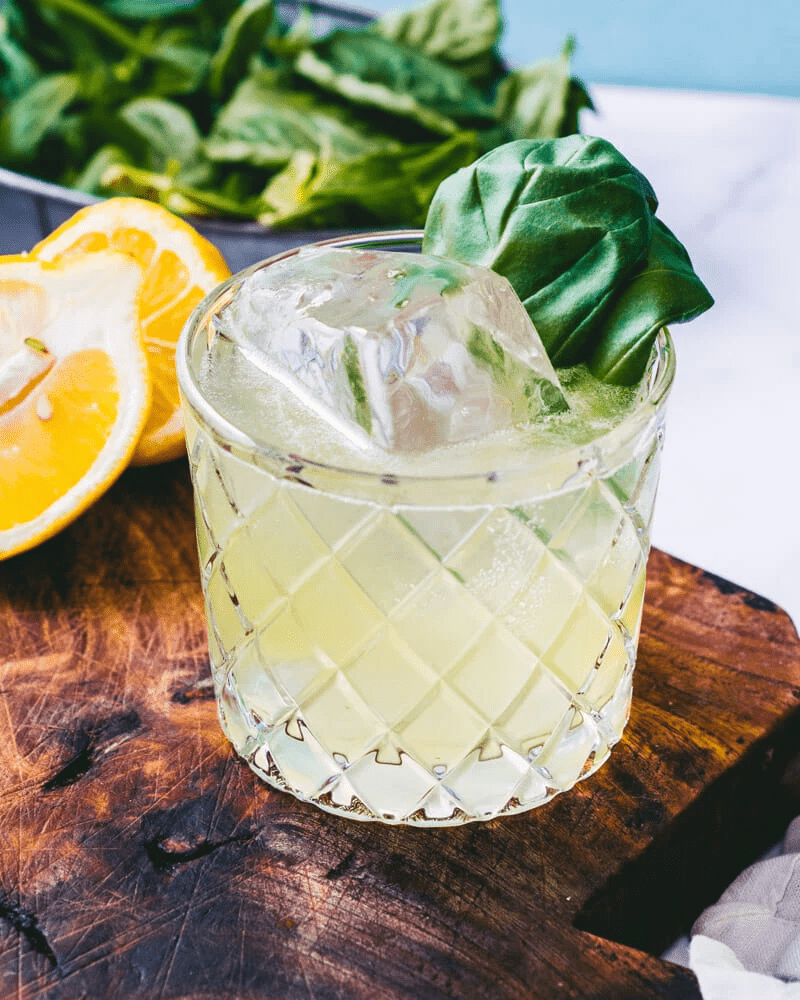 If don't have a sweet tooth but are hankering for something light and refreshing then look no further! A gin basil smash is delicate, herbaceous and absolutely dreamy on a warm afternoon with a charcuterie board.
You'll Need
2

 

ounces

 

gin

¾

 

ounces

 

fresh lemon juice

¾

 

ounces

 

simple syrup

10-12

 

basil leaves
Directions
Thoroughly muddle the basil leaves with the lemon juice in cocktail shaker.

Add the gin and the simple syrup and fill the shaker 3/4 with ice.

Shake until chilled, then fine strain the liquid into a rocks glass filled with ice. Garnish with basil leaves or a basil blossom.
2/ Lillet Spritz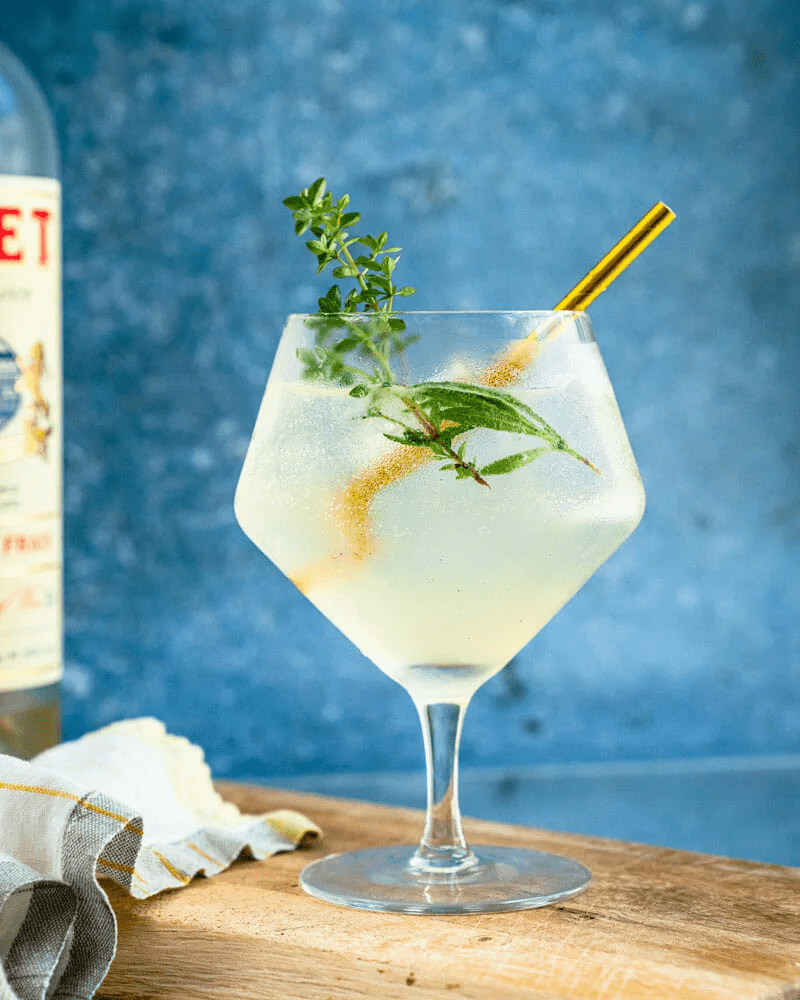 Classic and elegant, a lillet spritz is light, sweet and gorgeous with dinner. Be careful throwing these back though!
You'll Need
2 ounces

 Lillet Blanc (chilled)

2 ounces

 gin

1 ounce

 fresh lemon juice

½ ounce

 simple syrup or maple syrup

2 ounces

 soda water
Sprig of lavender or thyme for garnish
Directions
Stir the Lillet Blanc, gin, lemon juice and simple syrup together in a glass.
Fill the glass with ice and top with soda water. Garnish with lavender or thyme.
3/ Coconut & Pineapple Cooler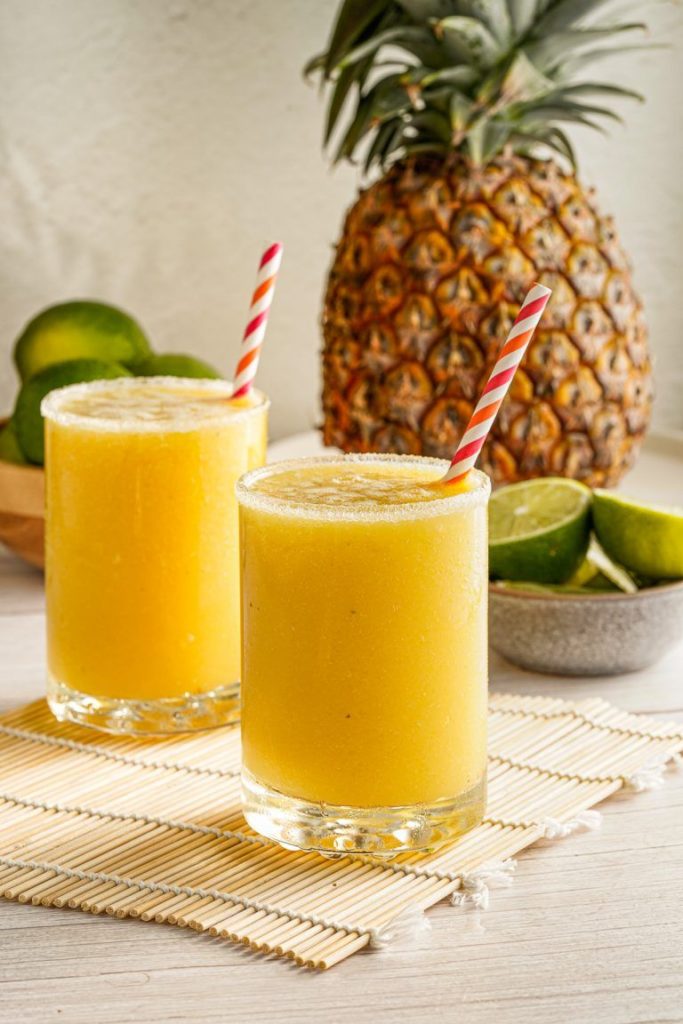 This is what you think of when you think of summer cocktails, a sweet, fruity drink being served to you in a cabana by a dreamy waiter! Turn your back garden into the perfect resort with one of these and put your spouse to work!
You'll Need
300ml coconut rum
600ml pineapple juice (not from concentrate)
5 ounces gin
12 coriander sprigs
Salt for rim
Directions
Salt the rim of your glasses.
Put 50ml coconut rum, 100ml pineapple juice, 5 ounces gin and 2 ounces cold water into each glass.
Stir, then garnish each one with a couple of coriander sprigs, squeezing the leaves a little bit first before dropping them into the glasses to help release the flavour.
Chill or set in ice buckets until needed – they will keep well for 4-6 hrs.
 4/ English Garden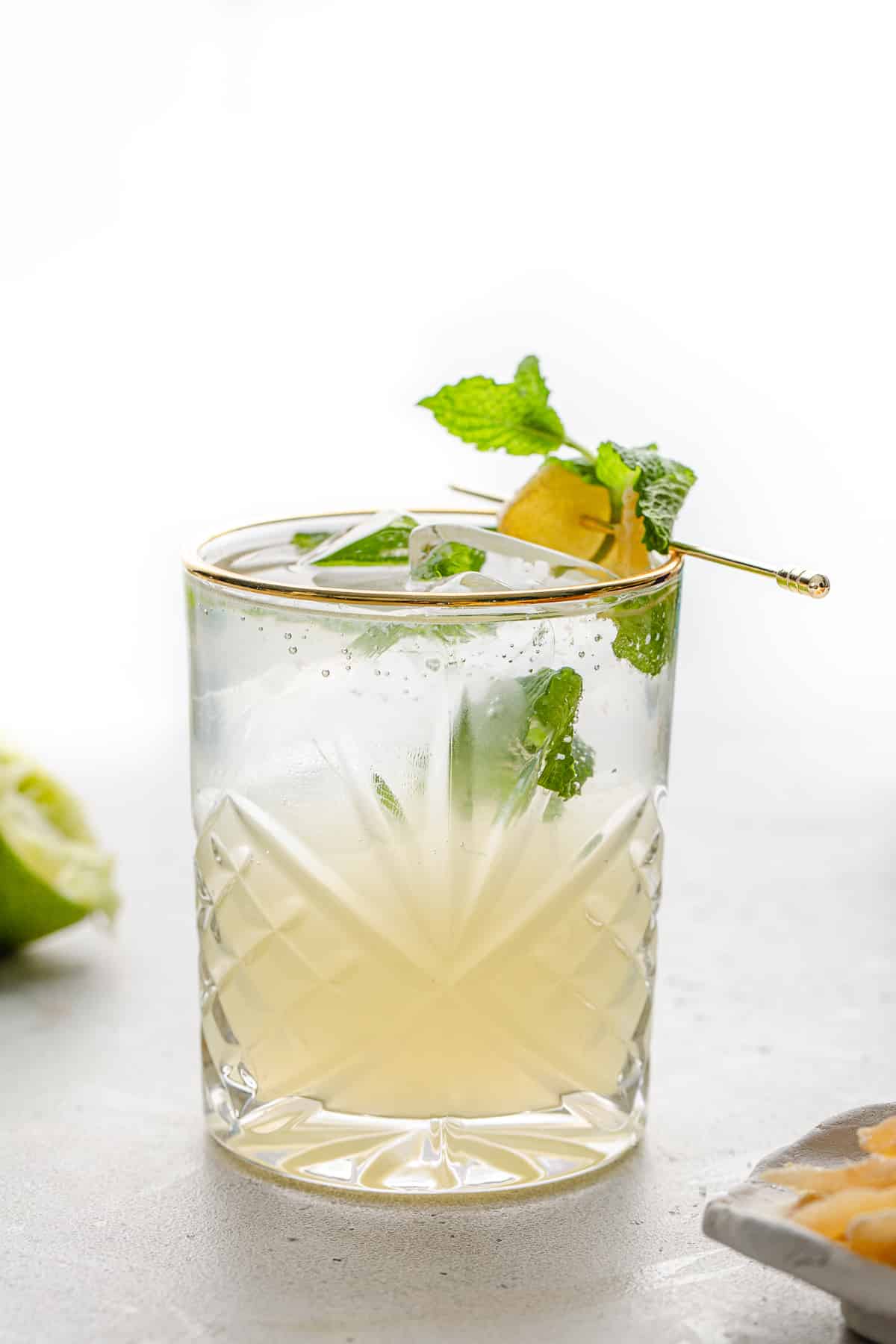 A summer classic for a reason, an english garden is the go to choice for lovers of floral flavours. Super easy to make, this make for a striking choice to serve at a barbecue!
You'll Need
5 mint leaves, bruised
1 ounce gin
2 tsp elderflower cordial to taste
2 tsp lemon juice
large handful of ice
cloudy apple juice, for topping up
Directions
 Mix the mint leaves, gin, elderflower cordial and lemon juice together in the bottom of a tall glass using a long-handled spoon.
Add a large handful of ice, then top up with the apple juice. Stir well, then drop in the strip of cucumber before serving.
5/ Sea Breeze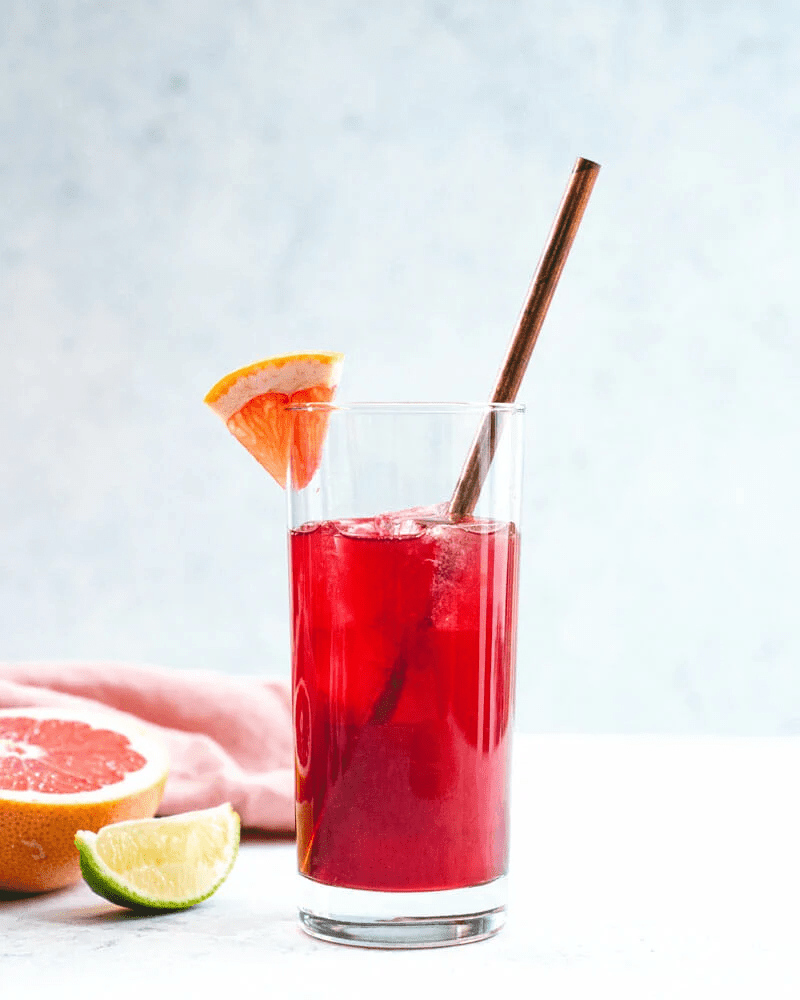 A staple of summer holidays in the 80's a seabreeze is a go to beach drink for a very good reason. You only need one glass to make it! Sweet and refreshing, after a few of these you wont care about your hair getting wrecked in the ocean!
You'll Need
1 1/2

 

ounces

 

vodka

3

 

ounces

 

cranberry juice

1

 

ounce

 

grapefruit juice

1/2

 

grapefruit

 

slice

, for garnish
Directions
Half-fill a tall glass with ice then pour in the vodka, cranberry juice and grapefruit juice.

Stir gently until the outside of the glass feels cold, then garnish with the lime slice.
6/ Vodka Spritzer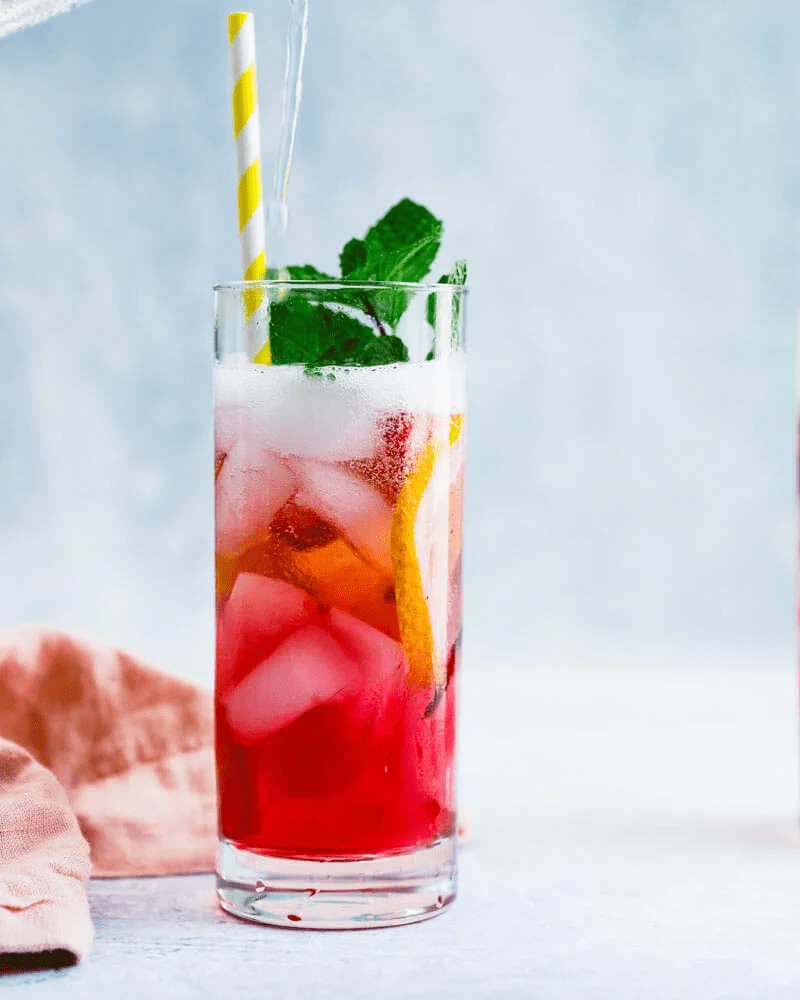 Bubbly, sweet and tart who doesn't love a vodka spritzer! This is a great drink to whip up an hour before friends come over, giving the fruit time to marinate will take this cocktail from a 10/10 to 100/10.
You'll Need
1

 lemon

1 cup

 sliced strawberries

12 ounces

 vodka

3 ounces

 simple syrup

3 ounces

 cranberry juice
Soda water, for serving
Ice, for serving
1 handful fresh mint leaves for garnish
Directions
Slice the lemon into rounds. Thinly slice the strawberries.
Place the lemons and strawberries in a pitcher with the vodka, simple syrup, and cranberry juice. Marinate at least 30 minutes (or up to 4 hours).
To serve, pour 3 ounces (6 tablespoons) of the vodka mix over ice and top with a splash of soda water to taste. Garnish with the fruit from the pitcher and sprigs of fresh mint leaves.
7/ Apricot & Ginger Bellini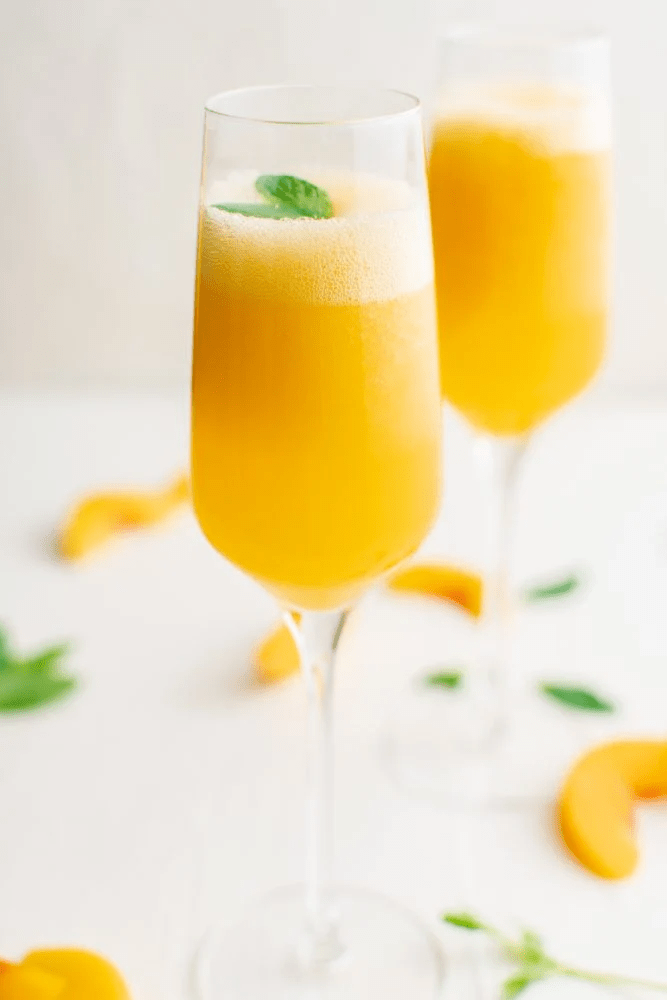 Bellinis are a staple of brunch, we've taken the classic and elevated it with fresh apricot and ginger. The beauty of this recipe is you can make the syrup a day before to save hassle on the day, the only work you'll have to put in is popping champagne corks!
You'll Need
1

 

cup

 

Sugar

8 ounces 

water

4

 

apricots pitted and chopped

1

 

inch

 

piece of ginger peeled and sliced

1

 

bottle

 

sparkling wine or 1 bottle champagne chilled, 750, 750 ml
Directions
In a medium saucepan, stir together water, sugar, ginger, and apricots. Bring mixture to a boil, then reduce heat and let mixture simmer until sugar is completely dissolves.
Remove from heat, cover and let steep for 15 minutes.
Strain ginger and apricots from syrup mixture and let cool completely.
Assemble the bellinis by adding the sparkling wine to a champagne flute, filling halfway, top off with the ginger-apricot simple syrup.
8/ Caipirinha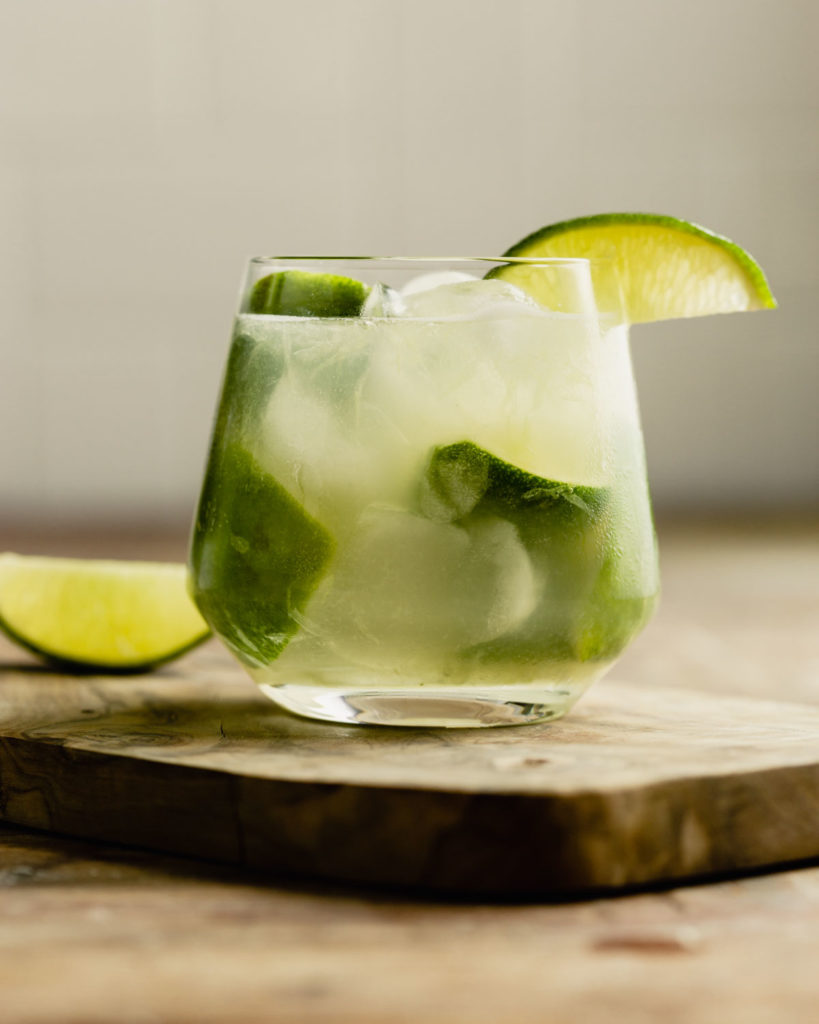 The national drink of Brazil, the caipirinha, using cachaça (a distilled spirit made from fermented sugarcane juice) to give the drink it's grassy flavour, is an amazing choice if you're a fan of sweet and sour drinks. You'll absolutely love this!
You'll Need
1

 

lime

, cut into wedges

2

 

teaspoons

 

sugar

2

 

ounces

 

cachaça

Lime wheel for garnish
Directions
 In a double rocks glass, muddle the lime wedges and sugar.

Fill the glass with ice, add the cachaça, and stir briefly.

Garnish with a lime wheel.
9/ Frozen Margarita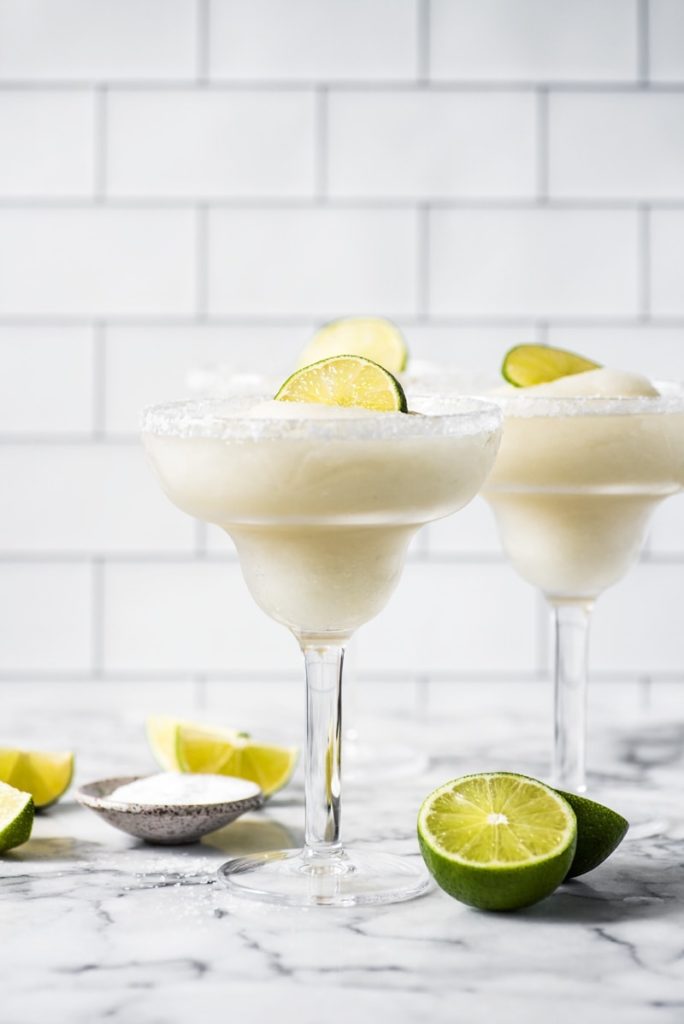 Nothing sounds better on a hot day. Whip up a batch during our inevitable two-week Irish heatwave, crack open a new book and work on your tan!
You'll Need
1 1/2 ounce tequila
1 ounce triple sec
1 ounce lime juice
1/2 ounce sugar syrup
Large handful of ice
Wedge of lime for garnish
Directions
 Put all the ingredients except the lime wedge in a blender and blitz until smooth.
Tip into a cocktail, margarita or rocks glass, garnish and serve.
10/ Mango & Pineapple Mojito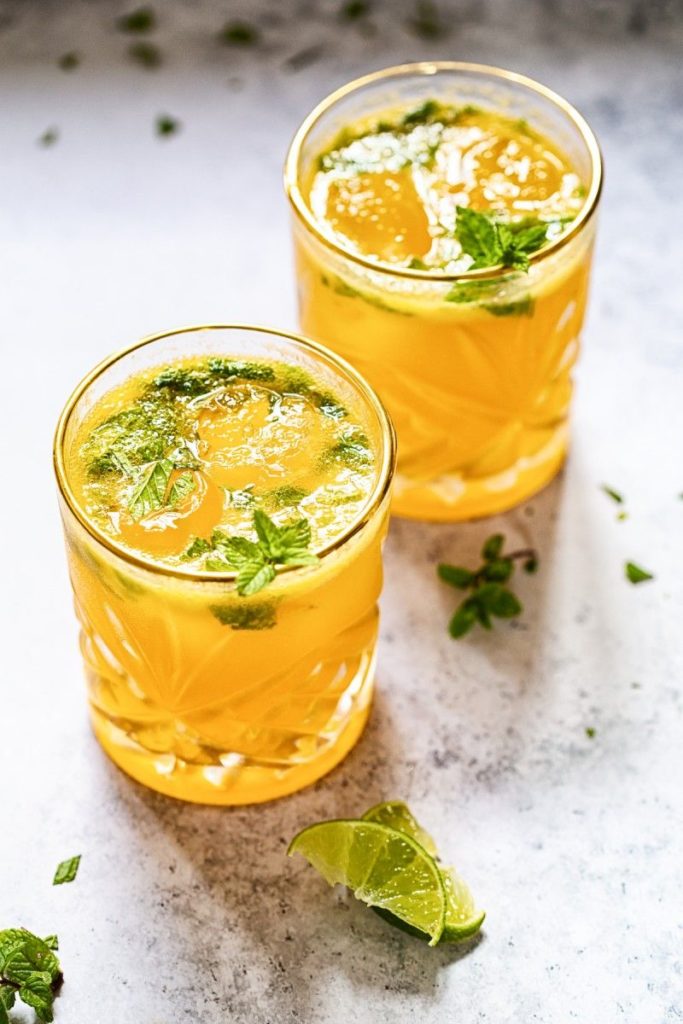 Some say this drink tastes like a holiday, we've taken a classic mojito and given it a tropical twist! If you haven't been able to book a sunny vacation then out mango and pineapple mojito is the perfect drink to holiday from home!
You'll Need
50g pineapple pieces
50g chopped mango
3 limes , chopped
2 tbsp light brown soft sugar
2 mint sprigs , leaves picked
5 ounces white rum
6 ounces pineapple rum
600ml sparkling water
Large handful of ice
Directions
Tip the pineapple, mango, limes and sugar into a large jug and muddle together.
Bruise and add the mint leaves, then top with ice.
Stir in the white rum, pineapple rum and sparkling water
11/ Frozen Sangria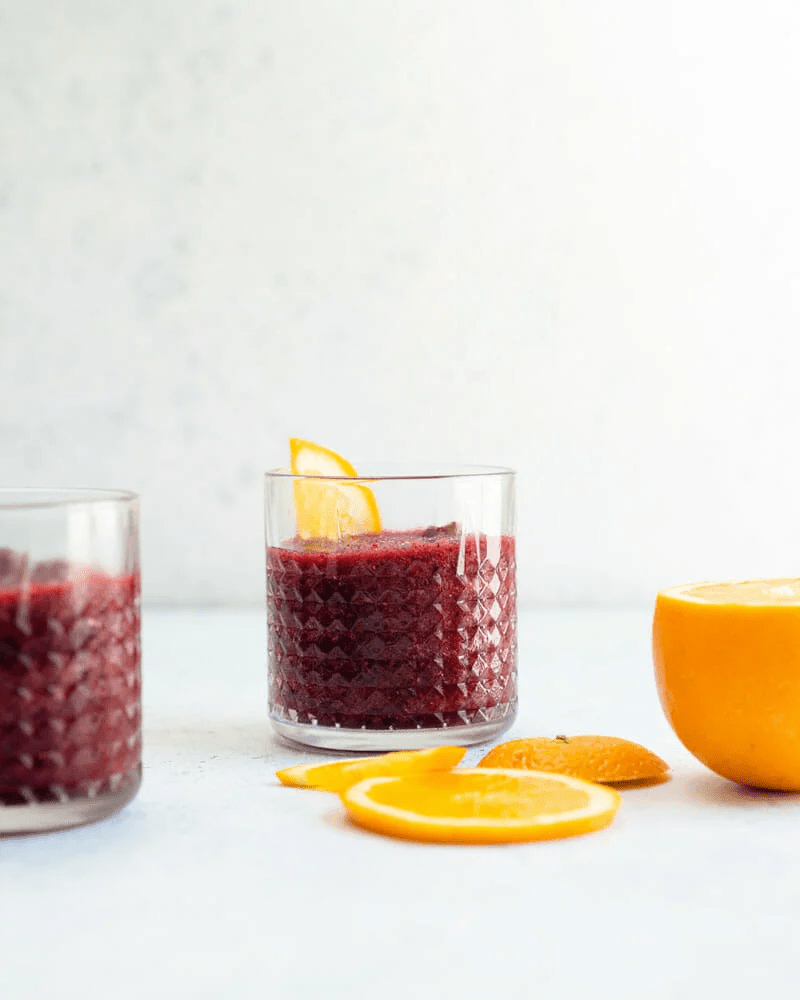 Take a summer classic and turn it into a slushie, what is better than that! You may have thought it was impossible to improve sangria but we're pleased to say it can be done, not only is this refreshing and boozy, it also saves you time! There's no need to soak the fruit like you would with a classic sangria so you'll be sipping in the summer sun an hour earlier.
You'll Need
12 ounces

 

cups

 

dry red wine

4 ounces 

Cointreau

1

 

pound

 

frozen strawberries

4 ounces 

orange juice

1 1/2

 

Tablespoons

 

lime juice

1

 

Tablespoon

 

honey

Fresh fruit, for garnishing
Directions
 Combine the red wine, Cointreau, frozen strawberries, orange juice, lime juice and honey in a blender and blend until puréed.
Pour the sangria into serving glasses and garnish with fresh fruit.
- Gráinne