Gift your love a little treat with one of these delicious, sweet cocktails! If you're enjoying a romantic dinner at home then go the extra mile for your wonderful partner and throw an after-dinner cocktail hour. It might seem kitsch but nothing says I love you quite as nicely as a handmade, strawberry mojito!
1/ Strawberry Mimosa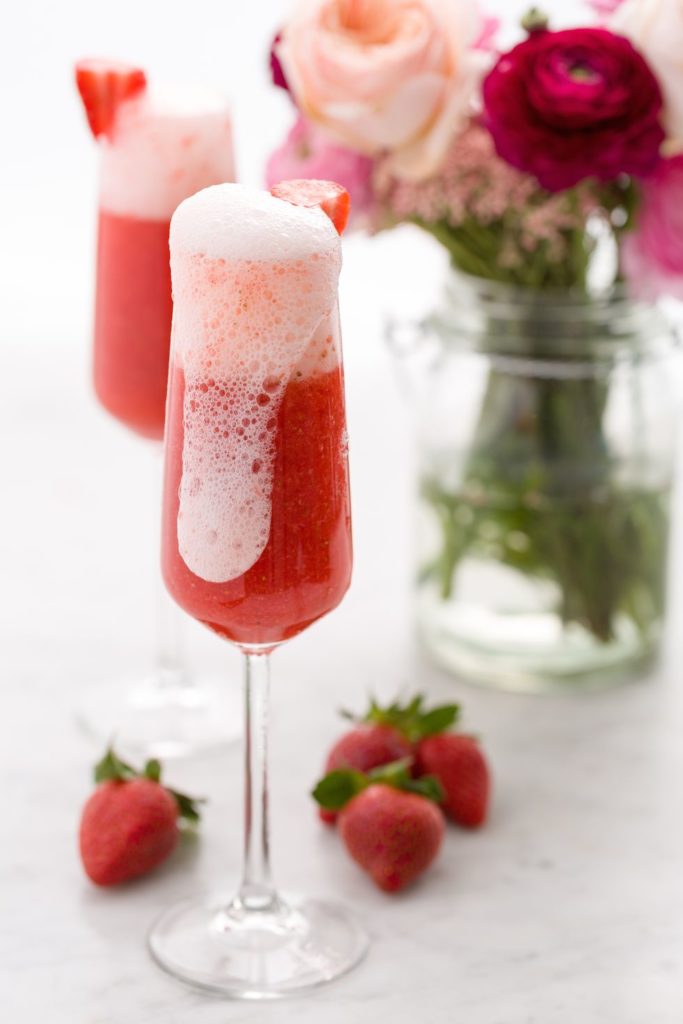 A romantic twist on the brunch standard, swap the orange juice for muddled strawberries and give breakfast in bed that extra Valentine zest!
You'll Need:
100g of chopped strawberries
15g of white sugar (1 tablespoon)
250ml of champagne, plus more for topping off the flute
Sliced strawberries, for garnish
Directions:
In a blender or food processor, blend strawberries, sugar, and champagne until fully combined, then pour into champagne flutes and top with more bubbly.
Garnish with a strawberry slice and serve.
2/ Pink Champagne Margaritas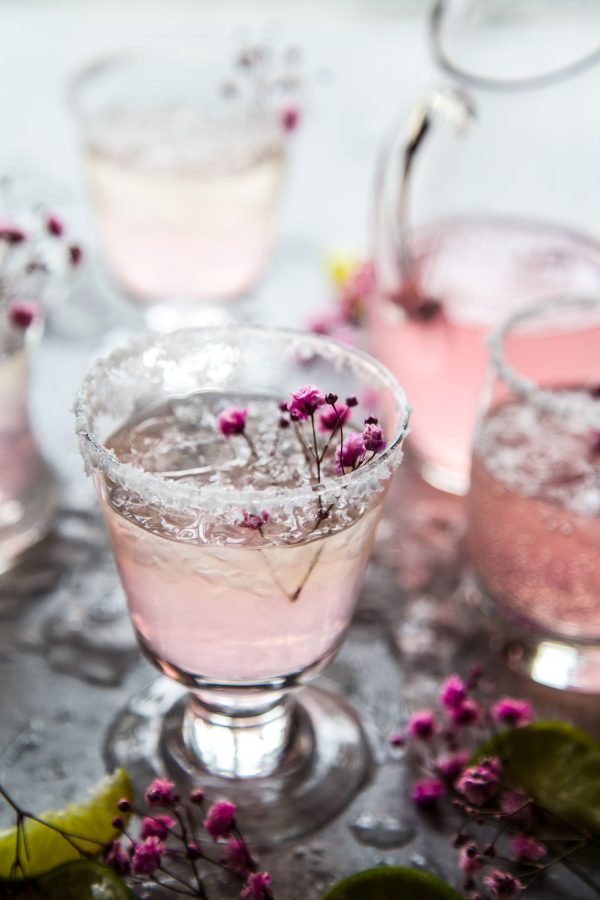 The best of both worlds! Take champagne to the next level with this light, boozy and really pretty cocktail.
You'll Need:
120 ml fresh lime juice

240 ml 

silver tequila
250ml of pink lemonade

1 

bottle champagne
Lime wedges, to rim the glass
Salt, to rim the glass
Directions:
In a large pitcher combine champagne, lemonade, tequila, triple sec, and lime juice.
Next, take a cocktail class a rub the rim of the glass with the lime wedge. Take the rim and rub it around a plate filled with kosher salt.
Fill the same cocktail with ice and pour the pink champagne margarita mixture into the glass. Repeat the process until all the mixture has been used.
3/ Orange Mango Tequila Sparkler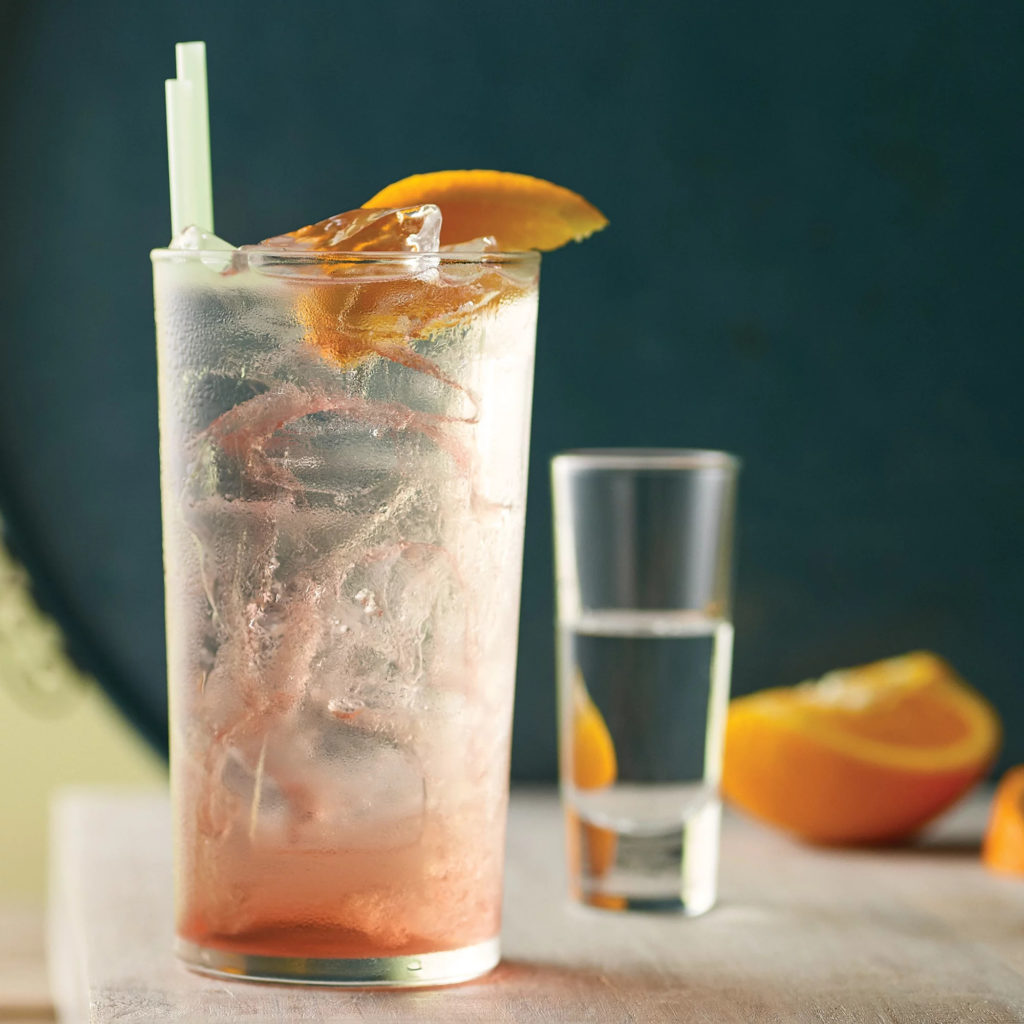 Who doesn't love light citrus and tequila! This sparkler makes for the perfect dinner drink, not too sweet, not too rich, just perfect.
You'll Need:
45ml of tequila
350ml of your favourite sparkling orange mango drink (Rubicon Spring Orange & Mango works well)
5g of grenadine (1 teaspoon)
Sliced orange, for garnish
Directions:
Combine tequila and sparkling beverage over ice.
Stir then garnish the drink with a float of grenadine and an orange slice.
4/ Chocolate Martini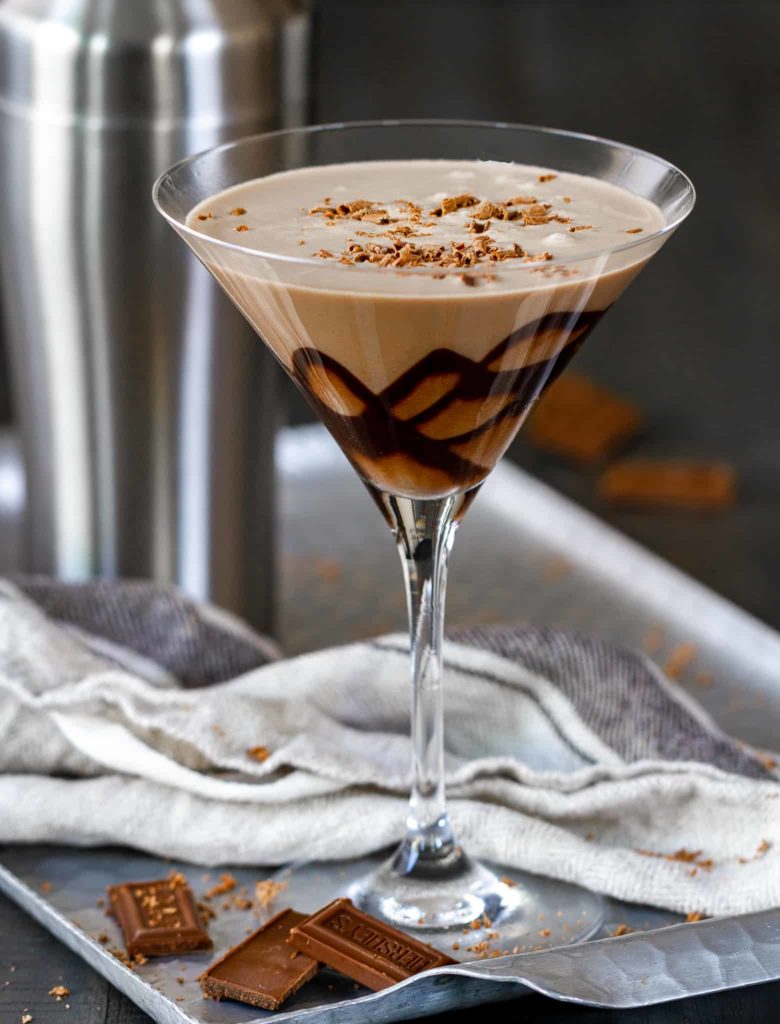 The perfect drink for the sweet tooth in your life, this martini is dessert in a glass! Rich and boozy it makes for the perfect after-dinner treat.
You'll Need:
30ml of 

creme de cacao

 (such as Giffard)

30ml of 

vodka

15ml 

of milk or dairy alternative (1 tablespoon)

30ml

 of

 

chocolate liqueur

, plus more for rimming glass
1 tsp of cocoa powder, to rim the glass
Directions:
Add a small amount of chocolate liqueur into a small rimmed plate. Add a small amount of cocoa powder to another plate. Dip the rim of an inverted cocktail glass into the liqueur, then into the cocoa powder. Set aside.
Add the chocolate liqueur, creme de cacao, vodka and half-and-half into a shaker with ice and shake until well-chilled.
Strain into the prepared glass.
5/ Raspberry Martini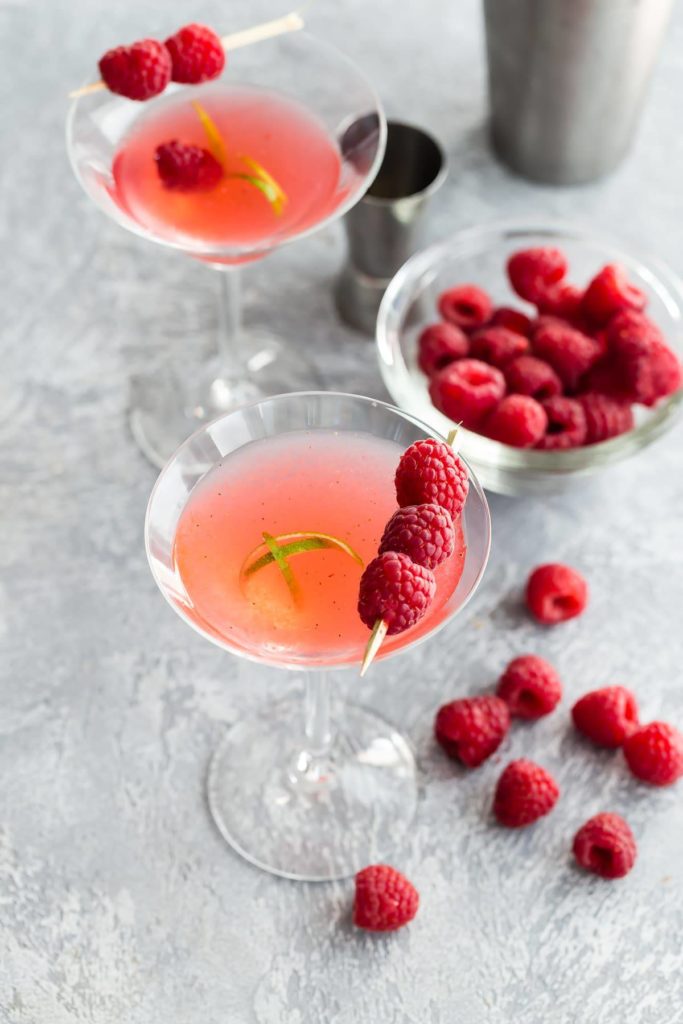 This raspberry martini is a vibrant red cocktail full of berry flavour! Treat yourself to this beautiful sweet drink.
You'll Need:
60ml of vodka

25ml tablespoons

 of cranberry juice (not sweetened)

15ml of

 fresh lemon juice (1 tablespoon)

22ml of

 raspberry syrup (1 1/2 tablespoons)
Fresh raspberries, for garnish
Directions:
Place all ingredients in a cocktail shaker with ice. Shake 15 seconds until cold.
Strain the drink into a cocktail or martini glass. Garnish with raspberries and serve.
6/ Kir Royale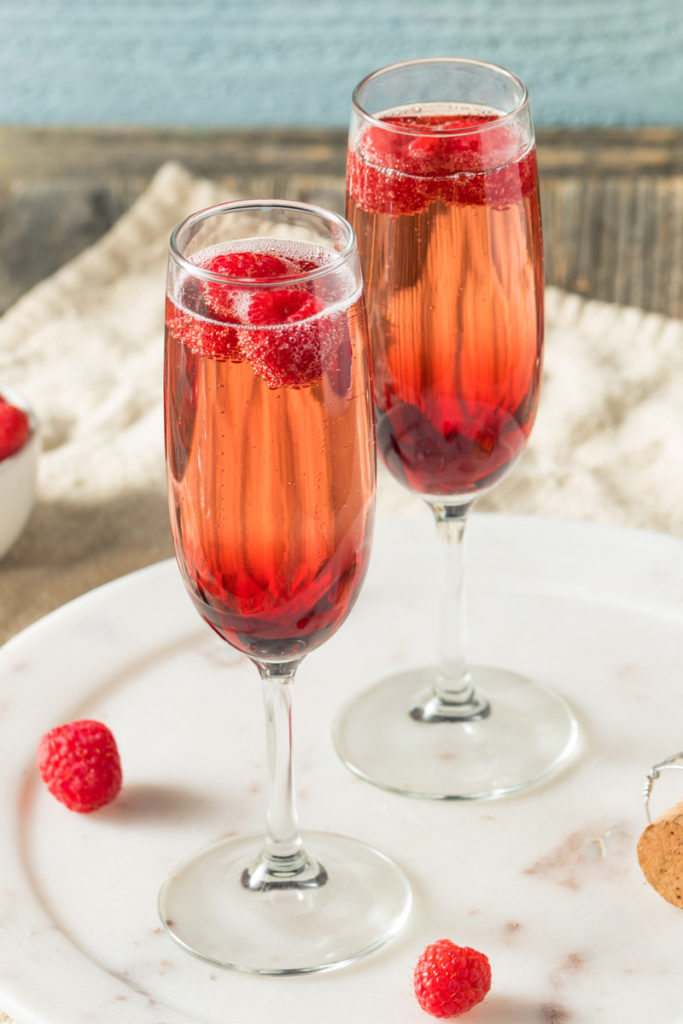 The best cocktails are rooted in simplicity, and there's really nothing better than this three-ingredient drink!
You'll Need:
30ml

 crème de cassis (or substitute Chambord or crème de mure)

120ml

 of Champagne
Raspberries, for garnish
Directions:
Pour the crème de cassis, Chambord, or crème de mure into a champagne glass. Top it off with champagne.
Garnish with raspberries if desired. Serve immediately.
7/ Strawberry Sangria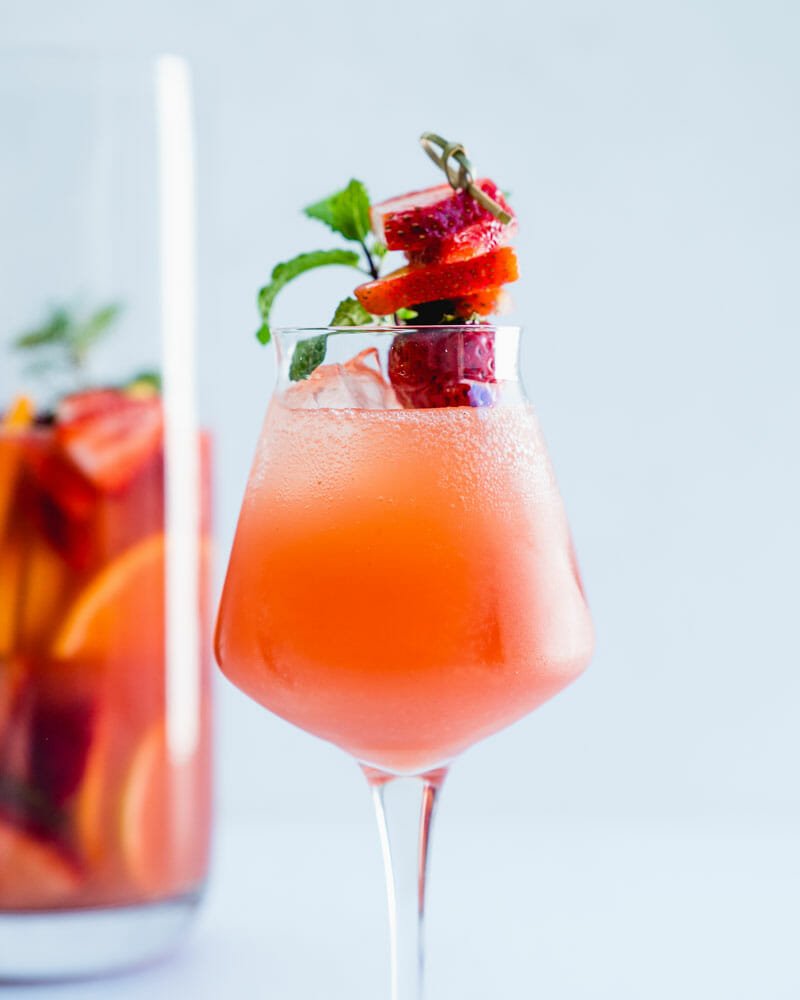 Sweet, cold and 100% delicious! We're absolutely in love with strawberry sangria.
You'll Need:
400g

 whole fresh strawberries
30g granulated sugar

1

 bottle dry rosé wine

120ml of cup

 triple sec, Cointreau or Grand Marnier

1

 handful mint leaves

1

 orange, sliced into rounds

1

 lemon, sliced into rounds
Soda water, for serving
Fresh mint, for garnish
Directions:
Reserve 6 strawberries and set them aside. Slice the remaining strawberries and place them in a blender. Sprinkle them with the sugar and stir.
Let the strawberries stand for 20 minutes at room temperature. Then add ½ cup of the wine to the blender and blend until strawberries are fully pureed. Pour the through a fine-mesh sieve into a large pitcher and use a spatula to press the strawberry puree through. Discard the seeds.
Add the remaining wine and Grand Marnier to the pitcher. Then add the fresh mint, orange and lemon rounds. Slice the 6 reserved strawberries and add them to the pitcher.
Stir and refrigerate the pitcher for at least 1 hour, or up to 4 hours. (Don't go beyond 4 hours or the fruit texture starts to degrade.)
To serve, pour the sangria into ice-filled glasses and top with a splash of soda water (if desired). Add fruit to each glass, preferably on long skewers for easy snacking.
8/ Pomegranate Gin Fizz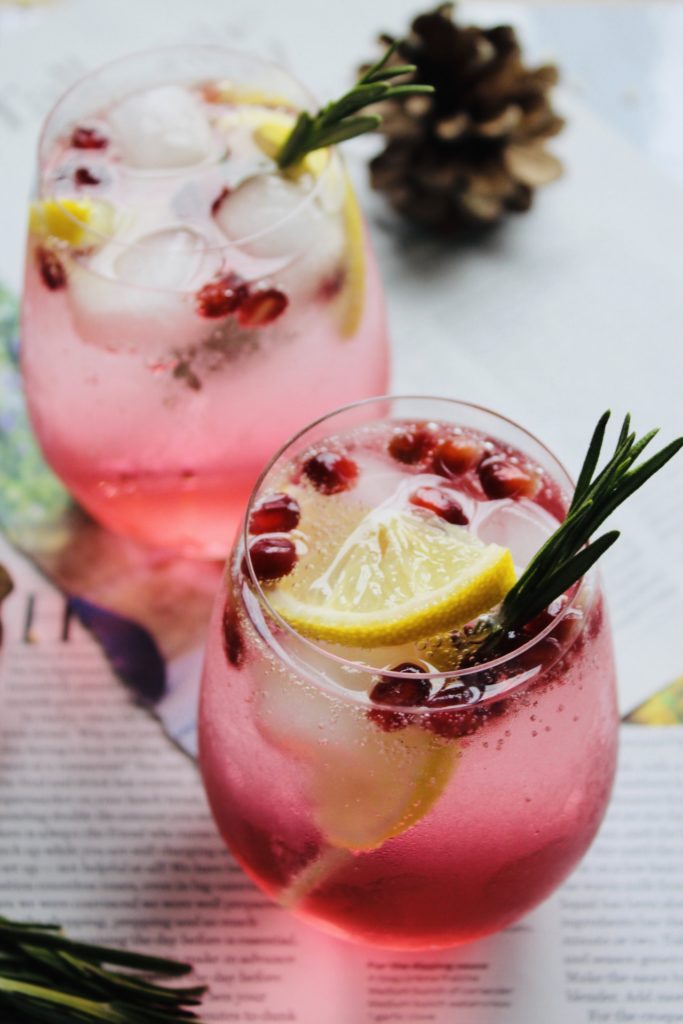 Pink and pretty, a gin fizz is a wonderful after-dinner palate cleanser. Easy to sip, easy to enjoy and easy to make!
You'll Need:
60ml of gin
120ml of pomegranate juice

15ml of

lemon juice (1 tablespoon)

22ml of

 simple syrup (1 1/2 tablespoons)

1

 egg white

30ml of

 soda water
Rosemary sprig, for garnish
Directions:
Place the gin, pomegranate lemon juice, simple syrup and egg white in a cocktail shaker. Shake vigorously for 15 seconds.
Fill the shaker with ice and shake for 30 seconds until cold.
Strain the drink into a glass and top with the soda water; the egg white foam forms on top. If desired, garnish with a rosemary sprig. Serve immediately.
9/ Rosé Punch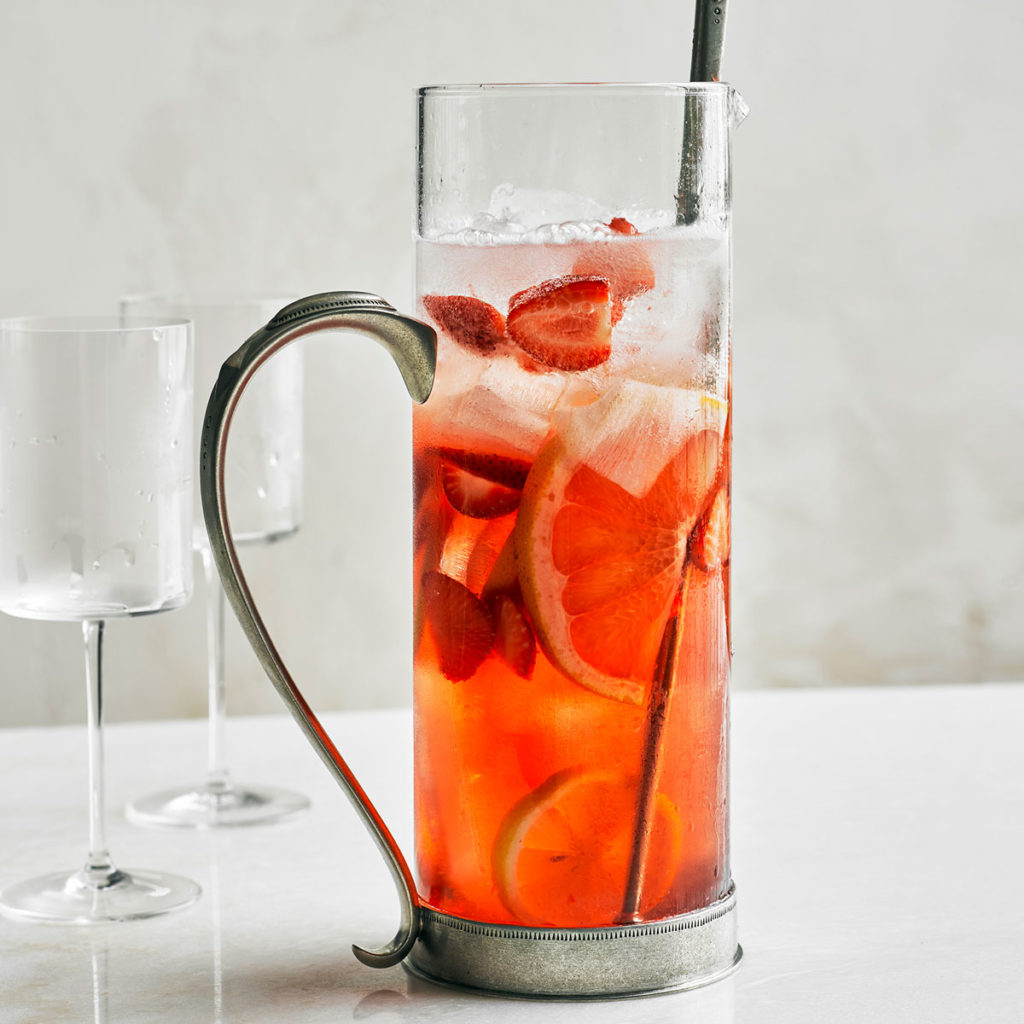 If you're having a romantic lunch then this rosé punch is a great accompany a light meal while you enjoy the crisp Irish air!
You'll Need:
750ml bottle rosé

80ml of 

vodka
355ml of blackberry sparkling water
Juice of 1 lime

30ml 

honey (Two tablespoons)

1 

lime, sliced

50g of 

blackberries, plus more for garnish

25g of

raspberries, plus more for garnish

25g of

sliced strawberries
Ice
Directions:
Combine all ingredients in a large pitcher and stir to combine.
Serve over ice and garnish with berries.
10/ Strawberry Mojito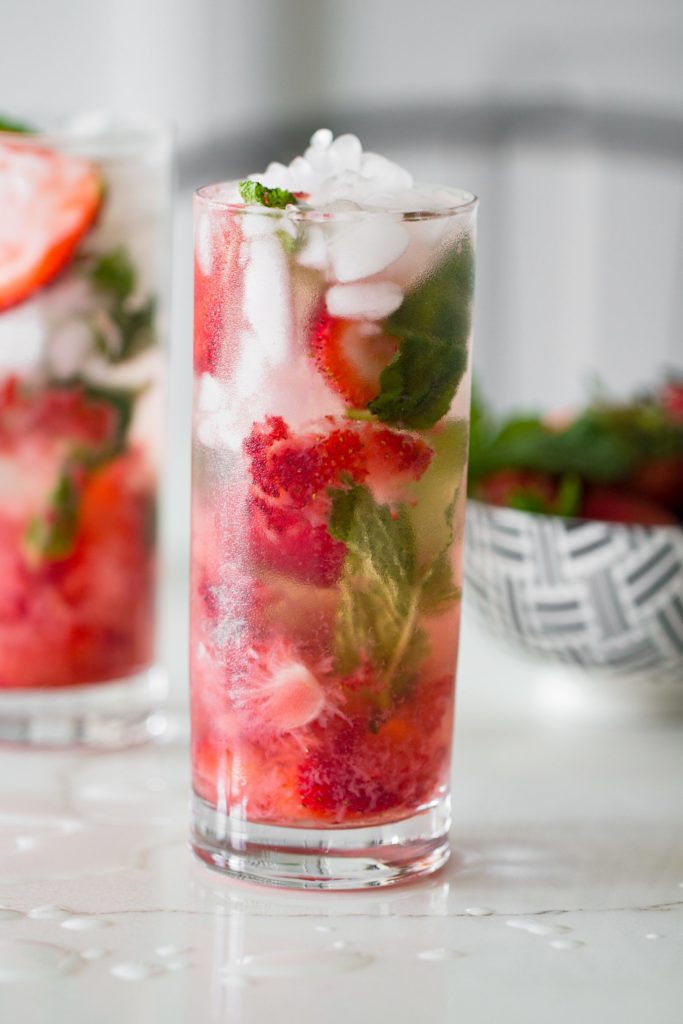 A sweet take on a personal favourite cocktail! This strawberry mojito is a crowd pleaser and a guaranteed success on Instagram.
You'll Need:
6 strawberries
1 lime, chopped into large chunks
10g granulated sugar (2 teaspoons)
2 mint sprigs, leaves picked
100ml white rum
Sparkling water, to serve
Ice
Directions:
Divide the strawberries, lime and sugar between two tall glasses and muddle by gently crushing with a muddler or the end of a bar spoon. The fruits should start to release their juices, which will mix with the sugar.
Put half the mint leaves in the palm of one of your hands, then clap the other hand on top of the leaves – this bruises them just enough to release their flavour. Drop the bruised mint leaves into one of the glasses, then repeat with the remaining mint, dropping it into the second glass.
Add a handful of ice to each glass, followed by the rum. Stir, then top up with sparkling water. Stir briefly until just combined, then serve.
- Gráinne