Before you say I do you have to pick the wedding rings, and after a year or more of wearing your dream engagement ring there can be quite a lot of pressure on the wedding band to live up to its pair!
1/ Match Metals
It's pretty obvious that if you want your ring suite to look cohesive then the first port of call is the metal both rings are made from. Not only is this for aesthetics but also you have to consider how different metals react to external factors like wear and tear, the use of products and your general lifestyle. Not to mention you've been wearing the engagement ring for at least a year before putting on the wedding ring so it's going to look a little more broken in than its companion; gold, silver, and platinum bands can eventually lose luster if they regularly come into contact with beauty products like hand cream & hair spray. However, if your heart is set on a mixed metal suite then go for it! Mixed metals can really give a wedding set a modern look and honestly there are no rules when it comes to metal pairings, and your final decision should ultimately be a personal choice.
2/ Ask The Expert
If you're having trouble finding the perfect pair for your engagement ring then don't be afraid to ask the professionals for their advice! If your engagement ring was custom made then reach out to the jeweller and see if they have any design concepts that not only look but feel like the perfect ring for you and your engagement ring. It can be hard to come across the sister to your engagement ring so don't be afraid to get it custom made! Not only will the look be perfect but your jeweller can take a look at the wear and tear of the engagement ring and recommend settings and metals that they think will work well with your lifestyle.
3/ The Types Of Band
Your engagement ring band and stone setting play a big factor in your choice of wedding ring. If you've opted for a simple classic stoneless solitaire band and setting then you have more free reign with the wedding band as you don't have to worry about covering stones on the sides or the setting being too close to the finger to accomodate another ring nestled against it. However if your engagement ring has engraving, inset stones or a unique design that you want to remain visible then it can be a little tricker, in that case many brides will choose a ring that is tall enough to sit alongside the engagement ring without actually touching.
4/ Paring Suggestions
Round Cut
Round center stones are a popular choice for engagement rings. What's more, they're also extremely versatile and any type of band will match them. If you've opted for a more classic round cut then maybe play around with the pairing and build a truly unique set.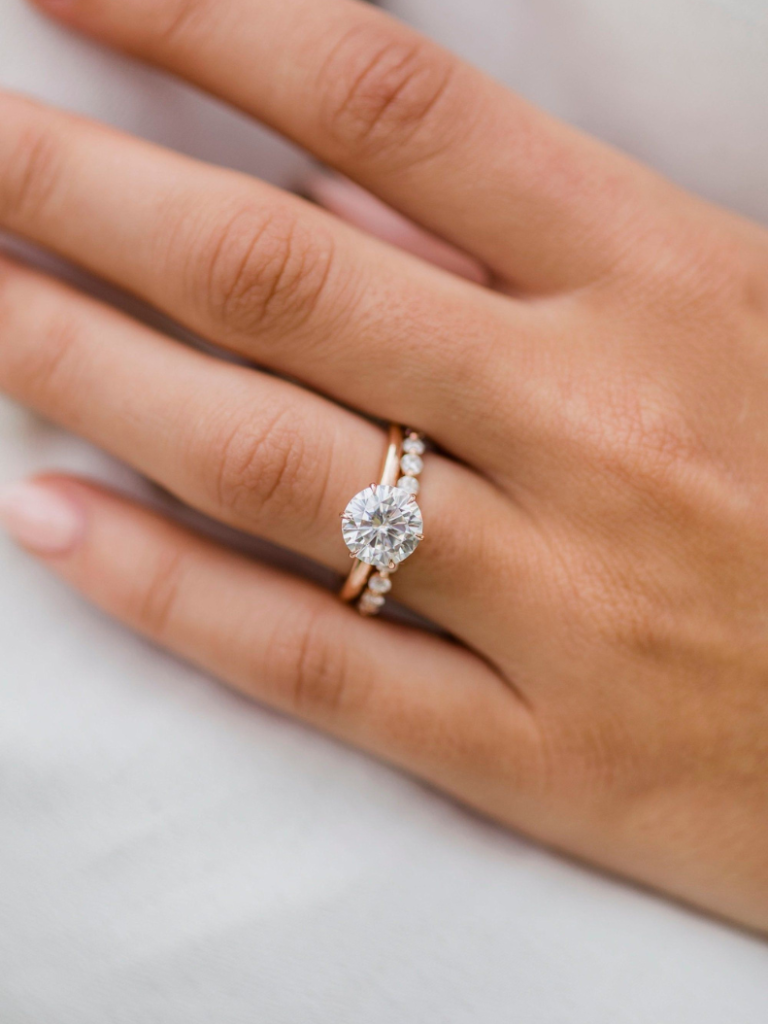 Princess Cut 
Look for a band that features small round diamonds, like a pavé eternity band. Princess cuts have a different brilliance because of the cut pattern, and adding round-cut stones really ups the sparkle. For a more art deco look play with the geometric shape of the Princess cut and make its match with two contoured bands to encapsulate it!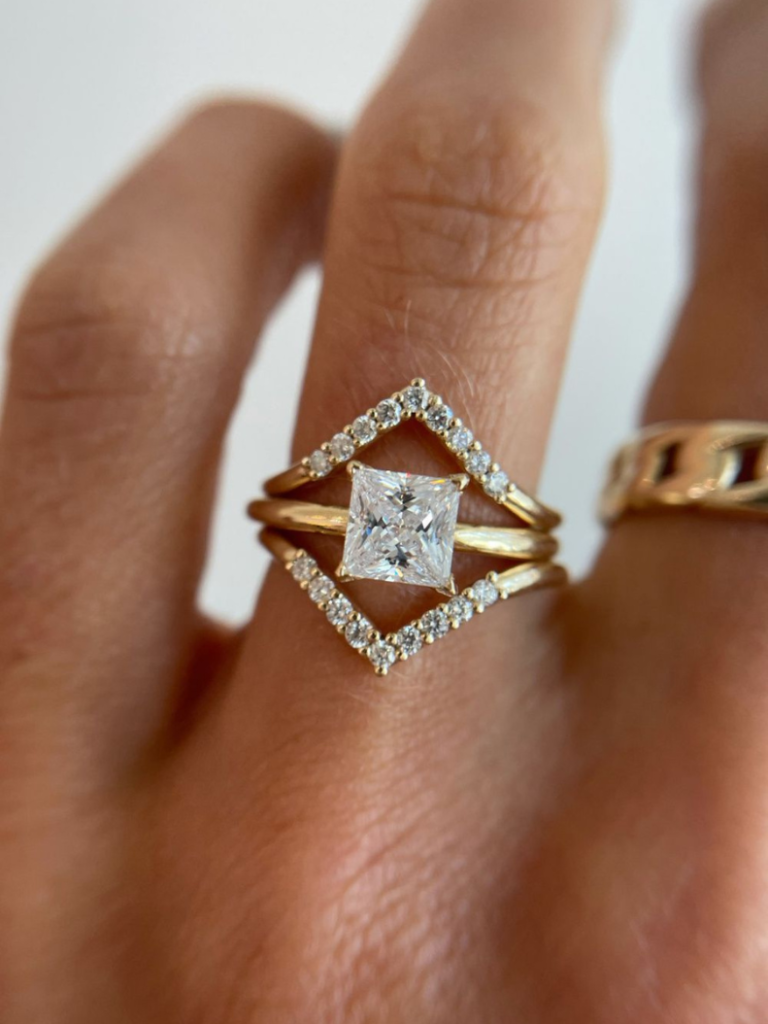 Cushion Cut
While opposites attract in terms of princess and round cut, cushion cut centre stones look great with other cushion cuts. If your engagement ring has quite a large stone, allow your cushion cut to stand out and pair it with a stoneless wedding band!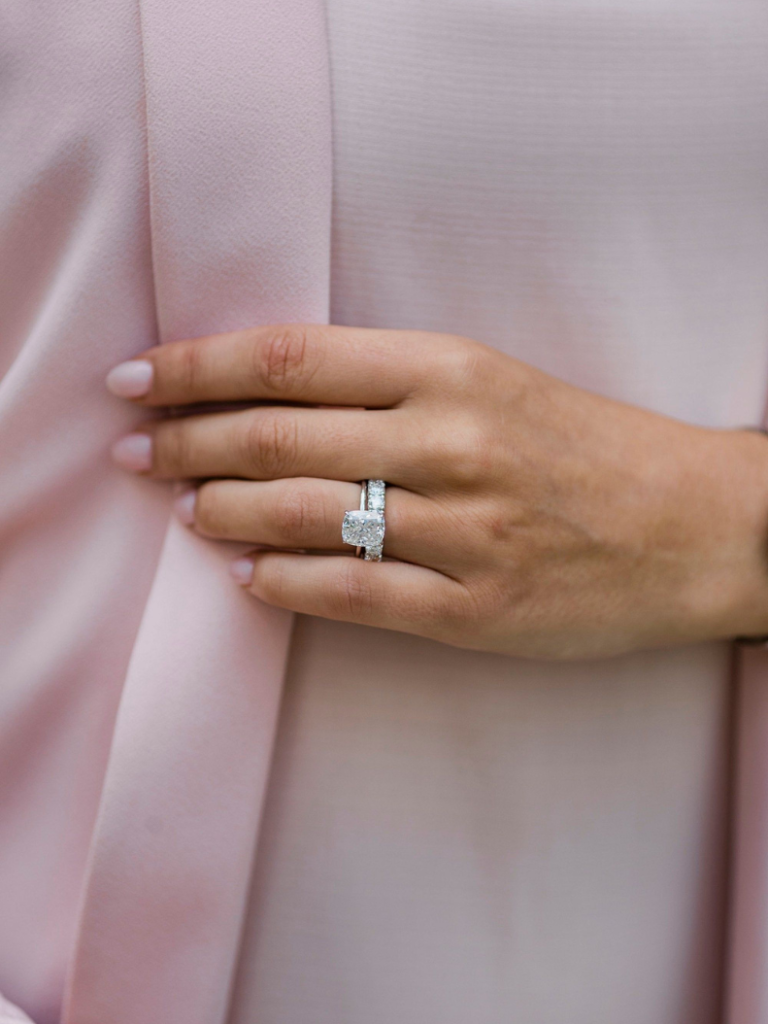 Emerald Cut
An emerald cut is a statement piece, and the band should emphasise the stone even more. Emeralds are not as reflective and brilliant as a traditional round cut. Adding a simple round-cut band adds the pop you need to top off this classic cut.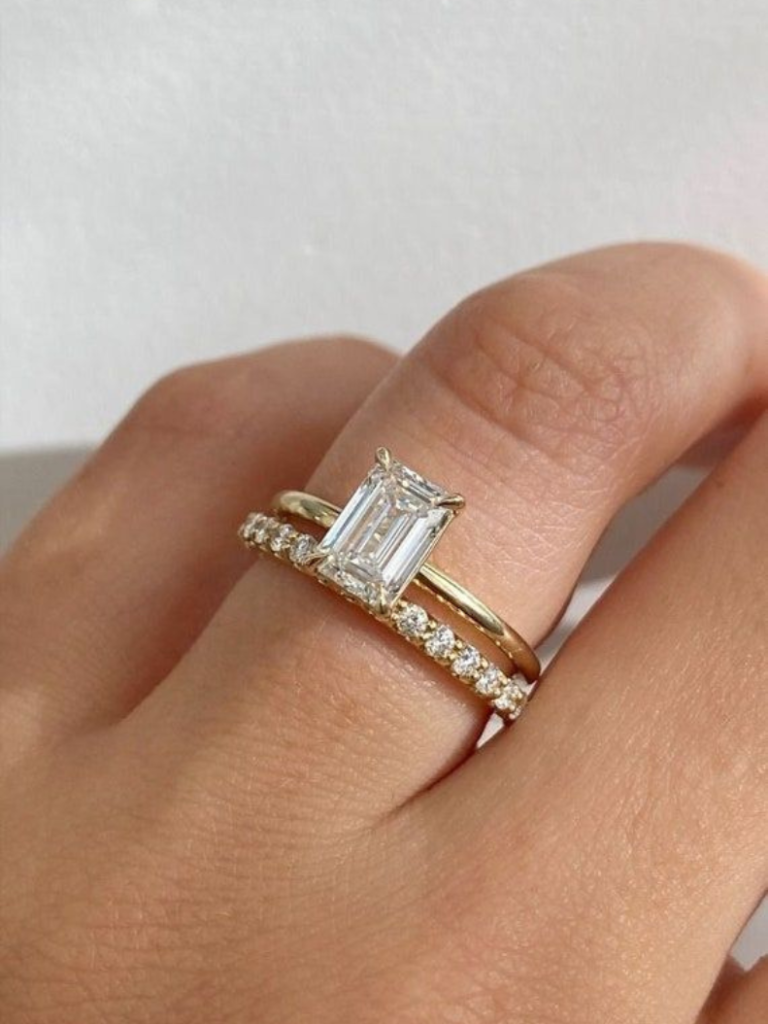 Marquise Cut
If your marquise stone does not sit in a high setting, it can be difficult to find a band that sits flush with the ring. Typically a contoured band is the best fit, as it hugs the stone vs competes with it. Using a combination of round and pear cuts can create a really pleasing contoured or V-style band for this cut.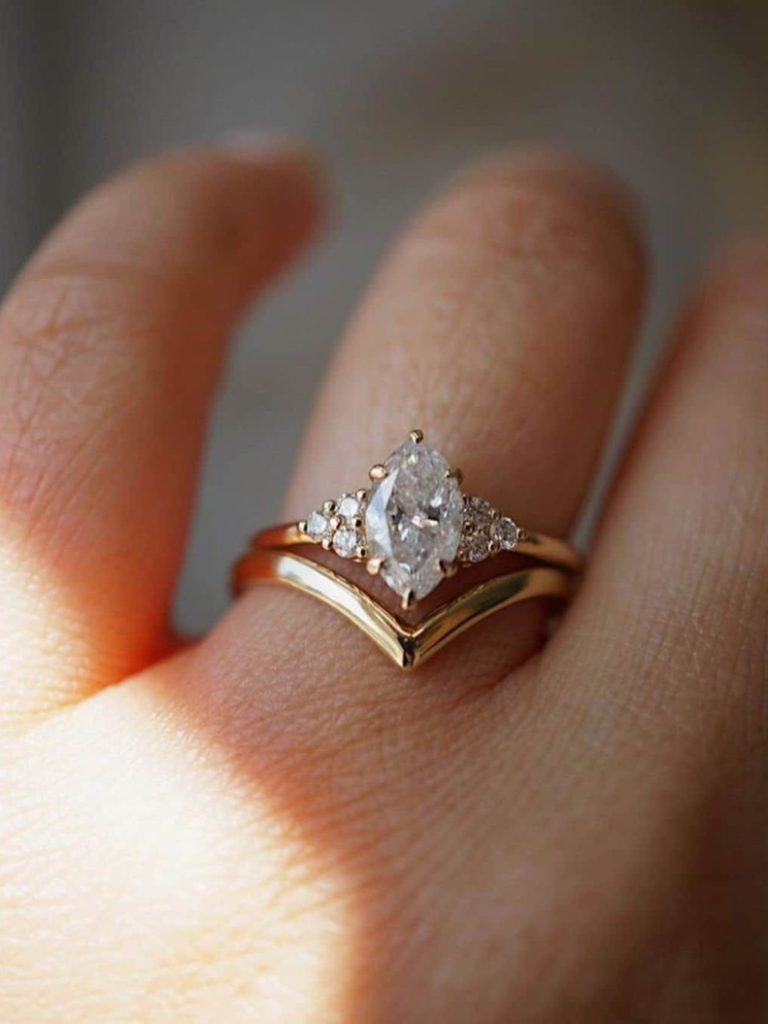 Oval Cut
To maximise the sparkle of your stone pair an oval-cut diamond ring with a band that features oval stones as well. The result is a beautiful matching band that makes the whole set more interesting.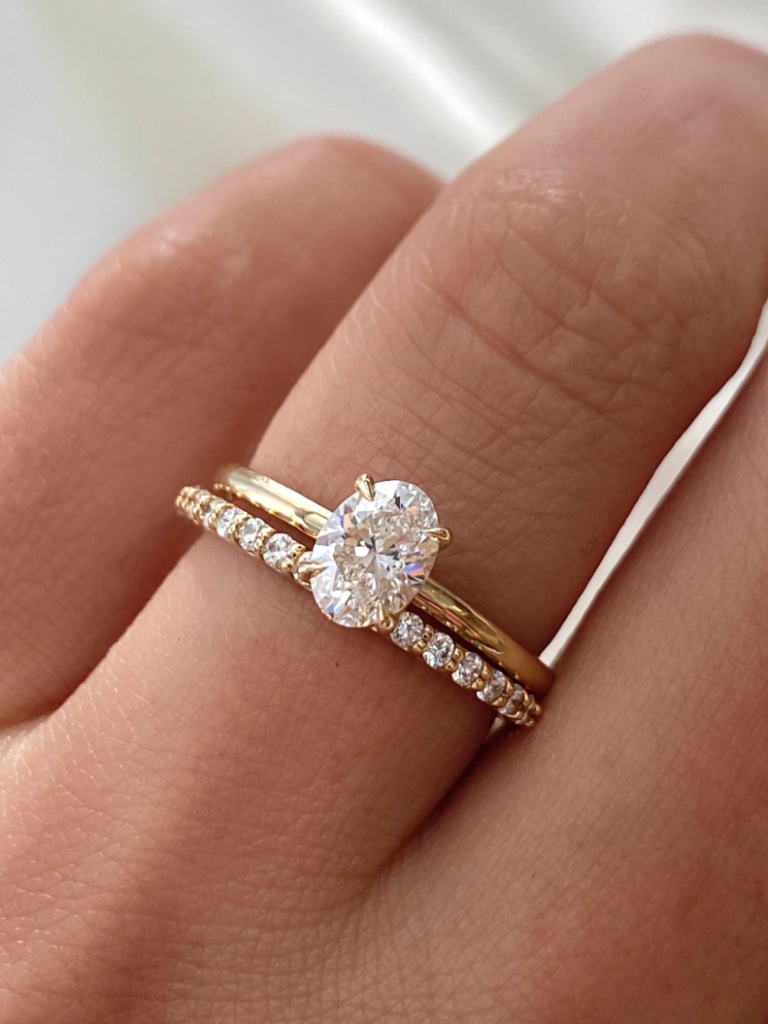 Radiant Cut 
Radiant-cut diamond rings look good with pavé bands if you want to mix up the diamond cuts, but they also look great with other radiant cuts. We would typically recommend against a ring designed to contour the stone with a radiant cut as it can look awkward and clumsy unless done really well.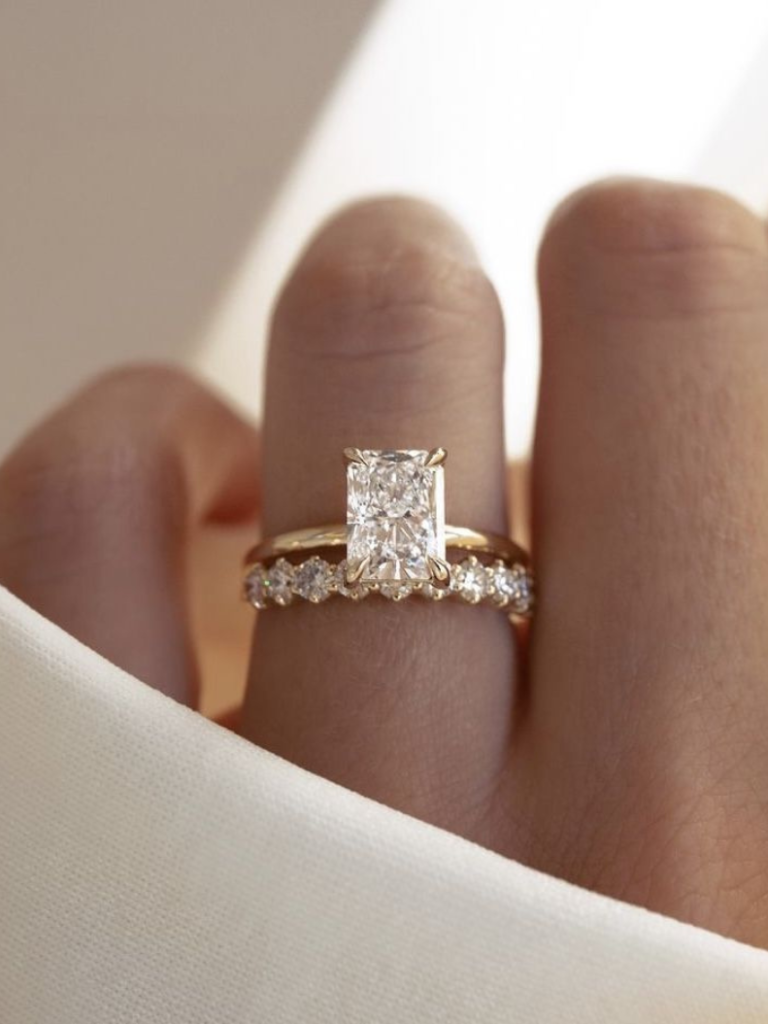 Pear Cut 
If there was ever a time to use a contoured band, it would be with a pear-cut diamond ring. Because of the heavy bottom on the stone adding a contoured sister ring gives the set a flow that feels perfectly considered. Pear-cut rings also look beautiful with embellished bands with a crown.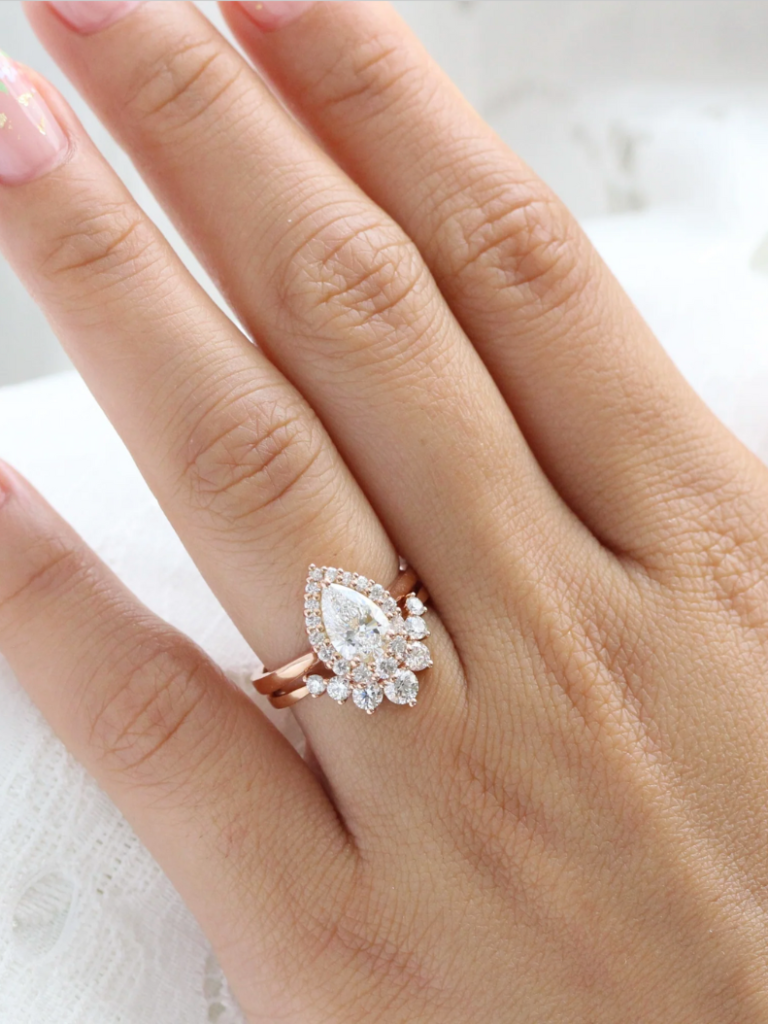 - Gráinne