Renowned for her distinct ability to fuse vintage glamour with an astute modern twist, British designer Jenny Packham's hopelessly romantic gowns have been the go-to for wedding and red-carpet events for more than three irrefutably stylish decades — and, writes NINA CATT, it's easy to see why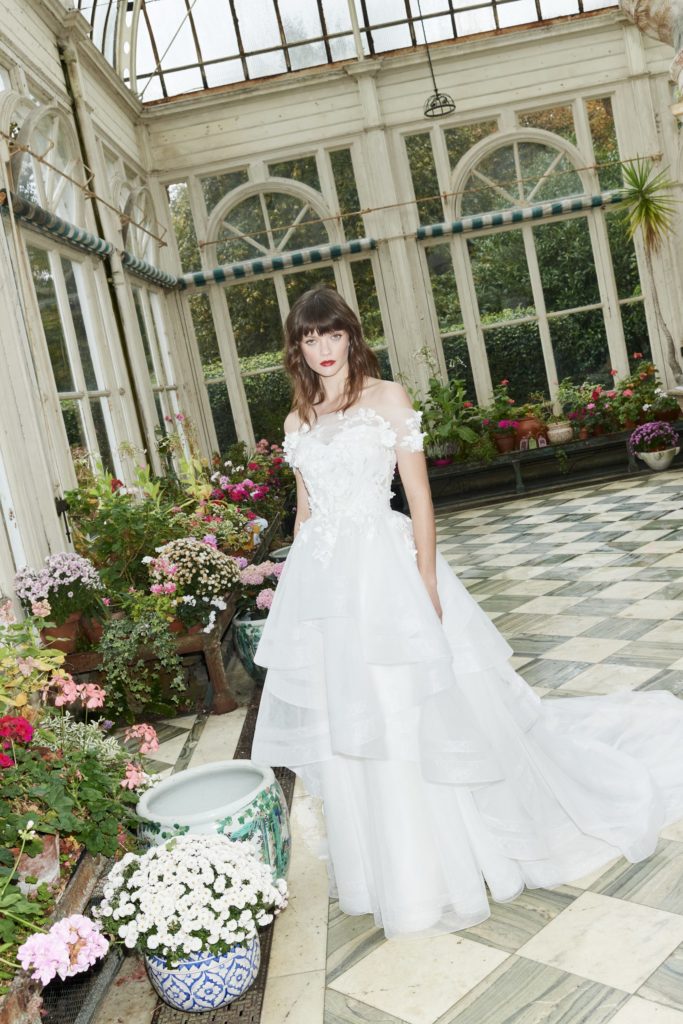 Jenny Packham is one of those designers that every woman has heard of. The mere mention of her name is usually met with a recollection of a gown that lit up a red carpet or highly-publicised awards event, which doesn't come as a surprise considering her breath-taking designs are worn by some of the most photographed women in the world including the Duchess of Cambridge, Angelina Jolie and Rihanna. 
Born in Southampton, England in 1965, the award-winning designer launched her eponymous label in 1988, shortly after graduating from London's esteemed Central St. Martins School of Art. Her business partner? Husband, Mathew Anderson. Characterised by dazzling embellishments, experimental textiles, and a poetic abundance of romantic ruffles, there is no denying Jenny Packham is a storyteller at heart and her passion for her craft runs through the seams of each and every exquisite piece. Ethereal brides take note. Hot on the heels of her sixth capsule collection for Net-a-Porter and the release of her book, How to Make a Dress, we caught up with the woman behind the brand for a sneak peek into her sequin-embellished mind…
In just three words, how would you describe your brand? 
Modern, elegant and inspiring.
Who is the Jenny Packham woman? 
She is someone who loves to make an entrance but in a sophisticated way. She loves to feel confident and at ease with herself.
Please tell us about the driving force behind your label?
I have only ever wanted to design special-occasion gowns in unforgettable styles. From our very first collection to now, my husband Mathew and I have worked to build a brand renowned for timeless elegance and craftsmanship. We have been fortunate to be represented in some of the most luxurious stores in the world and to dress many of the icons of our age.
What has been your biggest highlight to date? 
I have been so lucky to have had so many highlights! One that springs to mind is back in 2012 when I created a dress for Kate Winslet in just four days for the Titanic 3D premiere at the Royal Albert Hall. It was such a privilege to work closely with Kate on her dress, I will never forget that experience.
Any other favourite memorable celebrity moments?
We created a dress for Adele when she received her Oscar in 2013. I am a huge fan of hers and to create a style for such a moment for her was truly wonderful. After the awards, Adele returned the dress to us which was a surprise.We gave it to her as a gift — it was important to me that she kept it.
What are the main differences between designing for a bride and designing a red-carpet look?
When creating a bridal gown, magic needs to be woven into its fabric. A bride must fall in love with her dress as it will stay with her forever, as part of her history. A flattering silhouette, delicate details and an amazing back design are important but, for me, the way the dress moves is paramount. There must be an otherworldly quality to the design and whilst bridal trends in recent years have been more fashion-focused, the wedding dress often stands alone as a gown worn once, for a unique occasion and can therefore escape the fashion of the time and be an expression of so much more. A red-carpet dress is a flight of fancy — an eye-catching design to illuminate its wearer and inspire others. Like a wedding dress, it can be ethereal but it can also be avant-garde, challenging and more daring than a bridal dress should ever be.
Do you have an all-time favourite wedding gown design?
We made a dress called Papillon which I loved. It was inspired by a piece of jewellery in the Musée des Arts Décoratifs in Paris. The dress is just like a butterfly — light and ethereal; the perfect wedding dress. 
Is there a common inspiration that runs through your bridal collections? 
When I design a wedding dress, my aim is for a woman to fall in love with its design, the details and the way it moves. I always design with my heart.
What silhouette will never go out of fashion? 
The ball gown will never disappear. It is so hopelessly romantic and otherworldly that it cannot be replaced.
What's the one piece of advice you have for brides when trying on gowns or looking at designs for the first time? 
Be daring, experiment! For many women this will be the first time they have tried on bridal silhouettes, so it's good to try different shapes and fabrics to see how you look and feel in them.
How has the pandemic affected bridal fashion and attitudes towards the dress? 
It's an exciting time for bridal wear despite the difficulties of the past two years. Now brides
are looking for something different, more exciting. I believe they will be choosing styles that reflect this moment rather than a timeless style. Being together with those they love will feel so special that perhaps the importance of the dress will fade a little, and the bride may make more daring choices. This will shake up the history of bridal fashion.
You've recently launched an exclusive capsule collection for Net-a-Porter. Can you tell us about this?
As always, we work with the team at Net-a-Porter to design styles that are both unique and desirable. Inspired by the ethereal style of the Greek goddesses; Hera, Aphrodite, Athena and Demeter, this is my sixth capsule collection exclusive to the luxury e-tailer. The capsule features four gowns comprising honeysuckle-pink pleated glitter tulle, diaphanous eau de nil chiffon adorned with our signature embellishments, a deep blue/green crêpe column gown and the classic wrap-over gown embellished in blue sequins, and feathered statement sleeves. The capsule brings together a collection that is as romantic as it is empowering and the colours reflect women's love of vibrancy.
You've also just penned a book. What inspired you to write, How to Make a Dress? 
I have always wanted to write a book from the creative's perspective, about fashion. I didn't know it would be a memoir until I began writing, but in order to explain how I make a dress, I blended my memories with the art of designing and creating a style and sprinkled it with anecdotes from my life in fashion. It is not perhaps what the reader may expect, but my job as a designer is to always surprise!
Finally, what is your vision for the future of your brand? 
During the pandemic period we have been lucky to have been asked to collaborate on so many new projects, and we quickly evolved to navigate the challenges we have met along the way. My hope is that we will come out of this time into an exciting new era of creativity, and that women will want to dress up more than ever and celebrate.We will be ready!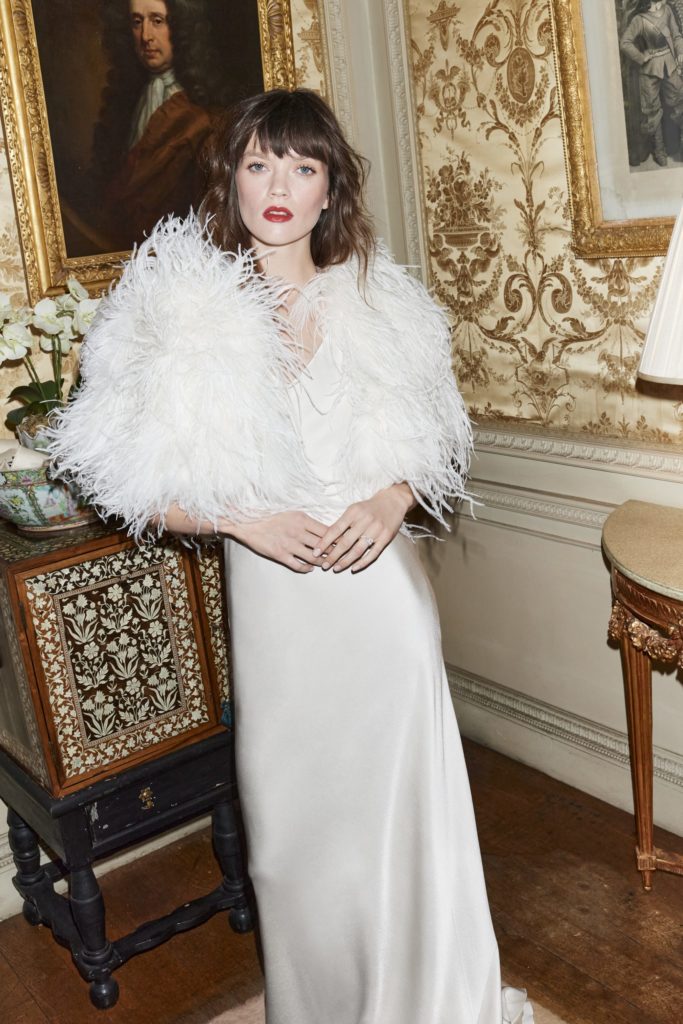 Jenny Packham is available in Ireland at Sharonhoey.com