We know we like to focus a lot of our time and attention on the wedding dress and all things bride related, which may leave grooms feeling a little hard done by. But don't worry, because this time it's just about you boys. We know it's equally important for the groom to look good standing atop the aisle when all eyes will be on you too. Sure, many of you will already have gone out and researched the best tailors in Ireland and are focusing on getting the best fitted and quality suit you've ever had in your life. While the quality and fit is no doubt important, so too is the style. We have already given you guys a rundown of all the terms and different styles you may need to consider before the big day, but this time we're going to let someone else take the lead. By someone else, we mean the likes of Balmian, Ralph Lauren, Tom Ford and Dolce & Gabbana, just to name a few. The biggest designers in menswear in the world have unveiled their Fall 2015 collections, and we have picked out the biggest trends for the groom to take note of when it comes to choosing his style of suit.
Double breasted jackets and waistcoats: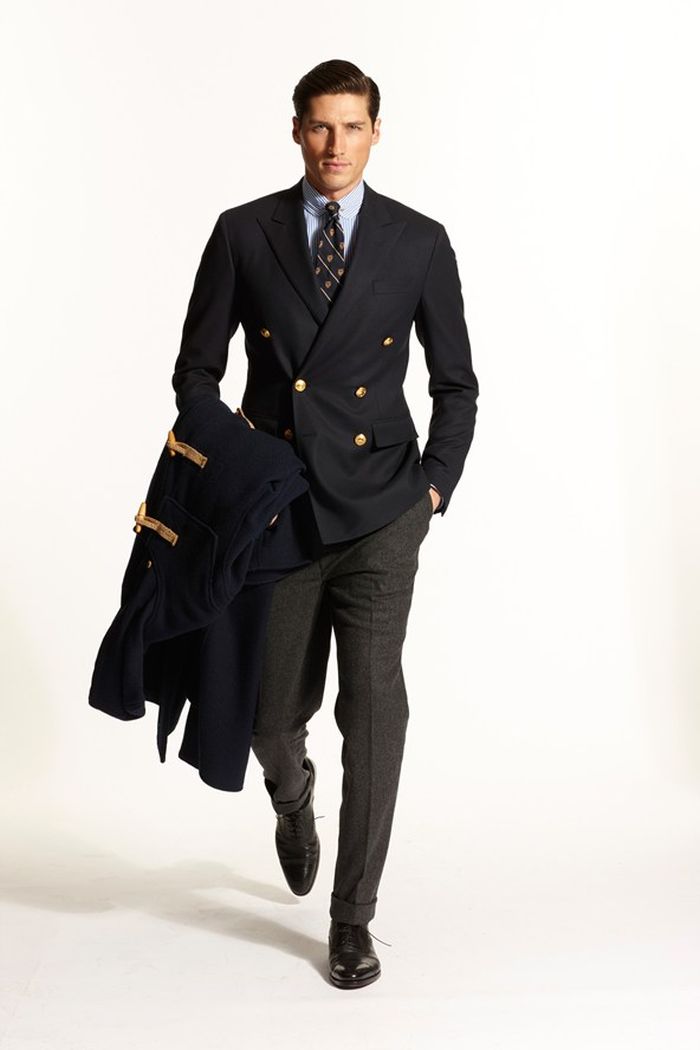 Among the style trends we spotted this season were the ever-loved classics for the groom, which are double breasted jackets and waistcoats. These reliable style staples were shown by designer after designer in the Fall 2015 shows, proving that they would not be leaving the runways anytime soon. Such classics included the ever powerful jacket that is the double breasted suit jacket, trimmed with gold buttons and lavish touches, ready for a luxe, opulent affair like a wedding. Dolce & Gabbana and Calvin Klein gave us very clean cut, tailored jackets, perfect for the suave groom who wants to appear on his wedding day with a quiet, easy sophistication.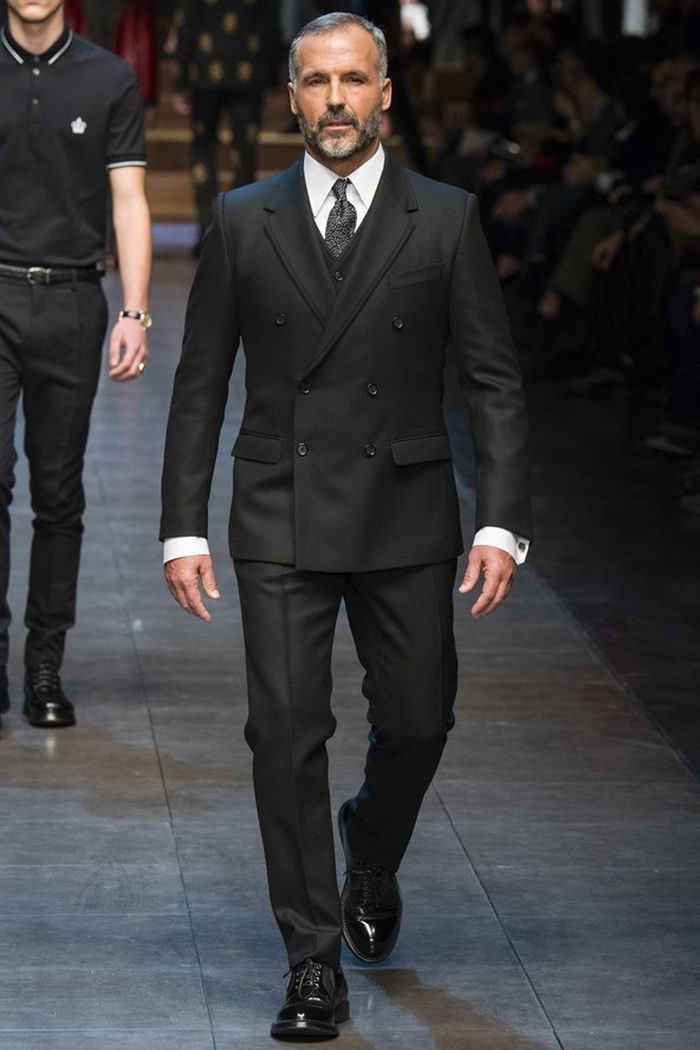 Focusing on the waistcoats, Ralph Lauren gave us a particular characteristic and timeless ensemble in the form of his structured, double breasted waistcoats and tuxedo jackets, all paired with an inside, semi visible pocket watch chain. This very old fashioned, gentlemanly-like ensemble was dripping in occasion, perfect for the groom who wants full formality and ceremony at his wedding. The entire outfit was so elegantly put together and grand, it was the epitome of wedding attire, ideal for a high noon cathedral wedding paired with top hats and tailcoats.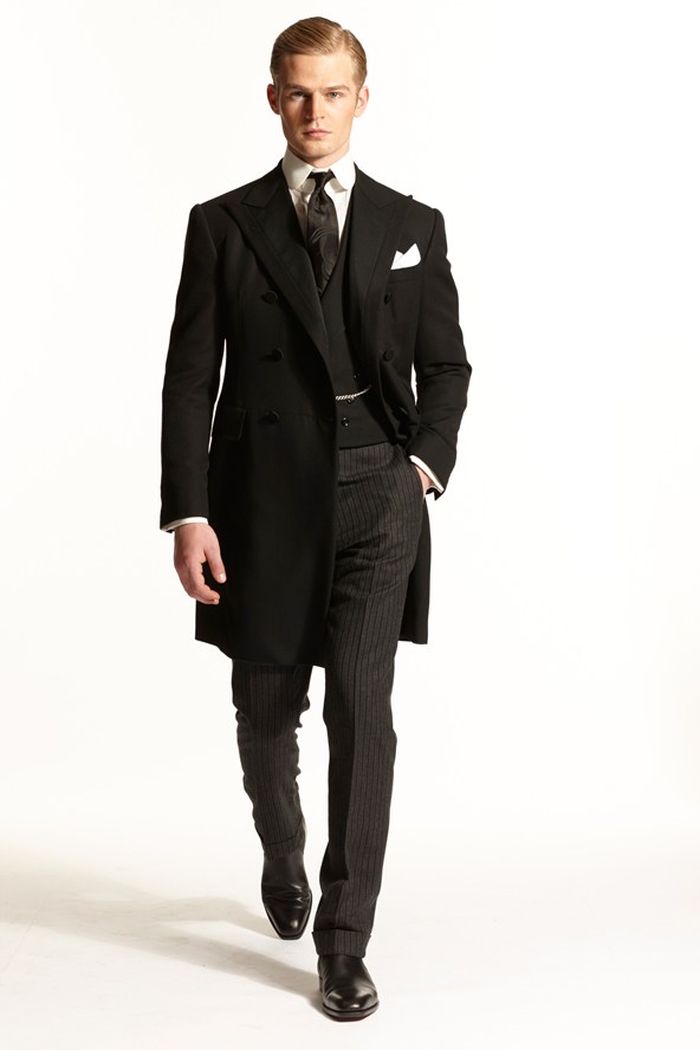 However, breathing a bit of modern life into these styles were the more casual and relaxed waist coats in the form of cardigan and cotton vests. Even forgoing the suit jacket entirely, and opting instead for a casual cardigan over the pants and tie, this was a move further into the trend of casual grooms. Giorgio Armani perfected this look with their slim, black, button down cardigans and cotton rich waistcoats. Perfect for a groom who wants a casual overtone whilst still keeping some of the more formal style elements in terms of a button shirt and tie, or even as a style change after the ceremony for a more relaxed feel in the reception.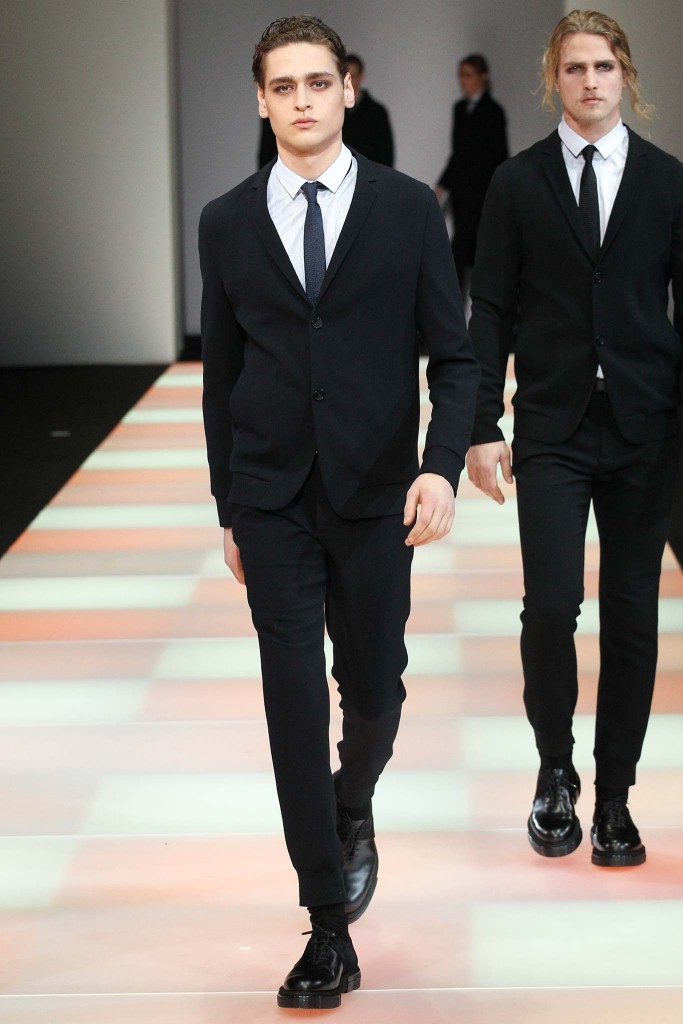 Moving on from the traditional take on grooms wear, the menswear collections of Fall 2015 gave us three new huge trends for the oncoming year – velvet, turtlenecks and prints. These trends were all over the catwalks, from velvet lapels and folding polo necks to smoking jackets and printed, embroidered suits. Many of the designers featured at least one, if not all three of these styles in their collections. Each style serves its own purpose for the groom, and each of the three have very different, distinctive tones.
Prints: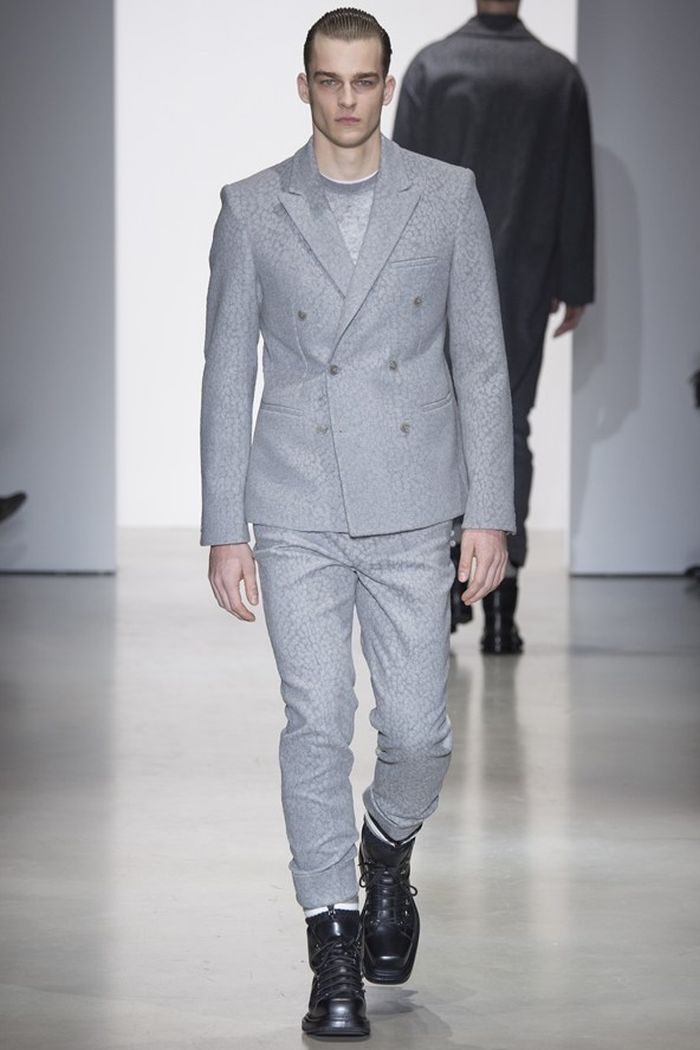 Printed suits are a take on the huge desire for mismatched groom attire that's been in demand for the past few years. The more that couples have gone ahead and decided to make their wedding their own in every sense of the word décor, the more grooms have decided to opt for bright prints and mismatched suits to convey a sense of personality and uniqueness. The idea of uniformity and formal, plain attire has lost its appeal for some grooms. This is mainly due to the basic concept that your wedding day is considered to be one of the most important days of your lives, so grooms have decided to brighten up their attire to match their mood. Often, it's also a great way to incorporate the full groomsmen party into the theme by giving them their own print or colour. Designers have not let this new era of individualism go unnoticed, and this season it is all about bold prints and striking designs.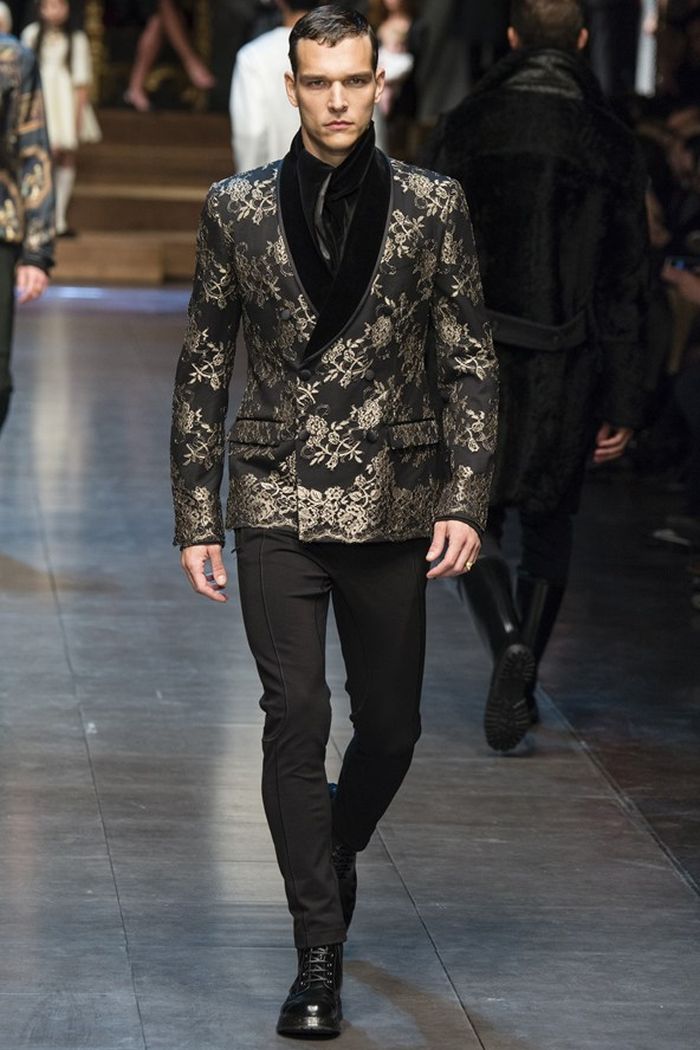 A lot of the jackets have intricate embroidery on them, with many still keeping the classic black colour and donning a further level of embroidery and adornment with a plain, unadorned lapel. For example, both Dolce & Gabbana and Roberto Cavalli have created effortlessly stylish suit jackets in all black that feature a striking silver-lined embroidered pattern. While the Cavalli jackets have a monochrome effect and sheen finish to make them full of attitude, the D&G carry a more baroque, art deco opulence that gives them a brave elegance. These black embroidered suits are a definite must-have for the groom who wants to look suave at the altar on his wedding day.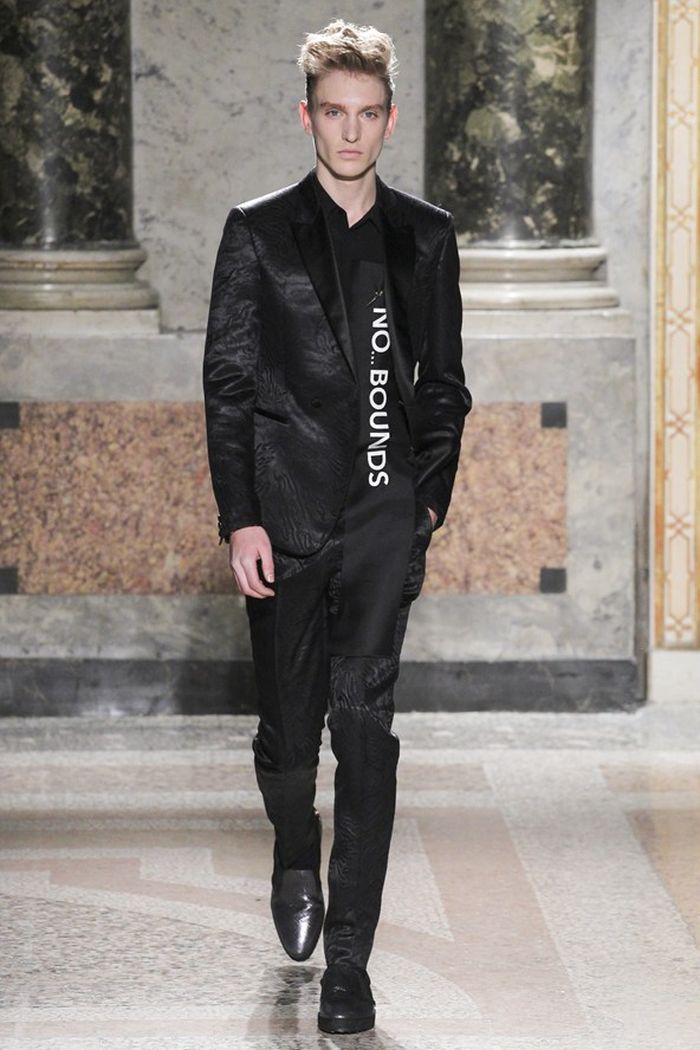 Similarly, bright and versatile prints were seen in the suits by Tom Ford and Gucci, where there was a distinctively retro throwback to the swirls and patterns of the sixties. Others have kept the prints and styles slightly more familiar and safe, like that of pinstripe and check. Marc Jacobs, Ralph Lauren, Versace and Givenchy all gave us suits donned in pinstripes and check. The pinstriped suits have been a favourite ever since their surge in popularity in early 2000, and this season the designers have reinvented and created the pinstripe to a sleek, modern suit. In terms of the check suits and jackets, among Marc Jacobs and Ralph Lauren tailored perfectly for the groom who wants to incorporate that dapper yet laid-back theme into his wedding. Especially with the ongoing trend of contemporary casual, where the grooms are embracing all things chinos and tweed, check patterned suits fit into this category with ease. Our favourite is easily the Ralph Lauren checked jacket, perfect for a casual yet stylish groom and his groomsmen.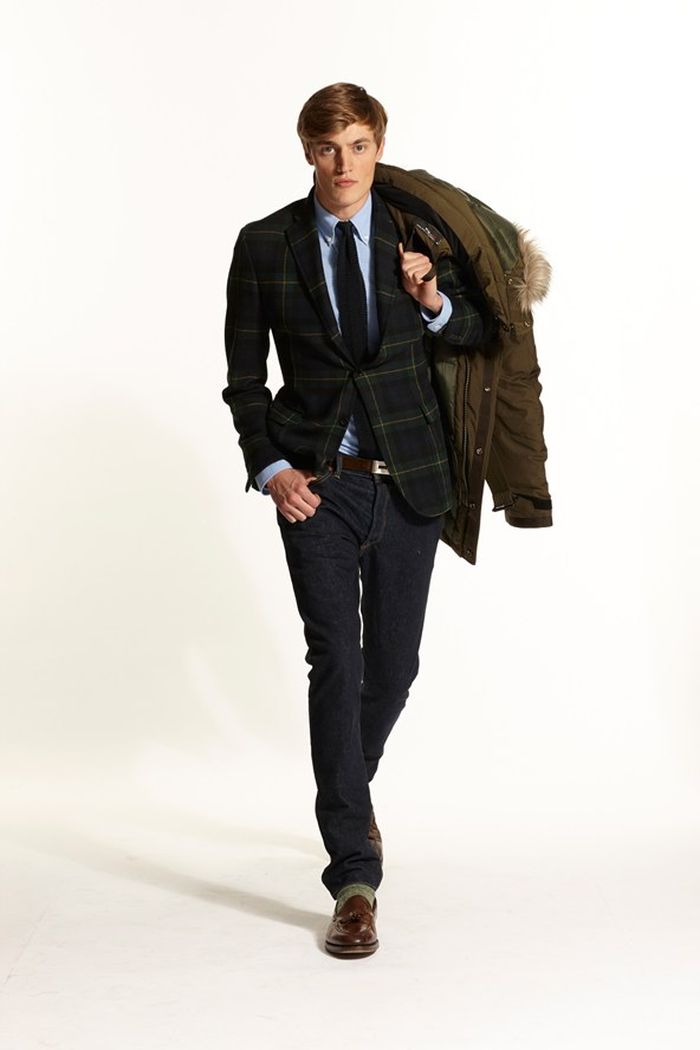 Velvet: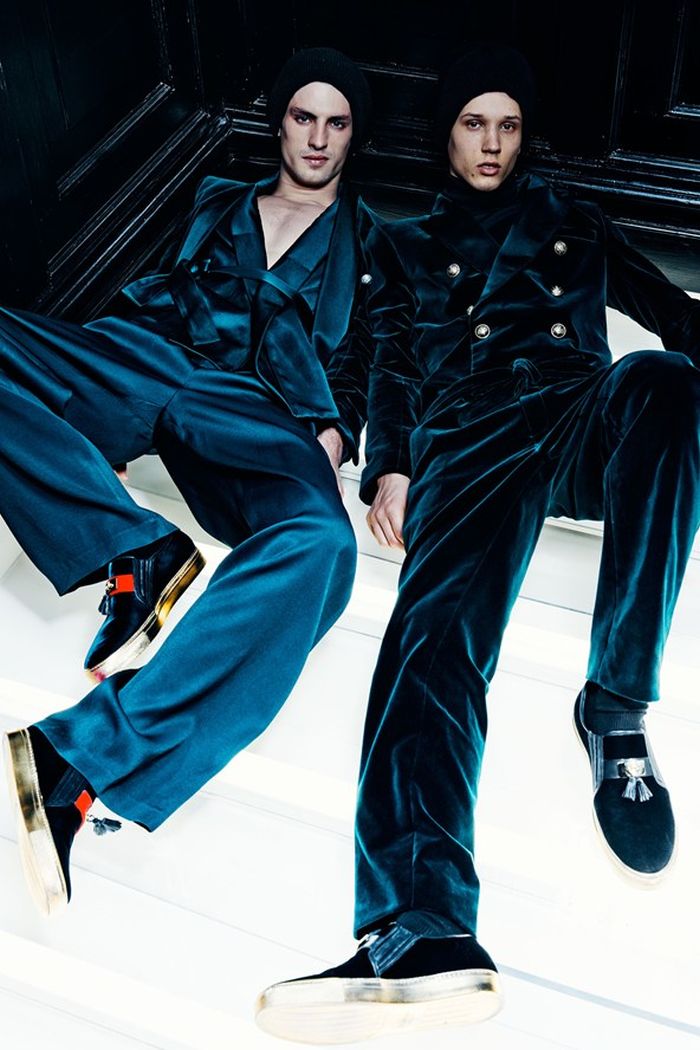 This a trend that we see sneaking in and out of collections every year. Only this year, the difference is that its presence is magnified by the number of designers who have chosen to include velvet in their suits. From Dolce & Gabbana to Balmain and Marc Jacobs, velvet is an ever present design feature this year. From full fabric suits to detailed velvet touches on the pockets and lapel, this is a trend that has come into full effect for the season ahead and has put its stamp on groom fashion. The nature of the material is to lend a lavish finish to the jacket, with many seeing this style as a very old-school, charming alternative to your typical suit. It was a huge feature of the Dolce & Gabbana collection, working its way from fully velvet suit jackets to velvet suit lapels paired with a deep, contrasting charcoal grey. The effect was the pinnacle of sophistication and confidence, a perfect grooms wear piece for an evening reception and dinner.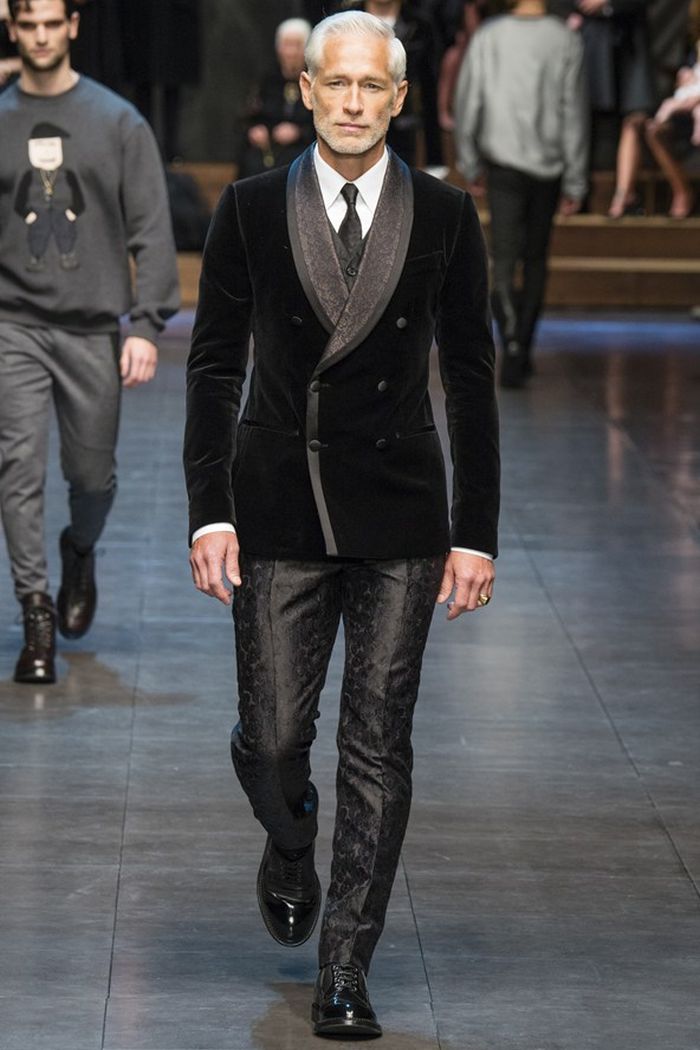 Polo necks:
With a modern twist on an old, ever-loved style staple, polo necks, or roll necks as they're referred to, under a suit is an entirely new concept to the runway this year. A very European, highbrow throwback to the days of intellectual poets and the beatnik movement of the 50s and 60s, this new trend has been seen in almost every collection. A roll neck can add a sense of dimension and style to the suit, with the option of varying colours, fabric and heights to tailor your own degree of emphasis on this area. These high necks inside the formal suits are very suave, lending an easy air of sophistication and effortlessness to the chic attire. We particularly love the drama and emphasis that Giorgio Armani brought to this trend, by having these polished and sleek roll necks paired with bulky wool and oversized folds, to give it a Siberian winter edge. These suit undershirts are perfect for those chillier autumn or winter weddings, or even for sipping some cognac with the boys after the reception. Whatever the reason, there is no doubt that this suit accessory will have you looking modern, stylish and confident.
- Roisin Curran
Image Credits: Groom in woods: Style Me Pretty | Gold button double breasted suit: Ralph Lauren Fall 2015 | Black double breast: Dolce and Gabbana Fall 2015 | Grey double breasted: Calvin Klein Fall 2015 | Grey double breasted trench: Calvin Klein Fall 2015 | Tailcoat tuxedo with pocket watch: Ralph Lauren Fall 2015
Button down cardigans: Emporio Armani Fall 2015 | Button down waistcoats inside blazers: Giorgio Armani Fall 2015
Animal print suit: Calvin Klein Fall 2015 | Gold embroidered suit: Dolce and Gabbana Fall 2015 | Black baroque style suit: Dolce and Gabbana Fall 2015 | Silk effect embroidered suits: Roberto Cavalli Fall 2014 |  Swirl and kaleidoscope effect suits: Tom Ford Fall 2015 | Pinstripe suits: Givenchy Fall 2015 | Green checked blazer: Ralph Lauren Fall 2015
Velvet turquoise suits: Balmain Fall 2015 | Cravat style suit: Dolce and Gabbana Fall 2015 | Velvet jacket with embroidered lapel: Dolce and Gabbana Fall 2015
White polo neck suit: Emporio Armani Fall 2015 | Chessboard jacket and black roll neck: Tom Ford Fall 2015 | Woolen roll neck suits: Giorgio Armani Fall 2015