Galia Lahav House of Couture introduces L'etoile. Break out le champagne because this iconic atelier jet sets to Paris for Fall 2024 to roam its iconic arrondissements and interpret its timeless romance and glamour through a breathtaking wealth of bridal styles. Let your dreams run wild and imagine a lavish sojourn through the Champs-Élysées, where you'll meander amidst boutiques, surrounded by the epitome of sophistication. As you immerse yourself in historical elegance, your journey culminates in awe as you reach the majesty that is the Arc de Triomphe. Defined dress silhouettes, like contoured mermaids and ethereal A-lines, pay homage to the city's distinctive architecture.
This stunning collection and many more are available to try on at Lauren Elizabeth Bridal in Belfast or at galialahav.com
Alona
A lustrous satin mermaid gown draped in buttery silk accentuating its deep scoop-pointed neckline. Combined in unity with extravagant lantern sleeves with tailored cuffs.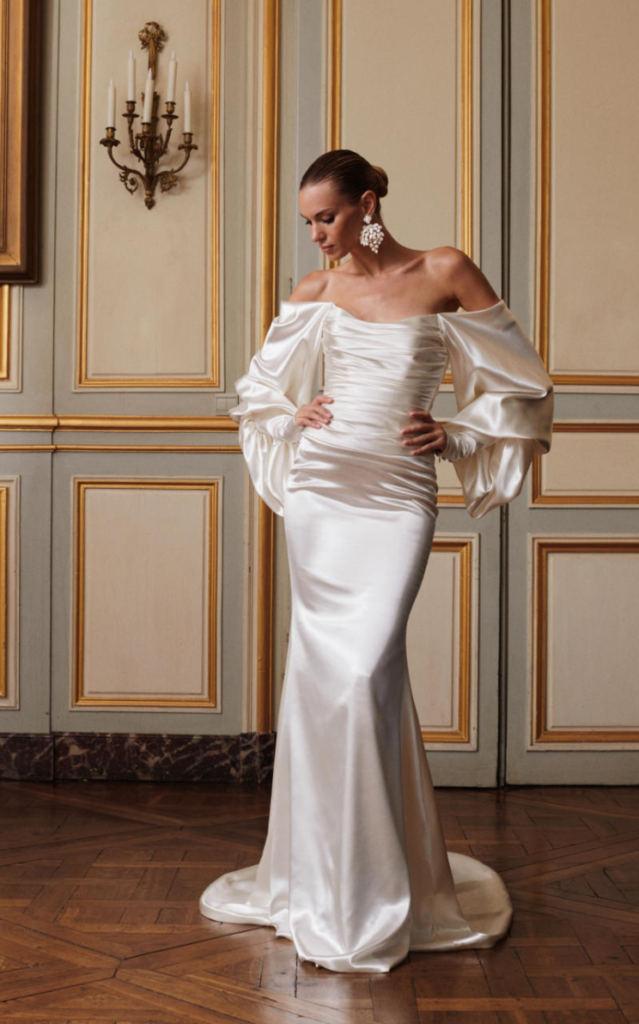 Bijou
A fusion of modernity and elegance, this French lace mermaid dress redefines classic charm with contemporary flair. The corseted bodice adds structure and allure to the silhouette, while the intricate lace exudes a touch of romance.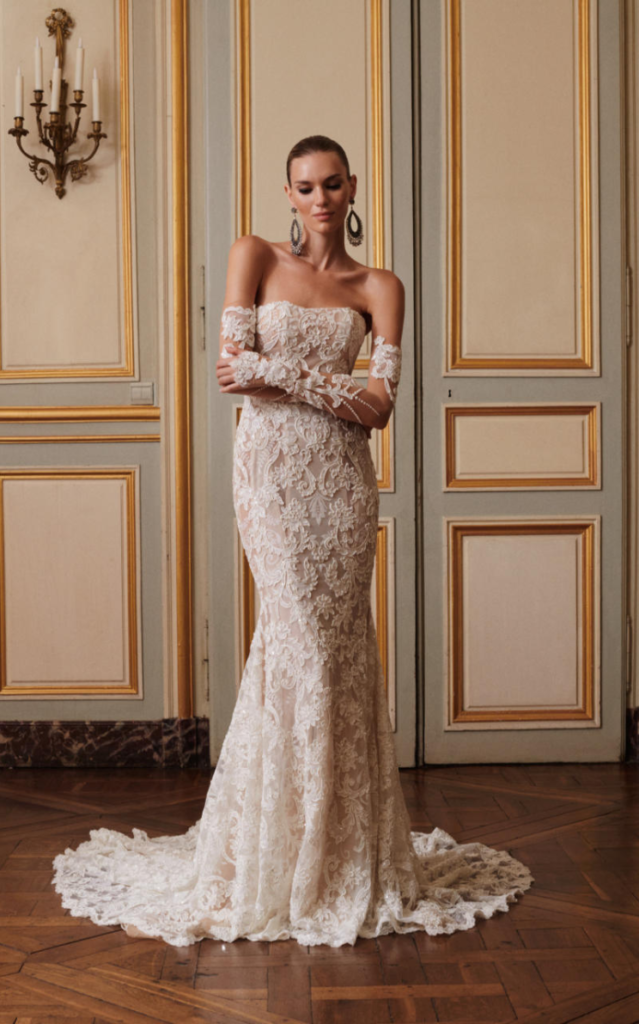 Blache
A strikingly tailored corsetted gown with sharp and flattering sheer panels trimmed with lustrous pearls and a sheer back. It features an enclosed detachable overskirt embellished with endless pearls completed with a high neck fully pearled bolero top or long and sleek sheer gloved sleeves with pearl accents.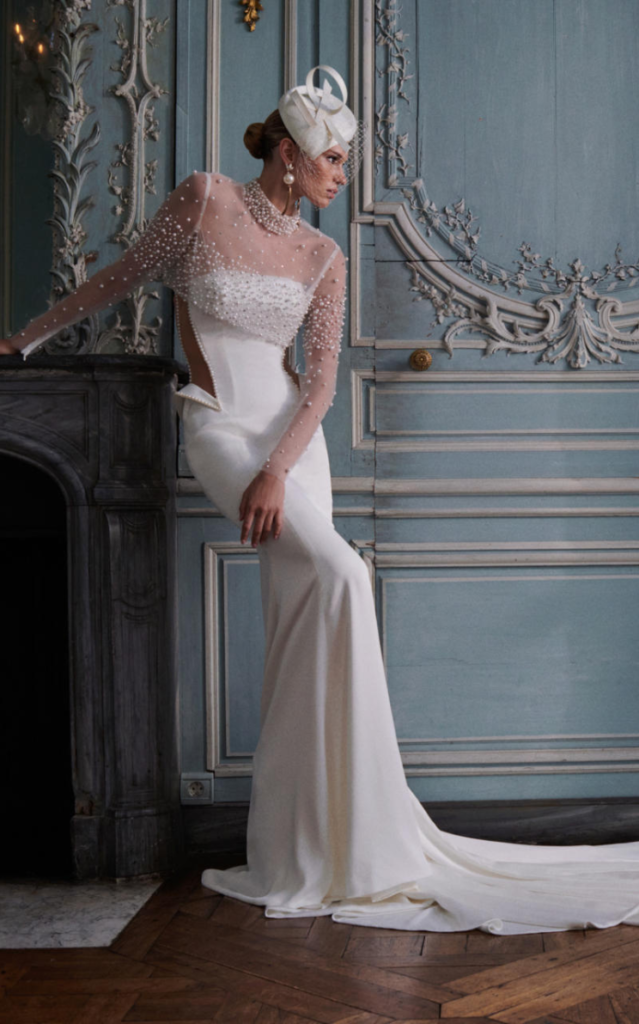 Élysée
A structural fitted corsetted mermaid gown with sheer cutouts, and embroidered French lace. Finished with a glamorous train, a high-neck and long-fitted sleeved top as well as a majestic tulle skirt with irregular hem.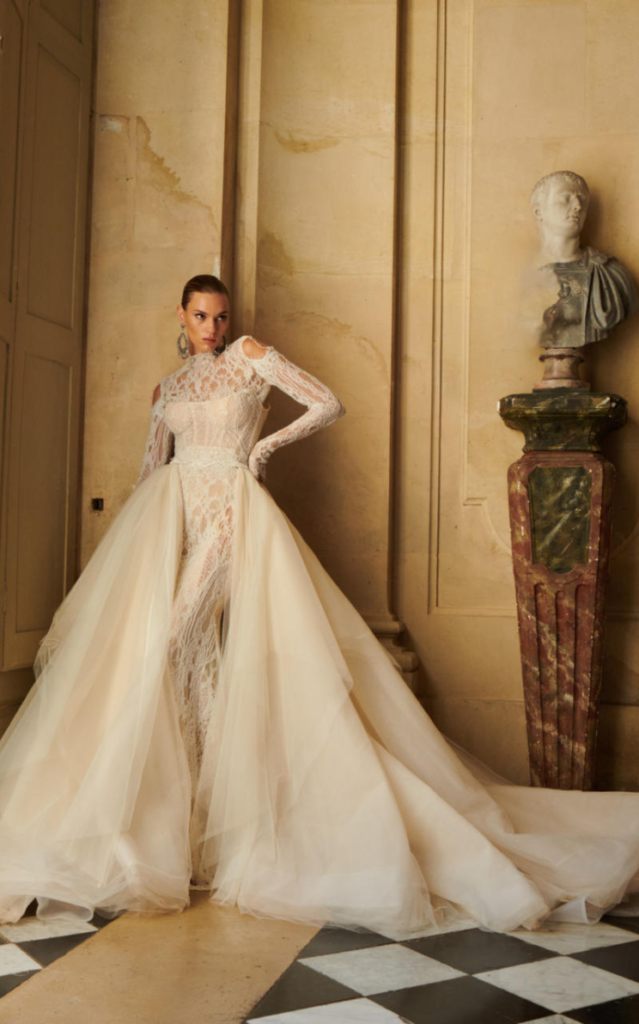 Emmanuelle
A feminine and romantic mermaid gown made of delicately beaded French lace wrapped around the revealing low-back and sheer side panels. Completed with a cascading ruffled train and topped with a sheer ruffled long-sleeve bolero.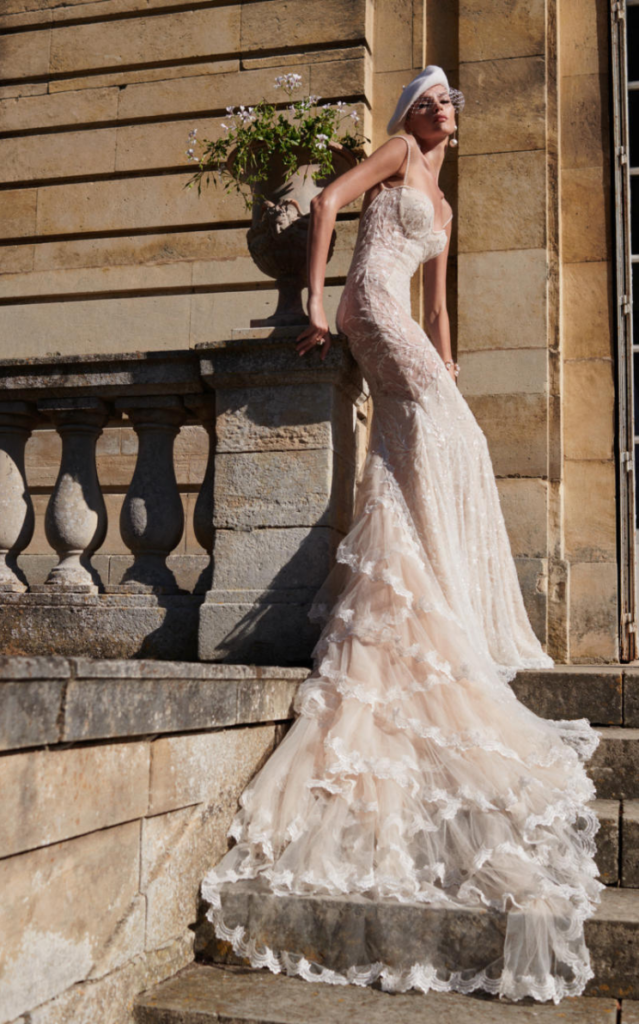 Lafayette
Elegance takes centre stage in this sheer high-neck mermaid gown, adorned with shimmering embroidered lace. The iconic low-back design graces the silhouette, featuring a stunning beaded appliqué embellishment at the centre back. Long-fitted illusion sleeves add a touch of sophistication to this exquisite ensemble.
Marquis
Enjoy a touch of opulence in this satin strapless ball gown. A timeless silhouette is enhanced with the lavish flourish of an extravagant silk flower gracing the corseted bodice. This embodiment of elegance is further adorned with a daring high slit.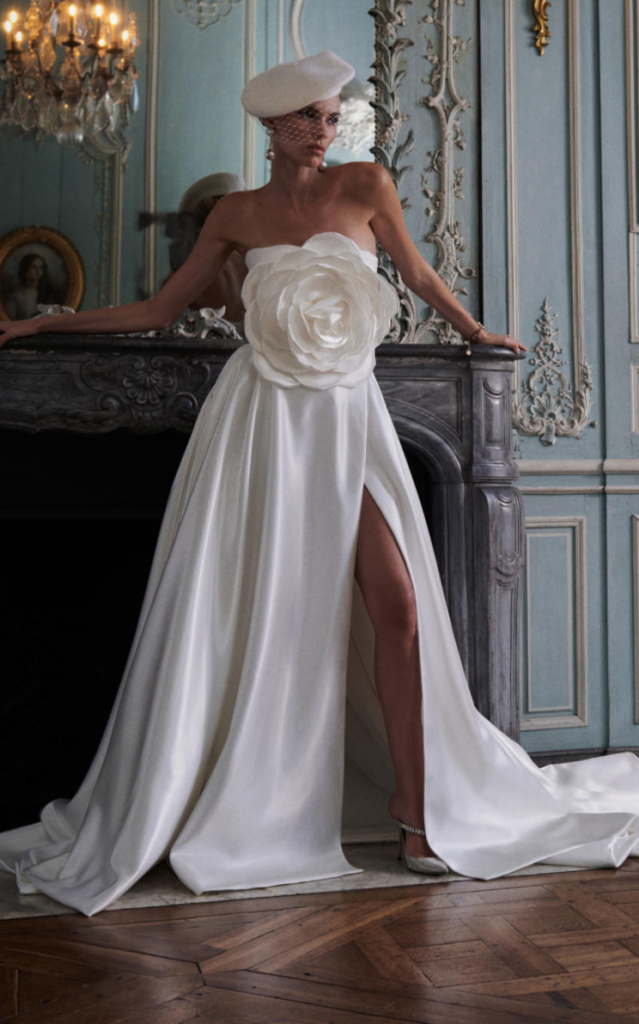 Mélanie
Blossoming ultra-feminine & romantic mermaid gown accentuating the silhouette with a fitted corset top & a dramatic train. Paired with detailed gloves and an impressive tulle cape fastened at the back waistline in a dreamy bow.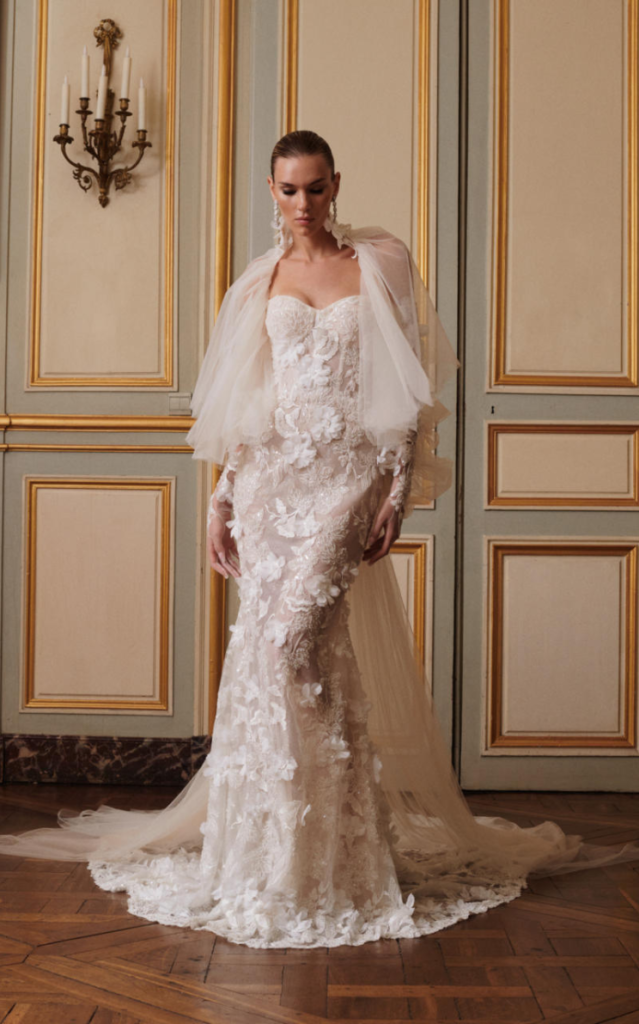 Nadine
Discover romance and innovation in this 3D A-line corseted gown, where modernity meets tradition. The stretchy corset embraces a contemporary silhouette, while the elaborate three-dimensional floral skirt adds a touch of ethereal enchantment. Completing the look, a matching long-sleeve bolero adorned with cascading floral appliqués graces the ensemble with a sense of timeless allure.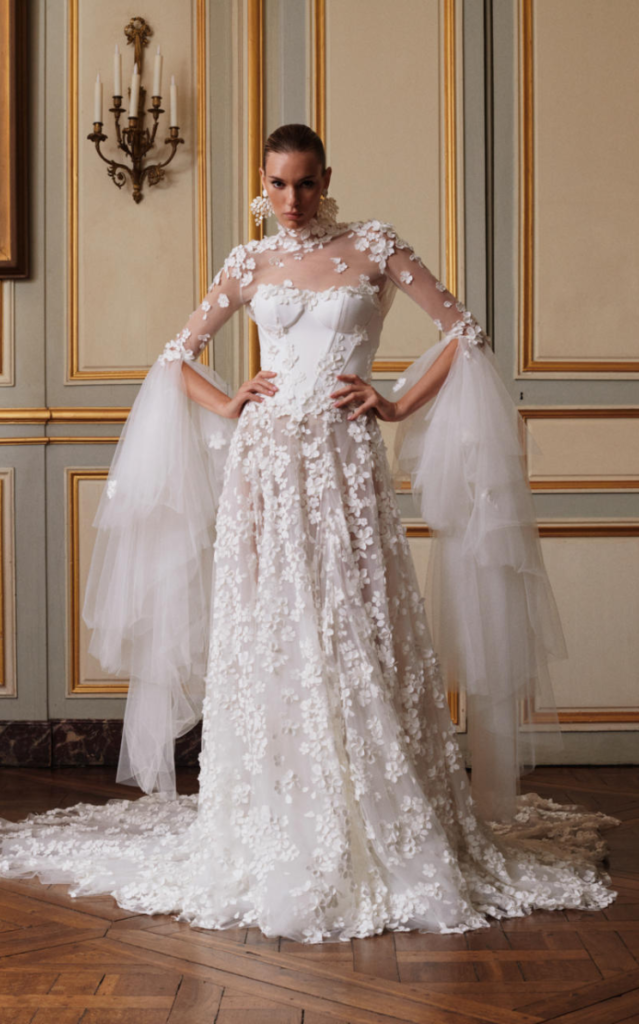 Onyx
Embrace the drama in this black ball gown extravaganza. A symphony of elegance unfolds as a dramatic, pearl-studded boned sheer corset takes centre stage, adorned with opulence. The corset's intricate design is paired with an opulent black tulle skirt, creating an ethereal dance of textures.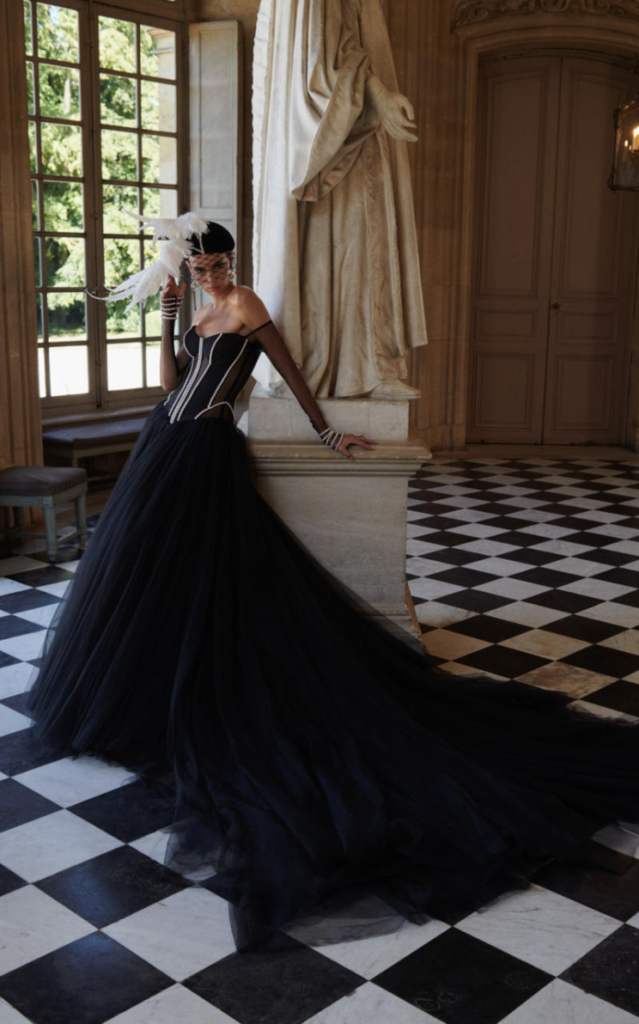 Opéra
Embark on a journey of refined beauty in this French guipure corseted ball gown. The corset enhances your silhouette with a touch of sophistication, while the cat-eye plunging neckline adds an alluring focal point. A true vision of grandeur as the gown's pièce de résistance, a stunningly long train, creates an awe-inspiring presence, truly fit for the most captivating entrances.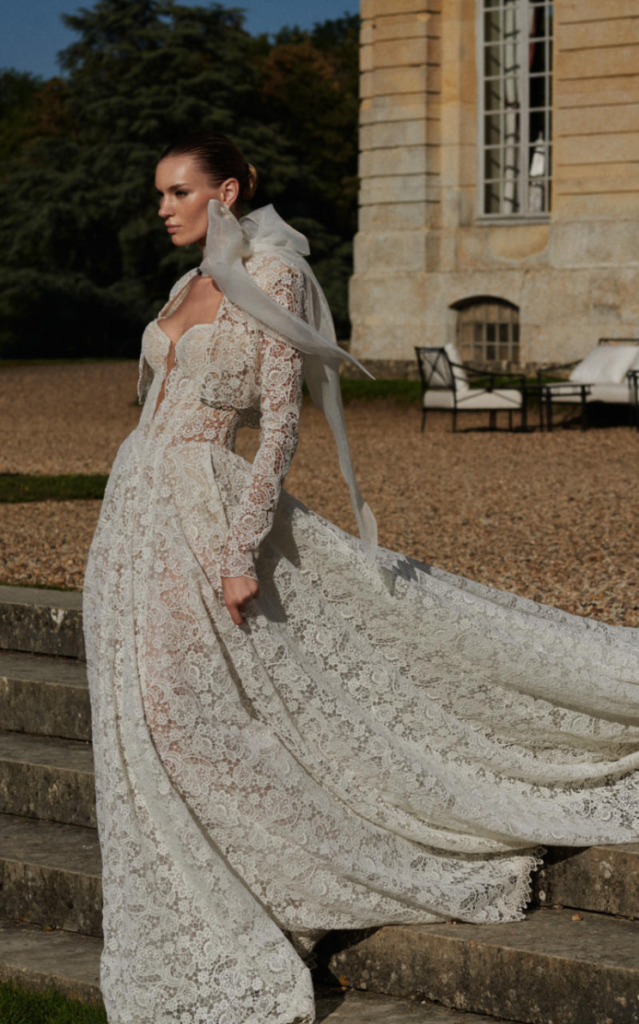 Patrice
Elevated classic reminiscent of couture grandeur in a harmony of silk satin combined with silk flowers & an embroidered lace skirt. Completing the total look is a mini-tailored silk jacket with a floral belt and impressive petal-inspired sleeves.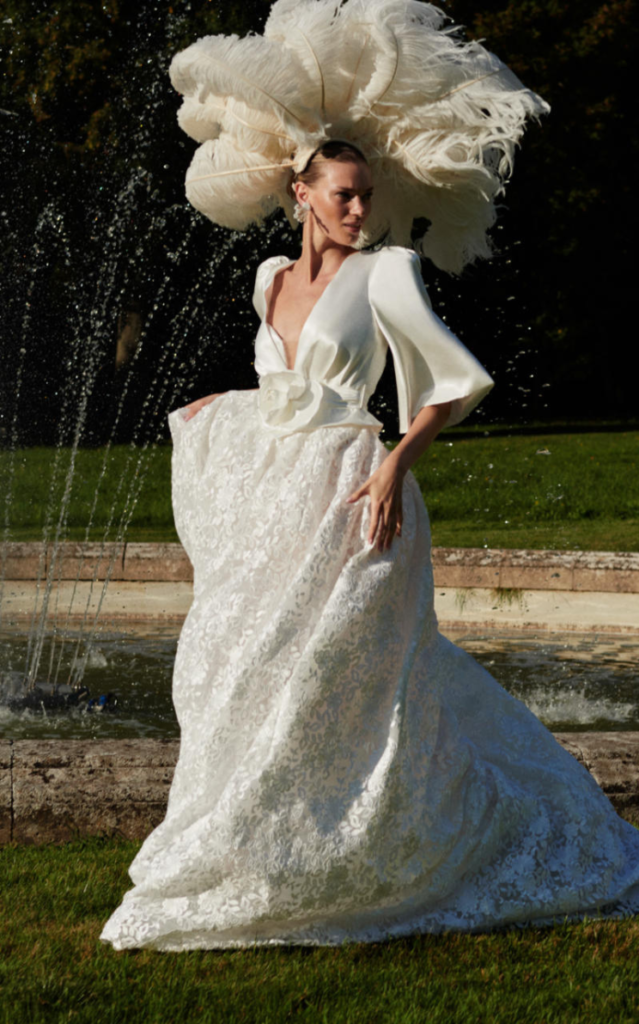 Platine
A statuesque, body-hugging corseted mermaid gown. Glistening embroidered lace embraces your form and a deep sheer plunged illusion tulle back adds drama. Complementing this masterpiece is a chic bolero with a high neck, elevating the ensemble's sophistication: A fusion of allure and artistry.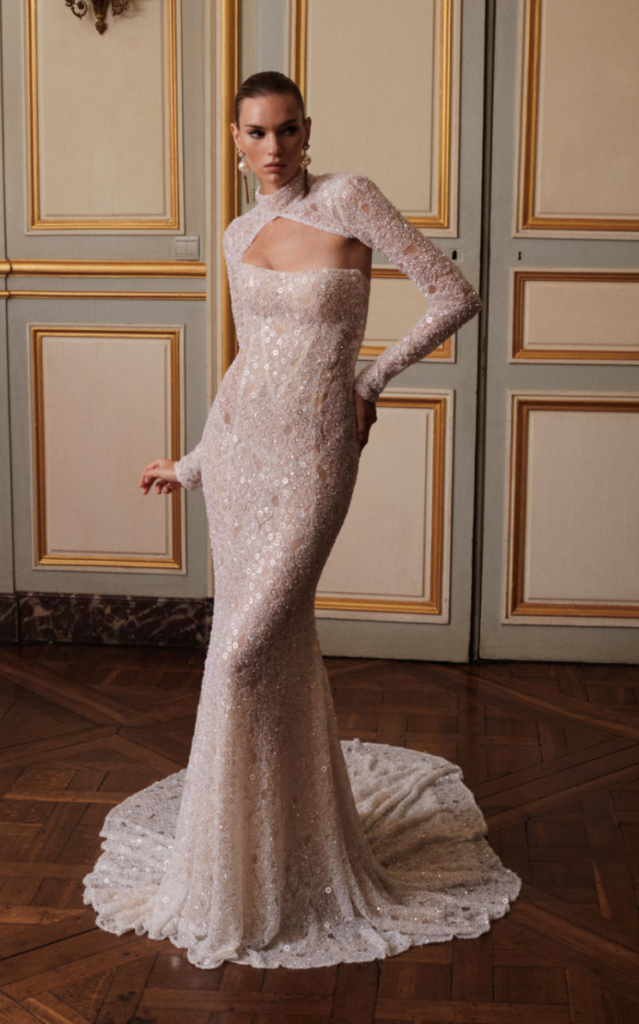 - Gráinne