Finding the perfect dress can be one of the most exciting elements of planning a wedding but can often leave brides feeling somewhat overwhelmed. Alexandra McKeever talks you through finding the most flattering style for your body type.
From tall to petite, hourglass to lean and straight, and small chested to busty, the female figure comes in a myriad of wonderful shapes and sizes with a monumental selection of gowns on offer to ensure you find the one destined for you. When booking your appointments in the various boutiques, you will most likely be allocated an hour long slot and while the lovely ladies here bring a world of experience in helping brides to find "the one", it's no harm to come prepared in what to look for. A little preparation will allow you to research dresses online in advance and can make the entire process of appointments more relaxed by allowing you to utilise that precious hour. While this is a general guide, don't be afraid to branch out and try on that gown if it catches your eye. Trust your consultant in the boutiques and don't be afraid to branch out of your comfort zone!
Full Figured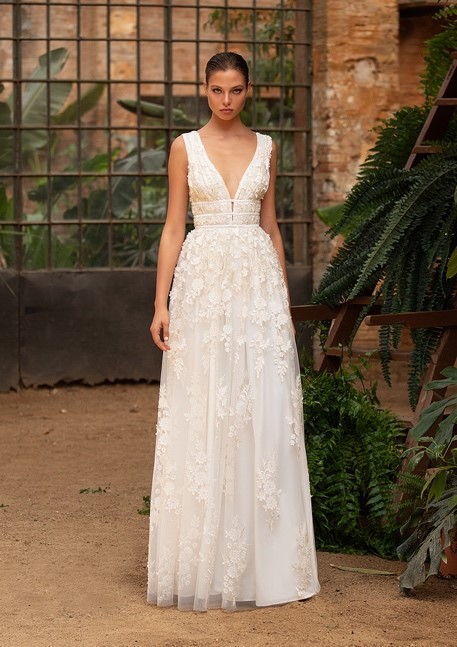 For the voluptuous bride with curvy hips and a full bust, try an empire style dress. An empire-style is a high waisted dress with an A-line skirt, this style will best complement your figure. It is important to ensure that the dress fits correctly, while an empire style complements your curves, it can add extra pounds if it is loose and ill-fitting. Avoid any cuts which cling as this will only accentuate any unsightly lumps and bumps. If you are drawn to the flow of the sheerer materials, choose a gown with a more definite structure and add a layer of the sheerer, flowing material over this. Fuller figured ladies should also avoid any flimsy straps which won't give them the necessary support. 
Busty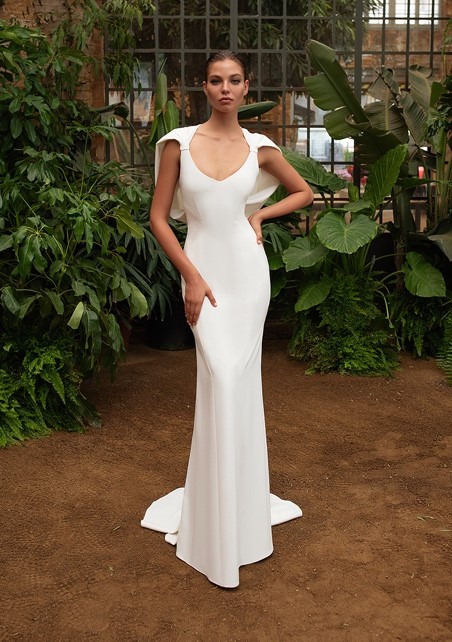 Those ladies who are more well-endowed need to firstly ensure that no matter what style of dress they opt for, they invest in a good bra which is hidden from sight but accentuates their assets. If you are looking to minimize your chest, opt for a dress with a full skirt which will draw attention away from the chest area. A scooped neckline will help to open up your face and décolletage without displaying too much of your chest – remember you may be showing these wedding pictures to your grandchildren in years to come! If you like the style of a strapless dress, try to choose a neckline with a dip in it - strapless dresses which go straight across can make your bust look larger than it already is. Also bear in mind that ruching on the bust will draw attention to this area as will fabrics with a sheen to them, such as silk, organza or satin. 
Petite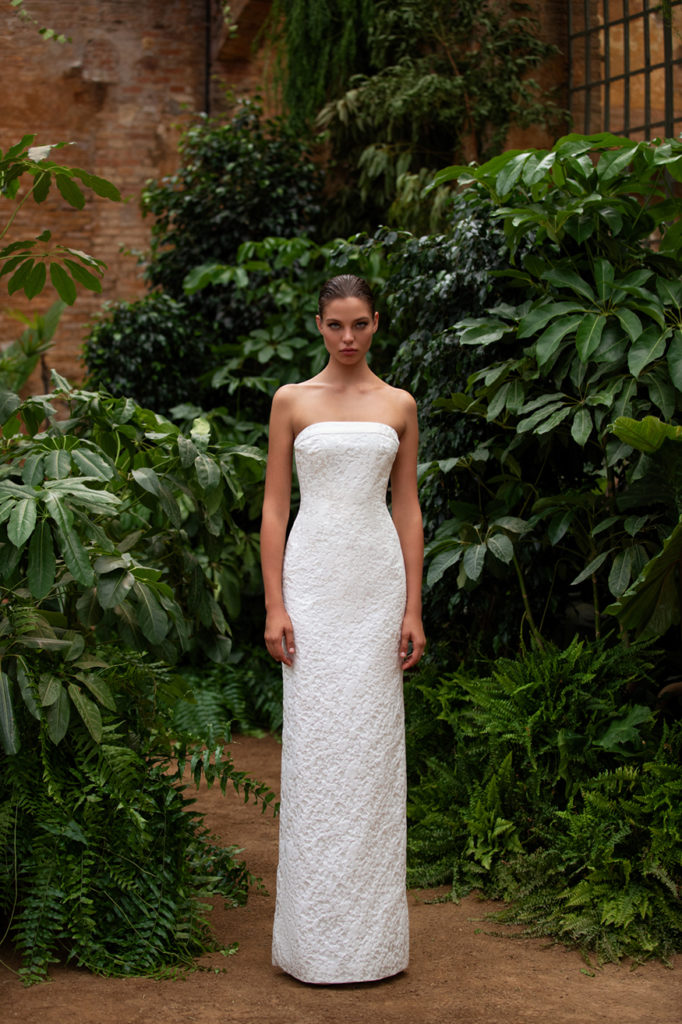 Diminutive ladies should search for a style which will elongate their small frame, a sheath or A-line style should work best for you. Look for a waistline higher than your own as it will give the illusion of lengthening your body. Avoid dresses with lots of layers or volume as they will swamp you, and similarly, dresses at calf length will make your legs look shorter. Ensure the detailing is not overly extravagant and confined to the bodice as the aim is to draw the eye up. 
Tall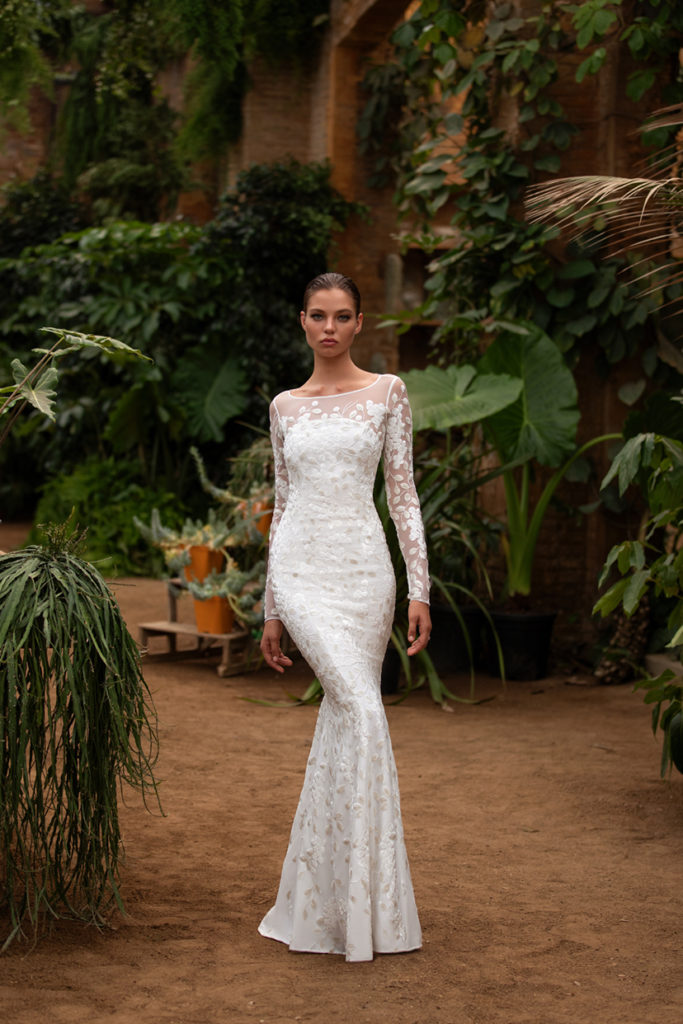 This is the easiest body shape to dress as nearly everything looks great on you! A simple silhouette will emphasise your natural shape and flatter your longer proportions. If you opt for long sleeves, ensure that these go below the wrist or it will appear ill-fitting. A tall body shape is perfect for carrying off a long veil so bear this in mind when choosing your gown. Beware that high necklines and large hairdos or headpieces will draw the eye upward and may add unnecessary height. 
Broad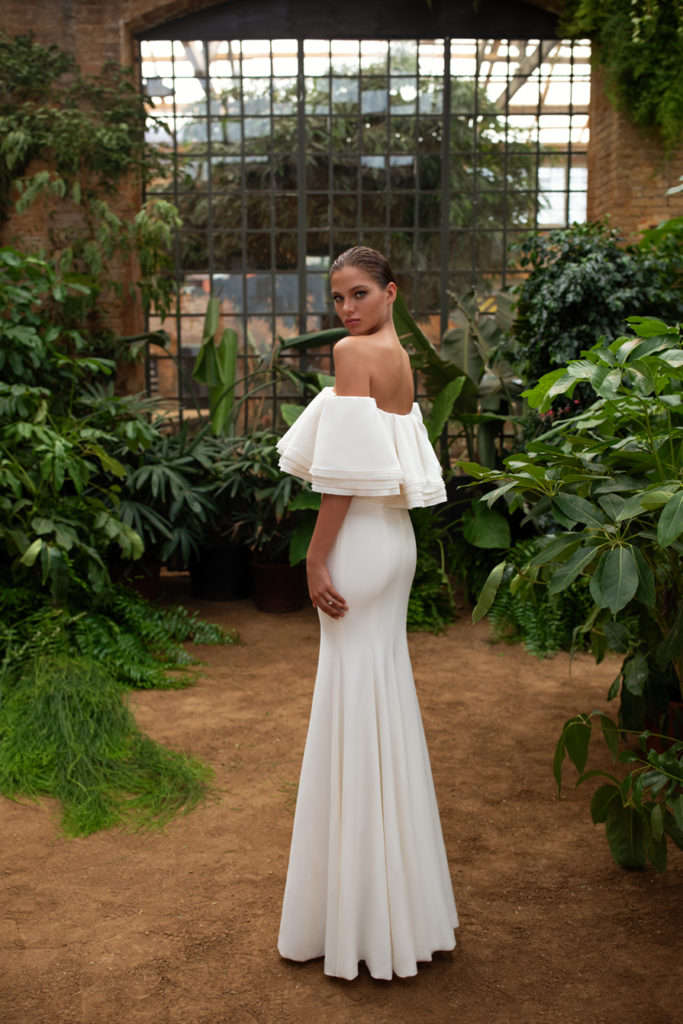 Broad-shouldered women are advised to try the halter-neck or off-the-shoulder style when looking for their gown. Choose a bodice which will highlight your waistline and take away from your broad shoulders, creating an hourglass figure. Avoid cap sleeves as these will add extra volume and width to the shoulder area. Try to also avoid covering up your shoulders as this can also draw unwanted attention to the area. 
Pear Shaped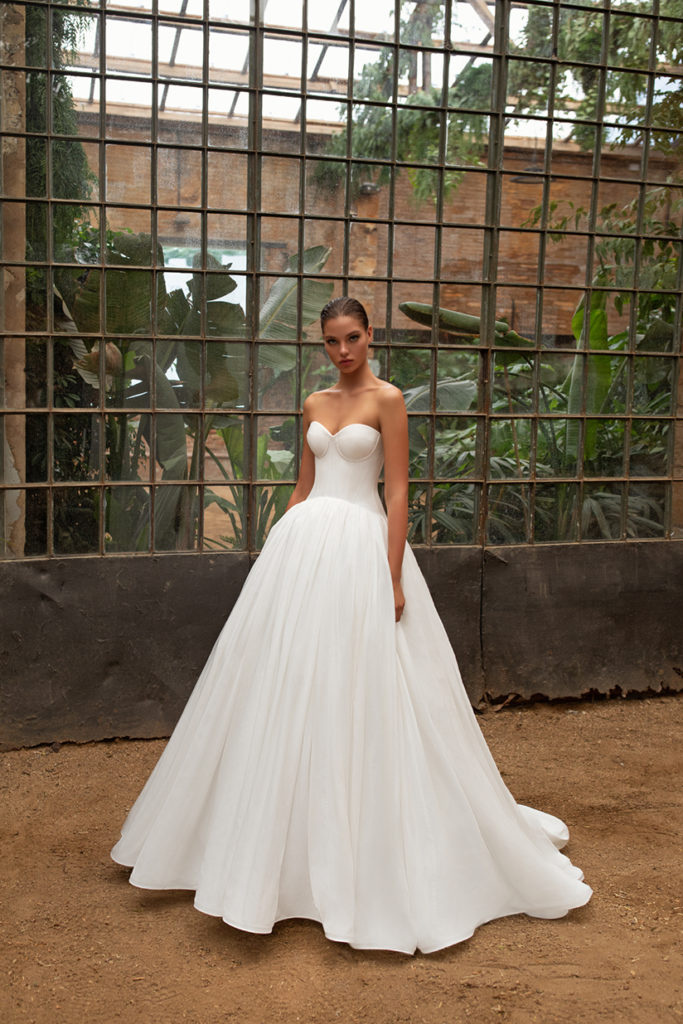 If you find your body shape smaller on top and somewhat rounder around the derriere, you should aim to emphasise the more petite, top half of your body. The A-line style gowns are recommended for this body shape as they will highlight your waist and flow away from your problem area, the hips and bottom. Dropped waist and strapless gowns are also a good option for this shape as they focus the attention on the upper half of the body. 
Apple Shaped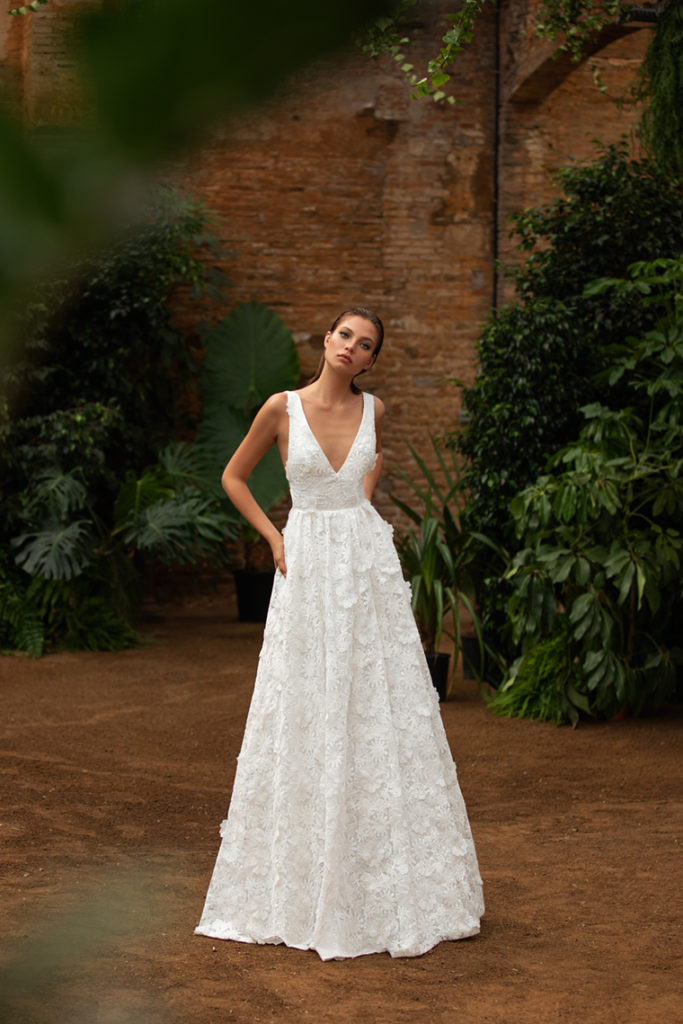 If you find yourself in this bracket, it's all about definition when looking for your gown. Look for something that will emphasise the smallest point of your waist and then flares out into an A shape. Cinch in your waist for more balanced proportions and choose a bodice with texture to it such as lace detailing or a wide ribbon. Dresses with ruching are also a great option for this body type, it will flatter you in all the right places. Opt for a plunging or V neckline which will draw the attention vertical instead of horizontal. Try to avoid mermaid or column gowns, both of these styles can emphasise a larger waist. 
Small Chested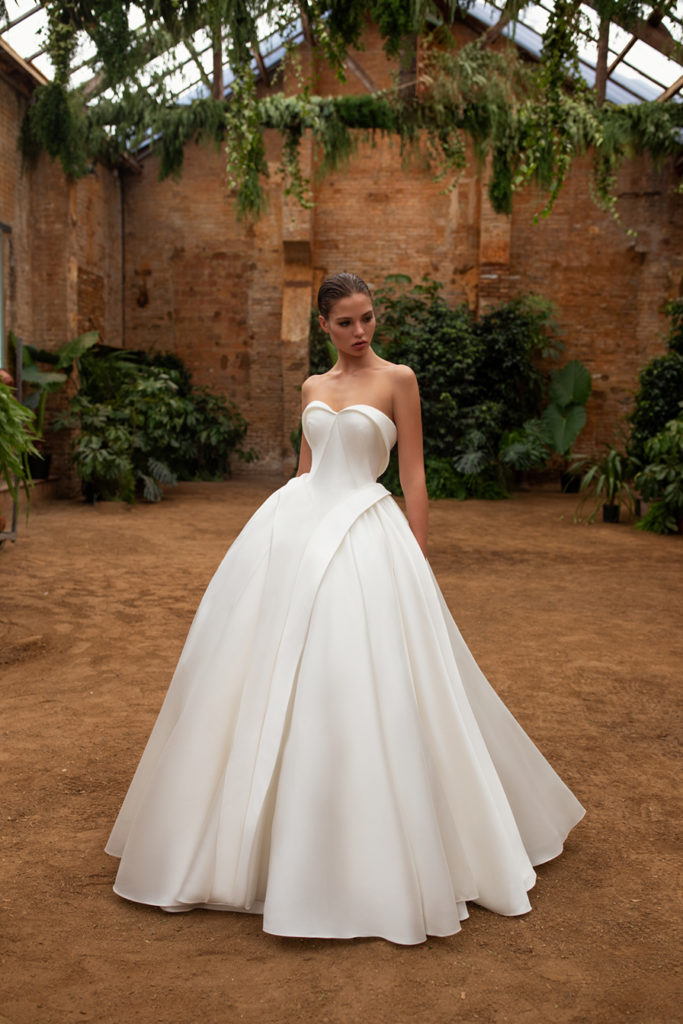 Create the illusion of a larger bust by opting for a gown with ruching around the chest and bodice. Lightly padded halter neck styles can also be a good choice for women with a smaller chest. Remember that the right bra can work wonders and give a major boost but ensure it fits with the style of your gown. 
Hourglass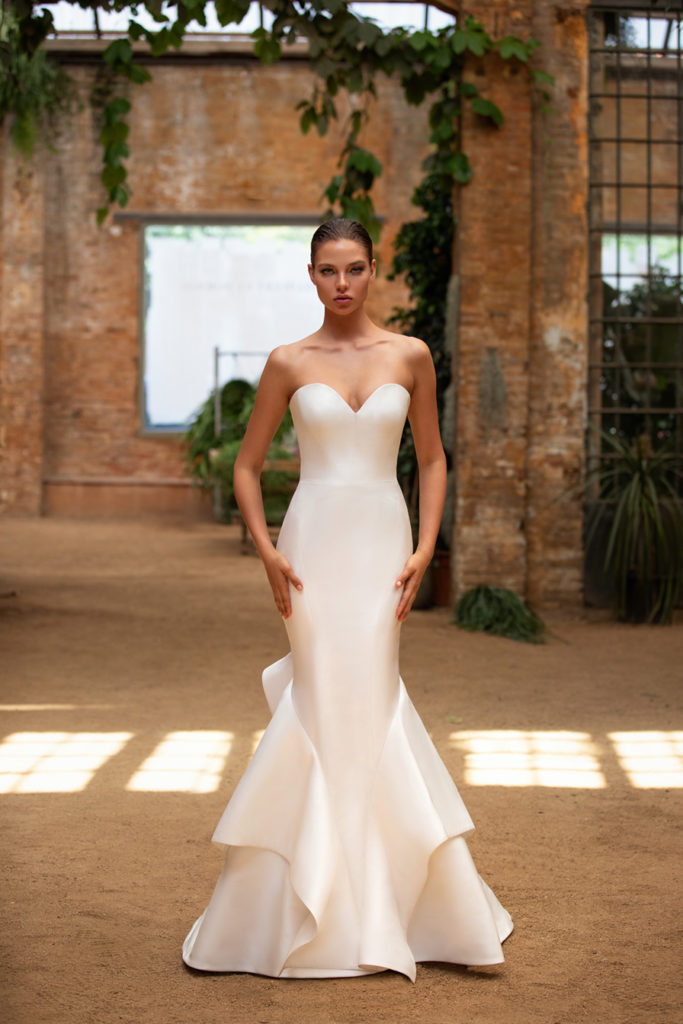 Ladies with an hourglass shape need to choose a style which accentuates their small waist so are advised to try a mermaid or trumpet style dress. These styles can enhance the curves in a figure-hugging shape and highlight the smaller waist. 
When choosing your dress it is important to choose a style which best flatters your shape, while you may have a gruelling diet and work-out plan, your body shape will still remain the same so opt for a gown which is most suited to your figure. 
Silhouettes Explained
A-line: no marked waist and flares out to create an A shape. 
Ball gown: the typical fairy-tale dress with a fitted bodice and flared skirt.
Empire: a raised waistline that flows from just under the bust, over the hips and to the floor with a slight flare.
Mermaid: fitted around the waist and thighs, then flares out at the knee. 
Sheath: a delicate shape which accentuates the full line of the body, its straight shape is quite unforgiving but can elongate the body.
- Alexandra