So you're planning a city hall wedding; if you're planning something spur of the moment, elegant and intimate or a grand affair, you're going to need the perfect dress! Though it's not quite the no effort, done in 20 minutes affair a courthouse wedding used to be, many couples opt to keeping their nuptials more low-key when it comes to getting married in the city centre. What's more, once the ceremony is done, you'll be perfectly placed for any number of cool city venues. You'll have everything from restaurants and clubs to art galleries and museums right on your doorstep.
Whether you want something ready-to-wear or custom fit to your measurements, mini or maxi, low-key or high-drama, we've scoured the internet for fifteen of our favourite city hall wedding dresses!
Make It Mini
If you've been on Instagram in the last few months then you'll know that micro-minis are dominating the city wedding scene! With the resurgence of the cathedral veil last summer we saw, and were obsessed with, the micro dress, macro veil combo. If your perfect city wedding is chic, playful, girly and low stress then a dainty mini dress is the perfect pick for dancing down the cobbled streets of Dublin or Galway.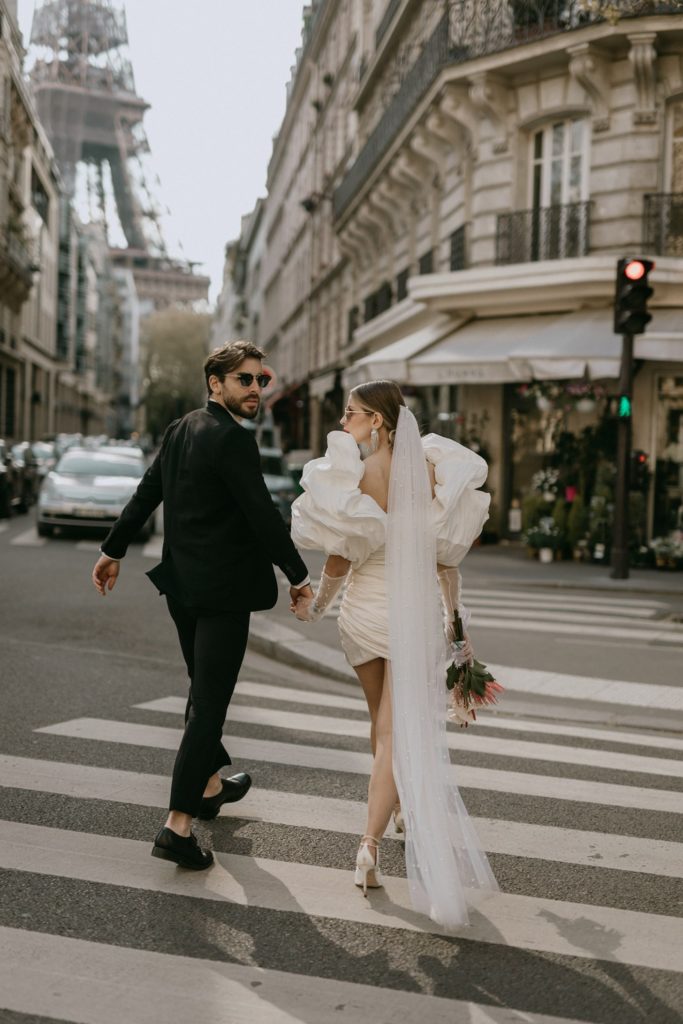 1/ The Mini Caspian From Odylyne The Ceremony is probably one of the most iconic dresses in the mini trend; an angelic little mini, made of the softest and lightest silk organza. Trust me when I say my Pinterest feed is FLOODED with different ways to style this gorgeous gown!
Shop this dress from Odylyne The Ceremony
2/  The Save the Date Blazer Dress From Mumu Weddings bold, chic and probably what most people would picture in their mind when they hear the words "City Hall Wedding".
Shop this dress from Mumu Weddings
 3/ If you want a delicate and girly dress then Spritz From Watters Designs is the piece for you!  If you're having a city hall ceremony and a picnic reception, then your search ends right here. A garden of Gerbera Boquet lace, this square neck mini boasts a full and flirty skirt. A corseted bodice and hidden pockets make this dress easy (and fun) to wear for any occasion.
Shop this dress from Watters Designs
4/ The Marlina Off-Shoulder Convertible Mini From Watters offers two show-stopping bridal looks in one. Featuring a removable skirt, this off-the-shoulder style is as dramatic as it is elegant, with a tulip hem, pleated details, and faux wrap front.
Shop this dress from Watters Designs
5/ Sailor From Rime Arodaky is the kind of wedding dress you'll find 100 uses for after the big day! Made from 100% Italian crinkle silk, it may be a more understated look but I guarantee you will feel incredible in this dress. Pair it with a sleek hairdo and pointed toe heels for a high fashion look or mix accessories and colour to take this ensemble from serious to playful.
Shop this dress from Rime Arodaky
Keep It Simple
If you're unsure of what to wear on your wedding day or hate the idea of trekking across the city in a Carrie Bradshaw-esque ballgown then keep things simple and elegant! Look for well made, but simple dresses vs extravagant and over the top pieces that will be a pain to sit or stand in. Not to mention you can find some stunning dresses that come in under budget, can be custom made to your measurements and can be worn again and again for years to come; now how's that for sustainable bridal!
1/ Nobody said a simple dress has to be boring! The Ryce From Watters Designs is tailored from a classic stretch satin while paired with a dramatic off-the-shoulder ruffle. Making it the perfect canvas for your wedding day look!
Shop this dress from Watters Designs
2/ Chic and sexy, a satin shawl collar defines the deep plunging neckline of this glamorously draped dress in a soft stretch-crepe. The deep slit on the sleek mermaid skirt of  Ester From Galia Lahav is the perfect glamorous touch.
Shop this dress from Galia Lahav
3/ The Aoife From RIXO is a silk V-neck midi dress with blouson sleeves, inspired by Seventies vintage. The jacquard's poppies were meticulously hand-designed and the upper body is overlaid with georgette for a soft, delicate look.
4/ If there was ever a gown you would love truly, madly, deeply - it's Bella From Grace Loves Lace. Elegant and romantic but loose and free flowing, if you've had dreams of skipping down city streets holding hands with your love then THIS is the dress to do it in!
Shop this dress from Graces Loves Lace
5/ The Cheryl Split dress is an update of a Halfpenny London icon. Featuring the same backless, blousey halter top with long ties as the much-loved original, a subtle split adds a sexier edge. If you're looking for a some drama without feeling overwhelmed by a big gown then this elegant slip is your perfect choice.
Shop this dress from By Watters
Skip The Skirt
If you're already ditching the big white ball gown then why not ditch skirts all together? Whether it's a figure-hugging jumpsuit, a fashion-forward top-and-trouser combo, or a sharp two-piece suit, there's something effortlessly cool about bridal trousers.
1/ Modern, contemporary, and all-around alluring, the Ariana Jumpsuit From Catherine Deane features a cut-out back and side detail that will leave you dancing the night away! The perfect mix of divine femininity and contemporary elegance; you could style this outfit six ways to Sunday and still find new ways to make it feel like your own!
Shop this jumpsuit from Catherine Deane
2/ Forever cool and classic, the Hepburn Romper From Free People is featured in a strapless silhouette and silky fabrication with sweetheart neckline, empire waist, and defined bow detail at back for an added special touch. Dress it up with a strappy heel or add a fun edge with a platform boot!
Shop this romper from Free People
3/ This menswear-inspired jumpsuit features a beautiful satin smoking belt highlighting the waistline, a deep V neckline, an open back, and 70s-style trousers that flare in all the best ways. Katie From Galia Lahav should be at the top of your list if you're looking for that perfect androgynous jumpsuit.
Shop this jumpsuit from Galia Lahav
4/ If you're looking for a dramatic jumpsuit then Gavreel From Rime Arodaky is a match made in heaven. The top is made entirely of tulle embroidered with 3D flowers and beads. Ruffles at the wrists and gathers on the shoulders create a slight volume. You won't need accessories with this stunning look!
Shop this dress from Rime Arodaky
5/ Channelling the luxe, opulent glamour of the 1940's the Zaina blazer & Aurelia trousers from Catherine Deane are a fresh yet modern take on a tailored classic. Who says only the groom can wear a suit! We really love the look of a bride in a two piece on her wedding day; not to mention a high waist box pleat pant elongates your legs to supermodel proportions and shoulder pads draw the eye to your décolletage.
Shop this outfit from Catherine Deane
- Gráinne