Once your dress is chosen, it's time to start thinking about your bridal party. From full sweeping skirts to luxe, soft satins, find out which look is best suited to your bridesmaids on your wedding day
Tulle Force 
Optimise on the romance of the occasion by choosing airy, ethereal gowns with full tulle skirts for your ladies in waiting. Lightweight and extremely versatile, tulle makes for a comfortable and classic choice. 
Baby Blue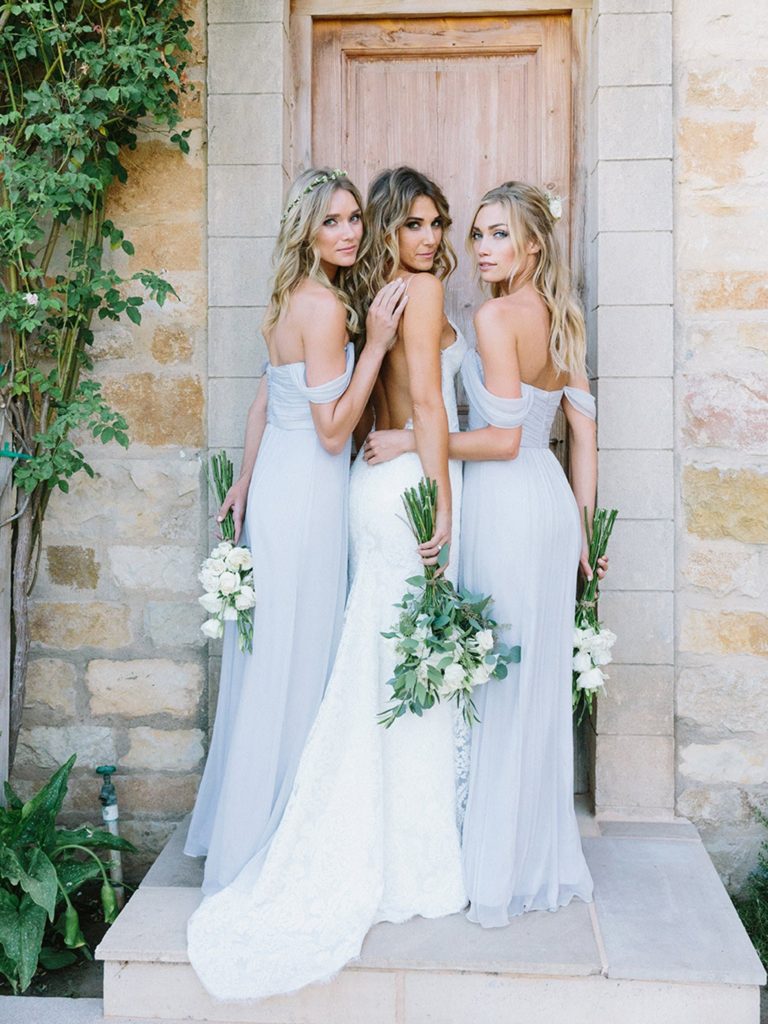 Still searching for your something blue? Why not double up by having your bridesmaids fill the role.  Soft and angelic, hues of baby blue will complement and enhance your ladies, regardless of their skin tone. 
Sunset Shades
Inspired by the golden hour, the hottest hues for the coming year are reported to be varying shades of terracotta, rust, sienna and cinnamon. Ideal for autumn and summer celebrations, these earthy shades are flattering on a multitude of different skin tones. 
Mix N Match 
Gone are the days when bridesmaids were expected to wear a uniform colour and style, replaced by a more open approach to styling your bridesmaids. As we all differ so much in size, shape and colouring, why not ditch the matchy matchy look in favour of allowing your ladies choose the style which suits them best. The result? Beaming, happy bridesmaids who are comfortable and confident for your all-important pics! 
Shows Of Silvers 
Silver is set to be this year's choice colour when it comes to fashion metallics. A direct descendant from this tone, we can expect to see a lot of grey popping up also. Generally considered a bit bland, grey is quite amenable to other colours and can be paired beautifully when choosing the right shade. 
Cowl Necklines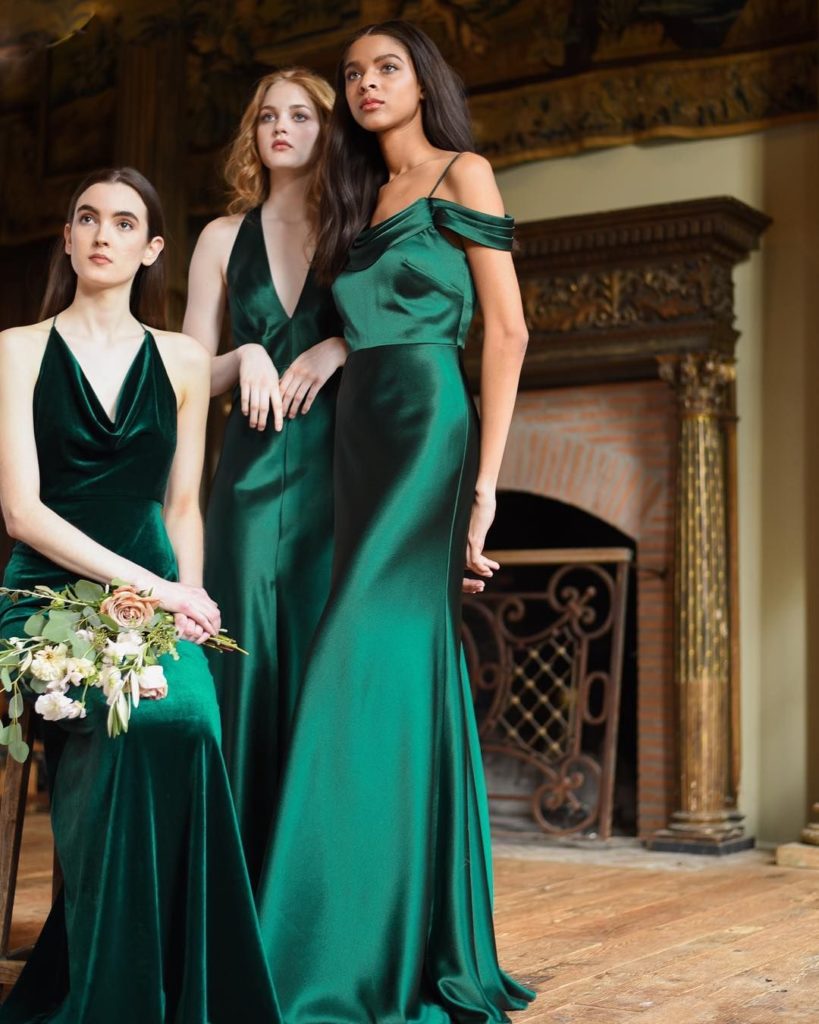 Making a comeback from the '90s, the cowl neckline will be back in force for 2021 in both wedding dresses and bridesmaid attire. First cast into the spotlight by supermodels such as Kate Moss and Naomi Campell, the cowl neckline was a staple with a sleek slip dress. Pair with a simple pair of stud earrings for a chic, minimalist effect. 
Smaller Celebrations 
2020 has highlighted the intimacy of a smaller celebration so while larger celebrations will hopefully come back into play later in the year, we can also expect to see other couples rethink their plans and opt for a smaller ceremony. This in turn affects the size of wedding parties with couples opting for just one or two bridesmaids or groomsmen. 
Sage Choices 
Gradually becoming a staple in bridesmaid attire in recent years, sage green is a wonderful option when choosing the colour for your ladies dresses due to its romantic, ethereal vibe which will marry well with almost any wedding theme. Elegant and natural, the greenery inspired shade is serene and calming and blends well with most other colours. 
Empire Waists 
Empire waistline are seeing a resurgence in popularity once again and are a great option for a multitude of different shapes and sizes, this is also a great option for pregnant bridesmaids to accommodate their growing bump! Opt for a streamlined silhouette and keep things simple, avoiding any ruching or details. A plunging neckline elongates the entire look for a more flattering appearance. For a Grecian vibe, choose airy fabrics such as chiffon or organza. 
Neutral Ground
Pippa Middleton flew the flag for white bridesmaid dresses at her sister's wedding almost ten years. While the attention it garnered may not be to every bride's taste, we love the simplicity of a neutral palette. From white to cream, ivory or beige, this simple but elegant look speaks volume and will look timeless in your wedding portraits.  
Velvet Crush
Although suitable for any season, velvet works particularly well for an autumn or winter wedding due to the luxe, rich appearance of the fabric which adds softness and warmth. As shown, your bridesmaids don't need to be collectively dressed in velvet, choose two velvet dresses out of your four or five bridesmaids to add a little texture overall. Mix colours and styles to achieve symmetry amongst your gals. 
Chic Jumpsuits 
Bridesmaid attire isn't limited strictly to dresses, we love the modern, chic look of a jumpsuit and the versatility it offers. Available in an array of colours, shapes, sizes, fabrics and necklines, jumpsuits can be as formal or casual as you wish to suit your wedding. Another bonus of the jumpsuit is that your ladies are more likely to wear these again after the wedding! 
The Great Outdoors
The past year has seen us embracing the great outdoors in all of its beauty and this will go on to influence weddings also. Embracing all that we love from nature, expect to see an array of pretty patterns incorporating everything from fancy florals to juicy fruit-based prints and ethereal star embroidery as seen by Joanna August (pictured). 
Blushing Bridesmaids
Arguably the most popular choice when it comes to bridesmaids' attire, blush pink is a failsafe option. Universally flattering, the soft pink pairs beautifully with the traditional cream and ivory shades seen in wedding dresses and works well with most wedding themes due to its neutral appearance. Blush has been a longstanding favourite amongst weddings due to its versatile nature making it a timeless choice. 
Soft Satins 
Last year made us appreciate the importance of comfort and while we're not recommending loungewear for your ladies, we have fallen for the butter-soft feeling of silks and satins. In addition to its strokeable softness, the lustre from this material is inherently luxe and formal – perfect for some wedding celebrations! Research dresses with a stretch satin for a more forgiving material which doesn't require costly shapewear for a streamlined silhouette.  
Short & Sweet 
If you're opting for a smaller celebration, a shorter dress may be more suitable than the formal full length gowns which we traditionally see on bridesmaids. This is a great option if your bridal party are on the shorter side and feel drowned by longer gowns. Pretty and practical, shorter styles are also more likely to be worn again by your ladies.
- Alexandra