Once your dress is chosen, it's time to start thinking about your bridal party. From luxe velvet dresses to slinky satin designs, find out which look is best suited to your wedding celebrations. 
1/ Ruffle Detail
Since hitting screens last year, hit Netflix show Bridgerton has been influencing the world of fashion with Victorian inspired styles having their moment. Romantic ruffles are the standout trend for bridesmaids, feminine and soft, they add another dimension to your overall look. 
2/ Terracotta Time
Warm and earthy, burnt orange tones are rising in popularity and will really pop if you are planning a summer or autumn wedding. These shades suit several different skin tones and are easy to mix and match in various hues or different styles of dresses.
3/ Soft Satin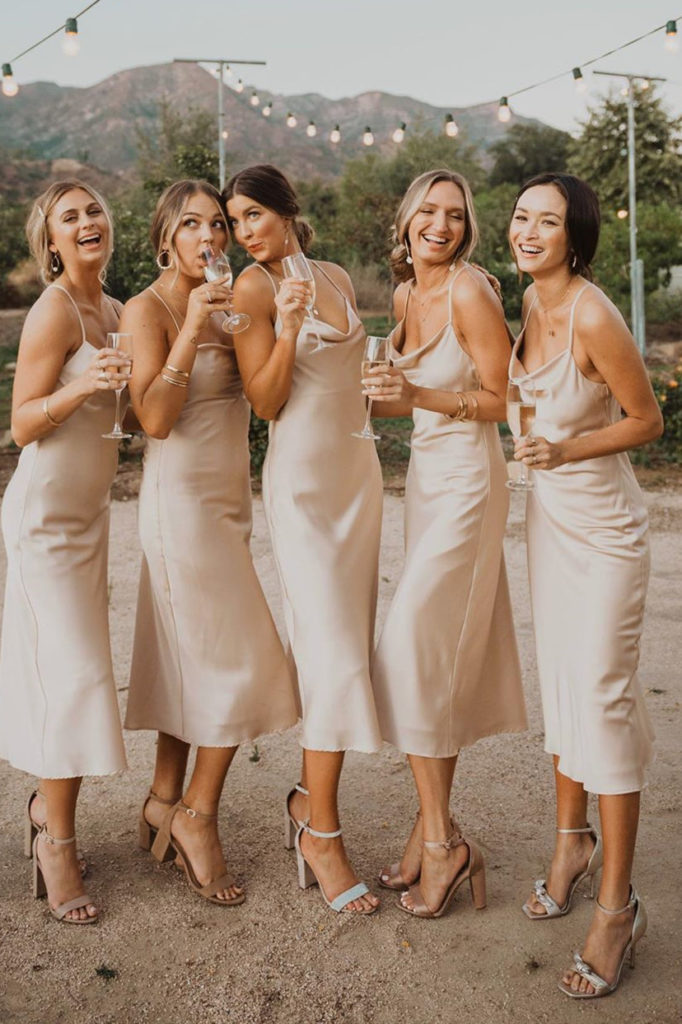 Buttery soft, luxe satin looks and feels so elegant. Opt for clean, modern silhouettes like the iconic '90s slip dress, you can personalise through other details such as cowl backs, spaghetti straps or a daring v neckline. Just be warned that this material is not forgiving when it comes to any stains and is prone to showing up every little blemish, including those dreaded sweat spots! 
4/ Jewel Tones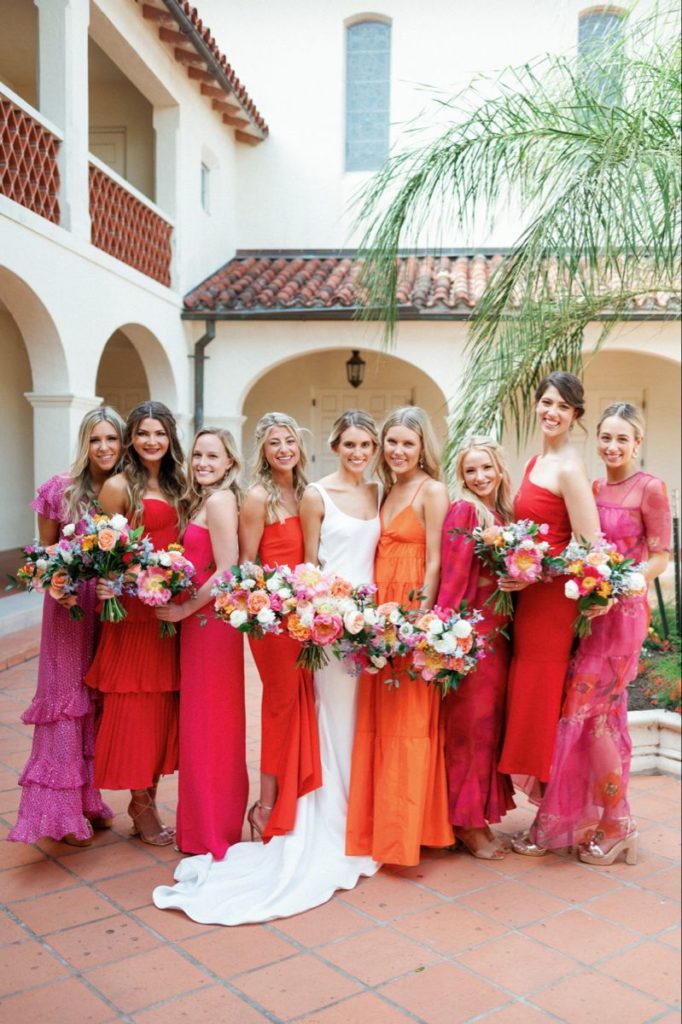 Rich, elegant and luxurious, plush jewel tones are prominent players when choosing a colour for your leading ladies. Shades of emerald, ruby, sapphire, topaz and garnet are all beautiful as stand-alone colours or work well if mixed together on various bridesmaids. 
5/ Pretty Patterns 
Whimsical and fun, printed bridesmaid dresses are charming and romantic, think flowy, faded florals and layers of ethereal tulle. Ideal for summer nuptials, channel boho, summer picnic vibes with lots of wild, free flowing flowers. 
6/ Champagne Showers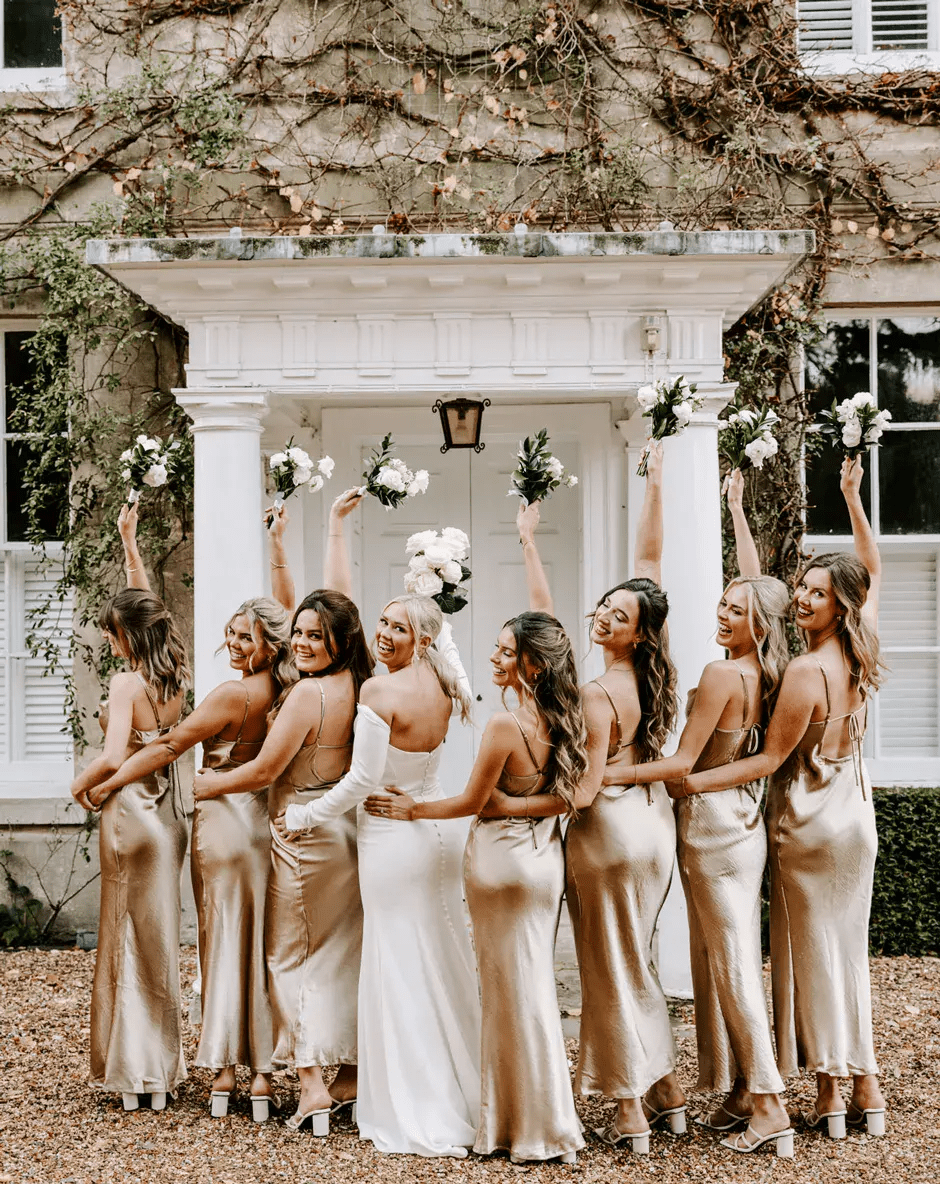 Neutral by no means translates as safe or boring, muted colours of champagne, grey, pearl, nude and ivory are clean and crisp and will work no matter what time of the year, allowing lots of flexibility. Super modern, these subdued hues will be able to be worn time and again after the wedding. 
7/ Black Out 
Ideal for a formal wedding and sure to endure the test of time in your treasured wedding photographs, black is a great option for your bridesmaids. Universally flattering and the most slimming colour, your bridesmaids will be thrilled if choosing this shade for them. 
8/ Mix Not Match
The mix and match theme has been around for quite a while but it has now surpassed the streamlined look of a uniform bridal party look. Brides are mixing things up and allowing bridesmaids to opt for shades and styles which best suit them. To avoid total chaos, try to set some boundaries with a limited number of colours for them to choose from and your ladies can then choose their own style. 
9/ Cowl Neck
We're throwing it right back to the '90s and early noughties with the cowl neck making a comeback when it comes to bridesmaid attire. Stylish and chic, a cowl neckline looks effortless and lightweight. 
10/ White Noise
There's something so clean and classic about an all-white bridal party. Forget those naysayers who say the bride is at risk of being outshined with bridesmaids dressed in white, the trick is to ensure your dress is distinct from their dresses so you shine in your role of bride. If you have an opulent, dramatic dress, you can dress your ladies in full length, bridal styles but if you opt for a more laid back, boho gown, choose shorter or more casual styles for them.  
11/ Olive Garden
A universal colour which can be worn during any season, olive green is rising in popularity due to its subtle nature and ability to adapt to almost any theme of wedding. Subtle yet universally flattering, this hue works well with both bold and soft bouquets. 
12/ Greens & Blues
Step away from the safe option of blush and pink hues and opt for the fresh option of blues and greens. Think baby/ dusty blue and sage for spring and summer, with emerald green and midnight blue coming into force for autumn or winter. 
13/ Velvet Crush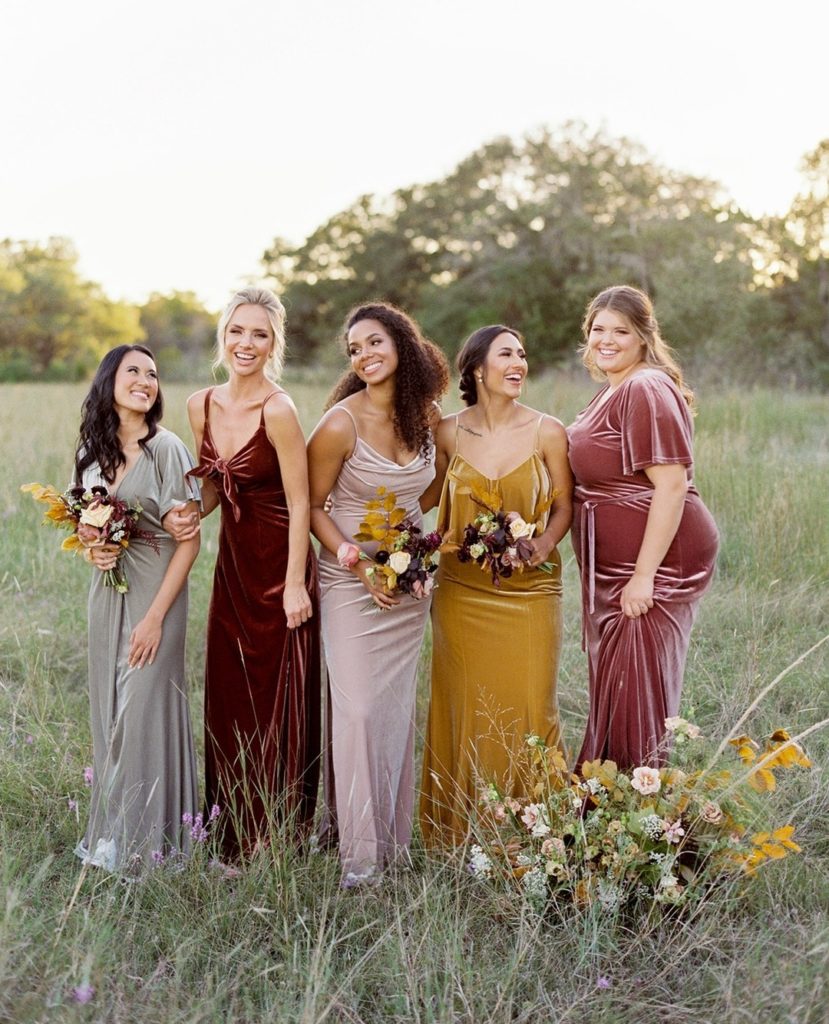 Rich and regal, there's something so luxurious about plush velvet, particularly for a cosy winter wedding. This material works best in tailored styles or a sleek silhouette. Flattering and oh so forgiving, these dresses photograph beautifully and look great on all different body types.
14/ Sustainable
As we all start to realise the impact we are having on the environment, sustainability is a top priority for some couples. Weddings outfits can fall into the category of least sustainable with the wedding and bridesmaid dresses most often only ever worn once. Australian label Grace Loves Lace have created the Amitié collection of slip dresses which are made from 97% recycled eco-satin – stylish and sustainable, these most definitely tick the box for us! 
15/ Navy Notes
Ultra-flattering and suitable no matter what time of year, navy is a great option when considering colours for your maids. Suitable for both formal and more casual occasions, they can also tie in nicely with the groomsmen.