We always hear about the importance of a solid skincare routine in the lead up to your wedding day but what are the rules when it comes to hair? Amanda Lambe from The Hair Emporium brings us her expert advice on how to achieve locks to lust after!
A good hair day is just the thing to put a little pep in your step on a normal day so don't take any chances by letting unruly hair dull the sparkle of your wedding day. When embarking upon your rigid skincare regime in the months before your nuptials, try and dedicate a little love to your locks along the way. If applying a face mask, why not throw a nourishing treatment into your hair at the same time? Not only will it benefit your tresses in the long run, but a little pampering is just the thing to unwind if wedding planning gets a little too much.
Your stylist should equip you with all the tips and tricks to ensure your hair is in its best condition possible for the morning of the wedding. The healthier the hair, the longer it will hold your chosen look. Below are the main points which I advise my brides on when it comes to prepping for their big day.
1/ Don't schedule your hair trial too early
Leave the hair trial until you more or less have your entire outfit bought. This is very important as the style of dress can affect the style of hair. For example, if a bride opts for a backless gown, she may like to wear her hair up and off her shoulders to display this feature in all its glory. It's also important to let your hairstylist know if you plan to wear a veil or any hair accessories as this will need to be taken into consideration before agreeing on your wedding day look. Try to bring pictures of your dress and bring along any accessories which are hoping to incorporate into your hair to the trial. We would advise anywhere from three months before the wedding as the perfect time to organise your trial, this will keep the look fresh both in your mind and the hairstylists. Remember to take lots of pictures and monitor how it lasts throughout the day. Be sure to advise that it is a hair trial when booking your appointment, so your stylist can allocate the necessary time for this as it may involve several looks.
2/ Choose a selection of inspiration pictures
Avoid confining yourself to just one particular style and try to gather a few different looks for inspiration. As you would have found when searching for your wedding dress, it's often the last thing you would expect to love! Remember, the more images you have, the easier it is for your hairstylist to get a feel for your own personal style and taste.
3/ Know what you don't like
Similarly, you don't want to waste your hair trial so have an open discussion with your hairstylist if there are any looks which you know won't work for you. By eliminating these early on, the two of you can explore the other options available to you.
4/ Don't change your hair colour or shape too close to your wedding
As with your skincare regime, avoid any big changes in the weeks before your wedding. Use the months before the wedding to settle on your preferred length and colour and this can then be maintained in the lead up to the wedding. Don't take any risks which could damage your hair or not create the result you were hoping for. If getting hair extensions, try them out before committing to them for your wedding. Once you're happy and familiar with how to care for and style them, you can have a fresh set applied in the weeks before the wedding.
5/ Don't solicit too many opinions
Know that you will never please everybody and the most important thing is that YOU are happy with how you look. Everybody has different tastes so try to only listen to those whose opinions you trust implicitly.
6/ Choose your hairstylist wisely
Research, research, research. If you don't have a particular affiliation to any one stylist, then put the time into checking out various stylists and their previous work. Look at their Instagram, website and ask to see examples of previous brides they have worked with. The hair trial is your opportunity to ensure the two of you are on the same page and get along, you want to be comfortable with them as they play a big role on the morning of your wedding as you're getting ready. And once you do book your stylist, trust their opinion. They will be familiar with weddings and what will work and last the day so take on board their suggestions, you may end up pleasantly surprised!
Frequently Asked Questions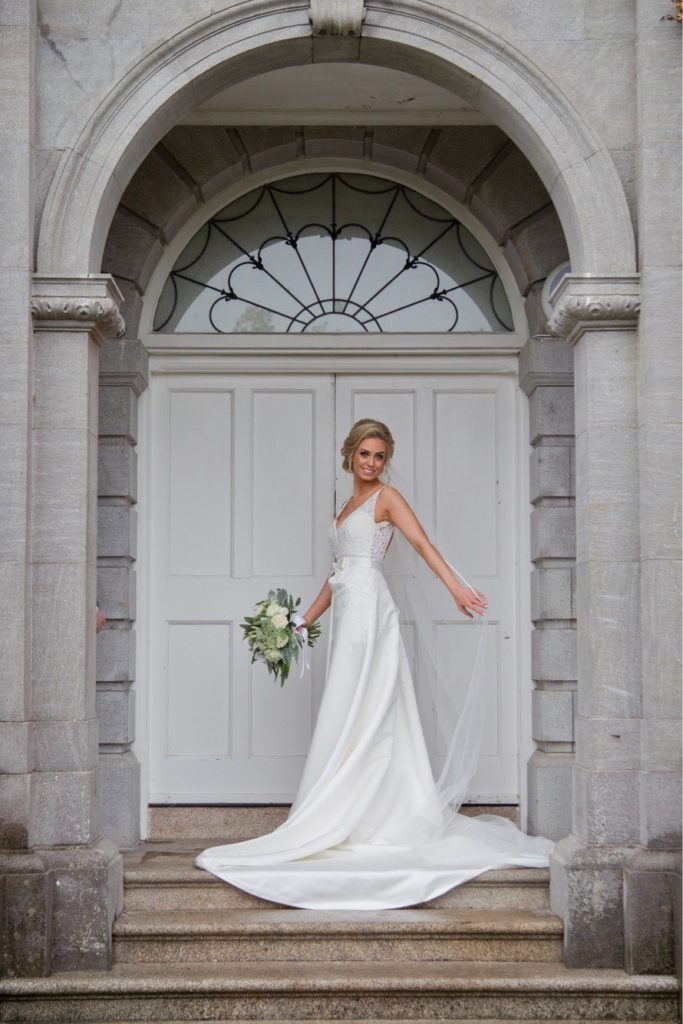 When should I cut my hair before my wedding day?
If you need a trim, do so two to three weeks out. But if you need a haircut, have it done four to six weeks beforehand, allowing your hair time to adjust into its new length.
Should I have a treatment and when?
Having a series of conditioning treatments is vital to your hair looking in top shape. The stronger and healthier the hair, the longer it will hold your chosen look. Treatments are personal though and any good stylist should prescribe a plan suited to your hair type. My favourite treatment for repairing and reconstruction is most definitely "Olaplex" – it's a total game-changer for 99% of blondes. My "go-to" for course, unruly and dehydrated hair is Joico 4 step Kpak in-salon treatment.
Should I wash my hair on the day of the wedding?
You and your bridal party should have your hair thoroughly shampooed the previous day. Shampoo twice using a massaging motion rather than scrubbing too forcefully. Only condition from your earlobe area down through to the tips. Use a good quality shampoo prescribed by your stylist and rinse thoroughly using tepid water.
All these points are vital in ensuring your natural oils don't overproduce and therefore cause your hair to fall flat.
How do I choose a style for me?
Your stylist should take into consideration your face shape and what is most flattering on you. Next is the neckline of your dress. Softness and elegance are always timeless winners, hands down. Remember you will be looking at these pictures for years to come so choose carefully!
My 2020 Summer wedding hair trend predictions
I can't get enough of halo braids, Millie Mackintosh is absolutely stunning sporting hers. An elegant chignon is also always a winner in my books. At the same time, I just love effortless looks but polished. And for the free-spirited bride, a wavy boho bob with fresh flowers... Dreamy!
Amanda is available for any enquiries at her salon The Hair Emporium in Kilcullen or see Thehairemporiumkildare.com for more information.