The overnight mask, not the newest beauty concept out there, but definitely one that won't going anywhere anytime soon.
If you've not heard of the sleep in mask before, prepare to have your world rocked. First introduced by the always ahead-of-the-curve South Koreans, the overnight mask is the lazy girls dream.  Based on the fact that your skin heals itself while you sleep, your snooze time is the ideal time to apply a mask that will optimise the regeneration process. Basically, generously apply either a cream or gel before bed, leave it to do its thing, and wake up gorgeous. And because I am totally obsessed with perfect skin, and even more obsessed with the possibility of getting beautiful skin while I sleep, I tried many, many masks to find the best.
After much rigorous testing, here are the top 3 beauty masks in the entire world:
1. Energizing
Shiseido Ibuki Beauty Sleeping Mask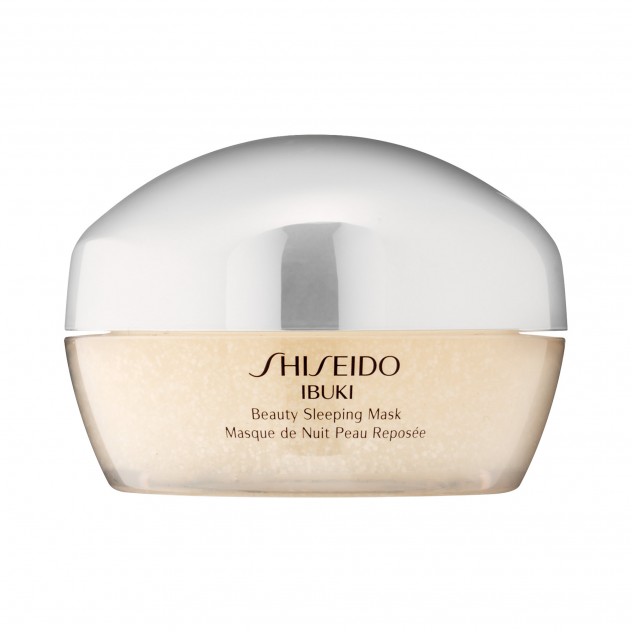 Shiseido's offering of overnight mask is unique in its formula and consistency and features vitamin capsules floating in a gel base.  Clear, thin and lightweight, it melts instantly into the skin and has a non-sticky and completely non-greasy feel. The fact that it is so readily absorbed means that it does not feel like a mask at all and as it is so lightweight it is the ideal option for those with oily skin. This formula will not block pores and will help balance out the skin by providing just the right amount of moisture.
The mask has been designed for all round relaxation and has a distinctive yet subtle violet scent. Perfect for a good nights sleep but not so ideal for those that have an aversion to scented products.
Verdict:
Skin appears radiant, plump and energised. After using this mask, I have received many compliments about my skin, specifically that I look well rested, something that couldn't be further from the truth. I am a massive fan of all Shiseido skincare, and I think this product may have to become a daily fixture in my beauty.
2. Lifting
Origins Plantscription Powerful Lifting Overnight Mask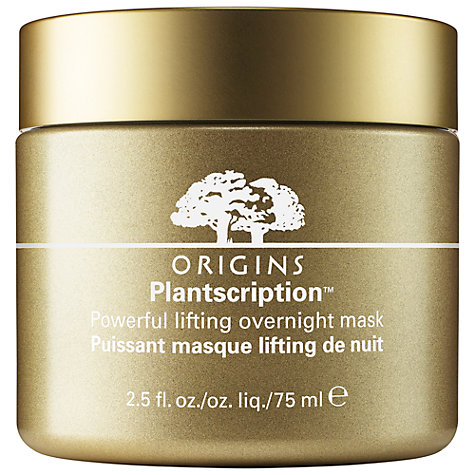 The first thing that you will notice when you open this pot is the pleasant citrus smell; fresh and not overpowering in the slightest. The mask itself is a gel-cream and has a lusciously thick texture that feels ultra-rich to the touch and is a joy to use. Surprisingly, despite its uber thick texture, it sinks almost instantly into the skin and does not leave an overly greasy film.
Officially the product, ' pampers as it helps visibly plump, lift and firm. Overnight, a more youthful structure is restored. Skin wakes to look tighter, feeling fuller and firmer.' Suggested as a nightly treatment, I have chosen not to follow this advice and have used this product as a treatment mask every 2 to 3 days.
Verdict:
Skin is visibly smoother and plumper, and there is an overall more youthful glow to my complexion. I love this product so much I now use it as a treatment before applying makeup. I apply and leave for an hour or so and then remove any excess before I begin applying foundation. One caveat for use, if you have a tendency to break out, specifically if your breakouts link to the use of heavy creams, then I would reconsider using this mask. While a heavy dose of moisture can be useful for oily skin, those of us whose pores become easily blocked should maybe skip this product.
3. Anti-Stress
Lancôme's Hydra Zen Overnight Serum-in-Mask
You are planning a wedding; you are most like stressed. And what you probably don't realise is that if you are stressed your skin is What you don't know is that your skin can be stressed too.
Stressed skin, in case you are wondering, is skin that is characterised by an increase in oil production, elevated levels of histamine trigger itchiness and inflammation while water, oxygen and nutrients are drawn away from the skin. All of this results in skin that is irritable and dull, and can become prematurely wrinkled, prone to breakouts, itchy and flaky. In addition, when your skin is stressed its ability to repair is compromised and it is less able to heal itself and recover from the daily stresses it encounters. Overall, stressed skin is bad.
Now enter Lancôme's Hydra Zen Overnight Serum-in-Mask, a sleep in mask with a gel-to-liquid texture that absorbs into the skin and promises to provide intense hydration and reduce the visible signs of stress.
Light to touch, this gel-to-liquid mask melts into the skin and is fully absorbed within 10 minutes for a fresh and not greasy feel. With a light violet scent, it relaxes the senses and prepares you for a good nights sleep.
Verdict:
My skin felt fully hydrated and super soft, and I had a definite glow. My skin was visibly less tired looking and my makeup glided on. Suitable for all skin types, it is light enough for even those prone to breakouts. Added into a weekly routine, once or twice a week, skin will feel and look renewed.
-Dani Farrell