The only thing that beats a relaxing holiday is a relaxing, self-improving holiday. Plan your spa break with help from our ultimate Irish Spa Guide for 2020, your complete guide to the best luxury spas the length and breadth of Ireland.
Espa At The Europe Hotel & Resort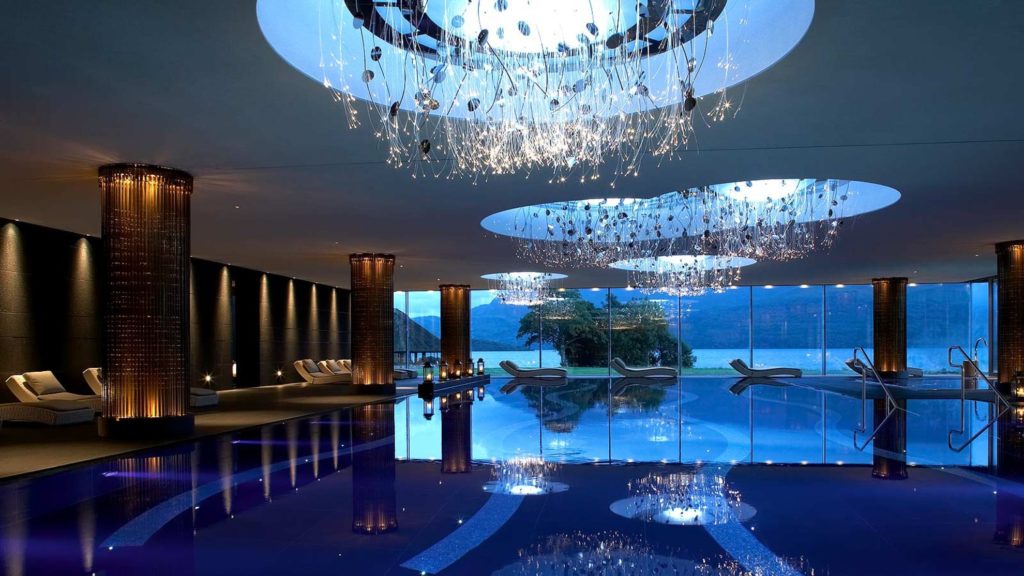 Set in the most stunning of locations overlooking the Lakes of Killarney, the five-star Europe Hotel & Resort is the perfect place to relax, unwind and escape from the hustle and bustle of daily life. Setting a new standard, this magnificent hotel is like entering a new world, where comfort and your wellbeing are at the core. It is, simply put, the ultimate in relaxation! No trip to The Europe Hotel & Resort is complete without a trip to the award-winning ESPA at The Europe, winner of Ireland's Five Star Spa Experience at the Hotel & Catering Review Gold MedalAwards 2018 & 2019. ESPA at The Europe features 16 treatment rooms, a private spa suite and thermal suite. Here, guests are free to soak in the outdoor vitality pool, feel the therapeutic benefits of the sauna and steam room and experience the stimulating rainfall and waterfall lifestyle showers. ESPA also offers a range of fitness activities with a large techno-gym; trainers are also on hand to offer personal training lessons, group classes, workout guidance and nutritional advice. ESPA has created a range of highly effective signature treatments for ESPA at The Europe. The unique series of holistic treatments combine traditional European and Eastern philosophies and work at releasing tensions and restoring a sense of absolute wellbeing. Choose from holistic hot stone treatments, Ayurvedic inspired rituals, intensive facials targeted to your skin type, a selection of personalised body wraps to detoxify, tone, hydrate, relax and boost energy, aromatherapy massage, plus treatments specially designed for men and mums-to-be. The spa has been designed to be in perfect balance with the nature of its environment, each relaxation space created to take advantage of the landscape, a peaceful haven in which to awaken the senses and relax the mind. One thing's for sure; by the time you finish at ESPA, you will feel like a superstar!
ESPA at The Europe, Fossa, Killarney,
Co. Kerry.
Tel: 064 6671333
Email: [email protected]
Web: www.theeurope.com
Eden Elements at Eden One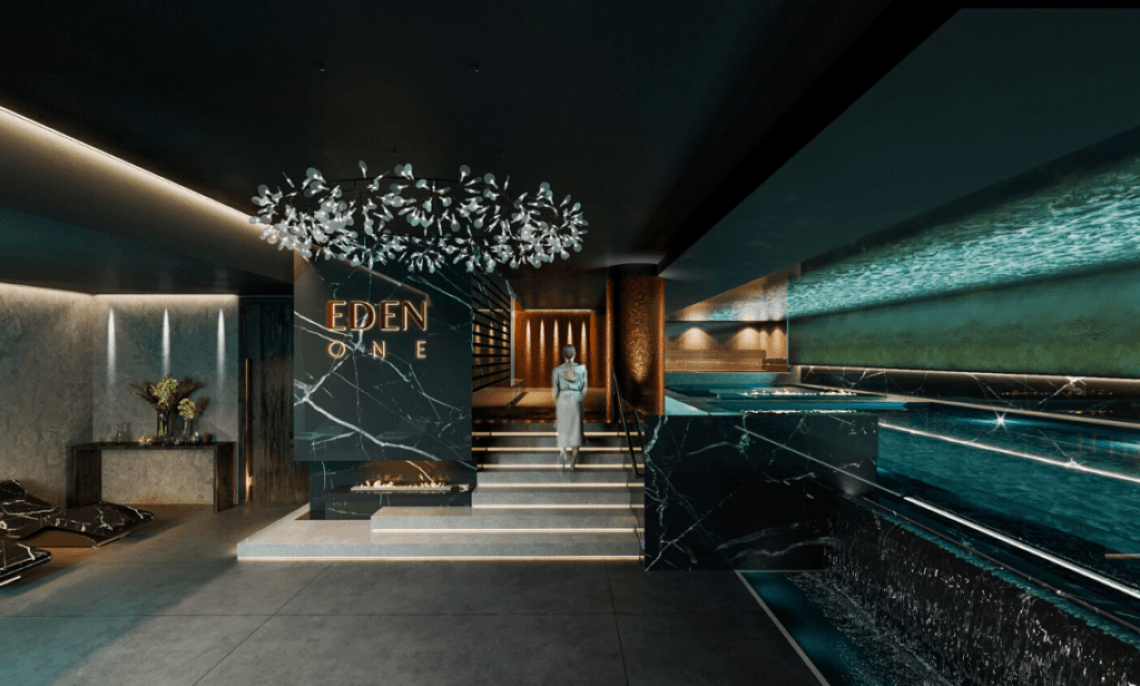 A sanctuary of peace and tranquillity, Eden Elements is Dublin's latest, next-generation spa, located at Eden One in Dublin's most sought-after address, Number One Ballsbridge. Extending across two floors, Eden Elements showcases a fusion of nature's elements; Earth, Air, Fire, Water, Light, Dark, Ice and Nature to invigorate all the senses. Combining visually stunning spaces with a vast array of unique thermal spa facilities and world-class treatments, exclusive access can be enjoyed by booking a Day Spa package or with an unlimited access membership. Eden Elements partners with 'TheWorld's Best Spa Brand', Natura Bissé, joining the realms of only the finest spas worldwide. Natura Bissé treatments take beauty and skincare to thrilling new levels of luxury hosted in the most sumptuous treatment rooms enriched with 99.9% pure filtered air. Private changing and a private relaxation suite enhance your treatment journey. Experience Earth, Fire, Water and Ice on the thermal floor where you will be welcomed by the Earth Room encased in a glow of Himalayan salt and infused by the latest ionised salt inhalation technology. Drift between the sublime infinity-edge swimming pool, invigorating vitality pool, panoramic pool view sauna, sensory showers and stalagmite ice fountain before ascending to the Garden Floor where you will experience Light, Air and Ice. Here you can unwind in the Gardenview Sauna and Pure Light Steam Room before experiencing the unique Snow Shower. Relax on the infrared heated marble loungers giving you a profound sense of deep relaxation, the heat from the loungers penetrating deep below the skin's surface.
Eden Elements at Eden One,
Number 1 Ballsbridge, Shelbourne Road,
Ballsbridge, Dublin 4.
Tel: 01 2150640
Email: [email protected]
Web: www.edenone.ie
Easanna Wellness & Spa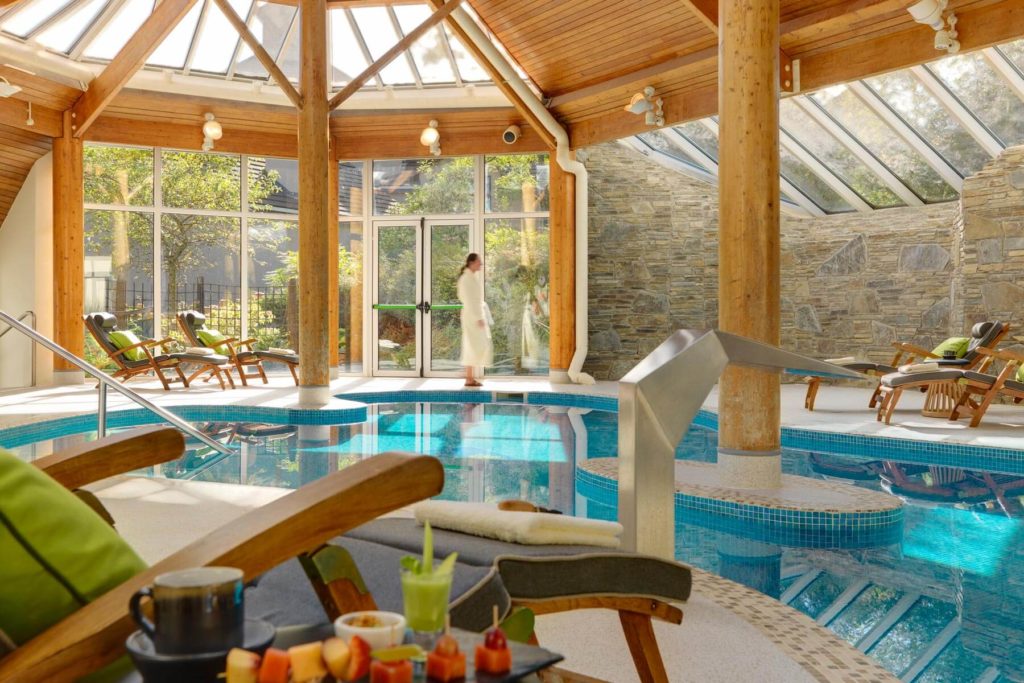 Indulge your senses with an unforgettable pampering experience at the newly refurbished Sheen Falls Lodge EasannaWellness & Spa. Sheen Falls Lodge is a sanctuary of relaxation and tranquillity located in the heart of the picturesque Kerry countryside, just outside the town of Kenmare. The newly refurbished EasannaWellness & Spa includes an indoor heated pool, sauna, steam room and Jacuzzi. In addition to a new relaxation area, three more treatment rooms have been added, including a couple's room, where guests can indulge in a vast range of pampering treatments. Easanna, the Gaelic word for waterfalls, provides a light, serene and stylish environment for your top-to-toe journey of relaxation. The spa offers products from organic Irish brandVoya and established brand Elemis. Voya draws from the Emerald Isle's own natural nutrients including hand-harvested seaweed and knowledge of local traditional treatments. Internationally renowned brand Elemis, lead the way in innovative and professional therapies for over 20 years. This year, escape the bustle of modern lie and enjoy a list of new treatments includingVoya's Deluxe Facial Experience, a 90-minute revolutionary seaweed facial which includes a gentle aromatic body sugar scrub followed by a back, neck and shoulder massage that melts tired muscles while soothing and softening skin.
EasannaWellness & Spa,
Sheen Falls Lodge,
Kenmare,
Co Kerry, V93 HR27.
Tel: 064 6641600
Email: [email protected]
Web: www.sheenfallslodge.ie
The Spa at Ashford Castle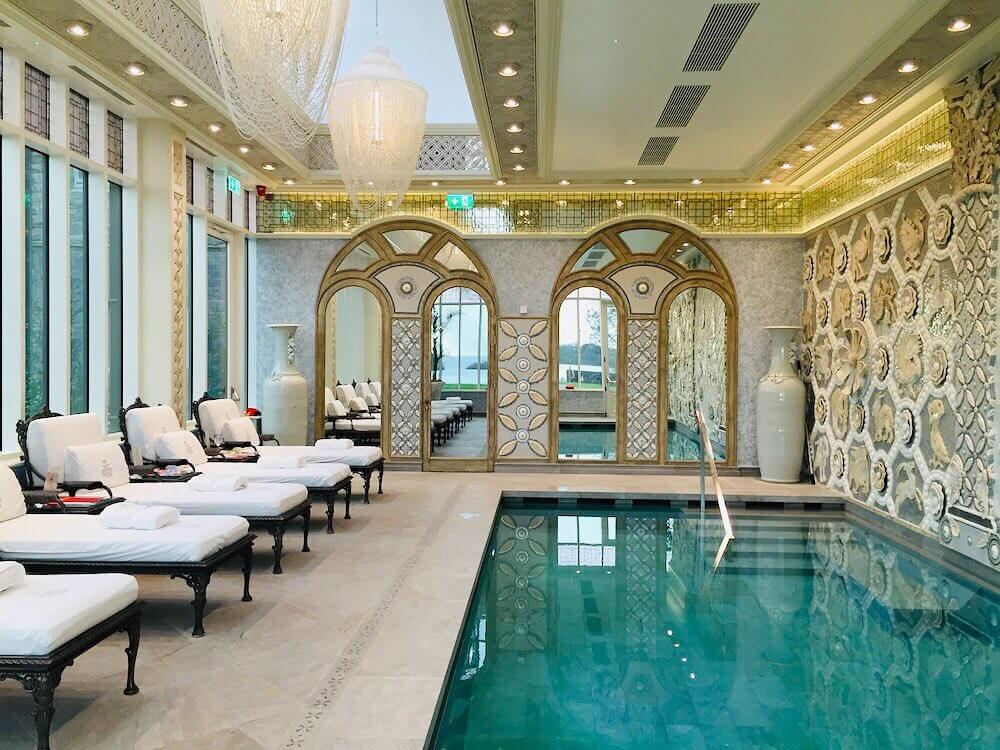 With its fairy-tale setting, range of relaxing treatments, state-of-the-art- facilities and magnificent views over Lough Corrib, The Spa at Ashford Castle provides a sanctuary of calm serenity, inspired by the location and history of this iconic building. The Spa was recently voted 'Ireland's Best Hotel Spa' by the World Spa Awards for the fourth year in a row. It is known for its wonderful personalisation and attention to detail for all Spa guests, the Spa team portray excellent skills in all aspects of Spa and Holistic Therapies showing empathy and consideration, as they strive to reflect genuine and generous hospitality. The iconic bronze conservatory stands and connects the 13th century Ashford Castle with bespoke creations within the treatment rooms, including handmade seashell chandeliers. A central design feature is the beautiful 'Tree of Life' mural by celebrated South African ceramic mosaic artist Jane Du Rand, which stretches across an entire wall of the Relaxation Pool. Decorated in muted greys, earthy greens and purifying creams, the Spa boasts an invigorating Hammam using Irish owned Voya, an essence infused Steam Room, a finishing touches suite for manicures and pedicures and a tranquil relaxation suite offering a range of healthy treats. The Spa has five bespoke treatment rooms, including a couple's suite offering an extensive range of indulgent and results-driven spa experiences from some of the world's most iconic brands.
The Spa,
Ashford Castle Hotel,
Cong,
Co. Mayo.
Tel: 094 9546003
Email: [email protected]
Web: www.ashfordcastle.com
Castlemartyr Spa at Castlemartyr Resort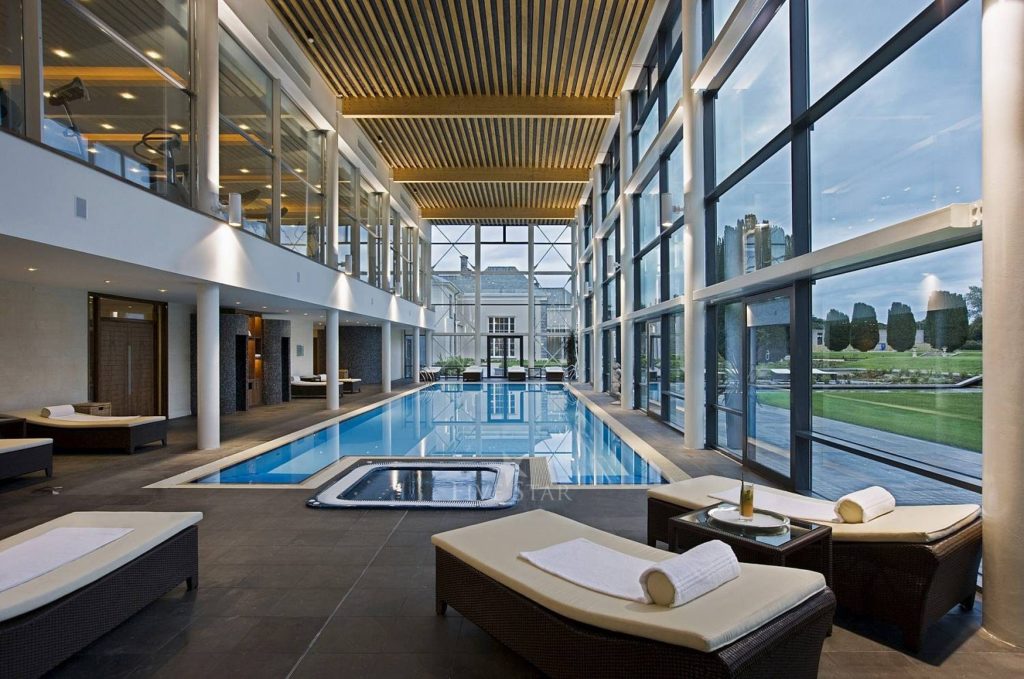 A spectacular wellness, spa and fitness centre, The Spa at the five star Castlemartyr Resort in East Cork is the perfect haven for some rest and relaxation. Boasting unbeatable views out over the country estate, the wrap-around glass frontage surrounding the 20-metre swimming pool and Water Room creates a peaceful, tranquil environment showcasing the true beauty of this luxury resort. Whether the rain is beating against the glass while you enjoy a gently heated dip in the depths of winter or the expansive blue sky stretches cloudless over your swim on a glorious new year's morning, this is a special experience, to be had only at Castlemartyr Resort. With 10 treatment rooms, jet pool, aromatherapy sauna and steam room, relaxation rooms and vitality lounges, The Spa at Castlemartyr offers a glorious menu of blissful treatments using the gorgeous ESPA products which are on sale at The Spa. An oasis of calm, the team here are dedicated to personalised service, holistic lifestyle programmes and indulgent spa experiences all delivered in the environment of a world-class retreat. The ideal location for a detox break, you will be showered with some well-deserved pampering and peaceful time out in the serene and tranquil surroundings of the day spa at Castlemartyr Resort. All guests have complimentary use of the 200 square meter gym and fitness studio, equipped with the very latest Techno gym fitness equipment, which has stunning views from its setting above the pool, out over the manicured lawns. There is also the option of a daily programme of exercises in the fitness studio including aqua exercise and Pilates. An ideal gift from Christmas to birthdays or special occasions, a voucher for The Spa at Castlemartyr is the perfect luxury for some guaranteed rest and relaxation with unadulterated pampering.
The Spa at Castlemartyr Resort,
Castlemartyr, Co.Cork.
Tel: 021 4219060
Email:[email protected]
Web:www.castlemartyrresort.ie
The K Spa at the K Club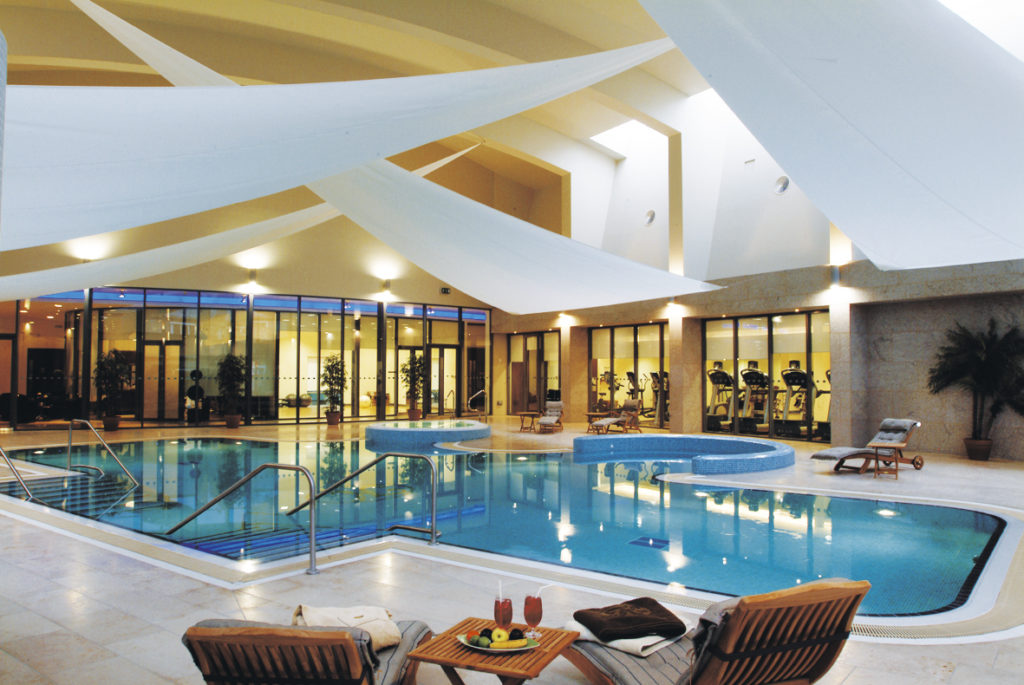 Glamorous, opulent and elegant, The K Club, Co. Kildare is a five-star country resort on 550 acres of beautiful sweeping countryside. The award-winning K Spa at The K Club offers an oasis of calm at the luxury resort and the highest levels of comfort, indulgence and relaxation for guests in scenic surroundings. The K Spa is a place where every detail has been tailored to suit your needs from the picturesque setting to the exquisite treatments. K Spa uses two quality product ranges, Carita and the only spa in Leinster with the luxurious Spanish skincare brand, Natura Bissé; a company that designs each product for the individuality of each person's skin. The K Spa has seven luxurious treatment rooms, two private suites which are ideal for couples or groups, and a wide variety of treatments to choose from for both men and women. Treatments include aromatherapy, thalassotherapy, facials, massage, body care and grooming. The welcoming wellness suite at The K Spa includes Hamam, Hydrobath, Vichy showers, an exotic Rasul Chamber and a secluded outdoor hydro pool surrounded by a backdrop of bamboo plants and an herb garden. The K Spa is the epitome of luxury and relaxation just 30 minutes from Dublin city centre and has a range of day and residential spa packages and treatments available.
The K Spa,
The K Club,
Straffan,
Co. Kildare.
Tel: 01 6017200
Web: www.kclub.ie
The Spa at the Johnstown Estate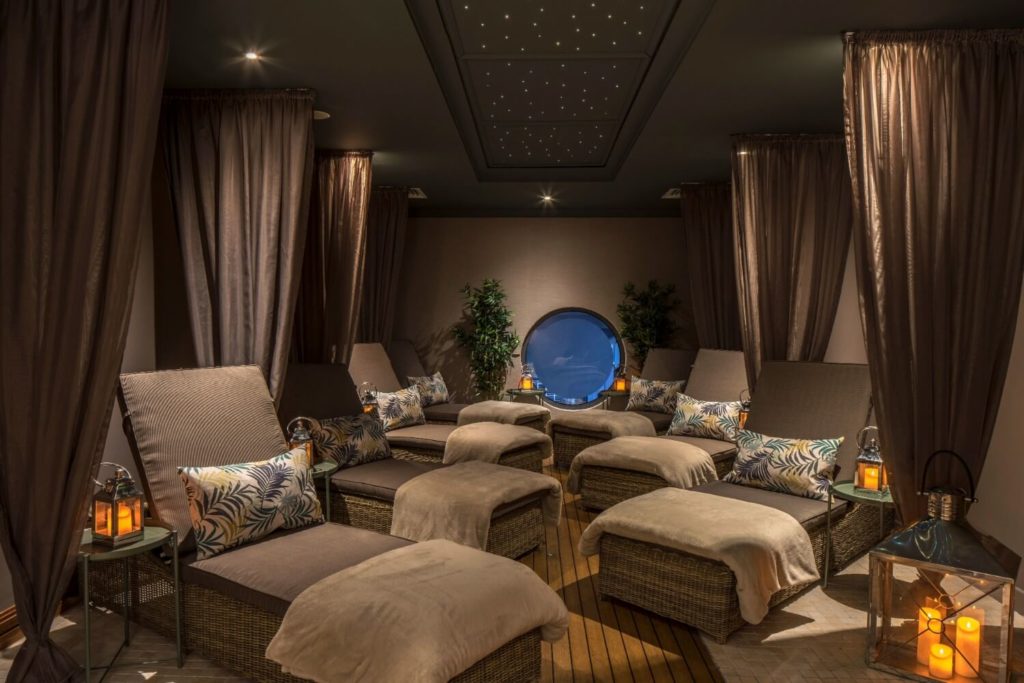 Combining Georgian elegance and modern-day luxury, The Johnstown Estate is an ideal location for a spa get-away, not least due to its 14-room Elemis Flagship Spa. This is a gorgeous candlelit spot to escape for a few hours, or even a full spa- day, and forget completely about the outside world. The highly professional, Elemis-trained team is focused entirely on personalising each visitor's experience. Time is invested in identifying each individual's needs in light of their skin type, physical tiredness and state of mind. The team prides itself on ensuring comfort and relaxation to each of their clients. Treatment complete, many visitors fall straight into a blissful sleep, almost before their heads hit the pillow in the Quiet Room –a darkened, silent, post-treatment room which continues the journey deeper into relaxation for the client. Smoothies, sliced fruit and chilled water are all available. In addition to treatments, each visitor enjoys complimentary access to the thermal suite including Sauna, Steam room and Caldarium. Guests can also enjoy the Leisure Club facilities with a dip in the 20-metre pool or a soak in the Canadian outdoor hot tub – bliss on a chilly day. In addition to the spa facilities, Gloss atThe Spa launched in November 2019. A stunning gold and jewel-coloured beauty room, including a treatment room and twelve treatment stations, Gloss atThe Spa is tailor-made for exclusive use by a group of up to ten. It is the perfect venue for any girly get-togethers from pre-wedding celebrations to milestone birthdays to baby showers. A typical booking would include two half-hour treatments, skin analysis and a make-up tutorial, accompanied by a cocktail.
The Spa at The Johnstown Estate Hotel,
Enfield,
Co. Meath, A83V070
Tel: 046 9540000
Email: [email protected]
Web: www.thejohnstownestate.com
Spa at Kilronan Castle Estate
Set on the shores of Lough Meelagh, the secluded Kilronan Castle is ideally located amid forty acres of inspiring Irish scenery and ancient forests, offering unspoiled views of the magnificent Roscommon countryside. One of Ireland's most lavish castle hotels, a luxurious spa retreat at Kilronan Castle Estate and Spa is the ideal spot for some much-needed rest and relaxation. The decadent interior is matched by first-class accommodation and fine dining options, adding to the blissfulness of your stay. Undoubtedly one of the biggest lures of Kilronan Castle is the state-of-the-art spa. This world-class facility, along with the accompanying leisure centre, allows you to relax, unwind and rejuvenate with one of the spa's luxurious treatments. Escape from the hustle and bustle of daily life with individual treatments, as well as half- and full-day packages, guaranteed to leave you feeling invigorated, rejuvenated and ready to take on the world again. With a highly qualified staff bringing years of experience and expertise, you can be assured that you are getting the best of service and treatments. Choose from a wide range of treatments, all of which use the highly regarded Elemis Product. Newly launched is the BioTech Facial which offers leading technology facial treatments which reduces lines and wrinkles. If you are looking for something a little different, Kilronan Castle Spa also offers aromatherapy, reflexology and Indian head massage, all of which work at restoring the body's natural balance and battle the physical side-effects caused by the stresses of daily life.
Spa at Kilronan Castle Estate,
Ballyfarnon,
Co. Roscommon.
Tel: 071 9618000
Email: [email protected]
Web: www.kilronancastle.ie
Island Spa at Inchydoney Island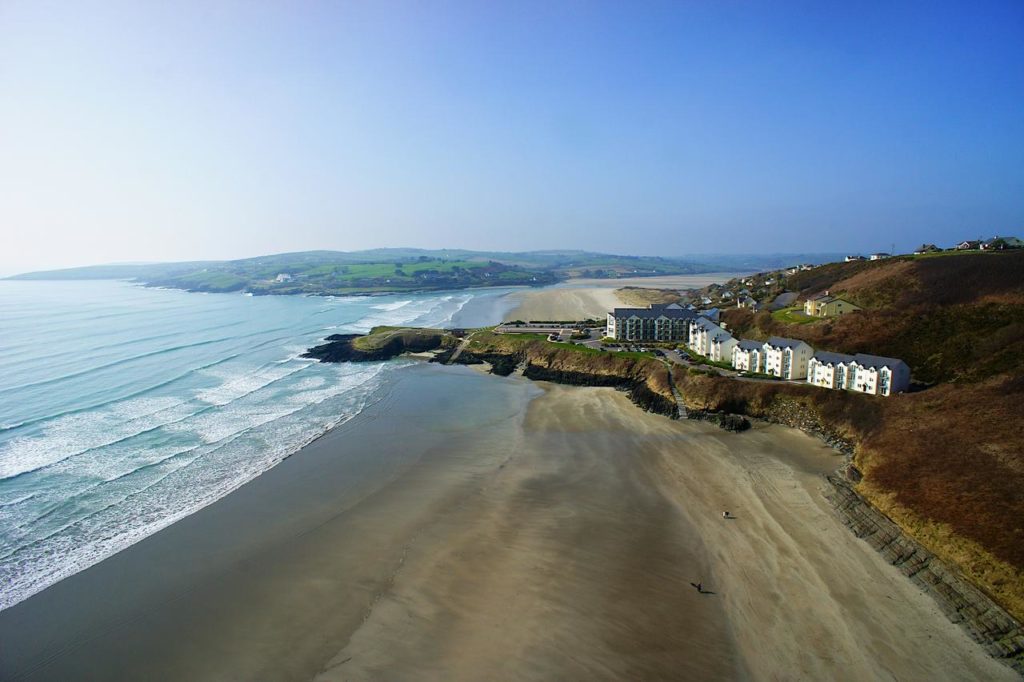 Blessed with a magnificent location in West Cork, a warm welcome awaits you in one of Ireland's most exclusive and tranquil retreats. The Island Spa is a haven of rest and relaxation and is Ireland's only Thalassotherapy spa, utilizing the natural elements of seawater to provide essential minerals that cleanse and rejuvenate the body. Seawater is pumped daily from the ocean into the Seawater Therapy Pool and heated. A swim in the salt-water is a therapy in itself. Treatments in the Island Spa are extensive from body rituals, Elemis facials and diamond body exfoliations as well as the wonderful seawater and sea mud-based treatments of algotherapy, seawater massage and seaweed wraps. Two stunning relaxation areas are the jewel in the crown of the Island Spa. Sit back and enjoy the stunning views of the beach and the ocean, catch up with friends or simply lose yourself in a book. A complimentary fruit and juice bar means you can unwind for hours overlooking the ocean before and after your treatments. Another stunning feature of the spa is its private treatment suite, The Suite comprises of a private treatment room and private relaxation room; providing an intimate space for girls and guys to relax and chill out together surrounded by a wall of star lights. Choose from the formal dining options in the Gulfstream Restaurant or for a more relaxed atmosphere, Dunes Pub and Bistro is the ideal choice. The Lounge is the ultimate chill-out room for your spa day. Enjoy lunch or afternoon tea in your robe as you sink into the cosy and inviting couches. Inchydoney Island Lodge and Spa have been voted Ireland's Leading Spa Resort at theWorldTravelAwards for the seven years, this is a truly sublime hideaway.
Island Spa, Inchydoney Island Lodge & Spa,
Clonakilty,
Co. Cork.
Tel: 023 8833143
Email: [email protected]
Web: www.inchydoneyisland.com
The Wells Spa, Brooklodge & Macreddinvillage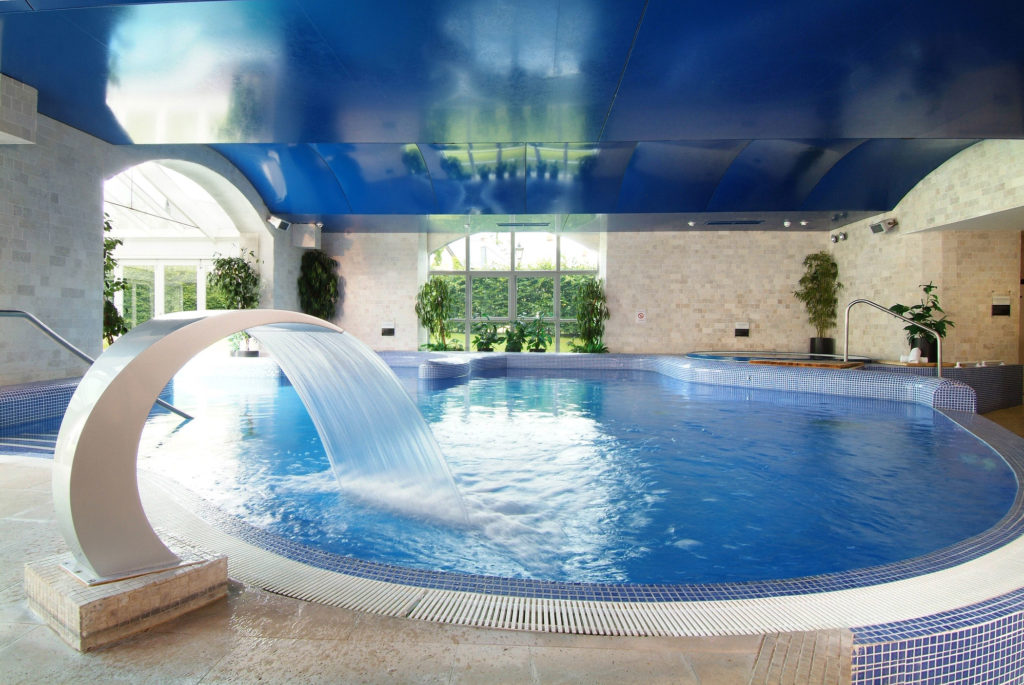 Wicklow's BrookLodge & Macreddin Village is home toTheWells Spa, a place of peace and tranquility that is sure to promote relaxation and rejuvenation.This adult only Destination Spa features; a Hammam massage room, wet and dry flotation rooms, heated relaxation loungers, a serail mud chamber, aroma steam room, sauna, outdoor hot tub, numerous water features and a stunning indoor to outdoor swimming pool. MacreddinVillage is an organic oasis renowned for hosting Ireland's first certified Organic & Wild Restaurant –The StrawberryTree and is committed to sustainable living. Naturally,TheWells Spa range of skincare products and treatments shares this important philosophy with the use of natural and organic products like Lucy Annabella Organics, Flourish Organics & BABOR. Lucy Annabella Organics provides therapeutic products from decadent organic plants and herbs.This organic range encourages renewal and restoration allowing you to immerse yourself in a cocoon of sensual healing. Babor was chosen for its outstanding results and its commitment to sustainable beauty. Flourish Organics offers a complete line of spa products containing only the finest natural and organic Irish ingredients.
The Wells Spa, BrookLodge & MacreddinVillage, 
Co.Wicklow. 
Tel: 0402 36444 
Email: [email protected] 
Web: www.brooklodge.com
Fota Island Spa at Fota Island Resort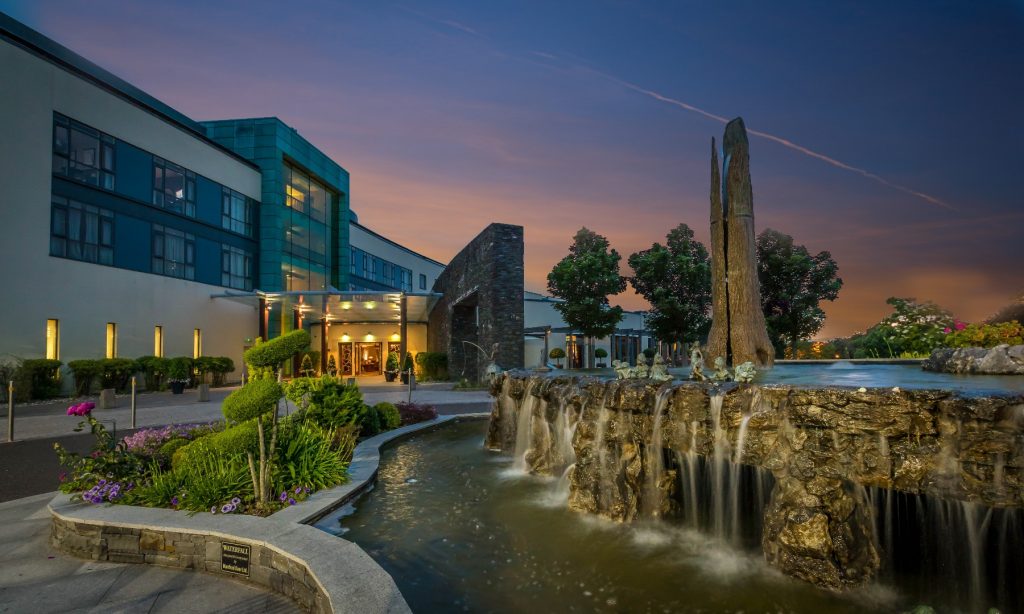 A wonderful spa where the worries of the world just melt away, Fota Island Spa at five-star Fota Island Resort brings together a unique combination of treatments, therapies and facilities to restore personal energy and vitality. Perfect for anyone looking for relaxation, pampering and an exceptional focus on beauty. Begin your journey in the Hydrotherapy Pool and AcaciaThermal Suites which include a heated mosaic relaxation suite, a Hamman mosaic steam room, Jacuzzi and sauna. Escape to your own private island, choosing from the luxurious full-day packages which include lunch fromThe Amber's healthy options menu or create your own perfect spa experience with over 80 holistic and rejuvenating treatments to choose from. All products used in Fota Island Spa treatments have been selected to provide the ultimate spa experience, with luxury brands including Comfort Zone, Kerstin Florian and Les Luneides trusted and loved by spas across the globe. Fota Island Spa also stocks BASQ NYC for maternity treatments. In addition to the 18 bespoke treatment rooms and two unique relaxation areas, The Hair & Beauty Rooms at Fota Island Spa have researched and selected multi-award winning brands such as Lycon wax, Davines haircare, Vita Liberata luxury tan, Artistic nail design and Fuschia make-up to provide superior beauty treatments.
Fota Island Spa,
Fota Island,
Co. Cork.
Tel: 021 4673131
Email: [email protected]
Web: www.fotaisland.ie
The Beautique Spa at Hayfield Manor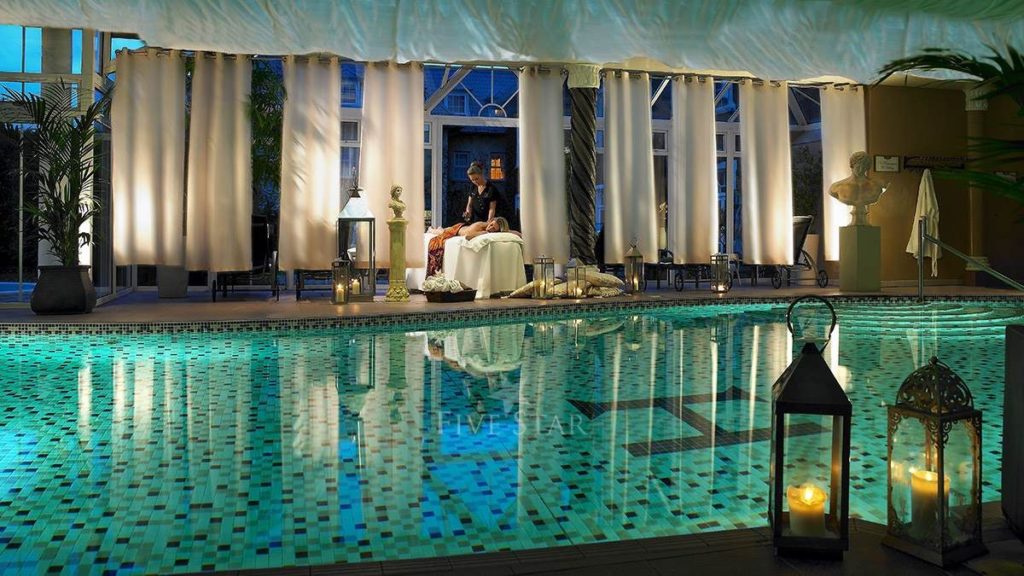 A significant ingredient in the luxurious five-star Hayfield Manor experience, The Beautique Spa is a space of pure relaxation and indulgence. The Beautique's interior design was inspired by the theme 'Pearls and Girls' and each treatment room is individually designed. In addition to luxurious surroundings, the ultimate aim is to offer guests an unparalleled experience with five-star treatments delivered in a stylish haven of relaxation. Elemis-trained experts conduct personal consultations with spa guests on arrival to ensure that they experience a bespoke treatment which will leave them feeling utterly relaxed and rejuvenated. In addition to the elegant treatment rooms, The Beautique facilities include a swimming pool with poolside loungers, revitalising steam room, sauna and outdoor Jacuzzi for you to enjoy. For those seeking the ultimate short spring break, The Beautique Spa has created an exclusive offer especially for Social & Personal readers: Enjoy an overnight stay in a beautiful Manor Room and experience luxurious pampering at The Beautique Spa with a one-hour treatment per person and delightful Afternoon Tea served in Orchids Restaurant. From €235 per person sharing, this offer is available Sunday to Friday from February until April. Simply quote 'Social & Personal Spring Offer' upon booking. (Please note, this offer is subject to availability and is not available in conjunction with any other offer).
The Beautique Spa,
Hayfield Manor,
Perrott Avenue,
College Road, Cork.
Tel: 021 4845900
Email: [email protected]
Web: www.hayfieldmanor.ie