SOCIAL & PERSONAL WEDDINGS Editor Alexandra Desmond talks you through her beauty regime in the lead up to her wedding this summer 
When my lovely husband and I first booked our wedding last September, I had great plans afoot for all the pampering to come before I made my way up the aisle. While COVID may have put a stop to my plans for regular facials, I had luckily begun other prep work before the country came to a halt so all was not lost. 
Brows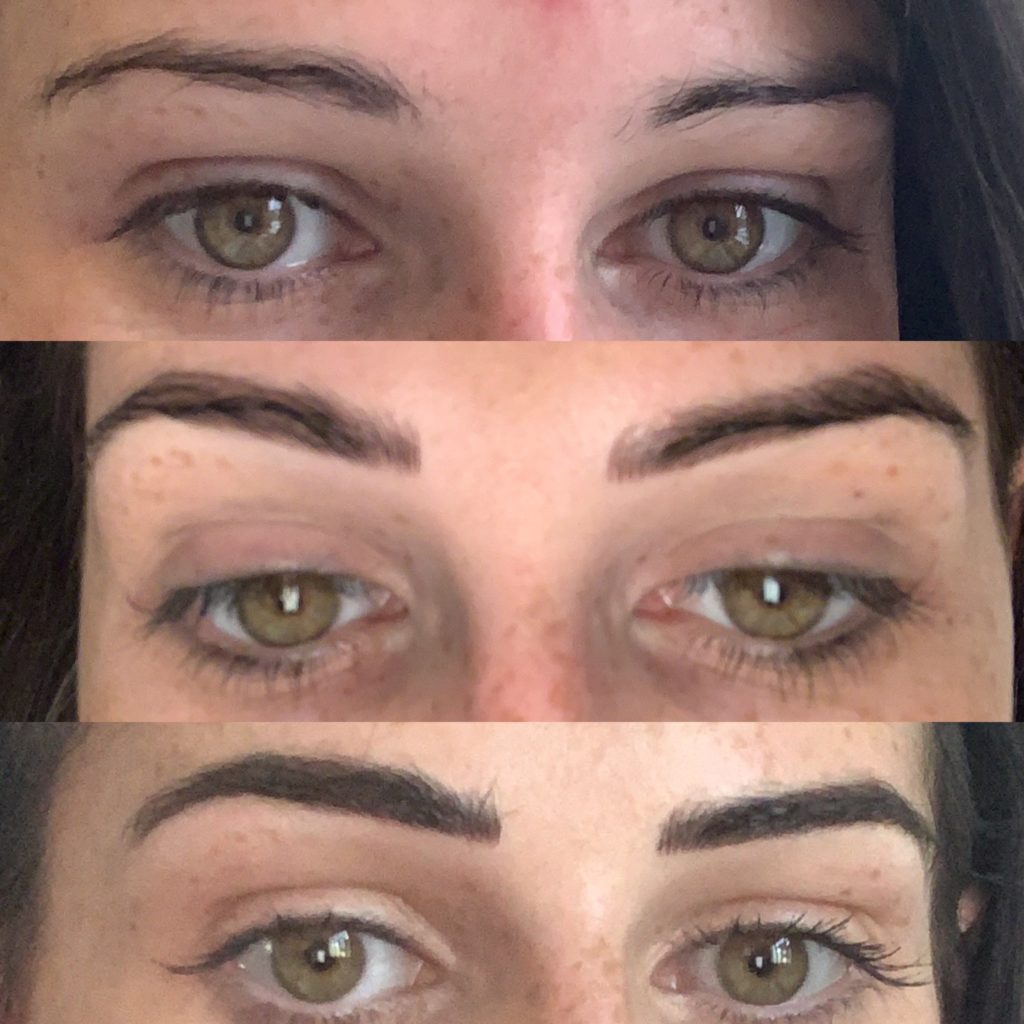 We had originally planned a wedding abroad and my first port of call for a week on the beach was to ensure my eyebrows were on point so I could feel comfortable wearing minimal to no make-up in the sun. Like so many others, my brows were causalities of the '00s when over-plucked brows resembling sad little tadpoles were all the rage. Tweezing with enthusiasm over the course of just a few short months resulted in long-lasting damage with sparse, stubborn patches refusing to sprout once again no matter which serums and treatments I tried. And so, I turned to microblading. For those who are unfamiliar with the process, microblading is a semi-permanent treatment that enhances the appearance of eyebrows by scratching pigment into the skin in fine, short strokes using a hand tool with a blade formed of tiny needles. You had me up until that last bit….! You might be asking why anybody would want to put themselves through this in the first place, but the results are incredibly natural, resembling fine hairs which can be built upon in further sessions for a deeper intensity. 
As the treatment is semi-permanent, I wanted to find somebody I trusted implicitly and who understood the look I was hoping to achieve. I did my research before choosing Aileen from The Clinic at Ebano in Ballinteer. Aileen's reputation precedes her and with good reason– she is a wizard when it comes to brows. I eased myself in with my first appointment and erred on the side of caution with the shape and intensity. The treatment took approximately two hours and was certainly uncomfortable for the first 15 minutes of that but as the topical anaesthetic kicked in, I found the sound of the strokes the most disconcerting part of it all (I'm a bit of a baby around needles so the idea of it scared me more than the physical process!). Aileen talked me through the aftercare –no swimming, sauna, steam room, make-up or products on the area for five days and try to give the gym a miss (no sweating which can push the pigment out). I was given instructions on how to clean and protect the area for the next few days and warned it would take a few weeks for the colour to settle so as not to be alarmed at any initial darkness or lightness. Two weeks later and the full effect was honestly incredible, I was booking my next appointment already. Ebano recommends two appointments initially to achieve the desired result and then a top-up roughly every year to 18 months. I opted for a third treatment to fill out my brows slightly as I was so cautious in my initial appointment. The difference between when I first walked into The Clinic last year and me rolling out of bed these days is phenomenal, it has changed the shape of my face completely and while I do sometimes fill in certain little areas for nights out, my daily routine is that much quicker. I love having the outline there at all times so it's more or less foolproof to mess up! This is most definitely a treatment I will continue to get topped up every year. Ebano requires a minimum of six weeks between the two appointments, with your second appointment carried out a minimum of six weeks before your wedding to allow time for the healing process and to achieve the best results. The total cost for the two appointments is €420. 
Teeth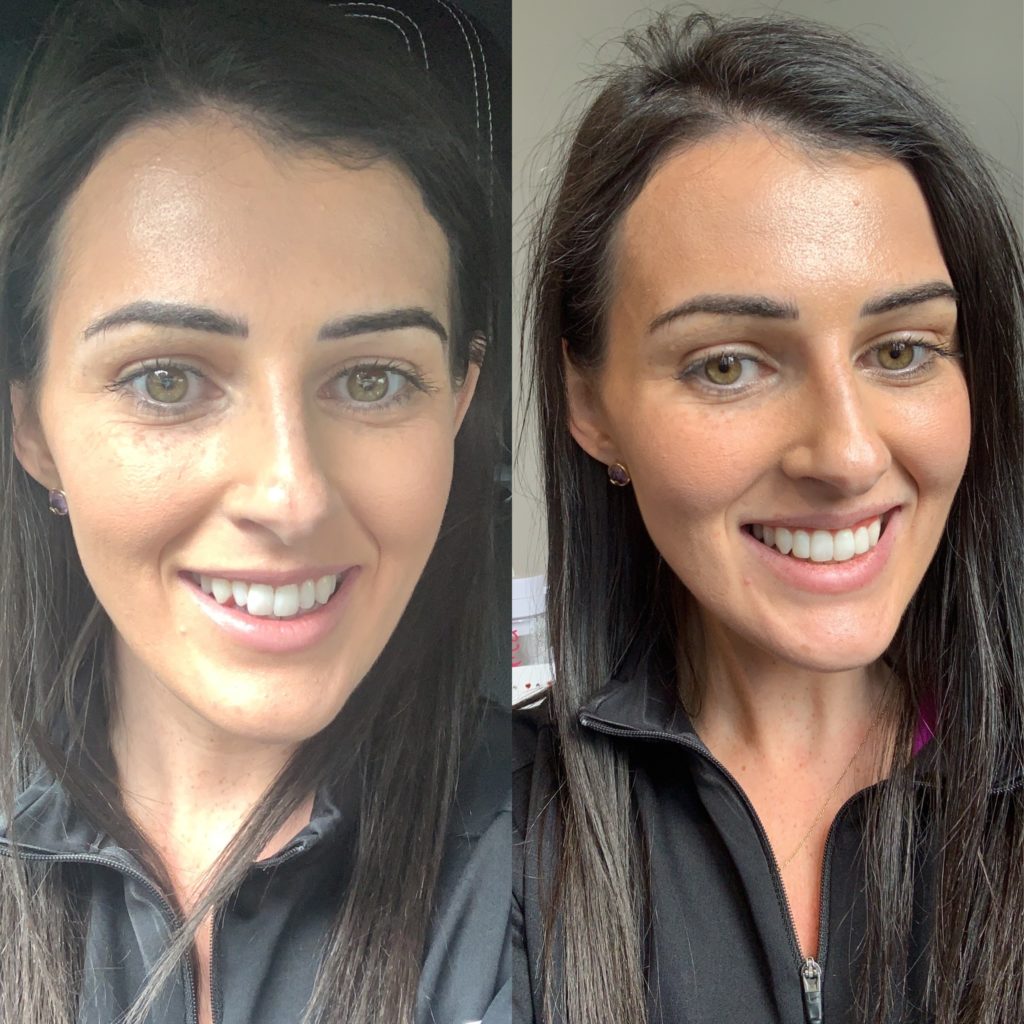 While I was very fortunate that I never needed braces during my younger years, I was always bugged by one of my incisors which grew at a side angle, resulting in a smaller sort of peg tooth. I definitely regarded myself as having a good side for photos and while it wasn't a major issue, I decided to look into my options for an evening out my smile for my wedding pictures when I knew I would be photographed from all angles. I booked into Donnybrook Dental with Dr. Luke Ford approximately seven months before our wedding and he presented me with some different options, namely bonding or veneers. While I was more or less content with the rest of my smile, I didn't see the benefits of opting for the costly process of veneers so I decided on the route of composite bonds instead. Dr Luke recommended bonding on the mirroring incisor also to ensure a completely even appearance and I was so surprised at how simple and inexpensive the process was, I genuinely was kicking myself for having not looked into this sooner! Bonding is essentially a composite filling of a tooth coloured resin material that is bonded to existing teeth to reshape them. The colour of the resin will be matched to the shade of your own teeth for a flawless appearance. Before undergoing the bonding, I wanted to whiten my teeth so this step must be completed before choosing the shade to enable the dentist to match the resin to my newly whitened teeth. You cannot whiten the resin so it is important to look into whitening before the appointment to avoid any uneven colouring. 
For my whitening, I had a gum shield moulded to my teeth and an at-home kit that involved low doses of hydrogen peroxide. I popped in my gum shield with a bleaching agent each night for 30 minutes over the course of two weeks and was amazed at the results, it brought the colour of my teeth up several shades and I experienced no sensitivity like I had with previous whitening products. The at-home whitening kit cost €200 including my consultation and was money well spent in my books! When I booked back in for my bonding after I completed the whitening course, it was a quick lunchtime appointment (I think it took an hour and a half total) and I was delighted that I didn't need any anaesthetic, it was entirely pain-free. Composite fillings are charged per size, mine were two medium fillings for a total of just €300. The composite bonds are without a doubt the best procedure I had done throughout my wedding prep, I have had countless compliments and I feel so much more confident in my smile. There was zero downtime and although it definitely took some time for me to get used to the feeling of my altered teeth, it feels completely normal two months on and I am absolutely delighted with the results. 
Body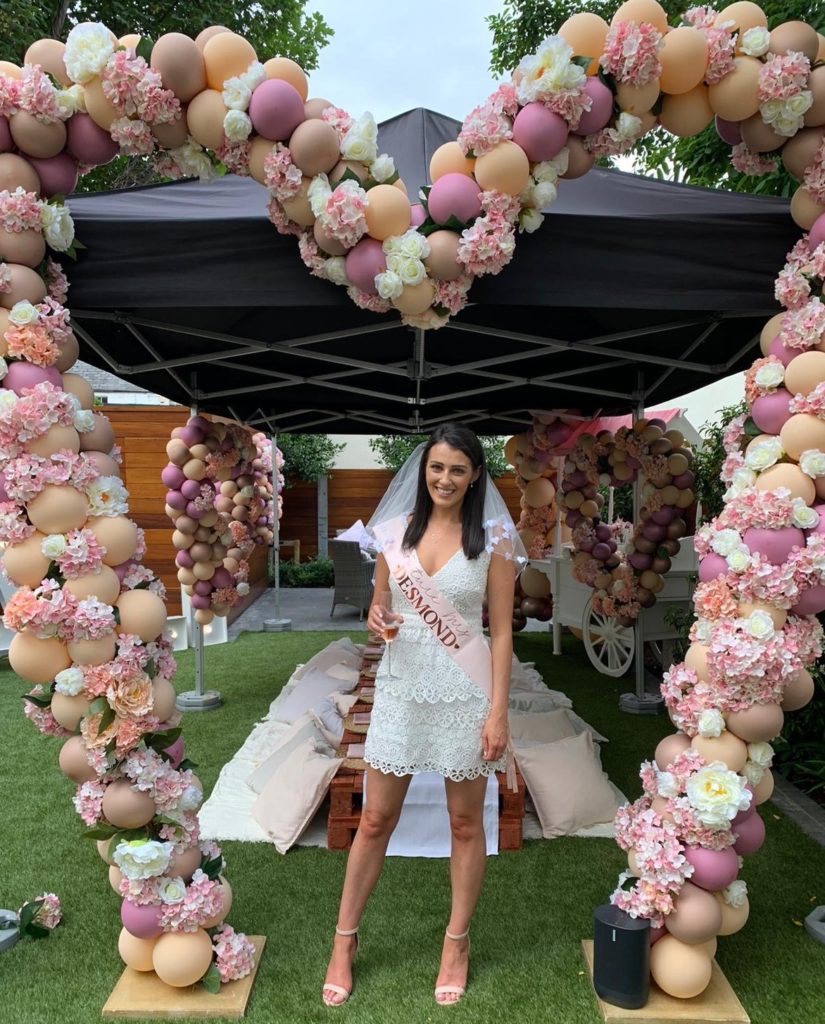 I hate the gym and I really mean that, the thought of people "popping to the gym" at 6 am before work brings me out in a cold sweat. I have been lucky enough with my metabolism but in my thirties, it has certainly started to slow and I find myself being a little more careful of what I eat… Before the dreaded pandemic hit, I was in a great routine ordering Clean Cut Meals (Cleancutmeals.ie) and taking my gorgeous dog Baloo out for long walks as my regular exercise. As I faced lockdowns and the realisation that our wedding, hens and stags would all fall victim to COVID, my motivation hit rock bottom and like so many others, I let everything go out the window in terms of my diet. After a few weeks, I was a bit miserable with the stress of it all combined with lack of exercise and poor diet and so I forced myself to start regular spinning classes on my husband's Peloton bike. While I can't say I entirely enjoyed them, I did love the difference in how I was feeling and found I was sleeping much better. When lockdown lifted, I began personal training sessions with Johnny Coleman (based in Dublin 4) as I wanted to tone up and shed some extra pounds before I walked down the aisle. We aimed for three 30 minute sessions a week supplemented with one or two Peloton classes and a long walk with Baloo again at weekends. Johnny mixed up TRX with some weights and mat exercises for me and for the first time in my life, I actually enjoyed the gym. The classes were an outlet for any stresses and soon enough I was sleeping so much better too, I noticed a huge difference in how I was feeling overall. While I didn't have that much lead-in time for the personal training sessions before the wedding, the few months we did have made such a difference in terms of weight loss and toning. I had bought a dress for my hen months previous and when I went to try it on again just before my hen, I was amazed at the difference. Having somebody to motivate me and keep me on track made my sessions fly and I looked forward to that sense of achievement after each session, particularly if I was having a bad day! The short bursts of activity and constantly mixing up exercise prevented boredom setting in and while admittedly pricey, personally I found it really worked for me.    
Hair Care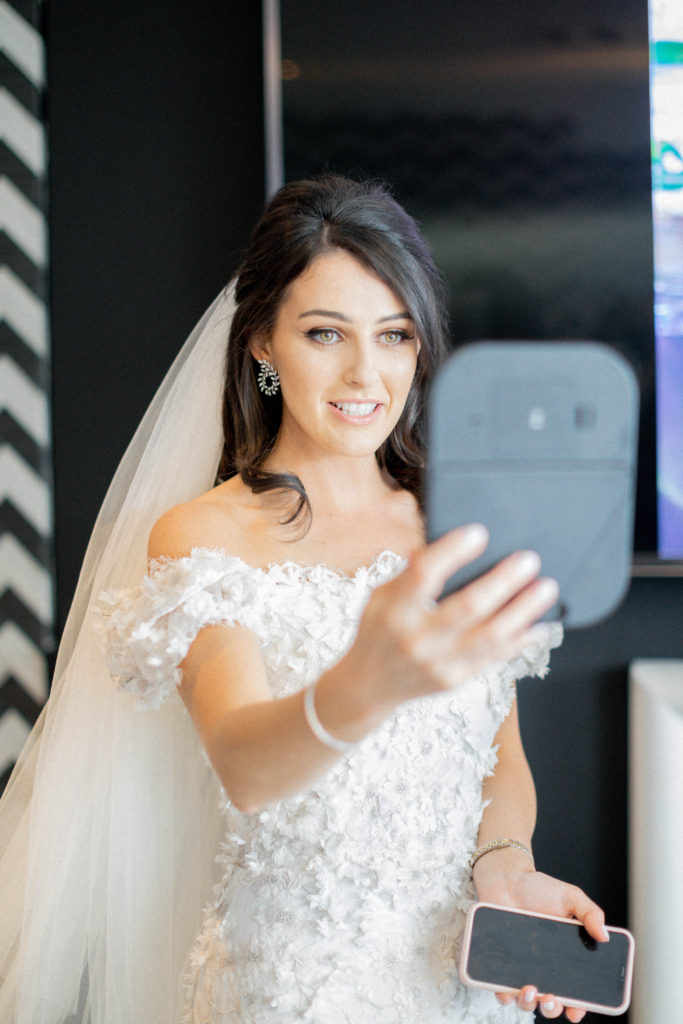 I straighten my hair every day which naturally takes its toll on the health of my locks so I wanted to try to replenish and rehydrate my hair in the lead up to my wedding. As hairdressers were all closed for months with COVID19, I wasn't able to maintain regular haircuts and so I had to attempt at-home care. I tried to apply a hair mask once every week or two and I switched from my GHD to the L'Oreal Steampod. As per its name, the Steampod uses steam to straighten hair so you are left with soft, glossy locks without that dried out, damaged feeling. I found my hair was much more straight and sleek than when using the GHD and it also held the straightness a lot longer. I noticed I needed to wash my hair more often because of the moisture from the steam and when using the original Steampod, it's quite bulky so not as travel friendly as the compact and light GHD. I also have a lot of baby hairs which I didn't find I was able to get as close to the scalp as I needed with the Steampod so I was reaching for my GHD on occasion to tackle them. L'Oreal has released a Steampod 3.0 in recent months which I was very kindly gifted, it's much more compact and light but I personally preferred the overall effect of the original Steampod. Either way, I think the Steampod is a great investment if you're in the market for a new straightener, I found straightening my hair so much quicker and loved the glossy, shiny effect it produced. 
For my desired hairstyle for the wedding day, I knew I would need more hair to work with but as I had never had extensions before and I was limited with time to trial out any permanent options between hairdressers reopening and our wedding, I opted for clip in hair extensions which I got in Sally Beauty on Exchequer Street, as recommended by my hairdresser Matthew Feeney. Matthew cut these to the desired length during my trial and then clipped them in on the morning of the wedding. The night before the wedding, I washed my hair with the Kérastase Densifique which plumps, hydrates and strengthens hair. 
Make-up & Skincare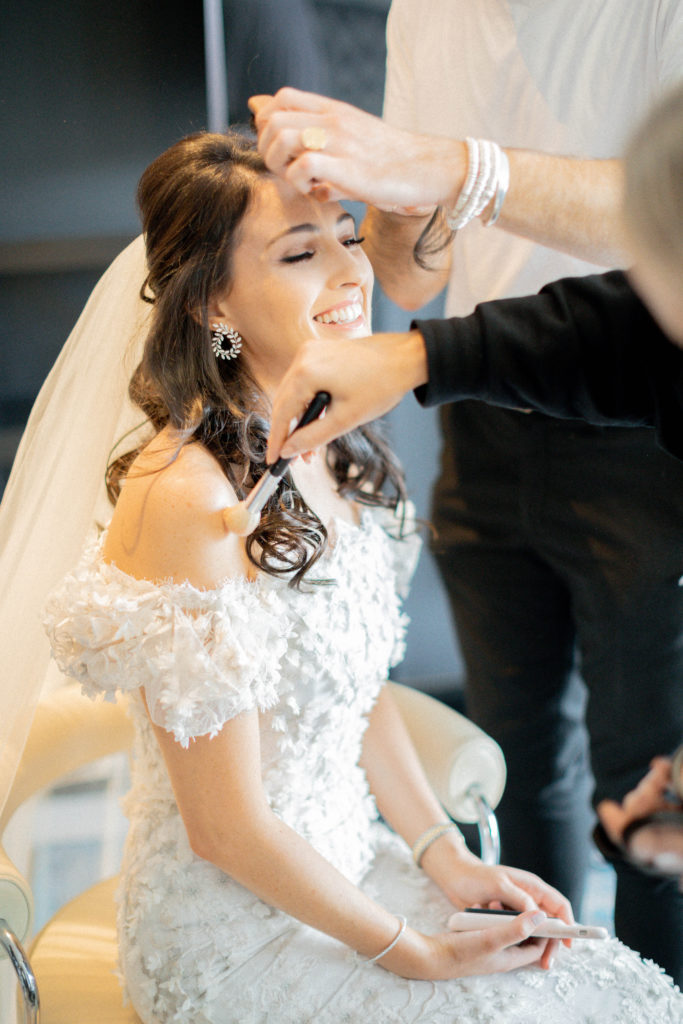 For my skincare regime, facials were obviously not an option as nowhere was open so I tried to adhere to my own strict routine and used Murad Hydro-Dynamic Ultimate Moisture, La Prairie White Caviar Illuminating Pearl Serum and Bobbi Brown Face Base every morning along with Image The Max Stem Cell Facial Cleanser and a nightly combination of Estée Lauder Advanced Night Repair and Murad Retinol Youth Renewal Night Cream. For my make-up, I am obsessed with the Laura Mercier Pure Canvas Illuminating Primer, Charlotte Tilbury Flawless Filter and also the Laura Mercier Tinted Moisturiser Illuminating Natural Skin Perfector for the days I wanted sheer coverage, all three product produce a gorgeous natural glow. I tried to up my water intake as much as possible for a clear complexion and aimed for at least eight hours of sleep a night. For my hen, I followed a bridal make-up tutorial by make-up artist Lisa Shannon from her Instagram page and loved the results. Tutorials are a great way to educate yourself in make-up methods and techniques for times such as the day two celebrations (or even the wedding) when you may be doing your own make-up. For my wedding day itself, I had make-up maestro Paula Callan on hand with Michelle Field to look after myself, my sisters, my mum, and my mother in law and the two ladies were absolutely magical and I also had a three-week polish manicure and pedicure done in Mink in the colour "Biscuit" in the days before the wedding. For my tan, I find Vita Liberata works best with my skin and so I booked into Oslo Beauty Salon for a spray tan the day before the wedding. 
And voilà, that was my beauty journey from start to finish. Each person is different and the most important thing is to feel comfortable and confident in your wedding pics so what might seem excessive to one bride is a must-have for others. You know your body and your skin best so be sure to give yourself a little TLC in whichever way you feel you most need it! 
- Alexandra