After arguably the biggest party you've ever thrown, how do you mitigate the damage from the last sip of champagne for a fresh-faced morning after, asks KELLIE BILLINGS.
The reason you wake up washed out after the night before has as much to do with the amount of alcohol consumed as the lack of sleep you've had. Sleep has long been associated with general well-being, but did you know that sleep is essential for good skin health? Overnight, skin goes into a repair-and-restore mode, removing toxins, repairing cell and DNA damage caused by the environment, replacing ageing cells, and creating new ones. In fact, there are three distinct stages your skin goes through every night while you sleep. The first occurs during the initial hours of sleep. This is when the human growth hormone gets to work, helping repair skin cells that external aggressors have damaged.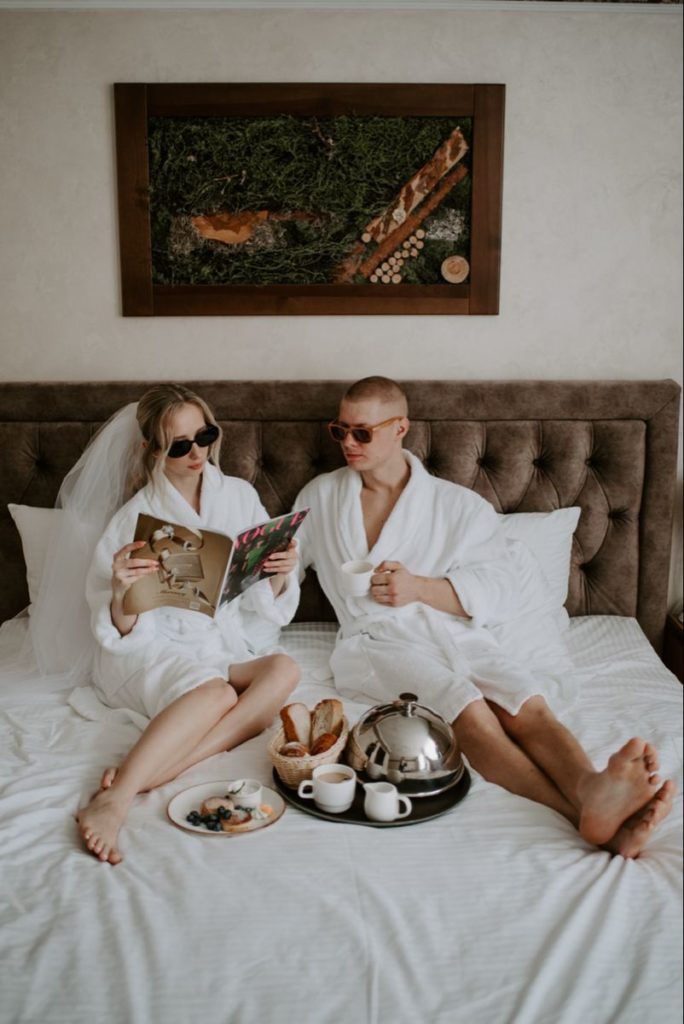 The second phase involves melatonin production, which regulates the circadian day/night rhythm and, independent of that, acts as an incredible antioxidant neutralising free radicals. Lastly, collagen, the building block of your skin, is produced during the REM phase of sleep. That's why skin looks fresher, younger, and more radiant after good-quality sleep. If you happen to miss out on the amount of sleep your body needs to function at its best, your skin will show it. Morning-after skin often looks ashen as night-time blood circulation is impeded. Skin texture can become coarse or porous as the naturally-occurring exfoliating process your skin undergoes nightly has been interrupted. Combine these with dark circles, exaggerated fine lines, and wrinkles from dehydration, and you can wave goodbye to pre-wedding glowing skin. But there are ways to relieve, if not reverse, morning-after skin when shut-eye has been replaced in favour of partying.
Deep Cleanse
Instead of using a gentle cleanser in the morning, opt for a balm or gel that you can massage deeply into your skin. Nunaïa Superfood Cleansing balm, €56, is ideal as it contains vitamin A, C and E, as well as antioxidants and essential fatty acids to leave your skin soft, comfortable and hydrated. Massaging will also help boost circulation and remove toxins, promoting a rosy Glow.
Polished Skin
Try using a gentle polish to slough off dead skin cells that didn't have a chance to overturn the night before. But go easy; your skin will be more delicate due to dehydration. Look for a daily AHA (Alpha Hydroxy Acid) or, for sensitive types, a PHA (Poly Hydroxy Acid) to chemically refresh skin. Amanda Harrington Advanced Glycolic Facial Pads, €8.50, work to re-texturise and brighten the skin. The advantage of pre-soaked pads are twofold; firstly, it controls the amount of active ingredient you're using on your skin, and secondly, they are just so handy.
Eye Masks
Your eyes are generally the biggest giveaway that you've had a late night. The most effective way of counteracting puffy eyes is by using a soothing and lifting eye mask. Consider it the skincare equivalent of your morning cup of coffee. These prep essentials contain hard-working ingredients such as hyaluronic acid and caffeine that help minimise fine lines, puffiness and dark circles. Try Biologique Recherché Patchs Défatigants, €86, to awaken tired eyes in just a few minutes.
Hydrate
If you only have the time or inclination to do one thing, do this. Products with hyaluronic acid naturally restore skin's ability to look and act younger. It isn't a miracle cure but a beautiful ingredient for maintaining your skin. Super soak your skin with a refreshing facial mist; try Avène Thermal Spring Water Spray for Sensitive Skin, €7.19.
While your skin is damp, apply a layer of multi-molecular hyaluronic acid, such as La Roche-Posay Hyalu B5 Hyaluronic Acid Serum, €41. Allow the serum to penetrate the skin and repeat the process until it no longer absorbs into your skin but sits on top.
Finishing Touches
If you've tried all of the above and still feel like you need a helping hand to look refreshed, it's time to cheat! Mix an illuminating primer with a lightweight foundation to even out your skin tone and create the illusion of Paris Filtered skin. A great combination is Charlotte Tilbury Hollywood Flawless Filter, €44, and Sisley Phyto-Teint Nude, €79.
Both are lightweight formulas that work well together to give weary skin a beautiful boost. Another cheat to instantly refresh an exhausted face is to lightly apply a peach or apricot-toned blush to the apples of your cheeks and work upwards towards the temples. Use the same shade on the eyelid for a miraculous effect. I love Shiseido Inner Glow Cheek Powder in Alpen Glow, €35.
- Kellie Billings