There's no denying the power of a good brow: bold, arched and perfectly filled they can elevate a look from drab to fab. Once overlooked, overplucked and generally ill-treated; who can forget the horror of the 90s, brows are now enjoying their time in the spotlight, and rightly so. A powerful tool they can transform a look, framing the face and helping to define features.
An ever-growing segment of the beauty market, brows have experienced an explosion in popularity like no other. In response, beauty powerhouses are upping their brow game and releasing one killer product after another. On your wedding day, it is perfectly reasonable to want your brows, as well as the rest of your look, to be picture-perfect. To help you take the stress out of bridal brows, we sat down with the experts to get their top tips for a brow happily ever after.
Brows give confidence, and an expertly executed pair will enhance your natural features, open up your eyes and even influence how others view your mood. We've all seen ladies walking around with some angry brows! The question is if your brows aren't doing it for you, and you think they might need some TLC, then how should you go about a reshape? Brow expert Aileen Mahon from myskincare.ie advises booking in for a brow consultation as soon as you put on that ring. Brows can take up to 6 months or more for a full regrowth, each person is different, and so the greater the lead-in time, the better the outcome, 'the more time we have, the more we can do', says Aileen.
As a first step, Aileen recommends putting down the tweezers and allowing regrowth before booking in for shape and tint. During this initial consultation with your brow stylist, you will be able to discuss the look you want and how you will go about achieving it. Ultimately, the long term plan for your brows will depend on how groomed they are and how much of a shape change is needed or wanted. Aileen recommends booking in for a 6 to 8 week follow up; this will allow your therapist to assess the speed of regrowth and decide on a tailored plan of action.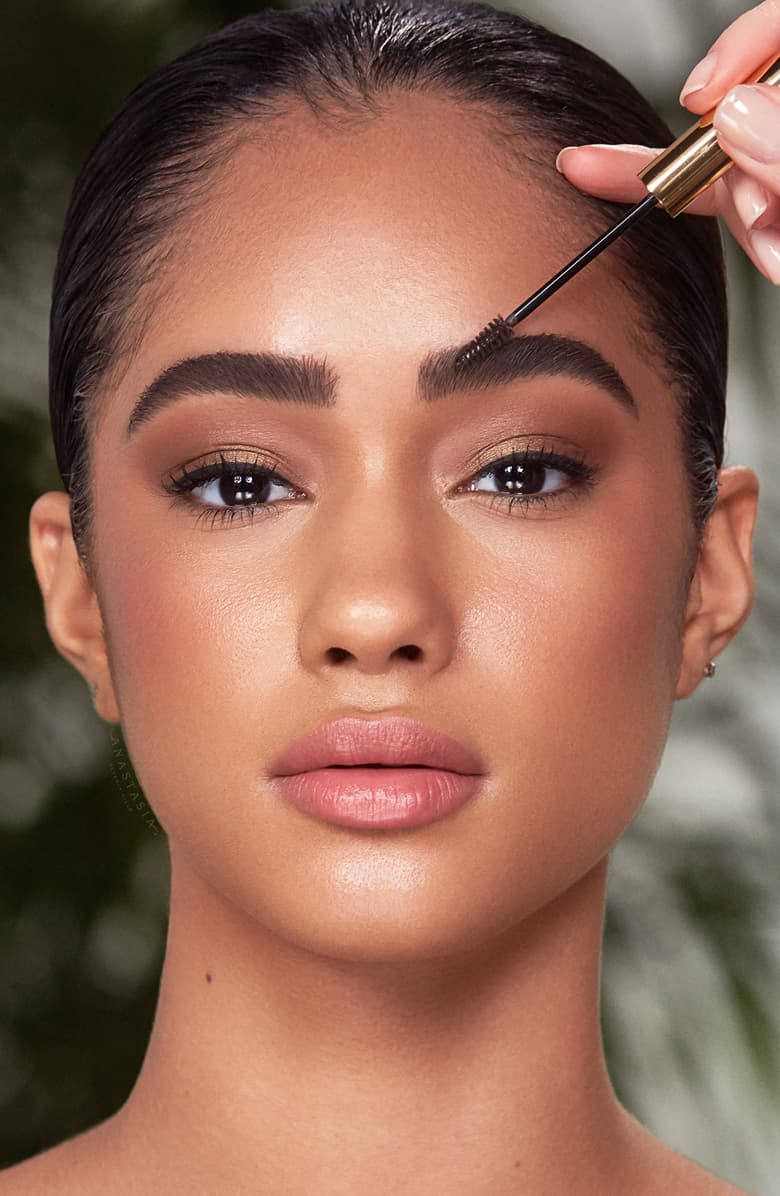 If on your followup appointment, you have patchy or sparse regrowth, then you should consider the introduction of a growth serum. Much like those used for lashes, serums specifically for brows contain a cocktail of peptides and botanicals to enhance natural growth for fuller, thicker brows. Benefit Cosmetics BROWVO! Conditioning Eyebrow Primer (€30, Boots) is a conditioning primer enhanced with keratin & soy proteins and is designed to encourage natural growth. As well as conditioning your brows, it also acts, as the name suggests, as a primer for your brow products, helping them to stay in place for longer. For optimum results, use twice daily for as long as possible. A more potent alternative is the ever-popular LiBrow (€82, lilash.com) serum. LiBrow contains a prostaglandin analogue; that's a growth hormone to you and me, and daily use will speed up regrowth giving a visible boost to your brows in as little as six weeks.
If unfortunately, after all the above, you still find your brows lacking, then it is time to consider a more permanent approach. Microblading is best for those looking for a natural-looking brow and is the most superficial form of semi-permanent makeup. Working close to the skin, the artist will create hair-like strokes depositing pigment just under the skin. While semi-permanent makeup allows for a much shorter lead-in time, as little as two months, it is essential to remember that this treatment will limit your skincare options while your brows heal. Again, the longer you allow before the big day, the better the outcome and Aileen recommends a healthy six months.
Once you have enough hair to work with, you should start to think about shape. Brows should be built for each person, taking into account their bone structure and facial features. Brows do not fit into the one style suits all model and should be tailored to each individual.
Anastasia Beverly Hills, Brow Guru and celebrity brow artist, lives and dies by her patented Golden Ration Shaping Technique. The process involves three steps and allows you to discover your unique brow shape, individual to you. She believes that firstly, brows should begin directly above the middle of your nostrils and end where the corner of the nostril connects with the outer edge of the eye. Lastly, the highest point should connect the centre of the tip of the nose with the middle of the iris. Follow these rules, and you will have a unique shape that will best compliment your facial structure.
On your wedding day, Anastasia recommends creating a soft structured brow that while strong is still feminine. Most often, the biggest brow mistake she sees, are brows overly pencilled in brows. She notes, 'The biggest problem I see is when the product application is too heavy-handed. Eyebrows should always be filled in gently and with an ombre effect.' She recommends starting by filling in your brow from the highest arch point to the outer brow tip. Only then, and with less pressure and product, should you lightly fill in the inner part of the brow. Following this technique will allow you to achieve a defined look without it being too overpowering; this is especially important for your wedding day, as while you may want to achieve boss brows, you won't want them to be the only thing anyone notices.
Overall, the consensus is the same; time is key, and the more time you give yourself, the better the result. So, make that brow appointment and get ready for the best brows of your life!
-- Dani Farrell