Every bride wants to look perfect on their special day. No matter what the day, you will inevitably be exposed to wind, maybe a bit of rain, a touch of nerves, maybe some happy tears and any other natural elements throughout the day. You can't avoid them but you can prepare for them; no bride should be without her emergency wedding day kit and since we don't want you forgetting the one remedy that you might need on the day, we've compiled the biggest list we could think of for items you might want in your kit. Each bride can decide for herself what she will need. Don't worry, you can put your bridesmaids in charge of carrying some (or all) of your emergency kit.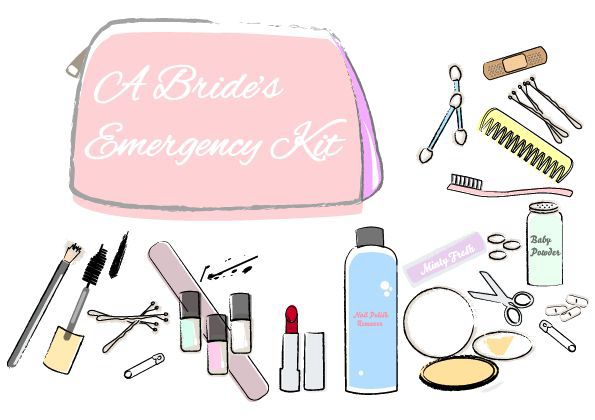 - Parecetamol/Asprin (or other pain reliever and Acid relief)
- Rescue Remedy (for last minute nerves)
- White chalk (for any last minute smudges)
- Clear nail polish (for possible ladders in tights)
- Safety pins
- Spare pair of tights/stockings
- Hair pins
- Straws (so the bride doesn't smudge her lipstick on glasses)
- Mini sewing kit
- Hair spray
- Dry shampoo
- Deodorant
- Cotton buds (for small make-up smudges)
- Compact mirror
- Mini hairbrush/comb
- A emery board for jagged nails
- Plasters
- A travel toothbrush and toothpaste
- Dental floss and mints
- Hand sanitiser
- Bottle of water
- Small folding scissors
- Eye drops (for red eyes)
- Make-up wipes
- Perfume
- Nail polish and remover to fix any chipped nails
- Tissues
- Tweezers
- Super glue
- Static-cling spray
- Spare earring backs
- Tissues
- Baby powder
- Stain remover
- Smelling salts (we don't expect people to faint but it has happened)
- Make-up (some brides have their whole make-up bag, others choose the items they'll need to touch up. This one is really up to you)
Let us know if we missed anything that you had or will have in your bridal kit in the comments below.